Visiontek does it again!! It's a two in one deal. Two GPUs under the same roof or should I say PCB. (To bad it isn't two GPUs for the PRICE of one.)
INTRODUCTION
Visiontek does it again!! It's a two in one deal. Two GPUs under the same roof or should I say PCB. (To bad it isn't two GPUs for the PRICE of one.) They couldn't stop there though they had to make it even more tempting by overclocking it. Too many times space is wasted in your rig getting the power of two cards in Crossfire, now there's just one card with one easy setup. Just set it and forget it. Or, if you are like me, drool over it.  
 
The Visiontek 3870 X2 Overclocked Edition is one of the first cards to reach 1 teraFLOP boundry. FLOP stands for Floating Point Operations Per Second. TeraFLOP means one trillion Floating Operations Per Second. It is a measure of how many multiplications in a second the device can do. It basically means the more the FLOPS the faster the device can compute. Class dismissed, it's time to play!
ABOUT VISIONTEK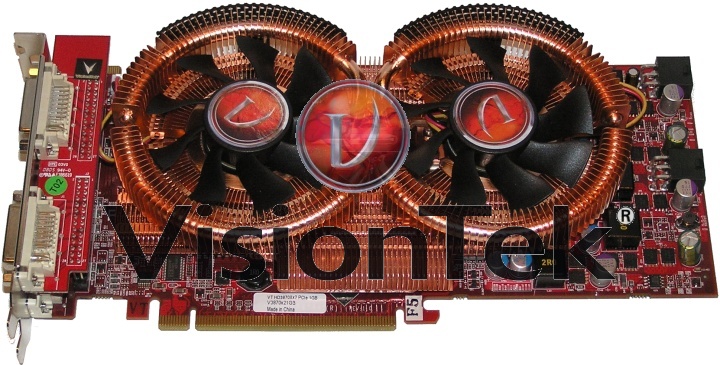 "VisionTek is a leading supplier of 3D graphics cards and PC enhancement products to retailers and Consumers. Based out of Inverness, IL, VisionTek brings the most innovative and best performing products to the PC enthusiast consumer market. We are further committed to exemplary customer service and support for all of our products. VisionTek is a "Premium Retail Partner" of ATI for North America and our award winning brand of graphics card solutions continue to set the standard for excellence in the US retail market. VisionTek products can be found at Best Buy, Circuit City, COMP USA, Fry's electronics, Micro Center, Wal-Mart and other leading retail/e-commerce sites in North America. "
SPECIFICATIONS AND FEATURES
Visiontek HD 3870 X2 Overclocked Edition
RAMDACs
Dual 400 MHz
Memory BUS
256-bit x 2
Memory
512 MB x 2 GDDR3
Memory Clock
960MHz x 2
Memory Bandwidth
61.1 GB/s
Stream Processors
320
Clock Rate
840 MHz
Chipset
R680
Bus Type

PCI

-E 2.0
DVI Output
4 connections
HDMI Output
Yes via DVI-HDMI adapter
Fabrication Process
55nm
Keep in mind that these are two separate GPUs in one card, it may seem as though it is a 1GB card. It is not, it is a 512MB card per GPU. That also goes for the memory bus, two 256-bit speeds not one 512-bit. Sometimes retailers and manufacturers can be misleading.
Dual HD3870 high-definition GPUs on single card for better performance, and failsafe GPU redundancy

Ideal for high end gamer or workstation professional

1GB high-speed GDDR3 memory  

ATI CrossfireX technology enabled on single card 

Internal CrossfireX technology enabled design, without additional flexible CrossfireXTM bridge

4 Dual-link DVI outputs (2 active when CrossFire is enabled)

Integrated audio multi-channel audio (5.1 surround) thru. DVI-HDMI dongle (optional)

Quad Heatpipes Silent Fan

Variable speed quiet, Dual 7.5cm fans controlled by temperature

Massive copper Quad heatpipe driven cooling apparatus

48 PCI-E lanes for switching – 16 lanes communicate with PCIE bus, 16 lanes to 2 GPUs respectively.

Superscalar unified shader architecture 

320 x2  stream processing units

256-bit memory x2 interface

DirectX® 10.1 / Shader Model 4.1 support

PCI Express® 2.0 support  

High-speed 128-bit HDR (High Dynamic Range) rendering  

Up to 24x Custom Filter Anti-Aliasing 

ATI Avivo™ HD video and display technology

Support for the ATI Radeon™ DVI to HDMI adapter

Unified Video Decoder (UVD) for Blu-ray™ and HD DVD

Dynamic geometry acceleration

Game physics processing capability

VisionTek ATI Radeon 1GB HD3870x2 Overclocked graphics card

DVI-I to VGA adapter

DVI to HDMI adapter (supports audio and video)

Crossfire bridge interconnect

S-Video/composite adapter

Component HDTV connection

 

Supported Operating Systems

Windows Vista (all versions)

Windows XP

Windows XP Media Center Edition

Intel® Pentium® 4, Celeron, AMD™ Athlon™ 64, AMD™ Athlon XP™, Sempron or   compatible

PCI Express® based PC is required with one X16 lane graphics slot available on the motherboard

550 Watt or greater power supply with two 2×3-pin PCIe® power connectors
   required (750 Watt and four 6-pin connectors for dual ATI CrossFireX™) .

Certified power supplies are recommended.  Refer to http://ati.amd.com/certifiedPSU for a list of Certified products

1GB of system memory

Installation software requires CD-ROM drive

DVD playback requires DVD drive

Blu-ray™ / HD DVD playback requires Blu-ray / HD DVD drive

For a complete ATI CrossFireX™ system an ATI CrossFireX Ready motherboard and one ATI CrossFireX Bridge Interconnect cable per board (included) are required for a two card setup

Additional System Requirements 

CrossFire™ technology works on AMD 790FX, AMD 790X, Intel 975X, P965, P35 and X38 motherboards as well as future Intel/AMD chipset based motherboards.
Notes:

Only DVI 1 and DVI 3 can boot up system.

Power connector 1 and 2 connected to power supply unit simultaneously is recommended.  Only power connector 1 or 2 connected to power supply unit can boot up the system but system will shut down randomly.

6pin to two-4pin external power cable should be connected to different power supply cable simultaneously.

or use power supply 6pin cable (note, power supply cable is 6-wire, not 3-wire)
PACKAGING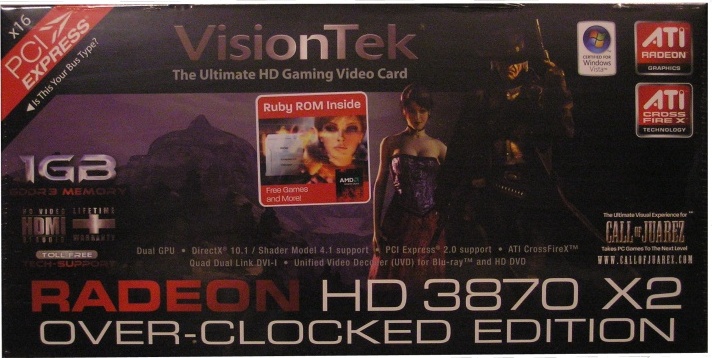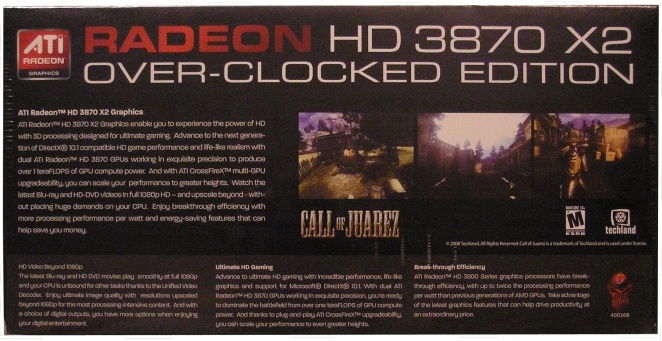 Visiontek seems to be breaking their own mold when it comes to packaging. All previous boxes were large, bulky and a space waster. No longer is this the case. This box extends the length of the card and is a little larger at its width. I think this is great. Finally, a company that actively wants to save money and trees in the process. Not to mention, the smaller the box the less room it has to move. It comes with foam on either side of the card to adequately limit movement and give a little cushion.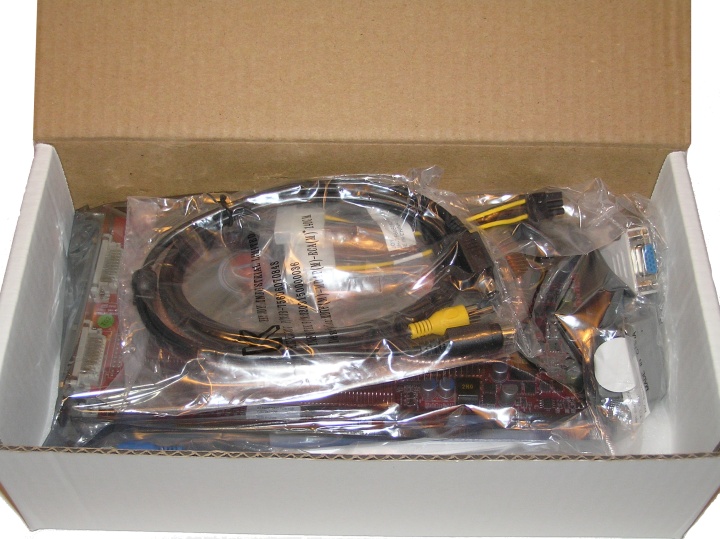 CONTENTS
The accessories that come with the card are pretty standard:
DVI-I to VGA adapter

DVI to HDMI adapter (supports audio and video)

Crossfire bridge interconnect

S-Video/composite adapter

Component HDTV connection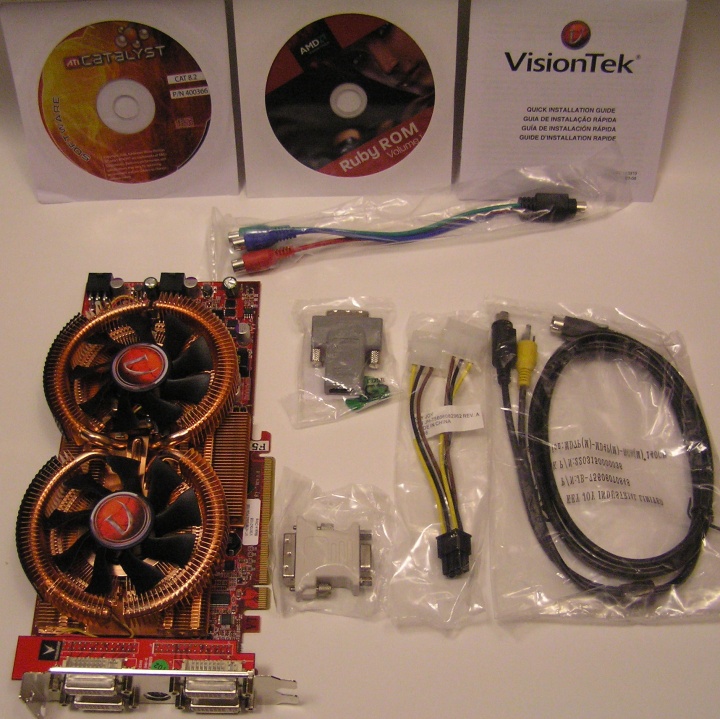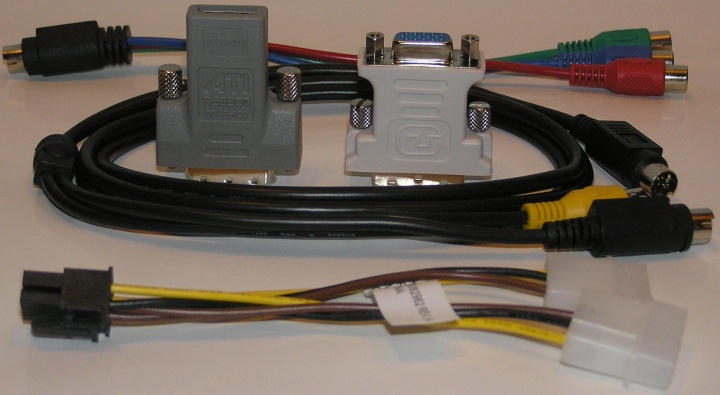 CLOSER LOOK
It is a single PCI Express design on the typical red PCB. ATI never branches far from their signature colors. It comes with dual fans for the dual GPUs with copper systematically placed to keep it as cool as possible. It is a little on the heavy side but hey, it's a dual GPU, what do you expect. It comes with 4 DVI ports.  The only people I can think of that might use such a thing could be Autocad people, or people with a lot of extra money. I like this design as it acts as a firewall in my case. I keep the remaining PCI slot covers off so that the air from the card can escape through them keeping it a little cooler in the case.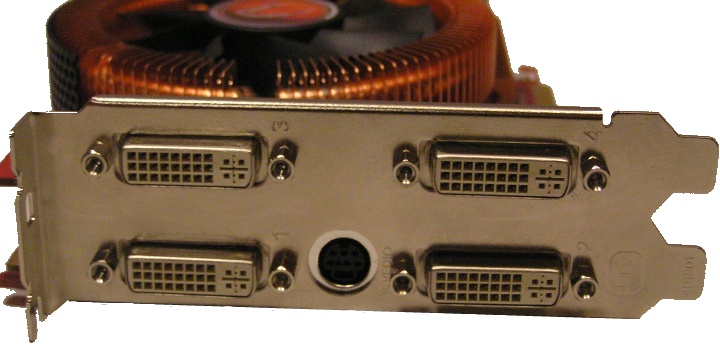 As you can see above there are the four DVI ports as well as an S-video port in which you can run S-video, or component through it. There is also the DVI  to HDMI converter which can be used to hook up HDMI devices such as HDTVs. 
TEST METHODOLOGY
Intel E4300 Core 2 Duo at 1.8GHz and OC'd to 3GHz

G.SKILL 2GB (2 x 1GB) 240-Pin DDR2 SDRAM DDR2 800 (PC2 6400)

Western Digital Caviar SE16 250GB (WD2500KS-00MJB0)

Visiontek 3870 X2 Overclocked Ed (Cat. 8.5)/

ASUS

EAH3870 (Cat. 8.5)

ZALMAN CNPS9500 LED 92mm 2 Ball Cooling Fan with Heatsink

Windows XP Professional SP2
Both cards used the Catalyst 8.5 drivers. All non essential programs and processes were terminated to ensure better overall accuracy. The computer was rebooted after each set of tests to ensure nothing was hanging in memory and to just start fresh each time. 
Company of Heroes v 1.71 (4AA/16AF)
Crysis v1.71 High Settings
World in Conflict v1.007 (4AA/16AF)
TEST RESULTS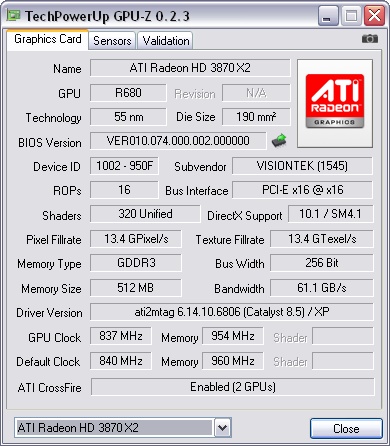 TechPowerUp just came out with a new version of GPU-Z which is 0.2.3 (as of this review). It shows all the specific information relating to the card. It also keeps track of the sensors that are on the GPU including, temperature, fan speed, GPU core clock, GPU memory clock, and GPU load. I noticed in the screenshots below that the temps are different on both GPUs. I believe this is because my front bottom case fan is pumping air to the back of the case. The lower temp is a result of that. The air is hitting the first part of the heat spreader resulting in a lower temperature.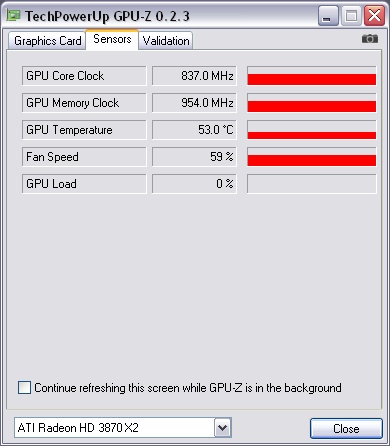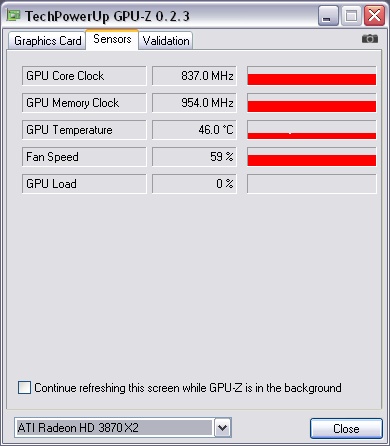 3DMARK06

3DMark®06 is the worldwide standard in advanced 3D game performance benchmarking. A fundamental tool for every company in the PC industry as well as PC users and gamers, 3DMark06 uses advanced real-time 3D game workloads to measure PC performance using a suite of DirectX 9 3D graphics tests, CPU tests, and 3D feature tests. 3DMark06 tests include all new HDR/SM3.0 graphics tests, SM2.0 graphics tests, AI and physics driven single and multiple cores or processor CPU tests and a collection of comprehensive feature tests to reliably measure next generation gaming performance today. Futuremark's exclusive Online ResultBrowser web service tracks and compares 3DMark06 scores.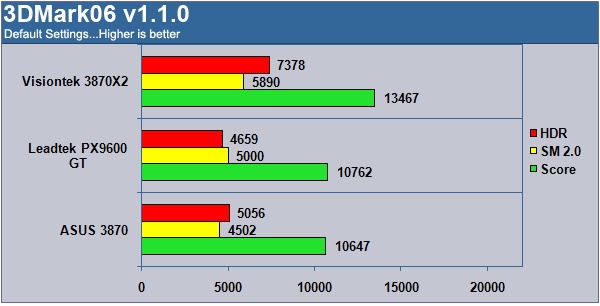 COMPANY OF HEROES: OPPOSING FRONTS

Company of HeroesTM: Opposing FrontsTMis the next chapter in the groundbreaking real-time strategy  franchise from critically acclaimed studio Relic Entertainment… Players will experience fast-paced dynamic tactics like never before, in two of the most brutal World War II campaigns ever fought.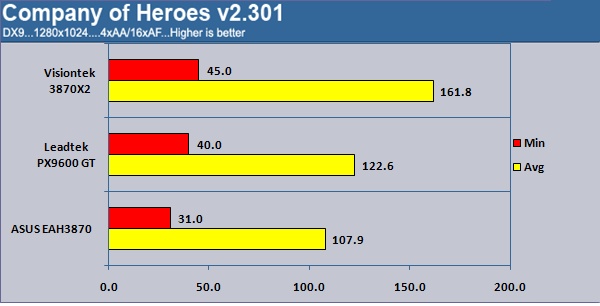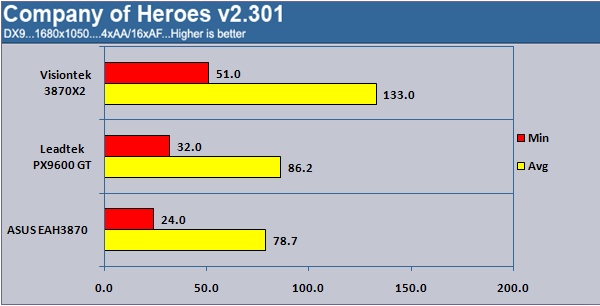 WORLD IN CONFLICT

World in Conflict is the action strategy game where players defend their country, their hometown, and their families in the face of Soviet-led World War III, delivering an epic struggle of courage and retribution.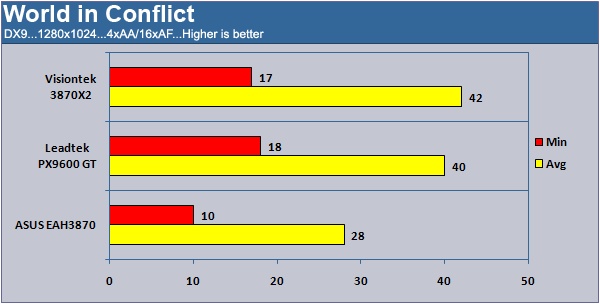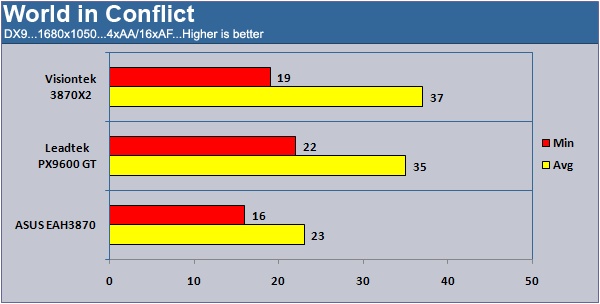 CRYSIS

Crysis: A team of US scientists makes a frightening discovery on an island in the South China Sea. All contact with the team is lost when the North Korean Government quickly seals off the area. Now the US and North Korea must join forces to battle the alien menace. With hope rapidly fading, you must fight epic battles through tropical jungle, frozen landscapes, and finally into the heart of the alien ship itself for the ultimate Zero G showdown.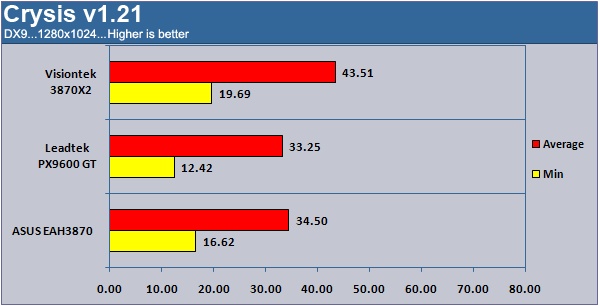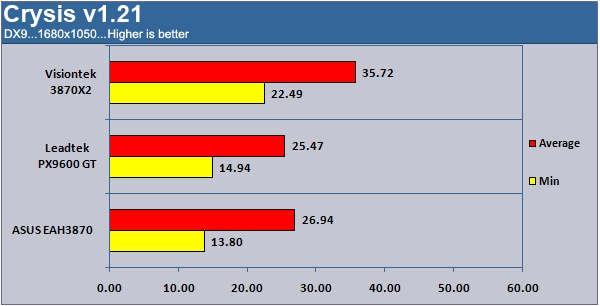 OVERCLOCKING
Well, since this card came overclocked it was especially hard to overclock even more. I acheived a total of 30 extra MHz on the GPU core and 10 extra MHz out of the memory clock. I almost thought about not mentioning it, but there it is.
TEMPERATURES
The heatsink and fans did a good job of keeping things fairly cool. 70°c is a little high for me but tolerable. Temperatures were taken with Everest running while I ran the gamut of games. The table below shows the temperatures for each GPU. As I said earlier in the review the difference in the temperatures is the placement of a case fan. It hits the first fan before it gets to the second fan making the first cooler. The fans were not blaring loud but they definitely elevated the ambient sound outside the case.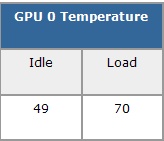 POWER CONSUMPTION
My previous card was the Asus EAH3870. Comparing these two was quite the difference. Obviously, having the two GPUs on one PCB helped the sheer raw power of the card. Speaking of power, the Visiontek HD 3870 X2 OC Ed. uses 115 more watts at idle than the Asus EAH3870 did. Idle for the Visiontek card was 214 watts. The load difference in the Visiontek was 117 watts. Load for the Visiontek was 299 watts. It consumes quite a bit more power than the Asus card did. Again it is obviously a two GPU card so it is going to consume more.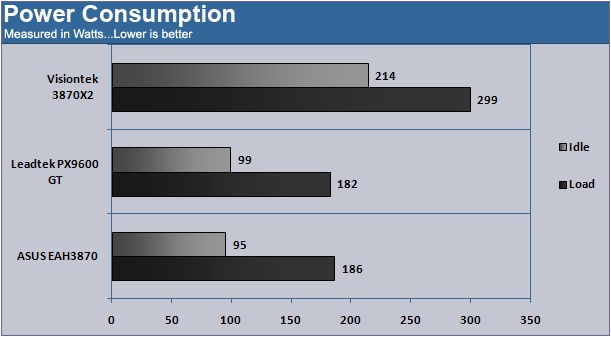 CONCLUSION
Personally, I liked the card as this was my first dual GPU card. If I had to buy this card from a store, well, let's just say I would need to make a whole lot more than I am making now. This card can be found at Newegg for $450.00. I would say it is pretty pricey for what you get. You could buy two 3870 cards for less than that. Of course, it would depend on which manufacturer you went with as to what price you could get. The other bonus to this card is that it does only take one slot. This saves on space as well as having a much more aesthetically pleasing case.
Overall, the card was peppy, quieter than I had imagined, and came already overclocked. Of course that is the other thing to take into account, being pre-overclocked comes at a $50ish dollar increase. Is it worth it to you to have it already overclocked? Only you can answer that.
Pros:
+ Temperatures were moderately cool
+ Crossfire capabilities
+ Excellent bundle
+ Moderately quiet 
 
Cons:
–  Just plain expensive
 
The Visiontek HD 3870X2 Overclocked Edition receives an 8.5 out of 10 and receives the Bjorn3D Seal of Approval. The price was a huge factor in the scoring of this product. Most people will not be able to touch this card because of the price and that is a shame.