As the battle for the top chipset rages on, XFX throws fuel to the fire with its offering of the NVIDIA 790i Ultra. With native PCIe 2.0, eSATA and support for Tri-SLI, can this board earn top spot on your must have list? Read on to find out.
INTRODUCTION
Mistakes happen. We are all human and sometimes we do things we later realize were not the best way to do them. Most of the time these mistakes are small and harmless and sometimes they cost you. In this regard, I am referring to the NVIDIA 780i chipset. Yes, that's right, I called it a mistake. With native PCIe 2.0, eSATA and support for Intel's 1600MHz FSB CPUs, the 790i Ultra is what the 780i should have been, thereby making the 780i a very costly mistake for anyone who purchased one. But like all mistakes, we need to put the past behind us and look forward to better and brighter things. Better and brighter is just what XFX specializes in and with this board they aim to keep the good times rolling. As stated before, this board comes with lots of goodies including PCIe 2.0, on board eSATA, triple-SLI support, DDR3 support, and a sexy black PCB. If that wasn't enough, just wait until you look at all the accessories XFX throws into the mix. Without further ado I present to you the XFX 790i Ultra.
FEATURES AND SPECIFICATIONS
Performance
Based on NVIDIA 790i Chipset
Supports Intel Core 2 Extreme, Core 2 Quad, Core 2 Duo, Pentium and 45nm CPUs
1066/1333/1600 Mhz Front Side Bus
Chipset
North bridge: NVIDIA 790i Ultra SPP
South bridge: NVIDIA 790i Ultra MCP
Memory
Up to 8GB of DDR3 2000/1600/1333MHz memory
Dual Channel architecture
Expansion Slots
3 x PCIe x16
2 x PCIe x1
2 x PCI 2.2
Storage I/O
1 x Floppy disk drive connector
7 x SATA 3Gb/s
RAID 0, 1, 5, 0+1
1 x UltraDMA 133/100/66 for up to 2 PATA devices
Audio
7.1-channel Realtek ALC889A
Coaxial, Optical S/PDIF out at back I/O
LAN
Dual Gigabit LAN
Realtek RTL8111B
Realtek RTL8110SC
Multi I/O
1 x PS2 Keyboard
1 x PS2 Mouse
1 x S/PDIF Out Coaxial
1 x S/PDIF Out Fiber
1 x IEEE 1394 Ports
1 x eSATA
2 x RJ-45 Port
6 x Audio connector (Center speaker/Subwoofer Out, Rear speaker out, Side speaker out, Line-in, Line-out, MIC)
10 x USB 2.0 ports (6 rear + 4 internal headers)
Form Factor
ATX Form Factor
Length: 12.0in – 305mm
Width: 9.6in – 244mm
PACKAGING
XFX has a redesigned box and they really hit a home run with it. It is a beautiful looking box and while it is ultimately meaningless in the grand scheme of things, it is nice to see the effort being made. The back of the box has the usual marketing material and inside the outter shell you find XFX's advice to all enthusiasts out there. Behind all the glitz and glamour of the box XFX makes sure to pack everything securely so as to ensure its safe arrival.
Click a picture to see a larger view
---
---
CONTENTS
XFX includes every piece of equipment you could possibly need to use this board. It is great to see XFX include all the SATA cables and adapters as more and more companies cut back on these little "amenities".
Owner's manual
Driver CD
Quick install guide
Rear I/O shield
IDE & FDD cables
Six SATA cables
USB expansion plate with four connections
Firewire expansion plate
Tri-SLI connector
SLI connector
North bridge fan
Three molex-sata power adapters
LAYOUT
One thing you will want to take note of is the red SATA port located directly above the PCIe x1 slot. What is it and why is it there? It is a standard SATA port and it is colored red so as to notify the user it can not be combined with the other black SATA ports. The red port comes from the JMicron JMB362 SATA controller that gives us our eSATA. NVIDIA states they located the port there for easier access to optical drives though this is more likely due to the location of the JMB362 chip. Since this chip allows for two SATA connection, NVIDIA decided to split them between eSATA and SATA. Why they didn't choose to give us two eSATA ports is anyone's guess.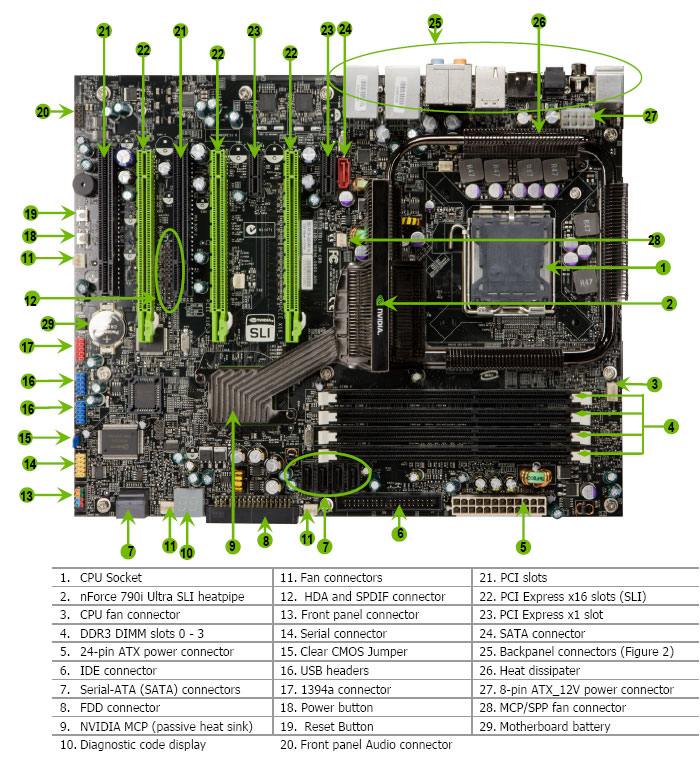 Looking a little closer at the board we start at the CPU socket. What may first look like a very cramped space for larger heat sinks is actually more spacious than you may realize. Thanks to a very deliberate design of the Northbridge heat sink the 790i Ultra can accommodate many of today's larger coolers. We tested the Big Typhoon, V1, ASUS Lion Square, and Noctua NH-U12P.
Moving on we see the DIMM slots for our DDR3 memory along with the SATA connections and the 24-pin ATX power connection. This is one packed section of the board and the placement of the SATA slots will make plugging in hard drives a tricky test of patience should you not want to remove your RAM first.
Continuing down the board we come to the last two SATA ports, Southbridge, and LED poster. Oh, and a bunch more of the older electrolyte capacitors. I would rather see the rest of the SATA ports mounted down here vertically and remove the LED poster. Since it is a series of codes anyway you might as well use beep codes and save the board space since they both require digging through a manual to decipher their meaning. Anything worth doing is worth doing right and this sort of error code reader is growing long in the tooth.
Click a picture to see a larger view
---
| | | |
| --- | --- | --- |
| | | |
| CPU socket | Wanted: More space | Oldie but goodie? We think not. |
|   |   |   |
| | |   |
|   |   |   |
---
Turning to the very bottom of the board we see the front panel connectors, USB/Firewire connectors, power and reset switch, and the CMOS battery. Besides the fact that the power and reset buttons are small and difficult to reach once the board is inside a case, there is no 'Clear CMOS' swith but rather a jumper. This seems odd to me as the flagship motherboard for NVIDIA and XFX. While the jumper will get the job done should you go a bit to far in your overclocking endeavors, it is infinitley easier to push a button in the dark then it is to adjust a jumper then move it back.
We end our journey at the PCIe slots. Using triple SLI will cause you to lose every single additional expansion slot save for the PCIe x1 slot at the very top. At least this is the case as it stands today since every card thatsupports triple-SLI comes with a dual slot cooler. This may change in the future but as it stands now it is a tight fit. Thankfully we are starting to see PCIe sound cards which softens the blow but for those with older sound cards or RAID cards and those unlucky enough to have bought a PhysX card will be impacted by this design. Even the oddly placed fan header becomes difficult to reach should you fill up the x16 slots.
REAR I/O
For the first time on an NVIDIA based board we see native external SATA. As the price of HDD storage continues to drop this sort of connection becomes more and more important. Not to mention that people are becoming more mobile each day and want to take their data with them. The rest of the rear I/O is a pretty standard affair as NVIDIA boards go.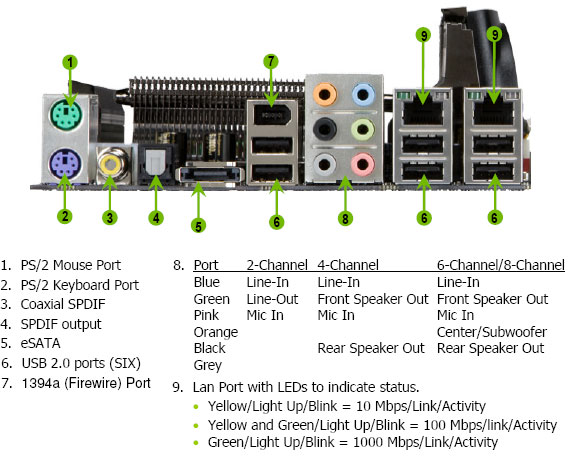 BIOS
The XFX 790i Ultra uses an Award BIOS filled with enough features to yank every ounce of performance from your board.
Turning right to the overclocking portion we begin at the 'Advanced Chipset Features' page. Here we are able to adjust voltages, bus speeds, and dividers. Everything a good overclocking board needs. I also wanted to take a second and show you how the XFX 790i Ultra handles half multipliers. If you happen to own a CPU capable of using a half step in the multiplier then you should be aware that rather than incorporate the half step into the multiplier section it is given a separate designation; 'CPU N/2 Ratio'. Even more obscure is how it is labeled, 'Disabled / Enabled'. I must admit it took me a second to realize this is the setting for a half multiplier. Certainly not the most intuitive naming convention.
Click a picture to see a larger view
---
---
Moving on to the 'FSB & Memory Config' page we come to the settings for EPP memory, FSB/RAM dividers, and memory timings. Adjusting the FSB divider is a pretty straightforward setup on most boards and the same goes for NVIDIA based boards with one key exception, the ability to run the memory unlinked. This allows you to run your memory at virtually any speed regardless of the speed of the Front Side Bus. Of course, since there is no such thing as a free lunch you should also be aware that you will be dealt a pretty hefty penalty to memory performance since the CPU and RAM won't be in sync with each other.
The final image here is of the 'System Monitor' page. This is always an important page when first setting up a PC to make sure everything is within range and your CPU isn't about melt. Furthermore, I really like that the BIOS shows you the current being pulled by the CPU. This allows me to do a quick calculation in my head to determing how many watts the CPU is pulling. Show here, our CPU is currently consuming 53.914 watts. (v × a = w).
Click a picture to see a larger view
---
---
TEST SETUP
All tests were conducted on the following platforms. A format of the hard drives followed by a fresh install of the OS was done. The latest drivers were then installed and all non-essential applications were halted.
Synthetic Benchmarks
SiSoft XI
CPU, Mem Bandwidth
HDTach
Single SATA Avg. Read, Burst
Everest Ultimate 4.0
Mem Read, Write, Copy, Latency
SuperPi Mod 1.5xs
1M, 2M
Games
F.E.A.R. v1.08
640×480 0xAA/AF Highest in game settings, Soft Shadows off
Company of Heroes v1.71
800×600 0xAA/AF Highest in game settings
World in Conflict
800×600 0xAA/AF Highest in game settings, High Quality
OVERCLOCKING
Working with the QX9650 is always a bit tricky since we are overclocking four cores rather than two. With relative ease I was able to hit 500MHz on the FSB and that is without adjusting any voltage other than a bit of Vcore and some FSB.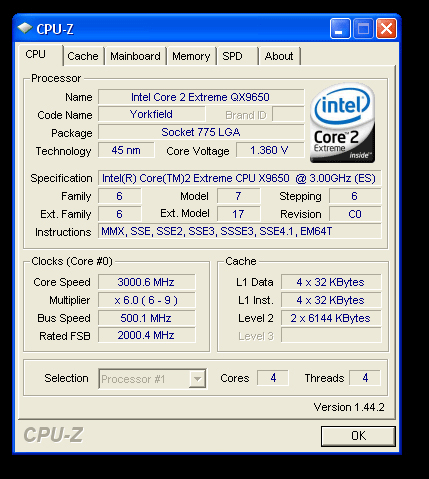 TEST RESULTS: CPU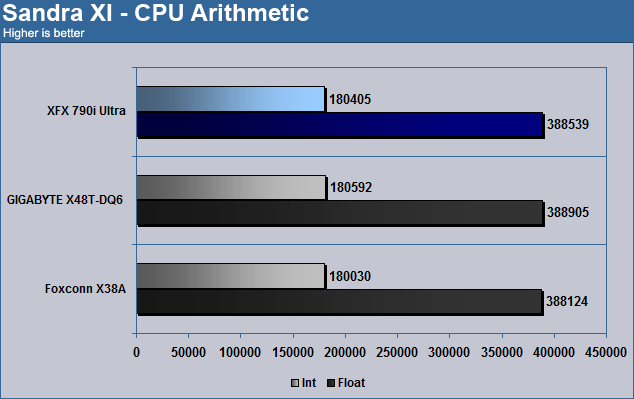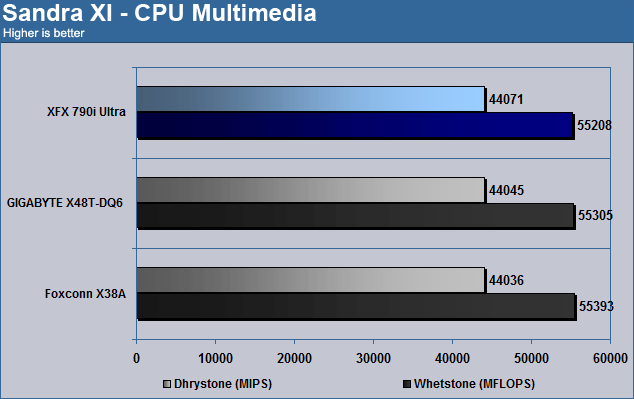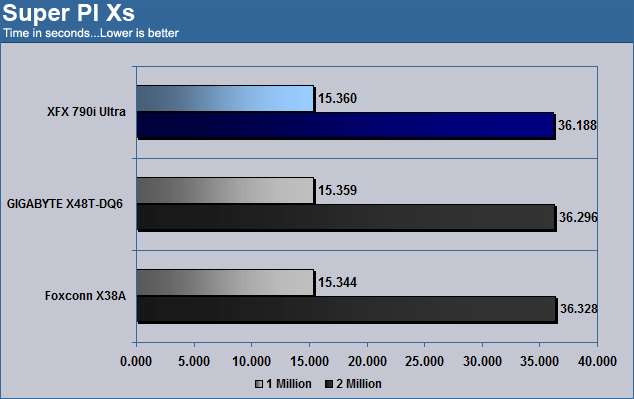 TEST RESULTS: RAM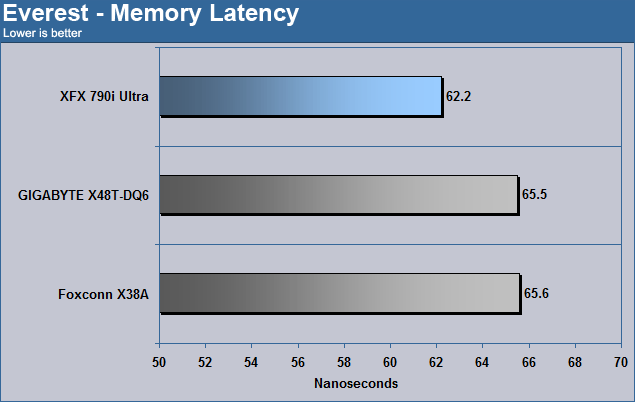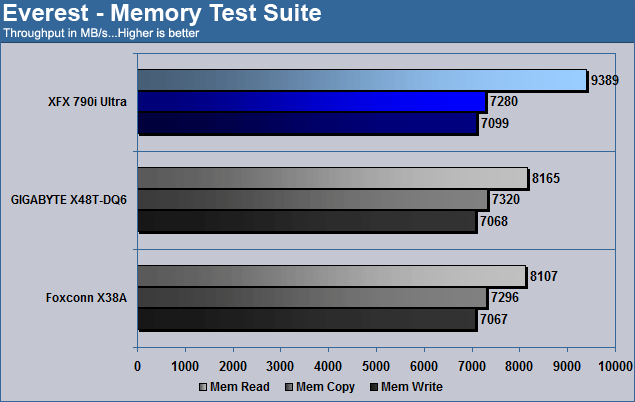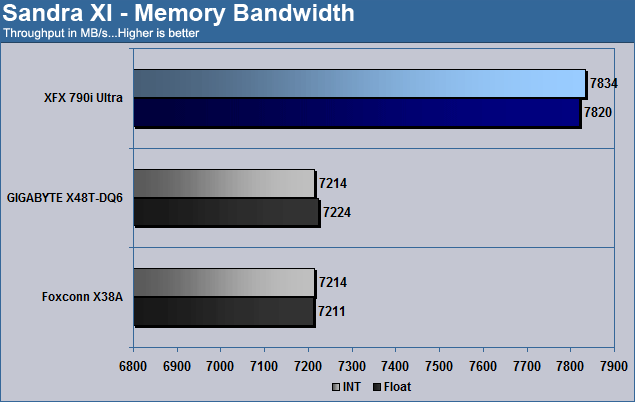 TEST RESULTS: GPU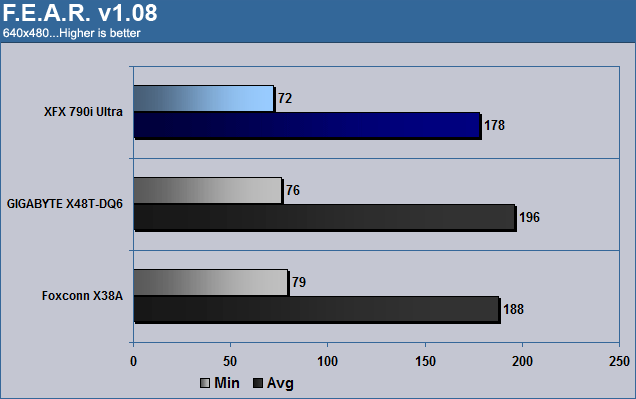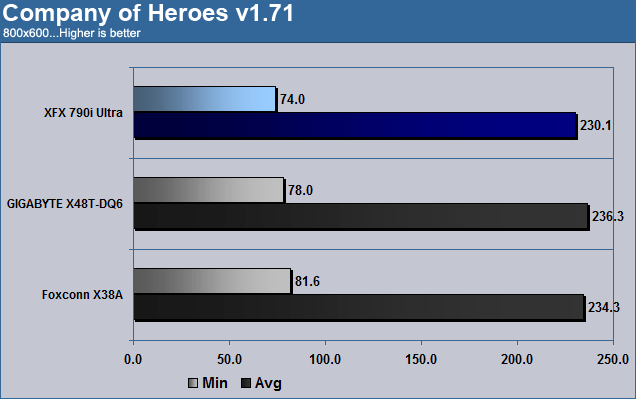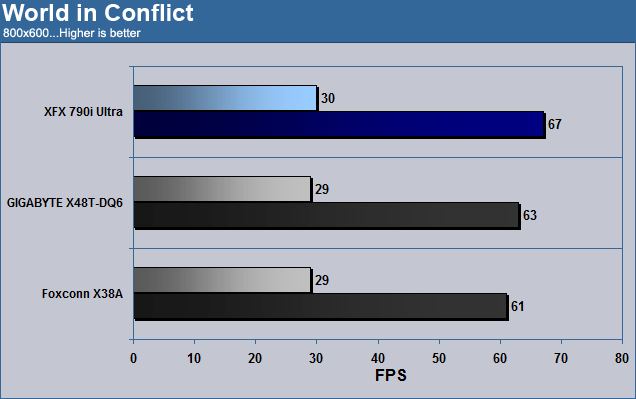 TEST RESULTS: POWER
With more and more emphasis being placed on power efficiency it is important we look at how much this board consumes versus its competitors.
Idle mode – No programs running for a minimum of ten minutes.
CPU load – Prime95 run across all four cores of the CPU. No GPU activity.
GPU load – ATiTool 3D view enabled to load up the GPU. (Requires some CPU activity)
Max load – Prime95 and ATiTool 3D view run at the same time.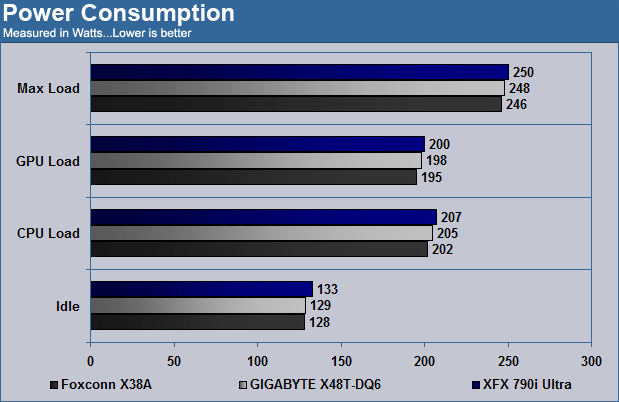 TEST RESULTS: SLI
With the 790i, NVIDIA redesigned the SPP to handle some of the signaling tasks required to run SLI. In turn they claim that SLI performance of the 790i boards has been improved. To test this claim I took a XFX 680i LT and tested the 9600GT in SLI along with the higher end 8800GTS 512 in SLI. The CPU used for these tests is a dual-core e6420 running at 3.2 GHz and it was kept at the same speed between both boards with the only difference being the chipset and the RAM used. We already covered the impact DDR3 RAM has HERE and found it offers no increase in gaming performance. With the change in RAM being nullified we can now turn our attention to seeing if there is any increase in SLI performance when using the new 790i chipset.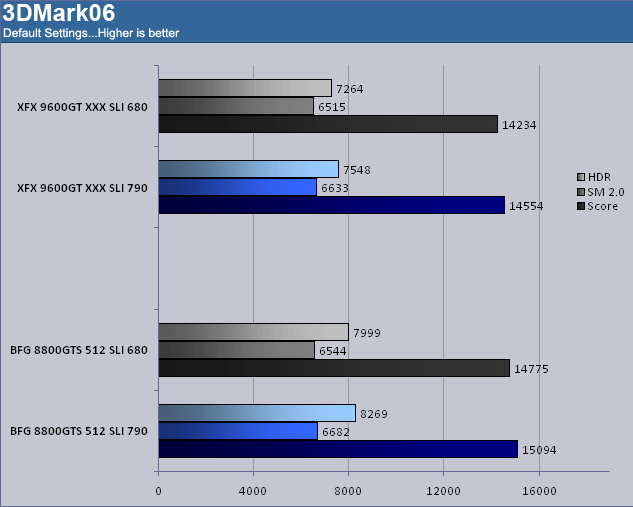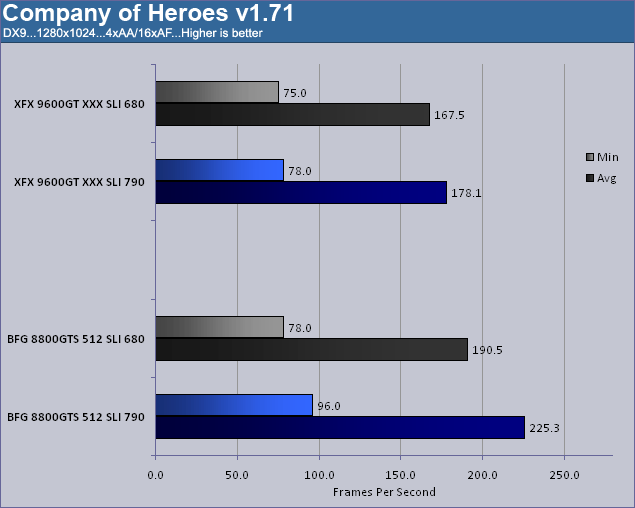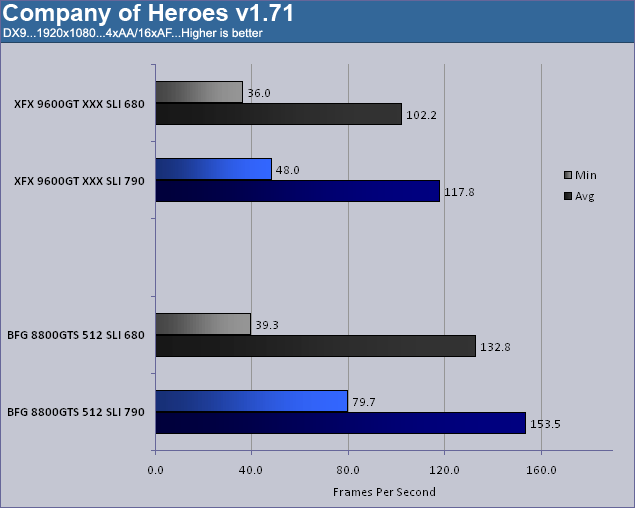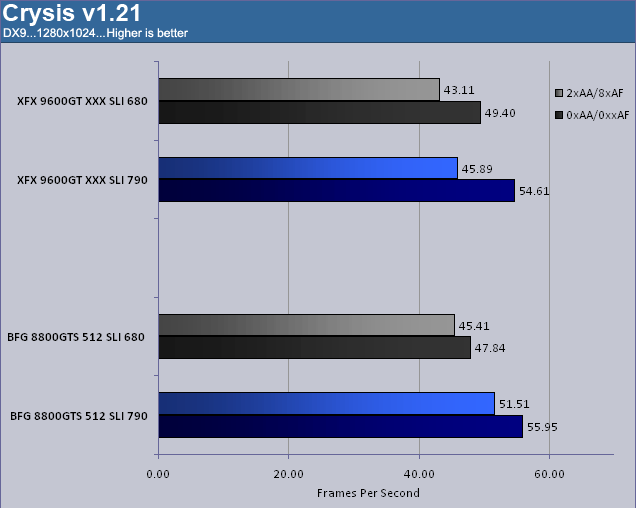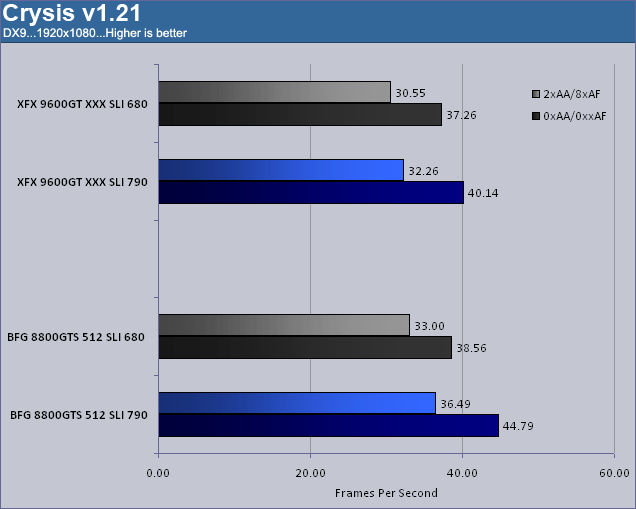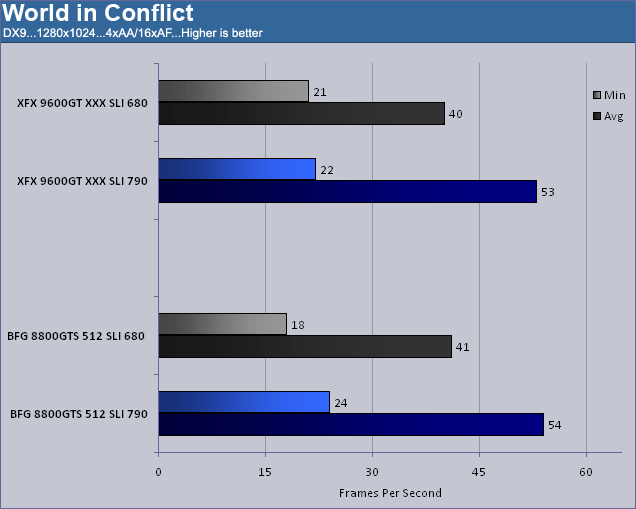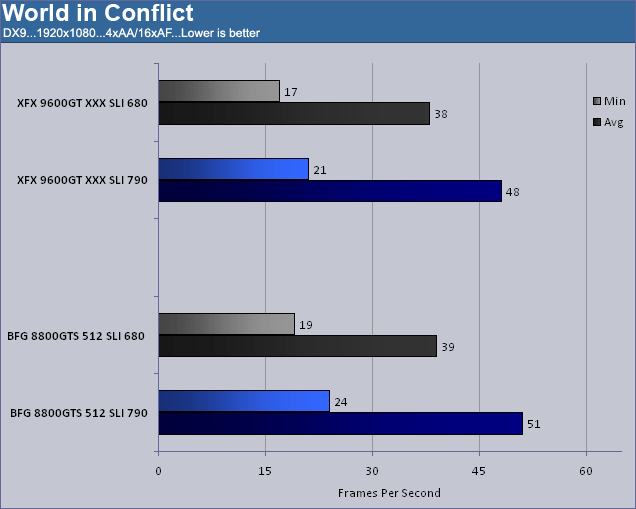 Well there is definately a noticeable increase to be had. Some people may say the difference is due to the move from PCIe 1.0 to PCIe 2.0, but when I tested each card in a non-SLI (single card) setup I got results within 1.0% of each other. That rules out the PCIe bandwidth being the cause of the performance increase. Remember, the changes NVIDIA mentioned effect only SLI performance due to the communications that occur between the CPU and GPUs now being handled in hardware. It seems they were right on target as we see upwards of 10% increase in SLI performance by moving to the new chipset.
CONCLUSION
The XFX 790i Ultra is one motherboard that raises the bar on many different levels. The only thing missing from this board is any sort of "green love". With power consumption and energy use becoming more and more prevalent into today's world, it is disappointing to see no energy saving features implemented on this board. Many of XFX's products to date are reference designs with the XFX branding placed atop of it, but I'm not so sure this is going to cut it moving forward. If XFX wants to do more than just 'keep up' they are going to have to go off the beaten path and make their own route. I for one would love to see XFX implement their own energy saving designs. But that is a discussion for another day. The board we have in front of us today is a solid board with lots of performance to be had by those willing to push it.
FINAL WORDS
Performance: 9.0/10 – It is easy to score the performance of this board. It is simply great. If you factor in the ease of overclocking then you really have a winner on your hands.
Bundle: 10.0/10 – What more could you ask for in a bundle. You get one SATA cable for every SATA port on the board, a tri-SLI connector, SLI connector, all the adapters needed, manuals and cooling fan. I would not have been surprised to find a miniature kitchen sink inside the box just to round everything off.
Value: 7.0/10 – At $330 USD, this board is not cheap. While you do get the support for Triple-SLI and DDR3, these two technologies are not practical just yet. DDR3 offers no help to gamers and anyone looking for triple-SLI isn't going to worry about price anyway. With that said, the board performs well and if the price ever dips under the $300 range it would be in everyone's best interest to take a hard look at this board.
Pros:
+  Solid Performance
+  Excellent layout
+  Silent heat pipe cooling works well
+  Overclocking ease
+  Supports newest 45nm CPUs
Cons:
–  No unique energy saving features
–  Pricey
–  Capacitors are not all solid
Final score: The XFX 790i ULtra motherboard scores a 8.5 (Very good) out of 10 and receives the Bjorn3D Seal of Approval!