Today we examine the ZEROtherm Zen FZ120, a large heatsink/fan combo at an affordable price.
 INTRODUCTION
 As we all know, processors are getting faster and as a by-product produce far more heat than they have in years past. Many of us remember the days when there was simply a small heatsink on top of a processor with no fan at all. As speeds and temperatures have increased however, so has the size(and number) of the cooling products available.  Today we will have a look at the Zen FZ120 from Zerotherm. Designed to compete with several of the other large heatsink/fan combinations that are currently available at an extremely affordable price,the Zerotherm is available for a paltry $39.99 + shipping.
Let's take a look at how it performs for that price.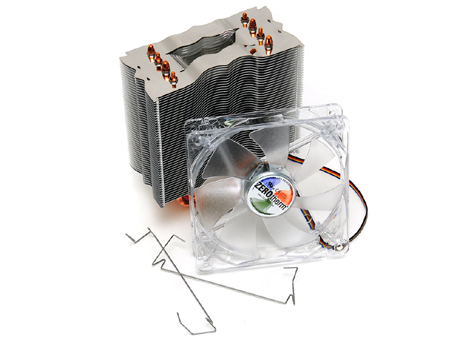 ABOUT ZEROtherm
"Micro chipset technology has been improving rapidly in accordance with Moore's Law that states the complexity of integrated circuits, with respect to minimum component cost, doubles every 24 months. Yet this has resulted in the overheating of high performance computer & electronic products. First generation solutions simply looked to upgrade existing solutions which were noisy and inefficient.
ZEROtherm is engineered for the objective of decreasing noise into the "ZERO" range while effectively addressing thermal issues. ZEROtherm products are optimized cooling solutions to reduce both noise and heat. Our core thermal packaging technology (including heat pipe technology and micro electro mechanical technology) is the basis for all ZEROtherm products.
We seek to exceed consumer expectations by developing, designing, and producing "best-of-breed" solutions from our extensive technological and engineering capabilities."
FEATURES
Extremely quiet – At its highest speed and rated at 31.4dBA moving an incredible 59.48CFM, the fan was inaudible once the case was closed up.
Efficient heatpipe design – 8 heatpipes (4 u-shaped, double-sided) pass through 48 fins for a total heat dissipation area of 6,827cm2 removing over 150w of heat energy.
Honeycomb structure – The center of the fins are bent down into a "u" shape inside the assembly, creating a honeycomb-like structure and adding to the total surface area, increasing the cooling capacity.
4-wire connector – Connects directly to the motherboard and allows fan speed control from within your operating system, eliminating the need for a separate fan controller.
SPECIFICATIONS
ZEROtherm Zen FZ120
Specifications

Dimensions

126 X 61 X 156 mm

Fan Size

120 X 25 mm

Fan Speed

1,100 ~ 1,800 rpm (± 10%)

Airflow Rate

59.48 CFM

Weight

670g (Without Clip Components)

Materials

FIN

Aluminum

Base

Copper

Heat Pipe

Copper

Heat Dissipation Area

6,827 cm² 
A CLOSER LOOK
When the Zen FZ120 arrived, it was packed inside a standard rack hanger box built out of heavy cardboard. It was well packaged and the cardboard seems to have done a great job at protecting all those fins. I was quite impressed with the build quality on this particular product.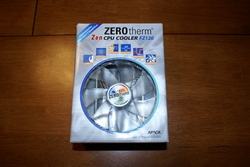 Unpacking the box we find that it is actually packed upside-down, no-doubt to protect the finish on the copper plate itself. It comes with all the standard hardware that you would expect, including LGA775 and Socket 939 / 940 / AM2 mounting hardware. As we can see the fan is fairly straightforward clear plastic, no LED's or anything, just a sticker with the ZeroTherm logo in the middle. It also comes with a syringe of ZeroTherm high performance Thermal Grease, which I elected not to use, I used AS5 across all tests, as it is typically considered the standard.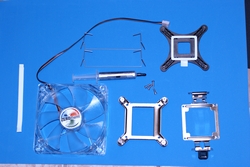 One especially high point was the fact that ZeroTherm elected to use a black plastic bracket for the back of the motherboard. After seeing so many people causing shorts in their motherboards with the usual metal brackets, it's nice to see a company use a non-conductive version.
CONTENTS
Included in the kit:
Zen FZ120 Heatsink
ZEROtherm 120mm fan
Fan mounting clips
Brackets for both Intel LGA775 and AMD AM2 processors
ZEROtherm high performance thermal grease
TEST SETUP
Test Platform
Processor
Intel Core 2 Quad Q6600
Motherboard
EVGA 780i SLI 775 A1

Memory
2 GB (2 x 1 GB) of Corsair XMS2 DDR2-800
Drive(s)

2 – Western Digital 160GB RAID 0

1 – Western Digital 250GB

Graphics
EVGA 8800GT SuperClocked
Sound
Azalia HD onboard audio
Cooling
Cooler 1 – Custom water loop
Cooler 2 – ZEROtherm Zen FZ120
Cooler 3 – Intel retail heatsink/fan
Thermal Paste
Arctic Silver 5

Power Supply
ThermalTake PurePower 600w
Display
Dell 17″ analog LCD
Case
Antec 900
OS
Windows Vista Home Premium 32-bit edition
INSTALLATION
Installation of the FZ120 is very straightforward, no surprises here. The instruction manual was written in a total of 8 languages, none of which were necessary due to the clear pictures included for each step. I can't recommend attempting to install the fan without removing the motherboard from the case. I was able to do so only because I have previously cut holes in my motherboard tray for precisely that purpose. I had no problem mounting the heatsink to the processor but this is where my only complaint with this cooler comes in. The wire retaining clips that hold the fan on the cooler are quite flimsy. Not to say they're not strong enough, because they hold the fan quite securely, but getting them onto the fan is somewhat of a pain. It took me a few attempts when I tried it out before installing the heatsink. They tend to pull out of the holes they rest in everytime you pull them over the corner of the fan. (This is where doing it inside the case really hurt me) In the long run it didn't end up being a HUGE deal, but something a little more rugged would've been nice.
TEST PROCEDURE
To make sure we level the playing field we will conduct all measurements at 25c ambient temperature. For load testing we will run a "Small FFT's" torture test on Prime95 for 2 hours which does a wonderful job of stressing all four cores of the Q6600 and maxing out the temperatures. For idle testing, all non-essential processes will be halted with only Everest running to take temperature readings. 
Some of you wonder why there is a custom water loop involved in this test. The answer is fairly simple. Its what was on the test system when I began the review and I was curious how a large heatsink/fan combo would stack up against it. I have always wanted to know just what kind of bang for the buck I was getting and I know a lot of you do too. I was quite impressed with the results. Read on and I think you will be just as impressed.
TEST RESULTS
Without further ado, lets have a look at the results!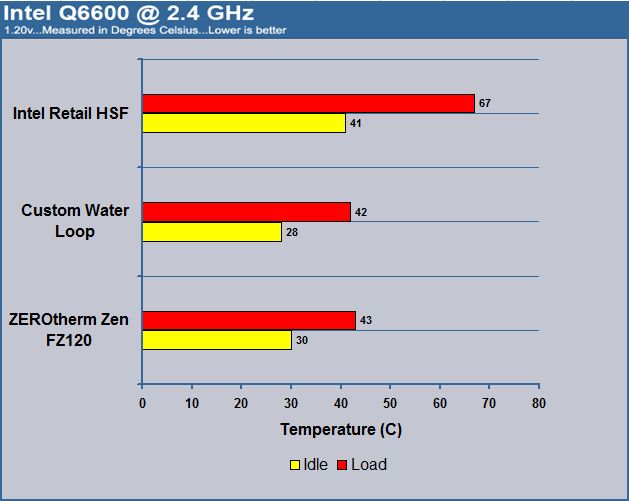 As we can see, the Zen performs almost as well as a custom water loop that cost six times as much to build. This is one heck of a cooler, now let's see what it can do when we overclock the Quad.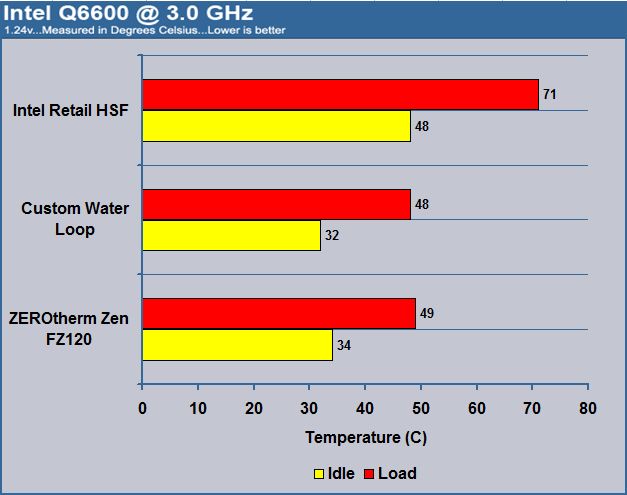 This is where this cooler really stands out. Overclocked to 3.0Ghz it hung right with the water loop with no problems. And if you'll take notice, the load temp on the Zen was 1 degree higher than the idle temp on the Intel Retail HSF. As a sidenote, I had to halt the load testing on the Intel HSF because it hit 71 and was continuing to climb, so in the best interest of continued life on the quad, I called it quits on that particular test. Didn't really want to find out just how much higher it was going to go.
CONCLUSION
To me this is an outstanding product, one which I would recommend to anyone. I have been constantly amazed by the ability of this heatsink/fan combo to produce such low temps. I would never have predicted that it would perform so well when put up against a custom water loop. It goes to show just how well engineered this particular product is.
One of the factors that most influences many people however is not just performance, but the price/performance ratio. This is where the Zen truly becomes a competitor. Many of the large tower heatsink/fan combos can boast similar results, but far fewer can offer it at such a low price.
For its outstanding performance and excellent price point,  I give the ZEROtherm Zen a 8.5 out of a possible 10 and the

Bjorn3D Seal of Approval.

Pros:
+  Low price
+  Extremely flat contact surface
+  Exceptional performance
+  Supports all current processors
+  Nearly silent operation 
Cons:
–  Flimsy wire retention system for the fan
–  Quite tall, may not fit some narrow cases