Today we look at another entry from Antec in to the world of Mid-tower ATX cases. The 'Three Hundred' is the smallest product belonging to the "Gamer" series of cases from Antec.
INTRODUCTION
With technology gaining speed every day in many forms – such as the development of faster CPU's, faster GPU's, and beefier power supplies – rising temperatures inside the chassis that holds it all together become more and more of an issue. Just how small can we make an enclosure and still move enough air around all those parts to keep temperatures down? Today we find out with the Antec Three Hundred – the smallest of the "Gamer cases" currently offered by Antec.
ABOUT ANTEC
Antec, Inc., is the leading global brand of high-performance computer components and accessories for the gaming, PC upgrade and Do-It-Yourself (DIY) markets. Founded in 1986, Antec is recognized as a pioneer in these industries and has maintained its position as a worldwide market leader and international provider of efficient, quiet, and reliable products. Antec has also achieved great success in the distribution channel, meeting the demands of quality-conscious system builders, VARs and integrators.
Whether you're a gamer looking for that cutting-edge case or a system integrator seeking a reliable and efficient power supply, you've got a lot of factors to consider, from performance to stability to style. As the leading global provider of high performance PC components, we believe in delivering products that not only meet your expectations, but exceed them. Your computing experience should be quiet, efficient, cool and elegant; we don't believe in compromise, and neither should you. Here are just a few of the core values that set our products miles ahead of the competition.
FEATURES AND SPECIFICATIONS
Smallest case available in Antec's "Gamer" lineup
No power supply included
Front panel input:

2 USB 2.0 inputs
Front panel audio includes headphone and microphone jack

9 Drive Bays:

3 x 5.25″ External
6 x 3.5″ Internal HDD

Cooling System:

1 rear 120mm TriCoolTM Fan with 3 speed switch control
1 top special 140mm TriCoolTM Fan with 3 speed switch control
Space for two optional 120mm fans in the front bezel to cool the HDD's
Space for one optional 120mm side fan to cool your GPU's

Washable front bezel filter to reduce dust inside your system
Perforated front bezel for maximum air intake
7 expansion card slots
Dimensions: 18″ (H) x 18.3″ (D) x 8.1″ (W)
Net Weight 15.9lbs
Gross Weight 18.7 lbs
PACKAGING
When the Three Hundred arrived, the regular cardboard shipping box didn't give a hint of what's inside(other than its obvious bulk).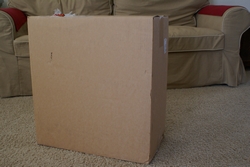 Upon opening the box we find Antec's standard fare: a well protected case packed securely into a box displaying the typical marketing fare, including the basic features and specifications.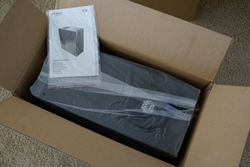 Removing the case from the box and taking a closer look at the exterior, I was quite impressed with the fit and finish of it. Nice clean lines with everything nice and tight.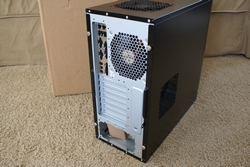 I decided to stick my optical drive in, just to see how clean and even the lines would end up, not bad!!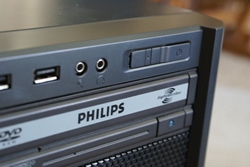 Standing next to its big brother, the Antec Nine Hundred, you can see that this case really isn't a whole lot smaller on the outside.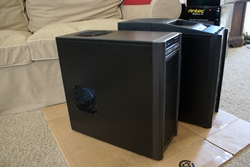 INTERIOR
Moving to the inside of the case, we can begin to see just how well it's put together. Everything is very solid, and I didn't have any problems with it flexing or moving around. It just has a nice heavy-duty feel to it.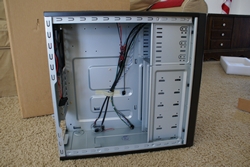 This is a slightly different shot that includes the bundled accessories. The only accessories this one comes with are the filter for the front panel and two bags of screws. I really like the thumbscrews that Antec has been packaging for the drive racks; they make installation very easy, and are far more secure than the screwless racks I have seen from other manufacturers. The instruction manual is one of the best I have seen included with a case. The instructions are written in several languages and the English makes sense, instead of being poorly translated to some approximation. The only thing not included that I would love to see is a filter for the side panel fan. I know the fan is optional and is a user addition but it would be very nice to see a filter for it at least, since most fans don't come with one.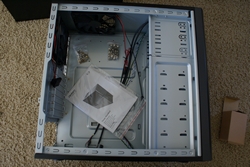 This is one of my favorite features in this case. So many of those that consider themselves to be "enthusiasts" work very hard on cable management. Many people mod their cases just to create a place to put all the extra wiring. Antec has already considered this, and has provided a spot right behind the HDD cage, which is perfect for all of us that don't have a modular power supply.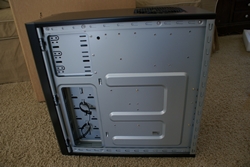 Here's a quick look behind the front panel to see the two front fan locations. They are quite easy to install; just remove the two screws on the right side and swivel it out, then use the screws provided with your fans to set them inside the cage.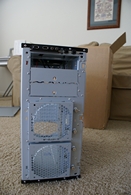 And last, a quick look at the front panel with the filter detached. Having a washable filter is a nice touch – very quick and easy to clean.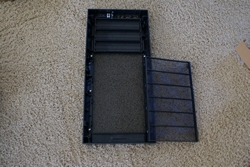 INSTALLATION
Installing the components in the Three Hundred is very straightforward. You do need to keep a few things in mind however. First of all, be careful when you're installing hard drives if you have a long video card. In the Three Hundred, as with many mid-tower cases, even cards as long as the 8800GT will interfere with hard drive locations. Luckily, this case has six spots to choose from. However, if you are into SLI or TRI-SLI, the additional cards will limit the number of drives you can install. In the picture you can see just how close they are. If you're using something even bigger – like the GTX series from Nvidia – it will still fit, but you'll be a lot tighter around the drive cage.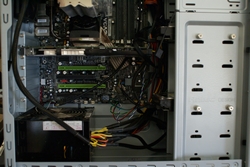 The other area where space is tight is the top of the motherboard. When I had my CPU cooler installed (ZEROtherm Zen) to exhaust through the rear of the case, it interfered with the top exhaust fan enough that I couldn't use the top fan at all. The fins on the cooler itself were actually reaching up into the blades.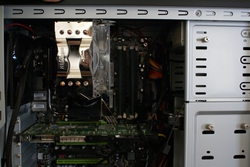 As stated earlier, cable management was pretty well thought out by Antec when they put this one together. Not only did they include space behind the drive cage for extra cabling, they did a pretty good job of placing some zip-tie points along the side of the motherboard to keep everything tied down and out of the airflow from the front intake.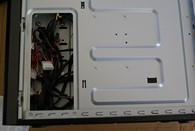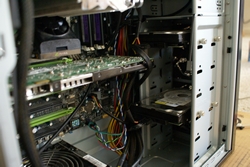 TEST SETUP
For this review, I decided to look at the temperature variances using the different fan setups available for this case. For testing purposes we will take temperature readings of the MCP, CPU, and GPU – with the two stock fans at low, medium, and high speeds – to measure the difference. After that, we will add two fans to the front intake to see how much difference that makes. The low, medium, and high settings refer to the Antec fans that came with the case. The two front fans were Yate Loon medium speed fans that are not adjustable. All tests were conducted with the CPU and GPU fans set to 100%. They were tested at an average load; [email protected] with the SMP client on two cores and running the GPU client as well. CPU Utilization was steady at 60% and the GPU was loaded completely. Temperature readings were taken after 10 minutes, ambient was 24oC
The test system consisted of the following:
TEST SYSTEM
Intel Q6600 G0 2.4 GHZ 1.24
2GB Corsair XMS2 5-5-5-15 888MHz
EVGA 780i TRI-SLI motherboard
2 x 160GB WD Caviar RAID 0
EVGA 8800GT SC
ZEROtherm Zen CPU cooler
Antec Three Hundred
TEST RESULTS
 I was not terribly surprised with the results I got here. This first table represents the results with the back and top exhaust fans running and no intake fans, which is how this case ships.
Antec 300 Tested Utilizing
120mm Rear & 140mm Top Exhaust Fans
Highest Temperature Measured at Fan Speed
Motherboard
Low
Medium
High
39°C
37°C
37°C
CPU
49°C
46°C
44°C
Northbridge
66°C
62°C
60°C
GPU
75°C
73°C
69°C
GPU Memory
69°C
66°C
61°C
The next set of results is with two fans installed in the front panel, none in the side panel, and both exhaust fans running.
Antec 300 Tested Utilizing
Both Exhaust Fans & both Front Intake Fans
Highest Temperature Measured at Fan Speed
Motherboard
Low
Medium
High
36°C
32°C
32°C
CPU
46°C
41°C
40°C
Northbridge
66°C
61°C
60°C
GPU
71°C
66°C
66°C
GPU Memory
63°C
60°C
60°C
As we can see, the front intake fans helped immensely in dropping the temperatures. Without the intake fans the two exhaust fans have to pull air through the front grill. Putting my hand in front of the grill I could feel very little air movement, so the fan speed played a large part in cooling efficiency.
Once the two intake fans were added, temperatures dropped several degrees. Air movement both in front of the case and from the exhaust improved significantly. I was quite impressed with the ability to move air with only four fans. Also, with four fans installed there was no difference in temperatures between medium and high speed. This shows that we have reached the cooling limit for this case with this particular hardware set. Unfortunately, I did not have a fan to put in the side panel, so there wasn't much air movement there; barely enough to attract a piece of printer paper, which by comparison stuck right to the front grille.
CONCLUSION
It's not every day that we come across a case that is designed to be compact and portable, yet still delivers many of the features found on bigger, heavier, more expensive cases. While we're on the subject of cost, the Three Hundred is available for an extremely reasonable $69.95(US), which is considerably less than its slightly bigger brother, the Antec Nine Hundred, at $119.99. Antec has scored with the Three Hundred.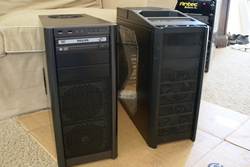 Though not a true side by side comparison, I can tell you that I own both the Three Hundred and Nine Hundred and have been very pleased with both. While the Nine Hundred is able to cut another few degrees off of the temps seen with the Three Hundred, I think the slightly smaller size of the latter appeals to many consumers. I have owned several cases that just weren't well constructed, with components made of flimsy materials to parts that don't fit quite right, but I've never run into any problems with Antec enclosures. The one other feature that I really like on the Nine Hundred and miss on the Three Hundred is the clear side panel. This is a case that is designed to be light enough to be portable for say, a LAN party, but you can't show off your gear!
The biggest problem that I've experienced with the Three Hundred is the limiting factor of the smaller space. I had to remove my CPU fan and turn it 90 degrees to exhaust through the top fan instead of the rear, which places it directly over my MOSFET heat sinks on the motherboard. Not a huge deal, but just one of the quirks of trying to squeeze everything into a smaller space. If you plan on liquid cooling, I wouldn't recommend it with this case, as it's just not designed for it. There is no place to put a pump, an internal radiator, or a way to run tubing from the outside. Lastly, if you are using a long video card it will fit, but it will be tight and will most likely limit the number of hard drives you can use.
PROS:
+  Portable size
+  Built-in filtration system
+  Extremely affordable 
+  Solid construction
+  Fit and finish is excellent
+  Built-in cable management system
CONS:
–  Cramped inside, some CPU coolers may not fit
–  Very plain Gamer case, no LED's, no clear side panel
–  Fans are quite noisy at high speed, tolerable at medium
–  Only includes exhaust fans, at least one intake, preferably two would have been a nice addition
SCORES
All in all I was very pleased with the Antec Three Hundred. I have given it the following scores:
Performance: 8/10
Value: 9/10
Aesthetics: 8.5/10
Resulting in an overall score of 8.5/10 and earning the Bjorn3D Seal of Approval!