NVIDIA has released GeForce 8300 to the market a few weeks ago. This is a chipset with integrated graphic card that is derived from GeForce 8400GS. Because of the video encoding ability on the chipset, this would make an excellent chipset for the HTPC users. But how well does it performs? What new features does NVIDIA includes with this new chipset? We will answer these questions as our hand at the Asus M3N78 Pro board that we will put it through our test.
INTRODUCTION
It's quite interesting to see the computer industry go full circle and experience the resurfacing of old technologies. Because the computer industry is always standing on the cutting edge, it is not often that we see the returning of old ideas, since newer technologies are often faster and better.  However, lately, we have seen a surge of old technology such as SLI. We have also seen a resurgence of integrated graphics processors (IGP). These IGPs were originally meant to be used with a low-cost system, where users were never going to be playing games on their desktop, except for Solitaire.  NVIDIA has changed the landscapes with their plans to incorporate new IGPs – which they call "motherboard GPU" or "mGPU" – on every chipset.
A few months ago, NVIDIA announced that any future chipset from the company would come with an integrated graphic chip built-in. This may come as a surprise to many enthusiasts, as many of us will never purchase a motherboard with integrated graphics since we are always going to need something stronger.  However, in this increasingly environmentally-conscious world, going green is the talk of the town, and NVIDIA has taken this on by incorporating mGPU to their chipset. Confused? Read on.
The rationale behind NVIDIA's decision is that while we need a super powerful graphics card in games, the computer system is actually not going to need all that graphical power while it is running desktop applications. In many cases, enthusiasts are using computers for web browsing, working, and running non-graphically intensive applications. It would be wasteful to have a powerful 3D graphics card sitting idle during these applications, wasting precious electrical power. Thus, by incorporating mGPU and combining it with NVIDIA's "Hybrid power", the computer is able to reduce the power usage (and energy bill) by switching off the discrete graphics card and using only the integrated graphics for low-demand applications. When the demand for graphic power increases, the dedicated graphic card will then kick in.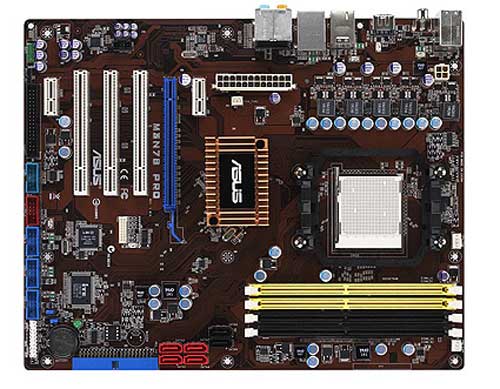 NVIDIA launched their first mGPU at CES 2008, and today we are going to take a look at their GeForce 8300 chipset courtesy of Asus.  
ASUS:  The Company

ASUS, a technology-oriented company blessed with one of the world's top R&D teams, is well known for high-quality and innovative technology. As a leading provider of 3C (computers, communications and consumer electronics) total solutions, ASUS offers a complete product portfolio to compete in the new millennium.

In 2006, the company shipped 55 million motherboards, which means one in three desktop PCs sold last year was powered by an ASUS motherboard. Our 2006 revenues reached US$16.5 billion, and is expected to garner US$23 billion in 2007.

ASUS products' top quality stems from product development. It's like learning Chinese Kung-Fu; one must begin with cultivating the "Chi" and inner strength. Besides innovating cutting-edge features, ASUS engineers also pay special attention to EMI (electromagnetic interference), thermal, acoustics and details that usually go unnoticed to achieve complete customer satisfaction. ASUS notebooks are the first TCO'99-certified notebooks worldwide. The requirements for this honor include radiation emission control, energy (battery consumption), ecology (environment friendly) and ergonomics.

To succeed in this ultra-competitive industry, great products need to be complimented by speed-to-market, cost and service. That's why all 100,000 over employees of ASUS strive for the "ASUS Way of Total Quality Management" to offer the best quality without compromising cost and time-to-market while providing maximum value to all customers through world-class services.

With unyielding commitment to innovation and quality, ASUS won 2,168 awards in 2006, meaning on average, the company received over 5 awards everyday last year. BusinessWeek ranked ASUS amongst its "InfoTech 100" for the 9th straight year. The readers of Tom's Hardware Guide, the world's largest IT website, selected ASUS as the best maker of motherboards and graphics cards. Furthermore, the company is ranked as No.1 in quality products and services by the Wall Street Journal.
GEFORCE 8300
The new NVIDIA IGP chipset is called GeForce 8300, and NVIDIA is calling this new IGP "motherboard GPU" or "mGPU". I have to say that I think NVIDIA is making quite a mistake with their naming scheme lately. Their chipset used to be called nForce while GeForce was reserved for graphics cards.  Now, we see that the new IGP chipset is called GeForce as well. It is just too confusing to know if it's IGP or dedicated graphics, as NVIDA also makes a dedicated graphics card called the GeForce 8400.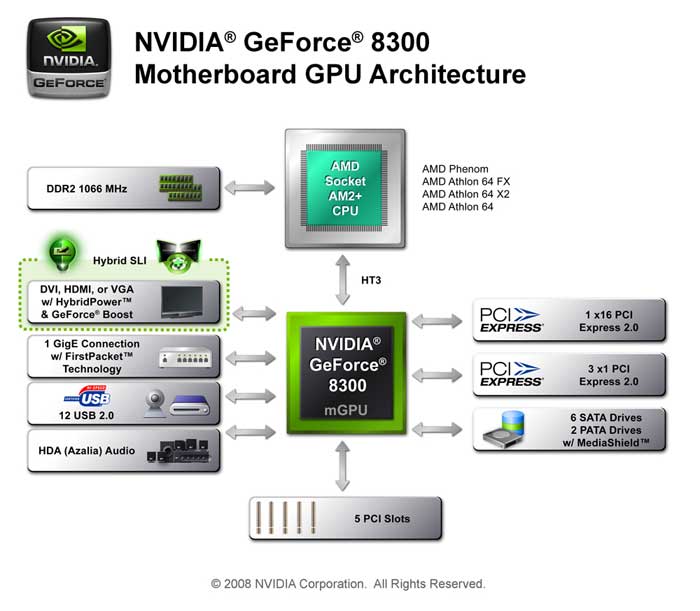 Source: NVIDIA
In fact, GeForce 8300 is derived from GeForce 8400. Think of this as a marriage of the GeForce 8400 and NVIDIA flagship 780a with a few features cut off; and their child, the GeForce 8300, is born.
On the graphic level, GeForce 8300 has a core clock of 500MHz; a shader clock of 1500MHz; a total of 16 stream processors. It supports DirectX 10, GeForce Boost, Hybrid Power, PureVideo, full Blu-ray decode acceleration, and Shader Model 4.0.
The GeForce 8300 is packed with video encoding ability. It is able to offload 100% of both Blu-Ray and HD DVD decoding tasks from the CPU; however, in order to use this function with the mGPU, a HyperTransport 3 based Phenom CPU is required to provide the necessary bandwidth, and Windows Vista Aero and noise-reduction must be disabled. The chipset is capable of decoding MPEG2, AVC (H.264), and VC-1 contents.  Furthermore, GeForce 8300 supports HDCP and comes with HDMI, DVI, or VGA. Unfortunately, it only support single-link TMDS at 162 MHz pixel clock at maximum resolution of 1920 x 1200.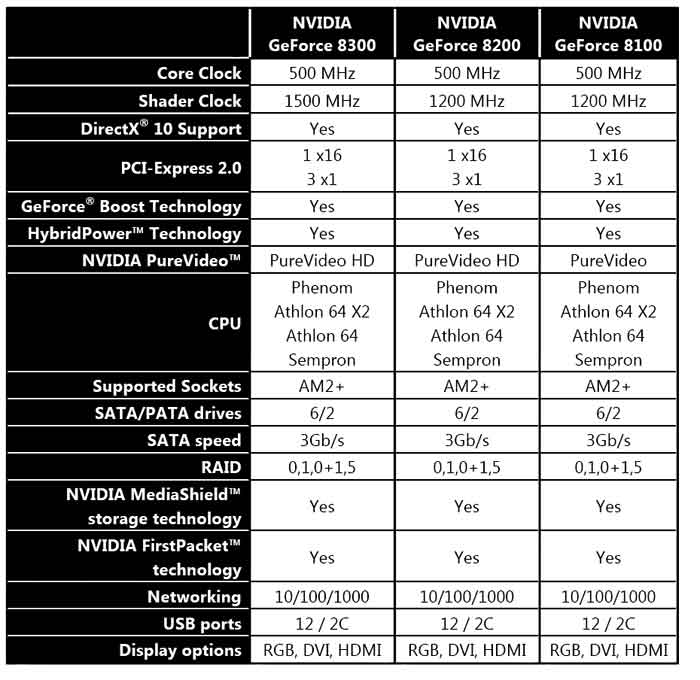 In addition to the GeForce 8300, NVIDIA has also released two chipsets at lower clockspeed, GeForce 8200 and GeForce 8100.
At the chipset level, the GeForce features a HyperTransport 3.0, PCI Express 2.0, Gigabit Ethernet, RAID level 0/1/0+1/5/JBOD, 12 USB ports, and HD audio. It supports NVIDIA MediaShield and FirstPacket technology.
There are total of 19 lanes of second generation PCI Express with 16 lanes dedicated for PCI Express 2.0 graphic cards. The chipset also supports the Hybrid SLI feature, which has two functions: Hybrid Power and Hybrid SLI. Hybrid SLI allows the mGPU to work in tandem with the similar performance discreet graphic cards (GeForce 8400 or 8500) to boost overall performance. Hybrid Power is a power saving feature which allows users to switch off discreet graphics hardware to save power when the demand is not there. Both features work only under Windows Vista (32bit and 64bit), and as of this writing currently work with only the GeForce 9800 GTX, 9800 GX2, GTX 260 and GTX 280.
UNBOX THE Board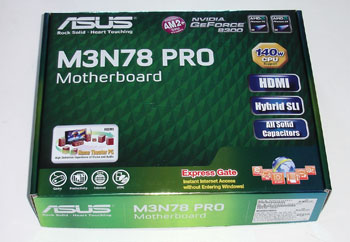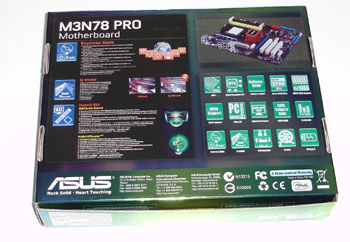 Asus packages the motherboard in a shiny box splashed with marketing information. On the front of the box, we can see important specs such as 140W CPU support, HDMI, Hybrid SLI, and all solid capacitors.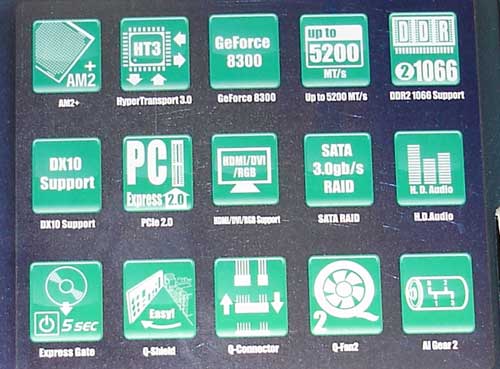 On the back, more special features can be found, as well as a picture of the physical board.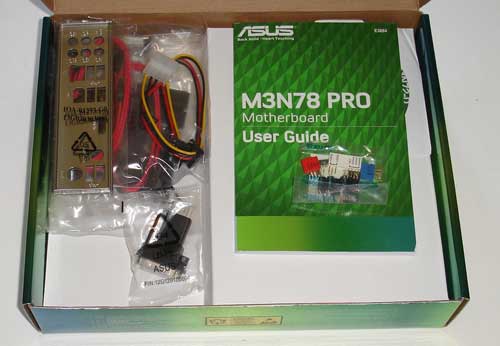 After lifting the cover of the box, you will see all the accessories on top of a piece of cardboard.  Underneath the cardboard is where the motherboard lies, protected against the harsh treatment during shipping.
FEATURES AND SPECIFICATION
ASUS® M3N78 Pro
Detailed Specifications
CPU
AMD Socket AM2+ / AM2 Phenom FX/Phenom/Athlon /Sempron Processors
AMD Cool 'n' Quiet™ Technology
AMD Live!™ Ready
Support CPU up to 140W
Chipset
NVIDIA GeForce 8300
System Bus
Up to 5200/MT/s HyperTransport™ 3.0 interface for AM2+ CPU
2000/1600 MT/s for AM2 CPU
Memory
4 x DIMM, Max. 8 GB, DDR2 1066/800/667 ECC,Non-ECC,Un-buffered Memory
Dual Channel memory architecture
*Due to AMD CPU limitation, DDR2 1066 is supported by AM2+ CPU for one DIMM per channel only.
**Refer to www.asus.com or user manual for Memory QVL (Qualify Vendor List)
***When installing total memory of 4GB capacity or more, Windows® 32-bit operation system may only recognize less than 3GB. Hence, a total installed memory of less than 3GB is recommended.  
Expansion Slots
1 x PCIe x16 (Support PCIe 2.0 / 1.0 Architecture )
2 x PCIe x1
3 x PCI 2.2
VGA
Integrated NVIDIA GeForce® 8 Series GPU
Hybrid SLI™ Support (supports Windows Vista only)
Supports HDMI™ Technology with max. resolution up to 1920 x 1200
Supports DVI with max. resolution up to 1920 × 1200 @ 60 Hz
Supports D-Sub with max. resolution up to 1920 × 1440 @ 75 Hz
HDMI/DVI/RGB Support
Supports Microsoft® DirectX 10, OpenGL 2.0, Pixel Shader 4.0
Support PCIe 2.0 / 1.0 Architecture
Maximum shared memory of 512MB
Storage
NVIDIA® GeForce 8300
1 xUltraDMA 133/100/66/33
6 xSATA 3 Gb/s ports (Use SATA1-4 for IDE mode.)
NVIDIA® MediaShield™ RAID Support RAID 0,1,0+1,5,JBOD
LAN
NVIDIA Gigabit MAC
Realtek® 8211CL Gigabit PHY featuring AI NET2
Audio
Realtek® ALC1200 8 -Channel High Definition Audio CODEC
Coaxial S/PDIF out ports at back I/O
Support Jack Detection and Multi-streaming
IEEE 1394
LSI® FW322 controller supports 2 x 1394a ports
USB
12 USB 2.0 ports (6 ports at mid-board, 6 ports at back panel)
ASUS AI Lifesteyle Features
ASUS Express Gate
– Web browser, file downloading and uploading*
– Further free features upgradable
* File downloading and uploading through USB devices only
ASUS Quiet Thermal Solution
– ASUS AI Gear 2
– ASUS AI Nap
– ASUS Q-Fan 2
– 4+1 Phases ASUS Power Design
ASUS Crystal Sound
– ASUS Noise Filter
ASUS EZ DIY
– ASUS Q-Connector
– ASUS Q-Shield
– ASUS EZ Flash 2
Special Features
ASUS MyLogo 2
Uses 100% All High-quality Conductive Polymer Capacitors!
ASUS Overclocking Features
Intelligent overclocking tools
– AI Overclocking (intelligent CPU frequency tuner)
– ASUS AI Booster Utility
Precision Tweaker
– vDIMM: 8 -step DRAM voltage control
– vCore: Adjustable CPU voltage at 0.0125V increment
– vChipset 4-step Chipset voltage control
SFS (Stepless Frequency Selection)
– FSB tuning from 200MHz to 600MHz at 1MHz increment
– Memory tuning from 533MHz up to 1066MHz
– PCI Express frequency tuning from 100MHz up to 200MHz at 1MHz increment
Overclocking Protection
– ASUS C.P.R.(CPU Parameter Recall)
Back Panel I/O Ports
1 x PS/2 Keyboard
1 x S/PDIF Out
1 x IEEE 1394a
1 x LAN(RJ45) port
6 x USB 2.0/1.1
8 -Channel Audio I/O
1 x HDMI
Internal I/O Connectors
3 x USB connectors support additional 6 USB ports
1 x Floppy disk drive connector
1 x IDE connector
1 x COM connector
1 x VGA connector
6 x SATA connectors
1 x CPU Fan connector
1 x Chassis Fan connector
1 x Power Fan connector
Front panel audio connector
1 x S/PDIF Out Header
1 x IEEE1394a connector
Chassis Intrusion connector
CD audio in
24-pin ATX Power connector
4-pin ATX 12V Power connector
System Panel
BIOS
8 Mb Flash ROM
DMI 2.0
PnP
WfM 2.0
SM BIOS 2.5
Award BIOS
ACPI 2.0
ASUS EZ Flash 2
OS Compatibility
Windows Vista
Windows XP
Accessories
UltraDMA 133/100/66 cable
FDD cable
SATA cables
SATA power cables
D-Sub module
HDMI to DVI connector
Q-Shield
User's manual
3 in 1 Q-connector  
Support DVD Contents
Drivers
Express Gate Lite
ASUS PC Probe II
ASUS Update
ASUS AI Suite
Anti-virus software (OEM version)
Form Factor
ATX Form Factor
12 inch x 9.6 inch ( 30.5 cm x 24.4 cm )
ASUS M3N78 PRO–BOARD LAYOUT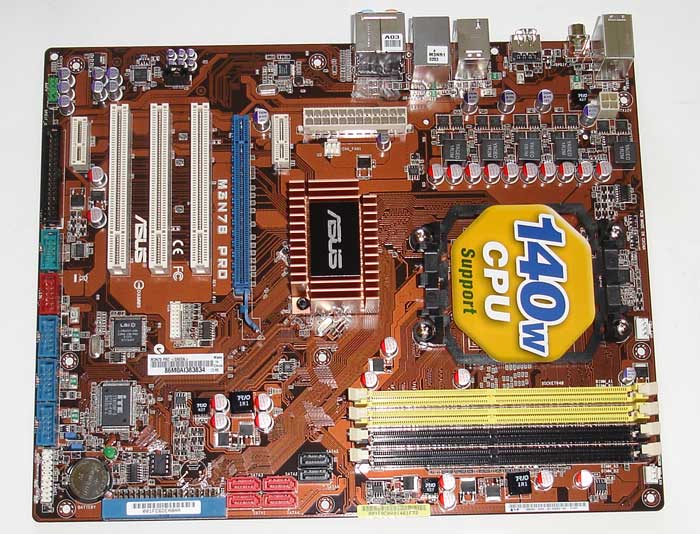 The layout of this motherboard is slightly different than what we have seen.  We see the CPU socket and memory DIMM slots have been pushed slightly toward the right side of the motherboard.  The closeness of the CPU socket to the DIMM slots may pose some problems with larger heatsinks.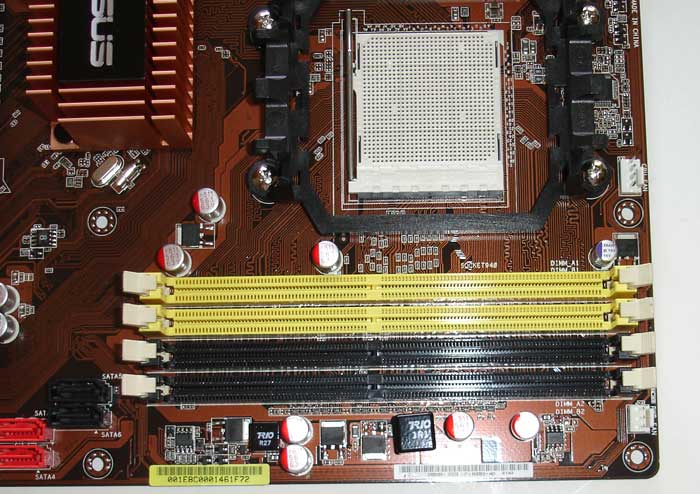 Four DIMM slots are available for maximum of 8 GB.  Asus chooses to put the dual-channel memory slots next to each other instead of skipping one slot.  This arrangement can be an issue for those with memory sticks with larger heat spreader but for the majority of RAM out there, it shouldn't be any problem at all.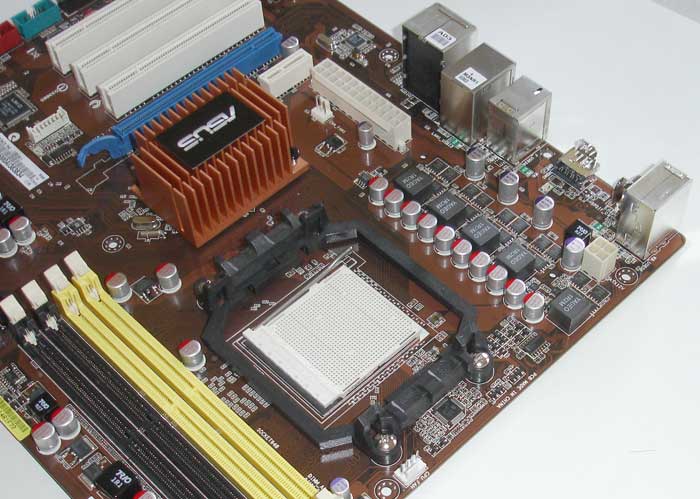 The atrocious placement of the 24 pin ATX power connector right in the middle of the board, just above the chipset, is probably the worst spot to place the power connector. Not to be mean, but what are they thinking? I believe the reason that Asus places the connector over here is to provide the needed power to the chipset for the Hybrid SLI.
We see the motherboard only requires 4 pin ATX auxiliary power.  Asus states that the board will support AMD Socket AM2+/Am2 processors up to 140W.  This means that you can even use the latest X4 Phenom 9950 BE, or any of the current AMD processors.  The board uses 100% all high-quality conductive polymer capacitors which improves its lifespan and enhances thermal capacity.  Asus uses 4+1 phase power design to power the CPU and the memory.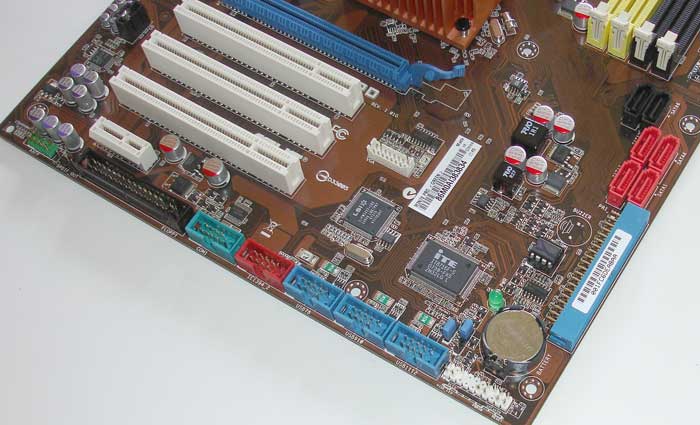 Down to the bottom right, we find six SATA ports capable of running RAID 0/1/0+1/5/JBOD configurations with the NVIDA GeForce 8300 chipset.  The four red colored SATA ports are set in IDE mode by default and the two black SATA ports are capable of ACHI mode, which supports NCQ and hot-swap features.  All of the six ports are capable of running in RAID, and enabling RAID in the BIOS will make them run accordingly.
Unfortunately, the placement of the SATA port may cause some issues if you are using the top of the line NVIDIA 9800GTX or the GTX 280, as the length of the card extends over the ports.  Next to the SATA ports, there is one IDE port supporting up to two devices, and the CMOS battery and "clear CMOS jumper" lie next to it.  Noticeably lacking from the board is the LED error code that you often find on a slightly more expensive board.
All the way to the bottom of the board is where we will find the front I/O ports, three USB headers, one firewall header, one Serial port, and the floppy connector.  Also, you will find the SPDIF header and the front panel audio all the way toward the left corner of the board.  The front panel audio is capable of supporting either AC97 or HD audio.  

Rear I/O ports are a little sparse, but all the essentials are there.  There are six USB ports, a keyboard port, a SPDIF out, an HDMI port, and the eight channel HD audio port power by Realtek® ALC1200.  Asus has included an HDMI to DVI adapter to convert the signal for users without HDMI capable monitors.  I would actually prefer to see a DVI connector in addition to the HDMI port, as the GeForce 8300 is capable of running dual monitors, so it would be nice to have additional connector in case you wish to run two screens.  Also, it would have been nice to see eSATA and maybe even a SPDIF-in port here as well.
ACCESSORIES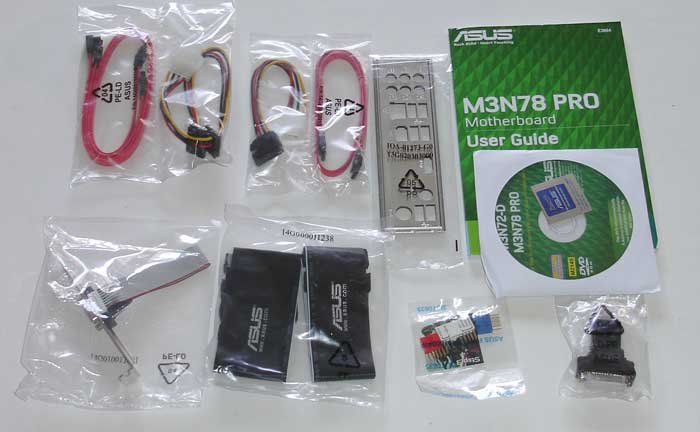 For being a budget board, Asus has actually included a nice bundle. In addition to the DVI to HDMI adapter, we find a VGA bracket that can be plugged into the board's VGA header to provide an additional display. Also, two SATA cables are included with a SATA power adapter, a floppy cable, an IDE cable, and I/O plate. Also, we see Asus keeps their Q-connector for the easy installation of the front headers. A product manual and a driver DVD are also included.
The driver DVD comes with the following software:
Drivers
Express Gate Lite
ASUS PC Probe II
ASUS Update
ASUS AI Suite
Anti-virus software (OEM version)
EXPRESS GATE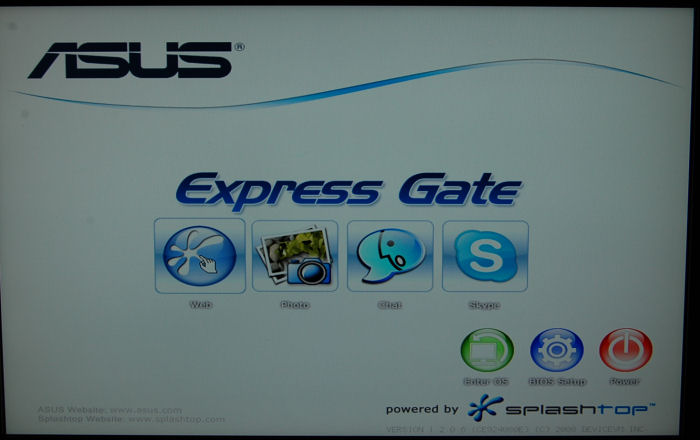 Asus has been adding the Express Gate feature to their motherboards for awhile now. If you are a regular Bjorn3D reader, you sure will be familiar with what Express Gate does. It is a stripped down Linux operating system with functions such as web browser, Skype, Photo viewer, and a chat program. 
The Express Gate on the M3N78 Pro is being implemented in a slightly different fashion than the way we have seen in the past. The old Express Gate actually comes with a SSD built onto the motherboard, but the Express Gate for the M3N78 Pro comes in the installation disk, and requires installation onto either a hard drive or USB flash drive. In order to install the Express Gate to the hard drive, the hard drive must be set in IDE mode. Thus, it won't work when the hard drive is in RAID. 
The new Express Gate still has all the same old looks and functions as the old Express Gate. It still only supports resolutions of 800×600, 1024×768, 1280×800, 1280×1024, 1366×768, and 1440×1050.
There is one major and very welcomed feature that has been added. The new Express Gate has added the ability to download and upload files to and from USB drives. This was one of the biggest complaints about the Express Gate and I am extremely happy to see this feature included.
Additional Software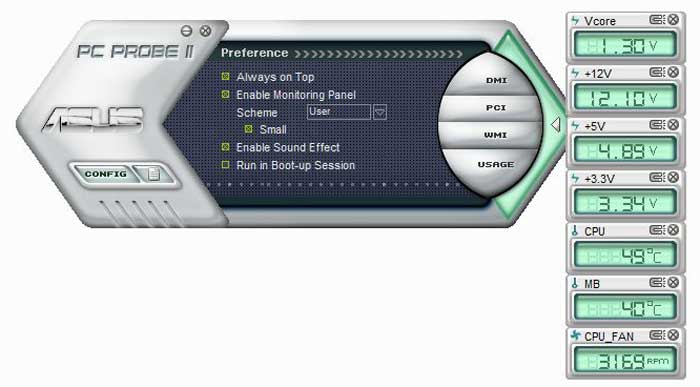 Asus has also included a handy software called PC Probe II which allows users to monitor the fan rotations, CPU temperature, and system voltages.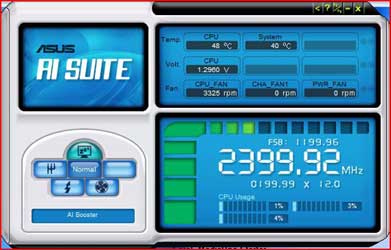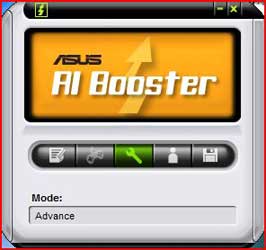 Also included is Asus's AI Suite, which features AI Gear 2, AI Booster, AI Nap, and Q-Fan 2 utilities.  The software allows system monitoring, overclocking, and standby adjustment. 
BIOS
Asus chose to use Pheonix Award BIOS for the M3N78 Pro. It is divided into five categories: Main, Advanced, Power, Boot, and Tools.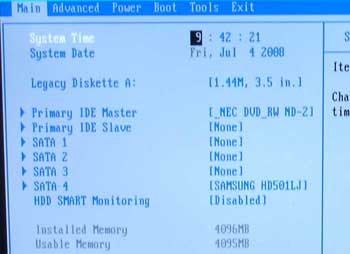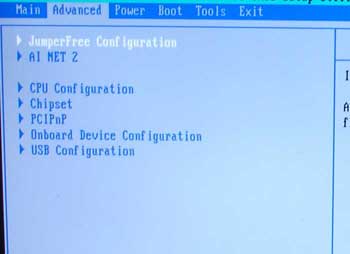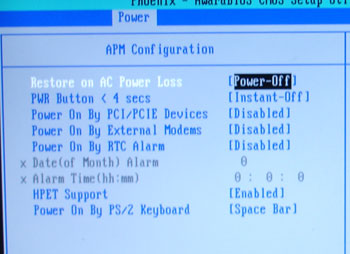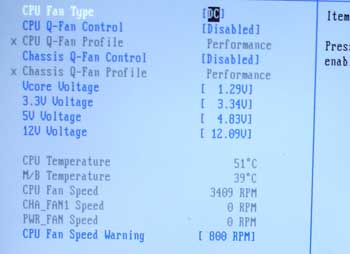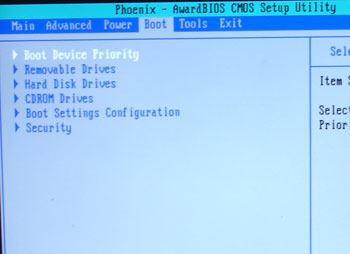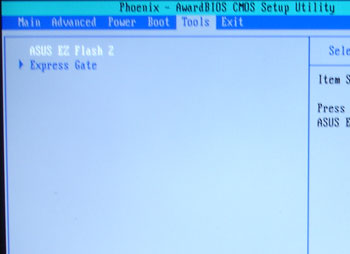 In the Chipset menu, under the Advanced menu, is where we will find the options to adjust the Hybrid SLI. A maximum of 512MB of frame buffer can be dedicated for the integrated GPU.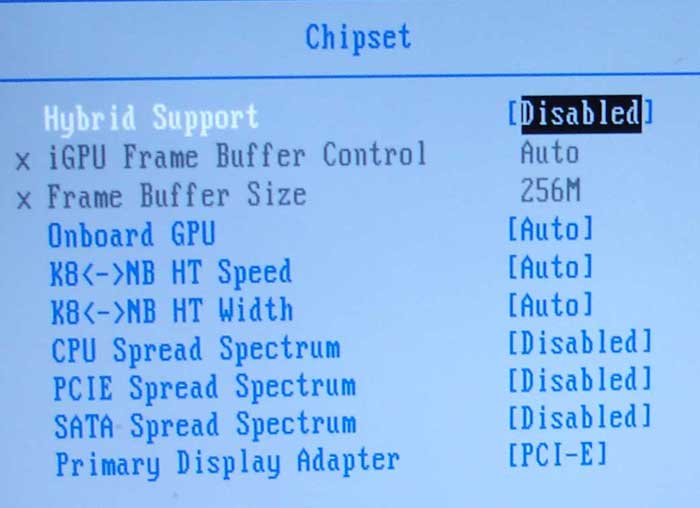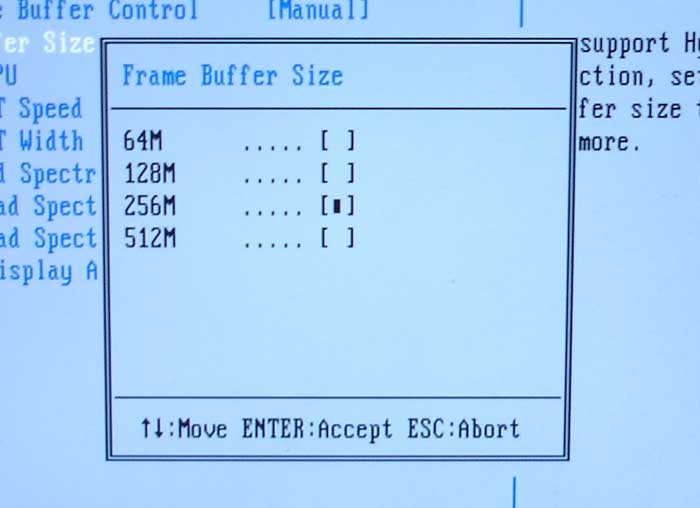 The Advanced menu is where all the overclock features are located, like memory adjustments, NB, and HT voltages for the motherboard. I am glad to see the inclusion of the CPU-NB Multiplier, as it allows users to adjust the multiplier for the HT when raising the FSB. This should provide a slightly better overclocking result.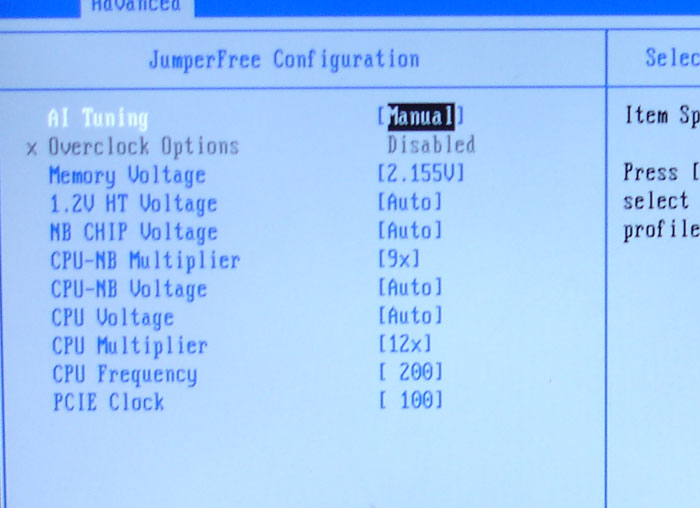 Asus has preset the voltages for these components and they are being incremented at rather odd numbers.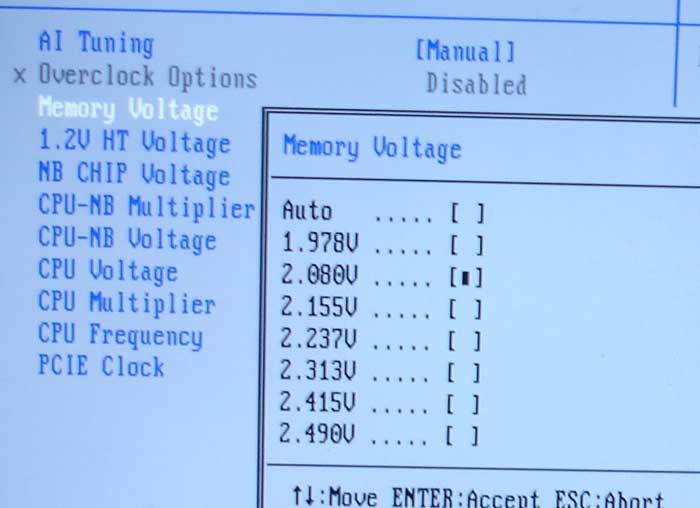 The board offers limited memory adjustment. You can only adjust the memory clock, DRAM ganged mode, and memory hole remap. A noticeable missing option is the ability to fine-tune memory timings.  It is quite dissapointing to find such an option missing from the BIOS.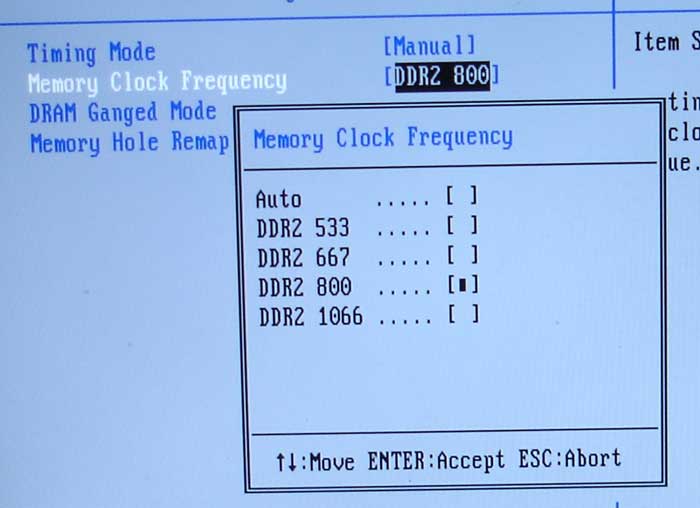 ASUS M3N78

Pro


Primary BIOS Parameter Adjustments
1.2 HT Voltage
 Auto, 1.309v, 1.425v, 1.525v
NB Chipset Voltage
 Auto, 1.213v, 1313v, 1.409v
CPU-NB Multiplier
 Auto, 5x ~ 9x in 1x increments
CPU-NB Voltage
 Auto, 0.7750v ~ 1.5500v at 0.0125v increments
CPU Voltage
Auto,  0.7750v ~ 1.5500v at 0.0125v increments
CPU Multiplier
 Auto,
CPU Frequency
200MHz ~ 600MHz in 1MHz increments
PCIE Clock
 100MHz ~ 200MHz in 1 MHz increments
K8 to NB HT Speed
 Auto, 200MHz ~ 1800MHz in 200MHz increments
K8 to NB HT Width
 Auto, 8/8, 16/16 (up/down)
DRAM Clock
 Auto,  533MHz, 667MHz, 800MHz, 1066MHz
DRAM Voltage
Auto, 1.978v, 2.080v, 2.155v, 2.237v, 2.313v, 2.415v, 2.490v
TEST CONFIGURATION
TEST PLATFORMS

Element

Asus M3A32-MVP Deluxe

XFX 750a

Asus M3N78 Pro

Processor

X3 Phenom 8750 2.4 GHz

X3 Phenom 8750 2.4 GHz

X3 Phenom 8750 2.4 GHz

BIOS

0801

080015

 0203

Memory

OCZ DDR2 PC2-8500 Reaper HPC 4GB Edition @ 1066MHz with 5/5/5/18 timings (2T)

OCZ DDR2 PC2-8500 Reaper HPC 4GB Edition @ 1066MHz with 5/7/7/20 timings (2T)

Heatsink

Thermalright SI-128 with Scythe S-FLEX SFF21F

Drive(s)

Samsung HD501LJ 500GB/7200rpm/16M Cache

Graphics

XFX Fatal1ty 8800 GTS 320MB Forceware 175.19

Power Supply

Cooler Master Ultimate 900W

Case

None

Operating System

Windows Vista Ultimate, 64bit
A word on the benchmark setup. The Asus M3N78 Pro does not offer any option to adjust the memory timings, so it automatically sets the timings to 5/7/7/20. The other two motherboards' timings are manually adjusted to 5/5/5/18, following manufacturer's specifications. 
Benchmarks Tools:
World Bench 6.0 Beta 2
Futuremark 3DMark06
Futuremark PCMark05
Futuremark Vantage
Cinebench R10
Sisoft SANDRA XII SP2
Everest Ultimate Edition v. 4.50.1330
Super PI mod 1.5XS
Company of Heroes v1.007
Crysis v1.21
WinRar v3.71
HD Tach v3.0.4.0
WORLDBENCH
WorldBench 6.0 Beta 2 is an updated version of the ever popular World Bench 5. It uses series of real-world benchmarks which includes a wide variety of applications scripted to test your system's performance. Once all the tests are completed a single score is rendered with higher scores showing improved performance. We decided to publish the individual test results of WorldBench 6.0 Beta2 in lieu of reporting a single score which gives little or no meaning as to where the shortcomings of your system are. Our results from WorldBench do not include patched and unpatched results as there was little or no difference noted.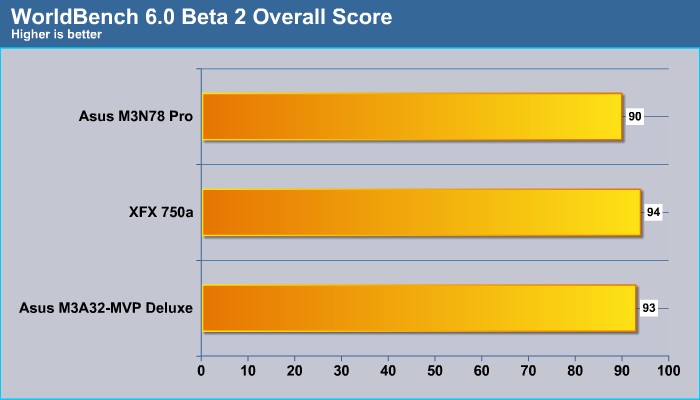 Not being able to fine-tune the memory for the Asus M3N78 Pro board seems to have some effect on performance. Let's take a closer look at the subtests to see which application is being affected.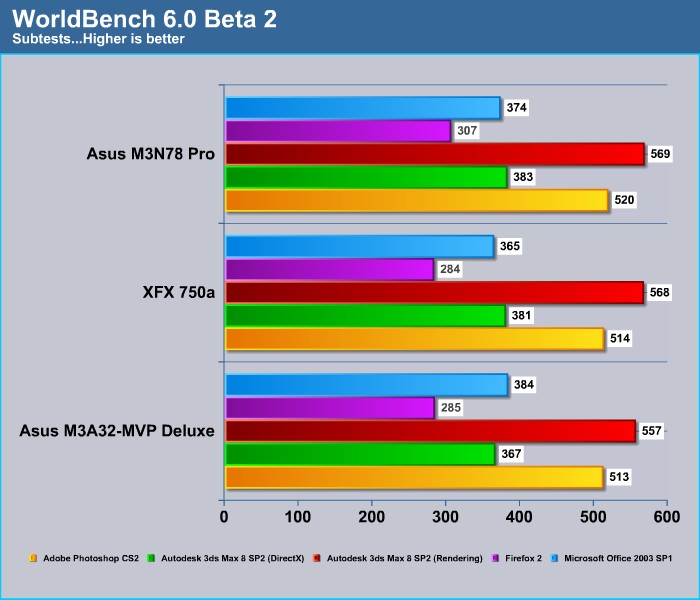 Asus M3N78 Pro excels in every test but Office 2003. In fact, it offers the best performance among the three boards tested.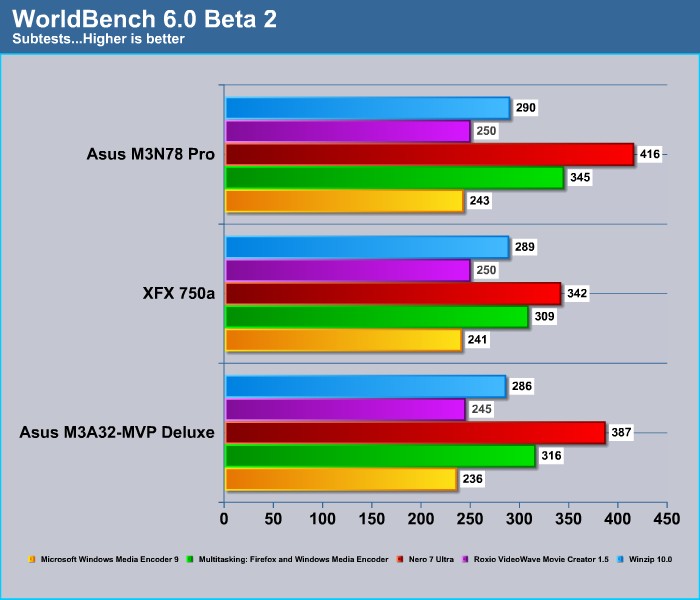 In the second sets of the WorldBench, the M3N78 Pro once again excels in every single benchmark.
PCMARK VANTAGE
PCMark Vantage is the updated version of the PCMark05, and adds some updated benchmark applications to the test. In addition, it also offers support for multi-threaded applications and multi-core processors, as well as 64bit Windows Vista. We will be running the benchmark using the 64bit version.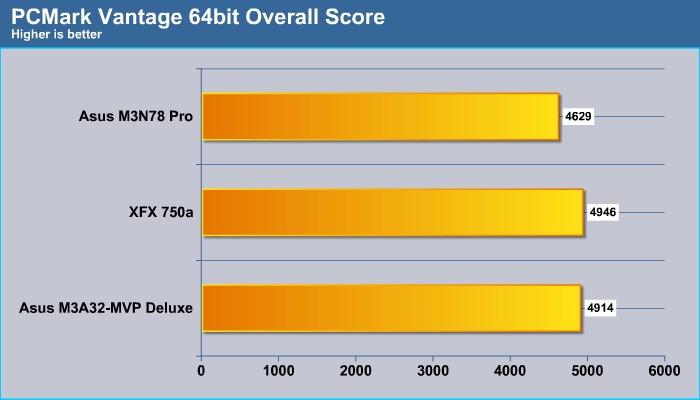 Overall, M3N78 Pro seems to lag behind the other two motherboards.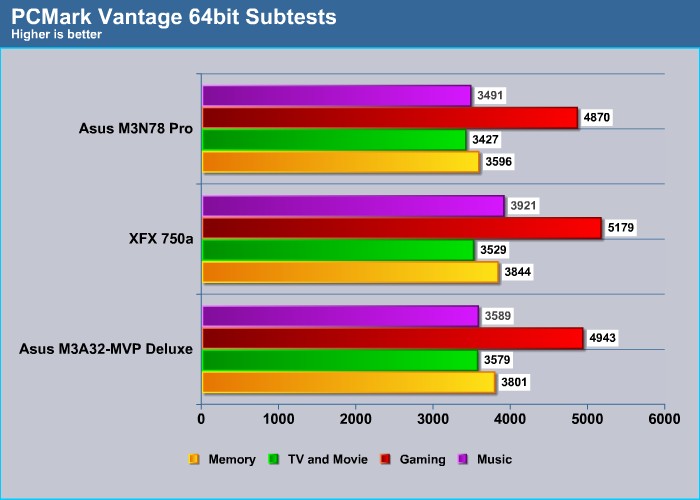 PCMark Vantage subtests reveals that M3N78 Pro trails behind both XFX 750a and the Asus M3A32-MVP, which is based on AMD 790FX chipset. The performance difference is somewhere between 3% to 10% depending on the application.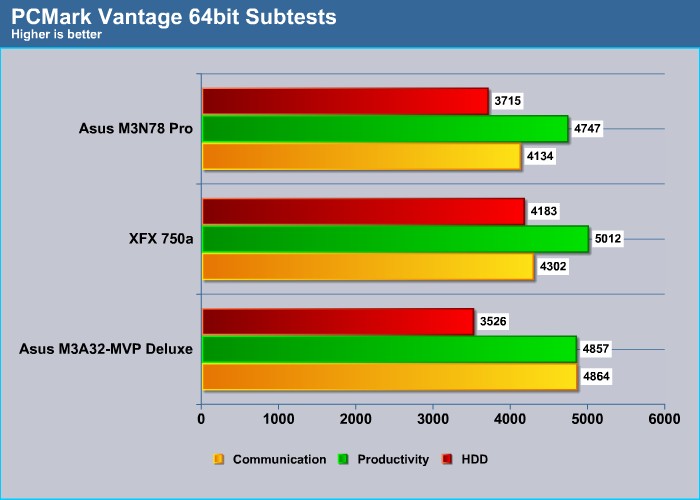 With the exception of the HDD test, the M3N78 Pro is once again falling behind the other two boards.  In fact, we can see here that in the HDD benchmark, NVIDIA usually has a better result than the AMD based chipset. It is a possibility that pairing up NVIDIA chipsets with NVIDIA grahpic cards results in better results. Both NVIDIA boards also lag behind the AMD based board in the communication benchmark.
CINEBENCH
CINEBENCH is a real-world test suite that assesses your computer's performace capabilities. CINEBENCH runs several tests on your computer to measure the performance of the main processor and the graphics card under real world circumstances. The benchmark application makes use of up to 16 CPUs or CPU cores and is available for Windows (32-bit and 64-Bit) and Macintosh (PPC and Intel-based). The resulting values among different operating systems are 100% comparable and therefore very useful with regard to purchasing decision-making.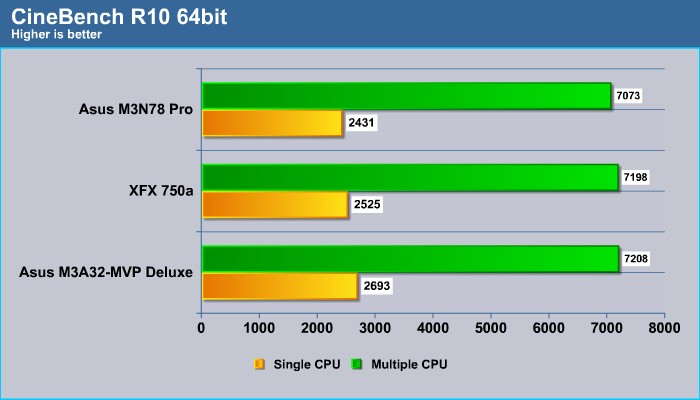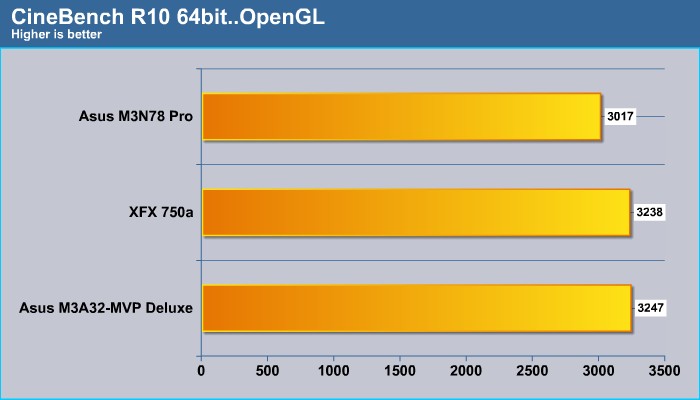 No real surprise here, we can see the Asus M3N78 Pro comes in the last once again.
SANDRA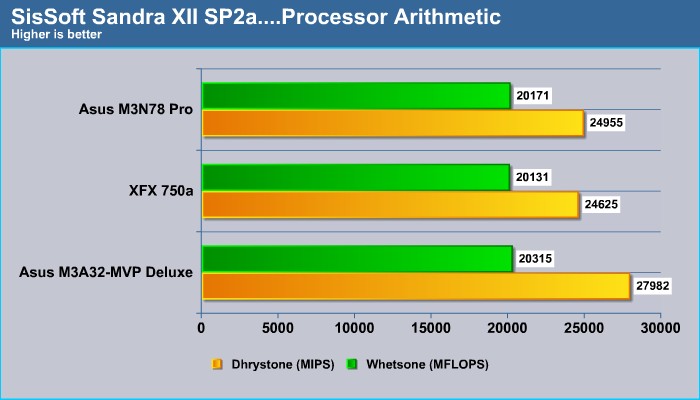 The Sandra result is a bit surprising, as we see that the Asus M3N78 Pro is actually able to perform a tad better in the Processor Arithmetic benchmarks compared to the XFX 750a; but both boards still lag behind the AMD 790GX based board.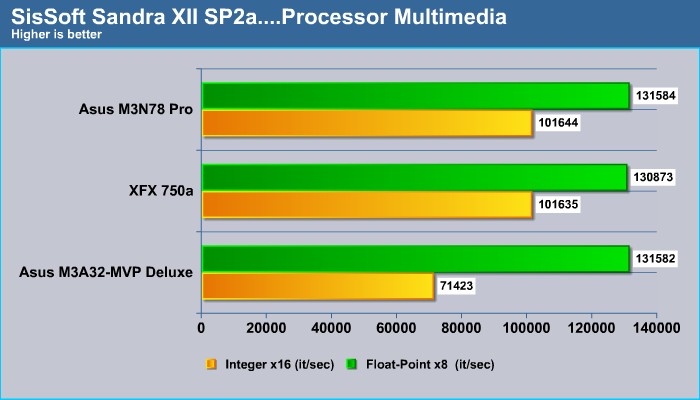 Another surprise from Sandra, with the Asus M3N78 Pro also taking the lead in the Processor Multimedia benchmarks.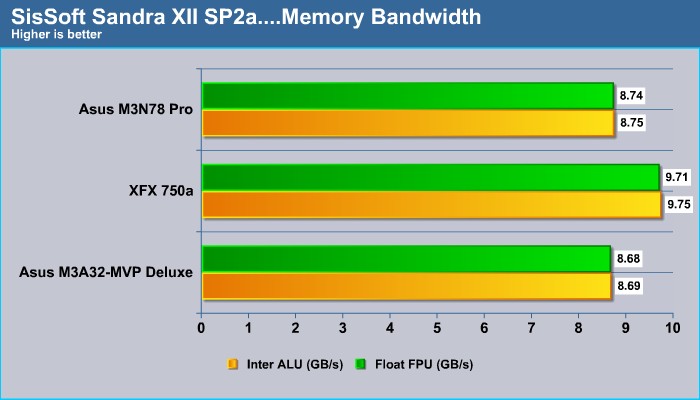 In Memory Bandwidth test we can see the effect of the relaxed timings on the Asus M3N78 Pro.
EVEREST
"EVEREST Ultimate Edition is the cutting-edge benchmarking and diagnostics tool to maximize security, performance, and trouble-shooting capabilities for home and home office PC environments, PC Professionals and consulting firms as well as OEM partners and Configuration Centers worldwide." Everest Ultimate Edition has been around for several years now and has over the last several versions gained huge credibility amongst the enthusiast sector. Everest Ultimate Edition offers several CPU and FPU benchmarks that are unlike others on the market and quite good.
Memory Benchmarks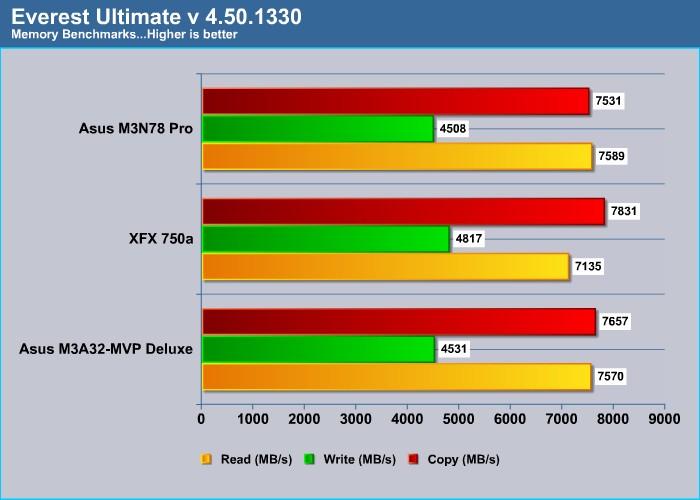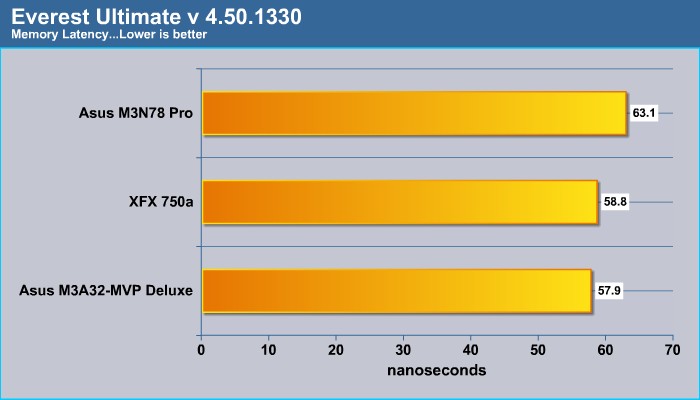 Everest Memory benchmarks give us more information on how the relaxed timings have effected the Asus M3N78 Pro. We can see the memory latency for the Asus M3N78 Pro is a whopping 5ns slower than the XFX 750a. However, if we take a look at the memory bandwidth benchmarks, we can see that the GeForce 8300's Read performance is actually the best of the three chipsets, especially when compared to the 750a chipset. This better read performance is probaly able to offset the slightly higher latency, giving us some comparable performance in our previous benchmarks.
Processor Benchmarks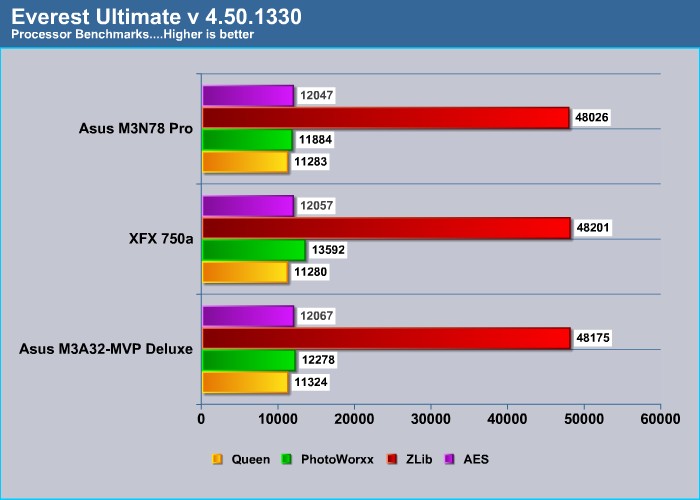 Asus's M3N78 Pro comes in dead last in all these tests.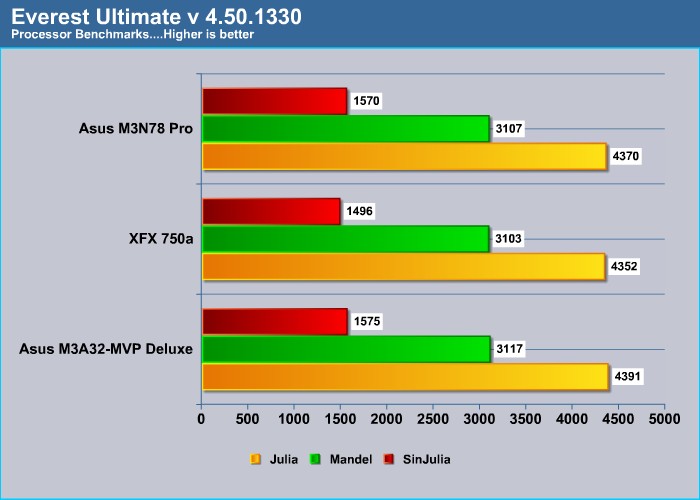 The board comes back to life and is able to out-perform the XFX 750a in both Mandel and SinJulia benchmarks.
SUPERPI
"SuperPI is a computer program that calculates pi to a specified number of digits after the decimal point – up to a maximum of 32 million. It uses Gauss-Legendre algorithm and is a Windows port of the program used by Yasumasa Kanada in 1995 to compute Pi to 232 digits. Super Pi is used by many overclockers to test performance and stability of their systems. In this community, Super Pi has become the standard for providing benchmarks to compare pi calculation times and demonstrate their overclocking skills." The version used in our testing mod 1.5XS has been modified by Xtreme Systems and we feel is the best version currently available.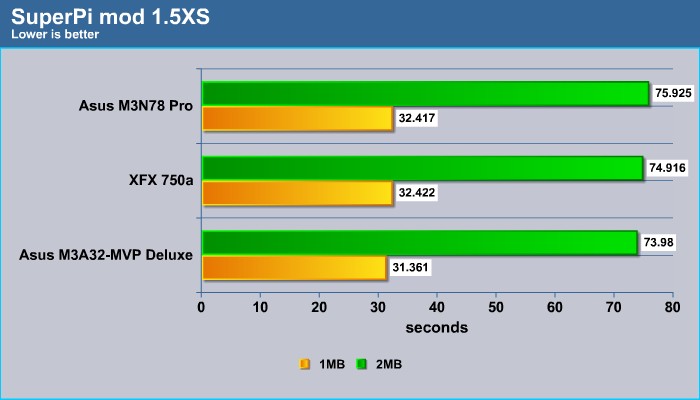 As expected, the Asus M3N78 Pro comes in here dead last. The memory latency has a big effect in the SuperPi benchmark.
3DMark06
3DMark06 developed by Futuremark is a synthetic benchmark used for universal testing of all graphics solutions. 3DMark06 features HDR rendering, complex HDR post processing, dynamic soft shadows for all objects, water shader with HDR refraction, HDR reflection, depth fog and Gerstner wave functions, realistic sky model with cloud blending, and approximately 5.4 million triangles and 8.8 million vertices; to name just a few. The measurement unit "3DMark" is intended to give a normalized mean for comparing different GPU/VPUs. It has been accepted as both a standard and a mandatory benchmark throughout the gaming world for measuring performance.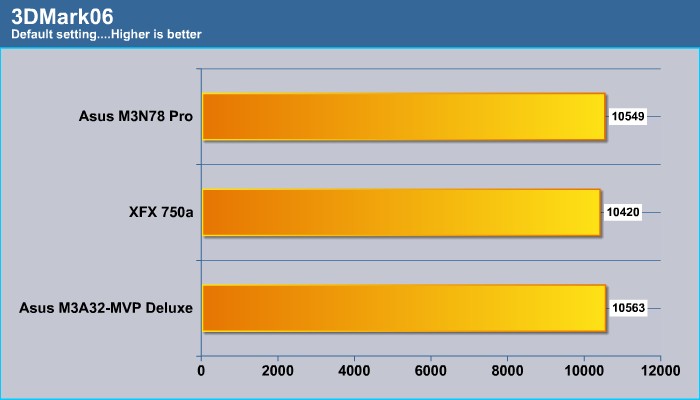 Quite surprising, Asus M3N78 Pro actually is able to offer a small performance lead over the XFX 750a, but stays just a hair behind the Asus M3A32.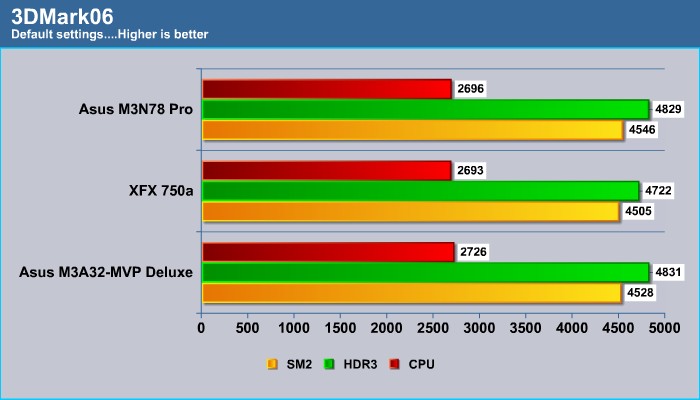 We can see that even with a slightly higher latency, the Asus M3N78 Pro still offers a slightly better result in the 3DMark benchmark than the XFX 750a.
GAMING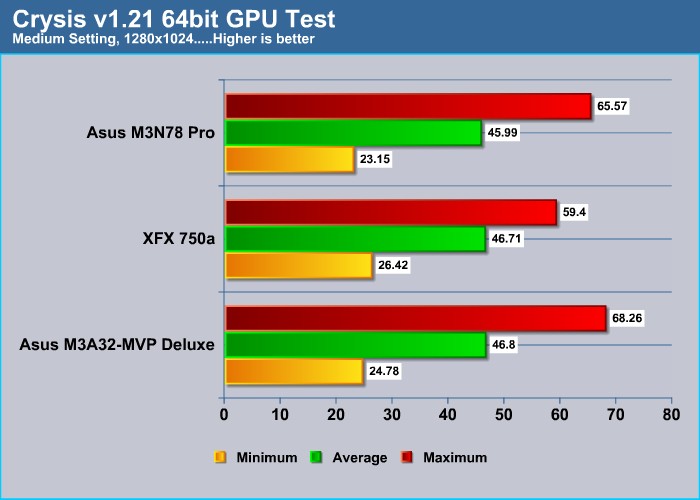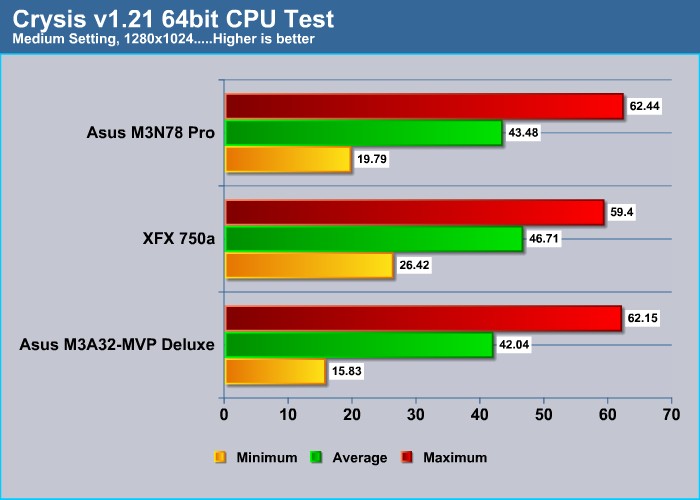 In Crysis's GPU test, the Asus M3N78 Pro once again comes in last (in the average and minimum FPS), but the performance is quite close to the other two boards. Here is the kicker, in the Crysis CPU benchmark, we see that the board offers a tad better performance than the M3A32-MVP.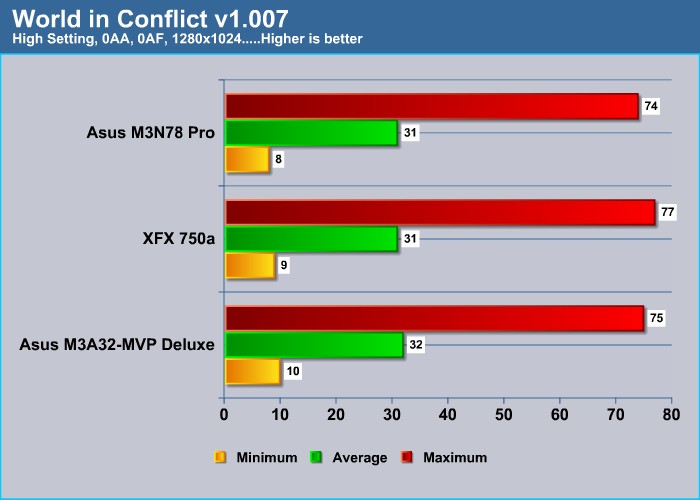 In WiC, all three boards performs so close that it is impossible to tell who is the leader.
HDTACH: SATA AND USB
SATA

 
ASUS M3A32-MVP Deluxe
XFX 750a
Asus M3N78 Pro
Random Access Time* (ms)
14
14.1
14.1
Burst Speed(MB/sec)
210.7
208.5
215.4
CPU Utilization*
4%
4%
2%
Average Read Speed (MB/sec)
69.4
69.2
68.6

*Lower is Better … Otherwise Higher is Better
While we have seen the performance of the Asus M3N78 Pro lagging behind the other two motherboards, it is time for it to shine in the SATA transfer speed test. Here we can see that M3N78 pro has the best burst speed and lowest CPU usage.
USB

 
ASUS M3A32-MVP Deluxe
XFX 750a
Asus M3N78 Pro
Random Access Time* (ms)
17.1
17.3
17.3
Burst Speed (MB/sec)
30
34
34
CPU Utilization*
5%
6%
4
Average Read Speed (MB/sec)
21.5
21.3
21.5

*Lower is Better … Otherwise Higher is Better
The Asus M3N78 Pro's USB transfer rate is similar to the XFX 750a with the exception of lower CPU usage.  Both boards perform better than the Asus M3A32-MVP in the burst speed.
POWER CONSUMPTION
The system power consumption is measured with Kill-A-Watt P4400. All the power saving features (Cool & Quiet, SpeedStep, etc) are enabled under the BIOS. We tested each system's power with 3DMark06 and recorded the maximum power consumption. The idle setting is measured with system booting into Windows without any programs running in the background.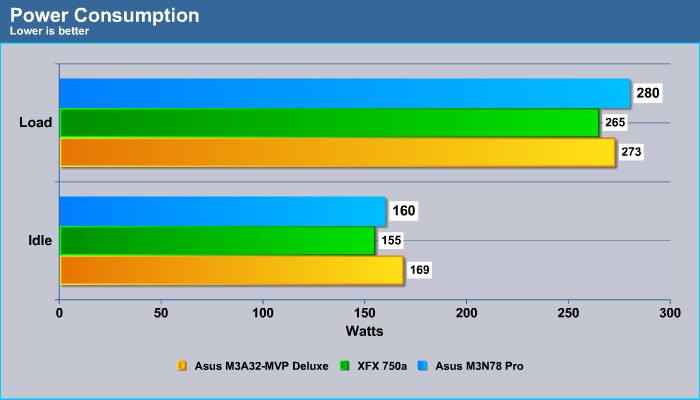 Despite the fact that we see the Asus M3N78 Pro's power consumption at idle is lower than the M3A32, its power consumption under load is the highest of the three boards. Its power consumption is not the lowest, as that title belongs to the XFX 750a.
OVERCLOCKING
Having the ability to adjust the NB to HT multiplier allows us to achieve a slightly better result with the M3N78 Pro board. In our previous attempt, we were only able to achieve a measly 2.7 GHz out of the Phenom X3 8750 with the Asus M3A32-MVP board. Now, with the Asus M3N78 Pro, we can further push the processor to 2.8 GHz from the stock 2.4 GHz. This is quite an achievement for a Phenom based processor, as we all know it is not an easy task to achieve good result with them. The black edition of the Phenom processor could potentially achieve an even better result with its unlocked multiplier.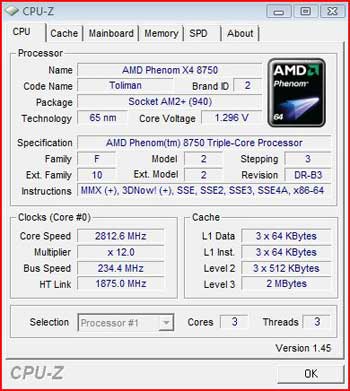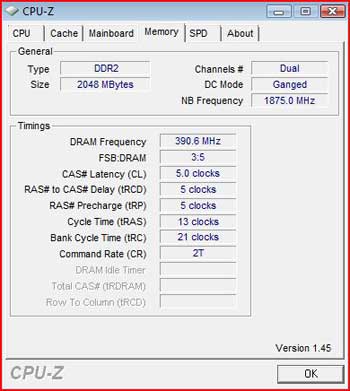 HYBRID SLI PERFORMANCE
Our previous experience with Hybrid SLI shows that when Hybrid SLI, rather Hybrid Power, is enabled in Power Saver mode, the effects on performance are approximately 1~2%. Let's see if this still holds true to the Asus's board.
3DMark06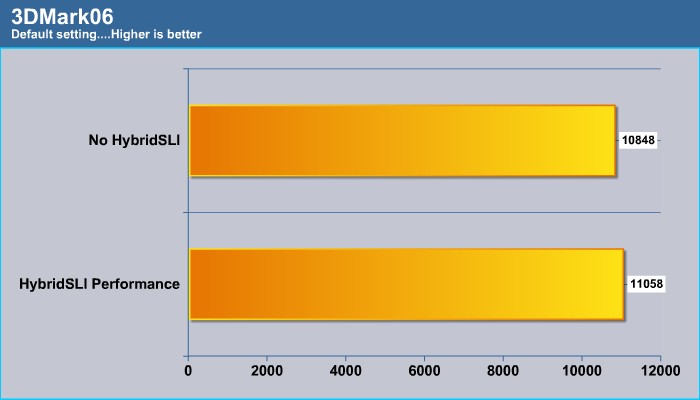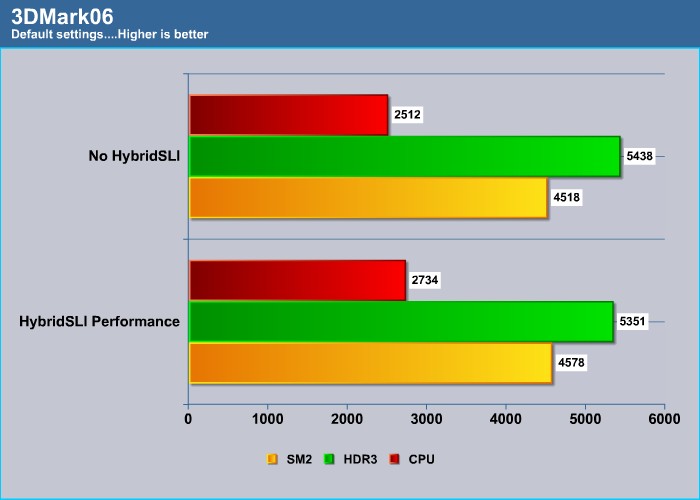 Quite surprising, we see that the result of 3DMark is actually better with the system in Hybrid SLI Performance mode than when we use the discreet graphic card with Hybrid SLI disabled.
PCMark Vantage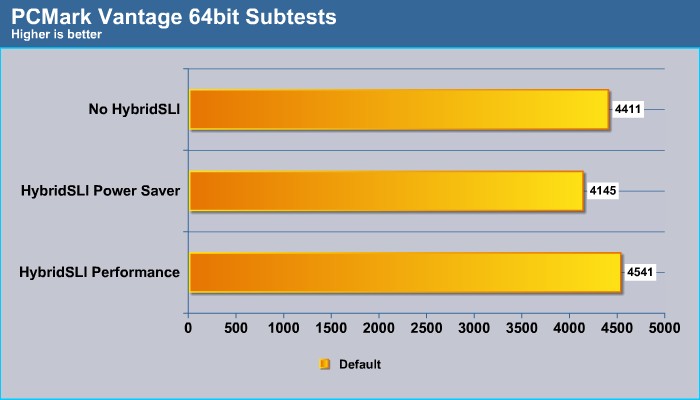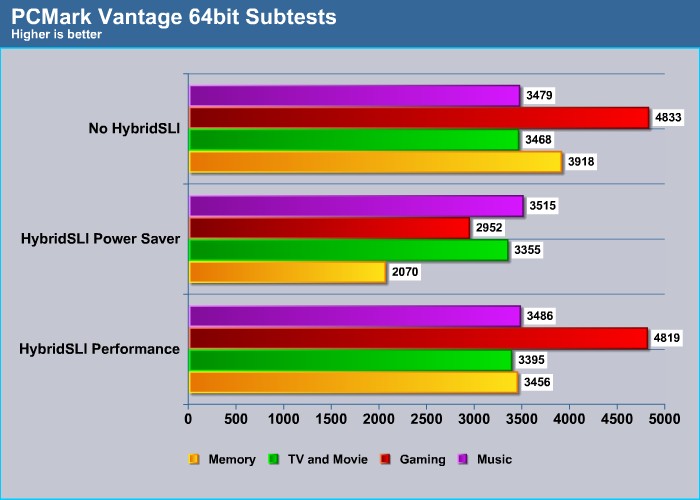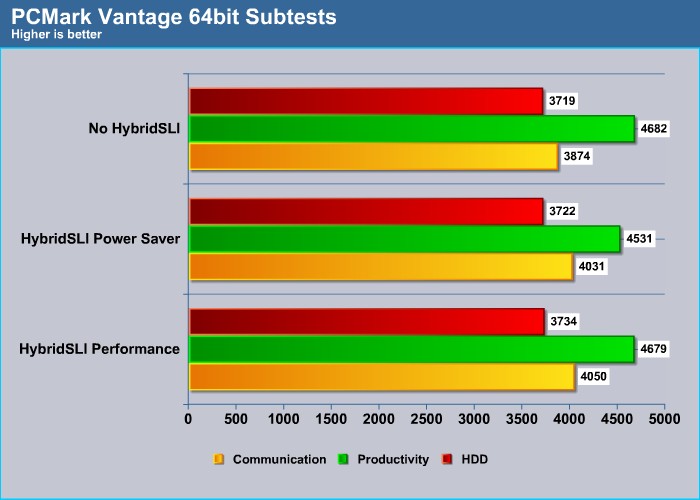 We actually observe the same result with the PCMark Vantage overall score; but in the individual benchmarks, we generally see that the performance of the system with Hybrid SLI disabled is a tad better – with the exception of Music, Communication, and HDD benchmarks. The system with Hybrid SLI set in Performance mode is able to offer a slightly better result in these tests. The performance difference with and without the Hybrid SLI is once again very close.
With the Hybrid SLI set in the Power Saver mode, we see the lowest performance, especially in the test where it incorporates graphics power (Memory test).
Power Consumption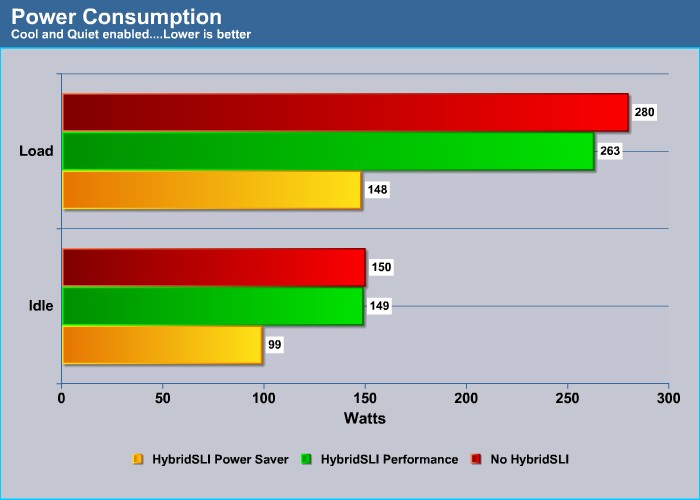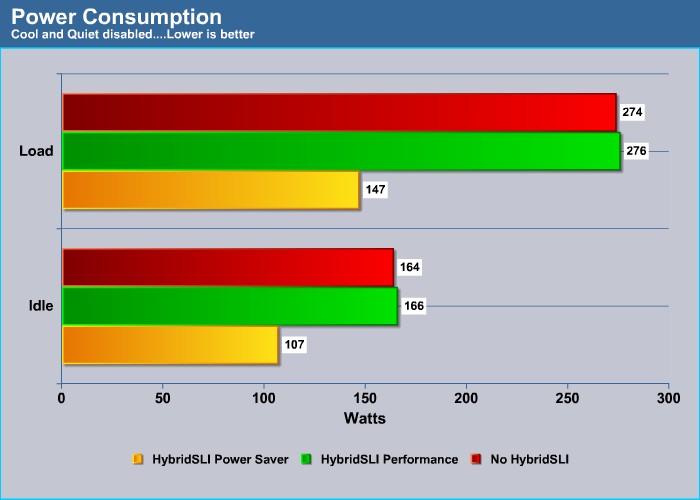 With Hybrid SLI set in the Power Saver mode, we are able to reduce system power consumption to 107W idle and 147W load. If we also turn on the Cool and Quiet, we can further reduce the system power usage to as low as 99W idle. This is 59W less than with the Hybrid SLI set in performance mode (or 50W when we compare the system with Cool and Quiet enabled). Surprisingly, we actually see more power being consumed with Hybrid SLI enabled in Performance Mode, compared to the discreet graphic card when cool and quiet is disabled.
CONCLUSION
The NVIDIA GeForce 8300 chipset has shown some potential to become one of the best integrated GPUs for HTPC use. Despite its aim towards budget gamers and/or HTPC users, it is not skimping on the features. The inclusion of PCI express 2.0, DirectX 10 capable graphic ability, offload HD encoding to GPU, Hybrid SLI, 12 USB ports, and RAID, provide excellent additions to the chipset.
The performance of the chipset does not rock the world. In fact it trails behind NVIDIA 750a and AMD 790FX for most of the benchmarks we have tested with the exception of the SATA transfer rate; albeit the performance differences are fairly slim for most benchmarks. Both the NVIDA 750a and AMD 790FX are really not the direct competition for the GeForce 8300 board, as they are aimed for more mainstream gamers. The AMD 780G is the chipset that the GeForce 8300 is trying to grab some market share from. Looking at the result, it would be safe to say that this would be a good alternative to the AMD 780G. 
The Asus M3N78 Pro motherboard that we have tested today has many issues. First, layout is quite a disappointment coming from Asus, who usually leads in motherboard design. The placement of the 24 pin ATX power connector, SATA ports, front audio, and DIMM slots are far from ideal. In addition, the BIOS definitely needs some work. The lack of memory timing options is frankly unacceptable. Also, I would like to see a way to auto-configure the Hybrid SLI when an Hybrid SLI capable card is inserted withtout having to reboot the computer.
Since the board is geared more towards the HTPC market, it would have been a good idea to incorporate an eSATA port and a audio chip that supports Dolby Digital Live or DTS encoding. At a retail price of $104.99 (Newegg), the Asus M3N78 Pro will certainly make a decent choice for the HTPC users who can overlook some of its flaws.
 
The Asus M3N78 Pro receives a score of 7.5 out of 10.  This is a good option for HTPC users who are looking for an inexpensive motherboard and are unconcerned with its niggling shortcomings.
Pros:
+  Good overclock result
+  Twelve USB ports with six on the back I/O and three headers
+  HDMI
+  Hybrid SLI
+  PCI express 2.0
+  Supports AMD 140W processors
+  Supports NVIIDA PureVideo HD which offloads HD contents encoding to the GPU
+  Solid capacitors
Cons:
–  Unable to adjust memory timings (has been fixed by the new BIOS update, see the addendum)
–  Terrible placement of the ATX power connector, SATA ports, and front audio headers
–  No eSATA and SPDIF In ports
–  Hybrid SLI only works under Vista
–  Chipset runs hot
–  Does not support DTS or Dolby Digital
Addendum
After the review has been released, Asus has informed us there is a new BIOS which will be released soon that adds the option to adjust memory timing.  The new bios 0723b (still in the beta stage) adds the ability to adjust all the common memory timing is has the option to adjust memory clock frequency from 533, 667, 800, to 1066 MHz.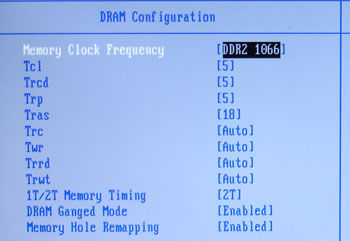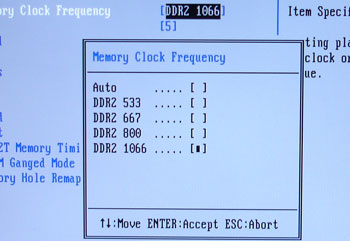 We have done a few tests with the new BIOS.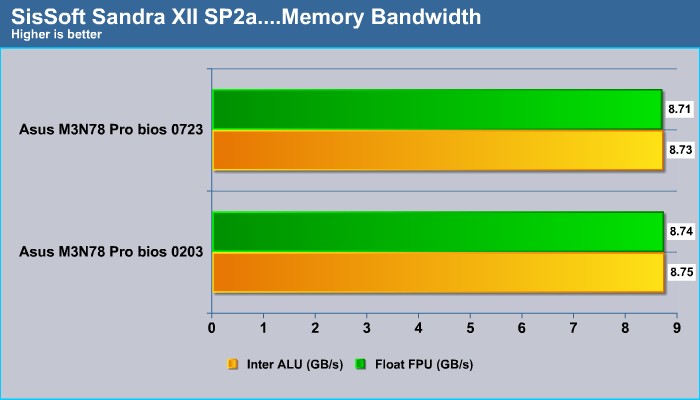 Oddly, Sandra actually has a slightly better result in terms of memory bandwidth with the older BIOS.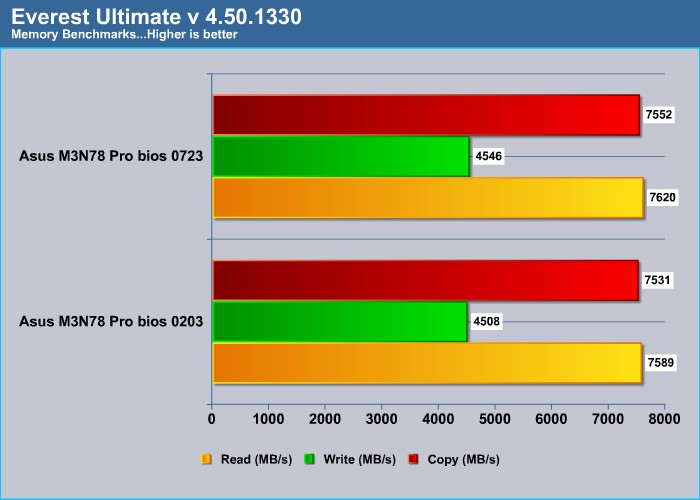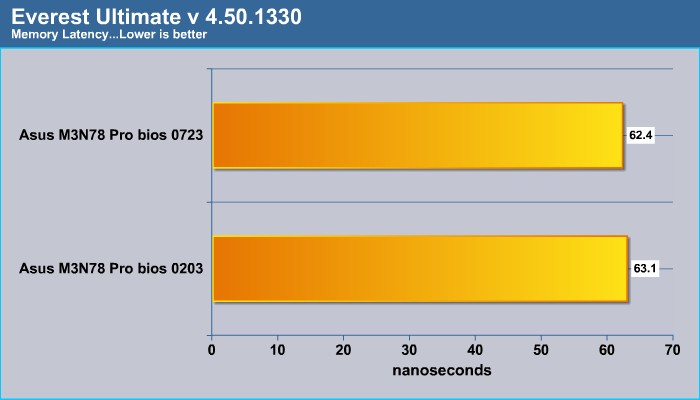 Everest shows that the new BIOS increases memory performance and latency.  Though the effect is not too significant as it is expected.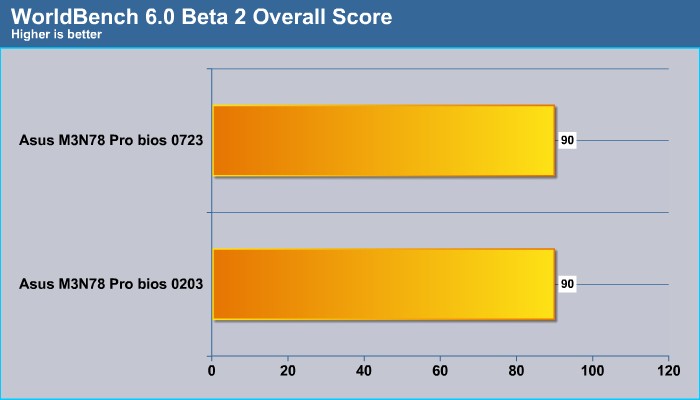 Virtually no difference with the WorldBench's overall score for both BIOSes.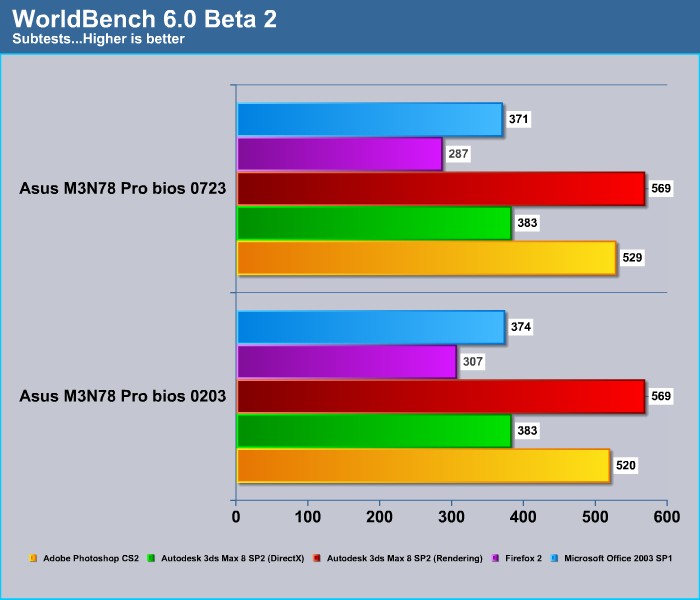 In the subests, we can see the tighter timing has some effect in the Adobe Photoshop CS2.  Though, in Audodesk, Firefox and Microsoft Office benchmarks, the older BIOS actually has a silghtly better result.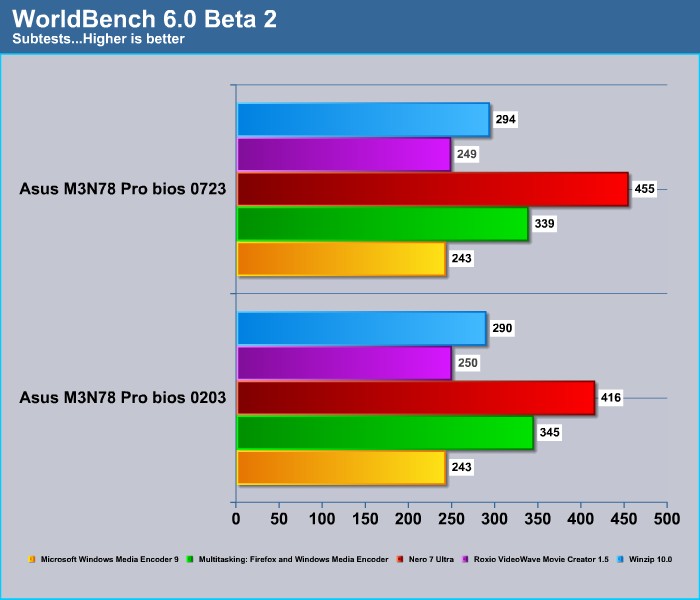 Once again, we see a mix of results with the other subtests in the WorldBench.  Here, the new BIOS has a better result in Nero and Winzip but lags behind the older BIOS in Multitasking and Roxio VideoWave Movie Creator benchmarks.
Although the new BIOS does not seem to make much difference in terms of performance, it is still nice to see Asus is quick to add the Memory timings options in the BIOS.  Having the ability to adjust the timings can potentially allows slightly better overclocking result and maybe with a bit of fine-tuning, users would be able to get that extra performance boost.