SOYO is here to show off one of their newest monitors in their Pearl Series. The 24″ LCD comes with plenty of screen real estate and a pixel response time ready to handle any game you throw at it. Let's see if this monitors beauty is more than skin deep.
INTRODUCTION
Monitors have a special place in my heart. Ever since I started with PCs there is nothing that can compare with the joy that upgrading your monitor brings. It may have something to do with that fact that everything we experience from using a PC comes through the monitor and upgrading our monitors gives us a visual impact you just don't get from adding more RAM or moving to a fast CPU. My history of monitors started with a beige 15″ CRT unit back in 1994 and it lasted me years before upgrading to a 17″ CRT. It felt gigantic at the time and for days I would just revel in it sheer size. From there I went to a 19″ CRT which was just humongous before making the plunge into a 17″ LCD. This was a great day from me since no longer would I have to do the calculation for viewing distance that CRTs brought with it. If the LCD is listed as 17″ monitor then it had a 17″ diagonal view distance. After that came a 19″ LCD, a 37″ LCD TV and now finally a 24″ LCD monitor. Like all other fields of technology, as the industry matures prices come down and we are able to afford bigger and better monitors. This also means that we must educate ourselves so we can be sure to avoid all the lesser models out there just waiting to take your money and leave you with a sub-par piece of junk.
To help you with your buying decision we at Bjorn3D will be looking at one of the largest monitors offered by a company well known for making great monitors at a great price, SOYO. With us today is their 24″ Pearl Series LCD monitor that brings with it plenty of quality specs on paper. Is it the right monitor for your next upgrade? How much will it cost you? And most importantly, are you getting your money's worth? Read on to find out just how well this monitor performs in our testing labs.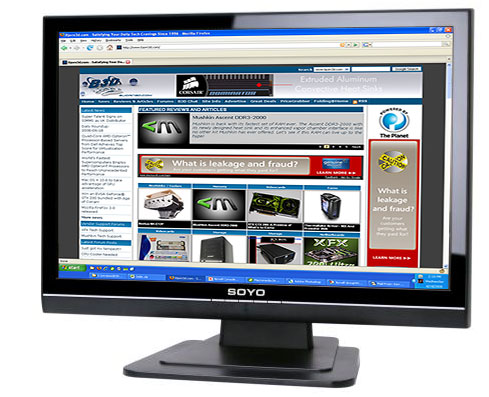 SPECIFICATIONS
SOYO 24″ Pearl Series LCD
Specs
Type: 24.0″ color TFT active matrix WUXGA LCD
Resolution: 1920×1200
Aspect Ratio: 16:10
Contrast Ratio: 1000:1
Viewing Angle: 178º (H), 178º (V)
Response Time: 2ms
Brightness: 500 nits (typical)
Display Colors: 16.7 Million
Pixel Pitch: 0.270 mm
Connectors
1x VGA
1x DVI
1x Audio
Sound
2 x 2 watt
Power
Voltage: AC 100~240 Volta, 50/60 Hz
Consumption: <100w (typical)
Dimensions
(WxHxD): 22.44 in x 18.23 in x 10.63 in (with stand)
Weight
Net: 7.5 kg / 16.53 lbs
Gross: 9.3 kg / 20.5 lbs
Package Contents
1x VGA cable
1x Audio Cable
1x User manual
Operating Conditions
Temperature: 41º F – 113ºF; 5ºC – 45ºC
Humidity: 20% – 80% (Non-condensing)
The listed specifications seem pretty impressive for what can only be a TN panel from SOYO. Very wide viewing angles and plenty of contrast ratio serve to make this monitor attractive on paper. The only thing that is disappointing is the lack of an HDMI connection. At 24″ in size, monitors are now big enough to enjoy your favorite console or Hi-Def movie on and this is an omission that we hoped is fixed sooner rather than later.
SUBJECTIVE RESULTS
The SOYO 24″ Pearl Series monitor is a sleek looking monitor with a glossy finish that is so common these days. The glossy finish on the screen and bezel help to enhance the overall look of the monitor and give it a high end feel to it. The glossy finish also help to deep the colors on screen and while some people like this design and others hate it, I am on the fence. On the one hand it definitely made the blacks look deeper and darker. On the other hand though, constantly seeing my reflection would throw me off from time to time. Though this is something that got easier and easier to ignore as time went by.
The controls for the SOYO are tactile buttons and not the touch sensitive which are becoming more common these days. This is largely a matter of personal preference and for the record, I do not like fumbling in the dark to change input mode from DVI -> VGA, or vice versa, only to bring up the on-screen settings. The buttons give a satisfying click to let you know you've made a selection.
Lastly, we see a side shot of the monitor. The SOYO monitor is a bit larger in depth than I had expected and is nearly as large as my Westinghouse 37″ LCD monitor. Surprisingly, even with the size of this monitor it remains light and easy to move around. The downside to its light weight is that if your desk should be bumped or moved this thing shakes like a leaf in the wind so plan accordingly.
Click a picture to see a larger view
---
---
Here we see the output connections for our monitor. SOYO includes the digital DVI connection as well as the analog VGA (D-sub) connection. I would have liked to have seen an HDMI connection in there somewhere but after some looking around it seems there are few 24″ LCD monitors around that offer this connection. While HDMI may not be mainstream at this size, it would have been nice to have and a great opportunity for SOYO to separate themselves from the pack.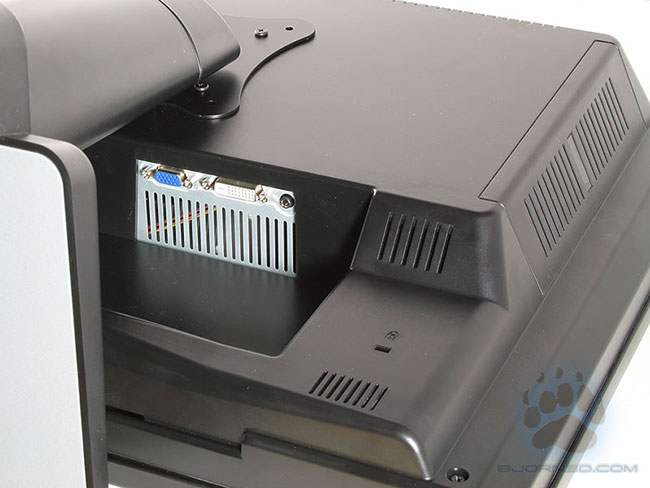 Time to get to the heart of this beast. Let's see how it handles itself when faced with our battery of tests.
OBJECTIVE TEST RESULTS
For this portion of our testing we will turn to a pair of testing applications created by Torben Rasmussen and the great crew over at Flatpanels.dk. You can download the Input Lag test and monitor test from vanity.dk/ for personal use. What we are looking for here is how well the monitor performs without all the glitz and glamour of its outer shell. In the end we want a monitor that offers razor sharp text and fast response times. Let's see how the SOYO 24″ Pearl monitor fairs.
Viewing Angle
For this test I took five photographs of the monitor starting from the direct center which is the best position to view many LCDs today. I then moved to either side as well as up and down to see if any of the colors shift as I move around. Ideally, you want a monitor that will allow the freedom to relax and view it from different angle rather then having to sit upright all the time which can become annoying during those late night frag fests.
Click a picture to see a larger view
---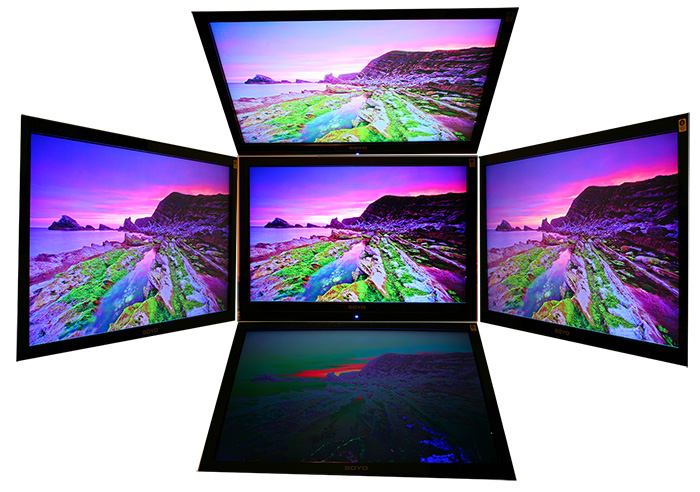 ---
Side to side viewing angles are superb as there is no noticeable shift in colors though the same can not be said for moving vertically. Looking don on the monitor washes the colors out enough to be noticeable but not so much that the image becomes distorted. Moving down though causes a complete inversion of the colors and I should point out that this color shift occurs rather quickly when moving only a short distance below center. The situation is only exacerbated by the fact that this monitor can not have its height adjusted.
Input Lag
Input lag is defined as the time between when an LCD receives a signal until it displays it on screen. While manufacturers list the pixel response time of their monitors, none have advertised their input lag. A common source of input lag is running an LCD monitor at a resolution other then its native one (eg. a 1920×1200 monitor running at 1280×1024 with scaling enabled). This requires the monitor to perform advanced signal processing. To test our monitors input lag we use the input lag test from Flatpanels.dk.
The test will be run in two different methods. The first method will have our CRT and LCD running the same 1280×1024 resolution with scaling DISABLED. This should show us if the SOYO monitor has any inherent input lag. For the second method we will enable scaling on our SOYO LCD and that will give us an idea of how fast it can process the data it receives before displaying it on screen.
Scaling Disabled:
Click a picture to see a larger view
---
---
With scaling disabled we see excellent performance. Only in the second picture do we observe a slight amount of input lag and even then it is 31 thousandths of a second. Within a few seconds it is gone and both monitors are neck and neck. Let's see how the monitor handles itself when it has to do more then just output the image.
Scaling Enabled:
Click a picture to see a larger view
---
---
The SOYO monitor performs almost identically which is impressive to say the least. What this means is that for those of you gamers out there who are looking to upgrade their monitor but aren't sure if their GPU can handle the increased resolution can run this monitor at a lesser resolution (eg. 1680×1050) and not suffer from input lag. Onto our next test.
Ghosting
Ghosting is the name applied to the phenomena that LCDs with slow pixel response times suffer from. If an LCD is unable to turn a set of pixels on and off and on again quickly enough, the user will see a faint image of the previous frame resembling a ghostly image. It serves to make certain activities on an LCD much less enjoyable including gaming and movie watching. For this testI used the tried and true PixPerAn monitor application and left the settings at their defaults. I set the exposure of my camera to 1/60th of a second (1 frame) and observed if there was any ghosting.
Click a picture to see a larger view
---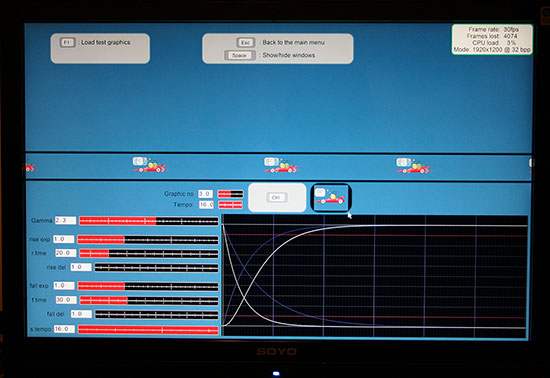 PixPerAn
---
The SOYO 24″ LCD performs pretty well here. In this test there is some observable ghosting but this is not what I would consider very 'real-world' since this test is intended to show ghosting now matter how minute. Jumping into a game like F.E.A.R. I was unable to notice any ghosting. I am sure if I looked hard enough I could find some but then that would defeat the purpose of playing a game. You don't play a game to look for flaws, you play a game to enjoy the immersion factor. In this case there was no ghosting to speak of.
Back light Bleeding
For this test we once again use our trust utility from Flatpanels.dk. This time we use it to display an all black image to test for any back light that might bleed through the screen and interfere with work or movie watching.
I set up my handy Canon Rebel XTi and set it to a one second exposure time and snapped a photo. After seeing the bleeding this monitor exhibits I took a second picture with a longer exposure time (3 seconds) to really highlight the bleed through at the bottom of the screen. While the bleed through is not this pronounced when sitting in front of the monitor it is noticeable enough to call attention to it.
Click a picture to see a larger view
---
| | |
| --- | --- |
| | |
| 1 second exposure | 3 second exposure |
---
CONCLUSION
Selecting the right monitor for your PC is never an easy task but it is even more difficult if you don;t do you research. It is important to know what you want to use your monitor for. Do you edit images and need perfect color replication? Perhaps you play a lot of games and precise color matching takes a backseat to pixel response time and input lag? Whatever you use your PC for it is obvious that LCD monitors are not a one size fits all. Maybe they are a one-size-fits-many, but definitely not all. With that said, I found this monitor to perform exceptionally well in its day to day use. The delay between switching from DVI to VGA was very small and the only real downside I find with this monitor is its lack of height adjustments. The synthetic testing we performed may have shown some weaknesses in certain areas but like so many synthetic tests, it doesn't paint a complete picture. In gaming and movie watching I found this monitor to work extremely well assuming you are in line with its vertical center. Moving to either side of this monitor did little to diminish its beautiful picture and I found myself being disappointed by other monitors lackluster brightness and detail. If you are looking to upgrade to a larger monitor, you will want to consider SOYO. Just make sure you do all your research.
FINAL WORDS
Performance: 7.5/10 – The SOYO 24″ monitor performed beautifully in gaming and movie watching. It is bright and beautiful to look at. The input lag was nearly nil and the pixel response time was crisp.
Value: 8.5/10 – A quick look around the web places this monitor at $300 USD give or take $20. This is an amazing price as just last year 22″ wide screen monitors were selling for this price. It;s sleek design and solid performance coupled with its selling price make this monitor a great value. The only knock to this monitor is the inclusion of a VGA cable over the more popular DVI.
Pros:
+  Lots of desktop space
+  Elegant design
+  Excellent performance
+  Power efficient
+  Light weight
Cons:
–  Construction feels like lower quality
–  Limited height adjustments
–  No HDMI connections
The SOYO 24″ Pearl Series LCD monitor scores a 8.0 / 10 and receives the Bjorn3D Seal of Approval