The Tagan Icy Box IB-3218 is a USB external JBOD 3 1/2 inch Sata Drive enclosure that features one touch backup in a compact package that looks good while it protects your data.
INTRODUCTION
In today's world of ever more important data it's hard to find an easy solution to your data backup needs. Most are complicated, require one set of software and another storage method that wasn't really designed to go together. Flash Drives are good for smaller things and portability but what do you do if you need gigabyte after gigabyte of data, pictures, music or video stored at the end of the day but would like to get home some time this week?
How about the Tagan Icy Box IB-3218 USB external JBOD drive enclosure? Will it store all the data you need and do it in an unobtrusive manner that allows you to get on with life while it quietly, reliably does it's job?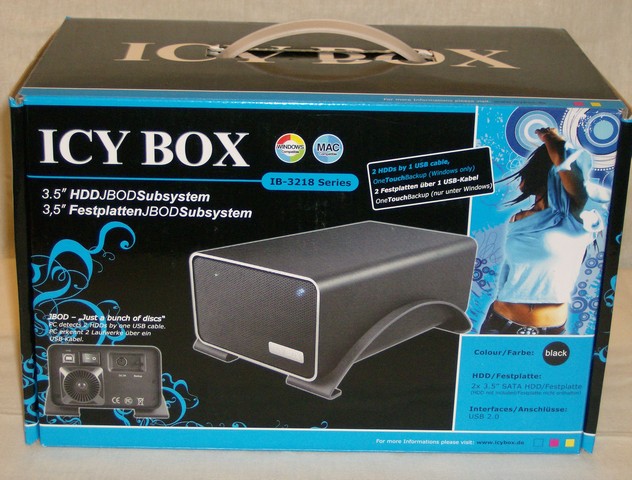 About Tagan
Tagan Company Philosophy
The spirit and philosophy of TAGAN´s birth: To carry out state-of-art technologies for the best quality power supplies and to offer them to all users.

 

Our simple reason to give TAGAN's birth:

We are a group of professional technical guys living in different countries –Germany, Japan and Silicon Valley (USA). All of us have had a couple of negative experience implementing Power Supply (PS) into systems. It is frustrating, time consuming and risky! By a very valuable opportunity, 2001 in Taipei`s Computex show, all of us met each other at a dinner party, we occasionally sat together and discussed about the power supply problems.

Based on our professional background and know-how, we suddenly all decided to study more about power supply and conduct some testing for finding out the best one. After almost a year`s teamwork in discussion, design, and developing, our team of international experts have designed some of the best and reliable power supplies for the PC as well as all the various systems. Consequently, all of us have become the founders of TAGAN. We are more than happy to share these products and experiences with you.

That is why TAGAN is coming to serve you!!
FEATURES
Tagan Icy Box IB-3218
Features
Compact aluminium case for storage solution
USB 2.0 host interface (up to 480Mb/s)
Suitable for two 3.5 Inch SATA HDD's
JBOD allows separate access on each HDD
Backup switch
On/Off switch
40 mm fan to cool the drives
One touch backup software (Win98/ME/2000/XP/2003)
Backup switch
O.S. support: PC, MAC, Linux
PACKAGING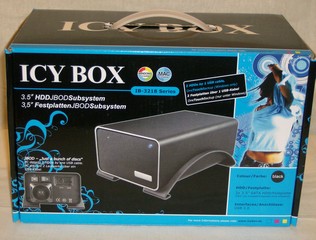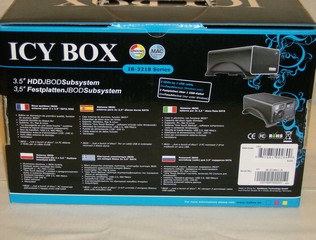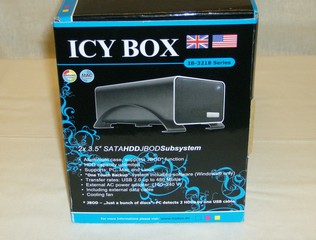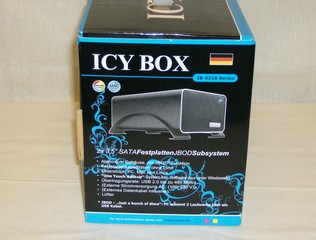 The Tagan Icy Box IB-3218 JBOD enclosure comes in an attractive Tagan black and blue box and has plenty of features and specifications in 6 languages. It has plenty of information to help the curious consumer make an informed decision about the purchase of the Icy Box.
Inside the box you'll find the Icy Box safely cocooned in styrofoam and it arrived in pristine condition.
THE BUNDLE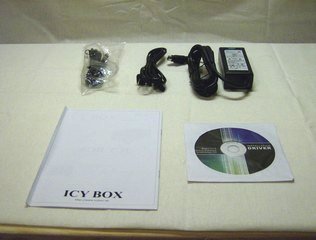 Safely tucked inside the box in strategic locations you'll find:
1 – Power Supply
1 – USB Cable
1 – Installation Instructions
1 – CD with Backup Software and Win98 driver
1 – Icy Box IB-3218
Might seem a little sparse but we weren't expecting it to be bundled with a video game and every thing you need to get started is provided.
PICTURES & IMPRESSIONS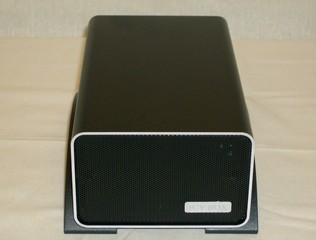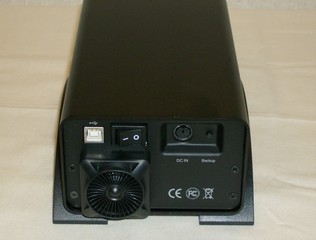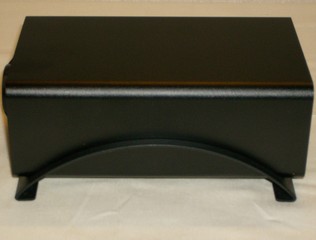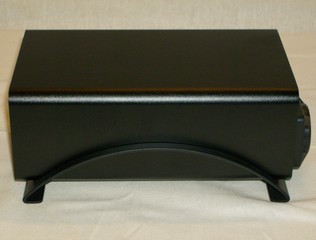 Once again Tagan has gone with the signature black they've become known for. It's a minimalistic approach that won't detract from that monster rig you've got it attached to. With it's small foot print it's not exactly a desk hog either. The case is about 7.5 inches/19cm long and is barely bigger than the two drives it's capable of holding. You might make note that it doesn't require both drives so if you want to start with one and add one later your good to go.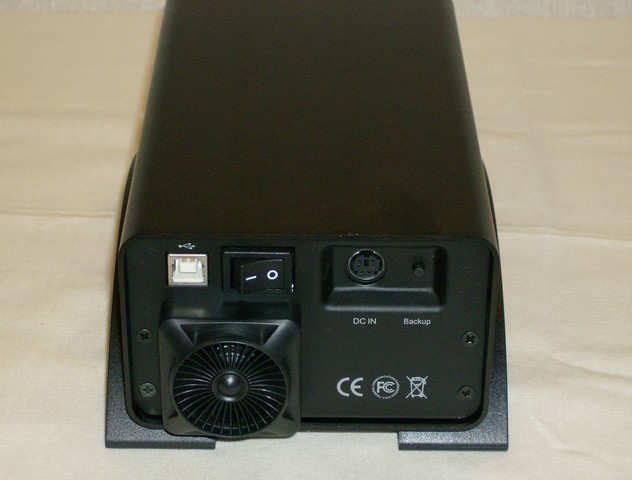 On the back of the Icy Box you'll find the connector for the USB Cable and AC to DC converter brick, the 40mm fan, On/Off rocker switch, and what's that up there in the right hand corner? A one touch backup switch for easy and convenient backup of your valuable data. Well it'd be a little more convenient if it were on the front of the Icy Box but it wasn't hard to reach around the edge and my hand found it easily with out sticking a finger into the well protected fan.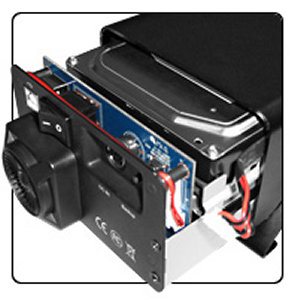 To get the drives in the enclosure you'll need to take a couple of small screws out of the bottom of the enclosure, slide the drives into the lower and upper cage making sure that the Sata connectors are engaged, and screw them in using the screws Tagan thoughtfully hid inside the Icy Box. Be careful though there's a cable you can clearly see in the shot above and it's tucked up by the fan and you need to remove it before you go tugging on the cage. Tagan might have put some kind of handle on the back of the enclosure so that you don't have to struggle getting the cage out by grasping the 40mm fan and grunting a lot. Later on we realized there are no stops to keep you from putting the cage to far in the enclosure (when there's no drives in the cages) and you can manage to push the back of the enclosure quite far up into the casing (if you try really hard) so a couple of stops would have been appreciated. Yes it involved turning the enclosure up on it's back and vigorously shaking it to get it out. We prefer to call that the "drive enclosure endurance test."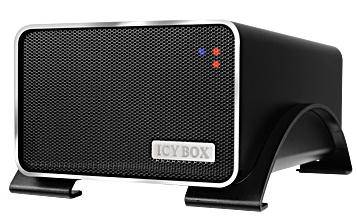 Once you get done with all the grunting and shaking (it wasn't that bad) and get it hooked up you can get a look at the power and drive access lights Tagan stylishly hid behind the black mesh covering the front of the attractive unit. (Leo over at Tagan said that if we put it that way he'd give us the phone number of the attractive young lady on the box, unfortunately it was in a language we can't translate.)
Now that we've got it all installed, and fired up lets take a look at the software end of things.
PCCLONE EX LITE V1.84.11
The first thing we wanted to know was is this going to be as easy as it seems, so we fired up the Control panel and navigated over to the Computer Management/Drives Management area. After all we just put the drives in the enclosure and plugged it in and hit the power switch it can't be that easy can it?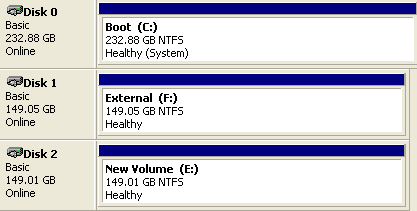 Much to our amazement it was just that easy, with out installing drivers, no jockeying for dominance over the Operating System or Icy Box, just flip the switch and the two 160 Gig Sata 2 drives appear. We figured we were on a winning streak so we went for the software install.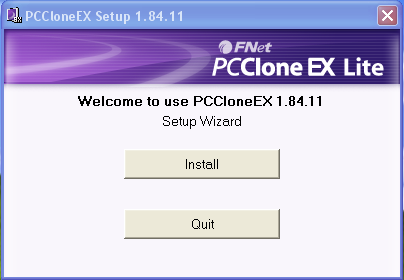 After popping the disk into the Optical Drive we were prompted to click "Install" by the PCClone Ex Lite Setup Wizard. We quickly defaulted all the way through the short painless install and were rewarded with a successful install. We decided to run the first backup from the software to get an idea of how it should go when we go groping for the "One Touch Backup Button" handily located on the rear of the unit.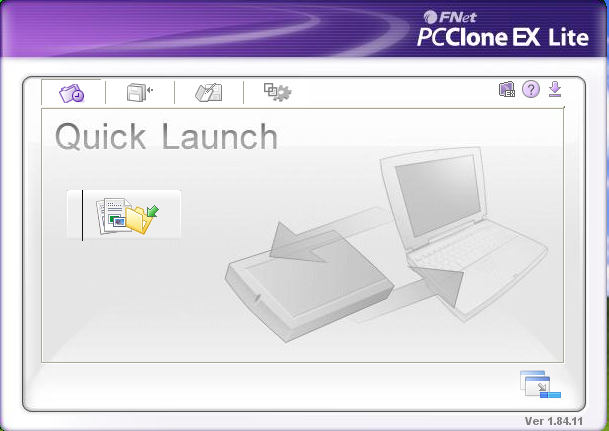 Once we double clicked on the tray icon we were greeted by this horribly complicated screen that took us several seconds to comprehend and click the one available button which we promptly did.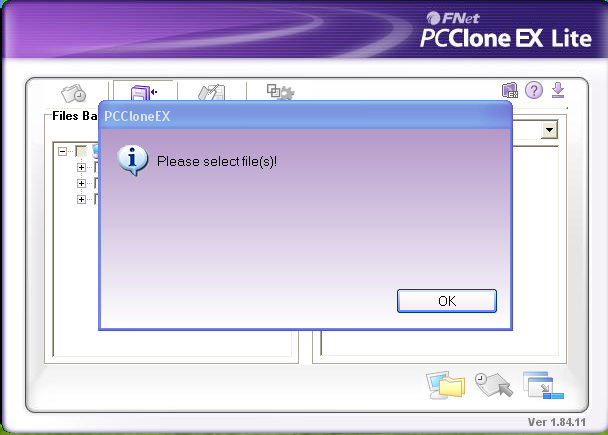 Once again we were greeted with an overly complicated screen that took half the staff to comprehend in it's fiendish simplicity.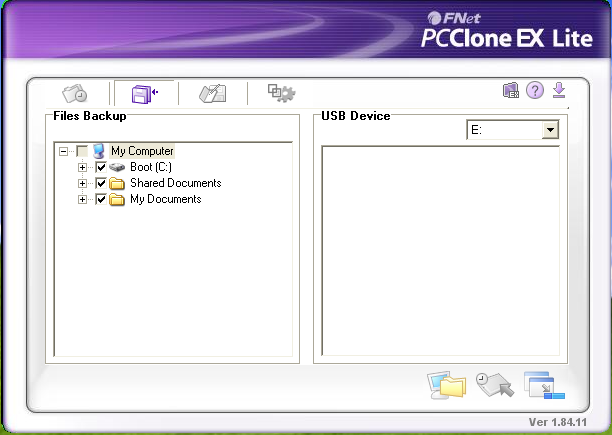 At this point we were reaching for the energy drinks and grasping at straws trying to figure out what we wanted to back up. We hesitantly clicked the box beside the C: drive and clicked the icon on the lower right with the computer screen and the folder in front of it and chugged our energy drinks.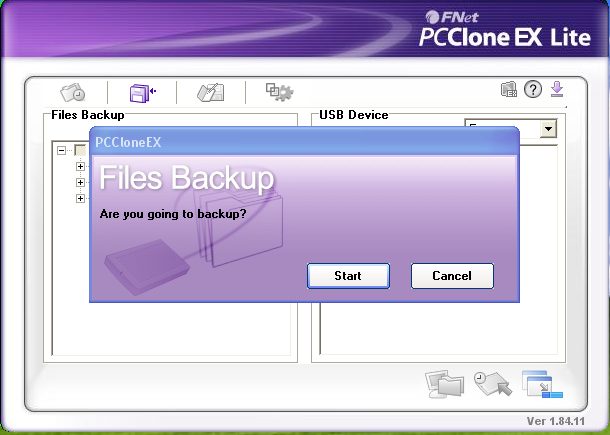 Just when we began to have a glimmer of hope that we were almost finished with this grueling test of endurance up pops another dialog box asking us if we were going to back up. We didn't know how much more of this we could take so we desperately stabbed at the "Start" button in the hopes that we'd soon be back to our rousing game of Candy Land.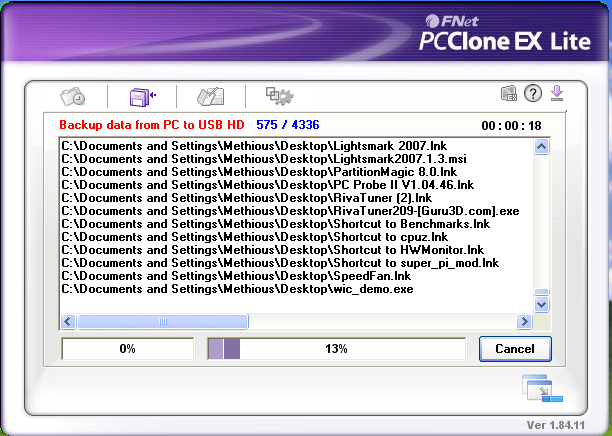 Whew hit that one lucky we barely got past our extensive collection of, errr benchmark tools when we took that screen shot. A short time later (4 Minutes 37 Seconds) our back up of 22 Gigabytes of data was completed and we were rewarded with…..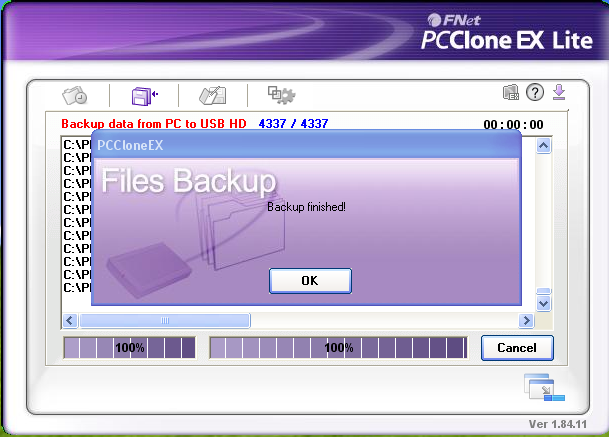 We felt some what obligated to check the backup to see if it was valid and what was actually backed up so we took Windows Explorer out for a drive.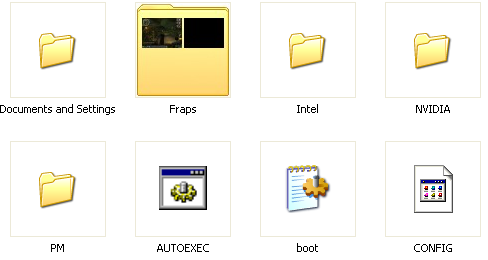 Noticeably absent from our backup was one seemingly unimportant folder called "Windows.", and another you probably don't have any use for called "Program Files." PCClone EX Lite isn't designed to back up yor Operating System or Program Files directory but we tested the Icy Box with Acronis and Norton Ghost and they worked with the IB-3218 which performed flawlessly with both. In all reality PCClone EX Lite got 5 of 17 folders so we understand why they call it "Lite." It's obviously less filling than Acronis or Ghost.
Still we felt compelled to grope for that button handily located on the back of the Icy Box, were pretty sure it was the energy drinks we chugged earlier that forced us on.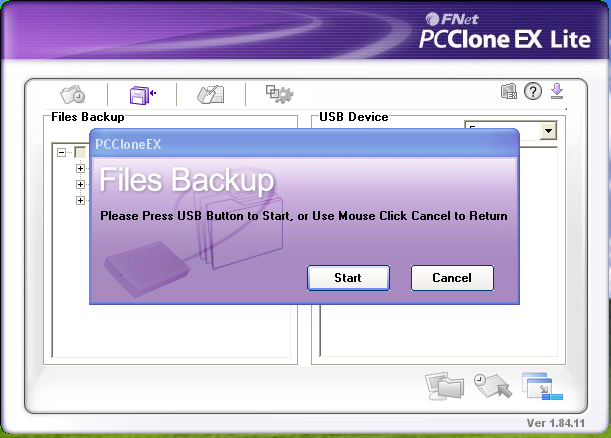 Once we found the button the dialog box prompted us to grope the button again which we were obliged to do and having predefined our backup in the PCClone EX Lite software we were rewarded with another copy of the backup on the second drive in the enclosure. Which amazingly took the same amount of time as the first backup. Since we had to grope the button twice you'd think they'd call it two touch backup instead of one touch backup but we were satisfied with our efforts and decided to move on to testing the speed of the Icy Box.
TESTING
To test the Tagan Icy Box IB-3218 we decided to fire up Sisoft Sandra Pro and run the Removable Storage and Physical Disk Benchmarks.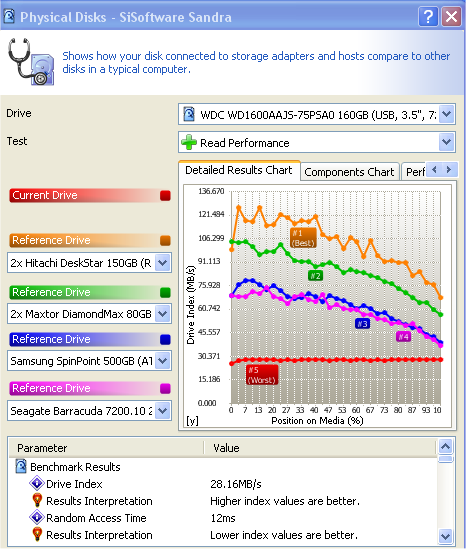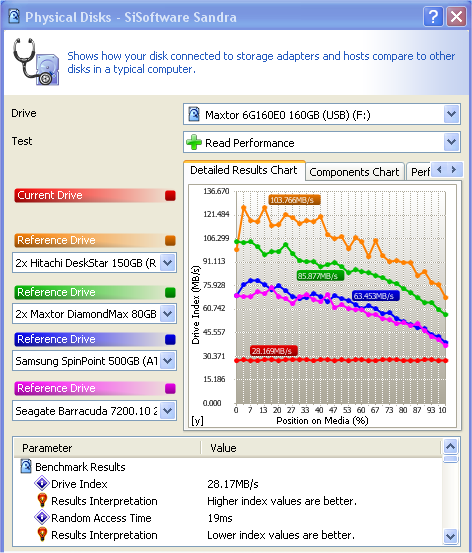 Tagan Icy Box IB-3218 Sata JBOD External Enclosure
Physical Disk Test
Drive Tested
Read
Western Digital
28.16 MB/s
Maxtor
28.17 MB/s
In the Physical disks test of both the Maxtor and Western Digital 160 Gig drives they both came in at just over 28 MB/s which is to be expected of a USB drive connection and was typical of all three runs we made on both drives.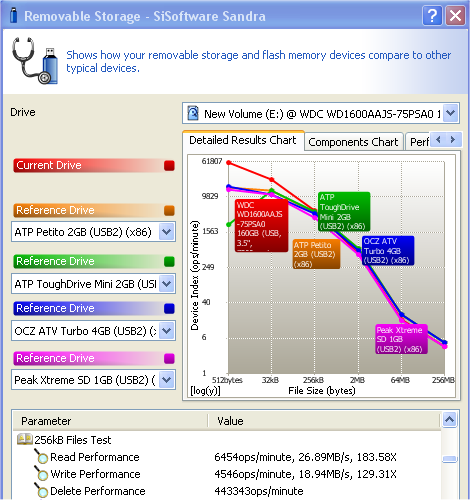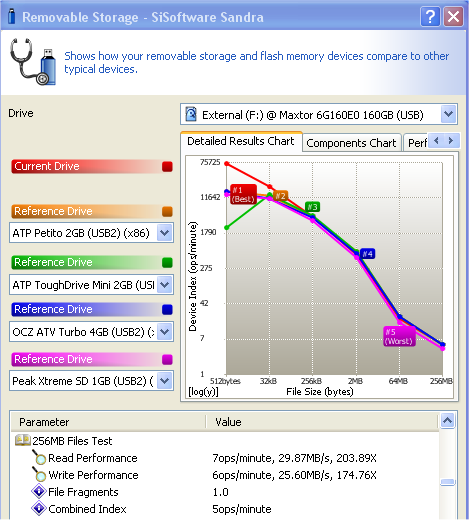 Tagan Icy Box IB-3218 Sata JBOD External Enclosure
Removeable Storage Test
Drive Tested
Read
Write
Western Digital
26.89 MB/s
18.94 MB/s
Maxtor
29.87 MB/s
25.60 MB/s
In the Removable Storage Benchmark the Western Digital came in at 26.89 MB/s read, and 18.94 MB/s write. The Maxtor did a little better and ran 29.87 MB/s read and 25.60 MB/s and was typical of the three runs we made at each drive in this test. The Icy Box turned in good numbers for a USB connected drive enclosure but it seems the Maxtor was getting a little PWNAGE on the Western Digital in the Removable Storage Test write department.
CONCLUSION
While the Tagan Icy Box turned in a solid performance yielding Read and Write performances in line with most external enclosures we found the software to be lacking in backup capabilities. The term "One Touch Backup" turned out to be two touch backup and only of data files and not the Operating System. We don't have a problem with that but think that Tagan should make that abundantly clear in the packaging and advertisement of the product as unsuspecting consumers will expect a full backup of their system as the "One Touch Backup" implies it's going to back up the whole system.
The Icy Box itself performed flawlessly and to be fair to Tagan we decided to rate the Icy Box separately from the software.
Pros:
+  Good Performance At Standard USB Speeds
+  Looks Good
+  Holds Two Drives
+  Small Footprint
+  Easy To Install
Cons:
–  Manual Wasn't Very Helpful
–  One Touch Backup Button On The Back
–  No Easy Grip To Remove The Drive Cage
–  No Stops To Keep The Cage From Going To Far Into The Enclosure
The Tagan Icy Box was a mixed bag of ease of use and good performance combined with a short sighted design.
After a week of living with it and mulling our decision about the scoring of the Tagan Icy Box IB-3218 we decided it deserved a 7 out of 10; had it been judged on performance alone it would have been much higher.
On the matter of the PCClone EX Lite bundled software
Pros:
+  Easy To Use
Cons:
–  Doesn't Back Up The Most Important Files
–  Might Leave Unsuspecting Users Thinking They Have A Full Backup
–  Failed To Make It Clear That It Was A Data Only Backup
While the software does offer ease of use it won't back up your operating system or program files which might leave an unsuspecting end user with a false feeling of security. It would perform well for those that want to back up in a data only situation but failed to inform us at any point that this was a partial backup.
Not having the ability to do a complete system backup and failing to inform us of the partial backup earns it a 5 out 10.