Bjorn3D has our first look at the latest motherboard with NVIDIA 750a chipset from XFX. This motherboard features NVIDIA's Hybrid SLI technology and supports NVIDIA SLI. Join us as we take a look at how well Hybrid SLI works and how much power can users save with this technology. In addition, we will assess the performance loss with Hybrid SLI enabled.
INTRODUCTION
The curtain of Computex 2008 has fallen and with the show ended, we are going to see many product showcased products start to appear in the market.  The show brought many interesting products and one of such products are motherboards for AMD processors based on NVIDIA's new chipsets that feature an integrated graphics processor.  Motherboards with integrated processor is nothing new to the computer world but NVIDIA's latest implementation is something new which they brand as HybridSLI.  NVIDIA is planning to implement this feature in all of their future chipsets and we have seen motherboards with such feature with nForce 780a chipset.  NVIDIA has just released two new chipsets, nForce 750a and GeForce 8300, which also features HybridSLI.  Starting with this review, we will have more AMD motherboard reviews coming that features either one of the two chipsets.  To start things off, we will be looking at the XFX nForce 750a motherboard.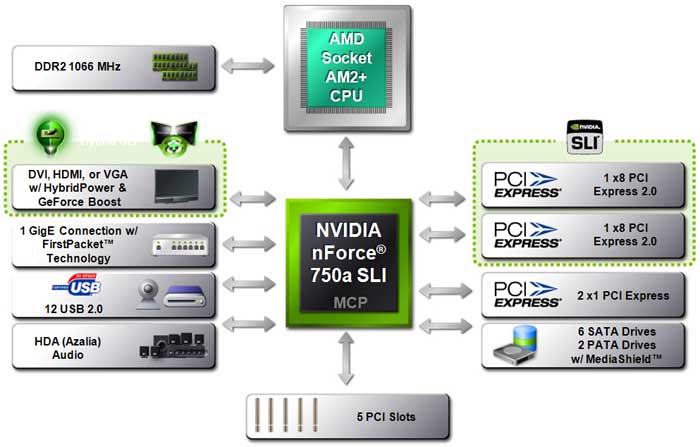 The nForce 750a is based on NVIDIA's flagship nForce 780a chipset, which itself is built on the highly successful nForce 680i chipset.  The chipset shares many functions as the 780i such as DDR2-1066MHz, SLI capable, PCI express 2.0, Media shield, HD Azelia  audio, and Hybrid SLI.  What lacks in the nForce 750a is the ability to run Tri-SLI due to the lack of nForce 200 chipset and the ESA support.  Because nForce 750a chipset does not have nForce 200 chip, it is only able to run SLI in two x8 channel.  Other than that, both chipsets are using the same chip for the integrated graphics and Hybrid SLI support.
XFX: The Company

Founded in 1989, PINE Technology designs, develops, manufactures and distributes high-quality digital audio and video devices as well as computer peripherals. PINE also distributes branded computer and communications products. The company's movement into areas such as global B2B eCommerce and software development have helped keep it ahead of the competition. Today, PINE enjoys strategic alliances with companies such as Dell, NEC, Microsoft, Panasonic, Phillips, Ricoh, Samsung, Ingram Micro, Intel, Quantum, Connertech, Pioneer and Fujitsu.

Headquartered in Hong Kong, PINE Technology has more than 1,000 employees worldwide, with 16 offices around the globe, four research and development centers strategically located in the Asia Pacific region, and two factories in China.

Production output at PINE's factories exceeds an impressive 500,000 units of PC components and I.A. appliances per month. However, our line flexibility enables us to switch lines within a scant four hours to expand capacity to a staggering one million board-level products per month.

XFX, otherwise known as PINE Technologies, is a brand of graphics cards that have been around since 1989, and have since then made a name for themselves with their Double-Lifetime enthusiast-grade warranty on their NVIDIA graphics adapters and matching excellent end-user support.

XFX dares to go where the competition would like to, but can't. That's because, at XFX, we don't just create great digital video components–we build all-out, mind-blowing, performance crushing, competition-obliterating video cards and motherboards. Oh, and not only are they amazing, you don't have to live on dry noodles and peanut butter to afford them.
SPECIFICATION
XFX 750a Detailed Features & Specifications

CPU

Supports AMD® Socket AM2+/ AM2 processors:
AMD Phenom™FX / Phenom™ / Athlon™ 64 FX / Athlon™ 64 X2 Dual-
Core/ Athlon™ 64 / Sempron™ /Cool 'n' Quiet Technology
Supports Hyper Transport Bus 5200/2000 MT/s (HT 3.0/1.0)
Chipset
nVIDIA 750a MCP chipset
VGA
Integrated nVIDIA GeForce 8200
I/O Chipset
Winbond W83627
Integrated Ports
1 x PS/2 Keyboard port, 1 x PS/2 Mouse Port
1 x S/PDIF IN port, 1 x S/PDIF OUT port
1 x DVI port
1 x HDMI port
1 x VGA port
1 x RJ45 port
10 x USB 2.0 ports, USB 1.1 is compliant
6 x SATA ports by BGA , Maximum Speed to 3GB/s, supports SATA RAID 0, RAID 1 and RAID 0+1,5. SATA ports 5 & 6 will either support AHCI or Raid mode.
1 x IDE connector, supports 2 IDE devices, supports ATA 133/100/66/33
1 x Floppy Drive, supports 360K/720K/1.2M/1.44M/2.88M floppy disk
Sound
Supports Realtek® ALC 888 codec
Supports 8 channel HD Audio,24 bit Audio Codec
High Definition Audio
Front Panel Jumper, provides stereo MIC port on front panel
Expansion Slots
2 x PCI Express x16 slot (Single slot at x16, or dual slot in x8 speed.)
2 x PCI Express x1 slot
3 x PCI slots
Support PCI Bus interface v2.2 compliant
LAN
Onboard Marvell® 88E8056 PCIe LAN(10/100/1000 Mbit)
OS Support
Microsoft Windows Vista/XP
Form Factor
ATX (305* 244mm)
Remark
Supports GeForce® Boost
Supports SmartPower
Supports HybridSLI
Suports HybridPOWER
Supports PureVideoHD
FEATURES
750a SLI
2-way SLI graphics support
NVIDIA HybridPower™ Technology
GeForce Boost™ Technology
PCI Express 2.0
NVIDIA SLI-Ready
NVIDIA Control Panel utility
NVIDIA MediaShield™
6 SATA 3Gb/sec. ports
Gigabit Ethernet port
NVIDIA FirstPacket™ Technology
Supports all Socket AM2+ CPU's up to 95W
Onboard Graphics
Onboard GeForce 8200 graphics
HDCP Ready
HDMI Certified
Up to 2556 MB DDR2 Memory
HDMI + DV + VGA outputs
NVIDIA CineFX™ 3.0 Engine
NVIDIA nView™ Multi-Display Technology
DirectX 10 Support
NVIDIA PureVideo HD Support
XFX 750a–PACKAGING CONTENTS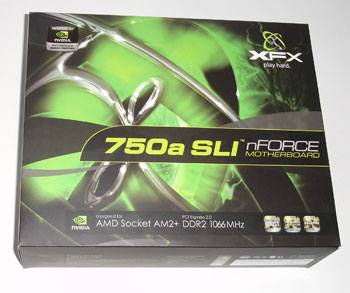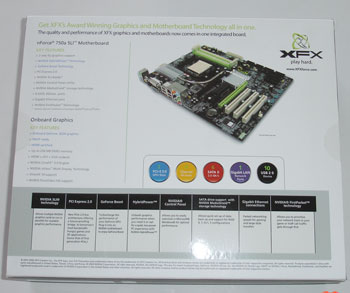 Just like many other XFX's packaging, the 750a motherboard is packaged in a green and black cardboard box.  On the front, you will notice some marketing information such as support for GeForce Boost, Hyrbrid Power, and HDMI ready.  On the back, you will find more features and specifications of the motherboard.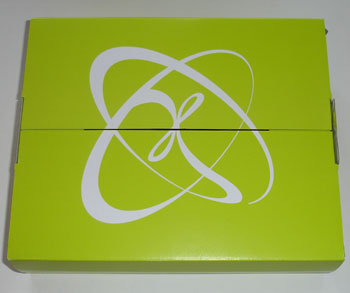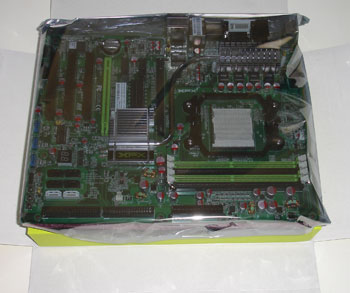 Open up the box, you will find another cardboard box.  Regular Bjorn3D readers probably will recognize that this double cardboard packaging looks very similar to how XFX packages their graphics cards.  Inside, you will see the motherboard on top of another compartment where all the accessories are placed.  XFX places two foam inserts underneath the motherboard which ensures the motherboard will not get damaged when you receive it.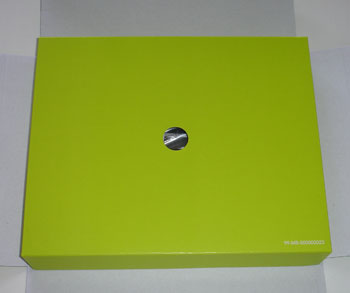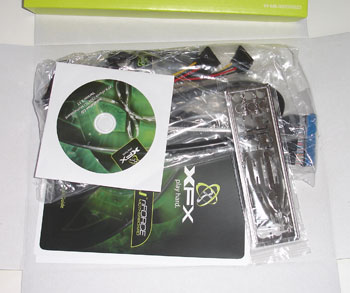 Given to the fact that this board is more geared toward mainstream/budget enthusiasts, it is not surprised to find that it may lack all the goodies that come with the high-end board.  Still, the board comes with a round floppy cable, round IDE cable, two SATA cables, two Molex to SATA power adapter, I/O backplate, and a driver CD.  XFX has included a cap for the SATA connector.  In addition, the connector is rotated at 90 degrees.  Surprisingly, one accessory missing is the SLI bridge.  I have checked with XFX folks and they have informed me that all the retail boards will come with SLI bridge, so if your box does not come with, contact XFX or simply post at our forum and XFX will take care of it.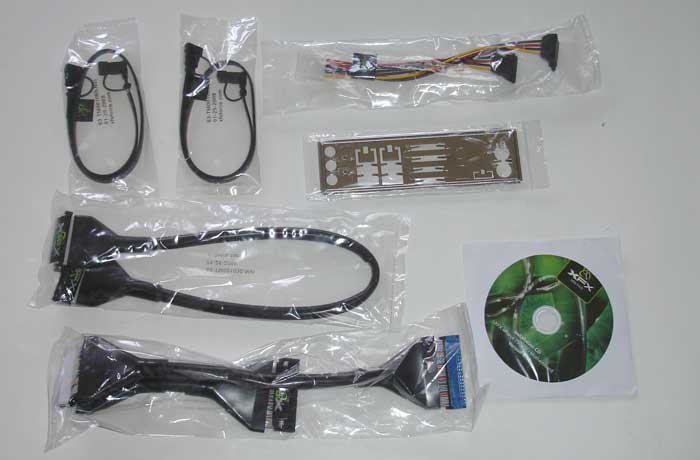 A quick colored installation guide and a guide for the board's automatic CPU over-clocking is included.  The full manual can be found in the driver CD.  I guess it's a way to cut down the production cost and maybe reduce paper waste but I do still prefer to have a manual.
The quick installation guide lacks the information on setting up the Hybrid Power and SLI.  Also, I found a typo in the quick installation guide: the placement of the front panel header has been mislabeled.  The driver CD includes all the drivers for the network, chipset, audio, and RAID for Windows XP and Vista (both 32 and 64 bit version).  No additional software has been included.
XFX 750a–BOARD LAYOUT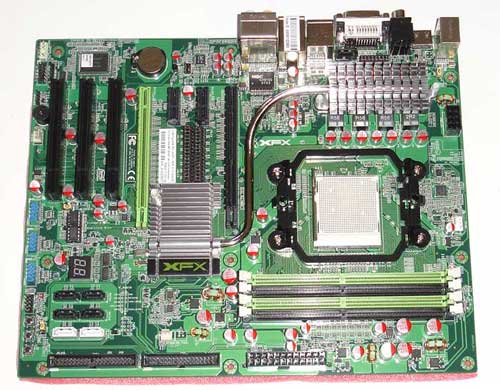 Let's take a closer look at the motherboard layout. The first thing that jumps out after seeing the board is the solid capacitors all across the board.  It is nice to see XFX uses only solid capacitors on their motherboards to ensure a longer lifespan and better overclocking result. 
The layout of the motherboard is somewhat different than your standard board.  We can see that many components, such as CPU socket and memory DIMM slots have been moved toward center of the board.  The chipset also has been shifted toward center of the board and closer to the expansion slot as oppose to next to the CPU socket area.  XFX chooses to use a heat pipe that connects to the chipset and the PWM to keep these components cool. 
Over at the CPU socket area, we can see that although there is no major obstruction around the area for a large heat sink, the closeness of the memory slot to the CPU socket will post a problem if you are using a large 120mm rectangular horizontal-mounted heat sink.  The heat sink will extend over the DIMM slots and prevents the usage of memory modules that feature tall heat spreaders, such as the OCZ Reaper that is used in the review.  Vertical mounted heat sink probably will not have such issue.
We can see the motherboard uses four phase power regulator and requires 8 pin auxiliary power for the CPU.  Behind the back I/O, you will find a SATA connector which is a bit peculiar placement for such connector.  Having the SATA port here is a bit odd but it may come handy if you plan to use it with an eSATA expansion bracket.  Also, next to the SATA port, there is a header for the DVI HDMI switch.  This header has been misplaced in the manual where it looks like it's the three pin header but on the board, it is the eight pin header that is next to the SATA port.
The motherboard 750a will accomodate AM2/AM2+ processors with maximum thermal output of 95W.  This means that it will not accomodate the latest AMD 140W powered CPU which is somewhat dissapointing.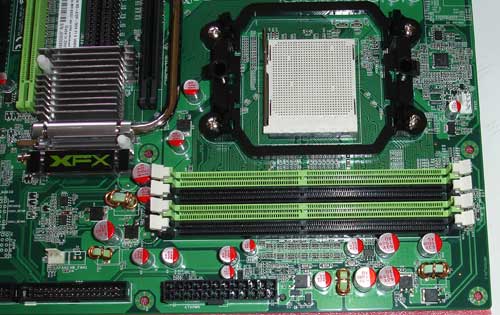 The DIMM slots are also placed too close to the first PCI-E slot so in order to replace the memory module, you would have to remove the graphic card first.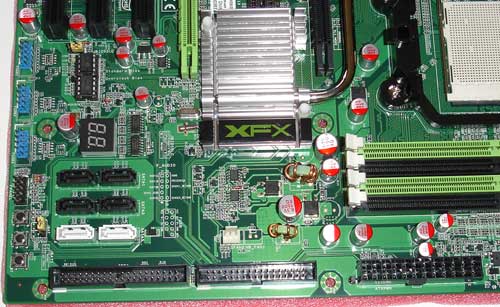 The main ATX power is placed near the edge of the board and just next to it you will find the floppy and IDE connector.  Above them, near the bottom right corner of the board, is where you will find six SATA ports capable of running in RAID 0/1/0+1/5/JBOD configurations.  Although there are six SATA ports down on the bottom of the board,  only the four black ones are functional.  The two white ones are being redirected for the eSATA and the extra SATA connector behind the back I/O.  The SATA ports placement is not ideal as if a larger graphics card is uses in the primary PCIE slot, such as 9800 GTX, the two connectors on the right will be blocked. 
XFX has also include a handy two digit LED error indicator and power button, reset button, and clear CMOS button on the bottom right edge of the board.  These are very nice addition to the board considering that this is more of a mainstream board.  Here you will also find the CMOS reset jumper.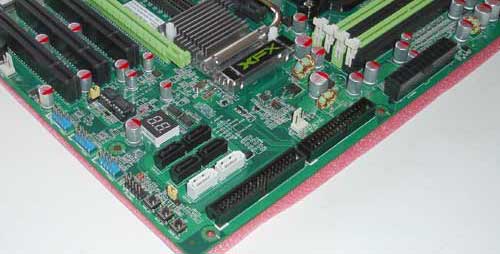 Near the bottom edge, you will see the front panel header, and three USB headers.  In addition, there is a system fan header, a speaker header, and serial port header.  All the way toward the left edge of the board is where you will find the front audio header.  It is probably the worst place to put this header as some cases' front audio cable may not be long enough to reach the header.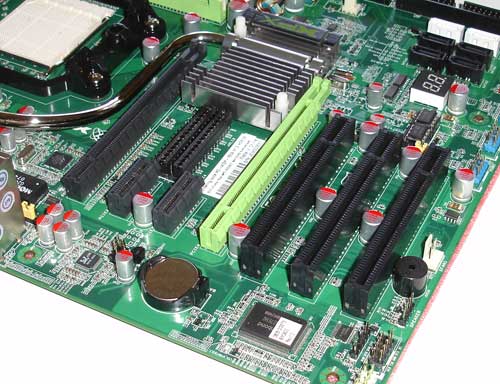 For the expansion, XFX 750a comes with two PCIE 2.0 x16 slot that is capable of running SLI in two x8 lanes.  In addition, there are two PCIE x1 slots and three PCI slots.  You can see that the SLI on/off switch is done with a set of four jumpers.  This reminds of the first SLI motherboards where users have to move a whole bunch of jumpers in order to turn SLI on and off.  It is quite surprising for me to find them as all motherboards capable of running SLI that we have seen over the last couple of years are either move the jumper to the BIOS or simply use the software in Windows to turn on the SLI.  A bit of hassle in my mind as there are easier ways out there.

Pay special attention to the motherboard's PCIE slot as the first PCIE X16 slot is actually the secondary slot while the green-colored PCIE x16 is the primary one.  So if you are installing a single card, you should install in the green slot.  If you have SLI enabled, you can actually use either two slots for the Hybrid SLI if you are only use a single card.
Above the expansion slots is where you will find the SPDIF header and the CMOS battery.  The CMOS battery placement is less than ideal.  To remove the battery, you would have to remove the expansion cards.  Luckily XFX has included the CLEAR CMOS button so it is highly unlikely that you will ever need to remove the battery to clear CMOS.
There is an interesting jumper between the second and third PCI slot labeled JBIOSSLC.  This jumper turns the motherboard's automatic overclocking feature on and off.  When the jumper is set to 2 and 3, the motherboard will have three preset overclocking setting.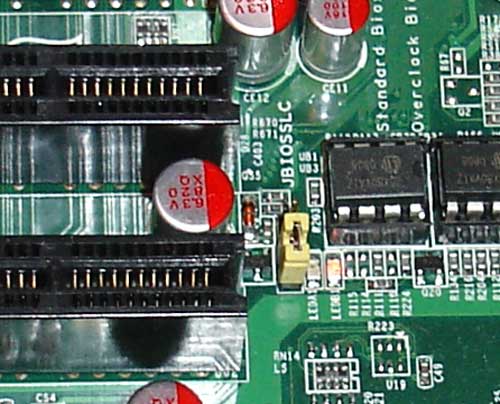 There are three settings for the automatic overclocking:
AutoL-overclocks approximately 30MHz CPU speed
AutoM-Overclocks approximately 60MHz
AutoH-Overclocks approximately 90MHz.

On the back, you will find the usual ports and a few extra.  The XFX 750a includes four USB ports, the keyboard and mouse, and audio ports power by Realtek® ALC 888 that is capable of 8 channel HD audio.  In addition, a Gigabit network port power by Marvell 88E8056 PCIe.  Also, there is DVI, VGA, and HDMI port, SPDIF-IN and SPDIF-OUT. The NVIDIA 750a onboard graphics only supports the maximum resolution of 1920×200 and it is capable of supporting 1080i/1080p.
BIOS
XFX 750a uses American Megatrends, Inc v02.61 BIOS. The interface should be pretty familiar for those who have been playing around the BIOS settings for awhile.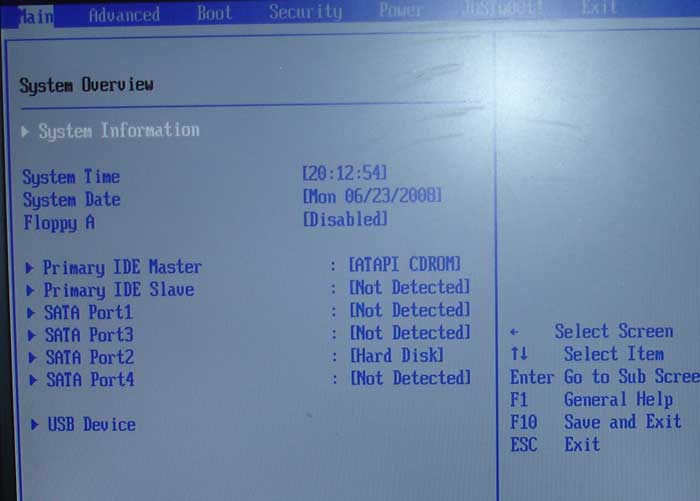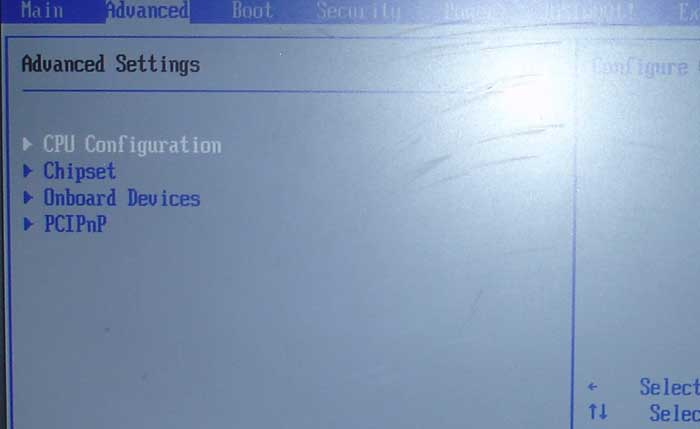 Under the Advanced Chipset Settings is where you will find the options for Hybrid SLI.  As you can see you can turn the Hybrid SLI on or off.  Also, you can adjust SLI support and set the primary graphics adapter and adjust the frame buffer size.  I like the chipset allows users to enable both discreet and IGP simultaneously, it would certainly come in handy when you are configuring the Hybrid SLI.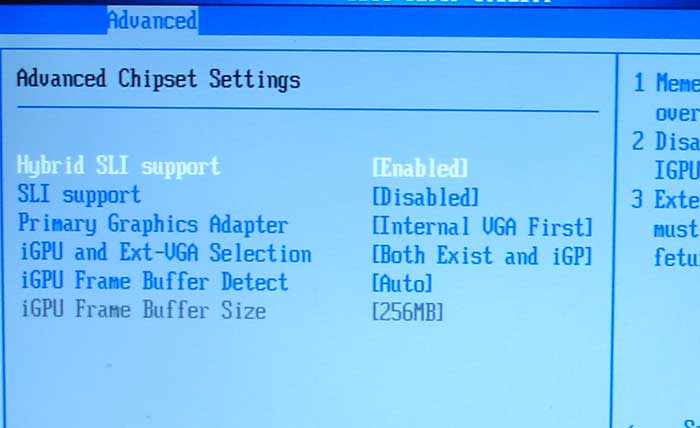 Under the Onboard Devices Setting, you have the option of setting the IGP to use HDMI or DVI.  For ease of use, I would suggest keep it in Auto mode.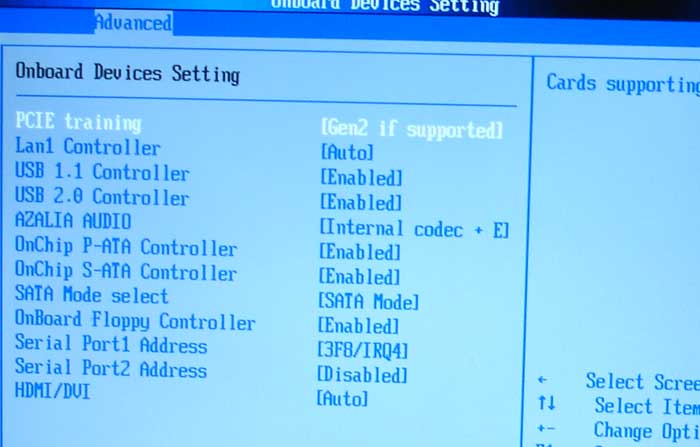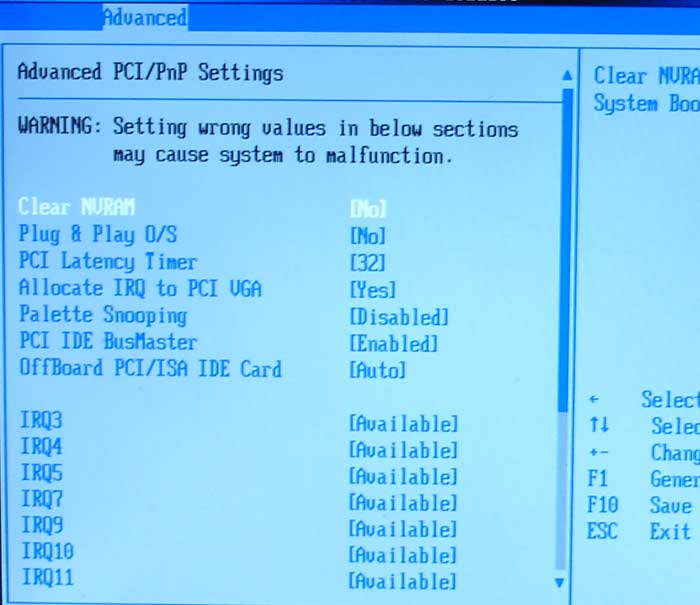 JUSTw00t!
XFX puts all the overclocking options under the JUSTw00t! menu.  What an odd name.
There are ample of tweaks can be found here.  First thing that strikes me as odd is the Lan BootROM Control, it seems to me is misplaced.  Here we see that users has quite a few options controlling the voltages for the CPU, SB, DRAM, and chipset.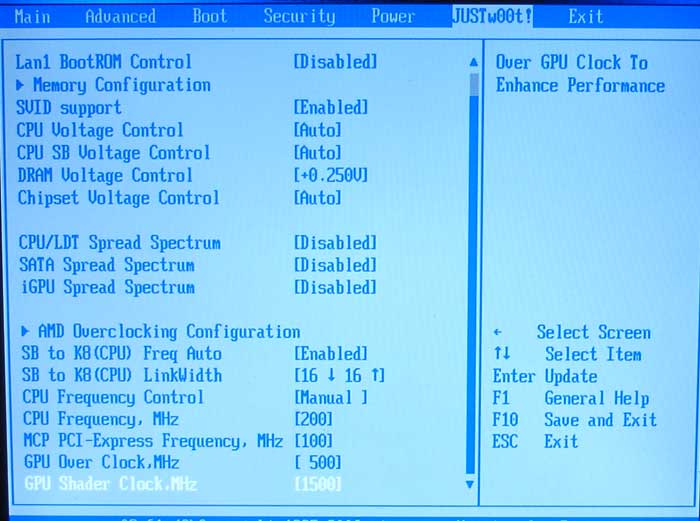 Here are a list of what can be adjusted.  The adjustments are a little limited.  Noticeable missing is the ability to adjust the HyperTransport multiplier.  This will greatly hinder the motherboards overclocking result as we all know that overclock Phenom processor will also overclock the HyperTransport speed.  So is critical to keep the HyperTransport speed near the 1800MHz (or 2000MHz for some of the processors) by reducing the multiplier.
ASUS P5E3 Premium WIFI [email protected]
Primary BIOS Parameter Adjustments
VID
Auto, 0.800v ~ 1.550v in 0.025 increments
CPU voltage
Auto, 1.000v ~ 1.450v in 0.050v increments
SB voltage
Auto, 1.000v ~ 1.450v in 0.050v increments
DRAM voltage
+0.05v ~ +0.35v in 0.05v increments
Chipset voltage
0.030v ~ 0.090v in 0.030v increments
SB to K8(CPU) Frequency
Auto, 200MHz ~ 2600MHz in 200MHz increments
SB to K8(CPU) Linkwidth
4/4, 8/8, 16/16 (up/down)
CPU PLL Voltage
Auto, 1.5V – 2.78V in 0.02V increments
CPU Frequency Control
Auto, AutoL, AutoM, AutoH, 200~400 in 1MHz increments
Memory Clock Value
200, 266, 333, 400, 533 MHz
Under the Memory Configuration is where we can fine-tune the memory clock speed and timings.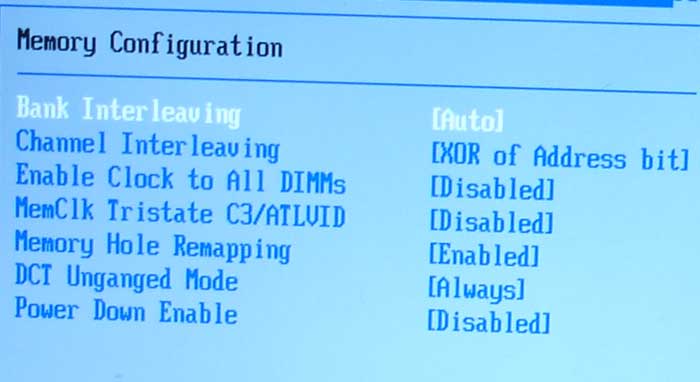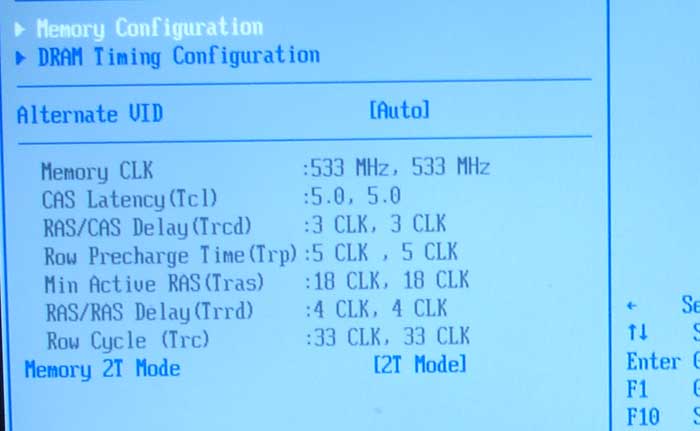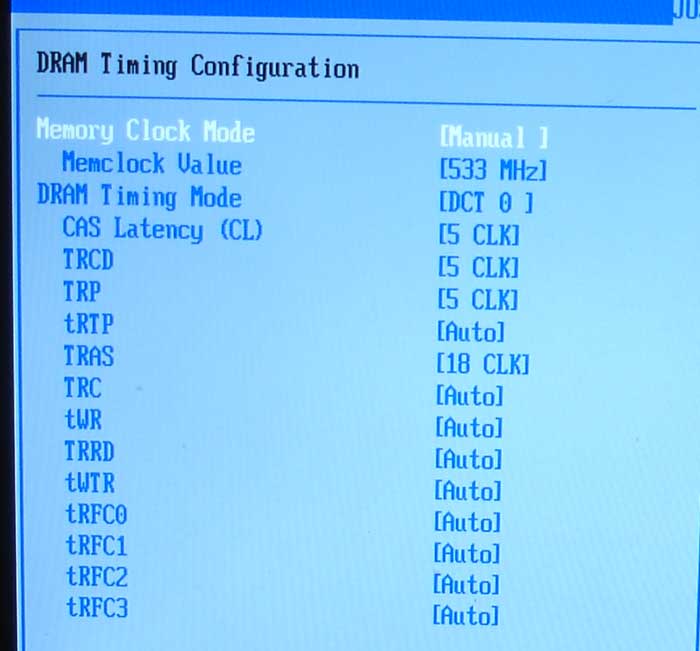 XFX has also included the ability to customize the P-states.  It is quite unfortunate the the BIOS uses hexagonal system rather than binary which makes it harder for a novice to overclock. I am not sure if there's a problem or if XFX has disabled the custom P-States since I could not change any of the settings.  I can adjust them but the settings simply do not get applied.  This is quite unfortunate as it dramatically limits the board's overclocking.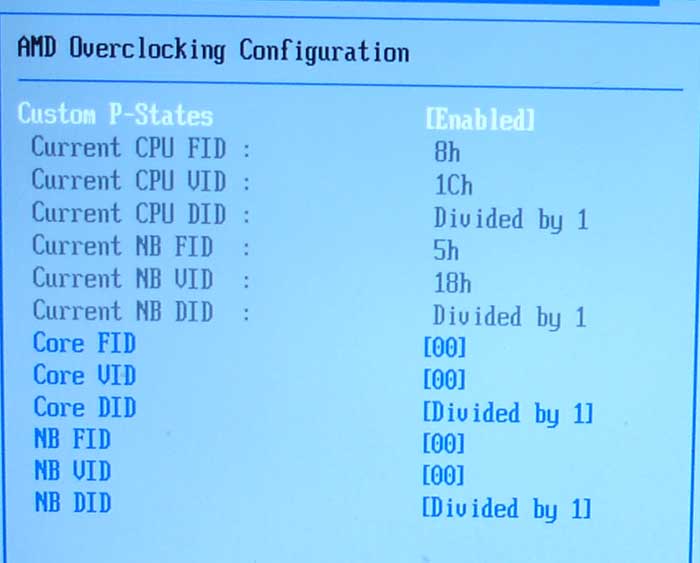 TEST METHOLOGY
TEST PLATFORMS

Element
Asus M3A32-MVP Deluxe  
XFX 750a
Processor
X3 Phenom 8750 2.4 GHz
X3 Phenom 8750 2.4 GHz
BIOS
0801
080015

Memory

OCZ DDR2 PC2-8500 Reaper HPC 4GB Edition @ 1066MHz with 5/5/5/18 timings (2T)

Drive(s)

Samsung HD501LJ 500GB/7200rpm/16M Cache

Graphics

XFX Fatal1ty 8800 GTS 320MB Forceware 175.19

Power Supply

Cooler Master Ultimate 900W

Heatsink

Thermalright SI-128 with Scythe S-FLEX SFF21F

Case

None

Operating System

Windows Vista Ultimate, 64bit
Benchmarks Tools:
World Bench 6.0 Beta 2
Futuremark 3DMark06
Futuremark PCMark05
Futuremark Vantage
Cinebench R10
Sisoft SANDRA XII SP2
Everest Ultimate Edition v. 4.50.1330
Super PI mod 1.5XS
Company of Heroes v1.007
Crysis v1.21
WinRar v3.71
HD Tach v3.0.4.0
WORLDBENCH
WorldBench 6.0 Beta 2 is an updated version of the ever popular World Bench 5. It uses series of real-world benchmarks which includes a wide variety of applications scripted to test your system's performance. Once all the tests are completed a single score is rendered with higher scores showing improved performance. We decided to publish the individual test results of WorldBench 6.0 Beta2 in lieu of reporting a single score which gives little or no meaning as to where the shortcomings of your system are. Our results from WorldBench do not include patched and unpatched results as there was little or no difference noted.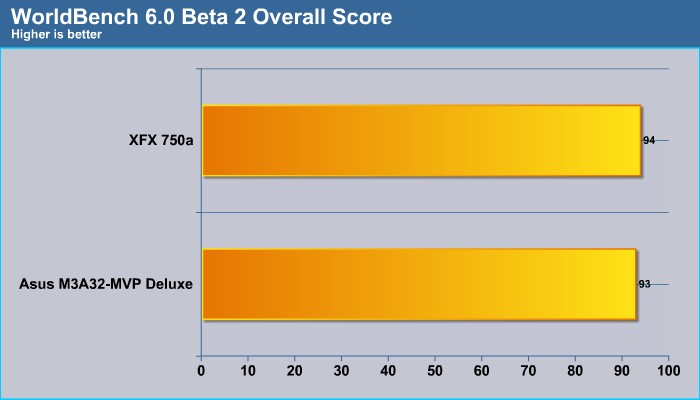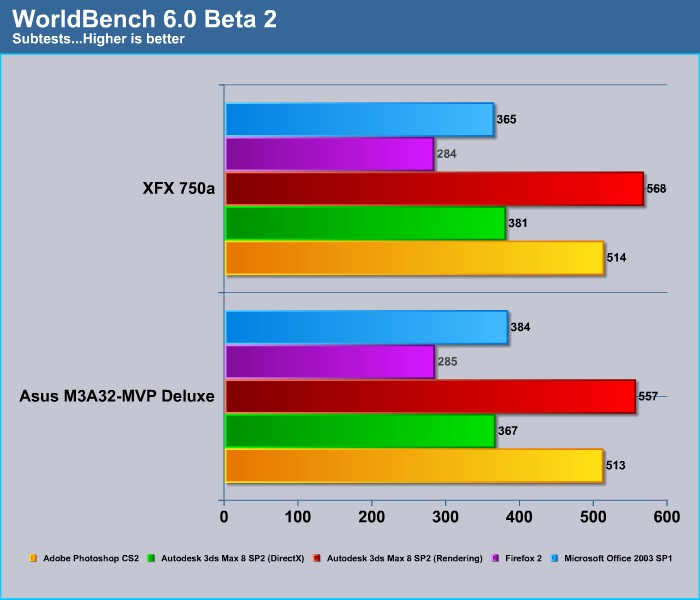 XFX 750a out-performs Asus M3A32 in Audodesk benchmarks and Adobe Photoshops but lags behind in the Firefox and Microsoft Office benchmarks.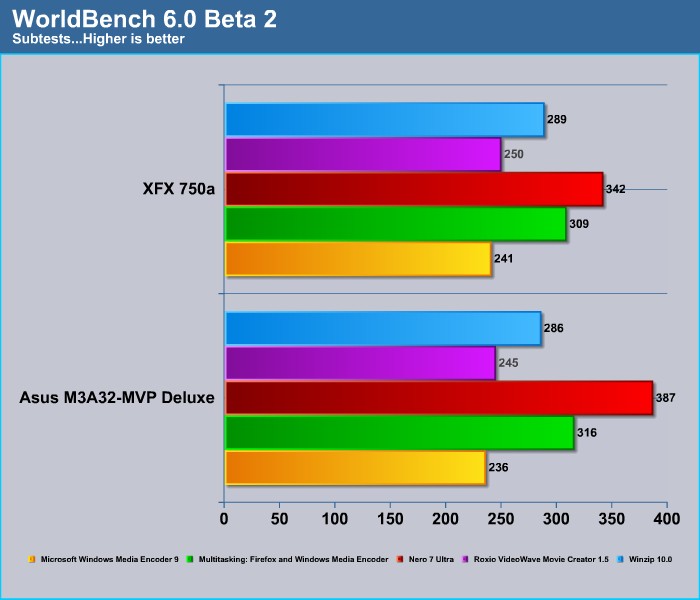 We can see that XFX 750a has an advantage in the multimedia department as it performs better in Microsoft Windows Media Encoder 9 and Roxio VideoWave Movie Creator 1.5 tests.
PCMARK VANTAGE
PCMark Vantage is the updated version of the PCMark05.  It adds more updated benchmark applications for the test.  In addition, it also offers support for multi-threaded applications and multi-core processors, as well as 64bit Windows Vista.  We will be running the benchmark using the 64bit version.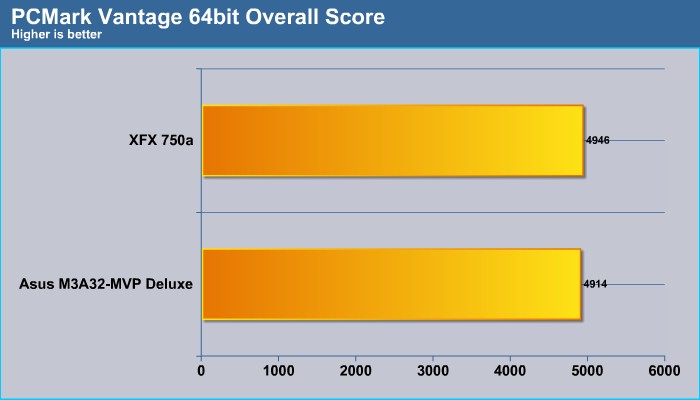 Overall, XFX 750a seems to have a little bit of edge over Asus M3N32.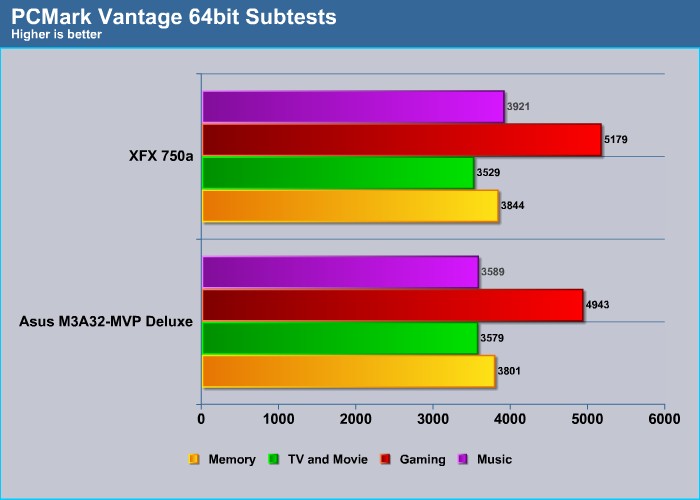 PCMark Vantage subtests reveals that XFX performs significantly better in Gaming and Music benchmarks while lags slightly behind in TV and Movie benchmarks.  Just as what we have observed with Worldbench, XFX 750a seems to shine in applications with high graphic demand.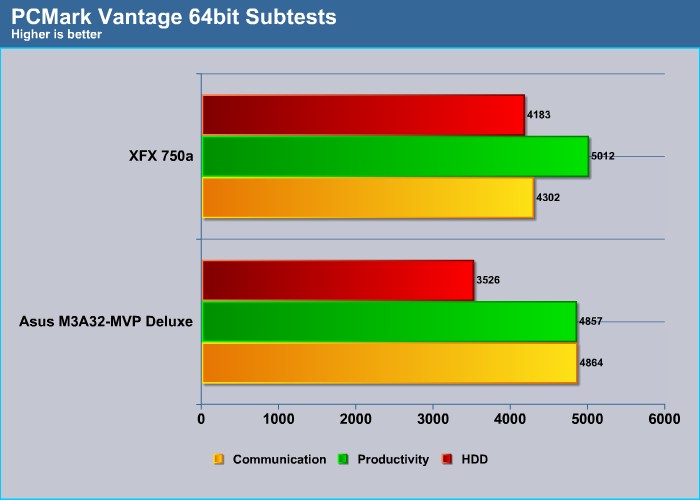 With the exception of the Communication benchmark, XFX 750a out-performs the Asus M3A32 in productivity and HDD.  What is interesting here is that the XFX 750a is able to offer approximately 18% gain in the performance in the HDD benchmark.
CINEBENCH
CINEBENCH is a real-world test suite that assesses your computer's performace capabilities. CINEBENCH runs several tests on your computer to measure the performance of the main processor and the graphics card under real world circumstances. The benchmark application makes use of up to 16 CPUs or CPU cores and is available for Windows (32-bit and 64-Bit) and Macintosh (PPC and Intel-based). The resulting values among different operating systems are 100% comparable and therefore very useful with regard to purchasing decision-making.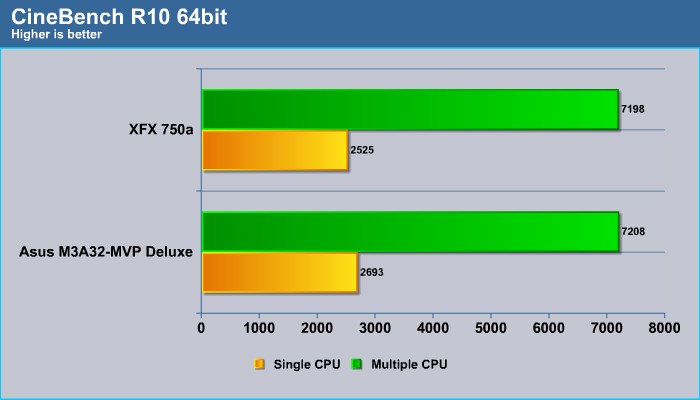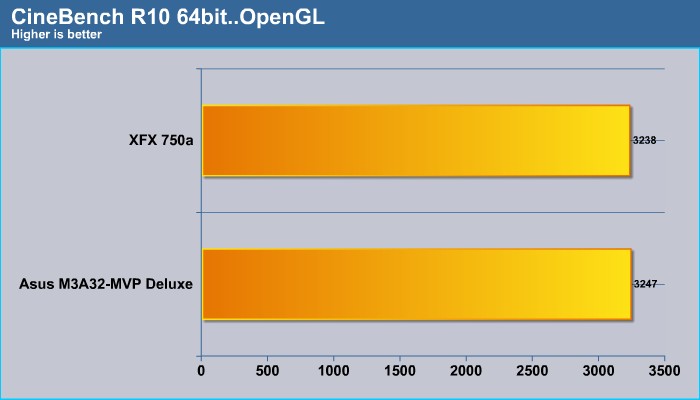 CINEBENCH CPU tests only the raw CPU performance and we can see that clearly pairing AMD processor with AMD chipset results a slightly increase in the performance than pair it with NVIDIA based chipset.
SANDRA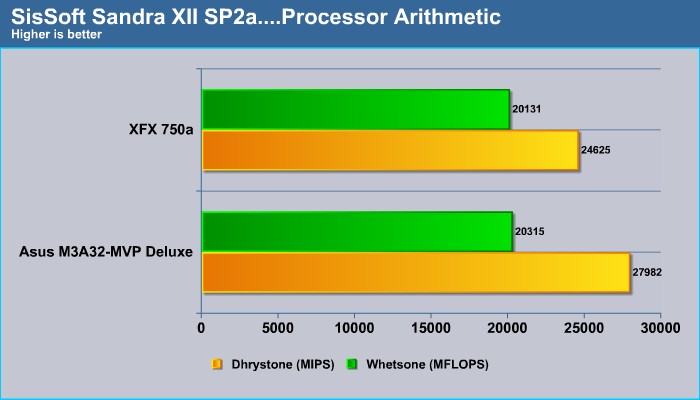 Just as what we have observed with the CineBench, Sandra also shows that AMD 790FX has a better performance than 750a, specially in the Whetsone benchmark where we see a 13% performance gain.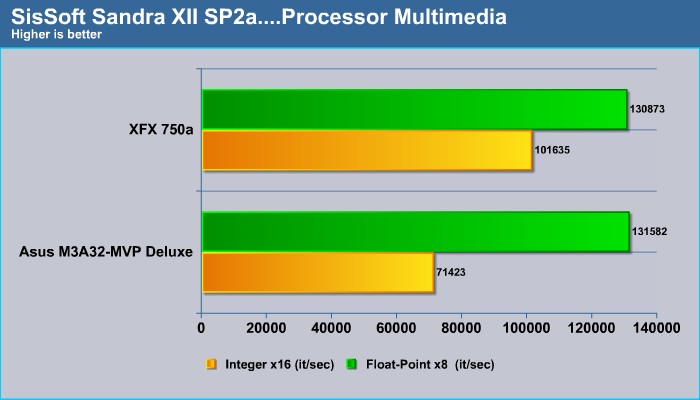 Quite surprising that we can see that 750a has approximately 1.5 times of the performance than AMD 790FX in Integer x16 benchmark.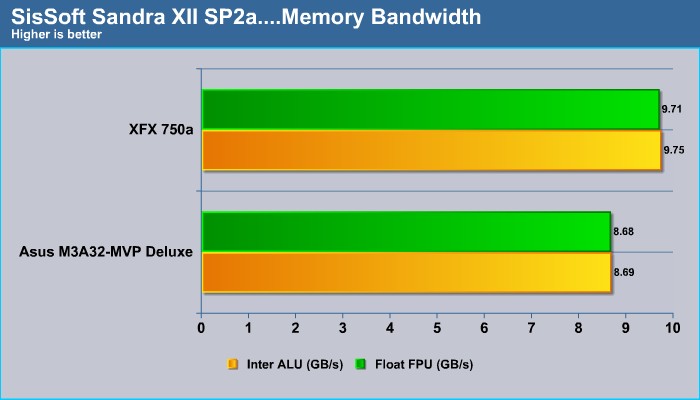 XFX 750a's memory performance is better than the Asus M3A32.
EVEREST
"EVEREST Ultimate Edition is the cutting-edge benchmarking and diagnostics tool to maximize security, performance, and trouble-shooting capabilities for home and home office PC environments, PC Professionals and consulting firms as well as OEM partners and Configuration Centers worldwide." Everest Ultimate Edition has been around for several years now and has over the last several versions gained huge credibility amongst the enthusiast sector. Everest Ultimate Edition offers several CPU and FPU benchmarks that are unlike others on the market and quite good.
Memory Benchmarks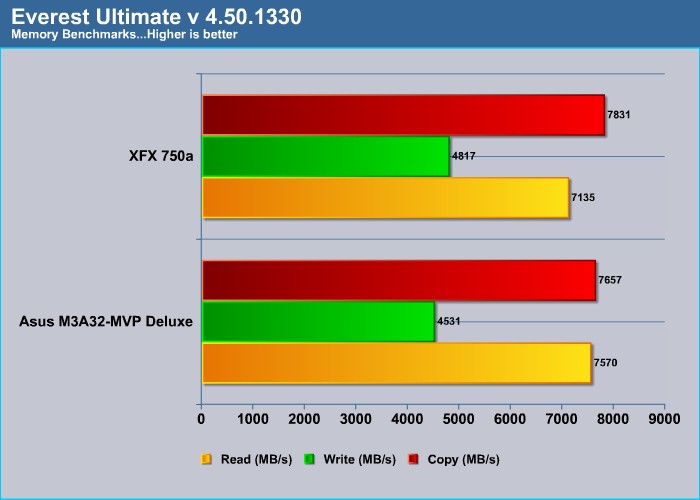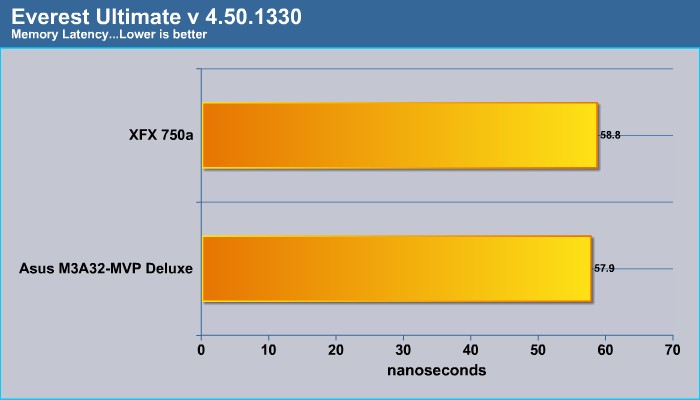 XFX 750a's write performance is better than Asus M3A32 but the Asus board has a better read and copy perforamnce in Everest benchmark.  Furthermore, Asus's board has a better latency than the XFX's board.
Processor Benchmarks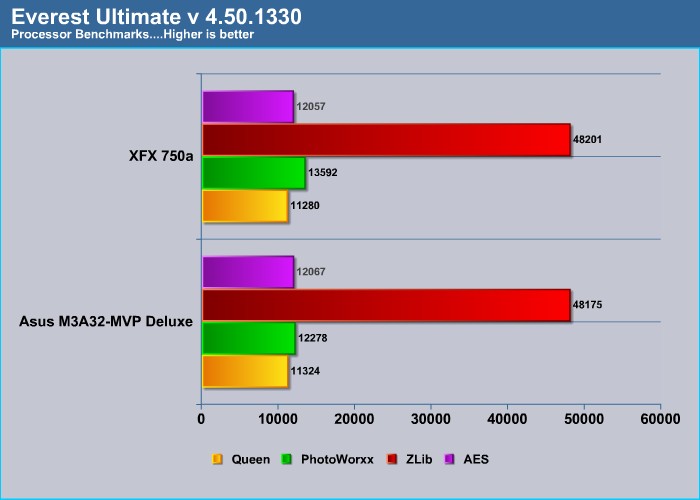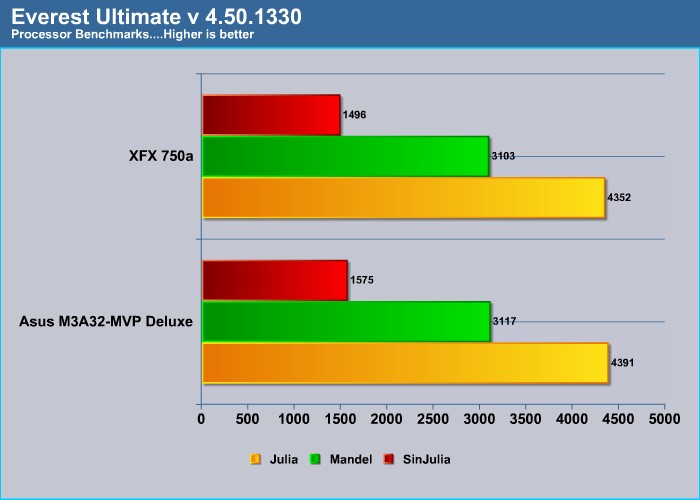 Everest CPU benchmarks shows that the performance of both motherboards are very similar to each other.  Once again, we see the a better results in benchmarks that uses the integer arithmetic (PhotoWorxx) whereas in the benchmark that measures 32-bit float-point performance (SinJulia), we see the Asus board actually has a slightly better edge.  Other benchmarks that tests the combination of CPU and memory performance do not show any significantly differences.
SuperPI
"SuperPI is a computer program that calculates pi to a specified number of digits after the decimal point – up to a maximum of 32 million. It uses Gauss-Legendre algorithm and is a Windows port of the program used by Yasumasa Kanada in 1995 to compute Pi to 232 digits. Super Pi is used by many overclockers to test performance and stability of their systems. In this community, Super Pi has become the standard for providing benchmarks to compare pi calculation times and demonstrate their overclocking skills." The version used in our testing mod 1.5XS has been modified by Xtreme Systems and we feel is the best version currently available.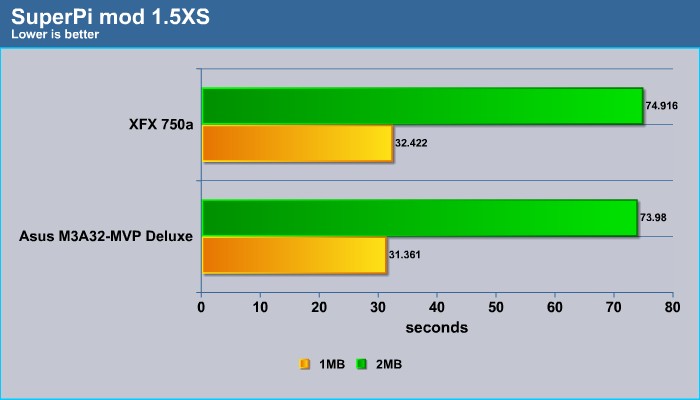 SuperPi clearly shows in terms of raw CPU and memory performance, the Asus's board has a better performance than the XFX's board. 
3DMark06
3DMark06 developed by Futuremark is a synthetic benchmark used for universal testing of all graphics solutions. 3DMark06 features HDR rendering, complex HDR post processing, dynamic soft shadows for all objects, water shader with HDR refraction, HDR reflection, depth fog and Gerstner wave functions, realistic sky model with cloud blending, and approximately 5.4 million triangles and 8.8 million vertices; to name just a few. The measurement unit "3DMark" is intended to give a normalized mean for comparing different GPU/VPUs. It has been accepted as both a standard and a mandatory benchmark throughout the gaming world for measuring performance.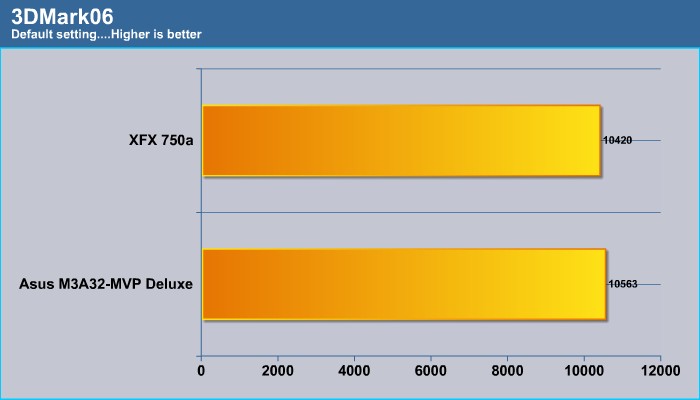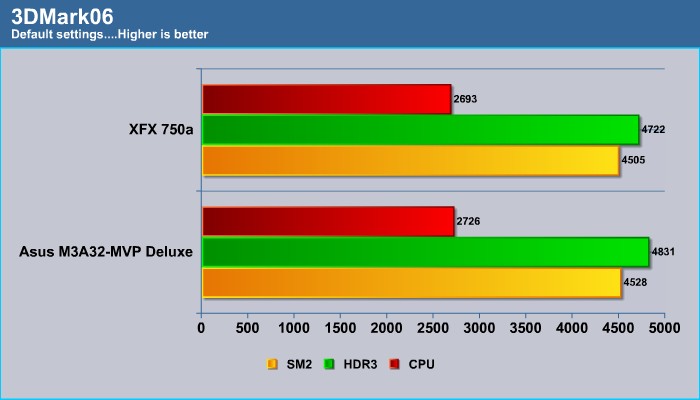 Asus has a better score in 3DMark06.
GAMING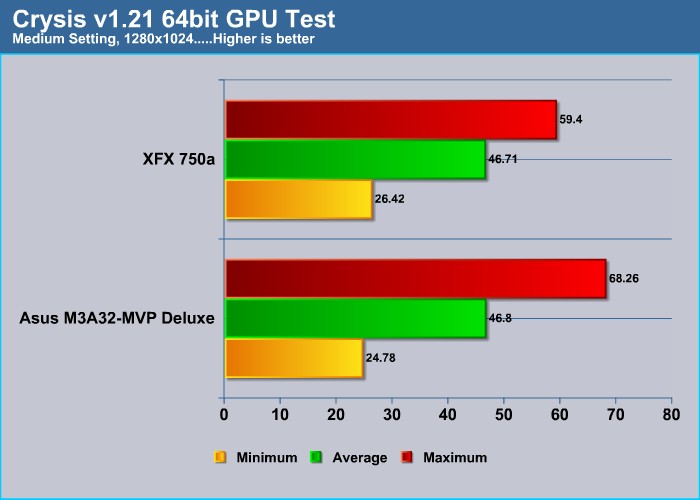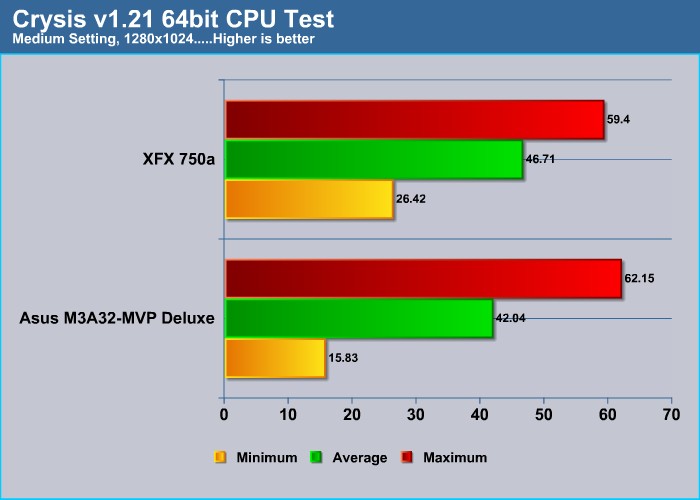 In Crysis's GPU test, we see once again, Asus's board has a tad better performance.  What is surprising is that in the CPU test, the XFX 750a actually is able to deliver a better result than the Asus's board.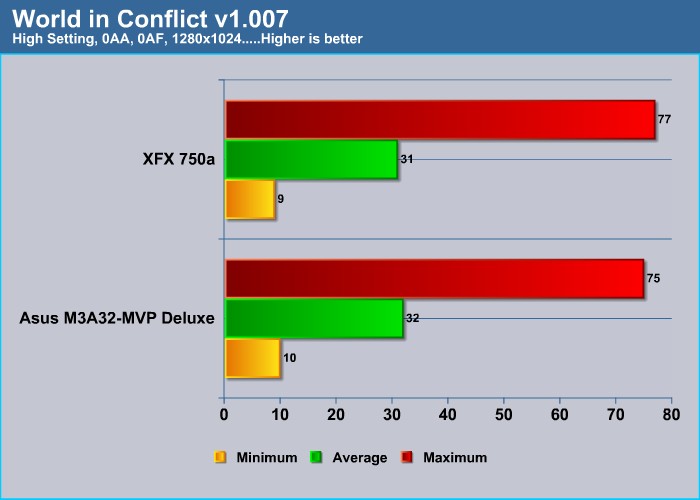 HDTACH
SATA

 
ASUS M3A32-MVP Deluxe
XFX 750a
Random Access Time* (ms)
14
14.1
Burst Speed(MB/sec)
210.7
208.5
CPU Utilization*
4%
4%
Average Read Speed (MB/sec)
69.4
69.2

*Lower is Better … Otherwise Higher is Better
USB

 
ASUS M3A32-MVP Deluxe
XFX 750a
Random Access Time* (ms)
17.1
17.3
Burst Speed (MB/sec)
30
34
CPU Utilization*
5%
6%
Average Read Speed (MB/sec)
21.5
21.3

*Lower is Better … Otherwise Higher is Better
Nothing really exciting to see here.  The performance of both SATA and USB for both motherboards are very similar to each other.  XFX 750a does has a slightly better performance with the USB burst read speed while the Asus M3A32 seems to have a tad better result with SATA burst speed.
POWER CONSUMPTION
The system power consumption is measured with Kill-A-Watt P4400.  All the power saving features (Cool & Quiet, SpeedStep, etc) are enabled under the BIOS.  We test each system's power with 3DMark06 and recorded the maximum power consumption.  The idle setting is measured with system booting into Windows without any programs running in the background.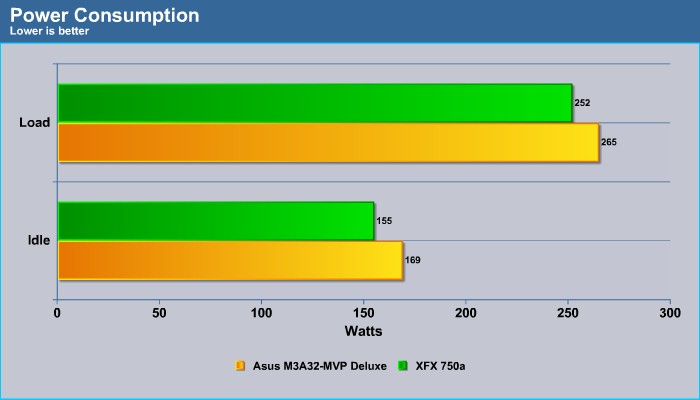 We will take a look at the power consumption with Hybrid SLI in a little bit.  For now, let's compare the power consumption of the Asus M3A32-MVP Deluxe with the XFX 750a.  XFX 750a is able to trim down the power consumption by 15W compare to the Asus board.
OVERCLOCKING
Overclocking Phenom has proven to be quite difficult.  With the XFX 750a, I was not able to achieve too much extra power.  I was only able to overclock the processor to 2.64 GHz.  This is lower than what I was able to overclock with the Asus's board.  Since XFX 750a does not allow adjustment for the NB multiplier, it really limits its overclockability.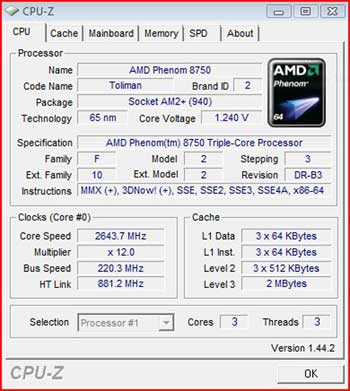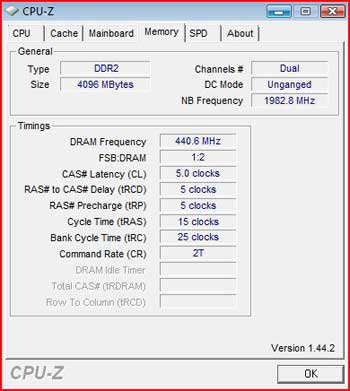 HYBRID SLI
The Hybrid SLI actually has two features: GeForce Boost and Hybrid Power.  GeForce Boost allows the integrated graphics to work in tandem with the discrete graphics to boost the performance.  The HybridPower is a power saving feature which allows users to switch off the discrete graphic when the demand of the graphic is not there in order to save the power usage.  Both features only work under Windows Vista (32bit and 64bit).
In order to use GeForce boost, the discrete graphics card would have to be similar to the IGP, currently only GeForce 8500GT and 8400GS are capable of using this feature.  Hybrid Power currently only work with GeForce 9800 GTX, 9800 GX2, GTX 260 and GTX 280.  With NVIDIA planning to incorporate this feature to all of their chipset, it would be safe to assume any future cards should also support Hybrid Power.  For more information, check out NVIDIA's site.
To run Hybrid SLI is actually quite easy.  Simply use the supported graphics card and configure in BIOS to enable Hybrid SLI.  The motherboard is capable of automatically detecting whether a Hybrid SLI capable graphics card is installed and automatically configure the system as Hybrid SLI or single discrete graphics card.  Be warned, in order to use the Hybrid SLI, the monitor would have to be connected to the integrated GPU's connector.  If the monitor is connected to the discrete graphics card, Hybrid SLI will be disabled.
When the Hybrid SLI is enabled, the system takes a bit longer to boot.  This is due to the fact that the system is trying to detect whether or not there is a discrete graphics card installed and configure the settings.  No big deal, just a couple of seconds.  Once the driver is installed in Windows, the system will install the required driver (if it has not yet done so).  A quick reboot and you are in business.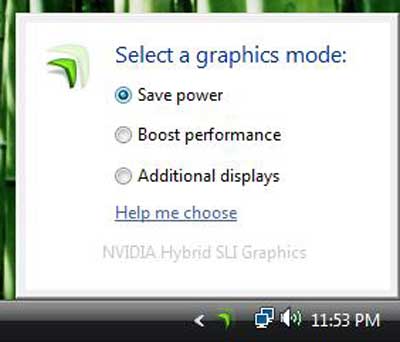 There are three modes of Hybrid Power: Save Power, Boost Performance, and Additional Displays.  The options are pretty much self-explanatory.  What is probably more interesting is the Additional Displays.  With this feature, you would be able to run a maximum of four displays (two on the integrated GPU and two on the discrete GPU).  With XFX includes HDMI, DVI, and VGA, you will be able to hook up two display using any two of the three connectors.
When Hybrid Power is set on Save Power setting, the discrete GPU actually has been completely turned off even the fan is turned off.  There is a little bug though.  When the system is turned on with the Hybrid SLI set in the Save Power mode, the fan will not turn off completely.  Reapply the setting after the system boots will turn the fan off.
I was actually quite surprised by how well Hybrid SLI, rather the Hybrid Power feature, works.  Switching between modes is as simple as click on the taskbar icon and selects the mode.  Once the mode has been chosen, the system will become unresponsive for a second or two.  Other than that, the system runs quite smooth without any issue or lags.
I do have a couple of complaints about the HybridSLI.  If there is any 3D application opened, you will not be able to switch between the modes.  You can switch the modes with 2D applications opened but not 3D applications.  So you would always have to change the mode before fire up the games and applications.  Since Hybrid SLI lacks a way to auto-detect the application and auto-switch between the modes, it is a bit of a hassle to always have to remember to adjust the modes before launching an application. I would hope that in the future, there is a way of changing the modes on-fly or during games.
Another little annoyance is more toward XFX's design rather than Hybrid SLI and that is with the onboard LED indicator.  XFX puts an LED indicator on the motherboard.  It will blinks whenever Hybrid SLI is enabled.  I like the indicator but the constant blinking light is really annoying and I would prefer simply have a light that stays on constantly.  Although I think most people won't see the inside of their case but for those people with clear side panel, it can be a bit annoying.
Overall, I am quite impressed with the Hybrid SLI given to the fact it is the first time NVIDIA implements such function.  The software and hardware all work quite well without much issue.  Let's move on and see the performance difference with and without Hybrid Power and the power saving from such feature.
HYBRIDSLI PERFORMANCE
3DMark06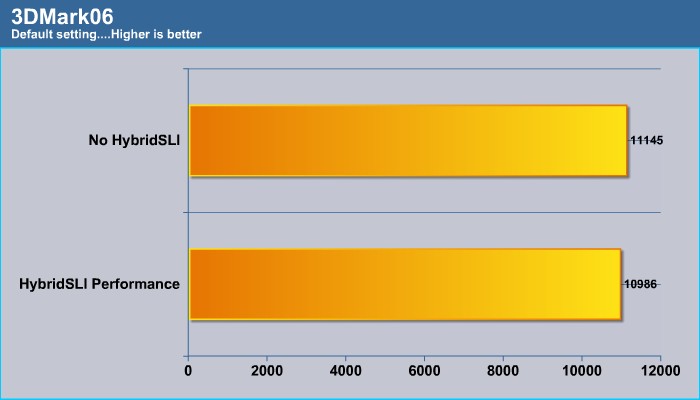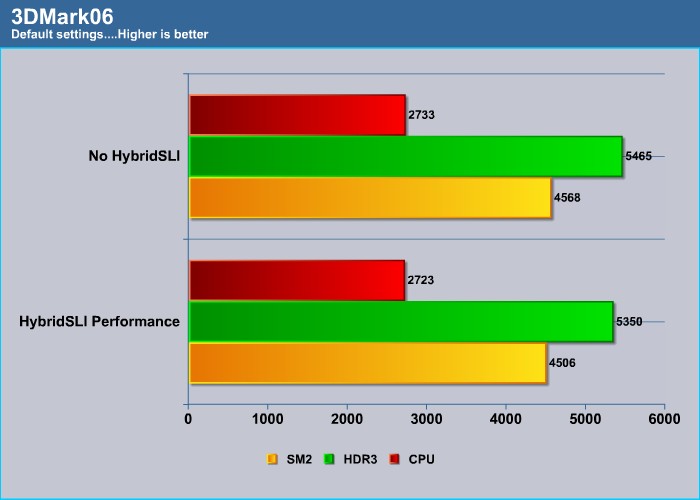 There is a hair of performance loss (~2%) with Hybrid Power enabled.  It is probably not going to be something that will be too easy to notice.
PCMark Vantage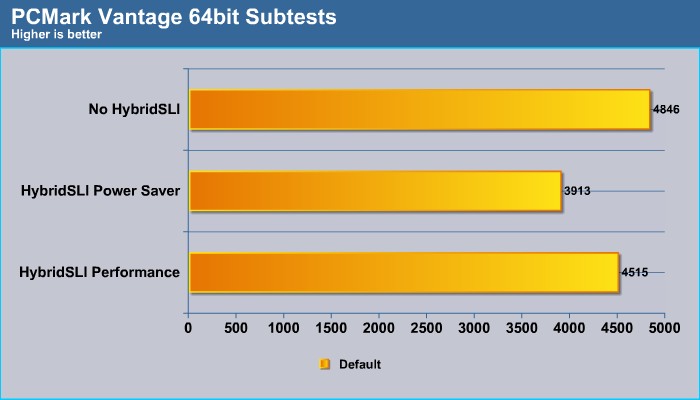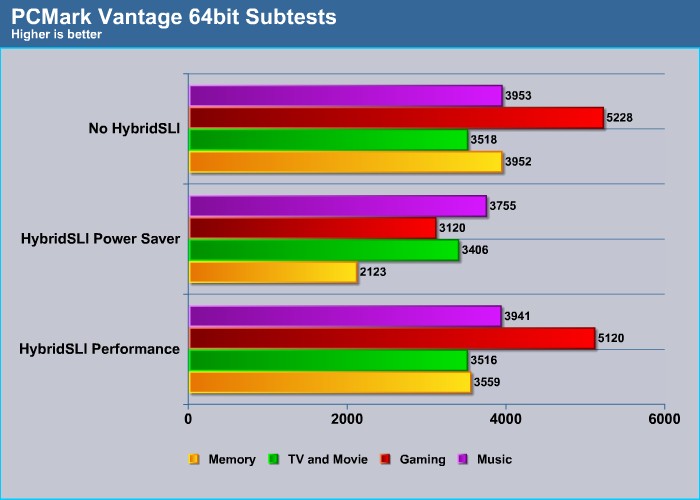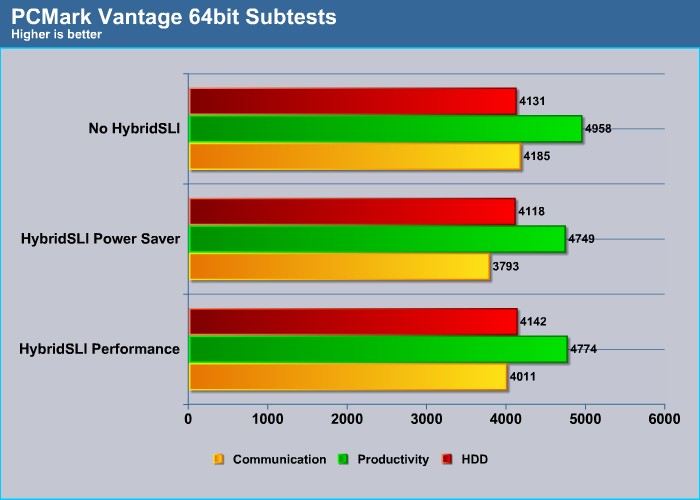 Once again, PCMark Vantage shows that the performance loss due to Hybrid SLI is only is quite small.  We do see a big performance difference in the Memory benchmark when compare the Hybrid SLI in Power Saver mode vs in the Performance mode.  After detail inspection with the subtests, we can see that the large performance difference is purely due to benchmarks that test the graphic card's power.
Power Consumption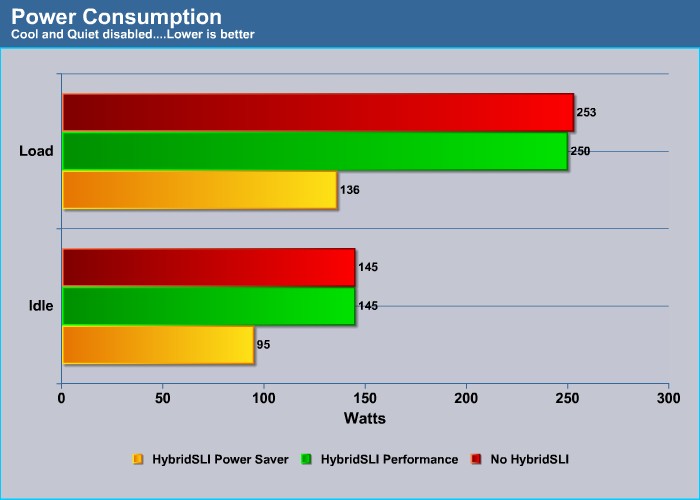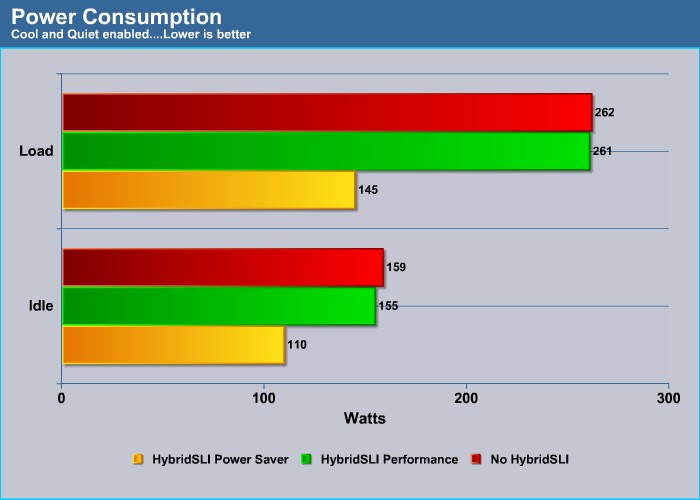 We have already seen the NVIDIA 750a consumes less power than the AMD 790FX but the story gets even better when we enabled the Hybrid SLI.  With Hybrid SLI set in the Power Saver mode, we are able to reduce power consumption of the system to 110W idle and 145W load.  If we also turn on the Cool and Quiet, we can further reduce the system power usage to as low as 95W idle.  This is 45W less than with the Hybrid SLI set in the performance mode (or 50W when we compare the system with Cool and Quiet enabled).  The power saving is simply amazing.
Surprisingly, when we disable Hybrid SLI and simply use the discrete graphics card as our sole graphics processor, we see a slightly higher power consumption.
CONCLUSION
NVIDIA has finally found a way to reduce the power consumption of the motherboard with their Hybrid SLI technology.  Granted, there are a few little kinks that need to be worked out but given to the fact it is still in its infancy, I am quite surprised at how easy and well it works.  I can see this technology stays with us NVIDIA can works out the kinks.  As we can see Hybrid SLI's 40W power reduction may seem little but if everyone is able to reduce 40W of power consumption, it would amount to significant energy saved.  What is even more impressive is with Hybrid Power enabled, we see a dramatic power consumption but only a few percentage of performance lost.
Unfortunately, Hybrid SLI only works with a few graphic cards and with Vista machines.  With NVIDIA planning to incorporate Hybrid SLI into their chipsets and graphics cards, we should see this technology matures and becomes more widely available.
The XFX 750a is packed with features and functions for a mainstream motherboard.   At cost of $149.00, it is not skimming too much on the features.  You still get SLI support (although only in two x8 configurations), onboard reset/power/clear CMOS buttons, 10 USB ports, and VGA/HDMI/DVI connector.  In terms of its performance, it is on par with the AMD 790FX based motherboard with the exception of USB transfer rate and the integer x16 where 750a chipset has a clear advantage. 
One of the biggest limitations for the XFX 750a is probably the lack of supports for 140W AMD processor.  Also, the limited overclocking option is a bit disappointing.  And the five SATA ports can limit expandability, especially considering the two ports may be blocked if you are using a large GPU.
I see this board can be a good choice for those who wish to use a PC for both HTPC and for gaming.  The integrated GPU will serve the HTPC function and the discrete GPU can provide the needed power for gaming.  With the ability to shut off the discrete graphic, users would be able to reduce the power loads and have near silent operation since they would have the ability to completely turn off the discrete GPU.
XFX 750a will receive a score of 8.0 (very good) out of 10 for the support of Hybrid SLI and SLI technology with ease of use.
Pros:
+  Hybrid SLI works quite well
+  VGA, HDMI, DVI connector
+  Ability to power maximum of four monitors
+  Supports SLI
+  Onboard reset, power, and clear CMOS buttonr
+  Solid capacitors
Cons:
–  Only comes with four USB ports on the back I/O
–  SLI only works at x8 mode
–  Poor SATA ports and front audio placement
–  Lacks proper manual and installation guide
–  Hybrid SLI only works under Vista
–  Chipset runs hot
–  Limited overclocking options
–  Does not support 140W AMD processors