With another entry into the fan controller market, we'll see if NZXT delivers with the latest, the Sentry LX.
INTRODUCTION:
With all the advances and new releases in the computer industry this summer, it's easy to overlook the smaller things that often play excellent support roles. One of these devices in particular happens to be a fan controller. Not just any fan controller, but the NZXT Sentry LX. Today we'll have a look at whether NZXT has delivered a winning product or one that you can live without. For those of you that don't know, NZXT has been around for a few years now, focusing their efforts primarily on cases. This is the second fan controller to come from NZXT, following the Sentry 1.
Many people consider fan controllers to be an unnecessary extravagance and look down on anyone that would spend their money on one. For many people, noise is a primary factor when selecting a case, video card, fans and other accessories for a new build. For others it is all about achieving the lowest temperatures possible. A fan controller, when properly put to use, can greatly assist in balancing ever-rising case temperatures with the amount of noise produced.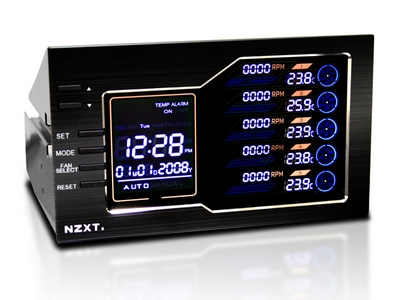 ABOUT NZXT:
From the NZXT website:
NZXT, a company built upon gamer's dreams, hopes to create products that put consumers first. Our objective is to provide every gamer with a case that they can identify with. Combining unique design and case performance, consumers will finally be able to find a quality case that will represent their own style and personality.
In the future, NZXT wishes all gamers who desire a personalized case to find it at NZXT. With the unveiling of every product, NZXT improves upon on weaknesses and strives for excellence. Achieving perfection is not an easy task, however, NZXT is determined to meet and surpass consumer expectations.
Our dedicated sales and customer service team will also work diligently to earn your trust and loyalty. All our products are built with high quality material and engineered in the best conditions.
NZXT products are designed and engineered in the United States and manufacturered overseas in China and Taiwan.
NZXT was established in 2004 in Los Angeles, California.
FEATURES AND SPECIFICATIONS
NZXT Sentry LX Features
5 Fan control
5 Temperature probes
Temperature Alarm
Dual 5.25″ Display
Date/Time/Day system
Ability to turn fans off
Auto/Manual settings
Aluminum Front Panel
NZXT Sentry LX Specifications
5 x 3pin fan connectors
5 x temperature probes
Colorful front panel display
Battery backup to keep your time/date and fan settings
Ability to adjust alarm temperature on all five sensors
PICTURES
Here's the box as it arrived

It was packaged quite securely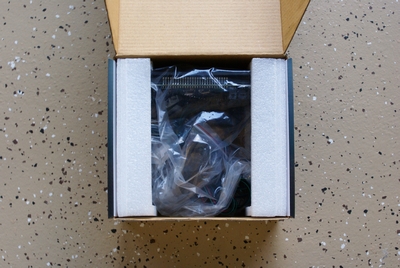 A good look at the unit exposed!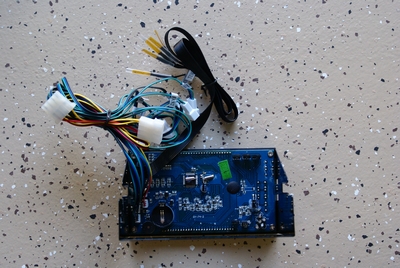 A good look at the front of the unit, and the included accessories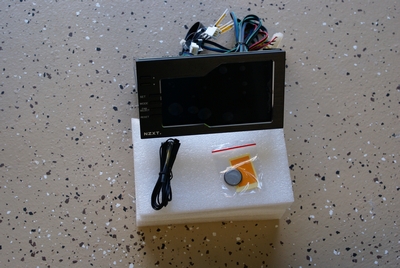 A good look at the front of the unit while it's running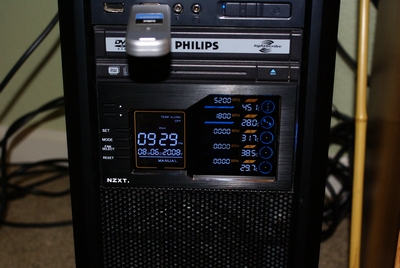 TEST SETUP
With a fan controller, there really aren't a lot of specific tests to run and results are difficult to define. Luckily, with the Sentry LX, we are able to monitor temperatures at five different locations, allowing us to see the results of our fan adjustments. Unfortunately only two fans are currently hooked up to the controller because I am using the stock Antec fans, which use a Molex connector – not a 3 pin. The only fans I had with a 3 pin connection were a cheapo Dynex fan from Best Buy and the fan for the Northbridge heatsink on the mobo. The temperature sensor locations can be seen on the chart below, and if they correspond to a particular fan, I will note that as well. Ambient Temperature for all testing was 27°C. All temps were taken at full load, both to stress the system and to keep the temps stable; they fluctuate very little while the system is stressed.
TEST PLATFORM

CPU

Q6600 @ 3.0 GHz

MOBO

EVGA 780i Tri-SLI

MEMORY

Corsair XMS2 DDR2 800 5-5-5-15

GPU

EVGA 8800GT SC

POWER SUPPLY

ThermalTake PurePower 600W

CASE

Antec 300
SENSOR LOCATION (AUTO)


TEMPERATURE AND RPM

Northbridge Heatsink*

48.0/ 5500 RPM

Center HDD Cage (rear)*

27.5 / 1200 RPM

CPU Heatsink (top of base)

34.2

GPU (rear of PCB)

41.3

GPU (Fan housing directly above chip)

31.6

* Denotes a fan location
SENSOR LOCATION (MANUAL, 100%)


TEMPERATURE AND RPM

Northbridge Heatsink*

48.2 / 5400 RPM

Center HDD Cage (rear)*

27.7 / 1800 RPM

CPU Heatsink (top of base)

33.7

GPU (rear of PCB)

41.2

GPU (Fan housing directly above chip)

31.5

* Denotes a fan location
SENSOR LOCATION (MANUAL, 50%)


TEMPERATURE AND RPM

Northbridge Heatsink*

55.4 / 2200 RPM

Center HDD Cage (rear)*

26.9 / 900 RPM

CPU Heatsink (top of base)

32.6

GPU (rear of PCB)

36.3

GPU (Fan housing directly above chip)

30.5

* Denotes a fan location
Honestly, I didn't notice much of a difference between auto and manual modes. In manual, you can see the large difference between the 50% and 100% tests as far as the Northbridge heatsink is concerned. Interestingly, all the other temps dropped when I turned down the Northbridge fan. The only explanation I have for this is that the heat wasn't being blown around inside the case as much. The test was repeated three times, and everytime I turned up the Northbridge fan, the temps inside the case climbed. An interesting result, at the very least.
CONCLUSION
Well, as our test results show, having a fan controller certainly makes it easier to monitor your temps in addition to controlling the speeds. The ability to control individual fan speeds while viewing the temperatures makes it very easy to figure out which areas of your case are contributing to high temps, and can help you figure out how to bring down your overall temps. Who would've imagined that raising your Northbridge temperature would lower your GPU temp?
Overall, I was very happy with the Sentry LX. The large display is definitely nice to have, but the way it is constructed limits its viewing to a fairly head-on angle. If it's viewed from the side, the numbers become unreadable. The auto function is okay, but it is not adjustable, which would have been much more convenient. The sound alarm can be manually adjusted to go off at any temperature, between 30°C and 90°C. It's not much of an alarm however, as it beeps five times and then stops. The display will continue to blink, but if you were out of the room for ten seconds you'll never know your alarm went off unless you bend over to look at your temperature display. The biggest problem I have seen, however, is the lack of any adapters, at all, to connect your fans to the controller. MOST fans are Molex nowadays. Yate Loons are extremely popular and I use them in some of my systems, but they are still connected via Molex, not 3 pin. Also, there was no capability provided to connect 4 pin devices. I would have loved to have hooked up my ZeroTherm Zen to the fan controller but it simply didn't provide the capability.
As for price, I will leave that to you to decide whether that is a "Pro" or "Con." It retails for anywhere between $59.99 and $69.99 on the web which falls in line with other fan controllers in the high-end category, but you won't find one at TigerDirect or Newegg yet.
Overall the NZXT Sentry LX recieves a Bjorn3D rating of 7.5/10.0
Pros:
+  Large display
+  Large number (5) of fan connections
+  Sturdy Construction
+  Came with replacement temp sensors, in case you break one
+  Battery backup
Cons:
–  Viewing display at an angle is unreadable
–  Availability
–  No PWM fan support
–  Short alarm
–  No adapters included for hooking up anything other than a 3 pin fan