Patriot Viper DDR 2 1150 is a viable alternative to more expensive DDR3. With it's enhanced latency and blistering speed it caters to the enthusiast overclocker.
INTRODUCTION
With DDR3 slow in gaining acceptance and the lackluster price to performance ratio more people are turning to less expensive Extreme Performance Enhanced Latency DDR 2 memory. Recently DDR2 memory has attained speeds thought impossible just a short time ago. With DDR2 speeds increasing and prices remaining reasonable it's becoming an attractive option to stick with DDR2 running at speeds of up to 1200 Mhz (PC-9600) and Latencies in the Cas 5 range.
With computer accessories the highest speed of any component is usually the most expensive, many enthusiasts shoot for the next fastest speed taking advantage of the sharp price drop, then clock the less expensive component up to the speed of the more expensive counterpart.
Today we are going to take a look at a 2 X 1 Gig kit of Patriot Viper DDR 2 1150 (PC-9200 5-5-5-15) which is just one step below Patriot's fastest kit (of DDR 2) which is the Viper DDR 2 1200 (PC-9600 5-5-5-12). With a little effort we are betting we can attain speeds exceeding it's more expensive cousin and attain the nirvana only afforded to those that care to venture into the realm of the Overclocker.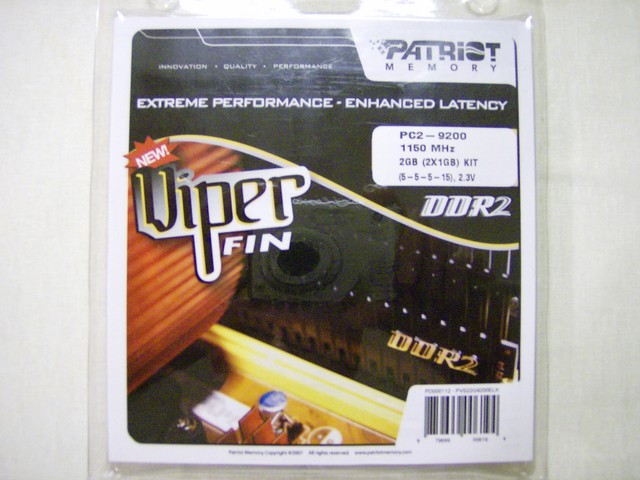 About Patriot
Company Profile
Established in 1985, Patriot Memory builds a full range of memory module and flash memory products, offering a perfect blend of quality and value. Patriot products include Extreme Performance (EP), Signature Lines (SL) and Flash Memory solutions (FM)
Product Design
We understand the value of designing and responding quickly and intelligently to the rapid changes inherent in the memory module industry. This commitment to R&D enables us to deliver the best quality memory modules powered by the latest innovative technology.
QA/QC Testing
Patriot Memory ensures that every module meets or exceeds industry standards. The manufacturing process begins with high-quality components and ends with rigorous functional testing to ensure each module's reliability and compatibility.
Patriot Memory modules are approved by leading motherboard and system manufacturers such Intel, Tyan, Supermicro and Iwill. Patriot Memory is a member of Apple Developer Connection. Awards from such leading product review sites as XBit Labs, Anandtech, Tom's Hardware and Hot Hardware.com demonstrate Patriot EP and DC+XBLK memory modules set the standard for performance and reliability.
FEATURES,PACKAGING, PICTURES & IMPRESSIONS
Features
Extreme Bandwidth PC2-9200 (1150MHz)
Enhanced Latency (5-5-5-15)
Bladed aluminum heat shields to improve module stability
100% Tested and Verified
Lifetime Warranty
RoHS Compliant
1142MHz when EPP is Enabled
Packaging
The Patriot Viper DDR 2 1150 (PC-9200) comes in a typical plastic blister pack suitable for hanging on retail shelving. It sports a picture of the "Viper Fin" design and the speed, voltages and timings required to run the 2 X 1 Gig kit.
Click Picture For A Larger Image
It's pretty standard packaging for memory products, plastic blister pack, insert with timings voltages, rated speed and tips and tricks for installing when you look inside the insert.
Pictures & Impressions
Click Picture For A Larger Image
The Patriot Viper Extreme Performance Enhanced Latency DDR 2 1150 kit has a look that is reminiscent of Corsair's Dominator series. The kit projects it's presence saying visually that this is a serious kit and not one of those value kits they ship naked. It has a quality look and feel to it and when held is quite heavy and well constructed.
Click Picture For A Larger Image
The Viper Fins are Copper backed and during operation conducted the heat away from the Ram efficiently. Even during Overclocking the Ram remained fairly cool and never got above warm to the touch. When we added a fan strategically placed to cool the Ram in the system it remained quite cool.
We checked with Patriot on this kit and you'll be delighted to know that their Micron D9 IC based. Micron D9 kits have traditionally responded well to voltage increases and over clocking.
TESTING METHODOLOGY
Prior to testing we installed the Patriot DDR 2 1150 (1142 by EPP) and ran Memtest 86 for 10 complete cycles to ensure the memory is error free. Patriot tests each stick extensively before packaging and true to form these sticks were error free. After memtest 86 we ran the memory in every day computing for about a week for a break in period. A lot of review sites don't do this any more and jump right into testing. A product isn't any good if it tests fine then dies a few days later so we like to have a break in period. During the break in period you get a feel for the ram and get a larger window of opportunity to evaluate the ram and how it behaves.
These DDR 2 1150 sticks aren't a set that you take out of the package and find a default divider for. We didn't expect them to be, their designed with the overclocker in mind. By SPD they will run at 1142 with timings of 5-5-5-15, so to run them at exactly that we set the FSB on the E8400 test rig at 357 with a multiplier of 9 yielding a modest speed of 3.214 GHz and allowing us to run the ram at the rated speed and timings.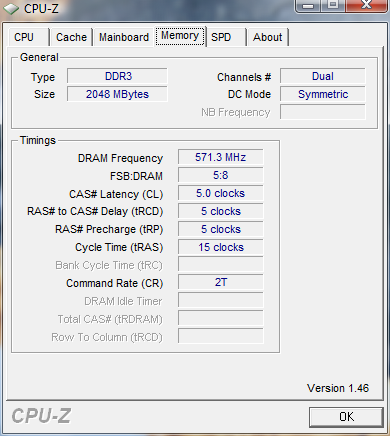 Patriot Viper @ 1142 5-5-5-15
As we have seen in some of the recent reviews we have done CPU-Z reads it as DDR 3 but reads SPD and EPP correctly. Maybe this is an indicator of how this blazing fast kit will run?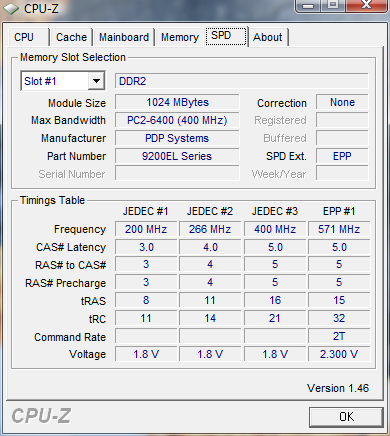 Patriot Viper SPD
When we flipped to the SPD tab CPU-Z knew it was DDR 2 but thought it was PC-6400 (DDR 2 800) but if you look you can see that it picks it up as the 9200EL series indicating it is in fact the PC-9200 series Viper. We can hardly blame CPU-Z for being a little confused with the pace that DDR2/3 is moving, at least it's reading SPD/EPP correctly and we proceeded on that basis. On the flip side of the coin it might be a highly binned set of DDR 2 800 capable of running at 1142 but that would be quite a stretch for a set of DDR 2 800 so we suspect it's CPU-Z not reading it quite right.
Test Rig
Test Rig
Case Type
NZXT Tempest
CPU
Intel E8400 @ 3.214 Voltage 1.22 vcore
Motherboard
Gigabyte EP45-Extreme
Ram
Patriot Viper DDR2 1150  5-5-5-15 2.3v (2.0v on the P45)
Crucial Ballistix Tracers 1066  5-5-5-15  2.2v (2.0v on the P45)
CPU Cooler
Thermalright Ultra 120
Hard Drives
Seagate 400 Gig Sata 2 8 meg cache
Optical
Sony DVD R/W
Graphics Cards In Crossfire
Sapphire 4870
Sapphire 4850 Toxic
Power Supply
Tagan BZ1100 1100 Watt Modular


At this juncture we feel it compulsory to tell you that initially we had a few problems getting the Patriot Viper DDR 2 1150 to run correctly in the test rig. The EP45-Extreme read SPD and EPP correctly and set the motherboard but the ram didn't want to run at the EPP speed at the the rated timings with the voltage set to 2.3v. Initially we increased the voltage a step at a time until we hit 2.4v and still we had no joy on boot. We decreased the voltage a step or two at a time until we hit 2.0v and the ram fired right up and ran like a champion. Even overclocked it ran at 2.0v and never ask for more voltage. We contacted Patriot and it seems this is specific to the P45 chip set and there's not much data on it (the P45 Chip Set). We aren't complaining at 2.0v we should have plenty of room for voltage increases if we want to loosen the timings and go for the gusto. For the purposes of the review we stuck to the rated timings to achieve the maximum overclock.
Test Suite
Synthetic Benchmarks & Games
SANDRA XII Professional
Everest Ultimate Edition v. 4.50.1330
SuperPI Mod 1.5XS
WinRar v. 3.71 Compression Benchmark
Crysis v. 1.2
Timings, Voltages and Assorted Goodies
Rather than go to a convoluted graphic for voltages, timings and FSB Settings we came up with this table.
Memory Test Settings

2 GB Patriot Viper DDR 2 1150

DDR2 Speed

800 MHz

1142 MHz

1200 MHz

1246 MHz

Memory Timings

5-5-5-15-2T

5-5-5-15-2T

5-5-5-15-2T

5-5-5-15-2T

VDimm

1.8V

2.0V

2.0V

2.0V

CPU Clock

3.0 GHz

3.2 GHz

3.6 GHz

3.36 GHz

FSB

333 MHz

357 MHz

400 MHz

374 Mhz

Multiplier

9

9

9

9

2 GB Crucial Ballistix Tracers DDR 2 1066


DDR2 Speed

800 MHz

1066 MHz

1200 MHz

N/A

Memory Timings

4-4-4-12-2T

5-5-5-15-2T

5-5-5-15-2T

N/A

VDimm

2.0V

2.0V

2.0V

N/A

CPU Clock

3.6 GHz

3.0 GHz

3.6 GHz

N/A

FSB

400 MHz

333 MHz

400

N/A

Multiplier

9

9

9

N/A
OVERCLOCKING & SISOFT SANDRA XII PROFESSIONAL
Overclocking
Sticking within the guidelines we set for the Patriot DDR 2 1150 we were able to attain a nice overclock of 1246 MHz. Those guidelines being that we maintain the rated timings of 5-5-5-15. We are positive that this set of Ram has more to offer if you loosen the timings. As we all know though loosened timings usually mean decreased efficiency and you need to really crank out some speed to over come the decreased efficiency. At 1246 MHz we hit the limit of the rated timings. Unfortunately we weren't able to get the Crucial Ballistix Tracers to run quite that fast and they maxed at 1200 with the rated timings. That's to be expected as the Ballistix are rated to run at 1066 MHz and the Patriot is rated to run at 1142 (By EPP).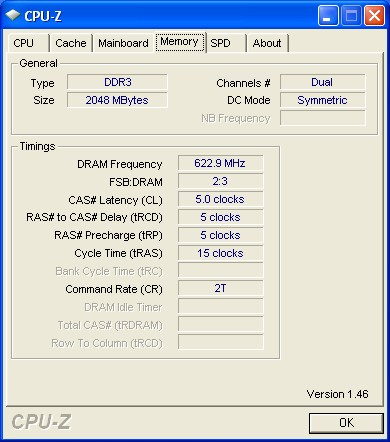 Patriot DDR 2 1150 @ 1246 5-5-5-15-2T
The Patriot DDR 2 1150 was entirely stable at 1246 MHz and would boot and run higher than that. Any higher than 1246 MHz and we got rounding errors in SuperPi. Perhaps some finer tuning could coax a little more speed out of these beauties at the rated timings.
Since we always have an overclocking section in our Ram reviews we thought we'd throw in the best results we got with the Sapphire 4870/4850 Toxic Crossfire setup we've been breaking in for testing.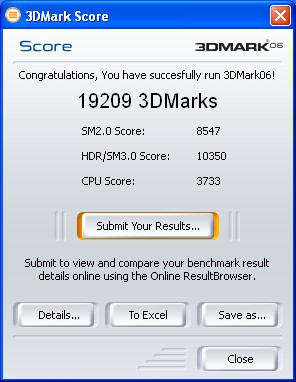 3DMarks06 Run at 1280 X 1024 Default Settings
Previous to installing the Patriot Viper High Performance DDR 2 1150 we were able to push the Crossfire setup up to a little more than 17,000. We were pleasantly surprised when we hit 19209 with the new Ram.
Sisoft Sandra XII Professional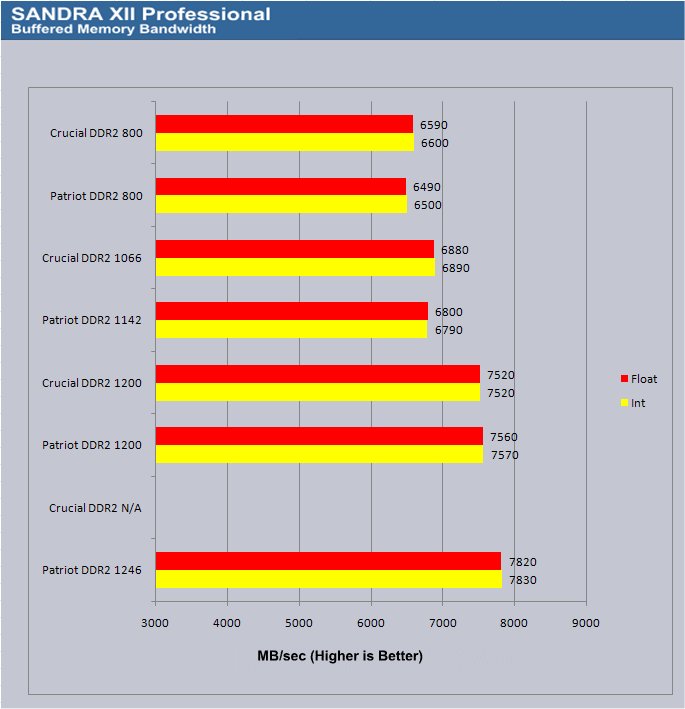 With Patriot and Crucial being among the top Ram producers in the performance market we weren't surprised to see similar results in Sisoft Sandra. The 2 Gig Kit of Patriot overclocked higher than the Crucial and produced better results. When we hit 1246 MHz it pulled into the lead and established it's dominance over the Crucial kit rated to run at 1066 MHz. The increase from 1142 to 1246 MHz gave us a nice performance boost and we were quite pleased with the 96 MHz boost from the advertised speed of 1150 MHz. Ram that's running this fast to begin with you don't really expect more than a 9 to 10% overclock with the rated timings.
SUPERPI & EVEREST
SuperPi
SuperPi is the standard many enthusiasts go by to determine the performance of that monster rig they've built. We ran the 1 Meg and 2 Meg calculations in our testing, we ran the calculations 3 times and reported the average of the three runs.
Super Pi is used by most computer enthusiasts to test the performance and stability of their computers. In the overclocking community, it provides a benchmark for enthusiasts to compare "world record" pi calculation times and demonstrate their overclocking abilities. The program can also be used to test the stability of a certain overclock speed. If a computer is able to calculate PI to the 32 millionth place after the decimal without mistake, it is considered to be moderately stable in terms of Ram and CPU. However, longer tests with other CPU/Ram intensive calculation progRams will run for hours instead of minutes and may better stress system stability.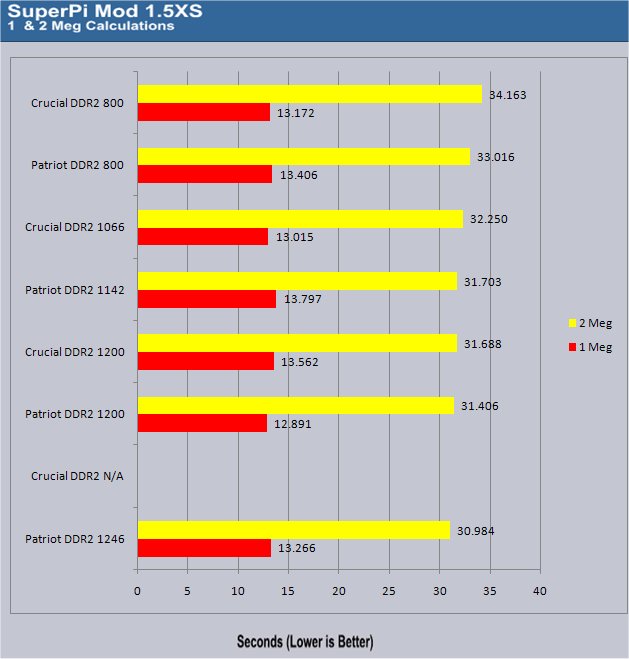 SuperPi 1 and 2 Meg Calculations
When it comes to the performance of Ram SuperPi weighs heavily in our evaluation. The 2 Gig kit of Patriot Viper 1150 consistently out performed the Crucial 2 Gig kit in SuperPi. The Patriot widened it's lead in the 1246 MHz test which the Crucial wasn't able to run.
Everest Ultimate
"EVEREST Ultimate Edition is an industry leading system diagnostics and benchmarking solution for enthusiasts PC users, based on the award-winning EVEREST Technology. During system optimizations and tweaking it provides essential system and overclock information, advanced hardware monitoring and diagnostics capabilities to check the effects of the applied settings. CPU, FPU and memory benchmarks are available to measure the actual system performance and compare it to previous states or other systems. Furthermore, complete software, operating system and security information makes EVEREST Ultimate Edition a comprehensive system diagnostics tool that offers a total of 100 pages of information about your PC."
We wanted to see how the new Patriot would stack up against the Crucial kit when it came to the CPU so we went ahead and ran the CPU Suite in Everest just to see what we would get.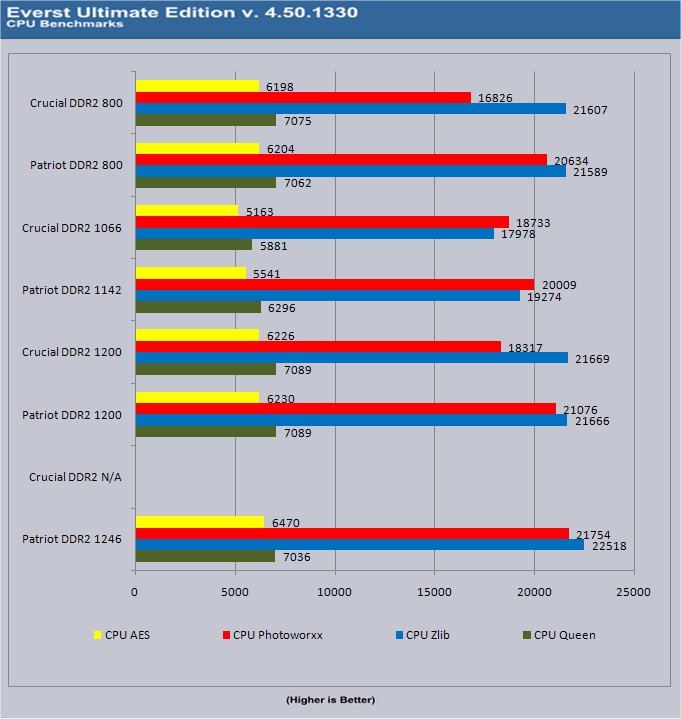 Everest CPU Benchmarks
You can see that the Patriot really shined in the CPU benchmark we kept the CPU speeds at the different clocks as close as possible to eliminate the CPU speed as being responsible for the performance increase. With the CPU speed eliminated from the equation and the only difference being the Ram it narrows the performance increase down to Ram performance.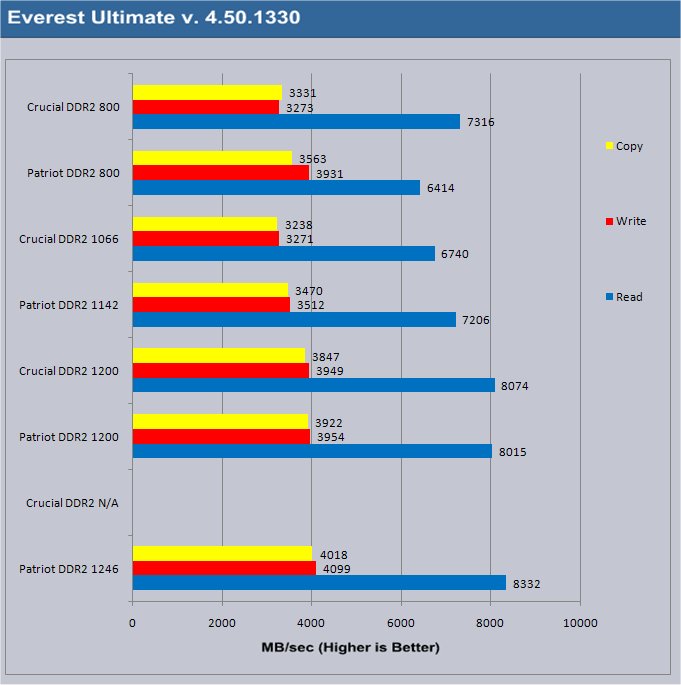 Everest Memory Benchmarks
Everest was a back and forth race until we hit the 1246MHz mark when the Patriot Viper 1150 demonstrated it's superiority. In all fairness Everest didn't recognize the Gigabyte EP45-Extreme's chip set and reported it as unknown. We updated Everest and it still reported the P45 Chip Set as unknown. Having run the tests 3 times with consistent results each time we'd say they are valid. With the P45 having been out as long as it has we can't wait for CPU-Z and Everest to catch up, we are fairly sure they can obtain the specifications of the Chip Set to update the software.
WINRAR & CRYSIS
WinRar
This module in WinRar generates random data, which contains specially introduced redundancy increasing the load to both the processor and memory. Data is the passed through RAR compression and decompression algorithms and output of decompression algorithm is compared to the source data. If any differences are found, WinRAR then reports "Errors found – Yes" in the command window. WinRAR displays a size of processed data and compression speed, current and resulting, in kilobytes per second.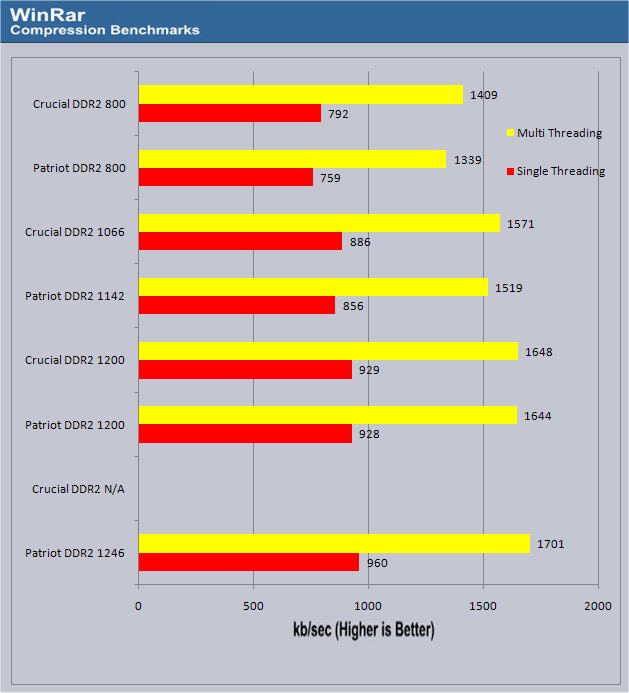 WinRar Single and Multi Threaded Benchmarks
WinRar liked the Crucial 2 Gig kit and the Crucial stayed in the lead until we hit that magical 1246 MHz point and the Patriot again demonstrated it's superiority. We can't help but feel this Patriot Viper Kit has a little more to give but time was running short on the review; and other matters were pressing us to move on so we had to settle for 1246 MHz.
Crysis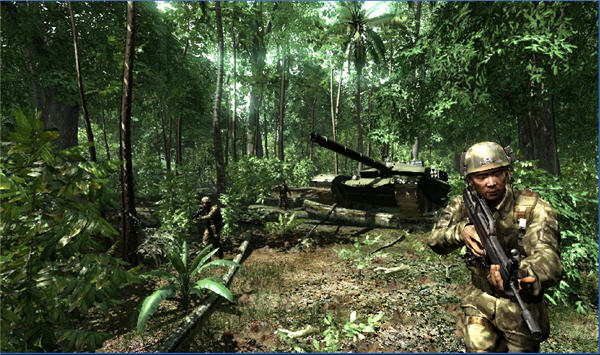 Crysis is the most highly anticipated game to hit the market in the last several years. Crysis is based on the CryENGINE™ 2 developed by Crytek. The CryENGINE™ 2 offers real time editing, bump mapping, dynamic lights, network system, integrated physics system, shaders, shadows and a dynamic music system just to name a few of the state of-the-art features that are incorporated into Crysis. Ram speed is known to affect frame rates so we decided to make a pass at Crysis to see what effect it would have on this GPU crushing game.
Besides what reviewer could pass up a few rounds of Crysis to break up the routine in search of the magic bullet that would make Crysis run like a dream. That and we really wanted to breakout the Ati Crossfire setup out and see what it would get with the Patriot and Crucial Ram kits.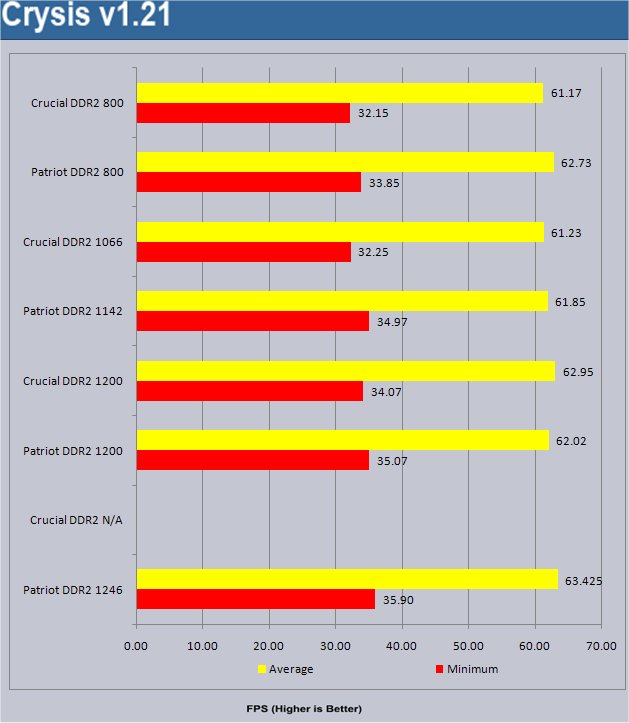 Crysis Benchmark Tool
With Crysis we saw a steady increase in frame rates as we scaled the Ram speeds up. With the sole exception of 1200 MHz the Patriot Viper DDR 2 1150 kit out performed the Crucial DDR 2 1066 kit. The Sapphire 4870/4850 Crossfire setup kept the frame rates above 30 the entire test which impressed us to no end. Previously using a kit of OCZ Reaper DDR 2 800 running at 900 MHz 4-4-4-12-2T we saw frame rates dipping below 30 FPS occasionally so we are quite happy with the Patriot DDR 2 1150 kit. For informational purposes only, we not only ran the Crysis benchmark but went into the game at the point where you are on the Air Craft Carrier in the heat of battle with enemies looming on the horizon and strafing the deck and frame rates stayed above 30 (Measured with Fraps). That in itself impressed us more than the Crysis benchmark, previously with the Reaper DDR 2 800 we saw FPS drop as low as 23 during that scene.
CONCLUSION
A few words about the Ram voltages.
After the initial problems we had with the P45 chip set on the EP45-Extreme not wanting to run the Patriot Viper DDR 2 1150 kit at the rated voltages we contacted Patriot. We quickly received a polite email (within 2 hours) that informed us that there wasn't much information on the P45 chip set but that there were indications that the voltage needed to be lowered on the Ram on that specific chip set to run it properly.
After a few minutes testing after that great response we got, we dropped the voltages to 2.0v and the Ram fired up and ran like a thoroughbred race horse. We tested the Ram across three P45 chip set boards and indeed each chip set required us to drop the voltage down to 2.0v to run the Ram correctly. To test the voltage drop we also tested the Crucial Ballistix Tracers on the three motherboards and to our surprise the Crucial required a .2v decrease in voltage to run correctly. That pretty much isolates the error to the P45 Chip Set and not the ram.
Once we adjusted the Ram voltages we had no problems with the Patriot Viper DDR2 1150 2 Gig kit. We have run plenty of Patriot Ram in the past and this was the first time that we have ever seen this issue. We are greatly relieved that an old favorite was performing within specs and as expected.
We have contacted Patriot and Gigabyte about the voltage problem and they are aware an issue exists. We'd expect the information to appear on the Gigabyte support site any time.
Conclusion
The Patriot Viper DDR 2 1150 stands out as as a formidable performer in the ranks of High Performance DDR 2. In most of the testing it edged out the Crucial and when we hit the maximum overclock it pulled out to the lead easily.
Running about $74 at the time of publish with rebates available at a few E-tailers it's an attractive option to stave off the purchase of more expensive DDR 3 until prices drop. With the new Intel platform just around the corner that completely changes the game it makes it an even more attractive option to stave off the upgrade bug.
The Viper heat spreaders performed exceptionally well and kept the Ram running nice and cool the whole review. With decent overclocking you can get better than 1200 MHz out of the kit making it a good choice for high end DDR 2. Patriots support for the product was fast and right on the money making it an even more attractive option.
With the almost across the board performance increase we saw over the Crucial kit, all done within the rated timings, we can easily recommend the Patriot Viper DDR 2 1150 to anyone looking for a pre-platform change performance boost that won't break the bank. It would also do an excellent job for those that feel bottlenecked by slower Ram in their overclocking efforts.
Pros:
+  Great performance
+  Over Clocks Well
+  Affordable
+  Great Heat Spreaders
+  Looks Good
+  Very Stable
+  Helps Bridge The Gap Between DDR 2 & DDR 3
+  Quality Construction
Cons:
–  Voltage Adjustments threw us at first (As stated more an issue with the Mobo than the ram)
With the advent of High Performance Enhanced Latency DDR 2 it has filled a niche that sorely needed filled. Patriot has done an exceptional job of combining Value with Performance with their Patriot Viper DDR 2 1150 High Performance Enhanced Latency 2 Gig Kit!
Final Score of 8.5 out of 10 and the Bjorn3D Seal of Approval.