The release of the HD 4000 series has taken PC gaming by storm. PowerColor is here with their latest offering in the form of the HD4870. Let's see if PowerColor can offer a compelling package and if their HD4870 is worthy of your hard earned money.
INTRODUCTION
A few weeks ago the world was greeted to a sight many people only read about. The sight I am referring to is the dead coming back to life. No I'm not talking about the next Robert Rodriguez joint. I am talking about the rebirth of ATI and their return to the forefront of PC gaming. In an event that took the world, and NVIDIA, by surprise ATI unleashed their HD 4800 series of cards upon us. With performance levels far surpassing the previous generation and coming in at a price reserved for lesser cards, is it any wonder ATI was able to return to their former glory overnight?
Today's review comes in the form of the HD 4870 from PowerColor. Armed with 800 stream processors and ridiculously fast DDR5 memory, the PowerColor HD 4870 is ready to take the battle to NVIDIA. Let's jump right in.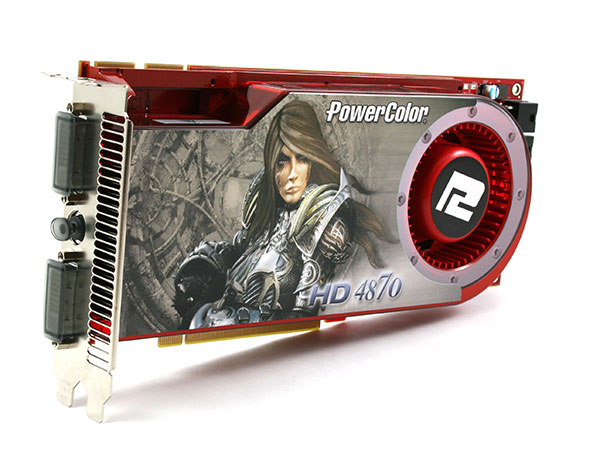 SPECIFICATIONS
GPU Specifications

 
GTX 260
GTX 280
ATI 4850
PowerColor 4870
Fabrication Process
65nm
65nm
55nm
55nm
Transistor Count
1.4 Billion
1.4 Billion
965 Million
965 Million
Core Clock Rate
576 MHz
602 MHz
625 MHz
750 MHz
SP Clock Rate
1,242 MHz
1,296 MHz
–
–
Streaming Processors
240
240
800
800
Memory Clock
(Effective)
999 MHz
(1,998 MHz)
1,107 MHz
(2,214 MHz)
1000 MHz
(2000 MHz)
900 MHz
(3600 MHz)
Memory Interface
448-bit
512-bit
256-bit
256-bit
Memory Bandwidth
111.9 GiB/s
141.7 GiB/s
64.0 GiB/s
115.2 GiB/s
Memory Size
896 MB
1024 MB
512 MB
512 MB
ROPs
28
32
16
16
Texture Filtering Units
64
80
40
40
Texture Filtering Rate
36.9
GigaTexels/s
48.2
GigaTexels/s
25.0
GigaTexels/s
30.0
GigaTexels/s
RAMDACs
400 MHz
400 MHz
400 MHz
400 MHz
Bus Type
PCI-E 2.0
PCI-E 2.0
PCI-E 2.0
PCI-E 2.0
Power Connectors
2 x 6-pin
1 x 8-pin
1 x 6-pin
1 x 6-pin
2 x 6-pin
Looking at the specs of the PowerColor 4870 we quickly notice how similar it is to the ATI 4850. The core itself is nearly identical save for a bump in speed. The real difference comes when we look at the type of memory used. A quick glance would show the memory runs at 900 MHz and without any further details it is reasonable to conclude this is your everyday DDR3. Boy would we be wrong. The RAM used on the 4870 is DDR5 and is the absolute newest type available. It is quad pumped which means that meager 900 MHz is equivalent to 3600 MHz which is simply mind blowing.
This allows companies like PowerColor to produce a card that offers tons of memory bandwidth without the expense of implementing an expensive 512-bit interface. Just how well this serves to increase performance of the 4870 over its little sibling reamins to be seen but the stage is certainly set.
PACKAGING
PowerColor uses a colorful, vertically sized box adorned with their asexual mascot. The packaging of the box itself leaves something to be desired. There is no foam padding or bubble wrap to speak of. Perhaps it is a mental pre-disposition but it seems like using only cardboard as a padding leaves plenty of room for mishaps to occur.
Click a picture to see a larger view
---
| | | |
| --- | --- | --- |
| | | |
| Box front | Box rear | Inside |
---
PHOTOS
The HD 4870 comes equipped with a dual-slot cooler that exhausts the hot air outside your case which should help internal temps. Because of the increased clock speeds and use of ultra fast GDDR5 the HD 4870 requires to 6-pin plugs to power this card. As shown in the last image of the reference cooler with their own sticker, PowerColor sticks to a completely reference design of their 4870 which isn't a bad thing per se.
Click a picture to see a larger view
---
---
The back of the card is pretty clean. Without memory modules on the back the whole process of designing and cooling this card are simplified and less costly which we like very much. Because all of the meory modules are located on the same side they are all cooled by the heatsink. Even though GDDR5 uses less power than GDDR3 these chips are clocked significantly higher and the cooling is certainly welcomed.
CONTENTS
PowerColor includes your basic set of accessories with their HD 4870 offering which doesn't include a game or a voucher.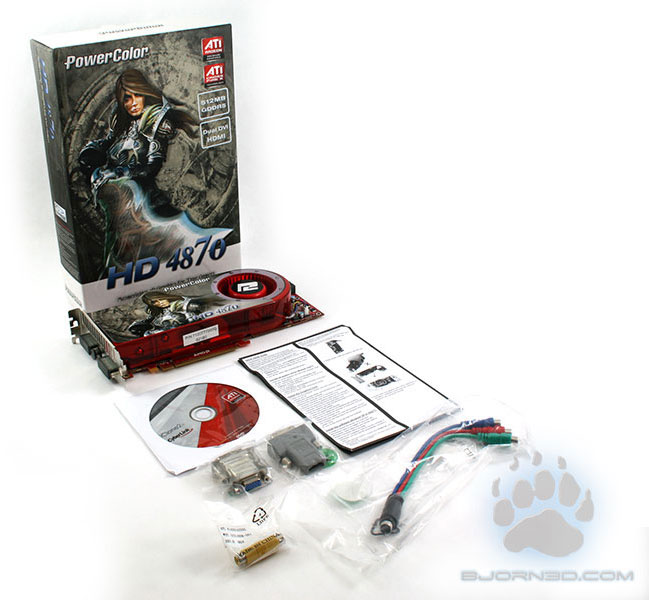 Driver CD
1x DVI-VGA adapter
1x DVI-HDMI adapter
Component cable Adapter
User manual
TEST SETUP
All tests were conducted on the following platforms. A format of the hard drives followed by a fresh install of the OS was done. The latest drivers were then installed and all non-essential applications were halted.
Test Platform

Processor
Intel QX9650 @ 3.5GHz
Motherboard

XFX 790i Ultra

Memory
2 GB (2 x 1 GB) Mushkin DDR3-2000
Drive(s)
1 – Seagate 80GB Barracuda SATA
1 – Samsung HD501LJ SATA
Graphics
Card 1 – PowerColor HD 4870
Card 2 –

Leadtek GTX 280


Card 3 –

Visiontek HD4850


Card 4 –

ASUS EAH 3870X2


Card 5 –

ASUS 8800GT TOP


Card 6 –

NVIDIA 9800 GTX+

Drivers
Forceware 177.41 – Leadtek GTX 280
Forceware 175.19 – 9600 GT, 8800 GT, 9800 GTX+
Catalyst 8.7 – 3870X2, HD 4850 , HD 4870
Sound
On board
Cooling
Big Typhoon VX
Power Supply

OCZ GameXStream 850 watts

Display
Westinghouse 37″ LVM-37W3
Case
No case
OS
Windows Vista Ultimate 32-bit SP-1
All cards will be tested using a variety of games. For Crysis, we will be testing the game both without any image enhancements and then again with 2x Anti-Aliasing and 8x Anisotropic Filtering. All other games will be tested with 4x AA and 16x AF. The resolutions tested are 1280×1024, 1680×1050 and finally 1920×1080.
OVERCLOCKING
When it comes to overclocking, one can usually choose from a few different applications that assist in overclocking their video card. When it comes to the new HD 4800 cards, things aren't so simple. Currently, the only utility that is able to overclock these cards is the built in overdrive utility from ATI. An update to RivaTuner is in the works but until that drops we are stuck using this utility that leaves a bit to be desired.
Our first image is of everything at stock settings while at idle. If the speeds look….off an explanation is coming, though I doubt you'll like it.

Stock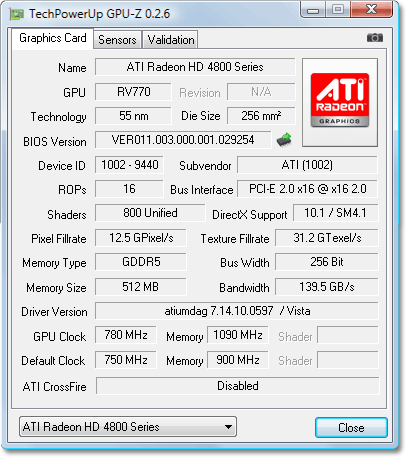 Overclocked
The 4870 overclocks rather well when looking at the memory side of things. The extra 190 MHz translates into 24 GiB/s of added bandwidth. The core side of the fence doesn't look quite as rosy. We were only able to up the speed of the GPU by 30 MHz which gives us slightly more pixel and texture fillrate though hardly anything groundbreaking.
Let's see how the 4870 from PowerColor handles itself when it comes to gaming. Next page please.
TEST RESULTS

An old favorite of benchmarkers. 3DMark 2006 is a fun tool to have if you want to brag to your friends but when it comes to representing real world performance it falls far short of the mark. We include the scores here only to be thorough.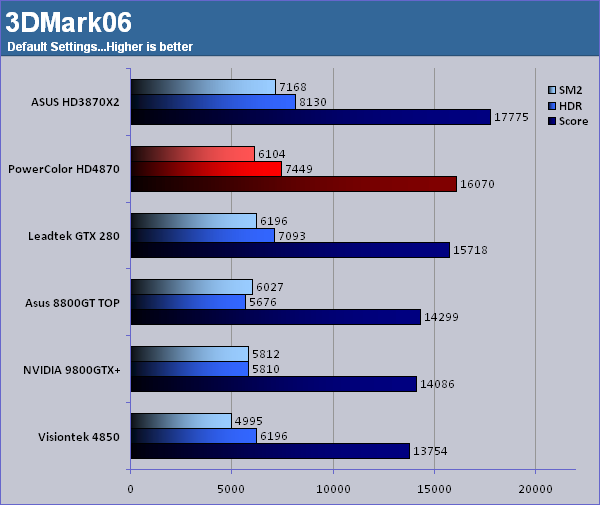 The newest video benchmark from the gang at Futuremark. This utility is still a synthetic benchmark but one that more closely reflects real world gaming performance. While it is not a perfect replacement for actual game benchmarks it has its uses. We test our cards at the 'Performance' setting as this will be the most widely used setting.
Currently, there is a lot of controversy surrounding NVIDIA's use of a PhysX driver for its 9800 GTX and GTX 200 series cards. Whereby installing the PyhsX driver, 3DMark Vantage uses the GPU to perform PhysX calculations during a CPU test and this is where things get a bit gray. If you look at the Driver Approval Policy for 3DMark Vantage it states:
Based on the specification and design of the CPU tests, GPU make, type or driver version may not have a significant effect on the results of either of the CPU tests as indicated in Section 7.3 of the 3DMark Vantage specification and white paper.
Did NVIDIA cheat by having the GPU handle the PhysX calculations or are they perfectly within their right since they own Ageia and all their IP? I think this point will quickly become moot once Futuremark releases an update to the test. For now, we will show ONLY the GPU score since this is much less influenced by the inclusion of PhysX.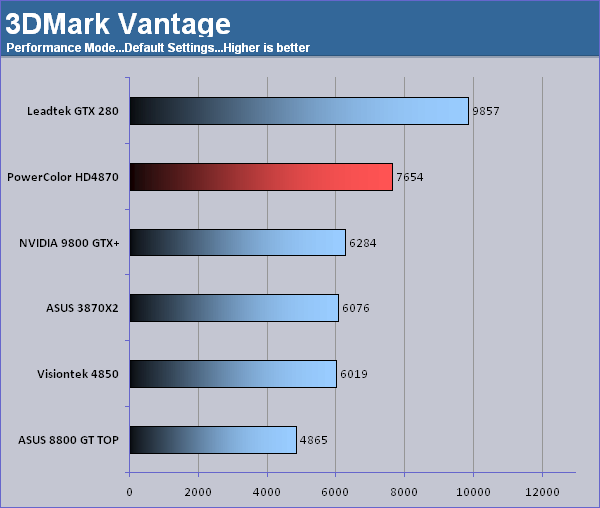 Enough fun with the synthetic benchmarks, its time to get to the good stuff. Games!
TEST RESULTS
We start off our gaming portion by looking at how the PowerColor HD 4870 performs in DirectX 9 mode.

---
We test Oblivion by using a manual run through and record our performance using FRAPS. I start outside the town of Cheydinhal on horse back and taking the same route each time, I travel to the Imperial City. The trip takes a full six minutes and encompass' long view distances, water, forests, Oblivion gates and NPC's. Being such a long trip, any changes from one run to the next (e.g. a wandering NPC) would have an effect equal to less than 1% on frame rate. This method gives me great insight into the real world performance of each card tested.
All settings are maxxed out and we use bloom lighting for our tests.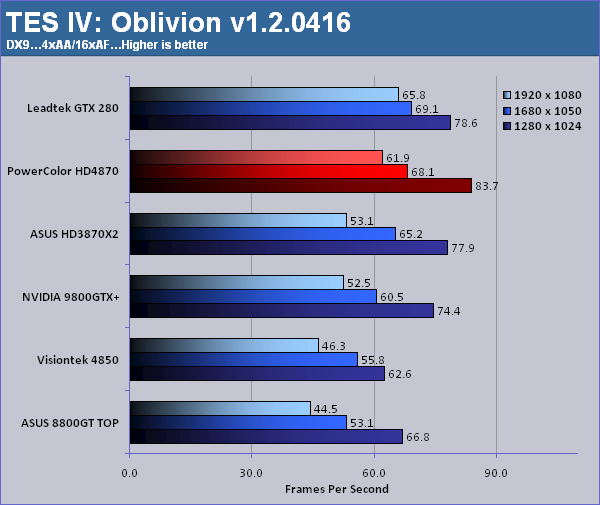 ---

---
For these tests of CoH, we ran the game using the DirectX 9 path with the maximum in-game settings applied. Both minimum and average scores are shown.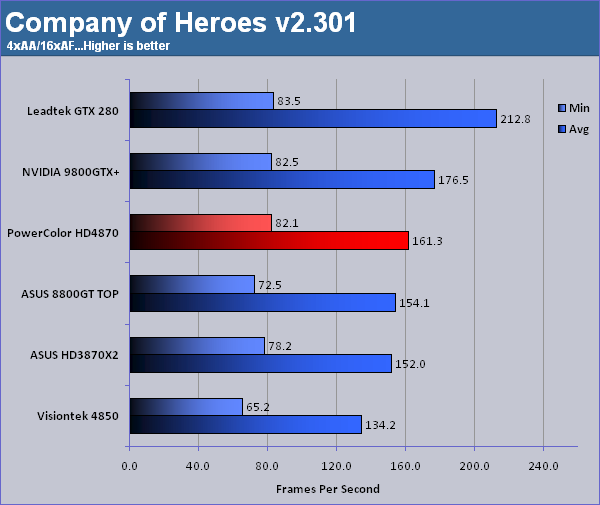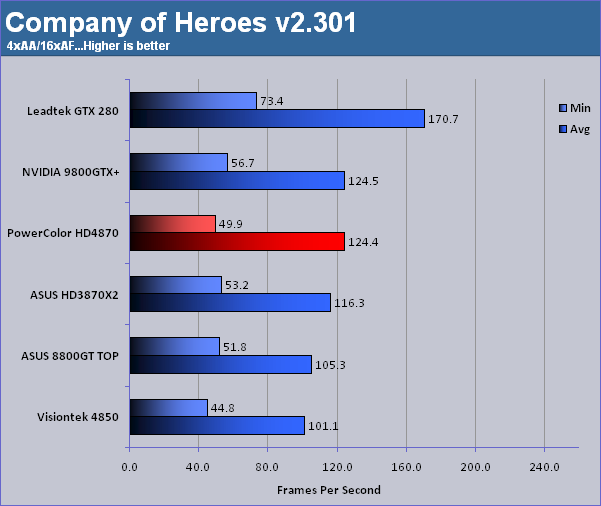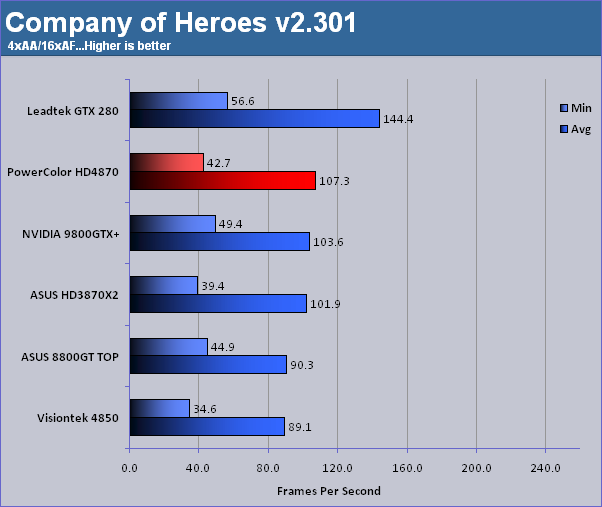 The PowerColor HD 4870 performs roughly the same as the 9800GTX+ from NVIDIA until we reach the larger resolutions. From there we see the extreme memory bandwidth start to take over and propel the 4870 into second place behind the ever powerful GTX 280.
---

---
Similar to CoH, Crysis is run in DX 9 mode. All settings were set to HIGH and we ran the game first without any AA/AF and then again using 2xAA and 8xAF. Results shown are the average frames per second.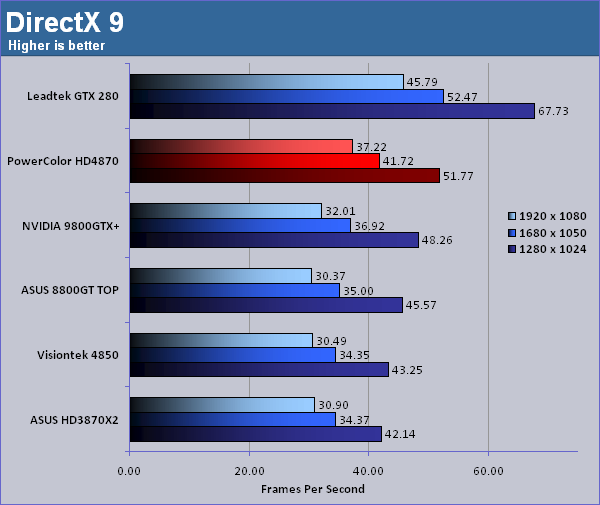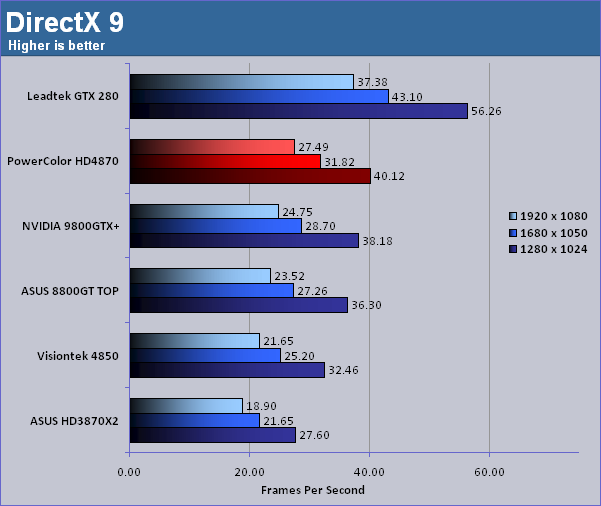 ---

---
For World in Conflict we set everything to their maximum allowed under DirectX 9.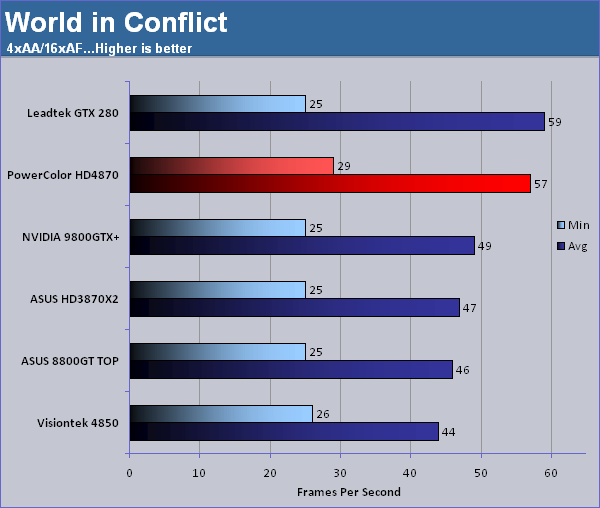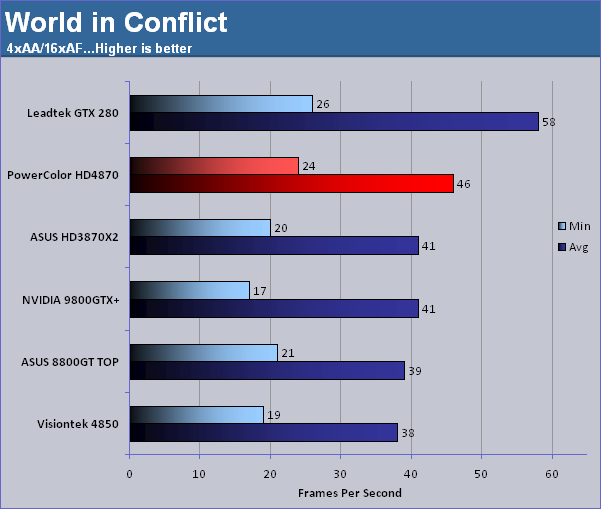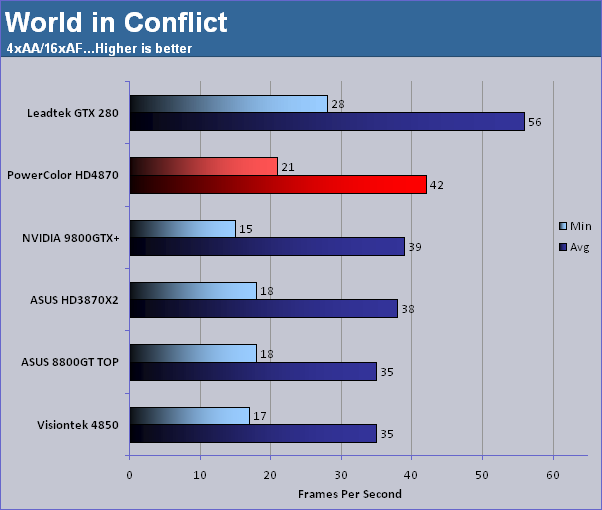 The 4870 is a great card and has really shaken off the problems that plagued the previous generation. I am, of course, referring to Anti-Aliasing. Even with AA turned up to 4x settings the 4870 is able to take it in stride and keep pumping out frames. It is now time to find out how the card performs when we throw some DX10 lovin' its way.
---
TEST RESULTS
We start off our gaming portion by looking at how the XFX GTX280 XXX performs in DirectX 9 mode.

---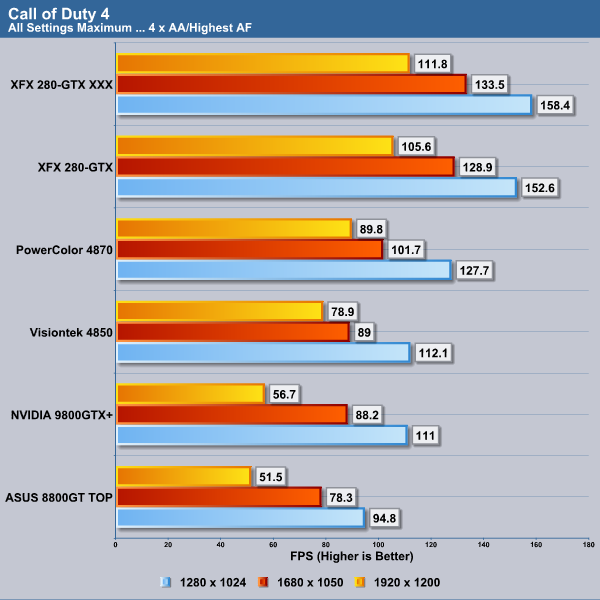 ---

---
For these tests of CoH, we ran the game using the DirectX 9 path with the maximum in-game settings applied. Both minimum and average scores are shown.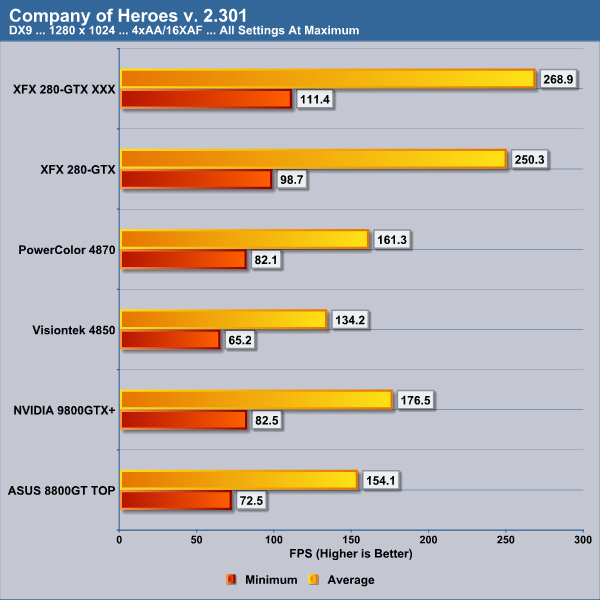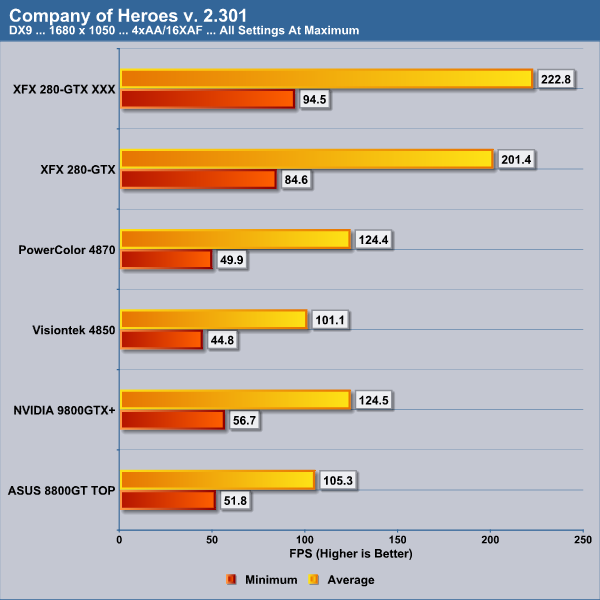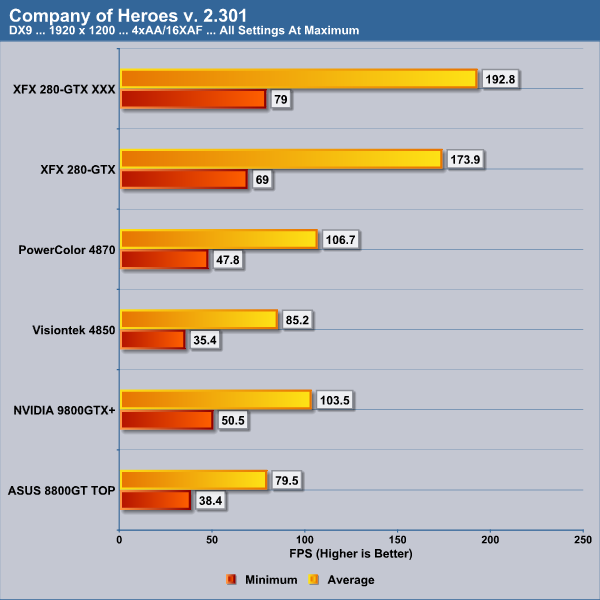 ---

---
Similar to CoH, Crysis is run in DX 9 mode. All settings were set to HIGH without using AA or AF. Results shown are the average frames per second.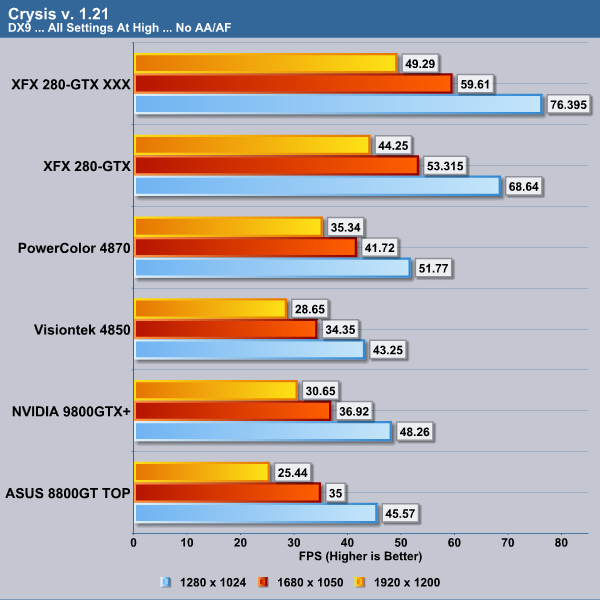 ---

---
For World in Conflict we set everything to their maximum allowed under DirectX 9.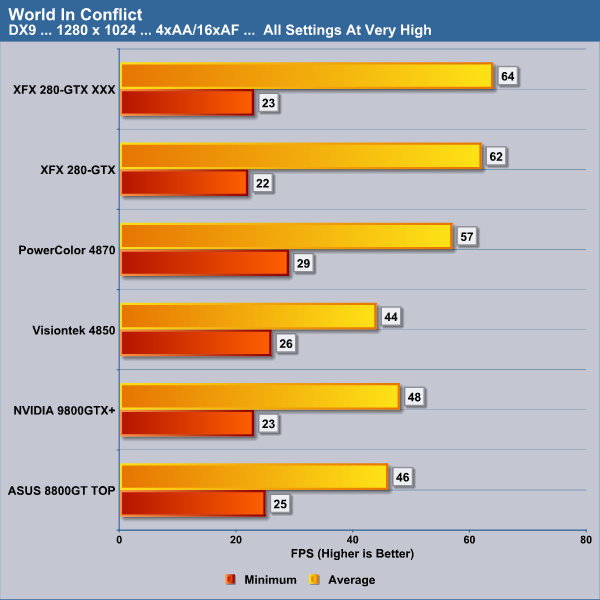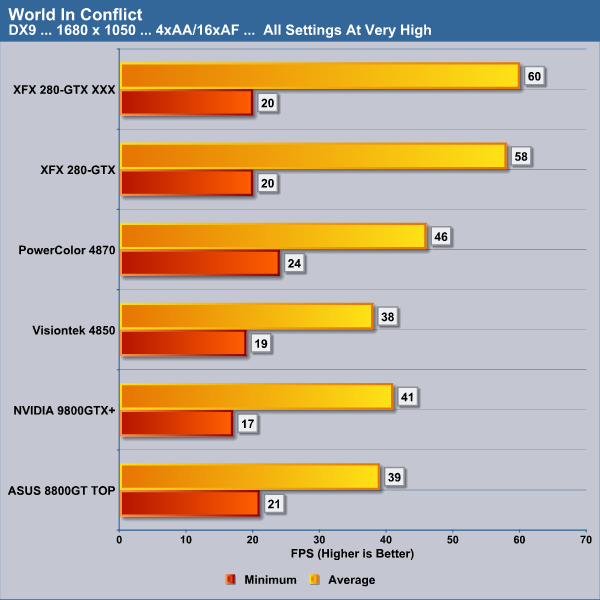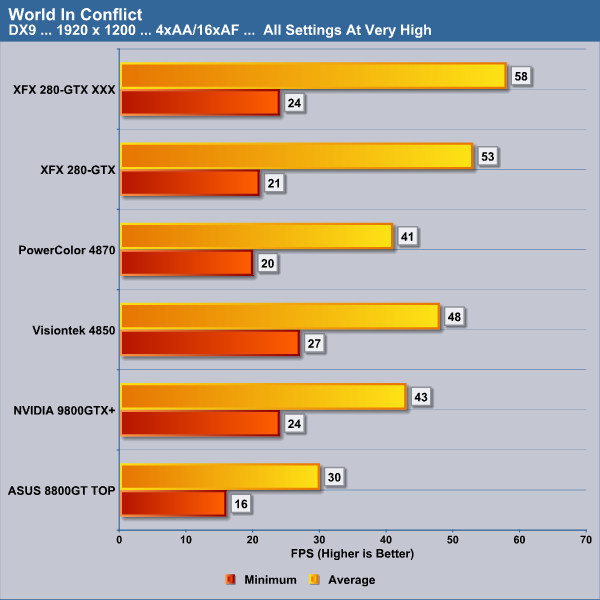 ---
TEST RESULTS

---
Here is where we separate the men from the boys. Sure you've seen all the great performance this card has to offer but at what cost does it come? Will you need to refinance that home of yours to keep gaming for a few more months or will solar power be enough to keep you in the game. Power levels shown below are for the entire system sans monitor.
CPU: QX9650 @ 3.5 GHz 1.35v
MOBO: XFX 790i Ultra
RAM:2 GB (2x1GB) DDR3-2000 1.9v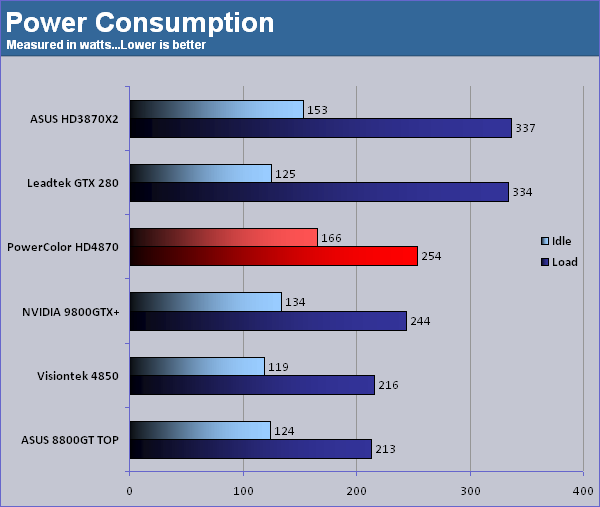 If it comes as a surprise to you that the PowerColor HD4870 has the highest power usage while idle you're not alone. At first I considered it an error but after checking and rechecking all settings it quickly became evident it was no mistake. So what is the cause of the increased power consumption while idle? Remember earlier when I mentioned the speeds of the GPU at idle not looking quite right? The next section goes into detail about it.
---

---
Idle temps were taken after a 15 minute period of sitting at the desktop with no open windows. Load temps were recorded by using ATiTool 3D view to place a constant load on the card.
Temperature

Idle
Load
77
90
Looking at how hot the card idles, it would seem the PowerColor HD 4870 is suffering the same BIOS issues as many other early editions of the 4870. The problem relates to the implementation of PowerPlay on these cards. Ideally, the card should lower its clock speeds based on usage thereby lowering the idle temperature of the card. This is not happening on many early revisions of the HD4850 and HD4870 and users have resorted to flashing their card's BIOS with an updated version to fix the problem. New editions of these cards have the updated BIOS but there are still plenty of cards with the older version. This is the price early adopters often pay when dealing with new technology.
This is why the speeds at idle didn't look right. The card is supposed to underclock itself to save power and lower temps which it is doing neither of. I contacted PowerColor regarding this issue to see if they had a solution and their response was upsetting to stay the least. Their response was that since ATI has not released a new BIOS for this card PowerColor can not offer a new BIOS without voiding the warranty. What the fu…!? If PowerColor provides an updated BIOS the warranty is void?! They sold the card and can't support their own product. They attempted to explain the reason was due to updating the BIOS being considered as a hardware change. Their solution was to provide instructions on increasing the fan speed to cool the card. Hey PowerColor, what about power consumption!?
At this point I am really disappointed to find out the warranty on this card is from the manufacturer and not the vendor. Not that this is a new practice but XFX and BFG are much better at providing quality customer service to its customers and dealing with NVIDIA after the fact than PowerColor is at dealing with ATI.
---
WARRANTY
Despite the disturbing information regarding the process of fixing a simple BIOS issue with one of its products I decided to look a bit mroe deeply into the warranty that PowerColor provides to its customers. You know, those people that keep you in business. Taking a trip to the section of their site related to warranty only left me scratching my head. It doesn't actually inform the reader of any warranty of its products but rather talks about how YOU may use the material found on their website.
CONCLUSION
This is where it is important to break down the product into two distinct portions; the card and the company. The card (which is designed and manufactured by ATI) is a great card and performs very well in all of today's latest games. It is not the fastest card on the planet, which you probably already knew, but it is also far from the most expensive. It offers loads of performance and really allows you to crank up some image quality settings.
Now for the company. There are so many quality companies in existence today offering similar products to PowerColor that it is important for PC to do everything it can to differentiate themselves. Sadly, they do but in the wrong way. There is no worthy bundle to speak of and it doesn't appear that is supports its own product very well. I am sure PowerColor has some sort of warranty but at this point it doesn't even matter. They are little more than a subsidiary of ATI in my eyes if they can't offer an updated BIOS without asking mother ATI for permission. Increasing fan speed is a sure way to lower your temps. It is also a great way to annoy others, or yourself, from the noise and shorten the lifespan of the fan itself. Neither sounds like an acceptable solution.
There are other companies that do the same thing and do it better. The HD 4870 is a great card with many companies offering it with many different packages.
FINAL WORDS
Performance: 7.0/10 – The card doesn't take the top spot in any game when compared to NVIDIA's offerings but it handles itself rather well. ATI has a great card on their hands with the 4870 and for users looking to game on a semi-budget this is one card worth looking at
Bundle: 6.0/10 – There is really nothing to speak of when it comes to the bundle PowerColor provides. There is no game, no software utility like 3DMark Vantage and nothing note worthy included. Is it wrong to expect a little treat inside the box when you pay nearly $300 for this card? This reviewer doesn't think so and neither should you. It is a plain vanilla card with no bundle. Exactly how PowerColor attempts to differentiate themselves with this offering is beyond me.
Value: 7.0/10 – The bundle is one reason for the low score as is the faulty implementation of PowerPlay which is supposed to down clock the GPU and RAM when idle to save power and lessen the heat. Outside of these two glaring mishaps the card itself performs well. It is able to play any game out there with lots of eye candy up to about 1680×1050 (22″ widescreen). Going past this resolution requires some settings to be turned down but nothing we wouldn't expect from going to such a large resolution.
Pros:
+ Solid performance for the price
+ Supports [email protected]
+ Dual slot cooler is quiet
Cons:
– Doesn't down clock the GPU and RAM properly (PowerPlay)
– Runs hot at idle due to slow fan and not decreasing clock speeds
– Lack of game or software in bundle
– Warranty?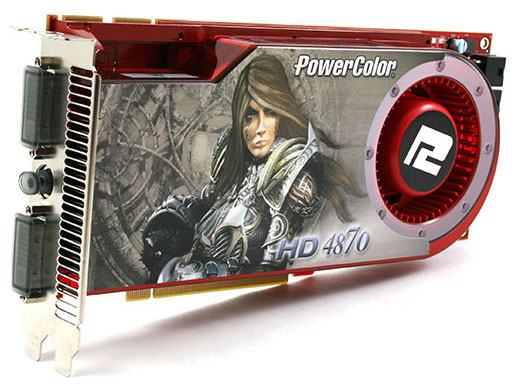 The HD 4870 from PowerColor scores an 7.0 out of 10