The Razer Salmosa is a basic gaming mouse that integrates Infrared technology, it also has Shift On The Fly DPI and Polling with mechanical switches to control them!
Introduction
Ever been in that late night gaming session and find that mysterious red glow coming from your mouse had annoying? Tired of trying to pick from 13 programmable buttons to reload your weapon? Do you just need a Basic two button with scroll wheel mouse that gives you accuracy without all the bells and whistles to many overpriced Mice offer?
Our friends over at Razer were nice enough to send us a Razer Salmosa Gaming Mouse for evaluation. They bill it as a Basic Gaming Mouse falling in the mid range DPI category. As always we were excited to get a new mouse at Bjorn3D because sometimes it's not the big expensive items that improve your computing experience. Maybe you just need a good high quality basic Gaming Mouse like the Salmosa or the worlds best Stocking Stuffer for the Holidays. (It's gotta beat that book of Lifesavers we all get) If you ask us keep all the junk in that Stocking and just nail one of these puppies to the wall by the Stocking.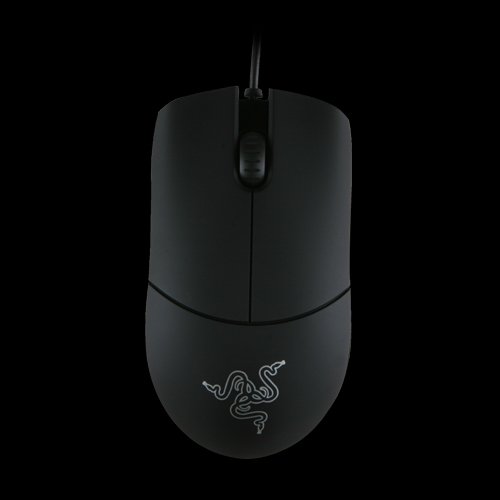 About Razer
Razer collaborates with gamers to develop, manufacture and market cutting-edge gaming peripherals utilizing proprietary technologies that give gamers the competitive edge. We reinvented the computer gaming industry by bringing this competitive edge to gamers when professional computer gaming was in its infancy. In the mid 90s, with the advent of networked gaming and competitive first-person-shooter (FPS) games, gamers found that their legacy peripherals were inhibiting rather than enhancing their gameplay.
In 1999, the Razer Boomslang™, the stuff of gaming legends, was launched after much research. Featuring an unprecedented precision of up to 2000 dpi when other mice maxed out at 400 dpi, the Razer Boomslang, powered by proprietary opto-mechanical technology, offered up to five times the accuracy of other gaming mice. It came as no surprise when professional gamers widewide such as Jonathon "Fatal1ty" Wendell and Sujoy Roy readily adopted the Razer Boomslang as their gaming mouse of choice. In just two years, more than 100,000 Razer Boomslangs were sold by Christmas.
Headquartered in Carlsbad, California, Razer collaborates with gamers to develop, manufacture and market cutting-edge gaming peripherals utilizing proprietary technologies that give gamers the competitive edge. Razer products have earned critical praise and won multiple awards from around the world for their precision, sensitivity, usability and distinctions in product design. Engineered to near perfection, Razer's reputation of being the leader in gaming peripheral technology is embodied in every single Razer product.
FEATURES, SPECIFICATIONS, PACKAGING & CONTENTS
Features
1800dpi 3G Infrared Sensor
The Razer 3G Infrared sensor is rated as the fastest tracking optical mouse sensor in the world, enabling movement speeds of up to 2.25 times faster than other regular gaming mice.

Ultra-Light Form Factor
The Razer Salmosa features one of the lightest and most compact form factors in its class, delivering optimum freedom of movement for finger-tip grip gamers
Hardware Toggles for DPI and Polling Rate
The Razer Salmosa comes with additional toggle switches on the bottom of the mouse that enable gamers to make 800/1800dpi and 125/500/1000Hz polling rate adjustments – without the need for any software drivers
Specifications
1800dpi Razer Precision™ 3G infrared sensor
1000Hz Ultrapolling / 1ms response time
Mechanical dpi/polling rate switches
On-The-Fly Sensitivity™ adjustment
Always-On™ mode
Ultra-large non-slip buttons
16-bit ultra-wide data path
60-120 inches per second
Three independently programmable Hyperesponse™ buttons
Ambidextrous design
Scroll wheel with 24 individual click positions
Zero-acoustic Ultraslick™ Teflon feet
Seven-foot, lightweight, non-tangle cord
Approximate size: 115mm (length) x 63mm (width) x 37mm (height)
Packaging & Contents
Click Image For A Larger Picture
Razer Salmosa Packaging
The Razer Salmosa comes packaged in a typical "Razer Black" book-type box that has a flap on the front that opens so you can get an early glimpse at it while shopping. With the Clam Shell insert it's quite substantial and the Salmosa arrived unscathed despite the ordeal the outer packing box endured. We're pretty sure that during the delivery service company's lunch period there was a rousing game of Football using the box as the ball.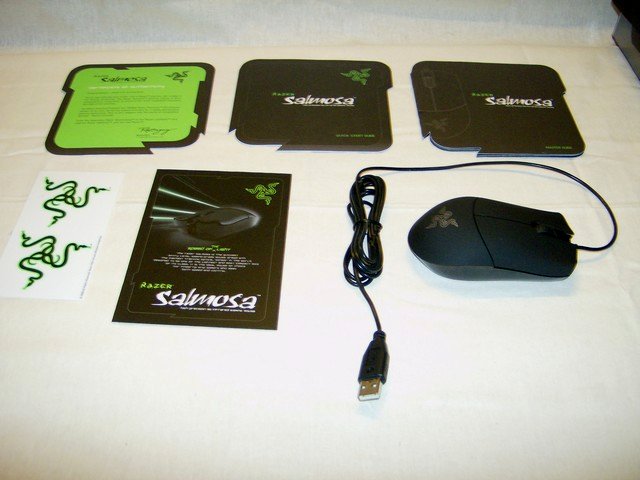 In the box with the Salmosa you'll find a couple of Razer logo stickers, a quick start guide, certificate of authenticity, Manual, and a card that tells you a little about the Salmosa. While we did glance at the literature we didn't need any help installing the Salmosa so we went for the plunge install and flying without a net plugged it in and we were up and running in mere seconds.
PICTURES & IMPRESSIONS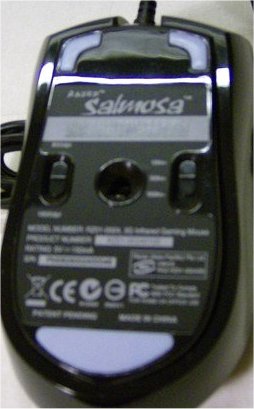 Infrared Sensor
What impressed us the most in the beginning was the feel of the Salmosa. That was quickly superseded by our excitement when we plugged it in. Notice any thing funny about the picture? Well of course not you didn't know that the Mouse is plugged in and operating. There's no light emitting from the Salmosa; except in the infrared range, to the human eye it looks like there's no light and we had to check several times to convince ourselves that it was actually working. After reconnecting it to the test rig and waving it around on the Mouse pad (Much like a guy who has recently suffered a lightning strike or had way to much Schnapps, or both) we were convinced it was in fact operating correctly.
That feature alone makes this a noteworthy addition to our collection (Look Ma No Light!). Then while gazing at the bottom of this beauty we noticed a couple of switches that peaked our interest. One is an on-the-fly DPI switch that allows you to select from 800 or 1800 DPI. The 800 setting would most likely be used on the desktop and the 1800 mode during gaming. That's not unusual for a Mouse these days but the mechanical switch is unusual. Having the ability to pause the game and flip the Mouse over and hardware select the DPI as opposed to dumping back into the windows environment to have software handle it is a nice feature.
The other switch is a polling switch, the setting are, 125 Mhz, 500 Mhz, and 1000 Mhz. That switch determines how often the Mouse reads the surface of the Mouse pad and updates the position on the screen. Those features makes this gaming Mouse perfect for testing mouse pads (and for older gamers with unsteady hands, or those that prefer killing pixelated aliens while enjoying their favorite alcoholic beverage).
Salmosa Pictures Click for a larger image.
Razer chose to use their Precision 3G infrared sensor in the Salmosa it provides unparalleled accuracy and up to 1000 Mhz polling. The large non-slip keys at first glance would seem to be ordinary plastic keys. To the touch they have a silky plastic texture that seems to grip the fingers keeping them solidly in place even during grueling Gaming sessions.
The Software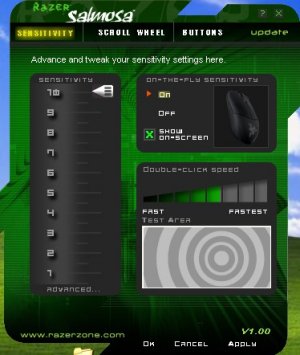 Salmosa Sensitivity Screen
The Salmosa driver and software require an internet connection to load, the Mouse worked fine without the download but seemed a little more responsive after the download. You can adjust the Sensitivity and turn off the On-The-Fly Sensitivity (On by default). The double-click test area was especially handy for getting the Salmosa set up for our particular tastes. One thing we'd like to note is that unlike most Mice the Salmosa equipped with Hyperesponse buttons handled a little bit differently than most Mice we've tested. With most Mice you click then can feel the second click and the desired action happens. The Salmosa you could distinctly feel the first click, then before you felt the second click the test target exploded. That seemingly small difference might be the difference between battlefield survival and having your brains splattered on the wall.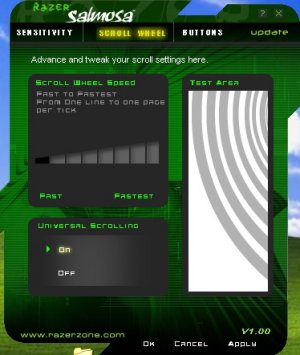 Salmosa Scroll Screen
The Scroll Wheel Screen you can control and test how fast the Scroll Wheel operates. You can also turn off Universal Scrolling on this screen. We've used the Lachesis from Razer and compared to the software on the Lachesis this is really minimal for Razer Software. That's in keeping with the "Entry Level" marketing format of the Salmosa.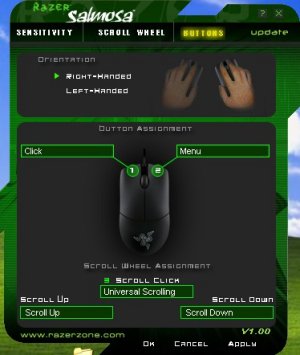 Salmosa Buttons Screen
You can change the functions for the buttons on the Salmosa on the final screen. The Salmosa being a 2 button and scroll wheel mouse the amount that you don't need this screen much. We suppose you could reassign the scroll wheel to reload or toss a grenade which would be handy in heavy combat but considering that it is an entry level gaming mouse we would have liked to see at least 2 programmable side buttons.
The combination of the Mechanical buttons on the bottom of the Salmosa and the ability to change from 800 DPI to 1800 DPI and from 125Mhz to 1000 Mhz lets you see just how precise and responsive the Salmosa really is. The original optical Mice ran at about 125 Mhz and 800 (or under) DPI and by switching to the lowest settings you can see just how mushy and unresponsive the older generation Mice are. We would have like to have seen a setting between 800 and 1800 (say a setting of 1200) so you would have a little more flexibility in the customization settings of the Salmosa. The 800 setting is decent for the desktop, the 1800 setting is good for gaming and precision, but the 1200 setting would have been nice for running and gunning.
TESTING, RESULTS & CONCLUSION
Testing
To test the Salmosa we ran it during normal computing for about a week, Internet activities, writing reviews, and Gaming. Gaming sessions we tested both DPI settings at each level of polling for at least an hour (You tend to lose track of time in the heat of battle), we do know that the one hour timer we set for each session had long expired and we were still dispensing destruction long after.
We used our newly acquired Goliathus High Speed Gaming Mouse Pad during testing figuring that since Razer manufactured both there might be some advantage to using the Goliathus/Salmosa combination.
We practiced speed runs, snap shots, some sniper action and normal gaming extensively. Since we are fairly close to the end of Crysis and still testing our 4870/4850 Crossfire setup we decided to use Crysis for most of the game testing.
Test Rig
Test Rig
Case Type
NZXT Tempest
CPU
Intel E8400 @ 3.214 Voltage 1.22 vcore
Motherboard
Gigabyte EP45-Extreme
Ram
Patriot Viper DDR2 1150
CPU Cooler
Thermalright Ultra 120
Hard Drives
Seagate 400 Gig Sata 2 8 meg cache
Optical
Sony DVD R/W
Graphics Cards In Crossfire
Sapphire 4870
Sapphire 4850 Toxic
Case Fans
Six fans ranging from 120mm to 230mm
Power Supplie
Tagan BZ1100 1100 Watt Modular


Results
At the lowest settings 800 DPI and 125 MHz polling we quickly found ourselves struggling to pan around the battlefield and locate the enemy. Sounds originating behind us caused us to make several long sweeping motions to turn and check out the noises. Larger more grandiose moves were required to accomplish movement and aiming. Setting the polling rate up at 800 DPI made the Laser Attachment we were using move a little more smoothly on screen but did little to alleviate having to use large sweeping motions to accomplish the mission. Crysis was playable but given that we were used to a high end Razer Lachisis we didn't enjoy all the extra movement the 800 DPI setting required.
After switching to 1800 DPI and setting the Poling to 125 MHz panning around the screen was much easier and movement was much more fluid but at 125 MHz it felt a little bit sluggish (We still kicked some major butt though).
As soon as we had the Polling set at 500 MHz it was almost like the world of gaming had opened up and smiled upon us. There was no noticeable lag, drag or mushiness. Movements and aiming were very crisp and natural. Snap shots became just that, "Snap Shots", the hyper response buttons and non-slip surface helped to keep our hands on the buttons where they belonged. At this setting the game was very playable and game play was enjoyable and easily accomplished.
We kicked every thing up to the max on the Salmosa with it set to 1800 DPI and 1000 MHz polling and every movement every aiming point just seemed to leap into our field of fire. Enemies were laid to waste with such precision and ease it was almost child's play when compared with the 800 DPI 125 MHz settings. With just over an inch of movement we were able to scan the whole screen and cover about 260 Degrees of the Battlefield.
We took the Salmosa for a cruise inside the Aircraft Carrier toward the end of the game with the CPU kicked up to 4.3 GHz, the 4870/4850 Crossfire setup throwing frames fast enough that the human eye couldn't discern any hesitation or choppiness. We may have very well discovered why most GPU's have trouble with Crysis. With the rig pumping 4.3 GHz, and the Crossfire throwing frames, Salmosa in hand we kicked in the Speed feature of the suit and ran down and around some stairs, it didn't take more than a few seconds before we started getting dizzy. Movement was so fluid and fast that the Salmosa seemed to be guiding our hand and other than bouncing off one bulkhead (we were dizzy give us a break) it was a unique and eye opening experience.
Conclusion
The Salmosa offers a lot for an entry level gaming mouse. After finding the right settings in the included software, and kicking the mechanical settings up to higher levels gaming with the Salmosa was quite enjoyable. Movements were fluid, shots lined up easily and the Mouse seemed to fit our hands like it was custom designed for them. The finger grip design forced us to use good gaming habits during intensive battle scenes, and the non-slip Hyperesponse buttons were extremely responsive. The 7 foot long cord is a welcome feature for those that like to kick back and compute from a distance.
On the down side we would have liked to see at least two programmable side buttons and an additional DPI setting of 1200. That might be a little much for a piece of equipment being marketed as an entry level gaming mouse but at the price listed on the Razerzone.com website ($39.95 USD) those features would have made it an easier decision when shopping for a gaming Mouse.
The mechanically adjustable DPI and Polling made switching from gaming to desktop a no-brainer and kept us from having to load software to accomplish the mundane task. Momentary stuttering of the pointer was noticed while shifting DPI but that's not really an issue because your not going to be staring at the bottom of your mouse with the game running (Unless you just like getting crushed during game play).
Pros:
+  Great Performance
+  Comfortable
+  Long Cord
+  Non-Slip Keys
+  Looks Good
+  Helps Improve Accuracy At High Settings
+  Mechanical Switches For Changing Settings
Cons:
–  No Programmable Side Buttons
–  Price A Little Steep For Some
–  An Extra DPI Setting Would Have Been Nice
Games and live opponents are getting more demanding and precision gaming equipment helps to level the playing field. If your looking for a good solid entry level gaming mouse and don't mind paying for the best the Razer Salmosa will help to take your gaming skills to a level you never thought possible!
Final Score of 8.0 out of 10