The MobileSTOR MS2UTN+B from Sans Digital might not have all the bells and whistles that we find in a NAS but it comes with a feature most people can use: the ability to set up various types of RAID-configurations with the touch of a button. We have tested the enclosure to see how it performs.
INTRODUCTION
The need for good and reliable storage is increasing as we record more and more of our lives digitally. Whether it is important private photos, our music collections, or even our DVD-collections that have been ripped to disks – we need ways to store these files safely.
At one time, floppy-discs were large enough to store most of our important files, but we are at a point today where DVDs are not even large enough for most people to store all they want. 
This need for storage has let the external storage market exploding, and consumers now have a wide variety of storage to choose from; starting with simple, cheap flash-based USB sticks, up to expensive but feature-rich NAS-storage enclosures.
Today we are reviewing an external enclosure that slots in between the simpler dumb enclosures and the smarter NAS-enclosures. The MobileSTOR MS2UTN+B from Sans Digital might not have all the bells and whistles that we find in a NAS (not everyone needs a bittorrent or uPNP media streaming) but it comes with a feature most people can use: the ability to set up various types of RAID-configurations with the touch of a button (or in this case, the twist of a screwdriver).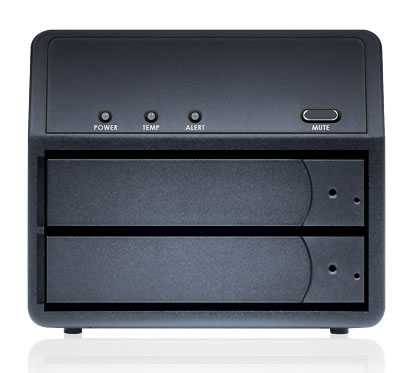 ABOUT SANS DIGITAL
Sans Digital's main focus is storage in different forms.
Sans Digital is a provider of high capacity, multi-functional advanced storage solutions. These storage units can be used in home offices, small and medium-sized businesses, video editing, data backup, surveillance systems and many other industries. Sans Digital's products provide great solutions for companies and individuals across the world who need effective and reliable data storage systems.
Technology and Service Differentiation
Sans Digital offers storage products for RAID and bare-bone systems. With technologically advanced products, Sans Digital ensures that the products will meet the customers' needs. By incorporating the latest technology, Sans Digital sets the standard in the storage industry.
Product and Service Innovation
Sans Digital offers products and services that are exclusively unique, which help customers improve their productivity. With over 10 years of experience offering complete storage solutions, Sans Digital's products have come to be distinct with their unmatched technology.
Business Productivity Solutions
Every customer is different and Sans Digital recognizes that one size fits all storage solutions are unlikely to meet everyone's requests. As a result, Sans Digital joined a wide variety of industry leaders to offer storage applications that are specific to various industries. This includes off-the-shelf or fully customized solutions.
Audiences
Sans Digital's main customers include business and enterprise, government and education, creative professionals, as well as consumer and SOHO, which are reached through our Distributors, System Integrators, Value-Added-Resellers, and Dealers.
Sans Digital specializes in, but is not limited to, serving these vertical industries:
Audio-Video Editing, Data Backup, Surveillance Systems, Database Storage, Imaging, File Servers, and etc
FEATURES AND SPECIFICATIONS
Let us first look at the specifications:
Feature/Specification

 MS2UTN+B

HDD Trays

2 Hot-Swappable 3.5″

RAID Level

Big (Spanning), Safe (RAID1), Fast (RAID 0), JBOD, SAFE33, &
SAFE50, GUI mode allow customized RAID volume setting.

Maximum Capacity

2TB

Auto Rebuilding

Yes

Hot-Spare

N/A

Host Interface & Transfer Rate

USB 2.0 (480Mbps) & eSATA (3.0 Gbps)

 Drive Interface

SATA I / SATA II

Cooling Fan

1.6″ Ball Bearing

Power Supply

80W (110V~240V)

Status Indicators

RAID Alarm, Fan / Temperature, Power LEDs

Dimension (in)

4.8″W x 8.0″D x 4.0″H

Weight (lb)

3.8

Limited Watrranty

1 Years
The highlight of the specifications is of course the hardware RAID-support. This is handled by the Silicon Image 5744 chipset, which has some cool features up its sleeve. Other than that, the MobileSTOR MS2UTN+B is a regular 2-drive enclosure that supports both eSATA and USB.
Let's look a bit closer at the features:
Hardware RAID engine, supporting RAID 0, RAID 1, Spanning, JBOD, SAFE33, and SAFE50.
GUI mode allows customized RAID mode setup. Up to 2 RAID volume with different RAID mode can be set.
Drive interface: 2 x 3.5″ SATA I / SATA II hard drive.
Removable trays for fast access of additional hard drives and easy trouble shooting.
Utilizing the lastest RAID chipset, supporting SAFE 33 / SAFE50 mode.
SAFE 33 / SAFE50 creates two hard drive volumes where 1/3 or 1/2 of the hard drive volume is used for mirroring and the rest is used for spanning (Big).
Temperature controlled cooling fan for quieter operations.
Supports Windows, Linux, and MAC OS X.
Note: For eSATA connection, port multiplier support required for 2 RAID volume, such as JBOD, SAFE33 and SAFE50. eSATA without port multiplier support will only detect the first volume.
It is very obvious that Sans Digital is pushing the RAID-capability of the enclosure. But how does it work? And what about the limitations that they mention at the end? Read on to find out more.
THE RAID SUPPORT
The MobileSTOR MS2UTN+B support the following modes:
Big (also called spanning)
In this mode the disks are just put together in one big disk. This means that if you have two 320 GB drives you will see a 640 GB volume.
JBOD
JBOD stands for Just a Bunch of Disks. The controller treats each drive as a stand-alone disk; therefore each drive is an independent logical drive.
RAID 0 (FAST)
RAID 0 splits data evenly across two or more disks with no parity information for redundancy. It is usually used to increase performance, as it writes half of the data to drive 1 and the other half to drive 2; and thus, in theory, can increase the performance a lot. It is important to remember that you get no redundancy in this mode, meaning if one of the drives fails, you lose all the data.
RAID 1 (SAFE)
RAID 1 is the mode to choose if you want safety. In RAID 1 data is written to both discs (mirrored) meaning that if one of the drives fail you will be able to recover everything as the data is present on the second disk. The downside is that you only get the storage capacity of one drive.
These RAID-modes are the usual modes most of us know about. The MobileSTOR MS2UTN+B, however, has some new modes that are quite interesting.
SAFE33 and SAFE50
These two modes are combinations of RAID1 and Big. In SAFE33, one third of the combined storage capacity is dedicated to a RAID1 volume, while the rest is set up as a Big volume. In SAFE50, the ratio is half for the RAID1 volume and the rest for the Big volume. The advantage of these two modes is that you can use the mirrored volume for important files that you do not want to lose; so if one of the drives crashes, you can use the rest of the storage for files that can be replaced. True, you could always set up a RAID1 volume using all the space, but that way you would waste space compared to just using parts of the drive space for mirroring.
If these ratios do not sound right for you, Sans Digital even includes a "GUI mode," in which you can use a program on your computer to set up your own combination.
There is a but …
SAFE33 and SAFE50 sound like really useful modes but unfortunately there are a few caveats. These modes can only be used through USB, unless you have a port-multiplier between the unit and the eSATA-port on the computer.
This is not a problem with the MobileSTOR MS2UTN+B – it is a problem with the eSATA-standard. The issue is that eSATA only supports one device per port. As SAFE33, SAFE50 and JBOD create more than one drive, it means that you will only see the first volume.
The solution is to use a port-multiplier. These allow you to hook up more than one eSATA-device to an eSATA port in a similar manner to that of a USB hub. The bandwidth will still only be that of the link to the controller (3 GB/s), but this is enough for two volumes and won't be an issue until you start adding a lot more drives (it supports up to 15 disks).
 
A CLOSER LOOK
The unit comes in a small box and is well protected inside so it will not get damaged in transit.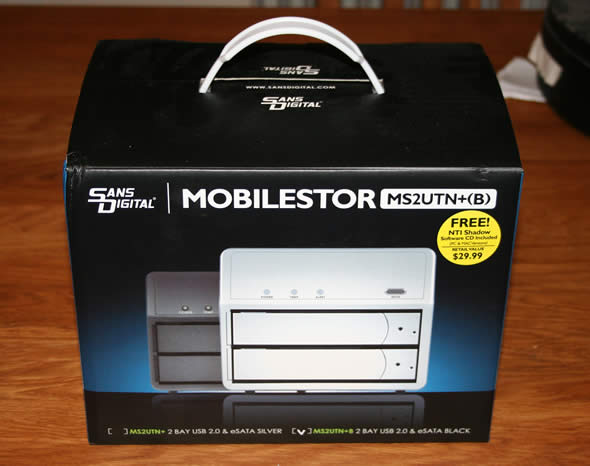 The MS2UTN+ can be had in white and in black. The unit we are testing is the black version.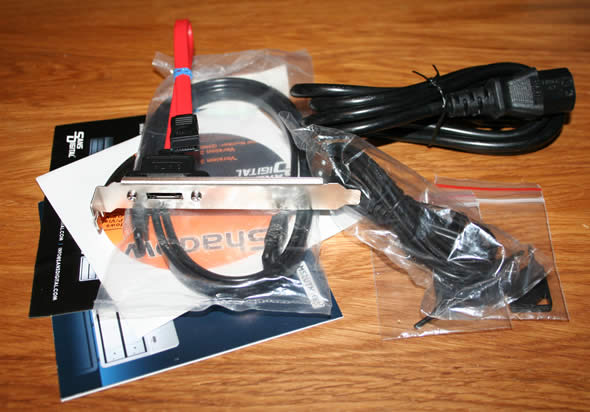 Inside the box we find (in addition to the enclosure):
CD with a full version of NTI's Shadow backup software
CD with drivers and software
Quick Start Guide
Power cord
eSATA-cable
USB-cable
PCI-bracket with eSATA port that connects to an internal SATA-connector
It is impressive that Sans Digital includes both eSATA and USB cables, as well as a PCI-bracket for those who do not have an eSATA-port on their computer. To top it off, they even include a full version of NTIs Shadow backup software.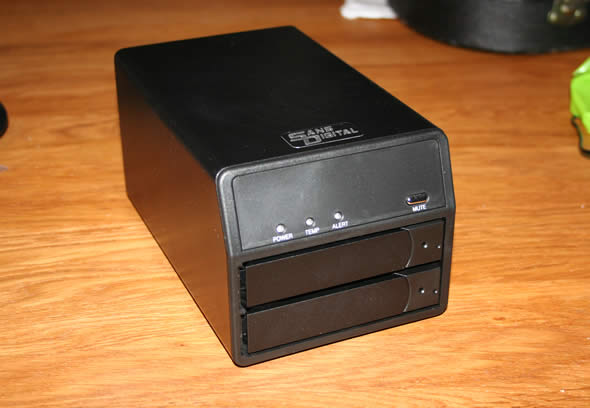 The actual unit is really nice looking. What is not directly obvious from this photo is that it also is much smaller than many other enclosures.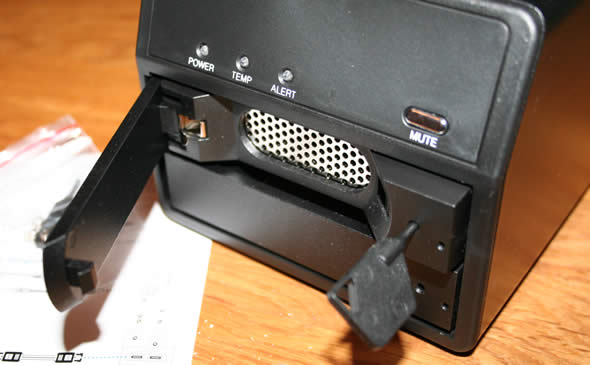 The hard drives are added from the front and can of course be added while the unit is running. You do need a pointy tool to open the doors but Sans Digital includes two key-like plastic tools that work well.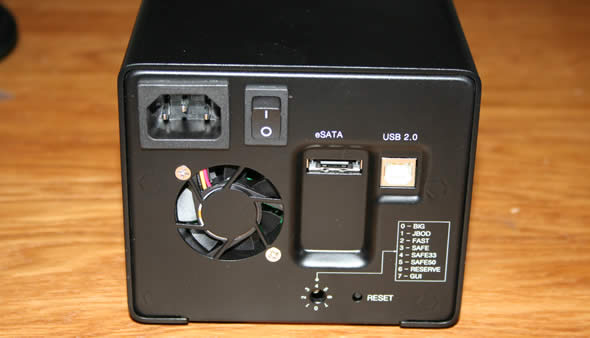 At the back of the enclosure we find the USB 2.0 and eSATA-ports. This is also where we choose which RAID-mode we want to use. The enclosure has a built-in power supply, as well as a small temperature controlled fan that keeps the drives cool.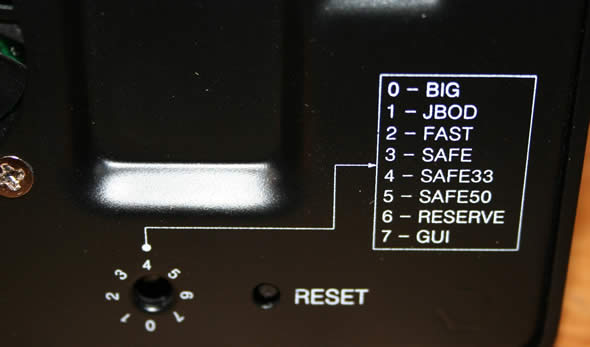 To select the RAID-mode you need a small screwdriver; there is a small screw that needs to be turned in order to set the mode. The reset-button should be pressed to initiate the change after this has been done. The screw is a bit ambiguous, and it is easy, for example, to select 1 instead of 5 if you're not looking really close.
 
INSTALLATION
Installing drives into the MobileSTOR MS2UTN+B is really easy. After you open one of the front doors you can easily slide out the removable tray module for that drive.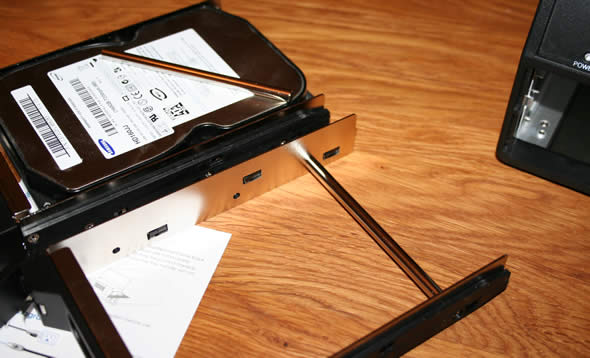 The metal rod should be in place when there is no drive in the module to assist in stability. When you add a drive it is removed, which means you have to store it somewhere. It would have been nice if Sans Digital made it possible to attach it to the unit somehow. After you have screwed the drive onto the removable tray module, you just slide it back into the enclosure.
When you have set up either one or two drives and selected the preferred mode, all you have to do is turn it on, and press the reset-button to get the enclosure to start working. If you are using a mode like JBOD, Big, or RAID0, the drive(s) will be available in just a few seconds from inside Windows, Linux, or whatever operating system you are using. You just set them up as you would any internal drive.
If you are setting up RAID1, either alone or in one of the SAFE-modes, you will have to wait for the array to be set up to get the full protection. You will be able to use the enclosure right away, but the enclosure will continue building the array at the same time, meaning you will see some performance hits while this is happening. Building a RAID1-array with two 160 GB drives took a few hours so it might be a good idea to start it before heading off to bed.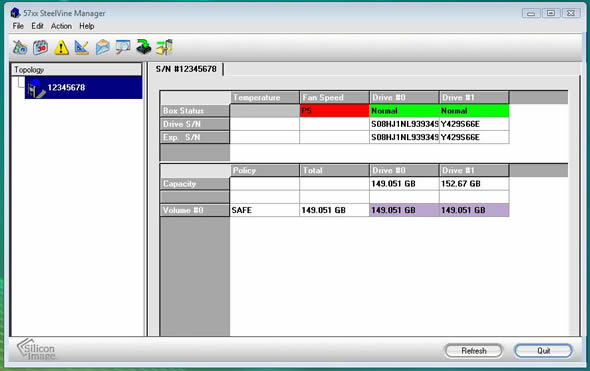 As mentioned earlier in this review you can also use the GUI-mode together with a piece of software, available on Windows, Linux and Mac, that allows you to configure the RAID to your liking.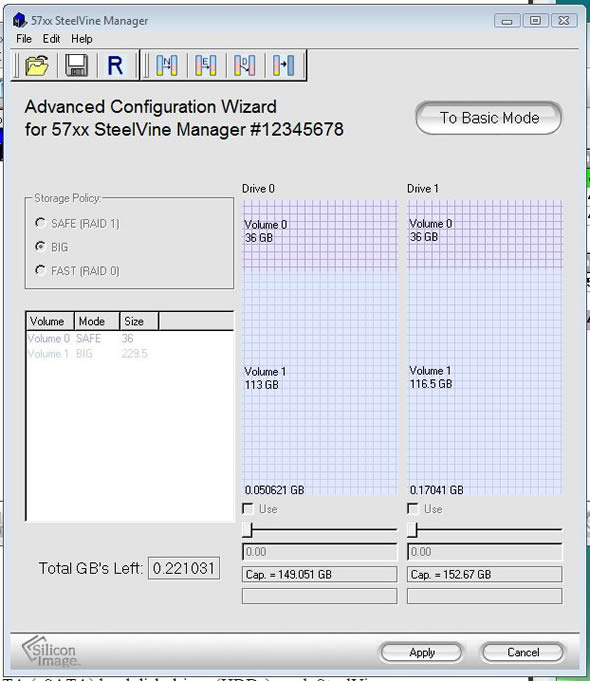 In theory, it is possible to set up more than two volumes on the discs combining RAID0, RAID1, and "Big".
PERFORMANCE – SETTINGS
The enclosure was tested on the following system:
Core 2 Quad Q6600 @ 2.7 GHz
2 GB DDR 2 memory @ 800 MHz
ASUS Maximum Formula X38 motherboard
Panasonic Blu-Ray drive
Xbox 360 HD-DVD drive (USB 2.0)
320 GB Western Digital WD3200YS
MobileSTOR MS2UTN+B with Samsung HD160SS 160 GB and Maxtor DuamindMax Plus 9 160 GB 
Seagate FreeAgent™ Go
We tested the enclosures with:
HDTune Pro
SiSoft Sandra XII
Iozone
 
PERFORMANCE
HDTune Pro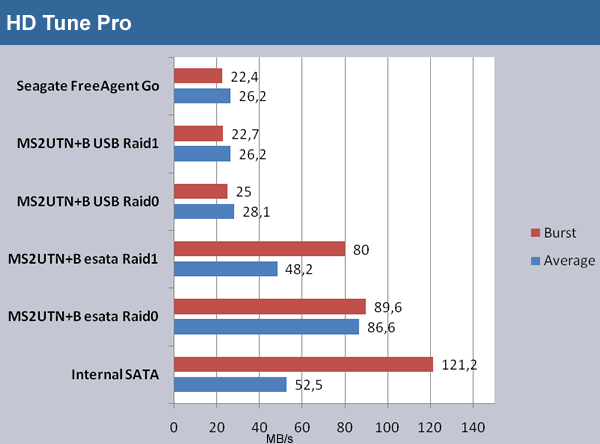 When using eSATA, the MobileSTOR MS2UTN+B is not limited by the interface and it performs at the same level as an internal SATA-drive. RAID0 gives us much better read-performance, as expected. When switching to USB2 we quickly see that the interface is the limiting factor here. It doesn't really matter if you are using RAID0, RAID1 or just a single disk.
SiSoft Sandra XII Lite
We ran the file system benchmark in SiSoft Sandra XII. The file size used in this test is 2 GB and the block size is 1 MB.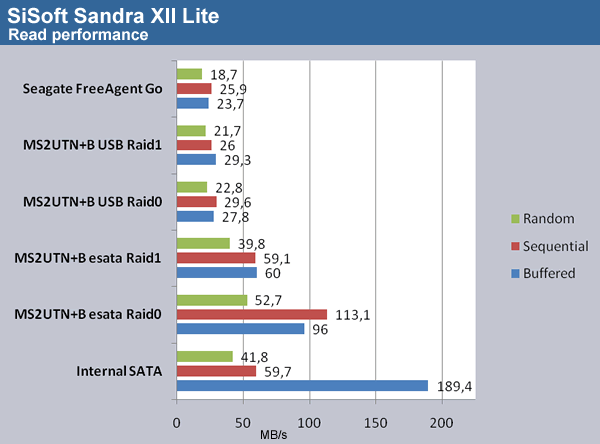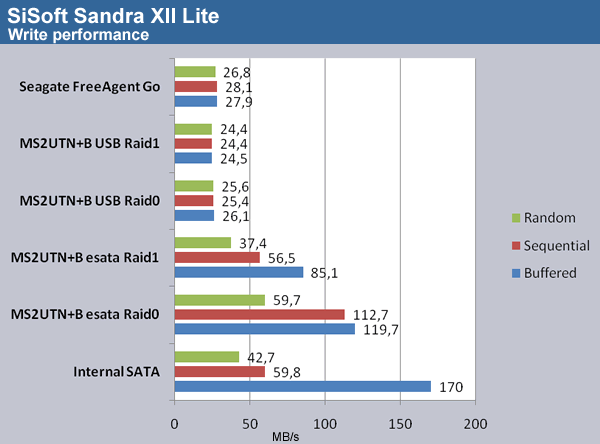 We see the same picture in SiSoft Sandra as in HDTune. As long as we use USB2.0, the interface dictates the performance; but as soon as we switch to eSATA, we see a definitive improvement in both Read and Write performance when using RAID0 over RAID1.
Iozone
Iozone (www.iozone.org) is a filesystem benchmark tool. The benchmark generates and measures a variety of file operations.
We used the following commandline when testing the drives:
iozone -Rab results.wks -n 32M -i 0 -i 1 -g 4G -q 64k -y 64k -f g:test.tmp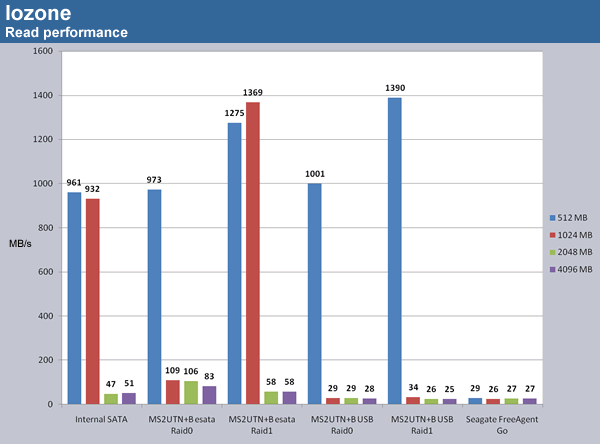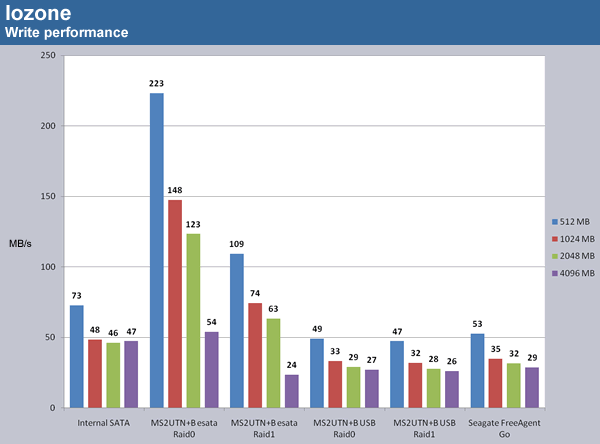 The earlier data points are not that interesting, as we see mostly various cache effects; but as we increase the file size, we get the performance of the disk and the interface.
Iozone paints the same picture as the previous tests. The MobileSTOR MS2UTN+B performs very well.
DISASTER RECOVERY
RAID1 is the mode of choice if you want to keep your data safe. To test how well the MobileSTOR MS2UTN+B handles a broken drive, we simply removed one of the drives, simulating a drive breakdown.
The enclosure indicates that the drive is not working by flashing the LED on the drive door red. At the same time, you still can access the data on the other drive but of course any data stored now will not be mirrored until the drive is fixed. When we put the drive in again after formatting it on another computer, the MobileSTOR MS2UTN+B directly started to rebuild the array, this time blinking the LED red and purple. A rebuild takes the same amount of time as the first time you set up the array.
 
CONCLUSION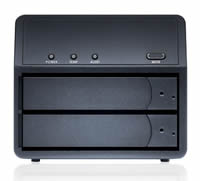 The MobileSTOR MS2UTN+B is a excellent storage solution for home users that do not need or want to use a network-attached storage solution. The enclosure looks good, performs well, and makes using RAID easy even for users who've never heard of it before. The best part, though, is the price. At around $120 (Newegg) it is a steal, especially since you get backup software, a PCI-bracket with a eSATA port and both eSATA and USB-cables.
The only real negative with the enclosure is that the knob for setting up the RAID-mode is not really a knob, and you need a screwdriver to change it. The fact that you need a port-multiplier to use the SAFE-modes over eSATA is not Sans Digitals fault, but still a bit annoying.
Pros
+ Stylish
+ Both eSATA and USB-ports
+ Good eSATA-performance
+ Acceptable USB-performance
+ Easy to set up RAID-modes
+ Great price
+ Great bundle
Cons
– Need screwdriver to change RAID-mode
– Fan can get a bit noisy when the enclosure is running at full speed
Summary: The MobileSTOR MS2UTN+B is an excellent storage solution for home users that do not need or want to use a network-attached storage solution. The enclosure looks good, performs well and makes using RAID easy even for users who never heard of it before. The MobileSTOR MS2UTN+B gets a rating of 8.5 out of 10 (Very Good) and a Bjorn3D Seal of Approval.