The Sapphire Toxic HD 4850 offers some thing you don't often see in the world of GPU's price for performance. The last time we saw a price/performance like this was the 8800 GT.
INTRODUCTION
With ATI and NVIDIA both releasing monster GPU's simultaneously it's hard to find that one product that offers good performance for price. When the ATI 4870 and 4850 came out we found ourselves astonished that ATI was closing the lead between their single GPU cards and the single GPU offerings from NVIDIA.
It had almost become a given that NVIDIA would dominate in performance and ATI would only be able to compete from a price for performance standpoint with their single GPU cards. Then Sapphire leaked information about their Sapphire HD Toxic 4850 with it's factory over clocked core and memory we had flashbacks to the 8800 GT price for performance phenomenon.
If your looking for a great priced GPU that spits out FPS, stays cool, and won't break the bank maybe you should stick around and take a gander at the Sapphire HD Toxic 4850.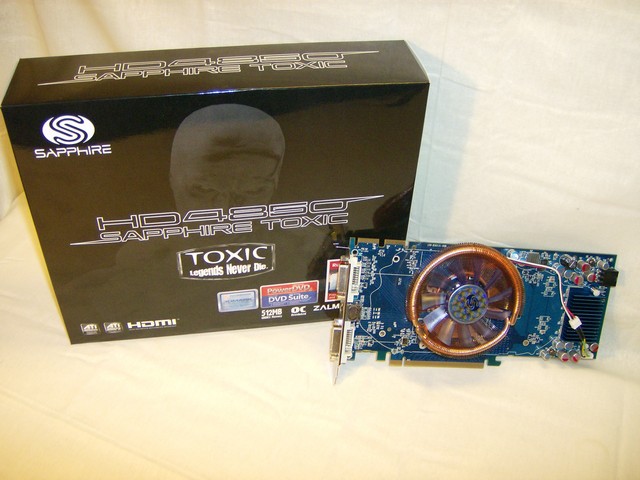 About Sapphire
Welcome to the SAPPHIRE Family

 

Pioneers in a new era of how data is displayed and games are played, Sapphire shepherds the performance oriented with ground-breaking solutions to an environment that remains in a constant state of flux and ultimate evolution. For over ten years Sapphire has held true to its unwavering commitment, the commitment to deliver the most feature rich and soundly engineered products. Because of Sapphire's firm position on achieving excellence with each product that leaves our ISO9001 and ISO14001 certified factories, you can rest assured that your customers will recognize YOUR commitment to selling only the highest of quality components.

Since ATI announced its manufacturing & distribution relationships with ODMs and AiBs in June of 2001, SAPPHIRE has been THE key ATI Graphics Boards Supplier worldwide and now stands poised and ready to capture the mainboard audience of those who seek a stable platform for their mission critical operations.

All SAPPHIRE ATI video boards are manufactured under 100% ATI production criteria including QC and outgoing system. Our monthly video board production capacity can reach a lofty 1.8 million and often topples this landmark figure. Our factory has always been the major manufacturer on ATI boards for most of the top ten tier 1 OEMs worldwide. With this background, you should undoubtedly be guaranteed of the impeccable quality, production capacity and product reliability of all ATI video boards and mainboards from SAPPHIRE. Be they business oriented or something just off center of the crosshairs, Sapphire has a solution for you and we look forward to an exciting and prosperous relationship with you!
SPECIFICATIONS & GPU COMPARISON TABLES
Specifications
Sapphire 4870 and 4850 Specifications
GPU
HD Toxic 4850
HD 4850
HD 4870
GPU frequency
675 MHz
625 MHz
750 MHz
ALU frequency
675 MHz
625 MHz
750 MHz
Memory frequency
1100MHz
993MHz
900MHz
Memory bus width
256 bits
256 bits
256 bits
Memory type
GDDR3
GDDR3
GDDR5
Memory quantity
512 MB
512 MB
512 MB
Number of ALUs
800
800
800
Number of texture units
40
40
40
Number of ROPs
16
16
16
Shading power
1 TFlop
1 TFlop
1.2 TFlops
Memory bandwidth
31.78 GB/s
31.78 GB/s
115.2 GB/s
Number of transistors
965 mil
965 mil
965 mil
Process
55nm
55nm
55nm
Die surface area
260mm²
260mm²
260mm²
Generation
2008
2008
2008
Shader Model supported
4.1
4.1
4.1
You can see that the difference between the HD 4850 and the Toxic HD 4850 is a 50 Mhz increase in the core clock speed and an increase of 107 in the memory clock speed. Another big difference is the cooling solution which we'll get into a little later.
If we've learned any thing here at Bjorn3D it's that some times the advertised specifications and the real specifications sometimes differ so we always like to check what's written agains software reported specs. In this case we are glad we did. It appears that the clocks on the Sapphire HD 4850 Toxic are a little different than the specs listed on the Sapphire web site. The site lists the clocks on the memory at 1100 and the 4850 Toxic we recieved for review is clocked at 1150.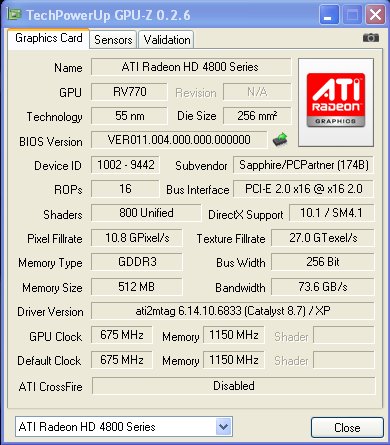 We checked GPU-Z against ATI Overdrive for confirmation.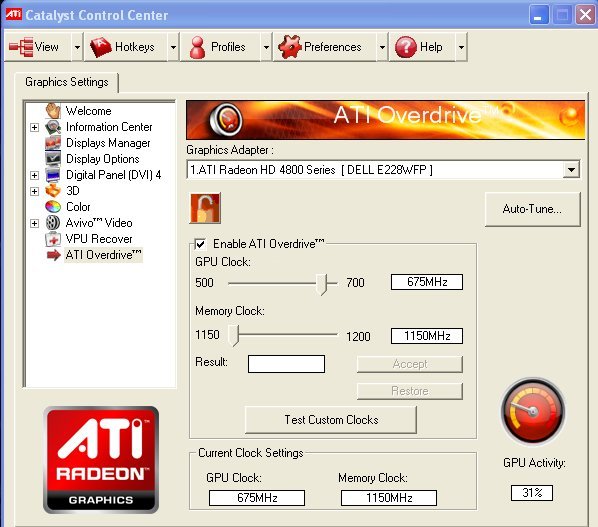 The memory clock was confirmed at 1150 but noticably absent was the temperature gauge which sent us scrambling for software to measure the temperature of the GPU.

AMD GPU Clock Tool under the Thermal Sensor tab did it for us and provided greater control of the memory clock allowing us to down clock the GPU to the advertised 1100 Mhz. The replacement sample we used to obtain the test results was correctly clocked to 1100 Mhz. Please note that this happens with engeneering samples that are released for review early and isn't a reflection on the quality control or manufacturing process Sapphire uses.
GPU Comparison Table
Here's a graphic that show some of the hottest GPU's around so you can get a perspective of the changes from GPU to GPU, ATI to NVIDIA.
Major GPU Specifications
GPU
HD 3870 X2
9800 GX2
8800 Ultra
GTX 260
GTX 280
HD 4850
HD 4870
GPU frequency
825 MHz
600 MHz
612 MHz
576 MHz
602 MHz
625 MHz
750 MHz
ALU frequency
825 MHz
1500 MHz
1512 MHz
1242 MHz
1296 MHz
625 MHz
750 MHz
Memory frequency
900 MHz
1000 MHz
1080 MHz
999 MHz
1107 MHz
993MHz
900MHz
Memory bus width
2×256 bits
2×256 bits
384 bits
448 bits
512 bits
256 bits
256 bits
Memory type
GDDR3
GDDR3
GDDR3
GDDR3
GDDR3
GDDR3
GDDR5
Memory quantity
2 x 512 MB
2 x 512 MB
768 MB
896 MB
1024 MB
512 MB
512 MB
Number of ALUs
640
256
128
192
240
800
800
Number of texture units
32
128
32
64
80
40
40
Number of ROPs
32
32
24
28
32
16
16
Shading power
1 TFlop
1152 GFlops
581 GFlops
715 GFlops
933 GFlops
1 TFlop
1.2 TFlops
Memory bandwidth
115.2 GB/s
128 GB/s
103.7 GB/s
111.9 GB/s
141.7 GB/s
31.78 GB/s
115.2 GB/s
Number of transistors
1334 mil
1010 mil
754 mil
1400 mil
1400 mil
965 mil
965 mil
Process
55nm
65nm
80nm
65nm
65nm
55nm
55nm
Die surface area
2 x 196 mm²
2 x 324 mm²
484 mm²
576 mm²
576 mm²
260mm²
260mm²
Generation
2008
2008
2007
2008
2008
2008
2008
Shader Model supported
4.0
4.0
4.0
4.0
4.0
4.1
4.1
FEATURES, PACKAGING & BUNDLE
Features
TeraScale Graphics Engine
The powerful new TeraScale graphics engine features deliver high resolutions and fast frame rates.
Enhanced Anti-Aliasing & Anisotropic Filtering
High performance anisotropic filtering and 24x custom filter anti-aliasing (CFAA) smooth jagged edges and create true-to-life graphics, for everything from grass to facial features.
DirectX 10.1
Play today while preparing for tomorrow with state-of-the-art DirectX 10.1 graphics capabilities.
ATI CrossFireX™ Technology
ATI CrossFireX™ technology with up to quad GPU support offers superior scalability so your system is ready to level up when you are.
PCI Express 2.0
Support for PCI Express 2.0
will prepare you for bandwidth-hungry games and 3D applications.
Power to Spare
This GPU has the brute processing power needed for physics, artificial intelligence, stream computing and ray tracing calculations.
Unified Video Decoder 2
Unified Video Decoder 2 frees up your CPU for other tasks so you get The Ultimate Visual Experience™ for even the most processing-intensive content, including VC-1, H.264 and now MPEG-2. Also, take full advantage of Blu-ray functionality with dual-stream, picture in picture (PIP) capabilities.
Upscale Beyond 1080p
Watch the hottest Blu-ray movies or other HD content at full 1080p display resolution and beyond.
On-chip HDCP
On-chip HDCP (High-Bandwidth Digital Content Protection) makes life easier by allowing you to playback HDCP protected content.
HDMI
Enjoy the latest audio technologies using HDMI with 7.1 digital surround sound support. Also, xvYCC support allows the user to enjoy a wider range of color when connected to a capable HDTV.
ATI PowerPlay™ Technology
ATI PowerPlay™ Technology delivers high performance when needed and conserves power when the demand on the graphics processor is low.
Energy Efficient Manufacturing Process
Second generation 55nm chip uses the industry?s most energy efficient manufacturing process.
Packaging
With the possibilities the Sapphire Toxic HD 4850 offers we don't want to spend a lot of time on packaging.
Click Picture For Larger Image
The Sapphire HD Toxic 4850 comes in an attractive black box with a killer graphic on it. The graphic barely shows up until the light hits it good then the graphic jumps out at you.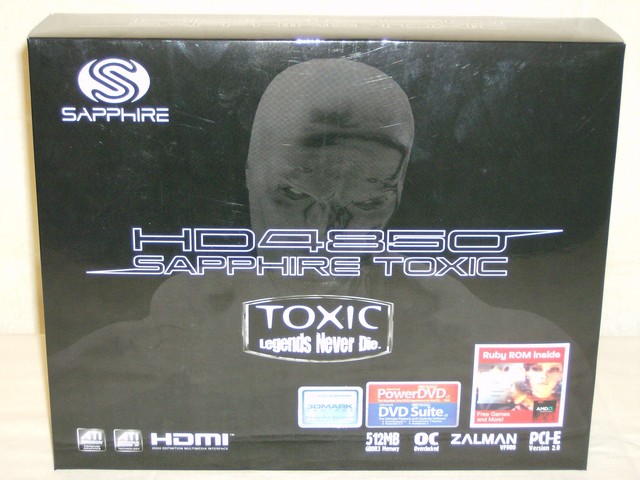 There are enough specifications and information on the box to help the consumer make an informed decision about the purchase of the Sapphire HD Toxic 4850. It's packaged very securely and arrived in pristine condition.
The Bundle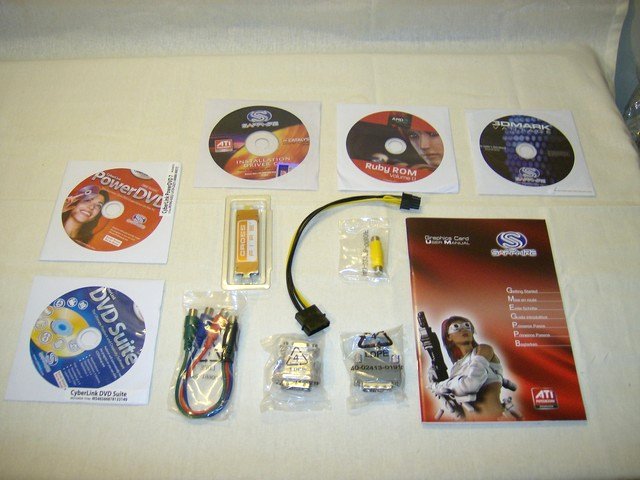 In the package with the Sapphire HD Toxic 4850 you'll find:
 

Package Contents

 

1 – Sapphire 4870 GPU
1 – Manual & Driver Disk
1 – Ruby Rom
1 – Power DVD
1 – DVD Suite
1 – 3DMark Vantage W/Key
1 – Crossfire Bridge
1 – Molex to PCI-E 6 pin adapters
1 – DVI to VGA Adapter
1 – DVI to HDMI Adapter
1 – Component Cable Adapter
1 – Svideo to Component Adapter
The only thing that could have made this bundle sweeter is a full version "Current" game. Of course including a game would also increase the cost of the GPU a little but it's always nice to have a new game to try out on your new gaming engine. It just seems to help the "Wow" factor. The inclusion of 3DMark Vantage with an advanced key takes the sting out a little and is being seen in more GPU bundles.
PICTURES & IMPRESSIONS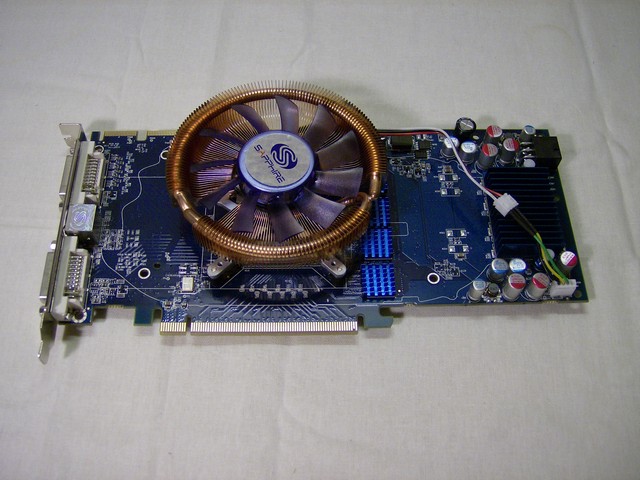 The Sapphire HD Toxic 4850 has the look and feel of a get down and dirty self modded GPU that just screams get me off the table and in a machine so we can kick some booty and take some pixelated aliens names. It also features a Zalman heapipe fan, providing more efficient cooling, quieter operation and more headroom for performance tuning. The difference between this cooling arrangement and the normal cooling for a 4850 is the difference between night and day. Driving the GPU as hard as we could drive it the highest temperature we saw was 57C and it idled at 45C in the Thermaltake Armor full tower case we chose to test it in.
Better cooling means more headroom for over clocking but this beauty is factory over clocked so we aren't expecting much of an over clock if any.
Like we told you this is one serious hard core looking GPU. The lack of a cowling in combination with the Zalman fan/heat pipe cooling solution just jumps out at you shouting that this is no GPU to be sniveled at.
You get a good look at the fan and mounting method, the single 6 pic PCI-E power connector and the heat sinks used to keep the Sapphire HD Toxic 4850 nice and cool. With the factory over clocking and pre-modded design this is a plug and get down to business GPU. By business we, of course, mean PWNING your opponents be they AI driven or Human.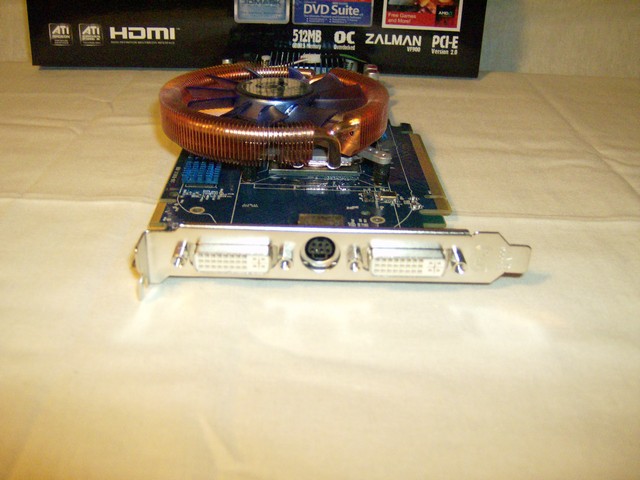 If your case is a little cramped the single slot design of the 4850 Toxic isn't going to hurt your feelings but with the Zalman cooling arrangement it will cover another expansion slot. It has dual DVI and SVideo out, HDMI and 15 pin VGA by adaptor.
TESTING & METHODOLOGY
We'll be doing the usual battery of tests on the Sapphire TOxic HD 4850 and comparing that with the Sapphire HD 4870 and a Leadtek GTX-260. All of our synthetic and gaming tests will be run at 1280 x 1024 and 1680 X 1050, no Antialiasing or Anistropic Filtering, then 4X Antialiasing and 16X Anistropic Filtering. Each of the tests will be run individually and in succession three times and an average of the three results calculated and reported. F.E.A.R. benchmarks were also run with soft shadows disabled, all other games with every thing set to max. Crysis will be tested at 2xAA and 8xAF due to its demanding nature.
The Test Rig
Test Rig
"Quadzilla"
Case Type
Thermaltake Armor
CPU
Intel Q6600 @ 3.2 Voltage 1.3675 vcore
Motherboard
Gigabyte EP45-DQ6
Ram
Patriot DDR2 1150 @ 5-5-5-15 2.1v
CPU Cooler
Swiftech MCP350 Pump
Swiftech Apogee GT CPU Water Block
Swiftech Micro Res
Swiftech MCR320 360mm Radiator
3 Yate Loon 120mm 12v Fans 83CFM
Hard Drives
WD 160 Gig Sata 2 Model # WD1600AAJS
Maxtor 160 Gig Sata 2 Model # 6G160E0
Optical
Sony DVD R/W
GPU's Tested
Sapphire HD 4870 @ 750/900 Drivers – Catalyst 8.7
Sapphire Toxic HD 4850 @ 675/1100 Drivers – Catalyst 8.7
Leadtek GTX-260 @ 576/999 Drivers XP 177.41
Drivers Vista 177.41
Case Fans
Two 120mm Thermaltake Front/Rear Push/Pull
250mm Side fan
90mm Rear Exhaust
90mm Top Exhaus
Docking Stations
Tagan IB290 W/Deskstar 2 1/2 Inch 80 Gig Sata 2
Tagan IB390 W/Maxtor 160 Gig Sata 2
Thermaltake BlackX USB W/Seagate 80 Gig Sata 2
Testing PSUs
Thermaltake Toughpower 1K
Thermaltake VGA Express 650 Watt
Legacy
Floppy Drive
Mouse
Razer Lachesis
Keyboard
Razer Lycosa
Gaming Headset
Razer Piranha
Speakers
Logitec Dolby 5.1
Any Attempt Copy This System Configuration May Lead to Bankrupcy
Synthetic Benchmarks & Games
Synthetic Benchmarks & Games
3DMark06 v. 1.10
3DMark Vantage
PCMark Vantage
Company of Heroes v. 1.71 DX 9
Crysis v. 1.2 DX 9
World in Conflict Demo DX 9
F.E.A.R. v 1.08 DX 9
3DMARK06 V. 1.1.0

3DMark06 developed by Futuremark is a synthetic benchmark used for universal testing of all graphics solutions. 3DMark06 features HDR rendering, complex HDR post processing, dynamic soft shadows for all objects, water shader with HDR refraction, HDR reflection, depth fog and Gerstner wave functions, realistic sky model with cloud blending, and approximately 5.4 million triangles and 8.8 million vertices; to name just a few. The measurement unit "3DMark" is intended to give a normalized mean for comparing different GPU/VPUs. It has been accepted as both a standard and a mandatory benchmark throughout the gaming world for measuring performance.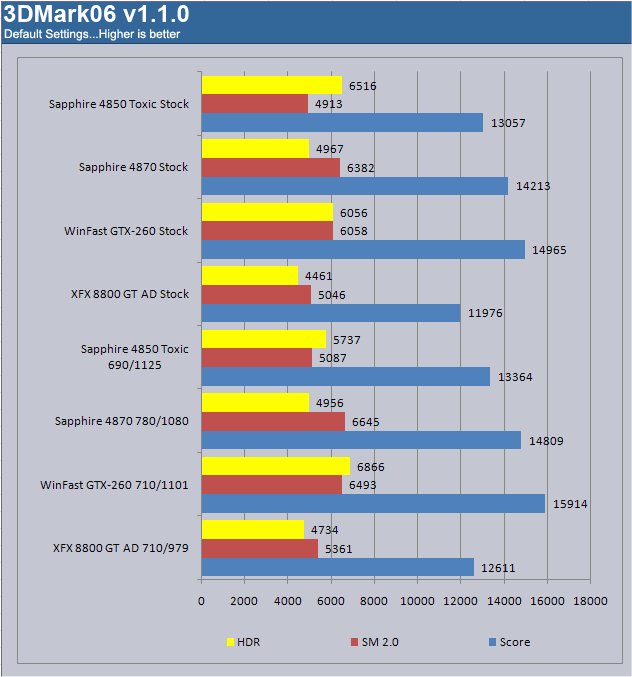 We had some of the results for the XFX 8800 GT from a previous review using the same test rig so we added those at a few strategic locations. As you can see the GTX-260 scored a little higher than the Sapphire HD 4870, and the 4870 scored a little higher than it's little brother the Sapphire 4850 Toxic. All of the new GPU's out did the aging 8800 GT even at the 8800 GT's highest over clock.
The GTX-260 gets a better boost from it's better over clocking capabilities and we'd love to see a better cooling solution on the Sapphire HD 4870 to see how far we could take it.
COMPANY OF HEROES V 1.71
Company of Heroes(COH) is a Real Time Strategy(RTS) game for the PC, announced on April, 2005. It is developed by the Canadian based company, Relic Entertainment, and published by THQ. COH is an excellent game that is incredibly demanding on system resources thus making it an excellent benchmark. Like F.E.A.R. the game contains an integrated performance test that can be run to determine your system's performance based on the graphical options you have chosen. It uses the same multi-staged performance ratings as does the F.E.A.R. test. Letting the games benchmark handle the chore takes the human factor out of the equation and ensures that each run of the test is exactly the same producing more reliable results.
COH DX9 1280 x 1024 0xAA/0xAF and 4xAA/16xAF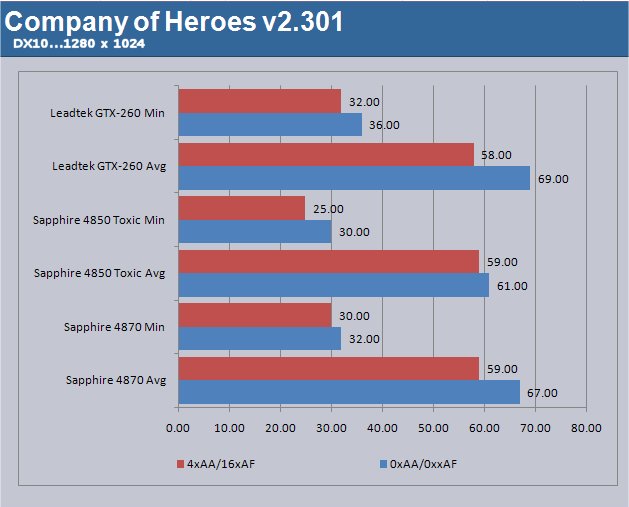 COH DX10 1280 x 1024 0xAA/0xAF and 4xAA/16xAF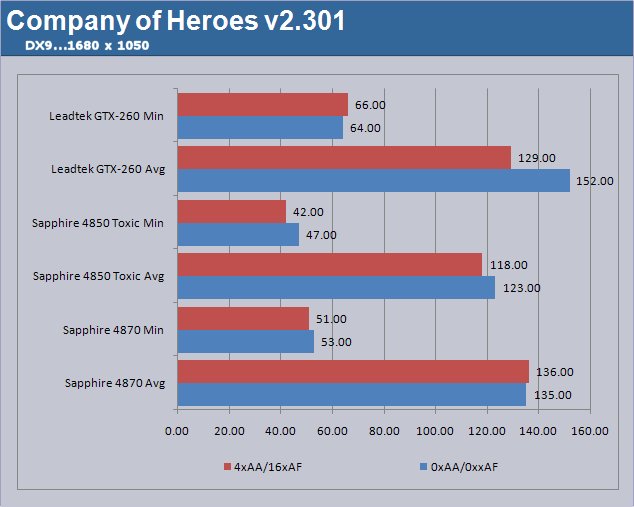 COH DX9 1680 x 1050 0xAA/0xAF and 4xAA/16xAF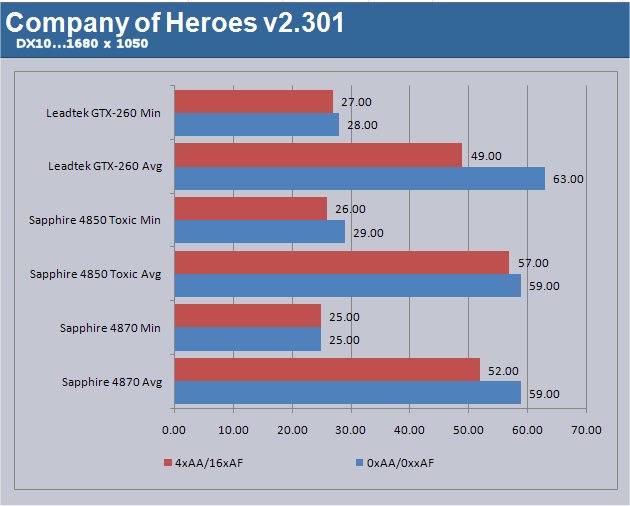 COH DX10 1680 x 1050 0xAA/0xAF and 4xAA/16xAF
Company Of Heroes shows us that the Ati 48XX series is very competitive and that any of these GPU's are more than capable of providing great graphics performance satisfaction. It might come down to a price for performance to distinguish any significant edge here.
FEAR V. 1.08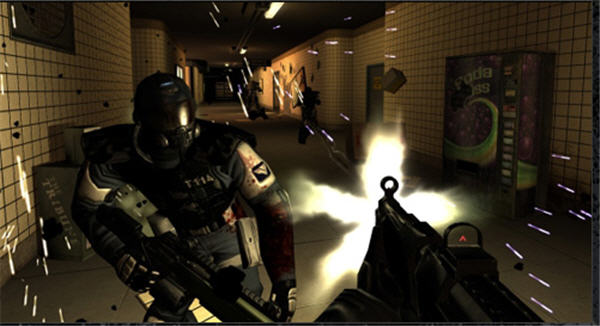 F.E.A.R. (First Encounter Assault Recon) is a first-person shooter game developed by Monolith Productions and released in October, 2005 for Windows. F.E.A.R. is one of the most resource intensive games in the FPS genre of games ever to be released. The game contains an integrated performance test that can be run to determine your system's performance based on the graphical options you have chosen. The beauty of the performance test is that it gives maximum, average, and minimum frames per second rates. F.E.A.R. is a great benchmark, and one heck of a FPS.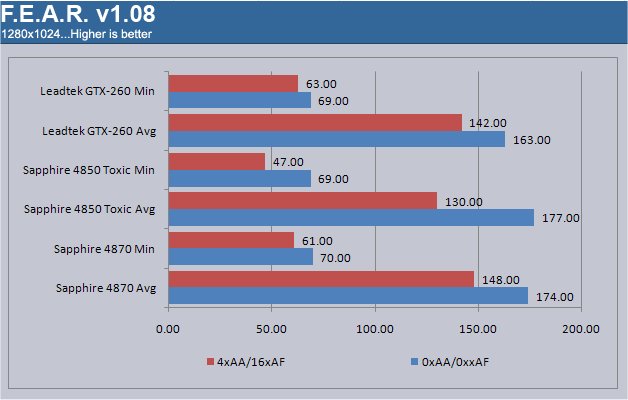 Fear 1280 x 1024 4xAA/16xAF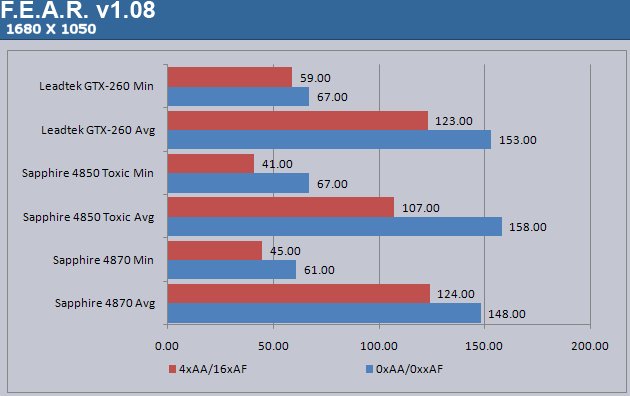 Fear 1680 x 1050 4xAA/16xAF
Once again all these GPU's performed quite well and keeping in mind that to the human eye any thing over 30 FPS looks rock solid any one of them would do the job above and beyond the call of the human eyes needs.
WORLD IN CONFLICT DEMO
World in Conflict is a real-time tactical video game developed by the Swedish video game company Massive Entertainment and published by Sierra Entertainment for Windows PC. The game was released in September of 2007
The game is set in 1989 during the social, political, and economic collapse of the Soviet Union. However, the title postulates an alternate history scenario where the Soviet Union pursued a course of war to remain in power.
World in Conflict has superb graphics, is extremely GPU intensive, and has built-in benchmarks. Sounds like benchmark material to us!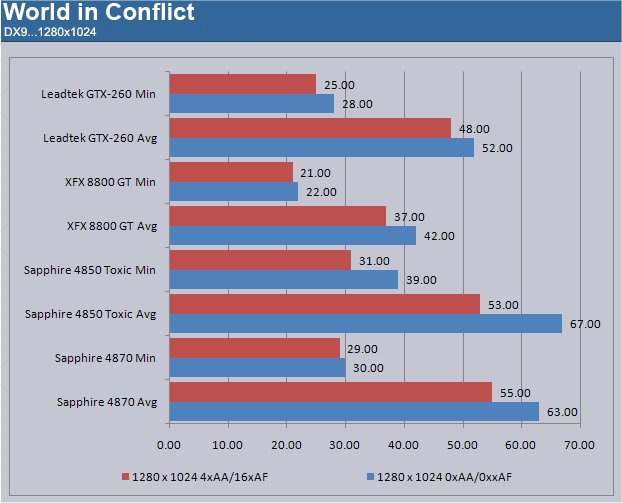 WIC 1280 x 1024 4xAA/16xAF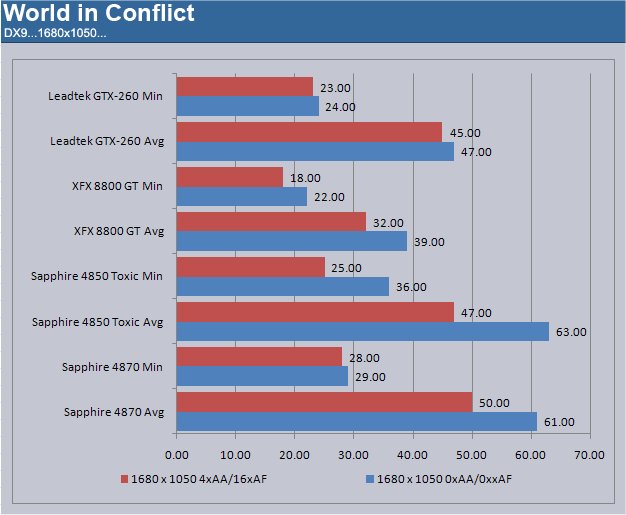 WIC 1680 x 1050 4xAA/16xAF
Looks like World In Conflict is liking the Sapphire ATI GPU action. Even the 4850 Toxic beat out the GTX-260. One gaming benchmark doesn't tell the larger tale which is why we use a large variety of tests.
CRYSIS V. 1.2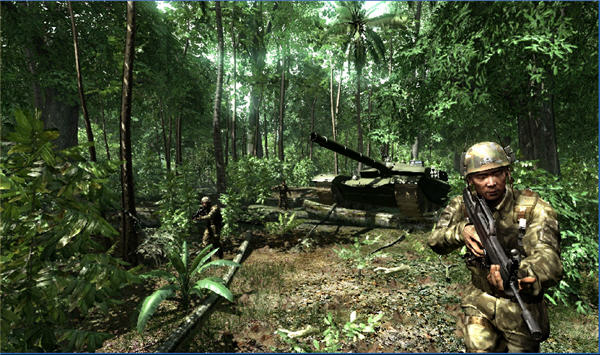 Crysis is the most highly anticipated game to hit the market in the last several years. Crysis is based on the CryENGINE™ 2 developed by Crytek. The CryENGINE™ 2 offers real time editing, bump mapping, dynamic lights, network system, integrated physics system, shaders, shadows and a dynamic music system just to name a few of the state of-the-art features that are incorporated into Crysis. As one might expect with this number of features the game is extremely demanding of system resources, especially the GPU. We expect Crysis to be a primary gaming benchmark for many years to come.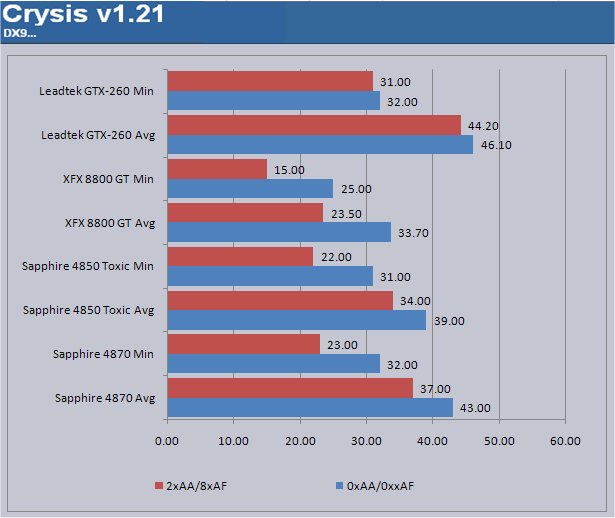 Crysis DX9 1280 x 1024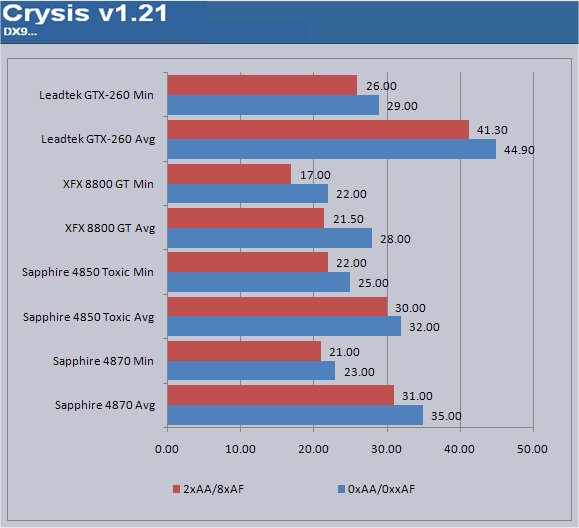 Crysis DX9 1680 x 1050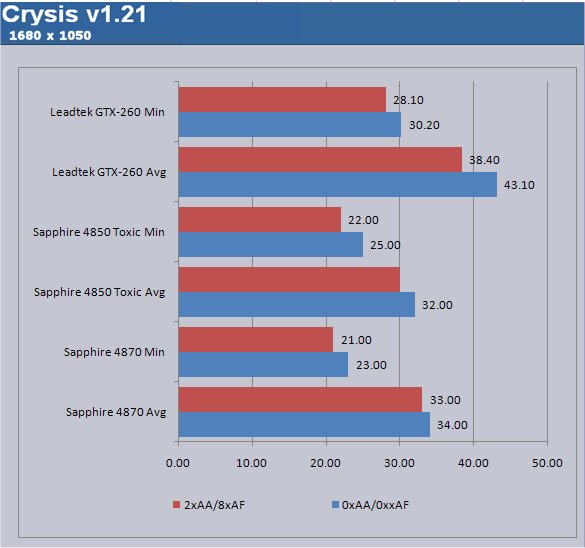 Crysis DX10 1680 x 1050
Crysis is a tough nut to crack when it comes to frame rates. No know GPU currently in production does very well with it but people seem to respect the results from Crysis in testing so we use it.
In this case none of the GPU's were able to keep the minimum frame rates up beyond 30 FPS in any test with the exception of the GTX-260 and that was only at 1280 x 1024 0xAA/0XAF. With Crysis we like to use the Crysis benchmark to get the testing results but then go in and play with each GPU to get a feel for how they game in that environment. During game play all the GPU's did acceptably well with no noticeable skipping or hesitation which makes us wonder where those low minimum frame rates are actually at. If the GPU is slowing down to 25 FPS but only for a millisecond the human eye isn't going to notice. We appreciate fine GPU's here at Bjorn3D and all of them did well enough that we didn't have the urge to resort to Wolfenstein 3D for smooth game play.
3DMARK VANTAGE & PCMARK VANTAGE
3DMark Vantage
3Dmark Vantage is the newest video benchmark from the gang at Futuremark. This utility is still a synthetic benchmark but one that more closely reflects real world gaming performance. While it is not a perfect replacement for actual game benchmarks it has its uses. We tested our cards at the 'Performance' setting.
Currently there is a lot of controversy surrounding NVIDIA's use of a PhysX driver for its 9800 GTX and GTX 200 series cards there by putting the ATI 4850 Toxic and 4870 at a disadvantage. Whereby installing the PyhsX driver, 3DMark Vantage uses the GPU to perform PhysX calculations during a CPU test and this is where things get a bit gray. If you look at the Driver Approval Policy for 3DMark Vantage it states "Based on the specification and design of the CPU tests, GPU make, type or driver version may not have a significant effect on the results of either of the CPU tests as indicated in Section 7.3 of the 3DMark Vantage specification and white paper." Did NVIDIA cheat by having the GPU handle the PhysX calculations or are they perfectly within their right since they own Ageia and all their IP? I think this point will quickly become moot once Futuremark releases an update to the test. For now we will show the GPU and CPU score and let you judge.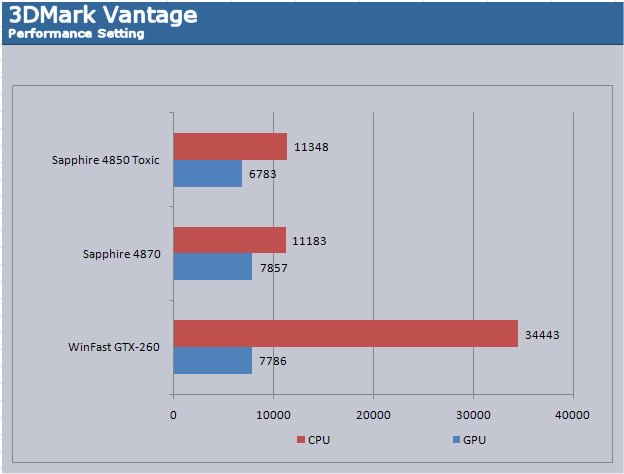 3DMark Vantage Performance Setting
PCMark Vantage
PCMark® Vantage is the first objective hardware performance benchmark for PCs running 32 and 64 bit versions of Microsoft® Windows Vista®. PCMark Vantage is perfectly suited for benchmarking any type of Microsoft® Windows Vista PC from multimedia home entertainment systems and laptops to dedicated workstations and hi-end gaming rigs. Regardless of whether the benchmarker is an artist or an IT Professional, PCMark Vantage shows the user where their system soars or falls flat, and how to get the most performance possible out of their hardware. PCMark Vantage is easy enough for even the most casual enthusiast to use yet supports in-depth, professional industry grade testing.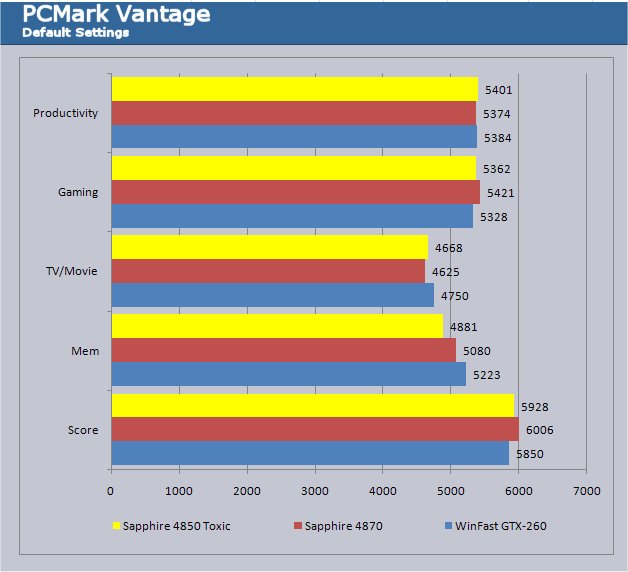 PCMark Vantage Default Settings
In PCMark Vantage the entire system is tested and scored, given that the only difference during testing is the switching out of GPU's they should be the only variable in this equation.
Both the Sapphire HD 4870 and 4850 Toxic edged out the GTX-260 in the aggregate score, and gaming,the productivity scores were close enough for a photo finish. In the TV/Movie portion the GTX-260 edged out the ATI offerings and we got the same results in the memory portion. Wouldn't it be nice if just once we could get broad sweeping across the board better performance from one GPU in every test? Probably wouldn't matter next month another new kid in town would dethrone it.
POWER CONSUMPTION, TEMPERATURES & OVERCLOCKING
Power Consumption
GPU Power Consumption
GPU
Idle
Load
Leadtek GTX-260
211 Watts
299 Watts
Sapphire Toxic HD 4850
183 Watts
275 Watts
Sapphire HD 4870
207 Watts
298 Watts
Total System Power Consumption
Power consumption on the three tested GPU's came in with the Sapphire HD Toxic 4850 consuming 183 – 275 watts Idle/Load 24 watts lower than the 4870 at idle and 23 watts lower at load. It was followed by the Sapphire 4870 which came in at 207 – 298 which was 4 watts lower at idle than the GTX-260 and 1 watt lower at load. These power consumption levels were taken with a Kill A Watt power meter and represent total power consumption for the whole system.
Temperatures
GPU Temperatures
 
Idle
Load
Leadtek GTX-260
39C
69C
Sapphire Toxic HD 4850
45C
67C
Sapphire HD 4870
75C
86C
The Temperatures at idle were taken after 30 minutes at the desktop with nothing but essential background tasks running. Load temps were taken with 3DMarks06 looping for 30 minutes at a resolution of 1680 x 1050 and default settings. We took Idle temps at stock speeds, it should be noted that the Idle temps even at maximum OC only varied from stock speeds by about 1C. We took the Load temps at maximum OC to get worst case temperatures. The most amazing result we got was the 77C idle on the 4870 yet at maximum OC it only increased to 85C which is hot but within the thermal envelope for that GPU. We are waiting with baited breath for a better cooling solution for the HD 4870 because we think it's got more to offer.
The improved Zalman heat pipe cooling solution on the HD Toxic 4850 really did the job in taming the heat thrown off the GPU. Since it exhausts into the case you'll need good air flow to keep it from building up inside the chassis as the exhaust from the fan was quite toasty. The Thermaltake Armor Full tower we chose to test in provided excellent air flow so if you have a tower with less air moving your results might vary.
Overclocking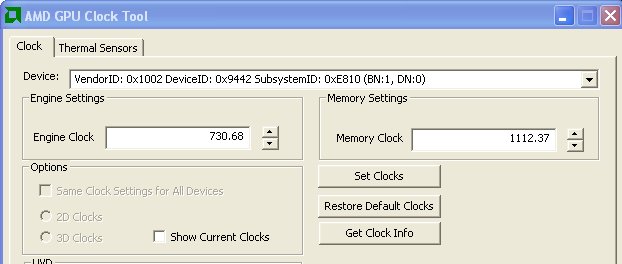 Maximum Stable Overclock
GPU
Stock Speed
OC Speed
3DMark06 Score
(Best OC)
Leadtek GTX-260
576/999
676/1101
15914
Sapphire Toxic HD 4850
675/1100
730/1112
13057
Sapphire HD 4870
750/900
780/1080
14809
In earlier testing we drove the memory on the 4850 Toxic to 1125 but we traded that down to 1112 to get a little more core speed which yielded better scores.
With it's improved cooling we were able to drive the Sapphire HD Toxic 4850 to an amazing 730 on the core but the memory only had 12 Mhz to spare because from the factory it's already cranked up pretty high. The 55 Mhz we squeezed out of the core will help give a little boost. We suspect that with a volt mod or BIOS tweak speeds of up to 780 on this core are attainable. Since we were able to squeeze a little more out of the GPU we went ahead and updated the 3DMarks06 chart.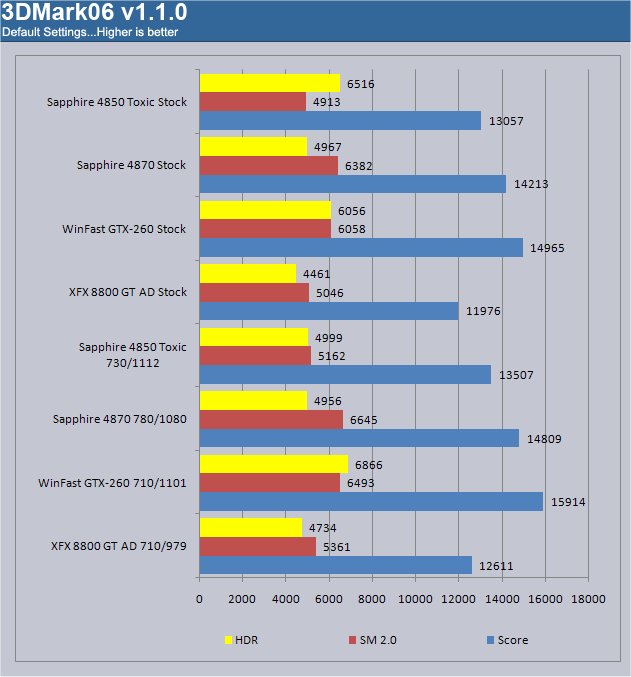 All three GPU's overclocked very well but the GTX-260 really shifted gears and took the lead. We didn't see that much improvement in games. Both the Toxic 4850 and 4870 did really well in gaming as did the GTX-260. With all three GPU's performing in the enthusiast range it's a hard decision as to which one to choose. In our opinion though any one of the three will do a great job at driving current games, Crysis being the exception of course.
CONCLUSION
The Sapphire HD Toxic 4850 can be viewed in the same terms as the 8800 GT phenomenon. It spits out frame rates and synthetic benchmark numbers effortlessly. It over clocks (on the core) like a dream and provides hours and hours of seamless gaming that was an eye opening experience.
While it's numbers weren't as good in the synthetic benches it performed really well in games. We never saw any lag, drag or choppiness while gaming with the Sapphire 4850 Toxic which is really what most gamers are looking for.
With DX 10.1 support and 7.1 sound capabilities it has an edge over the competitors products in that area, but NVIDIA has CUDA and PhysX in it's corner.
The improved Zalman heat pipe cooling solution kept the 4850 Toxic well into the comfortable temperature range, and even over clocked it turned in a reasonable 67C which is just slightly more than half it's rated thermal envelope. It has plenty of thermal headroom for tuning and over clocking.
Installing the Sapphire HD 4850 Toxic was a breeze, over clocking was super easy and we got a great 55 Mhz increase on the core speed from the already factory over clocked core. That increase represents a whopping 105 Mhz increase over the standard reference 4850. With the included Zalman cooling and factory over clocking this is a good choice for those uncomfortable with over clocking. It makes a good choice for those that are comfortable with over clocking but want to save the headache of after market cooling.
It doesn't set on top of the performance heap but it doesn't sport a top of the heap price. It does have great cooling, great performance for price and we can't wait to get a pair of these in Crossfire and see what kind of numbers we can churn out.
Pros:
+  Great performance
+  Over Clocking Ease
+  DX 10.1
+  Nice Bundle
+  Ease of Install
+  Crossfire Ready
+  Good Power Consumption
+  Well Behaved
+  Good Price/Performance Considering The Improved Cooling Solution
+  Zalman Cooling
+  Quality Construction
Cons:
–  Initial Sample Clocks Were Set Wrong (1150 not 1100) This has been corrected by Sapphire
–  No Game in Bundle
–  Ruby Didn't Show Up In Person
The Sapphire HD Toxic 4850 turned in some great numbers, stayed nice and cool while running, and Over Clocked like a champ. It's in game performance was a joy to the eye and reminds of us the 8800 GT but out performed that old favorite in every test.
Final Score of 9.5 out of 10 and the coveted Bjorn3D Golden Bear Award.