The Thermaltake BlacX SE is a USB Docking Station for Sata 1 & 2 Hard Drives up to 1TB, it features hassle free usage and a 4 port USB Hub. No tools or drivers needed!
INTRODUCTION
The storage needs in computing today have grown tremendously as opposed to a few years ago. More and more people need massive storage to store a large Music or Video collection. Some just need to read through a pile of drives to see if their functional, others need the flexibility of swapping drives in and out without having to break out the tool kit and seat it in an enclosure or mount it in a chassis.
With the changing face of computing someone needed to come up with a fast, easy, hot swappable method of docking hard drives to a desktop or laptop that doesn't involve seating it in an enclosure or case, yet provide enough protection to read or write to the drive then move on to the next drive easily. Thermaltake decided to fill that need and designed their BlacX line of docking stations. We felt the need for this type of storage so when we got the chance to test the Thermaltake BlacX SE we were ready to see if it would fit the bill.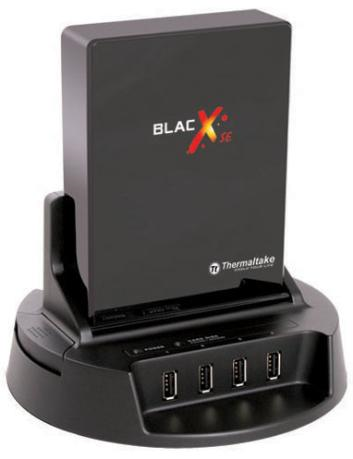 About Thermaltake
We live in a world where most things seem to move at the speed of light. At Thermaltake, we feel the same way and that is exactly how Thermaltake conducts itself to deliver innovative, reliable and customer-centric solutions to the worldwide market.

Since the beginning of Thermaltake in 1999, it has been at the forefront of creating new and exciting products at a time where most computer users were provided little to no choices for components that may seem irrelevant, but in reality crucial to the performance of a PC.

Thermaltake Server Series solutions, with years of thermal experience and industry leadership, sets its goal on reforming total thermal management in server segment by formulating the perfect mixture of versatility, efficiency and thermal management with each respective server product category: Rackmount Chassis, Server Fixed & Redundant Power Supply and Server CPU Cooling Management Solutions.

With its comprehensive line of products available, it enables Thermaltake's core customers to enjoy a one-stop-shop experience, reduce product design-in evaluation period and most important of all, flawless integration process. Each of Thermaltake's strengths enables its customer to focus on their core business while taking advantage of the skills and efficiency of a single thermal management solution partner.

Values & Principles

– While still a relatively young company, established in 1999, Thermaltake is built on unwavering will and dedication to address issues and innovate at the same time for computer enthusiasts and corporate users worldwide .

– With strong support of Research & Development team standing behind the brand, Thermaltake is committed to never-follow but always-lead.

– In past decades, the industrial and technological advancements in different fields have shaped the world we live in today and have also made a big impact on the environment. Thermaltake takes great measures to ensure the product that we produce relieve these impacts by being first to act on 80 PLUS® specification for computer power supply that greatly reduces the amount of electricity that a computer consumes.

– Always striving to be the best, we continuously benchmark our performance against the very best internally and externally.

– Customers are our greatest asset and Thermaltake does not take that for granted. That is why Thermaltake is the industry leading in customer service and customer support with around-the-clock automated product return service.
FEATURES & SPECIFICATIONS
Features
TT BlacX SE Features
RoHS Compliance
Supports All 2.5" & 3.5" SATA HDDs up to 1TB
4-Port USB 2.0 Hub
Hot-Swap Capability for Rapid Multi HDDs Access & Exchange
Supports USB 2.0 Transfer Speed up to 480Mbps
Windows & Mac OS Compatible
Compact Docking Station Design maximizes Heat Dissipation & Exhaust
Windows Vista Ready
Specifications
TT BlacX SE Specifications
Interface
USB 2.0
Transfer Rate
Up to 480 Mbps
HDD Compatible
Sata 1 & 2
HDD Capacity
All 2.5" or 3.5" SATA HDD up to 1TB
OS Compatible
Windows Vista / XP / 2003 / 2000 / NT / 98 / 95 Mac 10.3 and later
Material
ABS Plastic
Power
Input: 100-240V / 50-60Hz / 1A ; Output: 12V / 2A
Dimension
5.12 x 3.55 x 2.56 in. (L x W x H)
130 x 90 x 65 mm (L x W x H)
Weight
2 Lbs
PACKAGING, CONTENTS, PICTURES & IMPRESSIONS
Packaging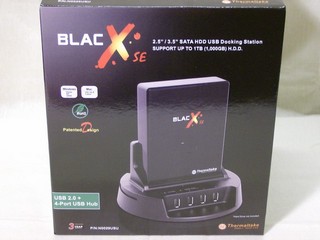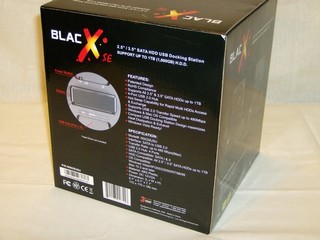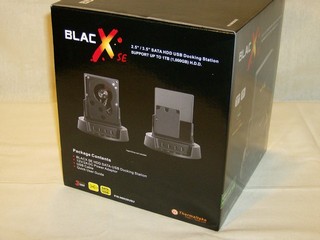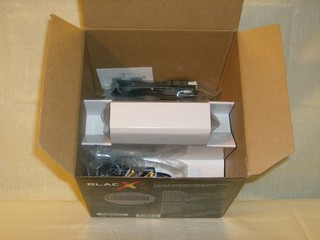 Thermaltake BlacX SE Packaging
The Thermaltake BlacX SE comes in an attractive black box that contains enough information for the consumer to make a choice about it's purchase. It's a substantial box that provides good protection for the BlacX SE and it arrived in pristine condition.
Contents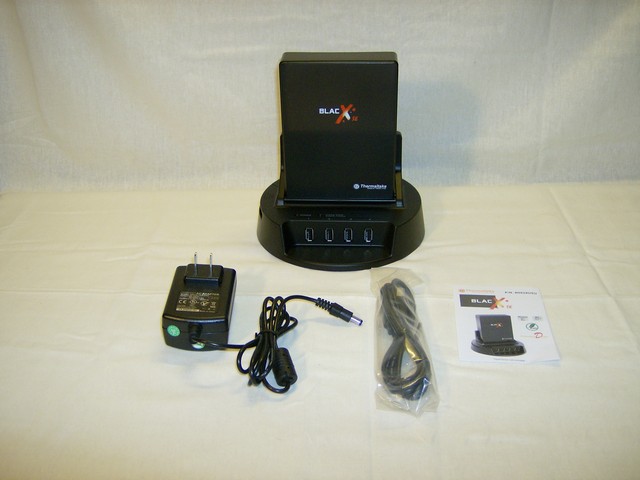 BlacX SE Contents
Inside the well packed box you'll find the BlacX SE, a small manual, a USB printer-type cable, and an AC to DC converter. It took a second or two to convince ourselves it was all there and we finally stopped looking for screws, adapters, and a driver disk.
Pictures & Impressions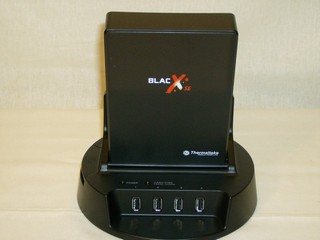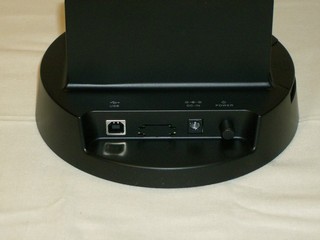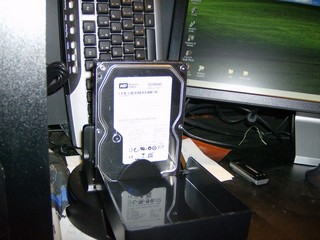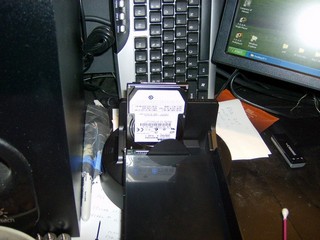 On the front of the BlacX you'll find a 4 port USB hub that's sure to come in handy when your not docking drives in it. It looks nice on the desktop and we went ahead and shot a couple of pictures with a 3 1/2 and 2 1/2 inch drive in the BlacX docked so you could get an idea of the docking system. To release a drive you just push the "Eject" button on the side of the docking station, but be sure that no data is being transferred when you do. We found it easiest to let the data transfer finish then power it down using the power button you can see there on the back.
Speaking about the back, all you'll find back there is a power button, a printer-type USB connector, and a place to plug the AC to DC converter in. No tools, no screws, no drivers, no lengthy install; it can't be that easy can it?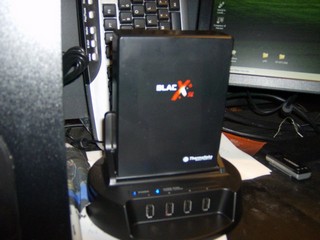 BlacX SE In Operation
You can see that the black face plate can lift up to help protect the drive when it's in operation or if it's going to be in the docking station for a while but it's not required for operation. You can also see that there's a power indicator light and a drive light on the front to remind you that it's powered up and there's indeed a drive present.
The BlacX SE has a quality look and feel and being made from ABS plastic can take some rough housing and survive if you need to move it around, long after the box has been recycled. The total install time start to finish including docking the first drive was under 3 minutes that includes snaking the power brick through the maze of wires at the testing station. We powered it up and loaded XP first then Vista and both operating systems recognized and configured it without us having to intervene.
This is truly a right out of the box straight to the windows desktop docking station that sets up with no tools and no hassle.
TESTING, RESULTS & CONCLUSION
Testing
To test the BlacX we hooked it to an XP/Vista dual boot testing station that has enough horsepower so that it wouldn't throttle the data transfer. We used a 3 1/2 inch Western Digital 16 Meg Cache 250 Gig drive with the model number, WD2500AAKS and a 2 1/2 inch 80 Gig Toshiba with an 8 Meg Cache, model number MK8037GSX. Both drives are Sata 2 and should provide enough speed to saturate the 480 Mbit transfer speed USB 2.0 is theoretically capable of providing.
For testing we ran HDTach 3.0.4.0 both the 8 Meg and 32 Meg test on both drives in XP and Vista which were both the 32 bit versions. We ran each test 3 times and the average of the three tests are given as results.
To test the 4 port hub we tried a variety of devices from another docking station to a mouse and keyboard combo and a Yoggie Pico Gatekeeper security device. Every thing we connected (even 4 at a time) worked with no noticeable lag but we removed the devices before testing the hard drives because we didn't want to interfere with the bandwidth of the interface.
Testing Results
Hard Drive Tach
3 1/2 Inch WD Test Results

Results
XP 8 Meg
XP 32 Meg
Vista 8 Meg
Vista 32 Meg
Random Access Time* (ms)
16.5
16.4
16.5
16.5
Average Read Time (MB/sec)
34.6
35.8
34.6
34.2
CPU Utilization*
2%
2%
2%
3%
Burst Speed (MB/sec)
34.6
34.8
35.1
35.2

*Lower is Better … Otherwise Higher is Better
As you can see there were no real surprises in transfer rates or burst speeds, a USB interface runs at between 28 MB and 37 MB steady as long as it's not an ancient hard drive or the system throttles the speed. It's advantage doesn't come in speed but in portability and ease of use. We were able to change drives in just a few seconds to start the 2 1/2 inch drive tests. We tested the hot swapping feature during this drive transfer and it felt a little weird to yank a still spinning drive out of the cradle and insert the 2 1/2 inch drive and it worked fine. It was unnerving but it worked.
Hard Drive Tach
2 1/2 Inch Toshiba Test Results

 
XP 8 Meg
XP 32 Meg
Vista 8 Meg
Vista 32 Meg
Random Access Time* (ms)
17.3
17.3
17.2
17.3
Average Read Time (MB/sec)
30.1
29.9
29.2
29.7
CPU Utilization*
2%
2%
2%
2%
Burst Speed (MB/sec)
36.9
32.6
35.4
35.4

*Lower is Better … Otherwise Higher is Better
Again no real surprises 29.2 to 30.1 average read in MB/s an average seek time of 16.5ms to 17.3ms and a burst speed of 32.6 MB/s to 36.9 MB/s with CPU utilization steady at 2%. USB drive enclosures aren't speed demons but they transfer at a really steady predictable pace with great reliability.
Conclusion
The Thermaltake BlacX SE came out of the box ready to go, make a couple of easy connections shove a drive in it and boot up the system and you're using the docking station with a minimum of effort. Wait until the data is done transferring and you can hot swap drives if you're stout of heart. It transfers data in the typical USB transfer range and does it with a respectable average Access time.
It looks good on the desk, handles both 2 1/2 and 3 1/2 inch sata drives up to 1TB and no tools are required for swapping drives.
The power cable could have been a little longer and the docking station does leave the back of the hard drive exposed to dust but other than that we really couldn't find fault with the docking station. The only other thing we noticed was that in the manual it didn't tell us not to lick the drive while it was in operation (you don't want to know).
Pros:
+  4 port Hub
+  Hot Swappable
+  3 1/2 & 2 1/2 inch capable
+  Up to 1 TB drive
+  Supports a lot of Operating Systems
+  Reliable
Cons:
–  Power cord could have been longer
–  Drive back open to dust
–  Can't lick the drive when in operation
The Thermaltake BlacX SE performed as well as any USB docking station we've seen but without the additional hassle of mounting the drives in an enclosure. It looks good on the desk and provides an additional 4 port USB hub that is really handy.
Final Score: 8 out of 10 and the Bjorn3D Seal of Approval.