The Thermaltake NBcool T500 is a compact Notebook cooler that will take the heat out of the notebook and keep the heat off your lap.
INTRODUCTION
Laptops have become compact enough to tote along just about anywhere you go. Along with that compact size comes all the heat of modern processors, and the Mobile models generally run hotter than their Desktop counterparts. This heat still needs to be removed, or it'll build up and cause a thermal shut down and damage that expensive equipment.
Although the heat is removed fairly efficiently on some laptops, it is commonly diverted towards your lap, which can get pretty uncomfortable. To prolong the life of your laptop and keep your portable computing experience a comfortable one, you might need to look at a laptop or notebook cooler like the Thermaltake NBcool T500.
Things were getting pretty warm in some spots around the Bjorn3D lab, and when Thermaltake contacted us about testing the NBcool T500 notebook cooler, we were glad to give our well-used laptop a break from the excess heat generated while churning out reviews. Heck, our laps could use a break too.
So: laptop getting hot in the wrong spot? Check out the Thermaltake NBcool T500 and see if it'll cool you off.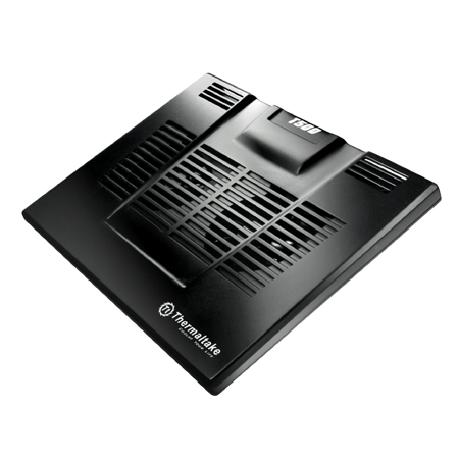 About Thermaltake
We live in a world where most things seem to move at the speed of light. At Thermaltake, we feel the same way and that is exactly how Thermaltake conducts itself to deliver innovative, reliable and customer-centric solutions to the worldwide market.

Since the beginning of Thermaltake in 1999, it has been at the forefront of creating new and exciting products at a time where most computer users were provided little to no choices for components that may seem irrelevant, but in reality crucial to the performance of a PC.

Thermaltake Server Series solutions, with years of thermal experience and industry leadership, sets its goal on reforming total thermal management in server segment by formulating the perfect mixture of versatility, efficiency and thermal management with each respective server product category: Rackmount Chassis, Server Fixed & Redundant Power Supply and Server CPU Cooling Management Solutions.

With its comprehensive line of products available, it enables Thermaltake's core customers to enjoy a one-stop-shop experience, reduce product design-in evaluation period and most important of all, flawless integration process. Each of Thermaltake's strengths enables its customer to focus on their core business while taking advantage of the skills and efficiency of a single thermal management solution partner.

Values & Principles

– While still a relatively young company, established in 1999, Thermaltake is built on unwavering will and dedication to address issues and innovate at the same time for computer enthusiasts and corporate users worldwide .

– With strong support of Research & Development team standing behind the brand, Thermaltake is committed to never-follow but always-lead.

– In past decades, the industrial and technological advancements in different fields have shaped the world we live in today and have also made a big impact on the environment. Thermaltake takes great measures to ensure the product that we produce relieve these impacts by being first to act on 80 PLUS® specification for computer power supply that greatly reduces the amount of electricity that a computer consumes.

– Always striving to be the best, we continuously benchmark our performance against the very best internally and externally.

– Customers are our greatest asset and Thermaltake does not take that for granted. That is why Thermaltake is the industry leading in customer service and customer support with around-the-clock automated product return service.
FEATURES & SPECIFICATIONS
Features
TT T500 Features
Embedded dual 80mm fan
USB DC Jack port
Rubber pads prevents sliding
Streamline shape
Highly efficient vent design
USB DC cable
Specifications
TT T500 Specifications
Dimension
300 x 230 x 25 mm
Material
Plastic
Fan Dimension
Embedded dual 80mm fan
Fan Speed
1500 ± 200RPM
Noise Level
19 dBA
Rated Voltage
5v
Rated Current
0.18A
Application
For 12" ~ 15" Notebook
Accessory
USB DC Jack
Weight
370 g
PACKAGING,PICTURES & IMPRESSIONS
Packaging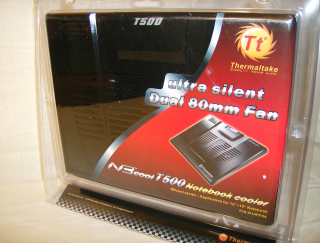 Thermaltake NBcool T500 Packaging
The Thermaltake NBcool T500 comes in a hang-type plastic clamshell suitable for retail rack hanging. The packaging contains enough information to help the consumer make a decision about its purchase. With its compact sturdy design, it's pretty well protected and arrived in good condition.
Pictures & Impressions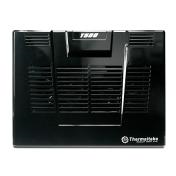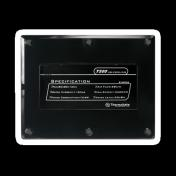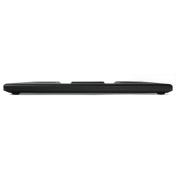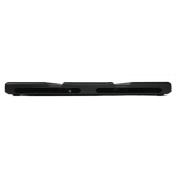 NBcool T500 Top, Bottom, Side and Back
The NBcool T500 is designed for 12-15 inch laptop or notebook cooling, is less than one inch thick, and comes in at an amazing 370 Grams. A lot of devices come with a AC/DC converter brick but the NBcool T500 is powered by a USB cable.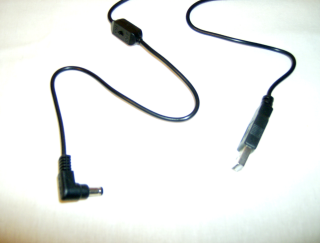 NBcool T500 USB Power Cable
This is a simple, compact, common sense approach to powering the NBcool T500. Plug one side into a USB port on the laptop, plug the power dongle into the NBcool T500, flip the ON switch, and you're ready to experience laptop cooling like you've never imagined.
We were wondering how the air flow on this puppy was set up, so we went digging around on the Thermaltake website.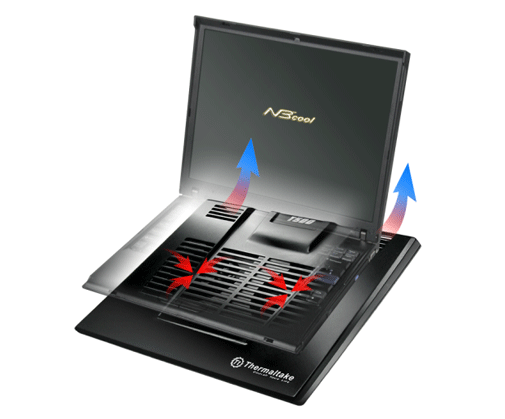 NBcool T500 Air Flow Diagram
The heat is drawn in through the dual 80mm fans, which rotate between 1300 and 1700 RPM at a whisper quiet 19 dBA. Warm air is exhausted out the back of the NBcool T500.
While we were rooting around on the Thermaltake site, we stumbled upon a diagram that shows the different parts of the NBcool in detail.
NBcool T500 Detailed Diagram
All in all, the NBcool T500 has a quality look and feel to it, and we hauled it around for a day while we went about our normal routine. It must be pretty durable because it survived our hectic schedule, being moved about the lab with no problems. We also managed to hang the NBcool from the laptop by the power dongle – simulating forgetting to pick up both the NBcool and laptop – and it survived that ordeal without a problem.
TESTING, RESULTS & CONCLUSION
Testing
To test the NBcool T500, we decided to run a HP Pavilion ZV6000 with an Athlon 64 3200 single core processor running at 2 GHZ; this combination gets hotter than any other laptop we had available.
First we ran the laptop for two hours gaming, surfing, and doing normal every day tasks. We then took the temperature from the bottom of the laptop with a digital probe, between the laptop and the lap. After gaining a reading, we shut the laptop down for several hours and repeated the two hour run using the NBcool, and took the temperature between the NBcool and the laptop, and the temperature between the NBcool and the lap with the same Digital probe.
Results
TT T500 Testing Results
Laptop W/Out NBcool T500
117F/47.2C
Lap W/Out NBcool T500
117F/47.2C
Laptop With NBcool T500
92F/33.3C
Lap With NBcool T500
97F/36.1C
Without the NBcool T500 the laptop got a little toasty, coming in at 117F/47.2C, which matched the temperature of the equally toasty lap. By the end of the test it was getting quite uncomfortable and there was redness to the skin where the laptop had been in contact with the lap. It was uncomfortable but not painful – not an area you want that hot – not to mention the excess heat decreasing the life of an expensive laptop.
With the NBcool whirring along quietly, the hottest the laptop got was a comfortable and more than acceptable 92F/33.3C. That's a reduction of 25F/13.7C, which brings the laptop below body temperature. The system fan never kicked in to an audible level. Within 20 minutes of normally operating the HP ZV6000, the fan would be at it's highest level and more than a little noisy.
The lap itself was a little warmer, but at 97F/36.1C – just barely above body temperature – it was quite comfortable to operate for that length of time. The NBcool kept the lap 20F/11.1C cooler than without it, and there was no redness to the skin with the NBcool T500 keeping everything cold.
Conclusion
The Thermaltake NBcool T500 took a heat-prone laptop and transformed it into a comfortable computing experience suitable for use in any lap.
Temperatures dropped between 20F/11.1C and 25F/13.7C as the NBcool T500 took the heat out of the equation, exhausting it out the back of the unit and away from the lap and laptop. The NBcool T500 was quiet during the entire four hour testing period and survived a purposefully rough day of being toted around. In the week it's been in the lab, it's been in almost continuous daily use, and is a welcome addition to our toolbox.
Pros:
+  Great performance
+  Kept the ZV6000 cool
+  Keeps your lap cool
+  Price
+  Quiet operation
Cons:
–  A little extra to tote around
The Thermaltake NBcool T500 changes uncomfortably hot laptops into comfortable computing experiences and does so for under $30. It'll keep your lap and laptop cool, prolonging the life of your laptop while keeping your coconuts cool.
Final Score: 8 out of 10 and the Bjorn3D Seal of Approval.