Wolfking is back, this time with their latest edition to gaming peripherals the Trooper MVP. With out further delay, let's put it to the test!
Introduction
I am back and it is time to take a look at one of the most used yet under appreciated PC components: the mouse. I personally have always been a trackball user; I know, very taboo, but I've had a difficult time finding a mouse that felt… well, right. Even giving some well known brands a chance like, the Creative Fatal1ty 1010, Logitech MX518 and an off the beaten path Sandio 3D Gaming O mouse.  Now Wolfking steps up to the challenge with their new Wolfking Trooper MVP Gaming mouse. Riding on the success of their Wolfking Warrior XXtreme Gaming Keypad, let us see if they can keep the momentum going.
Wolfking
WOLFKING is a world leader in the innovation and creation of gaming input devices. Featuring broad-based PC & Mac hardware/software compatibility and a diverse selection of options in color/shape customization, WOLFKING products utilize advanced engineering and unique ergonomic designs that deliver the ultimate gameplay experience. WOLFKING is privately held and headquartered in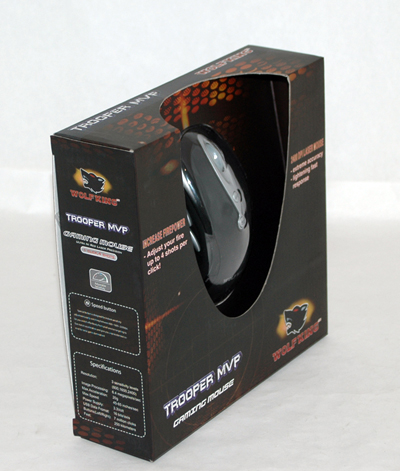 Packaging and Specs
Wolfking does a good job of protecting the product without the use of excess packaging. Of course this results in a savings that can be passed on to the customer. The Trooper MVP comes in what can be considered standard mouse packaging. The open face front allows a view of the actual product.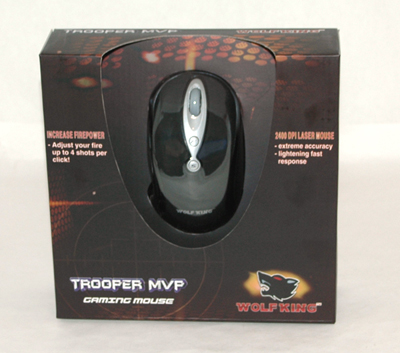 The back side of the packaging advertises the beneficial features that the Trooper MVP brings to the table.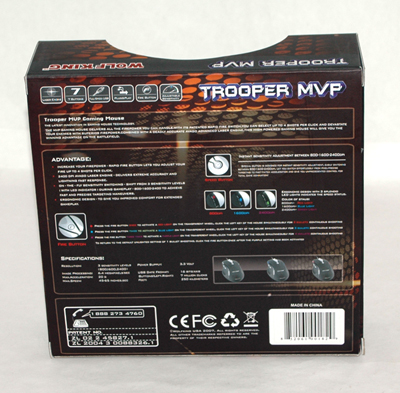 Don't forget about the driver CD and the user's manual. I found it refreshing to see a user's manual, and while probably not needed, it does show Wolfking's commitment to ensure their customers have all the materials needed in case questions arise. It even has pads that can be stuck on the bottom of the mouse to help reduce friction.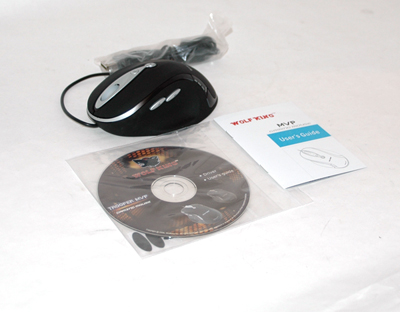 Specs:
Avago ADNS-6010 sensor – with LaserStream architecture designed to give you all the precision and stability you need.
Full – speed USB 2.0 data transfer – gives you instant cursor response from up to 500 reports /second, bidirectional connection.
Programmable frame rate – over 7080 frames per second..
High speed motion detection – Up to 45inches/sec and 20g of acceleration.
Low power consumption –output currency 7mA when moving, single power supply 3.3V
Increase your firepower – Rapid Fire button lets you adjust your fire up to 4 shots per click.
2400 DPI laser engine – delivers an accurate and quick response.
On-the-fly sensitivity switching – shift from 3 sensitivity levels (with LED indicator) during gameplay-800-1600-2400 to achieve fast and precise targeting maneuvers.
Ergonomic design – gives you improved comfort for extended gameplay.
Closer Look
When the Trooper MVP is undressed from its packaging, it shares a striking resemblance with the Logitech G5 – not a bad thing considering the G5's features. A key difference was a "lip" protruding from the bottom, proving an excellent resting place for your thumb. I found the overall size to be very fitting, not too bulky, and not undersized either where your fingers drag across the mouse pad, a.k.a cave man gaming.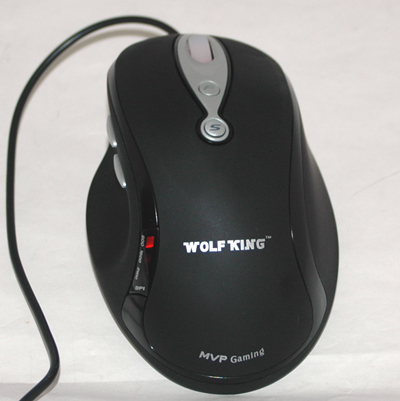 Again Wolfking's focus on ergonomics is very apparent and appreciated. The Trooper MVP stood the test of time, allowing my hand to feel comfortable and relaxed after long gaming sessions. If only the PS2 controller was so forgiving.  But like they say, "that which does not kill us… numbs our hands."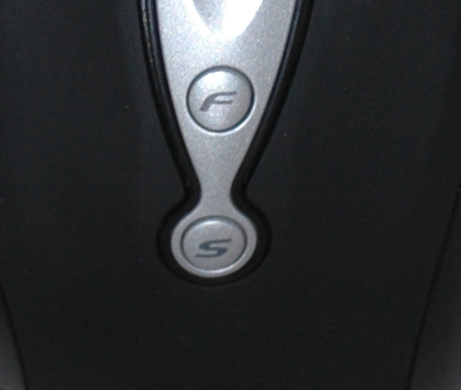 The adjustable DPI on the fly was not only easy with the Trooper MVP, but with the DPI colored indicator on the side of the mouse, I didn't have to guess which mode I was in. This came in very handy, needing just a slight thumb lift to check.
Now let's take a look at the feature that really helps set the Trooper MVP apart from the rest: the rapid fire button. Located just underneath the scroll wheel the rapid fire button gives you the ability to fire two, three or four times per single click on the mouse. Each rapid fire mode is identifiable via a color change in the scroll wheel. Such a feature comes in very handy in many FPS games, including one of today's most popular: Call of Duty 4. Instantly turn one of the single shot assault rifles into a four-round burst weapon of destruction!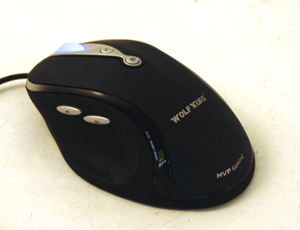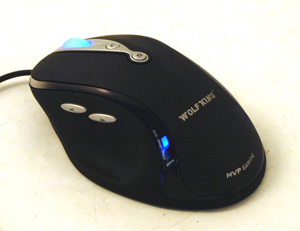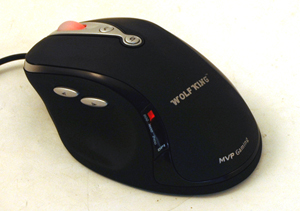 Conclusion
The Trooper MVP has no issues switching between DPI setting, and each one is very fluent and responsive. I found the button placement to be extremely ergonomic allowing my hand to comfortably fall into place when in use. Another big plus is the Trooper MVP's absence of a learning curve, as little effort is needed to familiarize yourself with the extra mouse button that swaps firing modes. Games like Call of Duty 4, Battlefield 2142, Rainbow Six Vegas 2 and Frontlines: Fuel of War all showed a benefit from the ability to transform weapons from single shot into multi-round burst.
Overall, the Trooper MVP is a great addition to my gaming arsenal. Wolfking set out to build upon the original Trooper, providing the next step in gaming mice, and I will be among the first to say they have succeeded. In fact, the only fault I could find with this mouse is the pesky cord attached to it. Thus, my ever faithful trackball has now found its final resting place in the "closet of obsolete hardware," which I am sure most of us have. Now all I need is a mouse that can help with my lack of RTS skills.
Pros
+ Ergonomic
+ Rapid Fire Button
+ Reasonably priced between $44-$48 on Pricegrabber.com
Cons
– Not Cordless
The Wolfking Trooper MVP does help step up your FPS game while accomodating comfort as well.  The Trooper MVP Scores an 8.5 out of 10!