The IStarUSA T5F-SS is an internal 3 1/2″ Sata drive docking bay. It securely docks a Sata drive in a 5 1/4″ bay. Docking is as easy as sliding the drive in and closing the door.
INTRODUCTION
Storage needs have changed over the years and it seems like we've seen a never ending parade of drive enclosures and docking stations. But the problem lies within the limited choices in regards to interface and capacity. USB is limited in transfer speeds but offers portability in exchange. Firewire offers speed, but not all computers are set up to handle it. E-Sata leaves you with a drive enclosure cluttering up your desk and wires trailing behind it.
With our specific need for easy access to multiple drives, boot to multiple operating systems, and craving the ability to migrate from SATA to SAS, we went looking for a solution. What we found was a docking bay that fits into a 5 1/4″ drive bay, accepts SATA and SAS drives, and has unlimited storage capacity (depending on how many drives you want to swap).
The iStarUsa T5F-SS accepts 3 1/2″ Sata or SAS (you of course have to have a SAS controller and drive to use the SAS portion) hard drive, connects to the internal controller inside the computer, and swapping a drive is as easy as sliding it in and closing the door.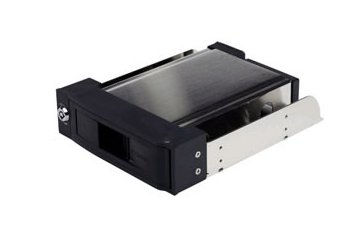 About iStarUSA
iStarUSA established in 1989, iStarUSA Computer Inc. has over fifteen years of experience in designing and manufacturing Industrial Switching Power Supply, Rackmount Chassis and Server Cabinet. From the standard switching power supply to high-end redundant power supply, iStarUSA has grown to be one of major provider in IPC power supply industry. In recent years, we have also expanded our products to include 1U to 8U rackmount chassis and 6U to 42U server cabinets. Our goal is always to provide our customer with the best products and superior customer services. In the beginning, iStarUSA focused on providing our customers the combinations of cutting-edge technologies, high quality manufacturing, and superior customer services. It has been a proving record that these principles earned a strong partnership for iStarUSA in today's competitive market.

 

iStarUSA builds its strength upon its experience, technology, and strong partnership. We have been working closely with major computer components manufactures and system integrators for years to ensure that our products have high compatibility and solid stability. We also adopt new industrial standards to improve our design. Our ability to design according to customer's requirement also wins us a high reputation in the industry.

Our experienced design and project engineers complete an OEM project within the deadline and meet the product requirements. We believe that being a leader of innovative technology means able to integrate it into our products which is the key to be successful for us as well as for our customers. iStarUSA has a global ISO 9001 certification which means a consistency of delivering products that meets customer requirement and continue improvement for our product and services. We are proudly to provide cost effective solutions, responsive services and the best delivery time for our customers.
FEATURES & SPECIFICATIONS
Features
Screwless and trayless design for fast HDD mounting
Anti-vibration design
Support SAS and SATA I/II hard drives
Key Lock prevents theft or removal during operation
Fit for standard 5.25″ drive bay
Best air ventilation with 1 x 40mm fan
Specifications
iStarUSA T5F-SS

Model Number

T5F-SS
RoHS Compliance Version
Yes
Standard Drive Bays
5.25″ Drive: 1
Cooling Fan
1x40mm
Interface
SAS / SATA I/II
Connectors
2 x SATA connectors
4 Pin power connector
Materials
Frame: Metal
Front Panel: Plastic
LED Display
HDD activity
Security
Key Lock
Certification
TUV, CSA, CUL/ UL, CE
Packaging Information

Mobile rack, manual, keys, and screws
Dimensions (W x H x D)
146 x 40 x 190 mm



PICTURES & IMPRESSIONS
Click For A Larger Image
Packaging
The T5F-SS comes packaged in a sturdy box with enough information on it to help the informed consumer make a decision about it's purchase.
Click For A Larger Image
Inside The Box
Inside the box you'll find the T5F-SS in a bubble wrap bag, which could have used a little more padding to keep it securely in place. Despite the lack of packing it arrived safely. You'll also find a set of keys, 4 screws, and a minuscule manual. You won't find a SATA or SAS cable for the unit. That's a bad oversight on iStarUSA's part. We like to see a product come out of the box ready to go with all the accessories required for it's operation.
Click For A Larger Image
The Front
On the front of the T5F-SS there's a lockable door to ensure that no one absconds with your hard drive. The locking system is solid steel and quite secure. One of the most impressive things about the T5F-SS is it's solid steel construction. The gauge steel they used in it's construction is very substantial. To open the door just use one of the keys and unlock it and pull out on the indented section. Slide your drive in and you're ready to go. You mount the unit just like any other drive that fits in a standard 5 1/4″ drive bay. Depending on the drive you chose to use (SAS or SATA) you'll need to connect the appropriate cable to the drive controller. We chose to use a SATA drive for testing because SAS is primarily used for enterprise and server applications and is not representative of our reader base.
Click The Image And Nothing Will Happen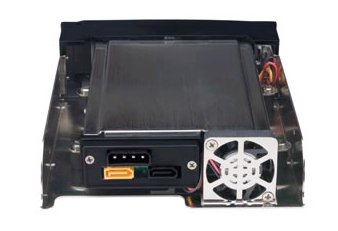 The Back
On the back of the iStarUSA T5F-SS, you'll see a yellow SAS and black Sata connector. The T5F-SS also uses a molex connector so a SATA to molex adapter would have been appreciated for those that don't have a molex to spare. The 40mm cooling fan to the right of the picture provides cooling for your drive while in operation.
We thought we'd throw in a picture of the T5F-SS installed in a tower before moving on to the Testing & Conclusion section.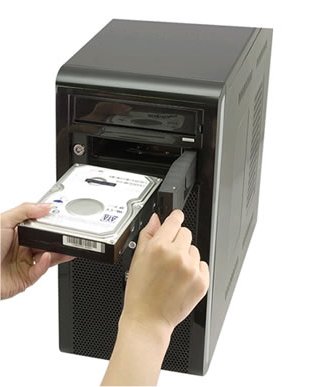 You can see that it's not gaudy and doesn't attract undue attention to itself but projects a professional image. The locking feature is pretty nice for an Office environment where hard drives are known to disappear by the dozen.
TESTING & CONCLUSION
Test Rig
Test Rig
Case Type
NZXT Tempest
CPU
Intel E8400 @ 3.214Ghz 1.22 vcore
Motherboard
Gigabyte EP45-Extreme
Ram
2GB Patriot Viper DDR2 1150  5-5-5-15 2.3v (2.0v on the P45)
CPU Cooler
Thermalright Ultra 120
Hard Drive
Western Digital 400 Gig Sata II 8MB cache
Optical
Sony DVD R/W
Graphics Cards In Crossfire
Sapphire 4870
Sapphire 4850 Toxic
Power Supply
Thermaltake ToughPower 1K
NB Cooling
Thermaltake Bigwater 760I
External Enclosure
iStarUsa T5F-SS


Testing
To test the IStar T5F-SS we ran HDTach with a SATA II hard drive in the enclosure. We ran the test three times, and of those three runs the average was reported. The HDD used to run the test was a 400GB 16MB cache Western Digital SATA II HDD. For comparison we used the Thermaltake VI-ON in USB mode with the same hard drive. We also used the same model drive as the primary boot drive and ran those numbers to see how they compared to the iStarUsa T5F-SS.
Test Results
Hard Drive Tach
32 MB Test

 
TT VION In USB Mode

iStarUsa T5F-SS In Sata Mode
Internal Hard Drive In Sata Mode
Random Access Time* (ms)
15.1
14.4
14.2
Average Read (MB/sec)
27.54
112.6
112.9
CPU Utilization*
2%
2%
2%
Burst Speed (MB/sec)
29.71
129.5
131.2

*Lower is Better … Otherwise Higher is Better
The differences between a USB enclosure and a true SATA enclosure are like day and night. With a higher RPM SAS drive the differences would be even more dramatic. You can clearly see the advantages of an internal SATA docking bay. The internal bay runs at the same speed as the internal hard drive. The internal did do a little better, but nothing that can't be explained by normal testing variance.
Conclusion
The iStarUsa T5F-SS is a well built drive bay enclosure. It operated in SATA mode as well as an internal hard drive. It also offers the upgrade path to SAS drives which earns it a few points. What detracts from it isn't performance, but rather the non-existent bundle that drags down it's value. Most hard drives don't come with cables, most motherboards come with cables. If you're maxed out on your cables then to use the T5F-SS you'd have to purchase a cable for SAS or SATA. While most of us have Sata Cables laying around, very few of us have SAS cables. We are big fans of ready out of the box products and without cables the T5F-SS falls short of this ideal. Nobody wants to receive a product to find out that they need to run down to a local shop to purchase an over priced cable just to use it.
That being said, it still performs really well. The steel used in it's construction is heavy gauge but since it's an internal that doesn't earn it a lot of leeway. We'd see using it in a tech or shop environment but a really limited number of people have a stack of hard drives they want to swap in and out. For a business man that want's to carry data home, e-Sata makes more sense. It's hard to find a niche to categorize this enclosure in for home use. In a SAS server environment it'd be handy, in a reviewers environment it's nice, home use for a multiple drive enthusiast wanting to boot multiple Operating Systems from stand alone drives, maybe.
With SAS in the same boat as SCSI, we'd say on normal boards (non-server non-native SAS controller) it would be beyond the average users pocket to use SAS. The controller (a bargain controller) runs upwards of $200+, SAS drives run as much and more than Raptors. So to use the enclosure you'd have to have $400 or more invested in hardware and that's if you only run one SAS drive in the T5F-SS. Most people would want to run it internally and externally so they'd be looking at a $600 dollar investment plus the cost of the enclosure. Makes it kind of prohibitive for most of use to use the SAS portion of the enclosure.
It's a good idea but it's a little ahead of the times for home use, and a little out of reach for most pockets.
Pros:
+  Performance in SATA mode is excellent
+  SAS ready
+  Solidly built
+  Quiet operation (in SATA mode)
Cons:
–  Cost of operation in SAS mode
–  Non-existent bundle
–  e-SATA is more convienent
The T5F-SS performed well in SATA mode but it would be hard to justify the cost of operation in SAS Mode. The glaring lack of included cables decreases it's value. In a server environment or those demanding the absolute most of every piece of equipment no matter the cost, it might find a home. For home use it's good for SATA but it's not very portable so e-SATA makes more sense.
Overall, the iStarUSA T5F-SS recieves a final score of 6 out of 10 (pretty good). We could see it moving to a 7 if cables were included, but even at 7, with the scores of more functional enclosures (ie. e-SATA devices, and docking Stations) it would still fall short of being award worthy.