Leadtek takes aim at the budget market with another entry into the WinFast series of video cards.
INTRODUCTION
Are you one of the many computer users that just can't justify spending $300 to $500 on a single video card? Or maybe you are looking for a solution for that Home Theater PC (HTPC)? Well today we're going to have a look at Leadtek's newest entry into the video card market: the WinFast PX9500 GT. This is by no means a top-of-the-line gaming card, and it was never meant to be. The 9500 GT claims to be an excellent solution for viewing HD video – we'll take a look at that today – as well as heat and power issues to see just how well this card fills the niche it was designed for.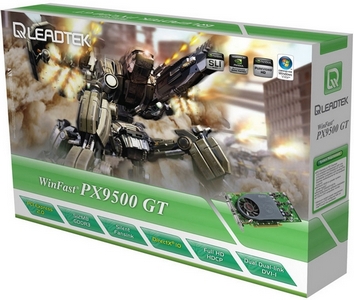 ABOUT LEADTEK
Leadtek, like many other component level manufacturers, is headquartered overseas. Taiwan to be exact. The contacts they list on their website are in Taiwan, Japan, China, and Russia. They have been around for several years, starting out in 1986 building EGA BIOS and AT motherboards. They have been fairly strong in the market, expanding into video cards, TV tuners, webcams and video phones, USB drives, even GPS! The bottom line is that Leadtek is not going away, and I think we will continue to see more from them in the ever-expanding video card market.
From the Leadtek website:
"Innovation and Quality " are all and intrinsic part of our corporate policy. We have never failed to stress the importance of strong R&D capabilities if we are to continue to make high quality products with added value.
By doing so, our products will not only go on winning favorable reviews in the professional media and at exhibitions around the world but the respect and loyalty of the market.
For Leadtek, our customers really do come first and their satisfaction is paramount important to us.
Using all digital means of communication available – such as our regularly updated Website- customers, current and potential, are easily able to refer to our catalogue of products with information on prices, services and future developments.
Looking ahead, Leadtek will continue to maintain its status on the Asia-Pacific market while extending its global sales network. By combining our trend-setting graphics, multimedia audio and video, communications technologies, we remain dedicated to cutting edge technologies and value added products.
We will work toward further integration of computer and communications technologies with our sights set on combining multimedia videophony, and GPS (Global Positioning System) in a single product. Also to extend the market for broadband network devices.
Our ultimate goal is to facilitate and improve human life through new technology and applications without harming the environment.
Together we can dream of a world where we enjoy the convenience of modern technology without compromising our natural heritage for future generations.
And turn even this Dream into a Reality with Leadtek.
PACKAGING AND ACCESSORIES
When the 9500 GT arrived, I was curious to see how well it was protected. After all, it's a long trip from the factory for these cards. As it turns out, the packaging itself is very straightforward. Standard heavy duty cardboard, with the card itself nestled snugly into foam cut out to just the right shape.
Not a bad graphic on the front, joining a list of some of the more important features, such as the fact that this card is PCIe 2.0: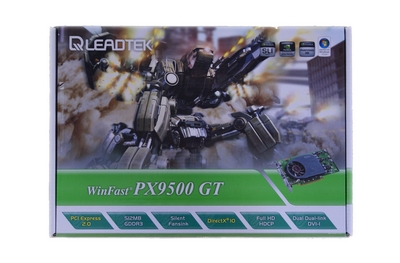 On the back of the box we find all the pertinent details, including a few of the specifications.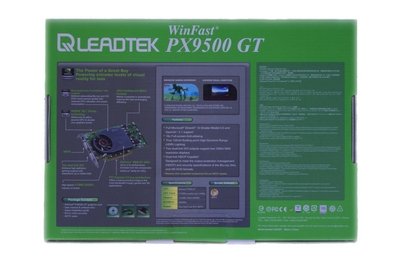 Here we have a close up look at the interior of the box, along with the included accessories. As far as accessories go, I was a little disappointed. You get the HD dongle and a VGA-DVI adapter. Nothing more nothing less. An HDMI adapter would've been very nice; along with, say, anything else. This just seems like an OEM version at retail prices.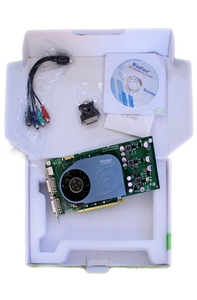 FEATURES AND SPECIFICATIONS
While this is not the high-end card that many of us crave, it appears at first glance to be an excellent card within the budget market. Things like full HDCP support and two Dual-link DVI-I ports for dual digital monitor support are nice additions. This particular card is very similar to the 8500GT/8600GT from the previous generation of NVIDIA cards. As mentioned before, the WinFast PX9500 has full support for PCIe 2.0, however, which is a welcome upgrade from the last generation. For a full comparison to the last series, check out our review of the Foxconn 9500 GT located here. As for the specifications of this card, take a look at the chart below: 
WinFast PX9500 GT Specifications
Fabrication Process
65nm
Core Clock
575
Core Architecture
G96
Memory Type
GDDR3
Memory Clock (Actual/Effective)
800 MHz/1600 MHz
Memory Interface
128 Bit
Memory Bandwidth
25.6 GB/s
Memory Size
512 MB
Streaming Processors
32
Streaming Processor Clock
1400 MHz
Texture Fill Rate
9.2 GTexel/s
Pixel Fill Rate
4.6 GPixel/s
Bus Type
PCIe 2.0
WinFast PX9500 GT Features
Fully HDCP compatible
2 x Dual-link DIV-I
Ultra quiet fan
PureVideo HD to reduce CPU utilization during movie playback
Supports DirectX 10 and Shader Model 4.0
THE 9500 GT, A CLOSER LOOK
Let's take a little bit closer look at the card itself. As it turns out, this card doesn't fall completely within the reference design. Besides being overclocked, Leadtek claims that it is on a "space efficient PCB design". This I find doubtful, however, as it is only about an inch shorter than my reference 8800GT. It seems to be quite a bit longer than the Foxconn 9500 GT recently reviewed here on Bjorn3D as well. Here's a look: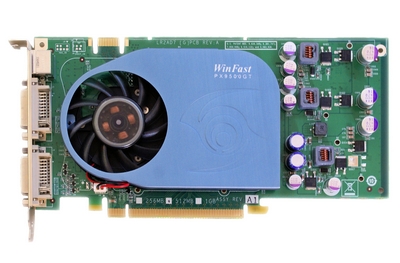 Here you can see that this PCB is actually used for several different designs, and they just check the block for the amount of memory onboard. Efficient when it comes to the manufacturing process, I'm sure, but I'm doubtful it is the best space-saving design that could be imagined.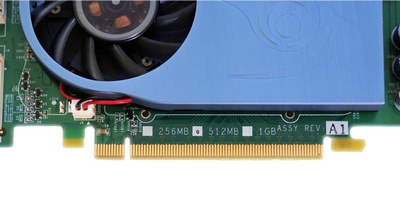 And here we have a picture of the back of the PCB. As you can see from all the extraneous holes, this PCB is a one-size fits all kind of deal. Again, not necessarily a bad thing as I'm sure it cuts down on cost.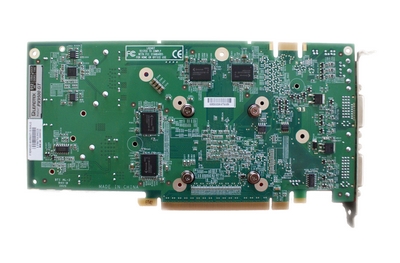 TEST SETUP
For the purposes of testing the card, we will focus on what it was designed for. We aren't going to bother with extensive game testing, as we already know it's a budget card. We will throw in a couple just for good measure, of course, but this review is going to focus on whether or not the reduced cost is worth the lower performance. Essentially, we ask: will the card still fill the niche for which it was designed?
TEST PLATFORM

CPU

Q6600 @ 3.0 GHz

Motherboard

EVGA 780i

RAM

2GB 5-5-5-15 800 MHz

GPU

Leadtek WinFast PX 9500 GT

HDD

Western Digital 2 x 160GB in RAID 0

Power Supply

ThermalTake PurePower 600W

Displays

Acer AL2216W

Case

Antec 300

O/S

Windows Vista 32 bit
 We will use the following software for benchmarking purposes:
Software
3DMark06
3DMark Vantage
Company of Heroes
Three clips of WMV: Dolphins in 1080P, Amazon in 1080P, and T2 trailer in 720P
[email protected] GPU2 Client
TEST RESULTS
Well, the testing methodology, as mentioned above, is a little different for this card. I couldn't find ANY reason, logical or otherwise, to run this card against an 8800 GT. I tried, believe me. But here's the bottom line, the two cards are nothing alike. They weren't designed to be, and it won't do us any good to run the tests, as everybody with any computer knowledge at all knows that the 8800 is going to be faster, at everything. So we will test this card on its own merits. Here's the results: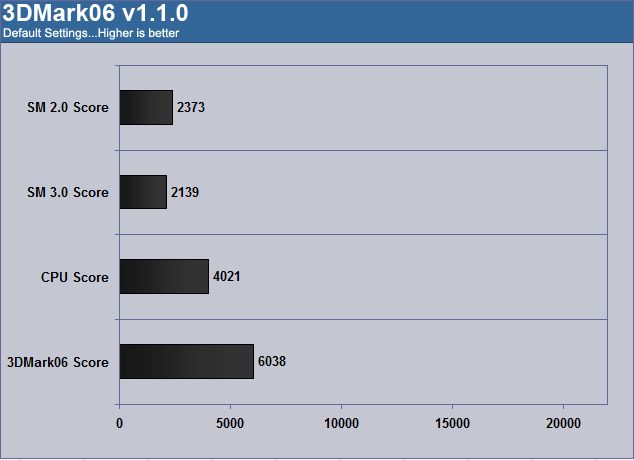 As you can see, the score here is not exceptional. It doesn't come as a surprise however, as it is a budget card.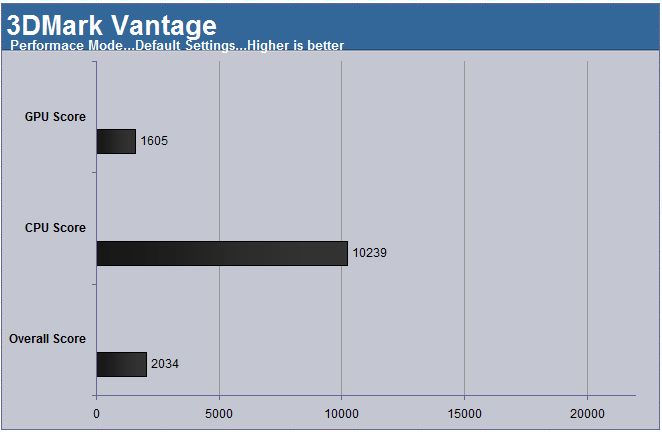 Again, nothing to jump up and down about. No surprises here either.
Here we can see some real world performance. The game remained completely playable at 1280×1024. 1680×1050 on the other hand, did not fare well at all. As it has been mentioned many times however, this card was not designed to run any games at extreme resolutions or speeds.
VIDEO PLAYBACK
This is one area where results are difficult to quantify. There aren't many solutions for testing performance during video playback; everything is very subjective. I can say that I encountered no problems during video playback. In three different videos, there were no tearing, skipping or slow playback issues encountered, even when folding at 100% on the GPU. All videos were tested at both 1680×1050 and 1920×1080 (1080P). The videos were beautiful and playback was flawless. Color was exceptional and motion was smooth. Also, all videos can be found on "Microsoft's WMV HD Content Showcase." I did take some screenshots, and they are presented below.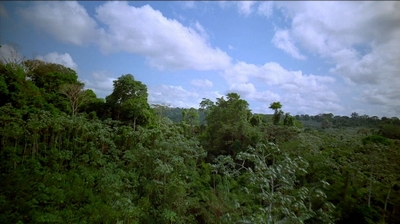 This is from the video "Amazon (IMAX)" available in 1080P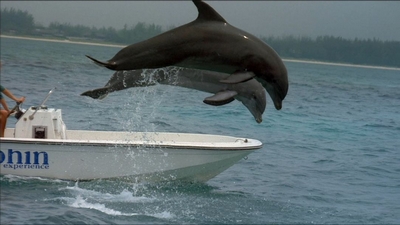 This is from the video "Dolphins (IMAX) available in 1080P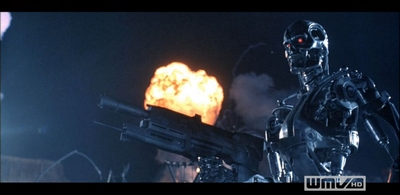 And a shot from the Classic, Terminator 2, available in 720P
FOLDING @ HOME
For those of you that don't know, [email protected] is a "Distributed Computing" system sponsored and maintained by Stanford University. It is a project aimed at curing diseases by studying how proteins "fold" and "mis-fold." The idea is that by learning what causes proteins to fold in certain ways we may be able to put it to use in curing certain diseases. Cancer, Alzheimer's, Parkinson's and other diseases could possibly be cured through the study of proteins. The problem was that simulating protein folding is very processor intensive, requiring more processor time than Stanford's resources allowed for, leading to the idea of letting other computers do the work of simulating the protein folding and simply sending in the results. People around the world have joined in the fight against disease and have completed millions of work units or "WU's". Stanford also saw the potential for competition, and gave each WU a point value. Since the advent of the GPU client, which allows WU's to be processed much more quickly, it has become a reasonable benchmark. This is due largely to the fact the the "Points per day" or PPD relates directly to how fast the processor computes the algorithms necessary for protein simulation. For more information about Folding @ Home and to learn how to join the fight against disease, see the how-to located in the Bjorn3D forums.
Down to business now, as I'm sure you're all wondering just how well the 9500 GT fared. To find the PPD we used the program "FahMon" a benchmark for [email protected] that monitors PPD output. Here's the results: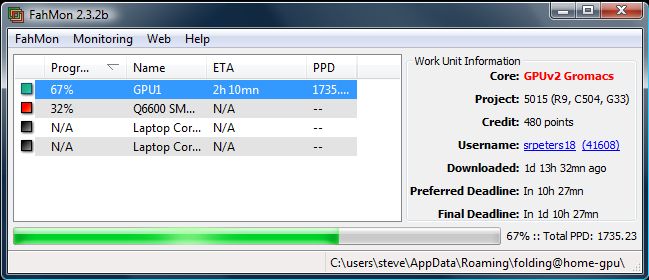 At 1735 PPD, the results are not bad. Its approximately equivalent to one SMP client running on a Q6600.
HEAT
Another key consideration when looking for a budget card, possibly for an HTPC or a build in a smaller case, is heat output. Luckily, with the PX9500 GT, heat is not a huge problem. With this particular card, I was quite impressed with the temperatures. For this test, ambient temperature was 26 degrees Celsius.
OVERCLOCKING
Okay guys and gals, I know many of you out there are speed freaks, at least when it comes to clock speeds, so I have to include an overclocking section, especially on the budget cards since so many people are looking for the "best bang for the buck." While the 128 bit interface really limits what the card can do, the overclocking potential on this one is pretty amazing. In ten minutes I was able to overclock this thing from 575MHz core/800MHz mem(1600MHz effective)/1400MHz shader all the way to 750MHz core/999MHz mem (1998 effective)/1800MHz shader. Here's the screen shots from GPUz and the run through Vantage afterwards. Sadly, I did not do the screen capture immediately after the test; this is the shot from the website.
 
 Also note on the screen below, the ORB disclaimer that these results are not valid for the Hall of Fame, this is due to the fact that I am using the latest Beta drivers from Nvidia, not the WHQL drivers.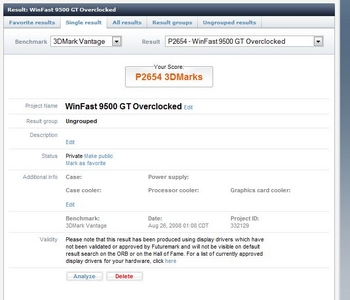 Overall, not too shabby. A 600 point increase for 10 minutes of work is pretty decent. And the only reason it took ten minutes to get there was because I would up the clocks by about 10MHz and then apply, wait for 20 seconds to make sure nothing froze or crashed and then up them some more.
I did make a suicide run and try to get things running even faster, but it was not to be. Using EVGA's Precision overclocking tool, I was able to get to 800MHz Core/1050MHz (2100 effective) memory/2000MHz shader. All this while keeping temps at full load under 60C. After a few short minutes, however, the clocks dropped down to 200/100/100. I am not sure if this is a feature of the card or EVGA's tool, but it is sort of nice to have the protection there, instead of artifacts, looping sound, and/or fire. So, I'll stick with the incredible 30% core overclock that we achieved in less than ten minutes, with no fuss.
CONCLUSION
The Leadtek WinFast PX9500 GT has been a difficult card to review. Not because it's a terrible card; I actually liked it. I did have a difficult time trying to remember that this is a budget card though. Sometimes its tough to remind myself that not everybody is looking for a card that will give you 60+ FPS in the latest games and the highest scores in the synthetic benchmarks. There are plenty of people out there just looking for a card with all the basics.
I would guess that you will never see a waterblock for this particular card, because it would probably end up with a higher price point than the card itself. It's not going to win any awards for speed. But as has been mentioned several times already, that's not what this card was brought to market for. In my opinion, this card does a superb job of filling the role for which it was designed. That is, of course, a cheap, reliable, cool running, low power card. This card fulfills all of those requirements. It does not require an external power input, 6 or 8-pin. It runs below 60C at full load. And I did not experience any problems with it from installation, to gaming, to watching videos. No BSOD's, no driver recovered errors – nothing.
The card is not without its flaws. This particular model does not have the SPDIF pass-through for HDMI that some models of the card do have. This is also an early model, based on the 65nm architecture; the 55nm is forthcoming.
I cannot, however, overlook the overclocking ability of this card. I hope 30% is representative of this core in general. It may not mean much, but every little bit helps when you're starting from a budget card.
I was not able to find one of these cards available online anywhere in the US just yet. This is not much of a surprise, as the 9500 GT was released not long ago. The price point is nice for this lineup, $69.99-$89.99 or so from the major e-tailers.
Pros:
+  Perfect video playback
+  Highly overclockable
+  Price
+  No dedicated power connection requirement
+  Low temperatures
Cons:
–  Low frame rates on games over 1280×1024
–  Hard to find in the US right now
–  No HDMI sound throughput
–  No accessories, other than an HDTV dongle, and a DVI->VGA adapter
Considering the target market this card is designed for, I was very impressed with it. For the price, I can't think of a more capable card that keeps temperatures down in a small case and will run on a small power supply. This card would be perfect for your next HTPC build.
For these reasons this card will receive a final score of 8.5 out of 10.0 and the Bjorn3D Seal of Approval.