ICY DOCK introduces a quick and easy way to manage external hard drives with the MB672SKGF-B Internal SATA HDD Enclosure. With an LCD screen, built-in temperature monitoring and a locking door, ICY DOCK brings an affordable and secure hot-swap solution to the table. Join us as we take a closer look to determine if the MB672SKGF-B deserves a spot inside your computer case.
INTRODUCTION
With so many options for data and media storage these days, it's challenging to filter through all of them and decide what device to use. The cost of USB flash drives has come down so much over the last couple of years that I've slowly accumulated a collection of these almost disposable gadgets. Floppy drives are pretty much obsolete, but I have to admit I still have one in my old Pentium 4 computer. (Having said that, I can't remember the last time I ever loaded a file from or copied a file to a floppy disk. Honestly, I'm not even sure if that drive still works!). CD and DVD writable drives are great, especially for burning music and video files, but they just aren't the most convenient for everyday usage (at least for me). And external hard drives – great for large files, but can be a little bit of a pain to swap out drives. Personally, in the last few years I've somehow ended up with 3 different external drives and more recently, a Network Attached Storage (NAS) device that houses 2 drives. Slowly but surely I'm collecting so many drives that I'm running out of space to stash them!
Now here's the thing – I have a beautiful Antec Nine Hundred case with a single DVD drive installed in one of the 5.25″ external drive bays, so the other bays remain largely unused. I've considered putting in additional optical drives, but tell you the truth, I personally just don't have any great need to do so. For looks alone I've been considering installing a fan controller or something fun with lights and gauges, but just never saw anything that I couldn't live without. Fortunately for me, ICY DOCK came along with an intriguing new product and I was given the opportunity to check it out. Not only does the
ICY DOCK MB672SKGF internal 3.5″ SAS/SATA HDD Enclosure
look great, but it actually solves a problem I never realized I had. Now with one drive bay easily accessible in the front of my Nine Hundred case, I can easily swap out hard drives and forget about those external drives and the plethora of cables and power supplies that come with them. Let's take a closer look at ICY DOCK and the new internal drive enclosure from this innovative company.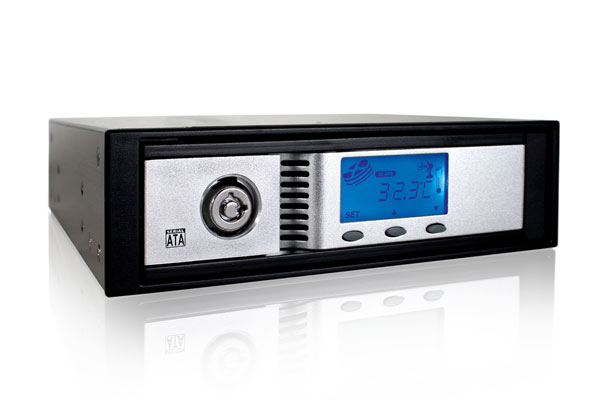 ABOUT ICY DOCK
ICY DOCK is a privately held company with more than 10 years being devoted in design, manufacturing, branding and distribution of Storage enclosure peripherals. By keep improving its own new product release process from previous toil experiences, ICY DOCK has formed a standard yet efficient new product development procedures to satisfy timely requirement from the market.
At ICY DOCK, we constantly offers state-of-the-art design of hard disk enclosure and removable storage kit with features such as the currently launched a series of removable drive & hot swap capabilities and eSATA / SATA connectivity products. We also specializes in BTO (Built to Order) of branded, OEM-branded and non-branded products for "Tier 1" customers.
Headquartered in City of Industry, California, ICY DOCK becomes a global peripheral enclosure provider with manufacturing facility located in Zhang-Zang, China since 1997. Restrictively followed ISO9001 proved manufacturing process standard, ICY DOCK delivers high quality standard products at competitive price which provides our customers an excellent opportunity to be successful in the competitive US marketplace.
As one of the leading peripheral enclosure solution provider, we will continue to commit ourselves in supplying our customers the best performance per dollar products. "Your demand is our command" is the key to ensure our success in the business world.
FEATURES & SPECIFICATIONS
The ICY DOCK MB672SKGF is described as a "SCREWLESS Internal 3.5″ SAS/SATA HDD Enclosure", but I wanted to clarify this before even getting into the features and specifications. "Screwless" refers to the installation of a hard drive into the enclosure, not the actual installation of the enclosure into a computer case. The unit installs in a 5.25″ external drive bay just like a DVD or CD-ROM drive, which means 4 screws to keep it in place (unless of course your computer case has a screwless drive bay feature). Now that we have that out of the way, let's take a closer look at the enclosure:
| | |
| --- | --- |
| Feature/Specification |   |
| Model | |
| Interface | Serial ATA (SATA) |
| Drive Fit | |
| Drive Bay | 1 x 5.25″ |
| Data Transfer Rate | Up to 300MB/sec |
| Internal Host | SATA 7 Pin x 1 |
| Security | 2 Segment Key Lock |
| Hot Swap Connection | 7+15 Pin Direct Hard Drive Connection |
| Material | Steel Body with Aluminum and Plastic Face Panel |
| Drive Cooling | Aluminum Heat Disperson w/1 x Rear Outtake Fan |
| Alarm Indication | Audio and Visual |
| LCD Indication | Real-time drive temp., Drive activity/overheat/MASTER/SLAVE status, Fan working/failure status, Device usage time record |
| LCD Display Color | Cool Blue |
| OS Requirement | Windows 98/SE/ME/2000/XP/VISTA ; Mac OS 9.0 or higher |
| Dimension (L x W x H) | |
| Weight | 1.82 lbs |
| Manufacturer Warranty | 3 Years (parts and labor) |
 Features:
Drive Fit: Hot Swappable 1 x 3.5″ SATA I or II Drive
Drive Bay Installation: Fits in one standard 5.25″ external drive bay
Screw-less design – drive slides in and locks into place when door is closed
Drive monitoring system with "Cool Blue" LCD display and visual/audio alarms

Temperature monitor (Fahrenheit or Celsius) with alarm
HDD Usage Time Record (HUTR)
Fan failure alarm

Rear outtake fan to help cool hard drive
Key lock to secure drive
Built-in anti-vibration kit to reduce noise
CLOSER LOOK
Let's start by taking a closer look at the packaging for the ICY DOCK MB672SKGF. No, there's only one unit in the box, but ICY DOCK took a cost-efficient (yet potentially confusing) approach to package design by featuring a picture of two different units on the cover. Since the MB671 and MB672 series have so much in common, the choice to showcase both and then highlight which device is actually in the box is certainly understandable and not exactly new to the industry. The little black dot indicates the contents – in this case, the MB672SKGF (the one on top with the blue LCD screen).
The back of the box prominently displays the features in simple, easy-to-read format. Overall I found it well done and informative. The one item that isn't completely clear, as mentioned earlier, is the reference to "screw-less" setup. Again, this means that the hard drive inserts into the enclosure without need for any screws, but the enclosure itself is another matter. It installs into an external 5.25″ drive bay just like an optical drive. Screws are recommended and included!
Next, let's take look at the contents. Included in the box is the MB672SKGF Internal SATA HDD enclosure (nicely protected in bubble wrap as seen in the first picture below), 4 screws for mounting the device in a computer case, 2 security key locks, and an instruction manual. Although the manual may look somewhat thick for a hard drive enclosure, don't worry. It's actually only 6 pages long – but written in 10 different languages! Everything needed for installation and setup is included with the exception of a hard drive. Naturally, that is left up to the user to provide.
Now for the fun part – checking out the MB672SKGF up close. Let's start with the front, which has a nice clean look with the key lock on the left and the LCD screen on the right. Note the vents between the lock and the LCD screen. These do function and allow air to flow around an installed hard drive. Additionally, the indentation between the vents and the lock provide a finger grip to open the front door of the enclosure. The front is made of a combination of aluminum and plastic, and as you'll see in later pictures, the LCD screen glows blue when the unit is running. The second picture below shows the control buttons and the LCD panel with an explanation of symbols displayed. Using the control buttons, a user can program the temperature at which an alarm sounds to indicate overheating. Additional features include HDD usage time record (time drive has been running) and fan failure alarm.
The next shot showcases the interior of the hard drive enclosure. Notice the outtake fan on the left side. This pulls air in through the front vents on the door and out through the back, cooling the hard drive inside. On the right side one can see the hard drive connector at the very back. Although visible but not quite as obvious, there's a lever attached to the door near the drive connector. This actually helps to "eject" the drive when the door is opened. It is hinged in such a way that it presses against the back of the drive and pulls forward as the door swings to the right. It's a well-designed feature that makes it really easy to install and remove drives. The following picture simply shows the top of the unit and provides a good view of the solid construction.
Below we can see the back of the enclosure. The fan is clearly visible on the right side, although a more open grills might have provided better airflow. I like the design from the viewpoint that it makes the unit more solid and stable, but considering it sits deep in the back of a computer case, I would have preferred something a bit more open. Minor points but worth noting. Also notice the jumper switch and connectors labeled: fan fail, temp fail, HDD Access, Power LED, and Master/Slave – which all go without any explanation in the user manual. I'm guessing the Master/Slave switch does exactly that – changes the status of the drive between master and slave. However, the others are more of a mystery and likely can be used to disable certain features by shorting them. I didn't see any real reason to mess with these, so I just left them alone. Power is supplied via a 4 pin molex connector while data runs through a standard SATA port. I'm not sure why they used a 4 pin molex connector, but since it is technically an external hard drive enclosure designed to fit inside a 5.25″ drive bay, it probably makes sense in delivering power to the drive inside. Regardless, my PSU had plenty of connectors and it didn't create any problems. Just be aware that it does use a molex power connector. Lastly, the alarm buzzer is mounted in the middle, and believe me, it's definitely loud enough to get your attention! 
Installation, as I mentioned earlier, is very simple and exactly like the process for installing an optical drive. Make sure your computer case has a free 5.25″ external bay and pretend you're putting in a DVD or CD drive. Slide it in, line it up, secure it, and connect power & data cables. I highly recommend using the include screws to hold it in place, but you could use quick-release rails or other screw-less installation method if security is not a concern. I initially used the rails in the Tagan Monolith case for quick installation and testing (pictured below), but later used the screws and mounted the device in my Antec Nine Hundred Case (last picture). (I have to say, the blue LCD screen matches the blue fans in the Nine Hundred perfectly!)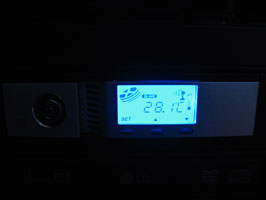 (Click to Enlarge)
Once the enclosure is properly mounted, the next step is to insert a hard drive. To open the door, simply insert a finger between the lock and the vents and lift. The door swings open to the right, stopping at about 90 degrees – basically straight out from the enclosure. Slide a hard drive into the bay (it's a snug fit so there's pretty much no way you can do it wrong) and when it won't go in any further, push the door closed. The action of closing the door actually forces the drive onto the connector at the back, which supplies power and data. In reverse, opening the door forces the drive forward, essentially ejecting it.
Before moving on to see how the unit performed, let's play a quick game of "spot the mistake in the user manual". Check out the picture below illustrating how a hard drive is installed in the enclosure. Is there anything odd about the picture? I'll let you guess and then provide an answer on the next page: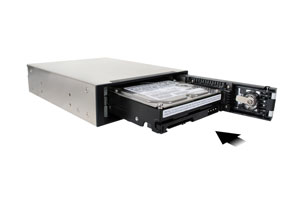 (Click to Enlarge)
TESTING
OK, did you guess the problem with that last picture? Did you notice that the hard drive power/data connectors are facing toward the door and the front of the enclosure? It should be turned around so that these can connect in the back, where the power and data connectors are. At least the picture should give you an idea of how the drive goes in, even if they have it reversed!
Once installed, the drive acts just like a secondary internal hard drive. If it is already formatted, Windows XP will automatically assign it a drive letter and it will show up under "My Computer" as a hard disk drive. If it is not formatted, as was the case with mine, then the setup process is a little more tricky. In fact, this was my biggest challenge in doing the review. The user manual says absolutely nothing about this stage of the setup so it took me a little while to figure out (like a week!). I probably should have known the solution right away, but since the drive just wasn't visible to my system, I kept thinking I did something wrong. However, it finally hit me that I should be able to see it in Windows XP's "Computer Management" console. For a new or unformatted drive, right click on "My Computer" and select "Manage". Look for the section called "Storage" and then under that click on "Disk Management". Once here, you should be able to see the drive. Just right click on it and select "format". Once it is formatted, it will show up as a hard disk drive under "My Computer". From there, you can hot swap the drive in and out of your system as needed. OK, now that you know how to work with a new drive, let's take a look at performance.
I used HD Tach to test the speed of the unit. For comparison, I inserted a Maxtor 320GB SATA II hard drive with 16MB cache to see how it would stack up against the hard drive running internally on my system – a Maxtor 500GB SATA II with 16MB cache and similar specs (aside from capacity). The red line represents the drive inside of the ICY DOCK enclosure while the blue is the hard drive connected directly to my motherboard (Abit IP35-Pro running an Intel E6750 overclocked to 3.2GHz). The operating system is Windows XP (SP3) with 2GB of PC2-6400 memory. Notice how similar performance is – with the "external" drive even outperforming the internal drive in average read times. Results were consistent after running the test multiple times, showing that a drive inside of the ICY DOCK performs extremely well and essentially the same as an internal drive. Nice!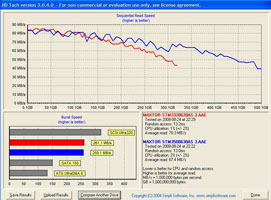 (Click to enlarge)
Regarding the ICY DOCK's ability to keep the drive cool and monitor temperatures, my tests were a little less scientific. Over the course of a week, I documented temperatures throughout each day at various intervals. Consistently the temperatures ranged from a low of about 28 degrees Celsius to a high of about 32 degrees Celsius. Considering the default temperature at which the alarm sounds is 50 degrees Celsius, I think this range is outstanding. I can't rule out the possibility that the Antec Nine Hundred case in which it resides might have helped at least a little to keep the unit cool, but my feeling is that the ICY DOCK does a more than adequate job on its own and deserves a large amount of credit.
The alarm feature seems to work well and is triggered when the temperature reaches a preset point. A visual indicator on the LCD shows a picture of an alarm bell along with a smoking thermometer while an audible alarm sounds. The alarm is quite loud and can be canceled by simply pressing any button on the front panel. Overall, it works as described. To set the alarm, simply press the "Set" button on the front of the unit. The first screen will allow you to change the view between Celsius and Fahrenheit. Simply press the up or down button to cycle between "C" and "F" . Press "Set" again to confirm. The next screen will display the default alarm temperature, which is 50 degrees Celsius. Again, press the up or down key to increase/decrease the temperature in 0.5 increments. When you reach the desired setting, press the "Set" key again to  complete the process. One note: each time you press a button, the unit emits a loud "beep". Unfortunately this cannot be disabled or even turned down. This got extremely annoying in a very short amount of time, and I wished I could shut it off. 
CONCLUSION
To summarize, the ICY DOCK MB672SKGF works very well. It provides an ideal way to hot-swap SATA hard drives in and out of a computer while offering much improved performance over fully external drive enclosures. Performance rivals that of an internal drive connected directly to a motherboard controller. Cooling and temperature monitoring features work well, although the internal fan does make a bit more noise than I had hoped. Prior to installation, my Antec Nine Hundred case was virtually silent. However, with the ICY DOCK installed and with no way to decrease the speed of the fan or shut it off, the unit generates a substantial hum, rather like that of a typical low-quality case fan stuck on full speed. Having become used to a silent PC in recent months, I'm disappointed in the noise and I am considering disabling or removing the fan.
Let's recap the good and the bad:
Pros:
+ Good cooling and temperature monitoring feature
+ Cool blue LCD screen with good easy-to-read display
+ Outstanding drive performance
+ Locking mechanism provides security for drives
+ Hot-swappable drives go in and come out easily
Cons:
– Buttons beep loudly when pressed, and the tone can't be turned down or off
– Poor documentation in user manual
– Setup with an unformatted drive can be challenging
Final score: 8 out of 10