Gigabyte's SOC GPU's with Gauntlet screening selecting only the best GPU cores and Hynix or Samsung Tier one GDDR5 just got better. With OC Guru you can also add Voltage to you OC.
Introduction
Some people who demand the absolute best performance, want a little more than the stock 850MHz core speed reference HD5870's offer. Overclocking is a chancy business and often voids your warranty. We often see video cards with a paltry 25 – 50 MHz overclock hocked as OC models of various flavors. It's not often we see a GPU with a full 100MHz factory overclock.
Even less often do we see a 100MHz core overclock GPU with Dual inclined fans and an overclock utility like OC Guru that allows you to not only overclock but add up to 0.1v so you can overclock beyond the 950MHz speed the Gigabyte HD5870 Super Overclock offers from the factory.
Yes you read it right, 950MHz Core Speed, dual inclined fans, Gauntlet Sorting on the Core, Samsung or Hynix Tier one memory, and OC Guru with Voltage control. It just doesn't get any better than this for the 5870 series.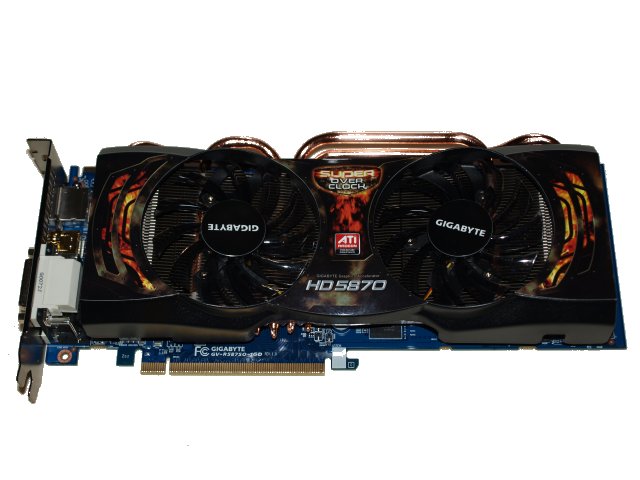 With the Dual inclined fans and all copper heatpipes the Gigabyte HD5870 Super Overclock is far from your normal HD5870 and it's one of the best designs we've seen for cooling and overclocking on Air. No whiny fan, no need to aftermarket cool, no worrying about voiding the warranty. Nothing but pure Graphics bliss pre-packaged on a HD5870 that has a 100MHz core OC with voltage headroom that should take it to 1GHz core if you dare?
Features & Specifications
| | | | | | | | |
| --- | --- | --- | --- | --- | --- | --- | --- |
| GPU | GTX-480 | GTX-470 | GTX-285 | 5850 | 5870 | Giga HD5870 SOC | 5970 |
| Shader units | 480 | 448 | 240 | 1440 | 1600 | 1600 | 2x 1600 |
| ROPs | 48 | 40 | 32 | 32 | 32 | 32 | 2x 32 |
| GPU | GF100 | GF100 | GT200b | Cypress | Cypress | Cypress | 2x Cypress |
| Transistors | 3200M | 3200M | 1400M | 2154M | 2154M | 2154 | 2x 2154M |
| Memory Size | 1536 MB | 1280 MB | 1024 MB | 1024 MB | 1024 MB | 1024 MB | 2x 1024 MB |
| Memory Bus Width | 384 bit | 320 bit | 512 bit | 256 bit | 256 bit | 256 bit | 2x 256 bit |
| Core Clock | 700 MHz | 607 MHz | 648 MHz | 725 MHz | 850 MHz | 950 MHz | 725 MHz |
| Memory Clock | 924 MHz | 837 MHz | 1242 MHz | 1000 MHz | 1200 MHz | 1250 MHz | 1000 MHz |
| Price | $499 | $349 | $340 | $299 | $399 | ? | $599 |
Each AMD GPU is based on AMD's TeraScale 2 Architecture that offers over 2 TFLOPs of processing power.
Each AMD 5870 has 1600 stream processors, arranged into 20 SIMD engines
Each with 16 thread processors that have 5 processing cores each.
There are 80 texture units per GPU
They Have 32 raster operation units
Built on the 40 nm silicon process by TSMC
New energy-saving performance profiles with low power draws on idle idle
Some of the highest performance per Watt
Each GPU uses a 256-bit wide GDDR5 memory interface, which provides 128 GB/s of memory bandwidth (256 GB/s for the entire card)
The improved PCI-Express bridge chip now supports the new PCI-Express 2.1 standard which renders the 4870×2 Sideport useless because the new PCI-E 2.0 bridge chip provides so much bandwidth. (According to AMD).
ATI 5800 Features Overview
 
 
 

40nm Technology


Faster clocks, double the transistor density of earlier 40 nm technology. 40nm technology helped make HD5870 series products the most advanced GPUs ever highest clocks speeds, incredible feature integration, full performance and precision all the time, and ability to take advantage of future, higher-speed memories.
 
 

Avivo™HD


Avivo™HD could provide vibrant high fidelity, flawlessly smooth next-generation video playback. Avivo™HD technology easily allows your PCs to become digital home media center by its compelling video pipeline design that comprises the latest high definition video hardware acceleration, including H.264 and WMV9.
 

Catalyst™ Control Center


ATI's all-new Catalyst Control Center goes far beyond traditional driver configuration software—it's a feature-rich and stable 3D acceleration control application that puts you in complete command of your ATI visual processing unit (VPU). Catalyst Control Center offers exceptional graphics performance and visual quality for the ultimate in performance, stability, and innovation. Safe GPU overclocking, custom profiles, and assignable hotkeys are just a few of the many new features. You'll also enjoy frequent updates, reliable customer service, and an interactive user feedback program, all backed by ATI's technical confidence, industry-leading capability, and uncompromising commitment to creating your ultimate visual experience.
 
 
Microsoft® DirectX® 11
The power of DirectX® 11 with awesome performance, stunning visual effects, and more dynamic interactivity than ever before.Ensures the best performance and application compatibility for all DirectX® 11 applications. Microsoft® DirectX® 11 games, with stunning 3D graphics and shading effects.
 
 

Shader Model 5.0


cShader Model 5.0 adds support for indexed temporaries which can be quite useful for certain tasks. Regular direct temporary access is preferable is most cases. One reason is that indexed temporaries are hard to optimize. The shader optimizer may not be able to identify optimizations across indexed accesses that could otherwise have been detected. Furthermore, indexed temporaries tend to increase register pressure a lot. An ordinary shader that contains for instance a few dozen variables will seldom consume a few dozen temporaries in the end but is likely to be optimized down to a handful depending on what the shader does. This is because the shader optimizer can easily track all variables and reuse registers. This is typically not possible for indexed temporaries, thus the register pressure of the shader may increase dramatically. This could be detrimental to performance as it reduces the hardware's ability to hide latencies.
 
 
OpenGL 3.1® Optimizations
Ensure top-notch compatibility and performance for all OpenGL 3.1 application.
 

CrossFireX™


Upgrade to even greater 3D performance quickly and easily thanks to plug-and-play ATI CrossFireX multi-GPU technology
 
 

PCI-E 2.1


PCI Express® 2.1 –Now you are ready for the most demanding graphics applications thanks to PCI Express® 2.1 support, which allows up to twice the throughput of current PCI Express® cards. Doubles the bus standard's bandwidth from 2.5 Gbit/s (PCIe 1.1) to 5 Gbit/sec.
 

RoHS Compliant


As a citizen of the global village, GIGABYTE exert ourselves to be a pioneer in environment care. Give the whole of Earth a promise that our products do not contain any of the restricted substances in concentrations and applications banned by the RoHS Directive, and are capable of being worked on at the higher temperatures required for lead free solder. One Earth and GIGABYTE Cares!
 

HDCP Support


High-Bandwidth Digital Content Protection (HDCP) is a form of copy protection technology designed to prevent transmission of non-encrypted high-definition content as it travels across DVI or HDMI digital connections.
 

HDMI Ready


High Definition Multimedia Interface (HDMI) is a new interface standard for consumer electronics devices that combines HDCP-protected digital video and audio into a single, consumer-friendly connector.
 
Windows Vista®
Enjoy powerful graphics performance, improved stability, and an immersive HD gaming experience for Windows Vista. ATI Catalyst™ software is designed for quick setup of graphics, video, and multiple displays, and automatically configures optimal system settings for lifelike DirectX 10 gaming and the visually stunning Windows Aero™ user interface.
 

Microsoft Window7


Microsoft Windows 7 is the next generation operating system that will mark a dramatic improvement in the way the OS takes advantage of the graphics processing unit (GPU) to provide a more compelling user experience. By taking advangate of the GPU for both graphics and computing, Windows 7 will not only make todays's PCs more visual and more interactive but also ensure that they have the speed and responsiveness customers want
Specifications Gigabyte HD 5870 Reference GPU's
| | |
| --- | --- |
| Chipset | ATI Radeon HD 5870 |
| Core Clock | 850 MHz |
| Mem Clock | 4800 MHz (1200×4 for GDDR5) |
| Memory | 1GB |
| Memory Bus | 256 bit |
| Memory Type | GDDR5 |
| Card dimension | ATX |
| Bus Type | PCI-E 2.1 |
| Bus Speed | x16 |
| D-SUB | Yes |
| TV-OUT | No |
| DVI Port | Yes |
| VIVO | No |
| Multi View | Yes |
Gigabyte OC Guru
Gigabyte OC Guru is fairly new on the scene and in the case of the HD5870 SOC it allows for voltage control. We tried it on the Gigabyte HD5870 we reviewed HERE and it wouldn't recognize the normal Giga HD5870 at all. Maybe later Gigabyte will open up OC Guru for all models but only allow voltage control for the Super Overclock series. We'd like to see that because OC Guru is one of the best overclocking utilities we've ever seen and could easily become the OCing tool of choice.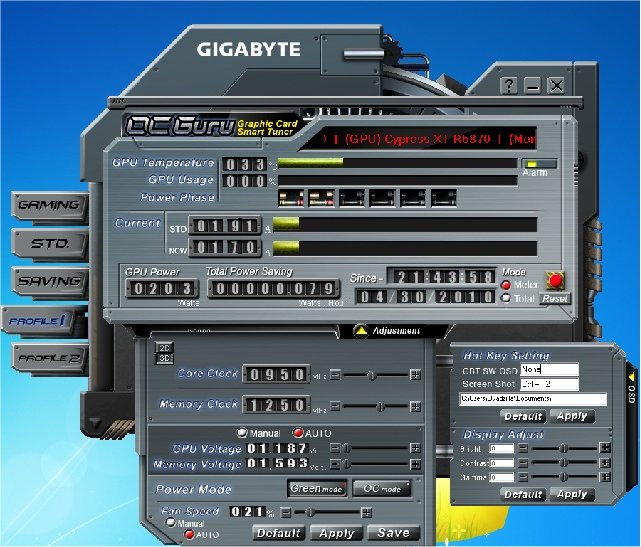 Stock settings when we first loaded OC Guru made our jaws drop. Everything we ever wanted in an OCing utility in one spot (Except we still want an artifact scanner built in with a FPS counter so we can see the effect of OCing real time). It took a few minutes to scope OC Guru out and find out how to use it.
In order to access the OCing functionality you click the adjustments tab and from that point on it's pretty self explanatory. Click the Manual bubbles, grab the sliders and start OCing.
Like the image above shows, the Gigabyte HD5870 Super Overclock starts at 950 on the Core Speed which is 100 MHz faster than a stock card. The memory comes out of the gate at 1250 MHz and since this is GDDR5, it's quad pumped to 5000MHz.
With a core speed like this out of the box we aren't expecting anything we do to the card, including Voltage tweak, to give us much more speed. Face it, at 950MHz you're already at the point of diminishing return so we will consider it good if we make 1GHz core speed with the additional 0.1v OC Guru lets us play with. It may make more difference for extreme cooling like LN2 but for air cooling the 0.1v should give us about 50 MHz core increase which will be an amazing 150 MHz OC, if we get it.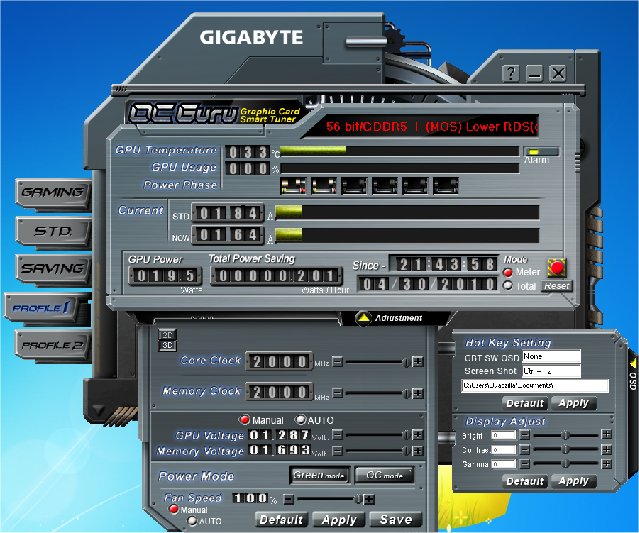 Now don't jump out of your skin because this image just shows the maximum settings available in OC Guru and not the OC we achieved. Theoretically you can try for 2 GHz core and 2 GHz memory. That's not going to happen even on LN2 or Helium but the program has settings for that.
Notice the save button on Profile 1 and you can save up to 2 quick profiles that you can activate with just a click once you have achieved your preferred OC settings.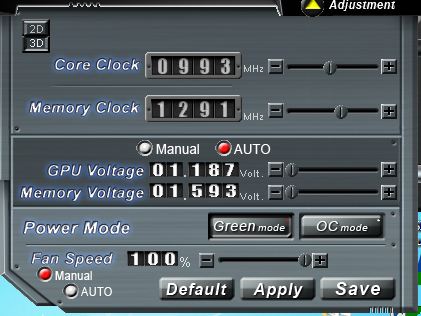 We left voltage at stock 1.187V Core and 1.593V Memory and we got to 993MHz Core and 1291 Memory and it was stable enough for Vantage runs. We did see the occasional yellow dot on ATITool which indicated that it was on the border of artifacting due to lack of voltage, so figure the safe OC at stock volts to be around 25 MHz. OCing rule, take it to the ragged edge and back it down 20 MHz.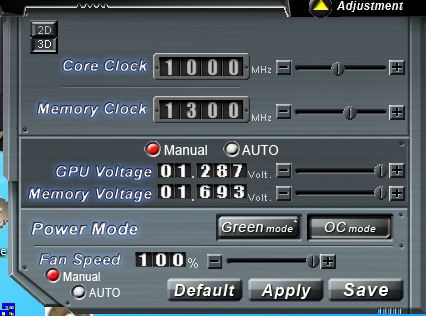 We maxed the voltage and Gigabyte OC Guru gave us 0.1v for Core and memory to play with so we pegged the voltage at maximum and went for it. We easily reached 1GHz core and 1300 Memory and it was totally stable with no indication of artifacting. There was probably a little headroom we aren't telling you about because 1 GHz core and 900 MHz memory is enough, more than enough and we wouldn't recommend running at this 24/7.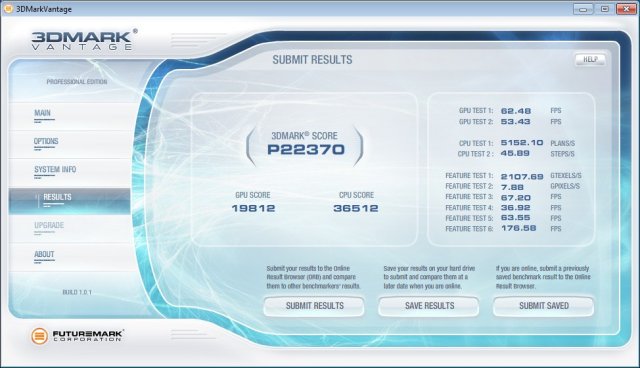 Now at stock speed we are on the cusp of 20k for the GPU score. Overall score is affected by CPU speed so I discount that in favor of GPU score which is a more reliable indicator of GPU performance. So we got 19812 at stock 950 MHz core and 1250 MHz memory. We were getting 17135 on the stock clocked Gigabyte HD5870 so that's a good improvement.
However we are on the cusp of breaking 20k GPU and we can't really get that without OCing so enter Gigabyte OC Guru with voltage adjustments.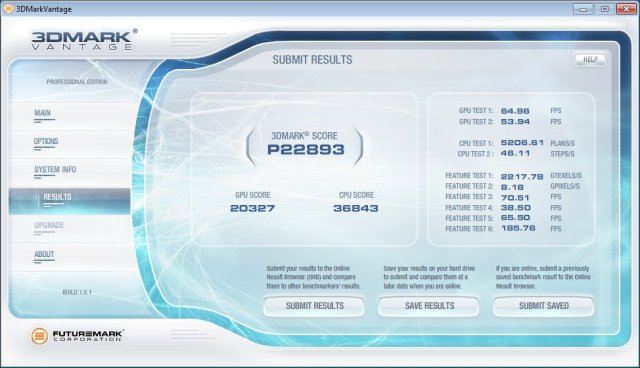 We had 19812 at stock clocks on the HD5870 SOC and with the voltage adjustment and 1GHz core 1300 MHz memory we jumped to 20327 and made our target GPU score of above 20K. Try that on your dads GPU (unless you have a really cool dad you aren't going to make 20k). So our OCing and voltage adjustment gave us and additional 515 Vantage points and drove us over the coveted 20k mark. We find ourselves liking the Gigabyte HD5870 SOC more than a few X-Significant others we've had. Fortunately I (switching to the first person gracefully) have the best better half this side of Heaven and she lets me have all the high end hardware a guy could want, and no, she's not available so stay the heck away.
Ultra Durable™ VGA+ and GPU Gauntlet™ Sorting
This next section comes directly from the Gigabyte website undiluted and unchanged. If you would like to see it in it's native format you can find it with pretty images HERE.
04/08/2010
Taipei, Taiwan, 7th April, 2010 –– GIGABYTE, a leading manufacturer of motherboards and graphics cards, introduces a powerful new addition to its Super Overclock Series: HD 5870 SOC. To qualify for Super Overclock Series, a GPU must go through GIGABYTE's innovative GPU Gauntlet™ Sorting process and it must be equipped with Ultra Durable VGA or VGA+ boards. Designed specifically for overclocking competition and gaming battle, GIGABYTE's secret weapon HD 5870 Super Overclock Edition is built with ATI RadeonTM HD 5870 GPU. Based on 40nm processor and advanced GDDR5 memory technology, the powerful new GPU consists of ground-breaking features including Microsoft DirectX® 11 and ATI Eyefinity Technology which leads to incredibly immersive HD gaming experience and unrivaled performance.
Ultra Durable VGA+

Thanks to Ultra Durable VGA+ that features 5+1 quality components, the Super Overclock Series supports top performance in graphics benchmarking.
Proadlizer® Quintuple
One of the quality components of Ultra Durable VGA+ is GIGABYTE's exclusive use of proadlizers. Unlike other leading brands that only use one proadlizer on their graphic cards, GIGABYTE generously uses five units of NEC Proadlizer®, also known as film capacitor, to provide amazing current capacity up to 5000uF and extremely low ESL/ESR for super overclocking ability. Five times the regular capacitance indicates the amount of electric energy stored is fivefold. By placing five proadlizers around GPU, electric currents are able to be charged and discharged rapidly to support super overclocking activity. The quintupled proadlizers transmit more stable power even during heavy loading.
Anti-turbulence Inclined Dual Fan

The outstanding dual fan design doubles the cooling ability and offers an extreme silent environment. The inclined cooling fan dissipates heat effectively from hot areas. Four heat pipes contribute to a drop of 13ºc temperatures, cooler than reference fansink.
OC Guru – Graphic Card Smart Tuner

GIGABYTE proudly presents world's first graphics card power saving software, OC Guru. This graphics card tweaking utility puts together the best combination of software/hardware overclocking. GIGABYTE's distinctive adjustable software offers gamers to adjust tuners for memory, voltage, and fan speed. OC Guru, the user-friendly software, gives hardcore gamers liberty when overcloking.
Voltage Read Point
GIGABYTE's specific voltage read point supplies hardcore gamers an ultimate benching experience at overclocking competition. Heavy users can change the voltage simply through software instead of manually adjusting any components on PCB. It is easy for overclockers to master the platform and monitor GPU workload at any time just through voltage read point.
GPU Gauntlet™ Sorting

GIGABYTE's very own GPU Gauntlet™ Sorting process is the key to the best GPUs for Super Overclock Series. A GPU must pass a sequence of tests to be selected. This unique process offers three major advantages. First, full-throttle performance tuning improves overclocking ability by at least 10% to 30%. Second, optimized thermal efficiency lowers extra temperatures by 5% to 10%. Fan speed is guaranteed at standard rpm in high-rated 3D and physics-accelerated games to reduce noise for an absolutely quiet environment. Lastly, expert power switching lowers power switching loss by 10% to 30%. With GPU Gauntlet™ Sorting, GIGABYTE SOC graphics card guarantees higher overclocking ability.
ATI Eyefinity Multi-display Technology

Benefiting from ATI Eyefinity Technology, every gamer can run up to 3 displays from a single HD 5870 graphics board and expand the field of view across all displays. End-users can enjoy the ultimate gaming experience with pioneering "wrap around" multi-display capabilities with ATI Eyefinity Technology.
 
The GIGABYTE Super Overclock Series includes GTX 275, GTX 260, HD 5870 and upcoming HD 5770. For more details about the Super Overclock Series, please visit the GIGABYTE VGA website at: http://www.gigabyte.com.tw/Products/VGA/Default.aspx
GIGABYTE SOC: http://www.gigabyte.com.tw/FileList/WebPage/vga_090911_oc/index.html
Facebook: http://www.facebook.com/pages/GIGABYTE-VGA/138376338834?ref=nf
Twitter: http://twitter.com/GIGABYTE_VGA
Pictures & Impressions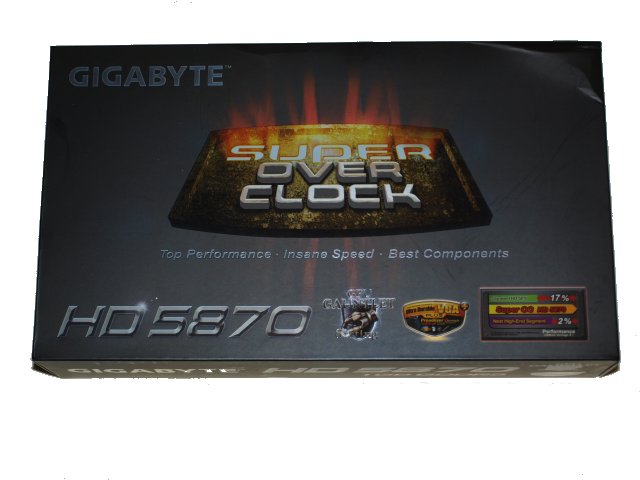 As you can see the shipping company dinged our box a little on the top right corner but the HD5870 SOC arrived safely and was well protected in it's nest of resiliant Foam inside the box.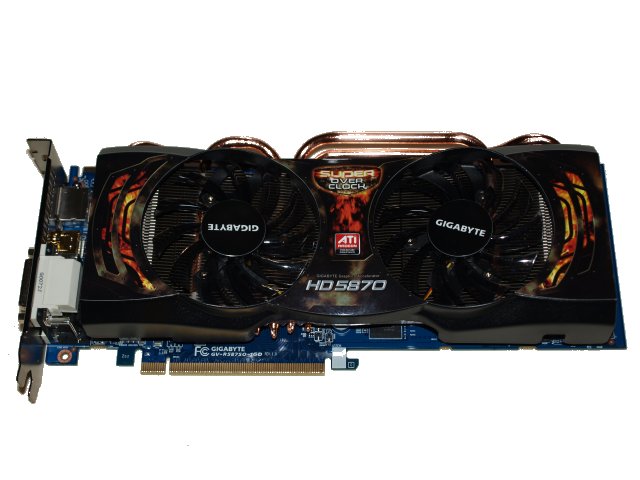 The card itself looks identical to the Giga HD5870 we reviewed a few weeks back except this one has stickers proclaiming it to be the Super OC Model. We see the same cowling with the Dual inclined fans, same copper heatpipes, same PCB but there are a few differences. Mainly this is a top Gauntlet selected core and has a nice factory OC. The Giga HD 5870 non-SOC is a great card but this one is epic in almost every way.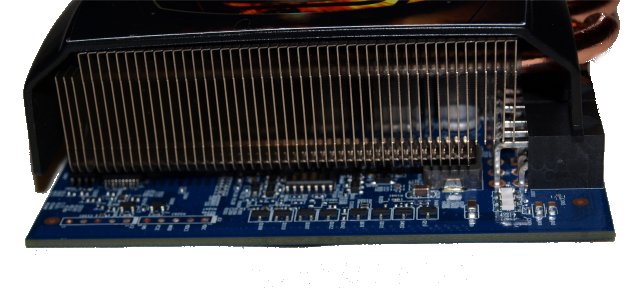 One of the things that has impressed us on the Giga HD5870's is the almost full body heatsink and cooling vanes. A lot of times you find that attention to detail can tell you a lot about the quality build of a product. Notice the components are squarely lined up and the vanes are perfectly straight. That's a good indicator of strict quality control.
Notice to the left edge of the card you'll find voltage test points which become important in extreme cooling solution Overclocking. That's a nice touch that should tell you this is a world class HD5870.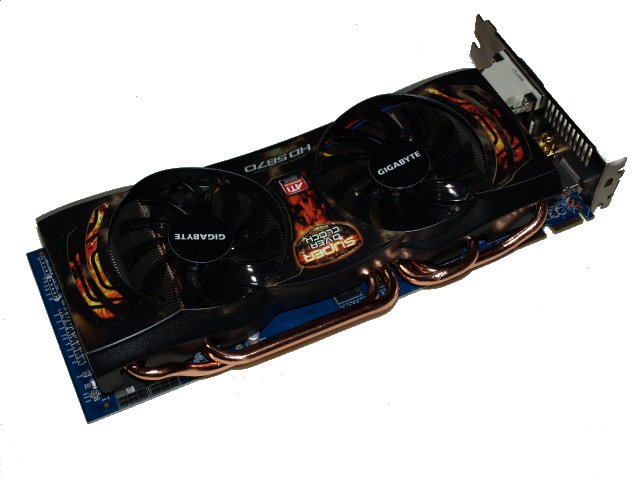 Looking at the top of the card you see the all copper heat pipes and a peek at the 2 six pin PCI-E power connectors.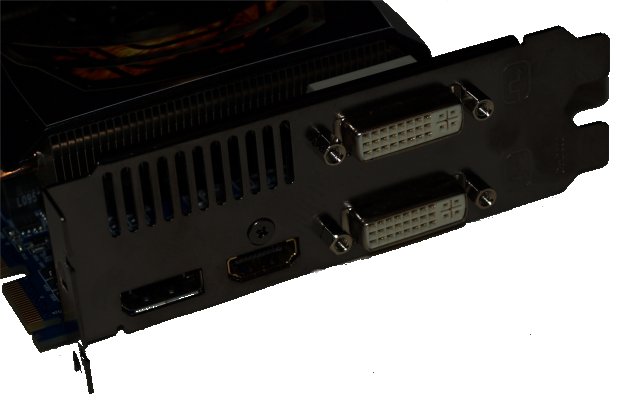 On the business end you get 2 DVI, a Dislayport and an HDMI.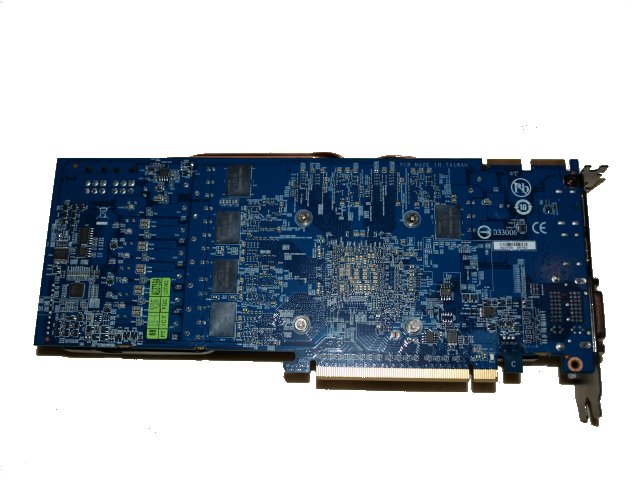 Back of the card shows us well soldered components that line up well with no indication of sloppy component placement. Another indicator that Gigabyte has strict quality control on their cards.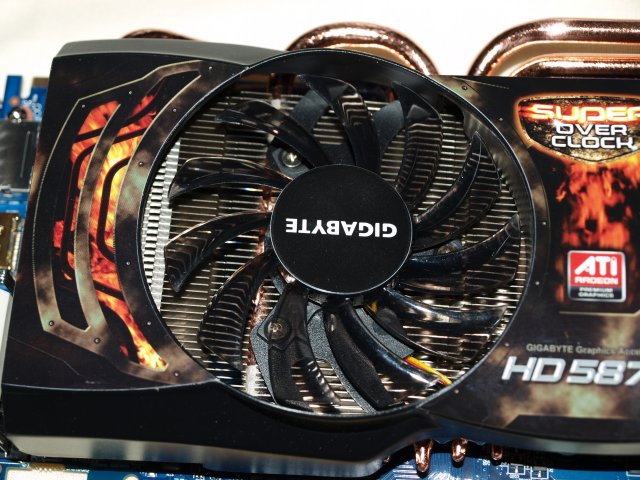 Thanks to the magic of a new DSLR Olympus E420, we got a nice closeup of the fan closest to the DVI connectors and if you'll notice the vanes on the heatsink are again perfectly straight allowing for maximum airflow.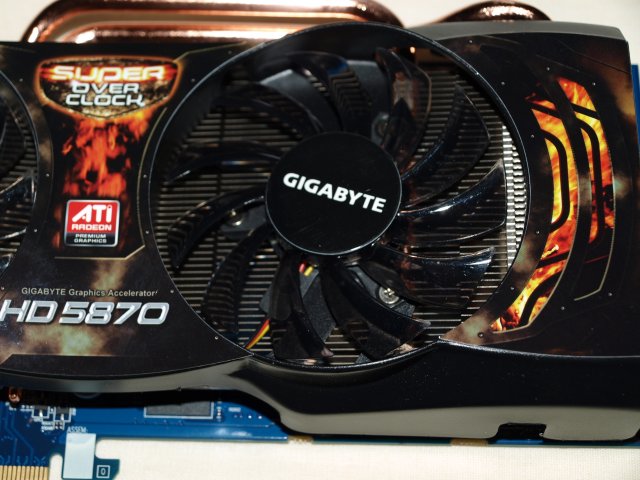 The rear fan of the daul inclined set shows us the same perfection in manufacturing we've seen on the rest of the card. The previous Giga HD5870 was a nice card but this one shows a little more style and flair with the nice stickers on it.
Notice Gigabyte's all copper heat pipes extend all the way to the GPU cooler base and the base itself is copper. You would be amazed how often the copper heat pipes on a GU lead to an aluminum base defeating part of the point of copper heatpipes.

In order to get this close to the reflective heat pipes we had to go low light and you can see a few imperfections in the pipes but in all they should perform well. Bending the copper will produce slight imperfections and we know of no way around that.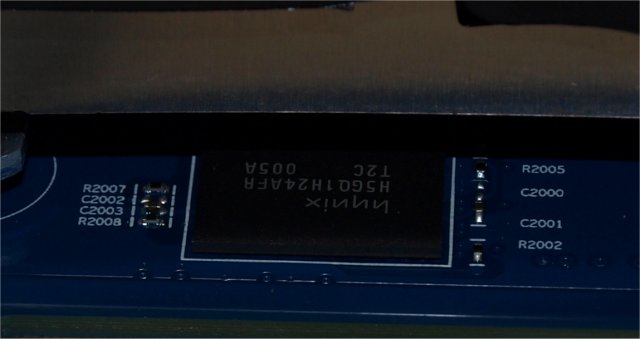 Peeking under the hood we find the Hynix Tier one memory just like promised.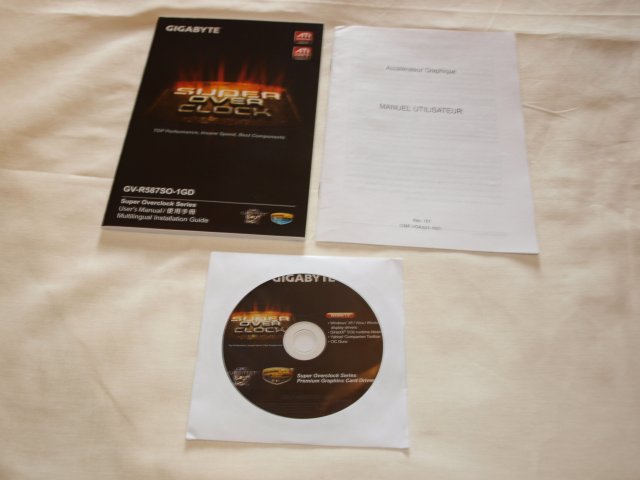 We got a nice manual, a driver disk with OC Guru on it and a multilingual quick start guide.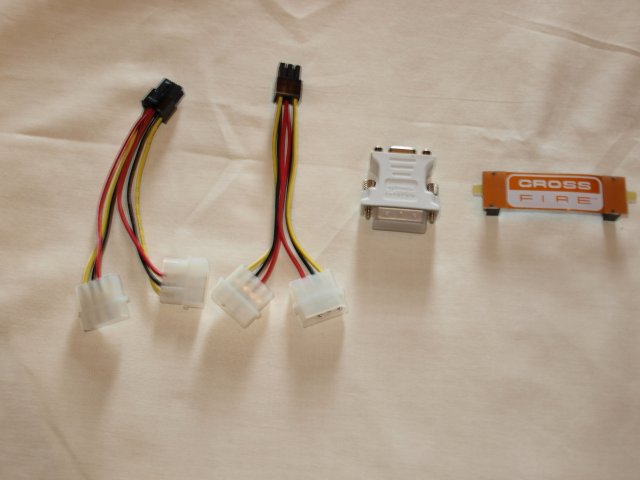 Along with the disk and books we found two Molex to PCI-E adapters that will cause us to slap you if we find you using them on an expensive high end GPU like this. Then we found a DVI to 15 pin Dsub adapter and a Crossfire bridge.
TESTING & METHODOLOGY
To Test the Gigabyte HD 5870 we did a fresh load of Windows 7 Ultimate, applied all the updates we could find, installed the latest motherboard drivers for the Asus P6T6, updated the BIOS, and loaded our test suite. We didn't load graphic drivers because we wanted to pause to clone the HD with the fresh load of Windows 7 without graphic drivers. That way we have a complete OS load with testing suite and it's not contaminated with GPU drivers. Should we need to switch GPU's or run some Crossfire action later all we have to do is clone our clone and install GPU drivers and we are good to go.
We ran each test a total of 3 times and report the average here. In the case of a screenshot of a benchmark we ran the benchmark 3 times, tossed out the high and low and post the median result from the benchmark. If we got any seriously weird results we kicked out that run and redid the run. Say if we got 55FPS in two benchmark runs, then the third came in at 25FPS we kick out the 25FPS run and repeat the test. That doesn't happen very often but anomalous runs do happen rarely.
Test Rig
Test Rig
"Quadzilla"
Case Type
Silverstone Raven 2
CPU
Intel Core I7 980 Extreme
Motherboard
Asus P6T6 WS Revolution
Ram
Kingston HyperX 12GB 1600 MHz 9-9-9-24
CPU Cooler
Thermalright Ultra 120 RT (Dual 120mm Fans)
Hard Drives
Patriot 128 GB SSD (Boot & Games)/WD Velociraptor 300GB
Optical
Asus BD Combo
GPU Tested

GIgabyte HD5870 Super Overclock
Asus GTX-470 Voltage Tweak Edition
PNY GTX-470
Nvidia GTX-480
Asus 5970
Visiontek HD Radeon 5870
Gigabyte HD Radeon 5870 Gigabyte HD Radeon 4890 OC
Asus HD Radeon 4890 Voltage Tweak Edition
PNY GTX-285 Performance Edition
XFX GTX-285 XXX
BFG GTX-295
Asus GTX-295
XFX 9800 GTX+ Black Edition
BFG GTX-260 MaxCore
Palit HD Radeon 4870X2
Sapphire HD Radeon 4870 512MB
Diamond HD Radeon 4870 1 GB
Sapphire HD Radeon 4850 Toxic
Drivers for Nvidia GPU's 197.41
Drivers for ATI GPU's 10.3

Case Fans
120mm Fan cooling the mosfet CPU area
Docking Stations
Thermaltake VION
Testing PSU
Silverstone Strider 1500 Watt
Legacy
Floppy
Mouse
Razer Lachesis
Keyboard
Razer Lycosa
Gaming Ear Buds

Razer Moray
Speakers
Logitech Dolby 5.1
Any Attempt Copy This System Configuration May Lead to Bankruptcy
Synthetic Benchmarks & Games
Synthetic Benchmarks & Games
3DMark Vantage
World In Conflict Benchmark
Crysis v. 1.2
Dirt 2
FarCry 2
Stalker COP
 Crysis Warhead
Unigine Heaven v.2.0
Just Plain Gaming With it
FurMark
Mass Effect 2
Metro 2033
You can see we are indeed all over the map, DX9, DX10, DX11, Tessellation, old, new and in between. We wanted as wide a representative sample as possible in the time available.
Crysis v. 1.21

Crysis is the most highly anticipated game to hit the market in the last several years. Crysis is based on the CryENGINE™ 2 developed by Crytek. The CryENGINE™ 2 offers real time editing, bump mapping, dynamic lights, network system, integrated physics system, shaders, shadows, and a dynamic music system, just to name a few of the state-of-the-art features that are incorporated into Crysis. As one might expect with this number of features, the game is extremely demanding of system resources, especially the GPU. We expect Crysis to be a primary gaming benchmark for many years to come.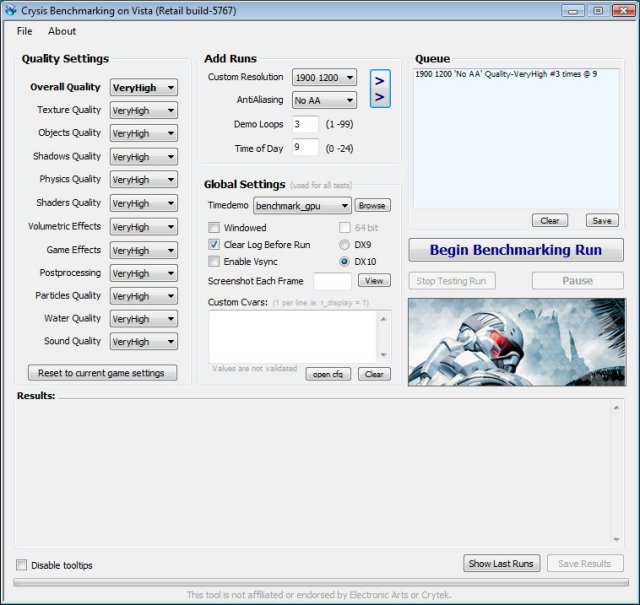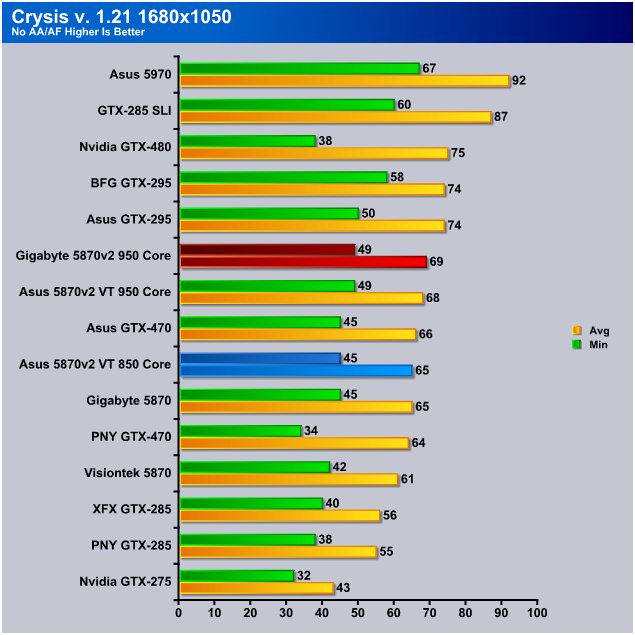 Of the 5870's we've tested the Gigabyte HD5870 SOC has the highest factory clocks, 950/1250, so it's no surprise that it sneaks a few frames ahead of the 5870's we've tested. The Asus HD5870 VT is right there with it when we overclocked it but the Giga model has the advantage of a factory OC and as such retains it's factory warranty at that speed.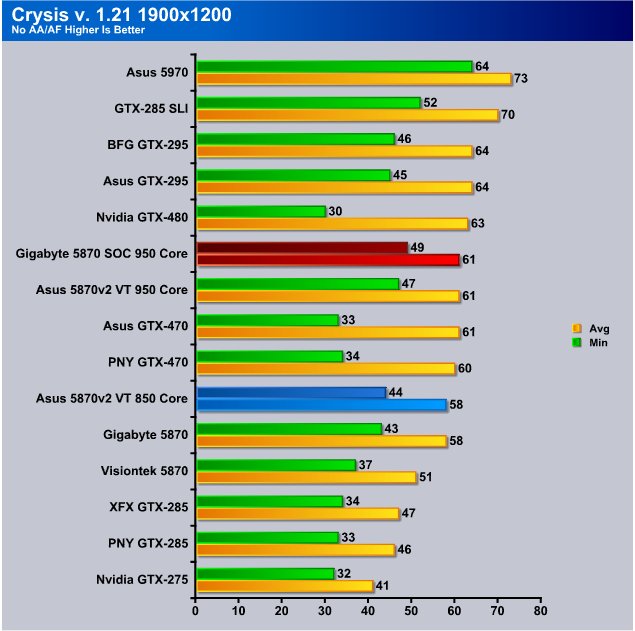 Here again we see the HD5870 Super Overclock topping the 5870 stack by 4 or 5 FPS. We should get one thing clear, the Gigabyte model and the Asus model aren't in direct comparison here, we just happened to have two cards benched when we made the charts and it was faster to chart both at once.
The reason we say that they aren't in direct comparison is because even though the Asus model will OC as high as the Gigabyte model it's not factory overclocked. Also, the Gigabyte model will cost you a pretty penny more than the Asus model. When you crank the core as high as this one is, there are two reasons for fluffing the price, it's worth it, and to cover failed card costs. With clocks this high the 5870 SOC will have a slightly higher failure rate than a stock clocked card.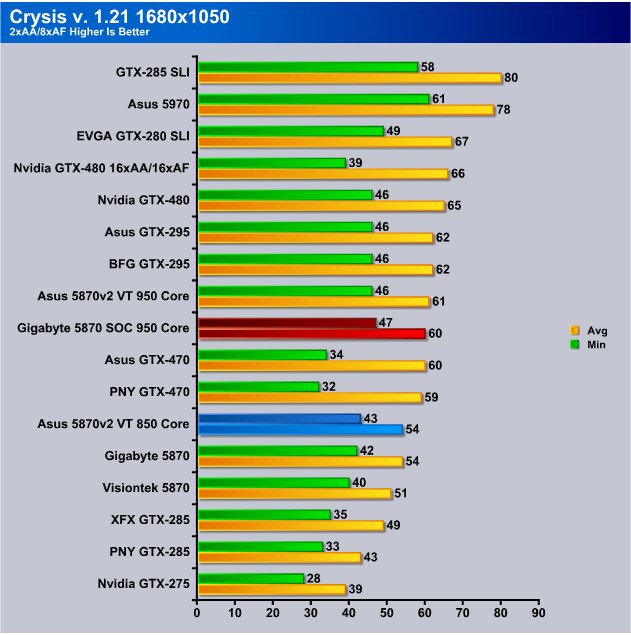 The 950/1250 clocks on the Gigabyte HD5870 SOC carry it to the top of the stack again and it's pulling a 4 – 5 FPS win over the other 5870's.
The Gigabyte HD5870 SOC took the top of the stack in minimum FPS but the overclocked Asus card took the win by 1 FPS average frames.
CRYSIS WARHEAD

Crysis Warhead is the much anticipated sequel of Crysis, featuring an updated CryENGINE™ 2 with better optimization. It was one of the most anticipated titles of 2008.
The Settings we use for benchmarking Warhead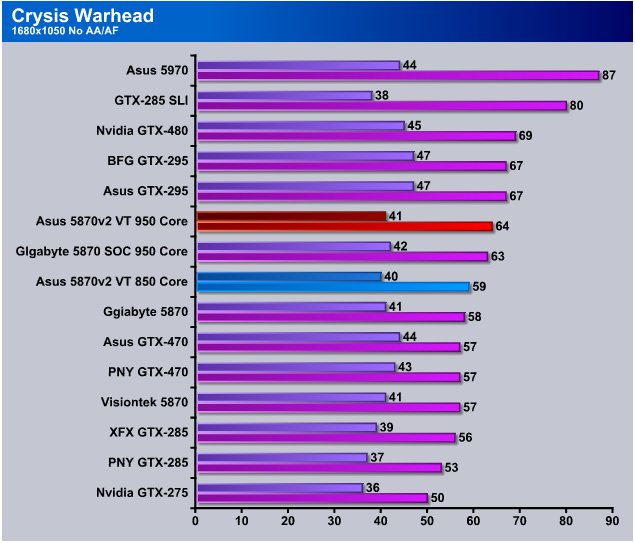 In this chart we highlighted the Asus model to show the gain from a stock clocked card to an overclocked card. We got 1 FPS minimum and 5 FPS average performance gain. The Gigabyte HD5870 SOC split the win with the overclocked Asus 5870 VT.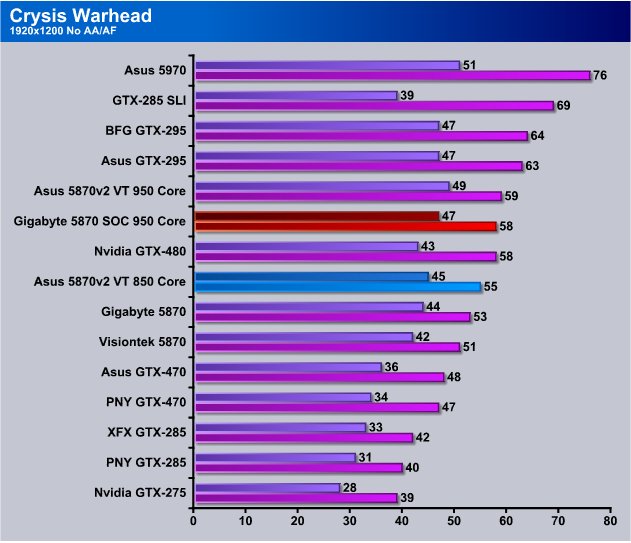 You'll find in most cases a 100 MHz core clock increase gives 2 – 5 FPS in games and that's holding true here. We got a 2 FPS increase over the factory clocked Giga 5870 in minimum FPS and a 5 FPS increase on average FPS. What you have to think about here is yes it's faster but since it's already over 30 FPS on the stock clocked HD5870 the extra FPS you got on the SOC model aren't doing you any good at this point. Anything above 30 FPS is rock solid to the eye.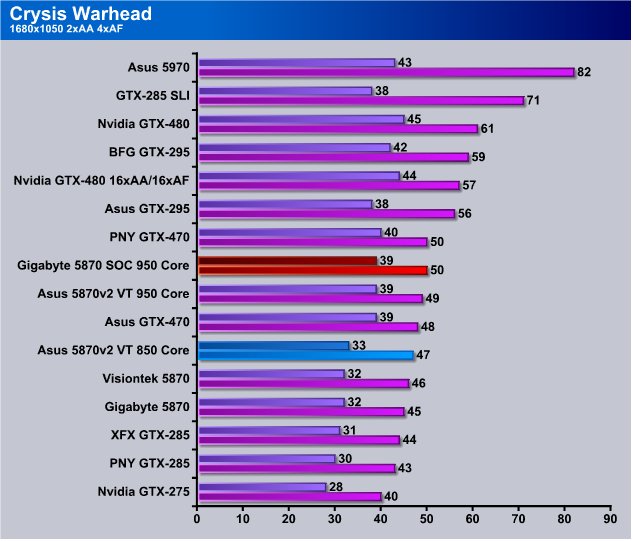 Cranking AA/AF on the Giga HD5870 SOC did give a nice performance increase at this level. We got 6 FPS Minimum and 3 FPS Average but again both the stock clocked and SOC models were above the minimum FPS required for solid game play.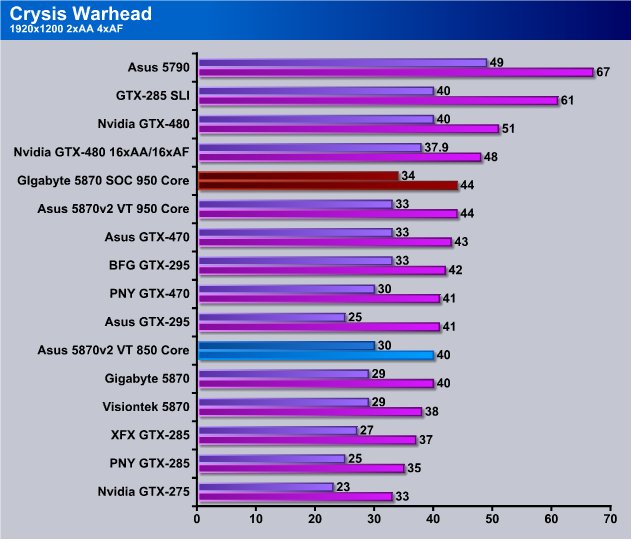 Hear at 1920×1200 is where the overclock on the Gigabyte HD 5870 SOC made a difference. A couple of the HD5870's dropped to 29 FPS but Warhead likes a fast core clock and a fast memory clock so the HD5870 SOC pulled up 5 FPS over the stock clocked cards. Minimum FPS are a little deceptive, say the game dipped to 29 FPS twice and only for one frame each incident. The benchmark will show it but the human eye won't see it. What we are saying there is any of the HD5870 would be good to go at this level.
Cards like the Gigabyte HD5870 SOC are great for games but then most of the HD5870's are great for gaming. Where the Gigabyte HD5870 SOC shines is for serious overclockers. It has a Gauntlet sorted core and tier one memory and that's guaranteed. It also has voltage measurement points for extreme cooling situations. The Gauntlet sorted core and tier one memory is nice for everyone but the voltage measurement points are for hardcore overclockers and limited use to the rest of us.
In the hands of a talented overclocker with LN2 in mind this might be the optimal card because of the additional voltage the Gigabyte OC Guru offers on this model. For guys like us it offers bragging rights and a little overhead for overclocking for glory benchmark runs.
Far Cry 2

Far Cry 2, released in October 2008 by Ubisoft, was one of the most anticipated titles of the year. It's an engaging state-of-the-art First Person Shooter set in an un-named African country. Caught between two rival factions, you're sent to take out "The Jackal". Far Cry2 ships with a full featured benchmark utility and it is one of the most well designed, well thought out game benchmarks we've ever seen. One big difference between this benchmark and others is that it leaves the game's AI (Artificial Intelligence) running while the benchmark is being performed.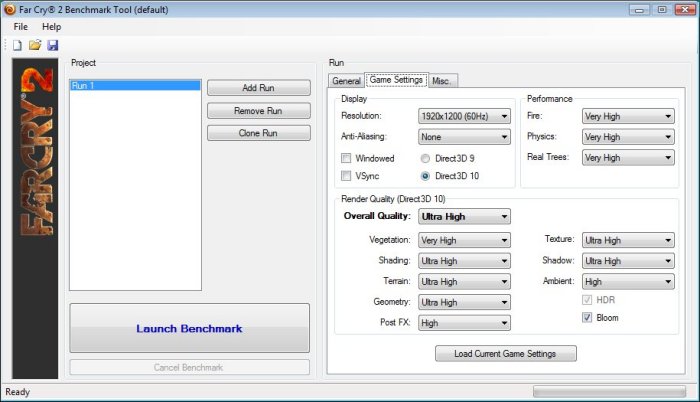 The Settings we use for benchmarking Far Cry 2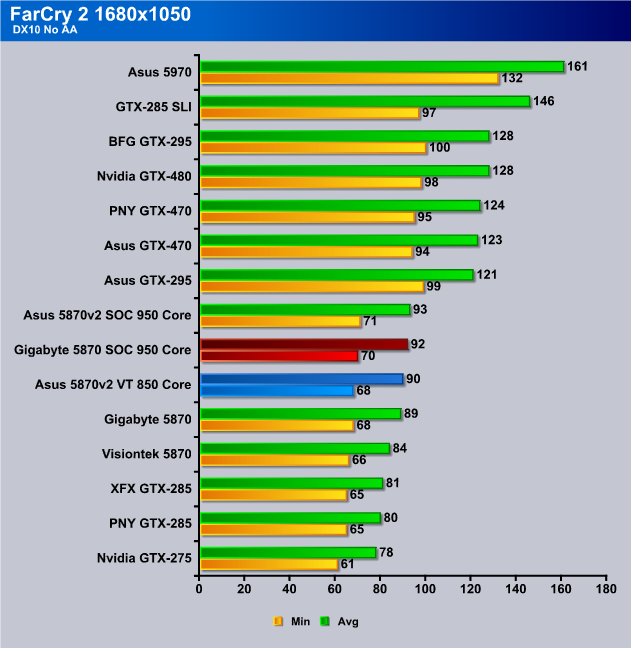 At this level in Far Cry 2 the overclocked Asus 5870 VT (5870v2) came out ahead of the Gigabyte HD5870 SOC by just a hair. By the same token the Gigabyte HD5870 SOC came in just ahead of the Asus card when it was stock clocked. The factory overclocked cards offer a nice OC for those not comfortable with overclocking themselves or who want to keep the warranty intact. In most cases overclocking your equipment will void the warranty.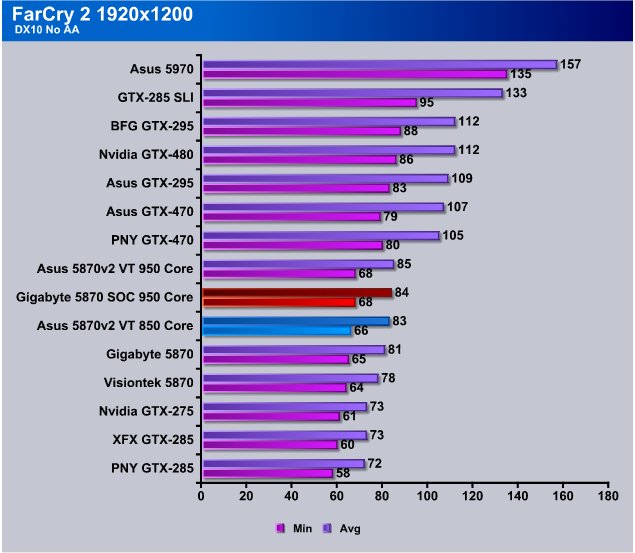 If we are looking at factory speeds, then the Gigabyte HD5870 SOC took the lead again. If we consider overclocking manually, then at the same core/memory speed the Asus card took the lead. Problem with that is both cards have overclocking headroom left. We don't recommend running at the bare edge of overclocking because too often that's right there where a component fails or an OS gets corrupted. Back on the Gigabyte OC Guru page we saw that the Super Overclock card could hit 1 GHz core and we benched Vantage at that with no errors pushing us over 20k GPU score. That's what we see the ragged edge of overclocking as, short benchmark runs then back to factory clocks.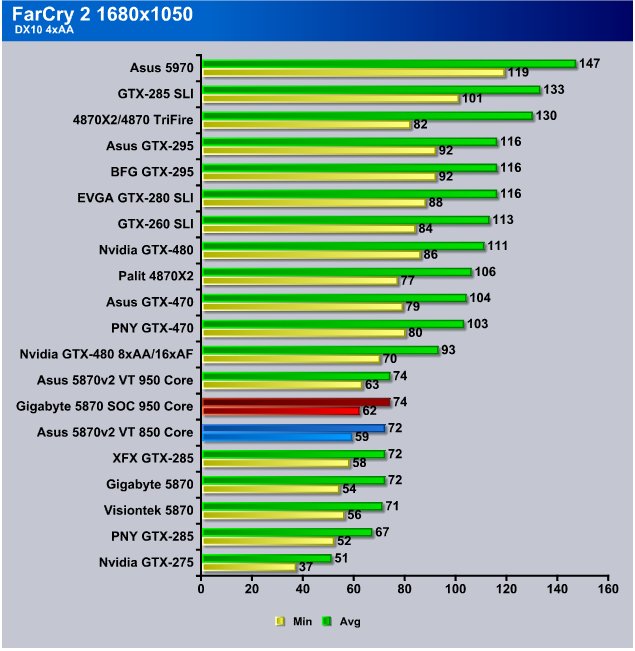 It has been long enough that a lot of people might not remember but Far Cry 2 had the advantage of an Nvidia optimization team so it favors Nvidia cards somewhat. Optimization teams are a fact of life so we have no qualms about benching both teams GPU's on Far Cry 2 but prefer to keep the comparisons between ATI to ATI and Nvidi to Nvidia in this epic game.
The Gigabyte HD5870 SOC got 3 FPS higher than the stock clocked Asus card in min frames and 2 FPS more in average FPS.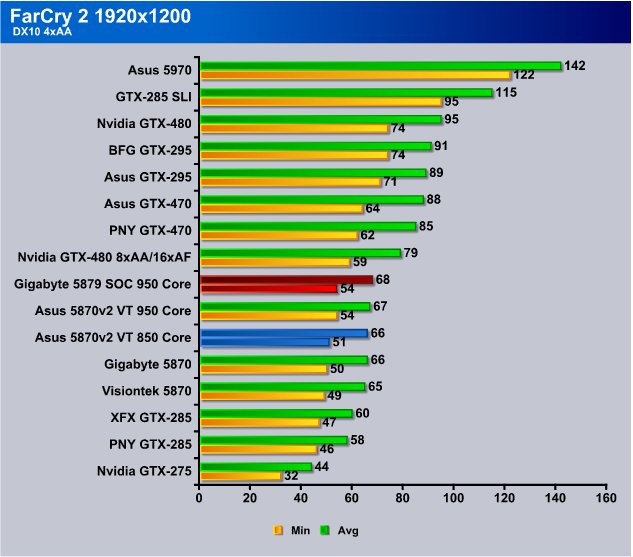 Here again at the highest resolution tested we see the Gigabyte HD 5870 (which I mistakenly named 5879) came out a few FPS ahead of the stock clocked 5870's.
Unigine Heaven 2.0

Unigine Heaven is a benchmark program based on Unigine Corp's latest engine, Unigine. The engine features DirectX 11, Hardware tessellation, DirectCompute, and Shader Model 5.0. All of these new technologies combined with the ability to run each card through the same exact test means this benchmark should be in our arsenal for a long time.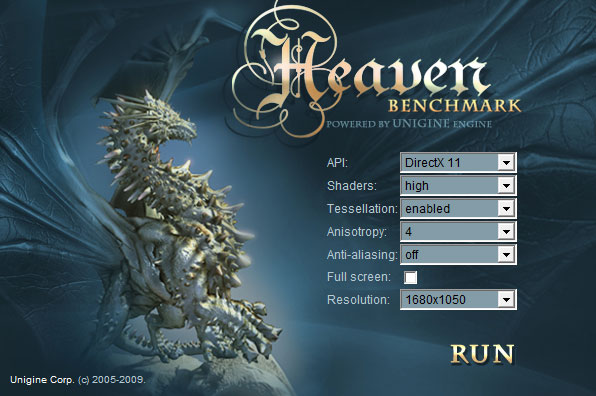 The settings we used in Unigine Heaven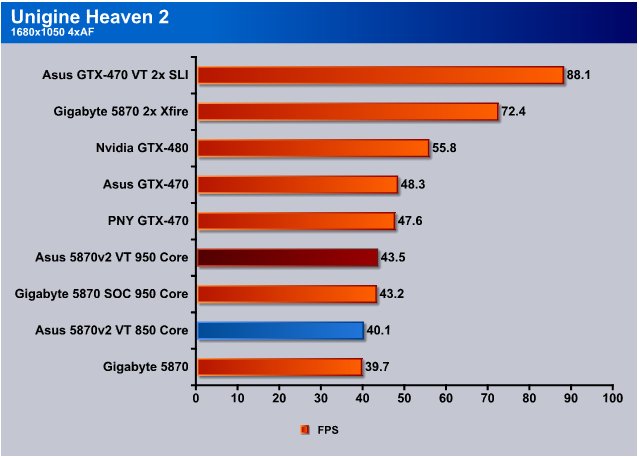 In Heaven 2 the Gigabyte HD5870 SOC topped the selection of 5870's we've tested. Notice on this chart we took the stock clocked Gigabyte HD5870 and the Gigabyte HD5870 SOC and Crossfired them. At the single card level stock clocks we were getting 40(ish) FPS and in Crossfire we got 72.4 FPS, We will say that the ATI drivers reduced the speed of the Gigabyte HD5870 SOC to 850/1200 to match the stock clocked model and neither Gigabyte OC Guru or CCC wanted to OC the pair for us so we left the clocks at 850/1200 on both cards for this purpose.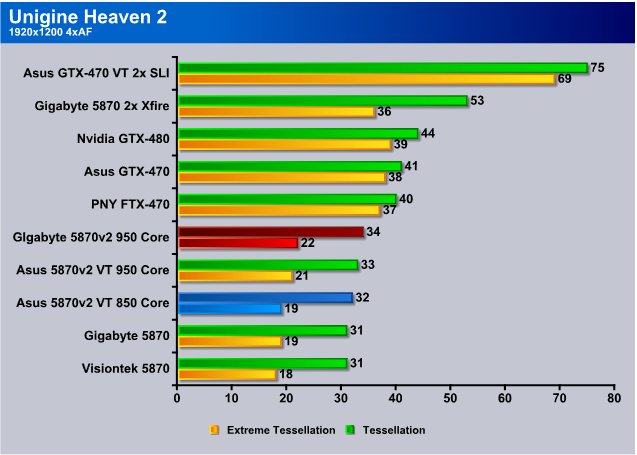 Heaven 2 gets rough on GPU's at 1920×1200 with 4xAF turned on. Even the Gigabyte HD5870 SOC dropped to 22 FPS minimum and 34 FPS Average. When we Crossfired the two 5870's we got 36 FPS minimum and 53 FPS Average and that scaling is pretty darn good for multi-GPU configurations. We do however have to take into consideration the GTX-470 SLI setup which would be cheaper than Dual HD5870's and it provides a significant performance increase over the HD5870 pair.
Figure in the $900 range for the HD5870 pair and $700 for the Nvidia pair so that makes it a hard decision if you are purchasing two cards at once.
Dirt 2

Colin McRae Dirt 2 is the squeal to the popular racing game Colin McRae Dirt. The game is a racing game, but with an off road twist. Instead of racing Bugattis and Porsches your going to be racing trophy trucks and rally cars. The newest addition adds DirectX 11 effects, and modified physics from the original game.
We only tested Dirt 2 with AA/AF and you'll see why in a moment.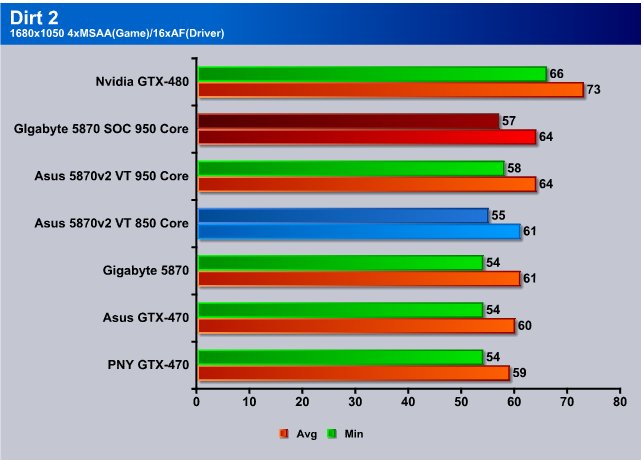 Dirt two seems to like ATI cards better than Nvidia and the Gigabyte HD5870 SOC is only beaten by the GTX-480.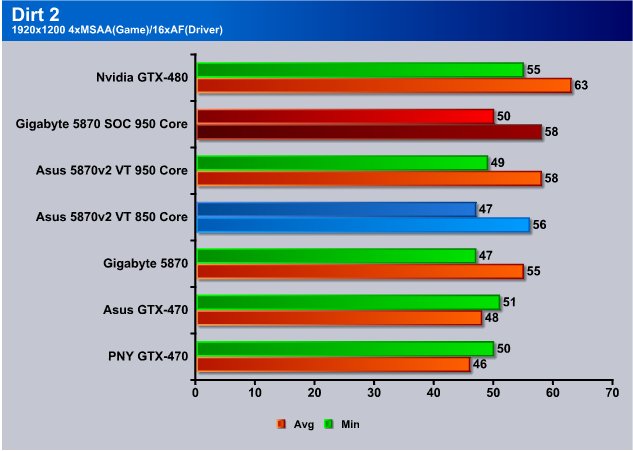 We see pretty much the same thing here in Dirt 2 at 1920×1200 the Gigabyte HD5870 SOC is only bested by the GTX-480 but once again we have to look at the fact that any of these cards perform nicely at this level.
S.T.A.L.K.E.R.: Call of Pripyat

Call of Pripyat is the latest addition to the S.T.A.L.K.E.R. franchise. S.T.A.L.K.E.R. has long been considered the thinking man's shooter, because it gives the player many different ways of completing the objectives. The game includes new advanced DirectX 11 effects as well as the continuation of the story from the previous games.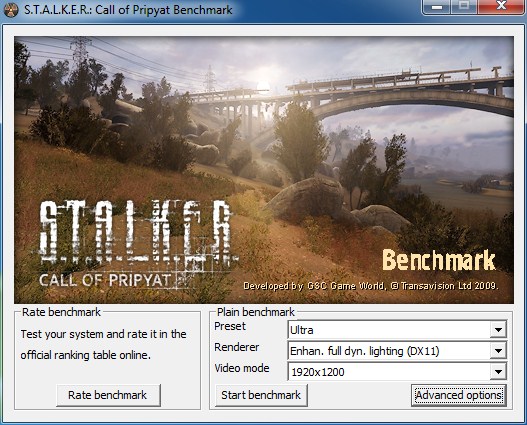 The settings we used benching Stalker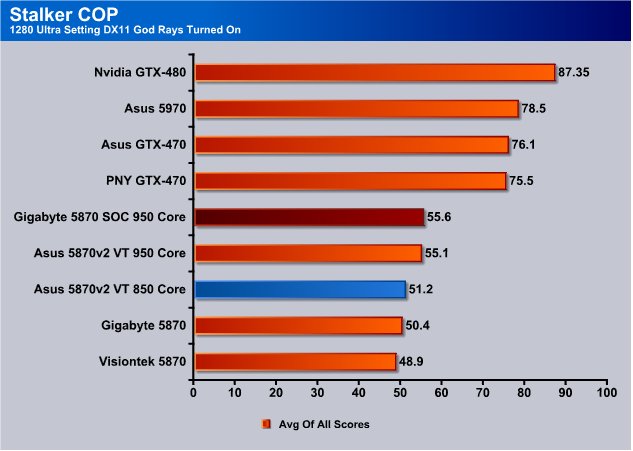 The first three charts shoe Stalker runs with Sun Shafts included in the average score, the last three are without Sun Shafts. At 1280×1024 the Gigabyte HD5870 SOC bested the HD5870 lineup by about 4 FPS.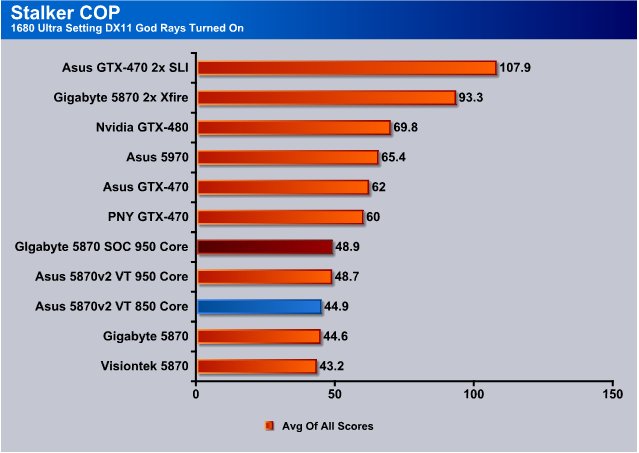 Moving up to 1680×1050 the HD5870 SOC keeps its 4 FPS lead over stock clocked cards and all the cards are well into playable frame rates.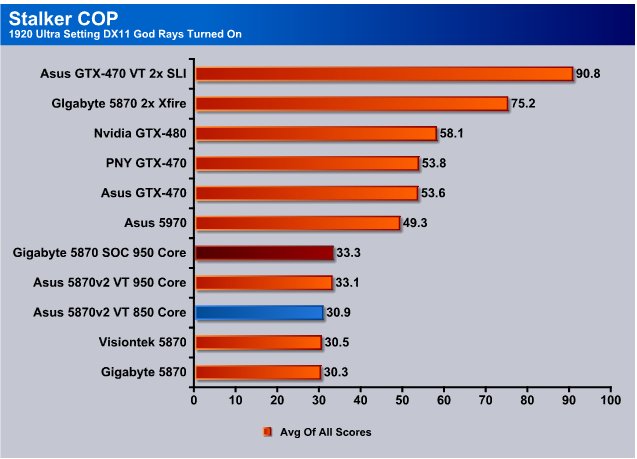 When you hit 1920×1200 with Sun Shafts on things start to get rough and the stock clocked HD5870's drop down to barely playable. Keep in mind we are showing average FPS, when it comes to minimum FPS things got a little ugly. On Average FPS the Gigabyte HD5870 SOC came in 3 FPS faster than stock clocked cards.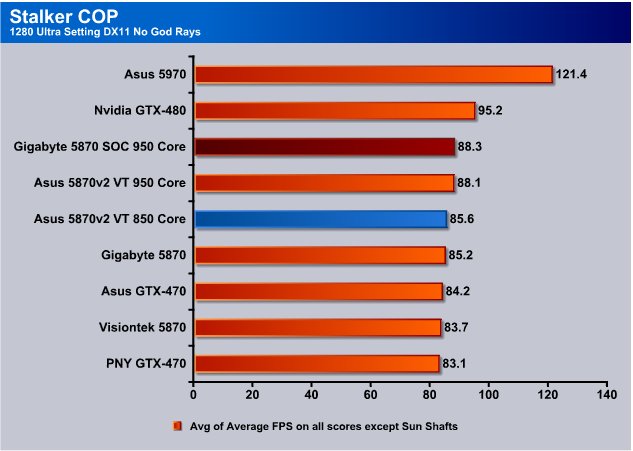 Turning off Sun Shafts in Stalker COP makes a dramatic difference so if you can live without those, the game will run better. We like Sun Shafts as they add a little realism to the game. If you've ever hunted, while stepping from the shadows to sun streaming through a trees canopy, it makes it much harder to get an accurate target picture. Stalker's Sun Shafts provide that extra degree of difficulty.
With Sun Shafts out of the equation the HD5870 SOC came in 3 FPS ahead of the stock clocked HD5870's.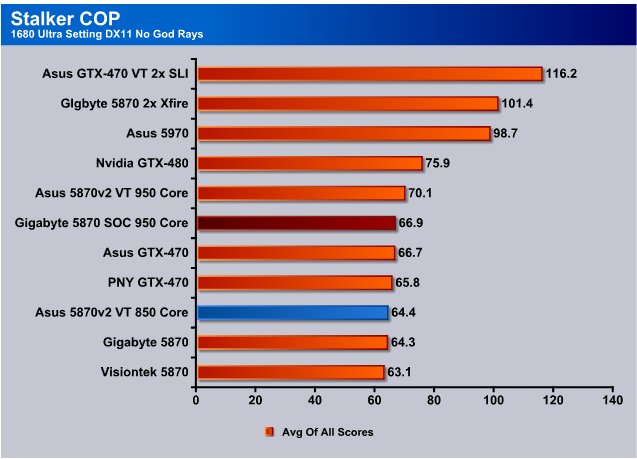 Ramping it up to 1680×1050 the Gigabyte HD5870 SOC drops to within a frame or two of the stock clocked cards.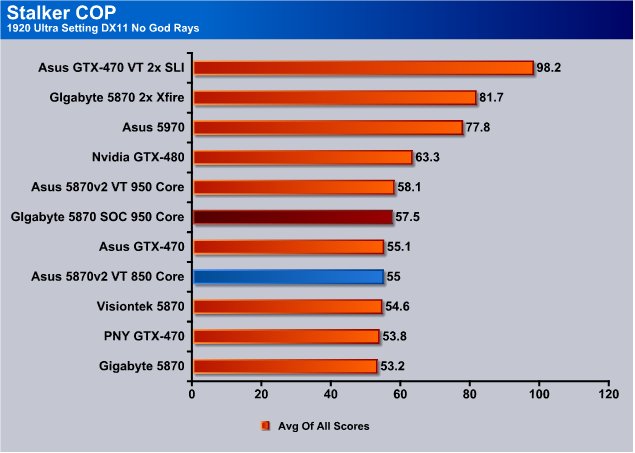 At 1920×1200 it becomes painfully obvious the price you pay for Sun Shafts. Previously at this resolution we were getting 30 FPS Avg and without them we get 53 – 57 FPS with the Gigabyte HD5870 SOC leading the 5870 pack.
Furmark
Since Furmark has a built in benchmark we decided to play with that a little bit to evaluate it's benchmark viability. This is a shot of the Furmark results from a previous review so you can see what the results page looks like. We went ahead and built charts for this review.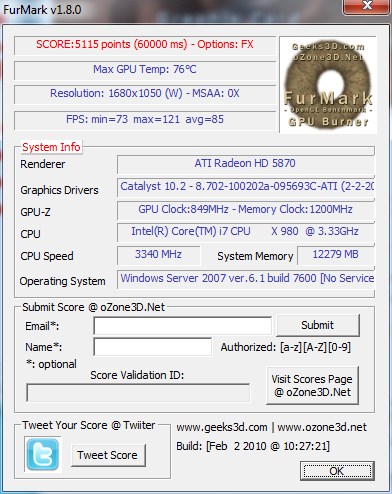 This shot of Furmark benchmark results isn't from this round of testing, it's just there to show you what the results page looks like.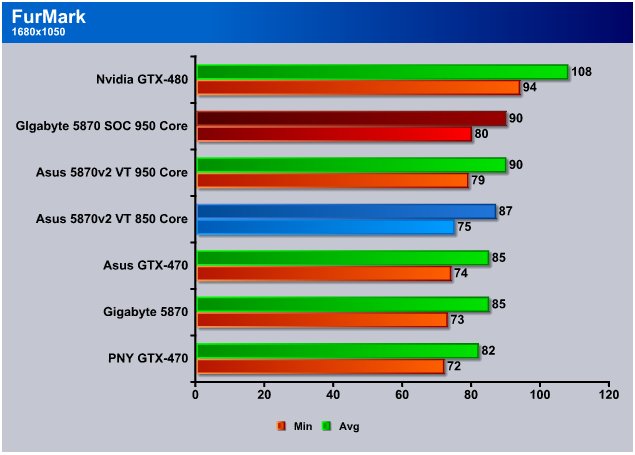 So far from what we've seen FurMark's built in bench isn't horribly demanding and seems to favor ATI GPU's a little but since we have data on the current crop of latest and greatest GPU's we're using it for now.  The Gigabyte HD 5870 SOC is 5 FPS ahead of it's closest 5870 competitor in Minimum FPS and 3 ahead on average FPS. Notice the simular results we got from taking a stock clocked card and OCing it ourselves.
Some people are comfortable overclocking GPU's and some aren't. The Gigabyte HD5870 SOC takes the hassle out of having an overclocked card and it keeps its factory warranty at the Factory OC speed.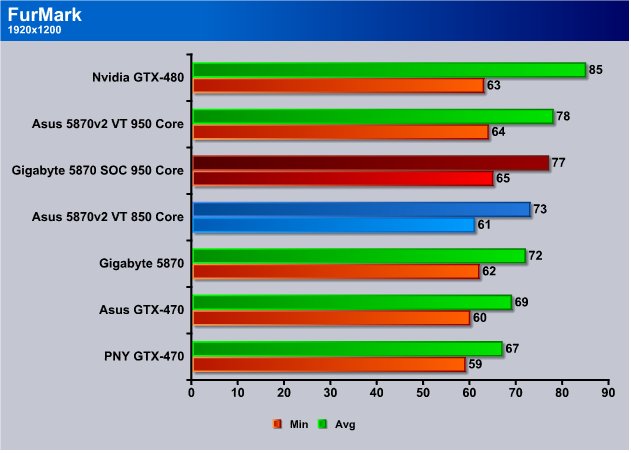 Here at 1920×1200 the HD5870 SOC is 3 FPS ahead of the stock clocked cards at Min FPS and 5 FPS ahead on Avg FPS which has been the case through most of our testing.
Mass Effect 2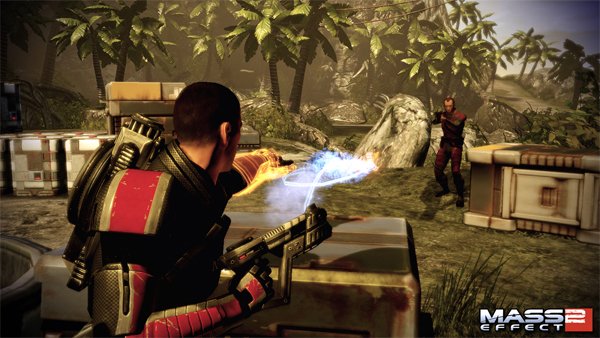 Two years after Commander Shepard repelled invading Reapers bent on the destruction of organic life, a mysterious new enemy has emerged. On the fringes of known space, something is silently abducting entire human colonies. Now Shepard must work with Cerberus, a ruthless organization devoted to human survival at any cost, to stop the most terrifying threat mankind has ever faced.
To even attempt this perilous mission, Shepard must assemble the galaxy's most elite team and command the most powerful ship ever built. Even then, they say it would be suicide. Commander Shepard intends to prove them wrong.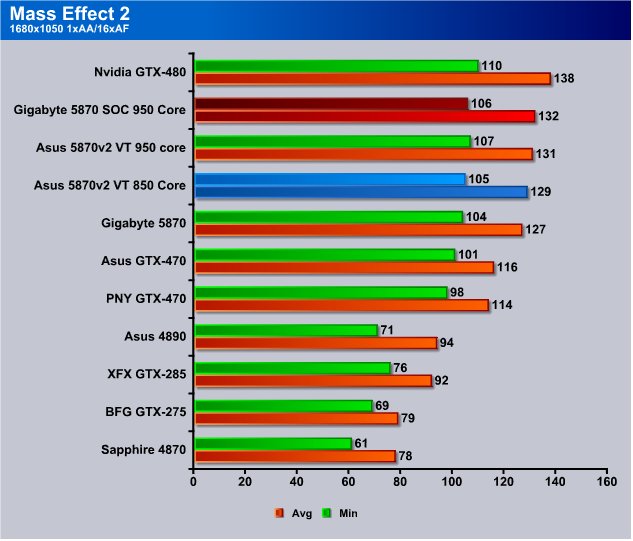 Mass Effect 2 isn't very demanding on GPU's but it scales well across them and from what we can see doesn't seem to favor either Nvidia or ATI very much so it shows scaling pretty well. In this game the HD5870 SOC was only beaten by the Nvidia GTX-480.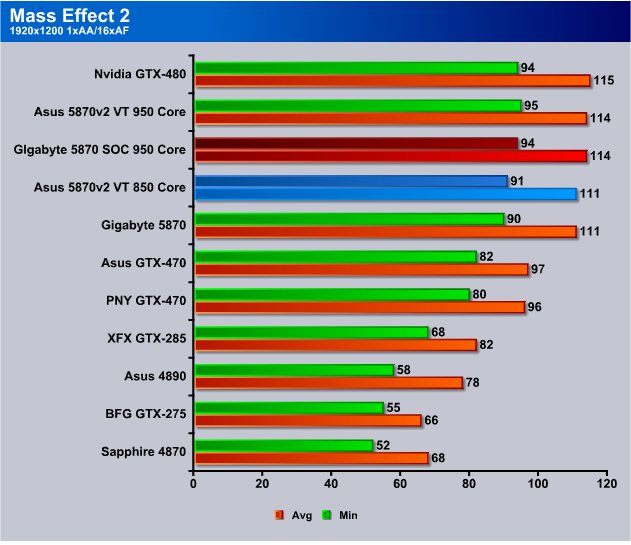 Keeping in mind we are focusing on the factory clocks and not our ad hoc overclock on the Asus HD5870 VT the Gigabyte HD5870 SOC tops the stock clocks on all the HD5870's we've seen so far.
Metro 2033

Metro 2033 is an action-oriented video game with a combination of survival horror, and first-person shooter elements. The game is based on the novel Metro 2033 by Russian author Dmitry Glukhovsky.
The enemies that the player encounters range from human renegades to giant mutated rats and even paranormal forces known only as "The Dark Ones". Players frequently have to defend themselves with makeshift combination's of different weapons, e.g a revolver with a sniper scope attached.
Ammunition is also scarce, and the more rare Military Grade bullets are used as currency (to purchase supplies and guns), or in combat as a last resort, giving an added damage boost, forcing the player to hoard supplies.
The game lacks a health meter, relying on audible heart rate and blood spatters to show the player what state they are in and how much damage was done. A gas mask must be worn at all times when exploring the surface due to the harsh air and radiation. There is no on-screen indicator to tell how long the player has until the gas mask's filters begin to fail, so players must set a wrist watch, and continue to check it every time they wish to know how long they have until their oxygen runs out, requiring the player to replace the filter (found throughout the game). The gas mask also indicates damage in the form of visible cracks, warning the player a new mask is needed. The game does feature traditional HUD elements, however, such as an ammunition indicator and a list of how many gas mask filters and adrenaline shots remain.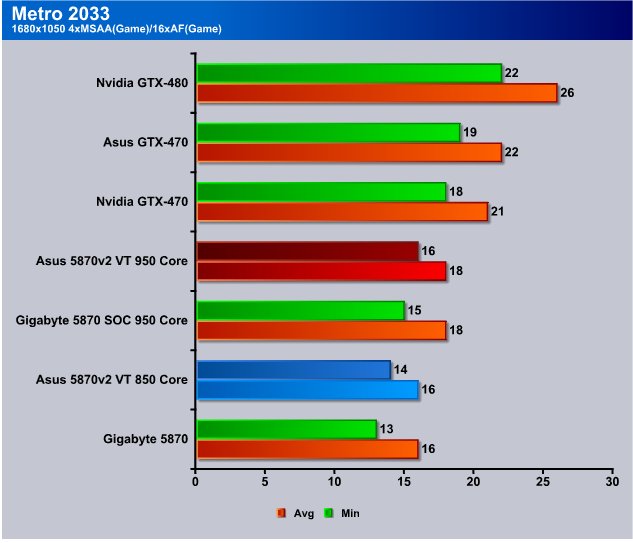 Here at 1680×1050 we had PhysX on which we don't normally do. Since we already had it running and didn't notice we are going to run with it for now. Please keep in mind this isn't typical performance in Metro 2033 it's PhysX performance which gives an unfair advantage to Nvidia cards.
Of the ATI HD5870's the Gigabyte HD 5870 fared the best but since PhysX was on FPS weren't very good. Notice none of the GPU's managed 30 FPS and that will tell you how hard Metro can be on GPU's with all settings on high. Play at the factory settings out of the box and it runs fine on all the GPU's, go for eye candy and you get a semi-slide show.
No PhysX at 1920×1200 and the benchmark numbers show mostly sub 30 FPS going on. Problem with that is we've been playing Metro 2033 and in game we haven't noticed any graphics degradation even in AI enemy heavy scenes.
The HD5870 SOC didn't have to much advantage over stock clocked card here but it did manage a 1 – 2 FPS performance increase and with FPS this low that can make the difference between playable and playable but annoying.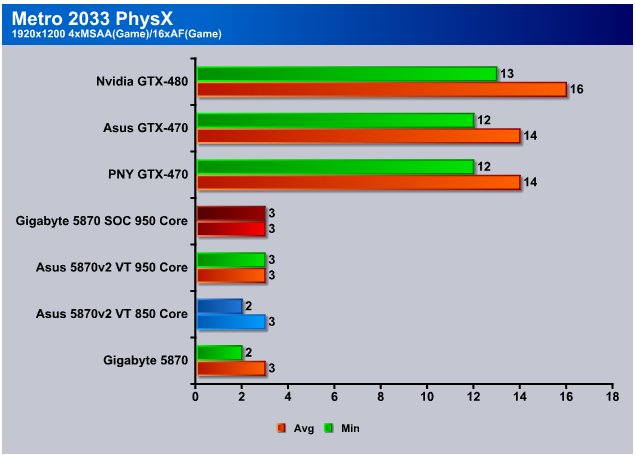 Crank it up to 1920×1200 with PhysX on and all the GPU's get knocked to their knees. We don't use any PhysX testing in the final scoring of any card but present it for purely informational purposes. We would like to comment that games can be over engineered form a graphics standpoint and this is probably one of those games.
On the upside it gives us better longevity for benchmarking so it'll likely hang around much like Crysis or Warhead.
Stone Giant

We used a 90 second Fraps run and recorded the Min/Avg/Max FPS rather than rely on the built in utility for determining FPS. We started the benchmark, triggered Fraps and let it run on stock settings for 90 seconds without making any adjustments of changing camera angles. We just let it run at default and had Fraps record the FPS and log them to a file for us.
Key features of the BitSquid Tech (PC version) include:
Highly parallel, data oriented design
Support for all new DX11 GPUs, including the NVIDIA GeForce GTX 400 Series and AMD Radeon 5000 series
Compute Shader 5 based depth of field effects
Dynamic level of detail through displacement map tessellation
Stereoscopic 3D support for NVIDIA 3dVision
"With advanced tessellation scenes, and high levels of geometry, Stone Giant will allow consumers to test the DX11-credentials of their new graphics cards", said Tobias Persson, Founder and Senior Graphics Architect at BitSquid. "We believe that the great image fidelity seen in Stone Giant, made possible by the advanced features of DirectX 11, is something that we will come to expect in future games."
"At Fatshark, we have been creating the art content seen in Stone Giant", said Martin Wahlund, CEO of Fatshark. "It has been amazing to work with a bleeding edge engine, without the usual geometric limitations seen in current games".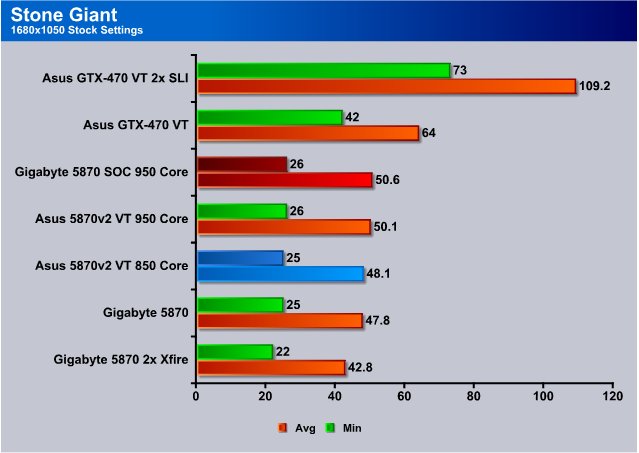 The Stone Giant Tech Demo/Benchmark has some nice Tessellation and advanced Geometry which makes it fair game for testing GPU's. We do a 90 second Fraps run and record the FPS to a file rather than use the built in FPS counter. It's just easier.
Even at 1680×1050 the HD5870 SOC drops to 26 FPS but in the benchmark itself we don't see any micro stutters so it must be a momentary drop. Here again the HD5870 SOC managed 1 – 2 FPS lead over the stock clocked cards.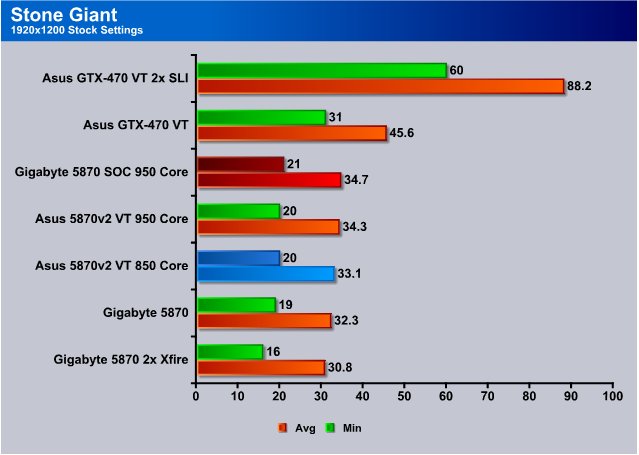 Here at 1920×1200 we predictably get a 5(ish) drop in average FPS but what we didn't expect was a 16 FPS drop in average frame rates. The HD5870's are at a disadvantage against the Nvidia Fermi crop but it's a disadvantage ATI is going to have to live with until they produce a core that can handle the Tessellation and advanced Geometry.
HawX

The story begins in the year 2012. As the era of the nation–state draws quickly to a close, the rules of warfare evolve even more rapidly. More and more nations become increasingly dependent on private military companies (PMCs), elite mercenaries with a lax view of the law. The Reykjavik Accords further legitimize their existence by authorizing their right to serve in every aspect of military operations. While the benefits of such PMCs are apparent, growing concerns surrounding giving them too much power begin to mount.
Tom Clancy's HAWX is the first air combat game set in the world–renowned Tom Clancy's video game universe. Cutting–edge technology, devastating firepower, and intense dogfights bestow this new title a deserving place in the prestigious Tom Clancy franchise. Soon, flying at Mach 3 becomes a right, not a privilege.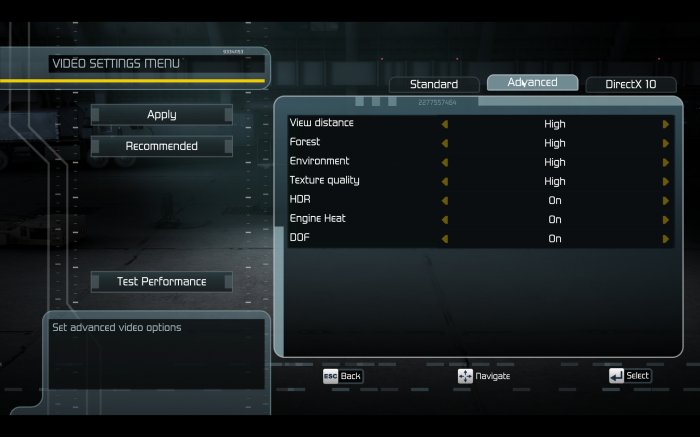 The Settings we use for benchmarking HawX
HawX isn't very demanding but it scales extremely well between GPU's so we dusted it off and brought it back for a while to throw a curve or two at GPU vendors. Face it keeping the exact same games time after time gives them the chance to optimize for what you are testing on. The addition and subtraction of unexpected games gives us a chance to look at games that may not have been optimized for specific GPU's yet.
The HD5870 SOC from Gigabyte topped the chart for 5870 models and was only bested by the GTX-295 and GTX-480.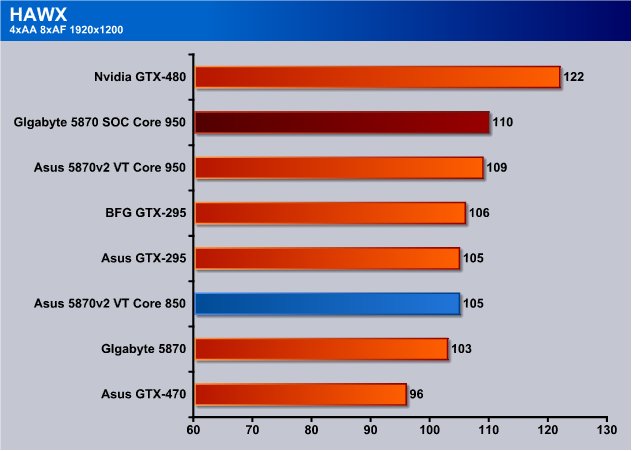 Kick the resolution up to 1920×1200 with AA/AF and the Gigabyte HD5870 stepped out ahead of the GTX-295 but lags behind the GTX-480.
POWER CONSUMPTION

To get our power consumption numbers we plugged in our Kill A Watt power measurement device and took the Idle reading at the desktop during our temperature readings. We left it at the desktop for about 15 minutes and took the idle reading. Then we ran Furmark for 10 minutes and recorded the highest power usage.
GPU Power Consumption
GPU
Idle
Load
Gigabyte HD5870 SOC

169 Watts
391 Watts
Asus GTX-470
181 Watts
488 Watts
PNY GTX-470
178 Watts
487 Watts
Nvidia GTX-480
196 Watts
521 Watts
Gigabyte HD5870
167 Watts
379 Watts
Asus EAH5970
182 Watts
412 Watts
Gigabyte 4890 OC
239 Watts
358 Watts
Asus EAH4770
131 Watts
205 Watts
BFG GTX-275 OC
216 Watts
369 Watts
Nvidia GTX-275 Reference
217 Watts
367 Watts
Asus HD 4890 Voltage Tweak Edition
241 Watts
359 Watts
EVGA GTS-250 1 GB Superclocked
192 Watts
283 Watts
XFX GTX-285 XXX
215 Watts
369 Watts
BFG GTX-295
238 Watts
450 Watts
Asus GTX-295
240 Watts
451 Watts
EVGA GTX-280
217 Watts
345 Watts
EVGA GTX-280 SLI
239 Watts
515 Watts
Sapphire Toxic HD 4850
183 Watts
275 Watts
Sapphire HD 4870
207 Watts
298 Watts
Palit HD 4870×2
267 Watts
447 Watts
Total System Power Consumption
The Gigabyte HD5870 (whole system) power consumption showed it running higher than regular stock clocked HD5870's but an overclocked core consumes more. The differences in power consumption between the models is negligible and the extra performance you get is probably worth that little increase.
TEMPERATURES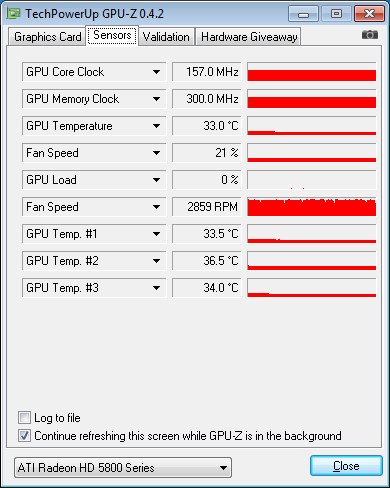 The Gigabyte HD5870 SOC with its dual inclined fans and great heatsink let it idle at a comfortable 33°C. We took this reading after 30 minutes on the desktop with nothing running that could affect the outcome.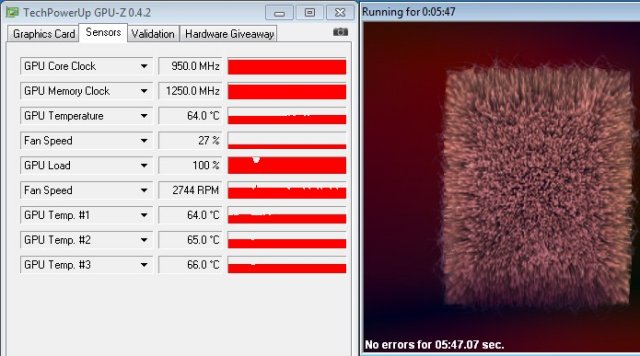 We made several runs at heating up the GPU but it pretty much maxed out after 5 minutes continuous runs in ATITool, I've stopped using FurMark because it's just way to unrealistic and the temperatures it drives will never be seen in a correctly functional GPU. I've done extensive testing and ATITool provides a worst case scenario thermal reading and in game experiences show it provides higher temperatures than most gaming scenarios. Full load we hit 64°C and in game testing showed us more like 55°C in most cases.
To that end, will the Lady who continually E-Mails in about "FurMark" being the end all and be all of thermal testing for GPU's please get a life and quit e-mailing about it. FurMark is unrealistic and bypasses the normal GPU components specifically to drive temperatures up and does so in an unsafe manner. We've verified that with ATI and Nvidia so if the FurMark people want their utility used for testing they need to use the components on the cards the way they were meant to be used and provide different levels of testing then I'll look at it again. Until then I realize your opinion of FurMark, have rejected it, and no I'm not available for dating so please leave me alone. I know all you want is my hardware (Computer) and it's mine all mine so go away.
Conclusion
We like the Gigabyte HD5870 SOC and it represents an alternative for people that want an overclocked GPU but don't want to hassle with OCing one themselves, or prefer to keep their warranty intact legitimately. The HD5870 SOC also had a dual inclined fan cooling system that is second to none in the air cooling realm so it's a great option for those that prefer cooler running cards.
Gigabyte OC Guru provides the ability to add voltage to the core on the HD5870 SOC but we tried it on the regular Gigabyte HD5870 and it wouldn't even recognize the GPU. The Gigabyte OC Guru is an exceptionally good piece of software and we would like to see it functional on all Gigabyte GPU's and indeed all GPU's from other vendors. It doesn't have to provide voltage control for non-SOC models but with the addition of an artifact scanner it could well become the OCing tool of choice. It's just a wish but we'd also like to see OCing utilities provide a real time FPS counter that can show us improvements in FPS while overclocking.
To make things even sweeter the HD5870 SOC has Voltage measurement points that are likely to make this one of the preferred cards for extreme cooling solution end users. That's a pretty limited market segment but it's nice to see a vendor addressing the OCing enthusiast community with a feature like that.
The Gigabyte HD5870 gave us good performance but there's a hard decision to be made. With most GTX-470's running at $350 and the HD5870's running from $400 and up you have a hard decision going for HD5870 or GTX-470. That's a decision we won't debate here. Some people like ATI some like Nvidia, we like both and use both on a daily basis.
With an outstanding feature set, great cooling, Voltage Adjustment, and voltage measurement points the Gigabyte HD5870 is one of the best 5870's we've seen and is sure to be one of the GPU's of choice for hardcore overclockers and those that demand top performance from their hardware.
OUR VERDICT: Gigabyte HD5870 SOC
| | |
| --- | --- |
| Performance | 8.5 |
| Value | 8 |
| Quality | 9 |
| Features | 9 |
| Innovation | 9 |

We are using an addition to our scoring system to provide additional feedback beyond a flat score. Please note that the final score isn't an aggregate average of the rating system.

Pros
Cons

Factory OC

Good Performance

DX11

Dual Inclined Fans

Voltage Adjustment

Voltage Measurement Point

Gauntlet Core Sorting

Samsung/Hynix Tier one memory

OC Guru Software

Not the top performing single core GPU.

 

 
Summary: The Gigabyte HD5870 SOC has a great feature set and within the HD5870 family is the top performer we've seen (At factory clocks).  At $499 on NewEgg the HD5870 SOC might be a hard sell, on the upside it's Factory overclocked and has voltage adjustment available. On the downside we've seen voltage adjustment models in the $420 price range that manually OC just as well with nothing more than a few mouse clicks. Still, performance is high and it offers a unique feature set so we are scoring it an 8.5 and giving it the Silver award. If it were in a more competitive price range we could easily see 9 maybe 9.5 and a higher award.