Corsair one of the worlds renown memory manufacturers has improved their 1600MHz Dominator series memory, with tighter timings than previous kits this kit should be killer.
Introduction
Lately it seems like the 1366 socket CPU's have been completely forgotten. Ever since the 1156 socket CPU's launched most manufacturers have been busy optimizing their hardware for 1156 socket compatibility. There has been a couple new features added to X58 chip-set based motherboards, like SATA III, USB III, and USB Power III (on some motherboards), but in the memory category it seems like the manufacturers only care for the P55 chip-set based platforms and not the proven, much more powerful, X58 chip-set based platform. Since February, Intel has released a couple new CPU's for the 1366 socket. The Core i7 930 replaced the Core i7 920 and Intel released the hex core, Core i7 980X CPU. Unfortunately, no enthusiast memory kits followed.
I don't know about you, but I prefer to have tighter timings with a lower frequency versus having loose timings with higher frequencies. Even then, not all of the Core i7 920-950 CPU's can fully utilize high frequency memory. Mainly because we did not have a memory divider above 8 available. This was the case with the Core i7 920 CPU. Corsair has finally answered our prayers, not only did they come out with high frequency memory, they came out with memory that has tight timings and high frequency.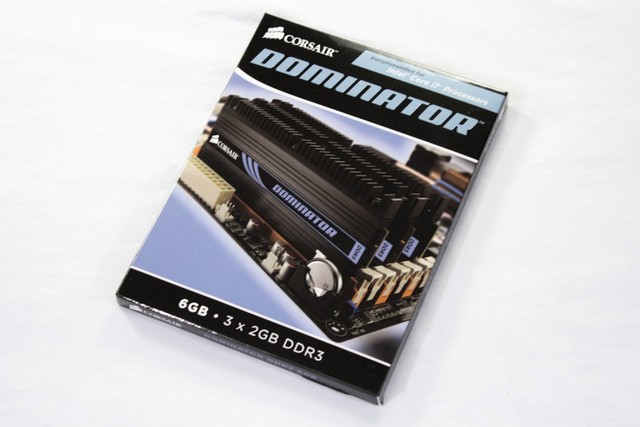 We at Bjorn3d.com are going to look at a set of memory from Corsair. Instead of having the everyday standard timings of 8-8-8-24 @ 1600MHz. Corsair decided too tighten the timings of their set of Dominator 1600 MHz memory to 7-8-7-20.
Packaging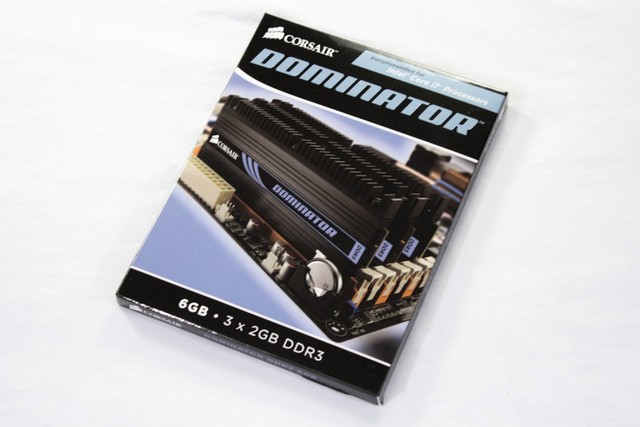 On the Dominator packaging, Corsair keeps things nice and tidy. Corsair also makes sure we know what these memory DIMMs are designed for. In this case, the memory DIMMs are specifically designed for Intel's socket 1366 Core i7 CPU's.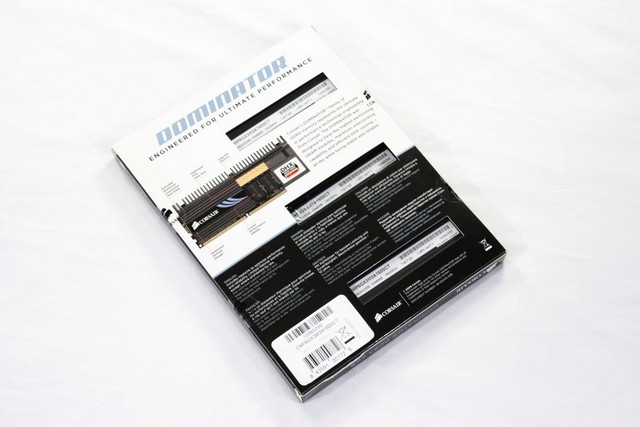 Flipping the packaging over to the backside, Corsair goes the extra mile in making sure we know what the memory DIMMs special features are.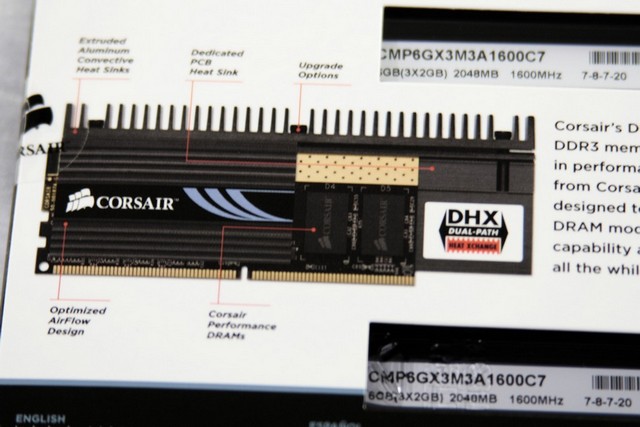 Here is a better close up of what that special feature is. Like all Dominator series memory Corsair makes, the heat spreader helps cool both memory modules and the PCB. The top fins can be removed to further upgrade the cooling for the memory DIMMs.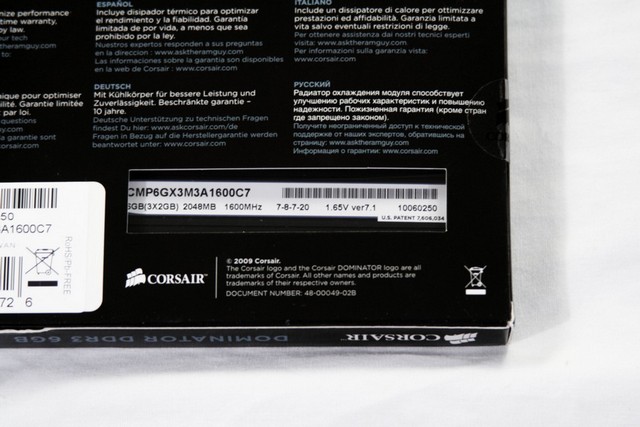 On the backside of the box there is a small window that shows some important information on the memory DIMMs themselves. Each stick of memory contains 2048 Megabytes, these are rated at 1600MHz, with 7-8-7-20 timings, at 1.65 volts.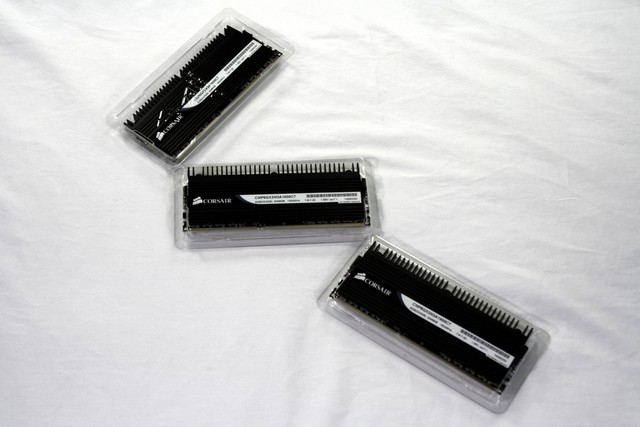 Corsair individually placed each memory DIMM in its own blister type of packaging. This will ensure these do not get damaged during transporting.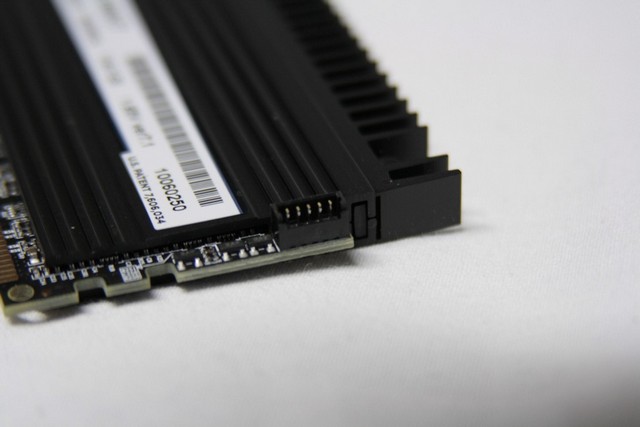 There is a rather strange molex type of plug on each memory DIMM. I could not see anything about this plug on either the packaging or on Corsair's website.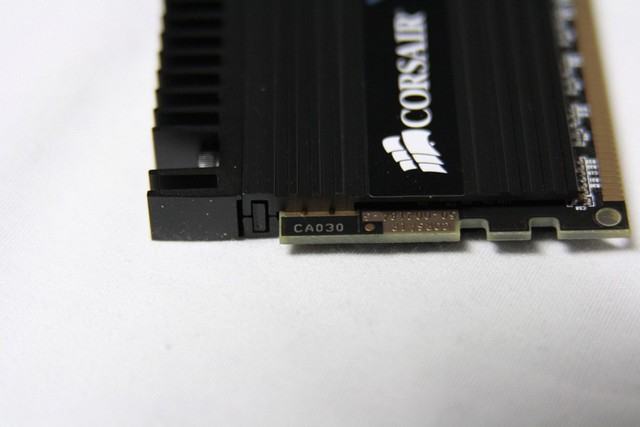 Corsair puts part of the heat spreader directly on the PCB off the memory sticks.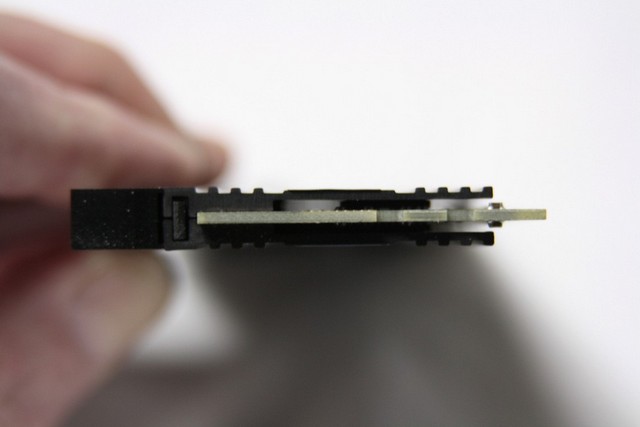 Corsair also makes sure that the Memory ICs are getting cooled down by the heat spreader as well.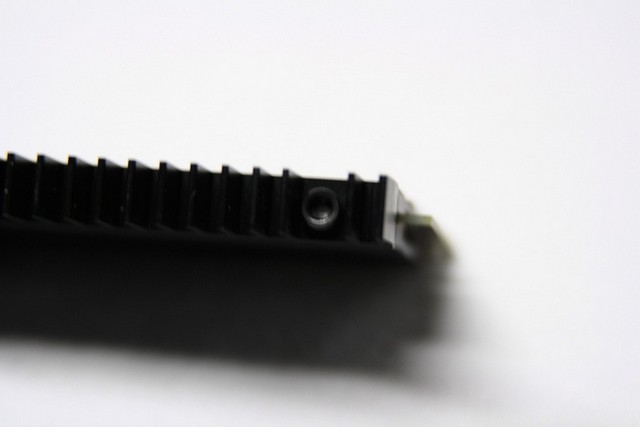 There is a series of 3 bolts that hold each memory heat spreader fin array onto the heat spreader. These can be removed if you wish to upgrade the cooling of the memory DIMMs.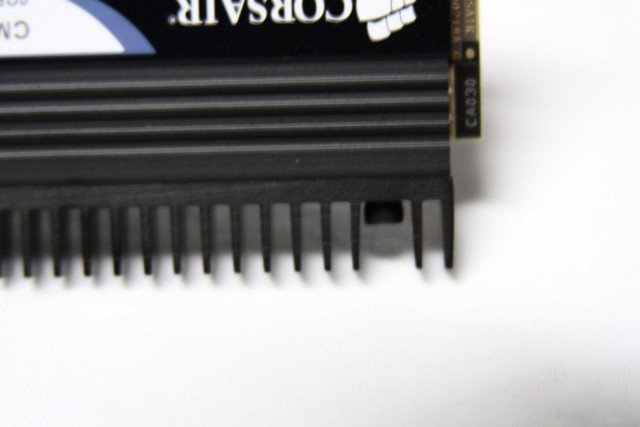 Just looking at how the fins are arranged.
Installation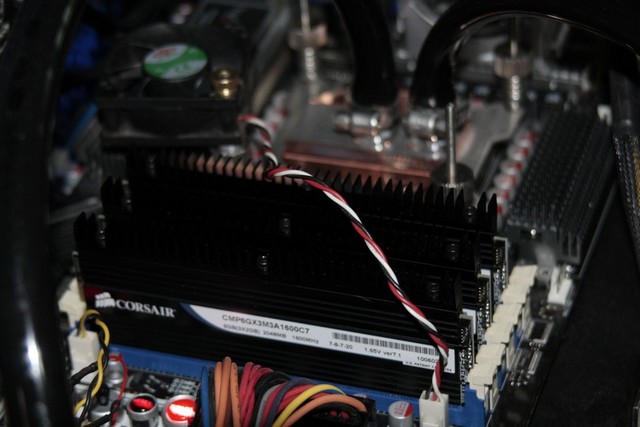 This is what the Corsair Dominators look like once installed into a computer. These are fairly tall, so if you are using a large CPU heat-sink these may interfere with the use of that CPU cooler.
Testing Methodology
Test Setup &Testing Methodology
CPU
Intel Core i7 930 D0 2.8GHz @ 4.2 GHz
Motherboard
ASUS Rampage II Extreme
Case
Open Chassis
Memory
Crucial 1333MHz, Corsair Dominator 1600 8-8-8-24, Corsair Dominator 1600 7-8-7-20
Video Card

Sapphire 5870
Monitors
2x Acer 24″ 1920×1080, 1x Asus 24″ monitor 1920 x 1080, Eyefinity
Hard Drives
2x Seagate 320Gig 2.5″ Momentus HDD's
CDRom Drive
Lite-On Blue Ray
Power Supply
SilverStone 1200 Watt Zeus
CPU Speeds Used
3.6GHz (Both CPU's) And default 2.66GHz (Both CPU'S)
Operating System Used
Microsoft Windows 7
Video Card Cooler

Bistpower Cooled 5870, Modified DD MC TDX (750), Koolance 340 CPU (920)
CPU Cooler

Koolance 340CPU water block
I ran each of the following programs and/or benchmarks a total of three times to ensure the results were consistent and that there were no erroneous readings. I used the best programs that show the overall performance of the memory. I will be comparing the Corsair Dominator 1600 7-8-7-20 memory up against the Crucial 1333MHz, and with the original Dominator 1600 8-8-8-24. I will be using the Default CPU speed of 2.8GHz, and ran each memory at it's default frequency. I will only be listing the Corsair Dominator 7-8-7-20 as overclocked, since overclocking varies from one computer to the next.
Programs used for testing
SiSoft: Memory Bandwidth, Memory Latency
Everest: Memory Read, Memory Write, Memory Copy, Memory Latency
wPrime: 32 Million Calculation, 1024 Million Calculation
POV Ray 1280 x 1024 Resolution: Animation Camera, Animation Ambient, Still Image Buscuit, Still Image Wood Box
Excel: Measured the time it took to calculate a given set of numbers, Monte, and Number Crunching
Auto MKV: time it took to convert an AVI movie to a MKV movie format
3DMark Vantage: Default Performance Run
Super PI: Time it took to calculate to one million and to four million
Overclocking
Overclocking the Corsair Dominator memory was fairly simple to do. With this newer CPU (i7 930) that I am using, I have access to working memory dividers beyond 8. At first, I set the XMP of the memory on the Asus Rampage II Extreme motherboard, normally this will set the BCLK to 200 x 8. But since I have memory dividers beyond 8, the XMP left the BCLK at 133 x 12, not exactly what I was looking for. I decided to leave the memory timings at default, then set the BCLK to 200 with a memory divider of 8. This gave me a 1600MHz frequency, with a 4.2 GHz CPU core speed. I do know the Asus Rampage II Extreme can do 220 BCLK easily, so I started upping the BCLK to 210 while leaving the default memory timings. I was able to do a few quick tests in Windows 7. I then dropped the BCLK from 210 to 180 and set the memory divider to 10. This will give me a 1800 MHz memory frequency, upon a reboot of the computer, the Asus Rampage II Extreme refused to post. I got the motherboard to re-start and decided to adjust the timings from 7-8-7-20 to 8-8-8-24. Upon reboot the motherboard refused to post again. I restarted the computer, re-entered BIOS, set timings to 9-9-9-28  and again no post upon computer reboot.
I decided to go back to my original overclock of 1680MHz with 7-8-7-20 timings, this time the computer rebooted properly and started up Windows 7. After a few hard benchmark runs, I started up a video conversion program to further test the computers stability. After converting a couple of movies overnight, the memory had held up to the punishment. I felt it was time to start the official benchmarking runs.
Overclocked settings used.
SiSoft
 "SiSoftware Sandra (the System Analyser, Diagnostic and Reporting Assistant) is an information & diagnostic utility. It should provide most of the information (including undocumented) you need to know about your hardware, software and other devices whether hardware or software. It works along the lines of other Windows utilities, however it tries to go beyond them and show you more of what's really going on. Giving the user the ability to draw comparisons at both a high and low-level. You can get information about the CPU, chipset, video adapter, ports, printers, sound card, memory, network, Windows internals, AGP, PCI, PCI-X, PCIe (PCI Express), database, USB, USB2, 1394/Firewire, etc."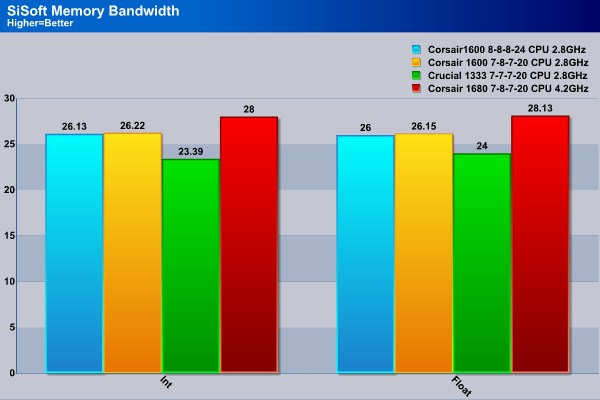 Starting off with SiSoft memory bandwidth testing we can already tell the Corsair Dominator 7-8-7-20 memory has the highest amount of memory bandwidth. The Crucial 1333MHz memory came in dead last.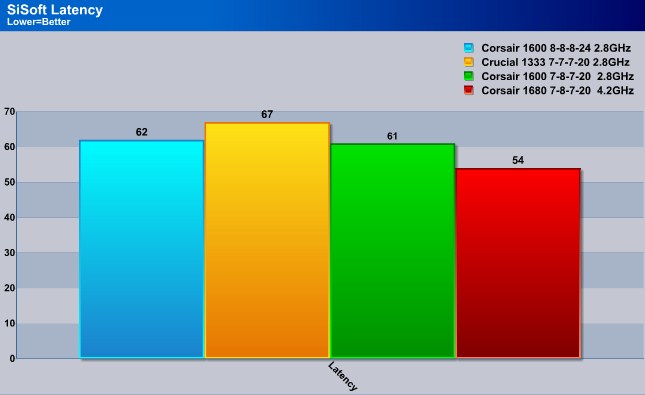 SiSoft latency testing shows a small improvement with the memory between the Corsair Dominator at 1600 MHz 8-8-8-24 timings and the Corasiar Domintors at 1600MHz 7-8-7-20 timings. Sisoft prefers having the highest frequency and tight memory timings.
POV Ray 
The Persistence of Vision Ray-Tracer was developed from DKBTrace 2.12 (written by David K. Buck and Aaron A. Collins) by a bunch of people (called the POV-Team) in their spare time. It is a high-quality, totally free tool for creating stunning three-dimensional graphics. It is available in official versions for Windows, Mac OS/Mac OS X and i86 Linux. The POV-Ray package includes detailed instructions on using the ray-tracer and creating scenes. Many stunning scenes are included with POV-Ray so you can start creating images immediately when you get the package. These scenes can be modified so you do not have to start from scratch. In addition to the pre-defined scenes, a large library of pre-defined shapes and materials is provided. You can include these shapes and materials in your own scenes by just including the library file name at the top of your scene file, and by using the shape or material name in your scene. Since this is free software feel free to download this version and try it out on your own.
Some of you might have seen version 3.6 of POV-Ray, the biggest difference between 3.6 and 3.7 Beta 25 is SMP (symmetric multiprocessing) support, which means that POVRay can take advantage of as many cores as your CPU has. On Single vs Dual CPU systems the speed almost doubles.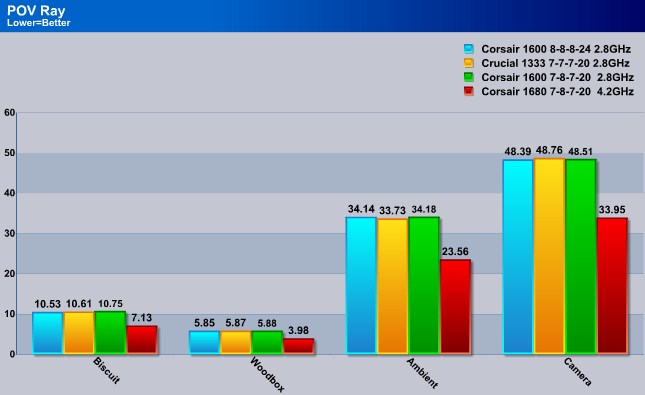 When we start our POV Ray testing portion, it did not matter what the memory frequency was, or the timings of the memory was. The only time we get a significant decrease in our rendering times is when we overclocked the CPU from 2.8GHz to 4.2GHz, giving us the indication that POV Ray prefers to have a high CPU core speed.
everest
"EVEREST Ultimate Edition is an industry leading system diagnostics and benchmarking solution for enthusiasts PC users, based on the award-winning EVEREST Technology. During system optimizations and tweaking it provides essential system and overclock information, advanced hardware monitoring and diagnostics capabilities to check the effects of the applied settings. CPU, FPU and memory benchmarks are available to measure the actual system performance and compare it to previous states or other systems. Furthermore, complete software, operating system and security information makes EVEREST Ultimate Edition a comprehensive system diagnostics tool that offers a total of 100 pages of information about your PC."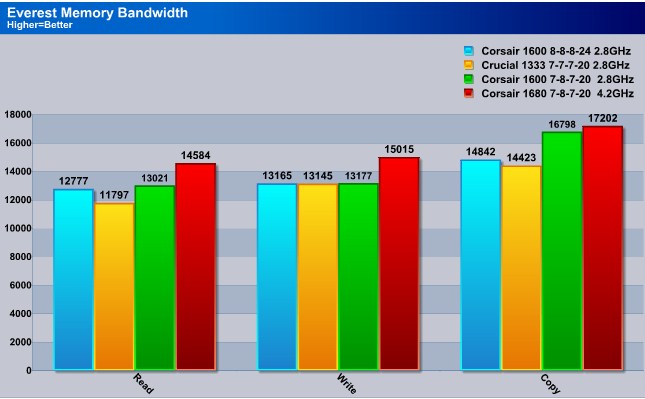 During the Read and Copy portion of our testing with Everest, we can see that the Corsair Dominator 7-8-7-20 timing memory is prefered to have vs using the Corsair Dominator 8-8-8-24 timings memory and the Crucial Ballistx 1333MHz using a 7-7-7-20 timings.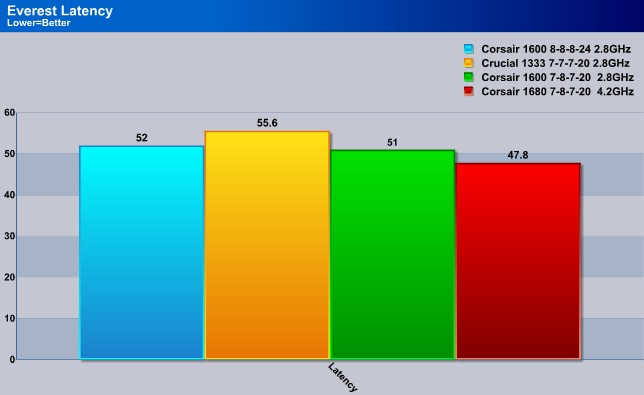 During the Latency testing of Everest, the Corsair Dominator memory with the 1600MHz frequency and using the 7-8-7-20 timings gives us a slight improvement over the Corsair Dominator 1600MHz frequency memory running the 8-8-8-24 timings.
wPrime
wPrime is a benchmarking application designed to use a highly multi-threaded approach to calculating the square-roots of large amounts of numbers (up to 32 billion)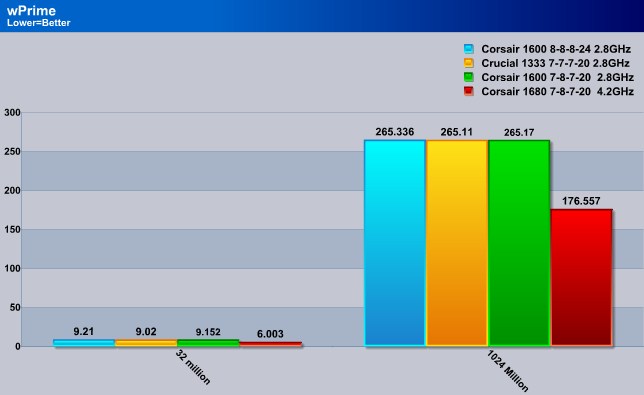 During our wPrime testing sequence, all of the memory tested here performed almost identical. Even the 1333MHz Crucial was able to keep up with both of the Corsair Dominator 1600MHz memory. Which indicating to me is, this test is more CPU related then it is memory related.
Super Pi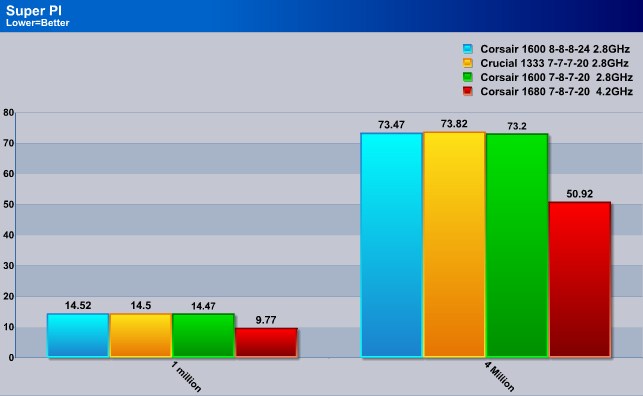 Similar to the wPrime testing, with the 1 million testing with Super Pi, all three memory modules performed almost identical. It is not until I started calculating to 4 million that we start to see the Corsair Dominator 1600MHz 7-8-7-20 memory come out on top.
3dmark Vantage

For complete information on 3DMark Vantage Please follow this Link:
www.futuremark.com/benchmarks/3dmarkvantage/features/
The newest video benchmark from the gang at Futuremark. This utility is still a synthetic benchmark, but one that more closely reflects real world gaming performance. While it is not a perfect replacement for actual game benchmarks, it has its uses. We tested our cards at the 'Performance' setting.
Currently, there is a lot of controversy surrounding NVIDIA's use of a PhysX driver for its 9800 GTX and GTX 200 series cards, thereby putting the ATI brand at a disadvantage. Whereby installing the PyhsX driver, 3DMark Vantage uses the GPU to perform PhysX calculations during a CPU test, and this is where things get a bit gray. If you look at the Driver Approval Policy for 3DMark Vantage it states: 
"Based on the specification and design of the CPU tests, GPU make, type or driver version may not have a significant effect on the results of either of the CPU tests as indicated in Section 7.3 of the 3DMark Vantage specification and white paper."
Did NVIDIA cheat by having the GPU handle the PhysX calculations or are they perfectly within their right since they own Ageia and all their IP? I think this point will quickly become moot once Futuremark releases an update to Vantage.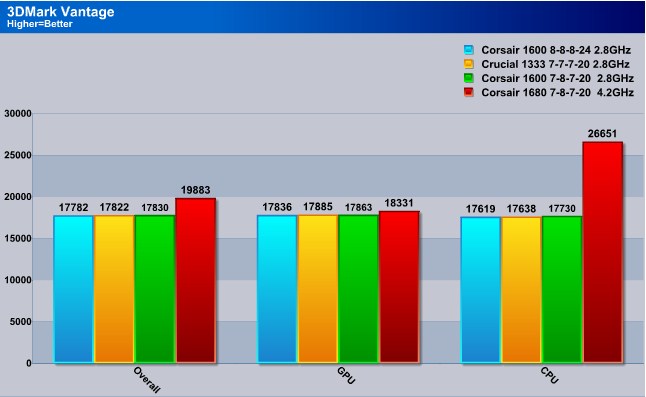 During the 3DMark Vantage testing after doing three different runs, and then averaging the scores with this benchmark, the Corsair Dominator 1600MHz 7-8-7-20 memory kept continuously coming in first place with both the CPU scoring and the Overall scoring.
Excel
Microsoft Excel is the widely known and most used spreadsheet application for the manipulation and calculation for number crunching. With Excel you can analyze and share information on small scale or the largest scale you can imagine. We've seen spreadsheets in every day use that contain literally tens of thousands of numbers and hundreds of equations. Bjorn3D uses two tests in Excel to determine CPU and Motherboard performance.
This workload calculates the European Put and Call option valuation for Black-Scholes option pricing using Monte Carlo simulation. It simulates the calculations performed when a spreadsheet with input parameters is updated and must recalculate the option valuation. In this scenario we execute approximately 300,000 iterations of Monte Carlo simulation. In addition, the workload uses Excel look up functions to compare the put price from the model with the historical market price for 50,000 rows to understand the convergence. The input file is a 70.1 MB spreadsheet.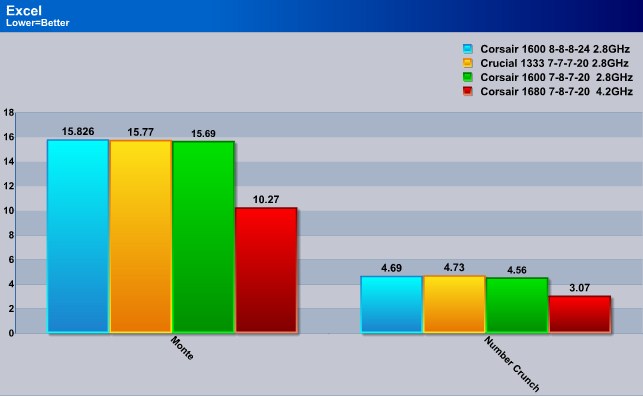 Excel testing is a tough call to make. During my testing, we can see there is a small improvement using a high frequency memory with tighter memory timings (Corsair Dominator 1600MHz 7-8-7-20 timings) when being compared to the Corsair Dominator 1600MHz 8-8-8-24, and the Crucial 1333MHz 7-7-7-20 memory.
auto mkv
AutoMKV is an application aiming for easy media conversion between various media formats using various third party codecs. With improved internet speed and enhanced computing power, more users are interested in encoding to different media formats for their various multimedia needs. With AutoMKV and x264 codec, a freeware H.264 encoder, users can easily create media files. For more information and to obtain AutoMKV 0.95c and AviSynth* 2.5.7, please visit (http://forum.doom9.org/showthread.php?t=134478). We create a media file using AutoMKV and x264 codec. The input file used in the document is a raw 416 MB 720×480 DV file and the output is a 253MB H.264 media file.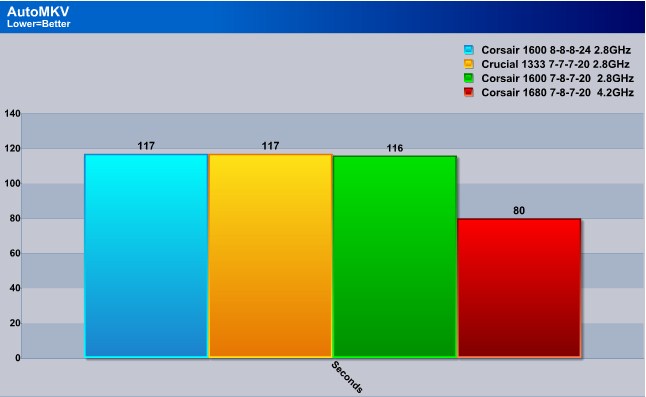 Auto MKV is another one of the tough choices. Being only separated by a whole second when comparing the Corsair Dominator 1600MHz 7-8-7-20 timing memory, to the Corsair 1600MHz 8-8-8-24 timing and to the Crucial 1333MHz 7-7-7-20. But again the Corsair Dominator 1600MHz 7-8-7-20 timing memory did keep consistantly coming in first place during testing.
Conclusions
With the exception of a couple programs, the Corsair Dominator 1600MHz 7-8-7-20 did perform better than the original Corsair Dominator 1600MHz 8-8-8-24 memory. During my continued testing, the Corsair Dominator 1600MHz 7-8-7-20 memory kept coming out on top. There are other areas that one cannot measure properly, like the load times of the operating system and program and/or game load times. This is where having tighter timing memory comes into play. This is also where the Corsair Dominator 1600MHz 7-8-7-20 shines. The only drawback I can see with this memory, is the fact that I could not go above 1680MHz while using the default timings of 7-8-7-20. I could have adjusted the memory timings to 8-8-8-24 and go for that, but then the memory would not be much different from any other 1600 8-8-8-24 memory I have used or overclocked.
Looking around Newegg.com, these memory DIMMs can be bought for around the $275 USD mark. Taking into consideration the performance increase, but also their overclock ability, I would say the price is a tad high. I have seen a couple of comparable memory modules go for far less.
OUR VERDICT: Corsair 1600MHz 7-8-7-20
| | |
| --- | --- |
| Performance | 8 |
| Value | 7 |
| Quality | 8 |
| Features | 7.5 |
| Innovation | 8 |

We are using a new addition to our scoring system to provide additional feedback beyond a flat score. Please note that the final score isn't an aggregate average of the new rating system.

Pros
Cons

Good Quality

Fast responsive memory

Good cooling

Could not go above 1680 MHz while using default timings

Price is a tad high

 

 
Summary: The Corsair 1600MHz 7-8-7-20 memory kit will provide anyone with the need for speed.