Gigabyte has comeup with the Ultimate gaming motherboard. Lets step inside and see why.
Introduction
It has been a while since I played with a top end AMD CPU. Sure I've played with a few AMD CPUs here and there, but they were mainstream CPUs and not AMD top end counter parts. Even then, I was limited to what I could do because they were not my personal CPU. Well, my dad picked himself up an AMD 1055T Thuban six core CPU, and I happened to have one of Gigabyte's flagship motherboard, the 890FXA-UD7.
The 890FXA-UD7 has four unique features that I personally like to see on a motherboard. One of these features is the use of SATA 3 (SATA 6 Gb/s), USB 3 and USB Power 3 (Gigabyte's very own "333" design). This motherboard is one of the few motherboards that can fully support AMD/ATI's four-way CrossfireX. You just have to make sure you have a large enough chassis. Because the 890FXA-UD7 is so huge, out of four different chassis I had floating around here, the only chassis that could remotely fit this motherboard was the Raven RV-02 from Silverstone (review can be found HERE). But even then, it was a tight fit.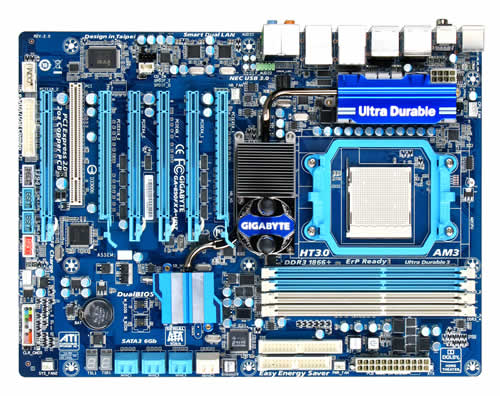 Let's get everything ready for a quick change out from my Intel Core i7 930 setup, to the Gigabyte 890FXA-UD7 AMD six core bad boy CPU. The only limitation that I was told by my father, was that I couldn't go "Crazy" with his CPU.
Specifications
CPU

Support for Socket AM3 processors: AMD Phenom™ II processor / AMD Athlon™ II processor

Front Side Bus

5200 MT/s

Chipset

North Bridge: AMD 890FX
South Bridge: AMD SB850

Memory

4 x 1.5V DDR3 DIMM sockets supporting up to 16 GB of system memory (Note 1)
Dual channel memory architecture
Support for DDR3 1866(OC)(Note 2)/1333/1066 MHz memory modules (Note 2)

Audio

Realtek ALC889 codec
High Definition Audio
2/4/5.1/7.1-channel
Support for Dolby Home Theater
Support for S/PDIF In/Out
Support for CD In

LAN

2 x Realtek 8111D chip (10/100/1000 Mbit)
Support for Teaming
Support for Smart Dual LAN

Expansion Slots

2 x PCI Express x16 slots, running at x16 (PCIEX16_1, PCIEX16_2) (Note 3)
2 x PCI Express x16 slots, running at x8 (PCIEX8_1, PCIEX8_2) (Note 3)
2 x PCI Express x16 slots, running at x4 (PCIEX4_1, PCIEX4_2) (Note 4)
(All PCI Express slots conform to PCI Express 2.0 Standard.)
1 x PCI slot

Multi-Graphics Technology

Support for 2-way/ 3-way/ 4-way ATI CrossFireX™ technology

Storage Interface
South Bridge:

6 x SATA 6Gb/s connectors supporting up to 6 SATA 6Gb/s devices
Support for SATA RAID 0, RAID 1, RAID5, RAID 10 and JBOD

GIGABYTE SATA2 Chip:

1 x IDE connector supporting ATA-133/100/66/33 and up to 2 IDE devices
2 x SATA 3Gb/s connectors supporting up to 2 SATA 3Gb/s devices
Support for SATA RAID 0, RAID 1, and JBOD

JMicron JMB362 chip:

2 x eSATA 3Gb/s connectors (eSATA/USB Comobo) on the back panel supporting up to 2 SATA 3Gb/s devices
Support for SATA RAID 0, RAID 1 and JBOD

ITE 8720 chip:

1 x floppy disk drive connector supporting up to 1 floppy disk drive

USB
South Bridge:

Up to 14 USB 2.0/1.1 ports (8 on the back panel, including 2 eSATA/USB Combo, 6 via the USB brackets connected to the internal USB headers)

NEC D720200F1 Chip:

Up to 2 USB 3.0/2.0 ports on the back panel

IEEE 1394
T.I. TSB43AB23 chip

Up to 3 IEEE 1394a ports (2 on the back panel, 1 via the IEEE 1394a bracket connected to the internal IEEE 1394a

header)

Internal I/O Connectors

1 x 24-pin ATX main power connector
1 x 8-pin ATX 12V power connector
1 x floppy disk drive connector
1 x IDE connector
2 x SATA 3Gb/s connectors
6 x SATA 6Gb/s connectors
1 x CPU fan header
2 x system fan header
1 x North Bridge fan header
1 x power fan header
1 x front panel header
1 x front panel audio header
1 x CD In connector
1 x S/PDIF In header
1 x S/PDIF Out header
1 x IEEE 1394a header
3 x USB 2.0/1.1 headers
1 x serial port header
1 x parallel port header
1 x clearing CMOS jumper
1 x clearing CMOS button
1 x power button
1 x reset button

Back Panel Connectors

1 x PS/2 keyboard/ mouse port
1 x optical S/PDIF Out connector
1 x coaxial S/PDIF out connector
2 x IEEE 1394a port
6 x USB 2.0/1.1 ports
2 x USB 3.0/2.0 ports
2 x eSATA/USB Combo connectors
2 x RJ-45 port
6 x audio jacks (Center/Subwoofer Speaker Out/Rear Speaker Out/Side Speaker Out/Line In/Line Out/Microphone)

I/O Controller

ITE IT8720 chip

H/W Monitoring
System voltage detection

 
CPU/System temperature detection
CPU/System fan speed detection
CPU overheating warning
CPU/System fan fail warning
CPU/System fan speed control (Note 5)

BIOS

2 x 8 Mbit flash
Use of licensed AWARD BIOS
Support for DualBIOS™
PnP 1.0a, DMI 2.0, SM BIOS 2.4, ACPI 1.0b

Unique Features

Support for @BIOS
Support for Q-Flash
Support for Xpress BIOS Rescue
Support for Download Center
Support for Xpress Install
Support for Xpress Recovery2
Support for EasyTune (Note 6)
Support for Easy Energy Saver
Support for Smart Recovery
Support for Auto Green
Support for ON/OFF Charge
Support for Q-Share

Bundle Software

Norton Internet Security (OEM version)

Operating System

Support for Microsoft Windows 7/ Vista/ XP

Form Factor

XL-ATX Form Factor; 32.5cm x 24.4cm

Note
(Note 1) Due to Windows 32-bit operating system limitation, when more than 4 GB of physical memory is installed, the actual memory size displayed will be less than 4 GB.
(Note 2) To reach DDR3 1866MHz or above, you must install two memory modules and install them in the DDR3_3 and DDR3_4 memory sockets.
(Note 3) The PCIEX8_1 slot shares bandwidth with the PCIEX16_1 slot and the PCIEX8_2 slot with PCIEX16_2. The PCIEX16_1/PCIEX16_2 slot will operate at up to x8 mode when the PCIEX8_1/ PCIEX8_2 is populated.
(Note 4) The default bandwidth for the PCIEX4_2 slot is x1. When it is configured to x4 mode, the onboard GSATA2_6, GSATA2_7, and IDE connectors will become unavailable because they share bandwidth with the PCIEX4_2 slot. (Refer to Chapter 2, "Integrated Peripherals" in manual for how to change the operating bandwidth for the PCIEX4_2 slot.)
(Note 5) Whether the CPU/system fan speed control function is supported will depend on the CPU/ system cooler you install.
(Note 6) Available functions in EasyTune may differ by motherboard model.
Remark

Due to different Linux support conditions provided by chipset vendors, please download Linux drivers from chipset vendors websites or 3rd party website.
Most hardware/software vendors no longer offer support for Win9X/ME. If drivers are available from the vendors, we will update them on the GIGABYTE website.
* The entire materials provided herein are for reference only. GIGABYTE reserves the right to modify or revise the content at anytime without prior notice.
* All trademarks and logos are the properties of their respective holders.
* Due to standard PC architecture, a certain amount of memory is reserved for system usage and therefore the actual memory size is less than the stated amount.
Features
Introduction
The 890FXA-UD7 motherboard is designed to offer a stable, high-speed platform for delivering amazingly fast data transfer via the GIGABYTE 333 onboard acceleration technologies. Featuring the world's first USB 3.0 logo certified host controller from NEC Electronics, AMD 800A series motherboards allow users to take advantage of super fast USB transfer rates of up to 5Gbps, delivering 10x faster data transfer compared to USB 2.0. Utilizing the industry's first Serial ATA Revision 3.0 solution via AMD SB850 chipset, GIGABYTE AMD 800A series motherboards offer native 6 ports of next generation high speed data storage devices support with data transfer speeds of up to 6 Gbps. Coupled with RAID 0 (Stripe) mode, SATA Revision 3.0 enables a data transfer boost of up to 4x the speed of SATA Revision 2.0. The AMD 800A series motherboards introduce a unique hardware design with lower resistance fuses for ensuring lower voltage drops and providing more stable and plentiful power delivery. All USB ports also benefit from a 3x power boost for better power delivery to power hungry USB devices.
On/Off Charge Support
GIGABYTE On/Off Charge technology that enables faster iPhone, iPad and iPod Touch charging. A derivative of GIGABYTE's highly acclaimed 3x USB Power feature, On/Off Charge technology allows iPhone, iPad and iPod touch devices to draw more current from GIGABYTE motherboard USB ports than standard USB ports allow, with the added benefit that the PC can be on, in standby mode or even off…
more
*Due to certain mobile phone limitations, users may need to connect the mobile phone to their PC before the PC enters S4/S5 mode to enable a quick charge from non On/Off Charge USB ports. Charging results may vary by model.
Get Ready to Unleash the Power of AMD 6-Core CPU
GIGABYTE's AMD motherboards are ready to support the new generation of AMD Phenom™II X 6 processors, delivering the very best platform for multitasking, multimedia and high performance gaming.
Supports next generation of 45nm AMD AM3 CPU
This motherboard designs with Split Power Plane, 8+2 phase VRM to support AMD the latest 45nm AM3 Phenom™I/ Athlon™II processors, delivering the great performance enchantment to system and ultimate scalability hardware expending.
SATA 6 Gbps Support
Yet another onboard feature of GIGABYTE AMD 800A series motherboards are integrated the latest AMD SB850 chip for high-speed SATA Revision 3.0 compatibility, delivering 6 ports native superfast 6Gbps link speeds for twice the data transfer rates of SATA Revision 2.0 (3 Gbps) and RAID 0, 1, 5, 10 support. When used in RAID 0 (Stripe) mode, GIGABYTE AMD 800A series motherboards offer even faster data transfer rates of up to 4x the speed of current SATA interfaces.
USB 3.0 Support
The GIGABYTE AMD 800A series motherboards support the latest generation SuperSpeed USB 3.0 technology made possible through an onboard NEC uPD720200 host controller. With superfast transfer rates of up to 5 Gbps, users are able to experience an almost a 10x improvement over USB 2.0. Additionally, backwards compatibility with USB 2.0 assures users of long term use of their legacy USB 2.0 devices. The onboard NEC SuperSpeed USB 3.0 technology also provides new power management features that include increased maximum bus power and device current draw to better accommodate power-hungry devices.
3x USB Power Boost
GIGABYTE motherboards feature a 3x USB power boost, delivering greater compatibility and extra power for USB devices. GIGABYTE's unique USB power design is also able to efficiently regulate output over the full voltage range, which greatly enhances USB device compatibility. In addition, dedicated lower resistance fuses ensure lower voltage drops, and provide more stable and plentiful power delivery.
Auto Unlock Support
Unleash your system's hidden monster performance with GIGABYTE's innovative Auto Unlock technology. Featuring a unique Core Boost micro-processor design which enables the processor's hidden cores; GIGABYTE Auto Unlock lets you experience a phenomenal performance upgrade.
* The ability of unlocking the hidden CPU cores might vary by different processors.
4-way ATI CrossFireX™ support
With support for latest ATI CrossFireX™ technology, GIGABYTE pushes the envelope once again by delivering highly optimized performance and flexibility demanded for power users and extreme gaming enthusiasts. Designed to provide unmatched multi-GPU support with quad PCI-E connectivity, the GA-890FXA-UD7 allows users to take advantage of the ultra smooth 3D rendering, blazing-fast frame rates and enhanced visual quality possible.
AMD OverDrive Support
The AMD OverDrive™ utility is provided by AMD, offering high-end users the ability to maximize the capability, flexibility, and adjustability of the platforms utilizing AMD processors, sockets, and chipsets.
* Regarding AMD OverDrive™ utility, please visit AMD official website for details:
http://game.amd.com/us-en/drivers_overdrive.aspx
Dual Channel DDR3 1866+ MHz
Delivering native support for DDR3 memory up to 1866MHz, GIGABYTE Ultra Durable 3 motherboards allow users to easily reach higher memory frequencies at lower voltages; achieving higher memory performance with lower power consumption to run even the most memory intensive applications such as high-definition video and 3D games with ease.
Hybrid Silent-Pipe 2
This motherboard now features the revolutionary new GIGABYTE Hybrid Silent-Pipe 2, a fusion thermal solution that combines GIGABYTE's proprietary screen cooling technology, external heat sink and liquid cooling with chipset water block to deliver maximum thermal performance.
Unique Screen Cooling thermal design effectively reduces the temperature around the CPU zone, and removes the heat between NB and SB area.
Liquid Cooling system featuring special waterblock design with an enlarged dissipating surface area for enhanced heat dissipation and optimum flow-rate.
High-Precision die forming technology utilized to increase the thermal conductivity of the material that makes up the heat sink.
High performance Copper Heat Pipe with sintered process designed for ultra efficient thermal conductivity.
External Heat Sink design utilizing a convection slot at the back of the chassis to increase thermal dissipation.
Ultra Durable 3
GIGABYTE Ultra Durable 3 design, featuring 2 ounces of copper for both the Power and Ground layers which dramatically lowers system temperature by delivering a more efficient spreading of heat from critical areas of the motherboard such as the CPU power zone throughout the entire PCB. GIGABYTE's Ultra Durable 3 also lowers the PCB impedance by 50%, which helps to reduce electrical waste and further lowers component temperatures. A 2oz Copper layer design also provides improved signal quality and lower EMI (Electromagnetic Interference), providing better system stability and allowing for greater margins for overclocking…
more
GIGABYTE innovative technology- Easy Energy Saver
GIGABYTE innovative technology- Easy Energy Saver Featuring an advanced proprietary software design, GIGABYTE Easy Energy Saver is able to dynamically adjust CPU power depending on workload, delivering just the right amount of power needed for the task. Coupled with AMD's highly efficient 45nm AM3 CPU, the Easy Energy Saver is able to provide exceptional levels of power savings and enhanced power efficiency without sacrificing computing performance.
EasyTune6
GIGABYTE has completely redesigned EasyTune6 from the ground up to make it easier than ever to manage and monitor your hardware resources as well as tweak your system settings in order to achieve maximum system performance. Whether you are an overclocking enthusiast, or a computer novice, EasyTune6 provides the tools you need to quickly and effortlessly fine tune your system.
Smart Dual LAN
GIGABYTE Smart Dual LAN technology features intelligent LAN port auto-switching between the 2 physical Gigabit LAN chips; offering hassle free, zero downtime, high speed network connectivity.
Visible Overvoltage Reminder
Debug LED Embedded post code LED display simplifies motherboard signals and indicates system status
eSATA/USB combo
eSATA/USB combo ports provides significant convenience by supporting eSATA and USB devices in one port, and requires no additional power source when connecting eSATA/USB combo devices through the applicable cable.
Onboard Quick Switches
Onboard Power, Clear CMOS and Reset buttons allow for quick and easy tweaking for power users working in an in chassis environment.
Dolby Home Theater Support
Delivers vivid surround sound for music, movies, and games, using two to eight speakers or any set of headphones.
Norton™ Internet Security
Fast, comprehensive, and up-to-the-minute protection against online threats. It safeguards your computer, identity, and home network without slowing you down. It sets a new standard for speed and makes online shopping, banking, and browsing safer and more convenient than ever.
Qualified for Windows® 7
The motherboard qualified for WHQL (Windows Hardware Quality Labs) certification of Windows 7 from Microsoft
®
, setting the standard for future Windows 7 certified motherboards…
more
ErP Lot 6 support
The ErP (as known as Energy-Related Products Directive) is part of new European Union's environment regulations. ErP established is based on the concern of environmental issues regards electronic devices been gained popularity and how to improve energy efficiency for better and greener life. GIGABYTE presents standard motherboards to help you effectively improving system performance and saving more energy.
* The entire materials provided herein are for reference only. GIGABYTE reserves the right to modify or revise the content at anytime without prior notice.
* All trademarks and logos are the properties of their respective holders.
* Due to standard PC architecture, a certain amount of memory is reserved for system usage and therefore the actual memory size is less than the stated amount.
Packaging
We need to start somewhere, so let's start on the packaging of the 890FXA-UD7. Like always, Gigabyte goes the extra mile to ensure us consumers know exactly what their products can do and what they come with. This motherboard also has Gigabyte's very own "333" design capabilities. USB 3, SATA 3, and finally, USB power 3.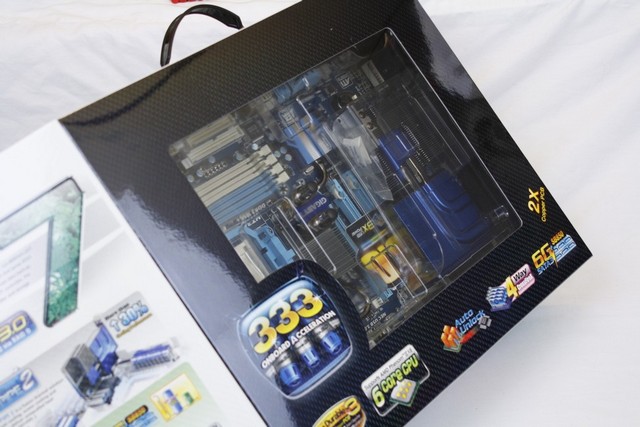 Opening up the top lid, we get a sneak look at the Gigabyte 890FXA-UD7 motherboard. After handling this box, you do get a feeling that this motherboard is simply huge.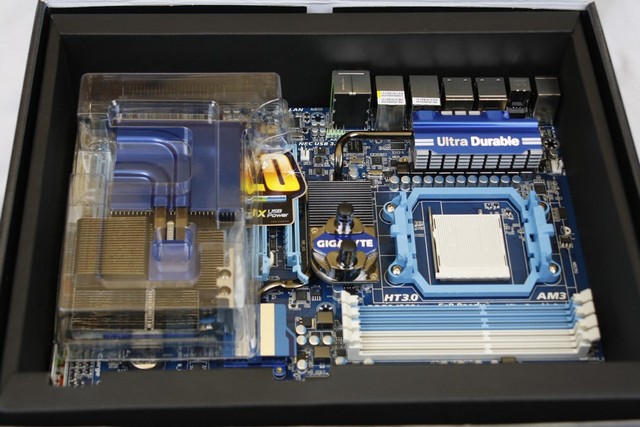 This is what the 890FXA-UD7 motherboard looks like. You will have to wait and see what this monster really looks like when we do the overview portion of this review.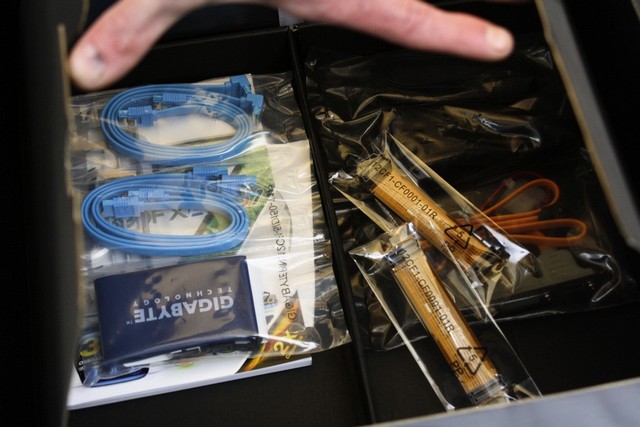 I truly like this style of packaging myself, where manufacturers separate the motherboard from the added extras by using separate compartments. This keeps things nice and tidy, and also ensures the motherboard will not be harmed during transporting.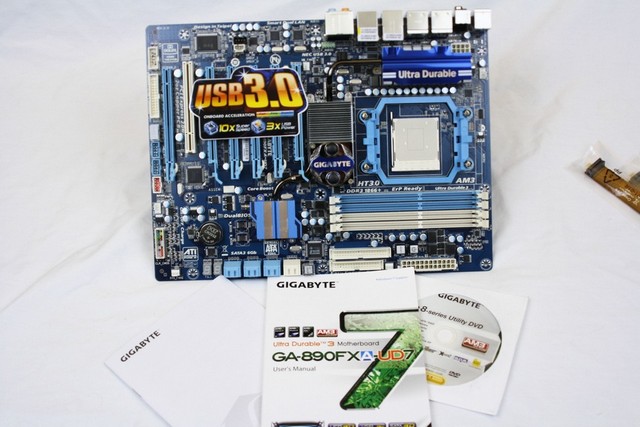 What do we get with this motherboard? Well the answer is, we get a motherboard (well duh), an installation manual, a driver disc and finally another manual.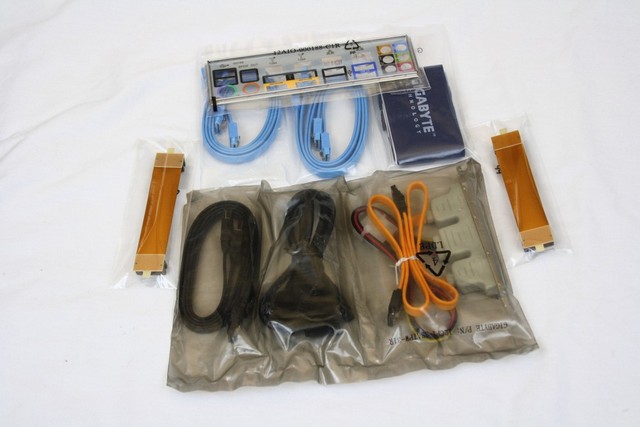 I had to separate what we received into two separate images, so continuing on, Gigabyte includes a USB/E-SATA rear I/O expansion port (this little expansion port allows us to use normal everyday SATA drives without needing an enclosure or docking station). Gigabyte also has a four pin molex that is connected to this rear IO expansion port. Gigabyte also includes a E-SATA to SATA adapter cable, a molex to SATA power connector. We get four light blue SATA cables, a rear I/O cover, an IDE ribbon and finally two ATI Crossfire bridges.
Overview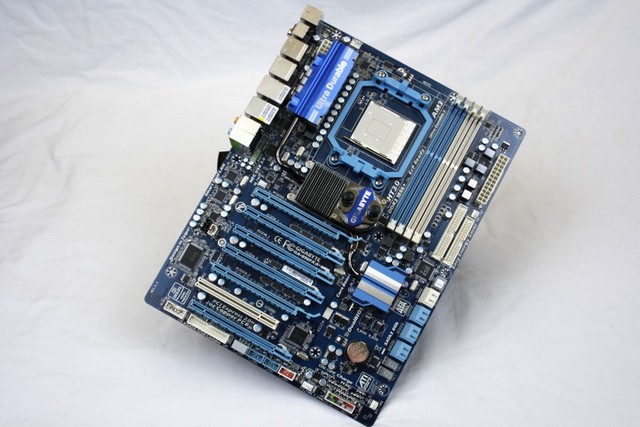 Now it is time for us to give you an idea on how the 890FXA-UD7 motherboard is laid out and what makes this motherboard unique. If you were like me and counted up all the expansion ports, and came up with 7 expansions, you are correct. Keep in mind that there is a silent pipe set up that has an additional expansion port, giving this motherboard a total of 8 PCI/PCI-e expansions; this motherboard is simply huge.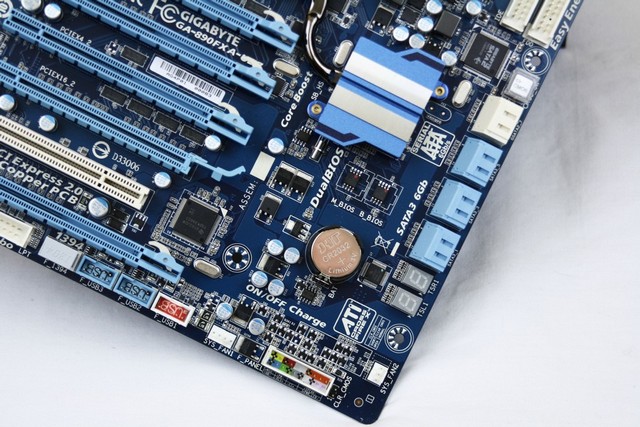 Moving our way to the where the SouthBridge and the SATA ports are located. It is not that much different from what we have seen on previous motherboards layout wise. In the upper right hand side we can see the heatsink that Gigabyte uses on the 850SB chip from AMD. Gigabyte does include a LED diagnostic numerical display right below the SATA ports, and it appears this board is about one inch longer than a standard ATX motherboard. Gigabyte includes six SATA 3 (SATA 6Gb/s, Blue) that are native to the SouthBridge. The two white SATA connectors are controlled by a third party chip. Then right above the white SATA connectors we can make out a clear CMOS button. This has a protective cover to make sure we don't accidentally clear the CMOS.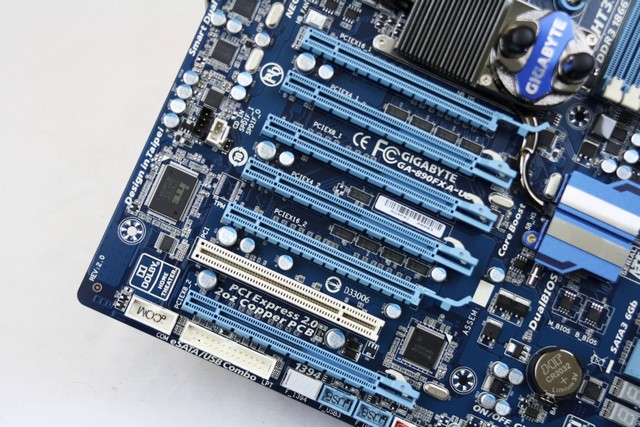 Now let's move to the PCI/PCI-E expansion ports. Gigabyte has 6 PCI-E VGA expansion ports along with a single PCI expansion port. The primary x16 PCI-E port is the uppermost PCI-E, the secondary full x16 PCI-E port is located right above the lonely PCI expansion port. For a true four way Crossfire X you will need to use the top most PCI-E x16 port, then you will need to skip a port and use the PCI-E x8_1 port, use the secondary full x16 PCI-E port, and then finally we need to populate the bottom PCI-E x8_2 port. By populating all PCI-E ports for four way CrossfireX reduces the bandwidth to x8 on all PCI-E ports.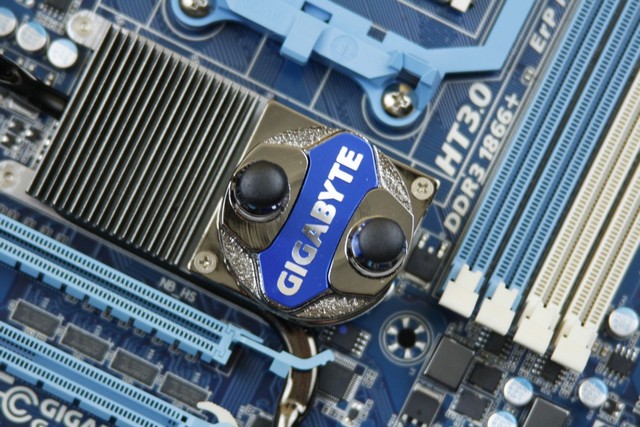 Like all of Gigabyte's high end motherboards, we can see the included water block that can be used to help keep the NB cool during heavy gaming/overclocking endeavors. I wish Gigabyte gave us the option of being able to switch out the barbs, because personally, I prefer 1/2" barbs for a higher flow than using the more restrictive 3/8" barbs.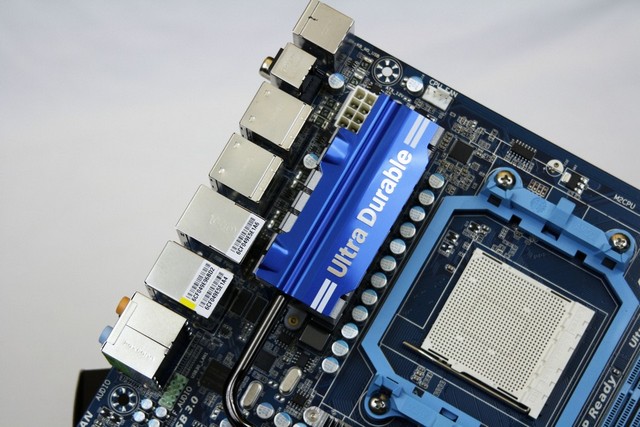 Trying to see the clearance of the EPS CPU power plug; again this port is in a rather tight spot. It sits very close to the CPU power mosfets and has very little room from the power plug to the rear I/O ports. The heatsink that Gigabyte uses for the CPU power mosfets is a fairly large one, and it is directly connected to the NB heatsink by a heatpipe. This heatsink did get warm to the touch during my use of this motherboard, giving me the idea that this heatsink is doing its job and keeping the CPU power MOSFET's cool and helping keep the NorthBridge cool as well.
Looking over the CPU socket area; it appears this area is fairly clear of large obstacles. What concerns me here is the clearance between the lower portion of the AMD CPU hold down plate and the NorthBridge heatsink. I did have a minor problem trying to install a Zalman 9900 CPU cooler when trying to place the metal clip over the lower portion of the hold down plate.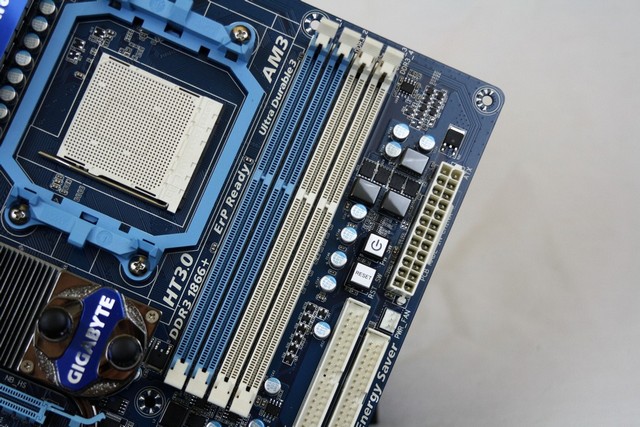 Now it is time for us to turn our attention over to the DIMM sockets. AMD only supports Dual Channel memory, so it is only natural for us to see four DIMM sockets. Right below the DIMM sockets we see an IDE expansion port, a Floppy connector, and the 24 main power plug. Right above the main power plug, Gigabyte includes onboard on/off reset switches. These are also located in a very easy to get to location.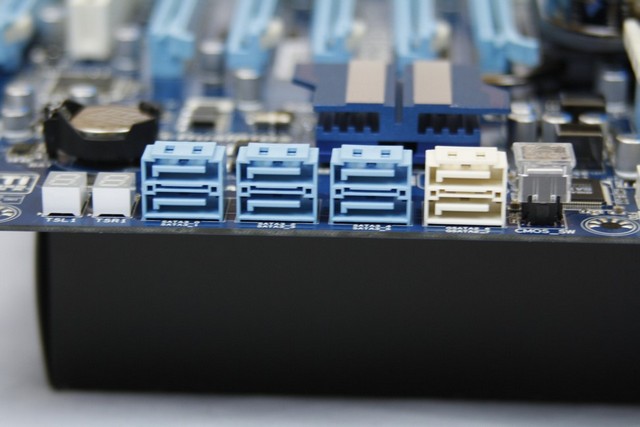 Looking at the 180° SATA 3 connectors.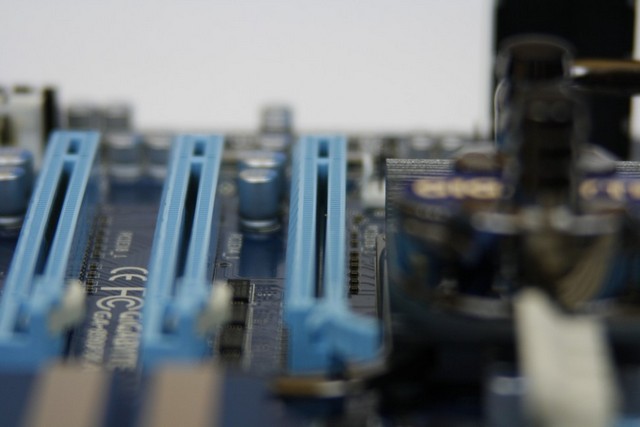 Now the one area that Gigabyte normally has issues with is the upper most PCI-E port, which sometimes interferes with the NorthBridge. This time around Gigabyte did a good job on making sure the top PCI-E port is clear from the NorthBridge heatsink. We will have to see how things fair once I use the NorthBridge cool and quite heatsink.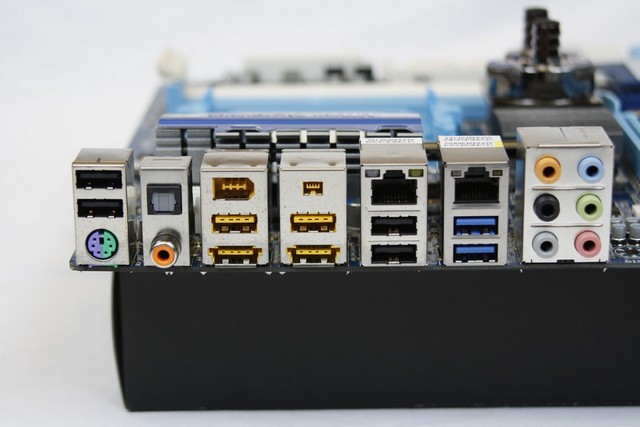 Looking at the rear I/O ports, starting at our left then working right; we have a single PS/2 port with two USB connectors. Moving to the right, you get two Audio Optical ports, then moving farther to the right, Gigabyte includes a standard Firewire 1394 port with a USB power 3 port, and finally an external E-SATA connector. Then you get another Firewire port, followed by another USB power 3 port, finally another E-SATA port. You get an Ethernet/USB header, followed by another Ethernet/USB 3 port this time. (Blue USB ports are USB 3, Yellow USB ports are Gigabytes USB power 3; then finally you get onboard 7 channel audio.
Extra
Here are some extra pictures for you to gaze over to get an idea on how Gigabyte assembled this motherboard.
Installation
This is Gigabyte's very own Cool and Quiet NorthBridge heatsink. This can be used in place of the water block that Gigabyte uses. Installation is fairly straight forward; you shouldn't have any issues putting this on.
Tip: I found it best to install this heatsink onto the motherboard prior to installing it into a chassis. You will be using one less screw that will hold the motherboard on (that screw goes right below this heatsink) but I found it easier to leave this screw out for a quicker and easier motherboard installation and removal.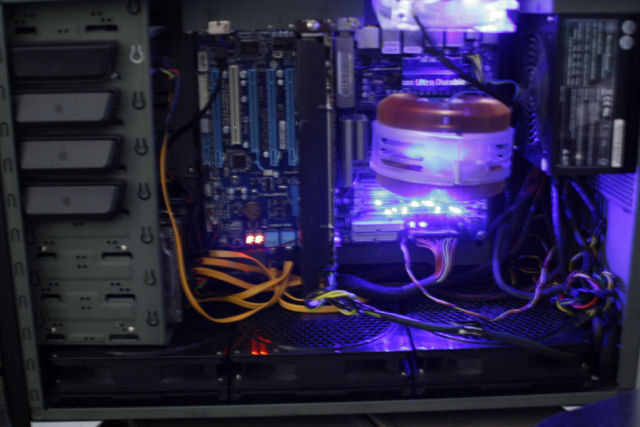 Talk about wall to wall coverage on a motherboard, this motherboard is so huge!
Here is what the Gigabyte 890FXA-UD7 motherboard looks like when installed into the SilverStone RV-02 chassis. Even though this chassis has the right number of expansion openings, the 890FXA-UD7 barely fit. Make sure your chassis is big enough to handle this motherboard. Make sure your chassis supports at least 8 expansions, 9 would be preferred.
Testing Methodology
Test Setup &Testing Methodology

"Mini Me"

CPU
AMD X6 Core 1055T CPU
Motherboard
ASUS Rampage II  Extreme, ASUS Sabertooth 55i, Gigabyte 890GMA-UD2H, Gigabyte 890FXA-UD7
Case
Open Air
Memory
Corsair 1600 Dominators
Video Card's
Sapphire 5870 Vapor X
Hard Drives
PNY Torqx 128 Gig SSD
CDRom Drive
Lite On Blue Ray
Power Supply
Cooler Master 750 PSU
CPU Speeds Used
4GHz, 2.8GHz, 2.66GHz
Operating System Used
Microsoft Windows 7
Video Card Cooler

Standard air cooler
CPU Cooler

EK Supreme HF paired up with a Dual Danger 120mm radiator
To fully gauge the performance level of both of the Gigabyte 890FXA-UD7 and the AMD 1055T six core CPU, I will be putting this up against my Intel Core i7 930 CPU on my Asus P6X58D-E motherboard. Also, I will compare the Gigabyte/AMD combination up against the Intel Core i5 750 CPU paired up with the Asus Sabertooth 55i motherboard. Since I just did an AMD x3 445 CPU review paired up with a Gigabyte 890GMA-UD2H motherboard, I will also be including this combination in the charts. This should give you readers a well rounded comparison of motherboard/CPU combinations. I will only be overclocking the Gigabyte 890FXA-UD7/AMD 1055T hex core CPU. Overclocking varies from machine to machine, this is to give you an idea on what the motherboard and CPU can do.
I will be using the absolute baseline speeds on all motherboards tested. For testing purposes, I ran each program a minimum of three times to ensure accuracy of each programs scores and performance numbers. All testing was done on a fresh Windows 7 64 bit install.
SiSoft
Everest
wPrime
Excel
Auto MKV
POV Ray
Win RAR
Dirt 2
3DMark Vantage
Unigine Heaven 2
Overclocking
When I first received the CPU and motherboard I could not wait to see what this combination could do. But the issue I had was I did not know how to go about doing what I had set out to do. I sat here scratching my head for the first few minutes while I waited for Windows 7 to finish installing, thinking on how to overclock this combination. It had been a while since I had an AMD setup in the house for me to torment the hell out of it.
I decided to fall back on the all time favorite of mine, and see how things fair from there. That all time favorite is for me to start pushing buttons till either I catch the house on fire or the CPU/motherboard submits to my will, bwhahahaha! During my time with this CPU, I kept the CPU under water. I wanted to make sure things stayed as cool as possible.
After fiddling around with different settings, I finally was able to hit my max CPU overclock without needing those crazy voltages. That maximum overclock I achieved was 4GHz on the AMD 1055T CPU. Not too bad if I may say so myself.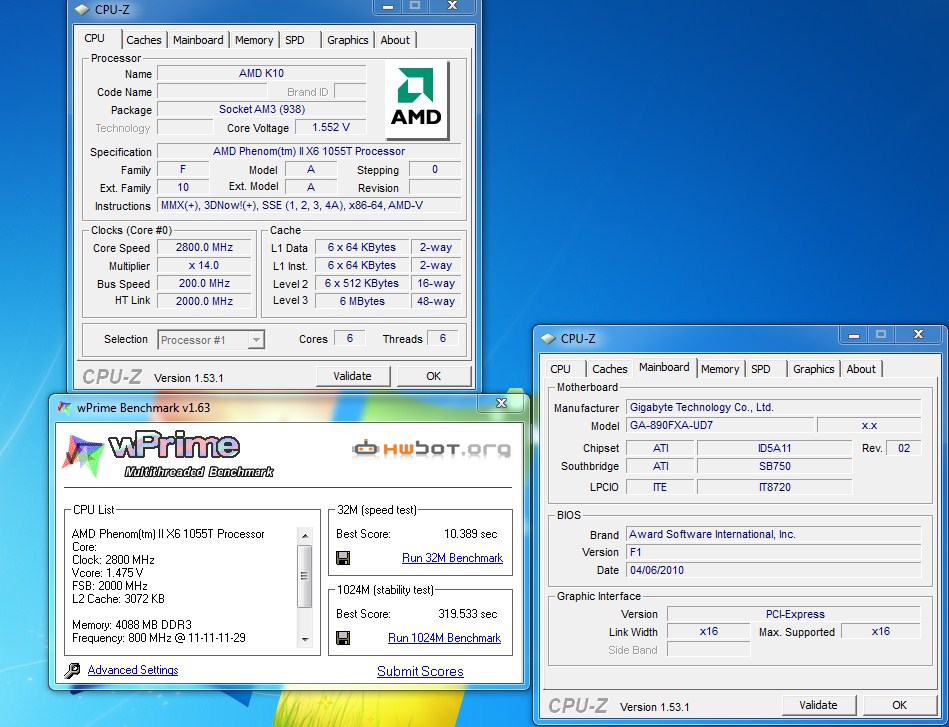 Default settings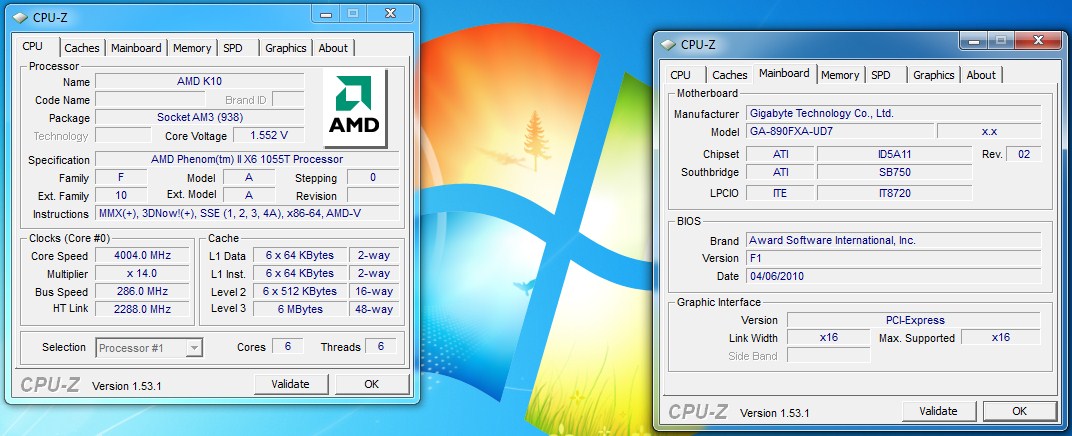 Overclocked settings.
BIOS Part 1
 This is how Gigabyte laid out the BIOS of the 890FXA-UD7 motherboard. As we can already tell, Gigabyte has been using this layout for years on their motherboards. There is enough information given for any of us to make any adjustment we need with this motherboard. We can also save up to 8 personal overclocking profiles by pressing the F11 key on our keyboard. To load that Profile all we need to do is press the F12 key and select that profile we want loaded.
BIOS Part 2
This portion of the BIOS is the M.I.T., where we can really fine tune our motherboard to what we want. Or in my case "Bend the Gigabyte 890FXA-UD7/AMD 1055T CPU to my will, bwhahaha!". The only thing that I thought was rather different, from what I am used to, is that we don't actually see the physical voltage adjustments, instead we overvolt them by predetermined settings.
Let the Battle Begin
The Default AMD 1055T paired with the Gigabyte 890FXA-UD7 motherboard is green and the Overclocked AMD 1055T paired with the Gigabyte 890FXA-UD7 is yellow.
SiSoft
  "SiSoftware Sandra (the System Analyser, Diagnostic and Reporting Assistant) is an information & diagnostic utility. It should provide most of the information (including undocumented) you need to know about your hardware, software and other devices whether hardware or software. It works along the lines of other Windows utilities, however it tries to go beyond them and show you more of what's really going on. Giving the user the ability to draw comparisons at both a high and low-level. You can get information about the CPU, chipset, video adapter, ports, printers, sound card, memory, network, Windows internals, AGP, PCI, PCI-X, PCIe (PCI Express), database, USB, USB2, 1394/Firewire, etc."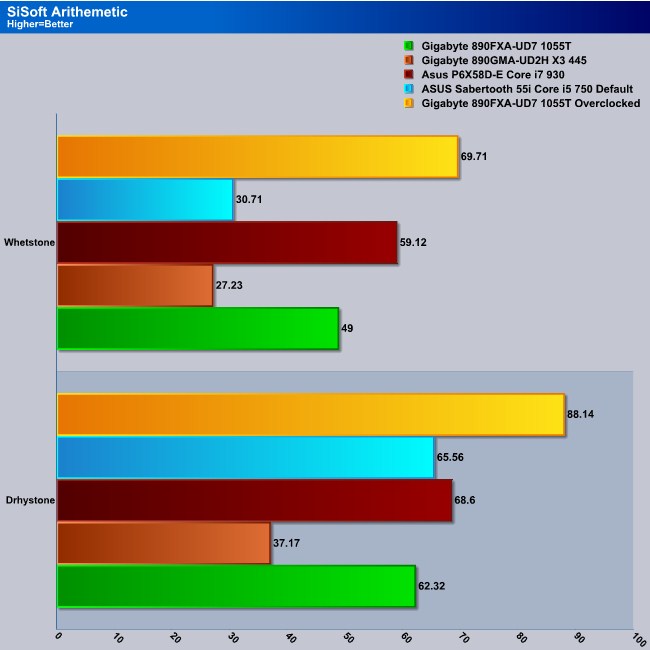 Starting off with one of our all time favorite benchmarks, the AMD 1055T CPU and the Gigabyte 890FXA motherboard combination performance sits in between the Intel Core i5 750 CPU and the Intel Core i7 930 CPU. This is not a bad place to be at considering the AMD 1055T CPU goes for the same price as the Core i5 750 CPU.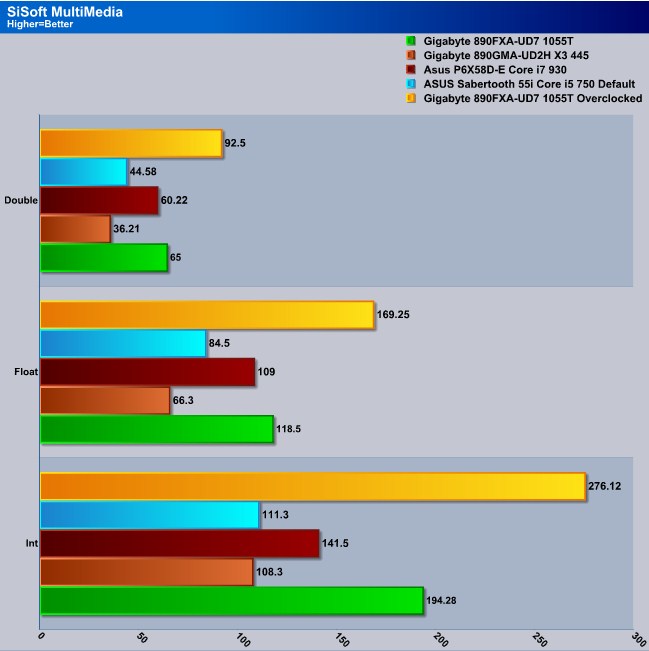 During our multimedia benchmarking, we see the all out raw power and the AMD 1055T start to show its might. Surpassing not only the Core i5 750, the AMD 1055T and the Gigabyte 890FXA combination, but also surpassing the Core i7 930 setup.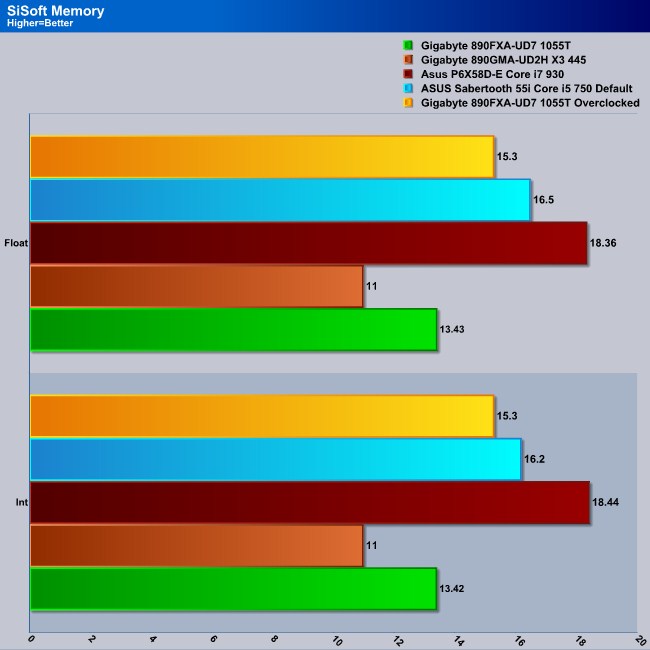 Intel still shows its supremacy when it comes to memory bandwidth, when compared to the AMD CPU offering.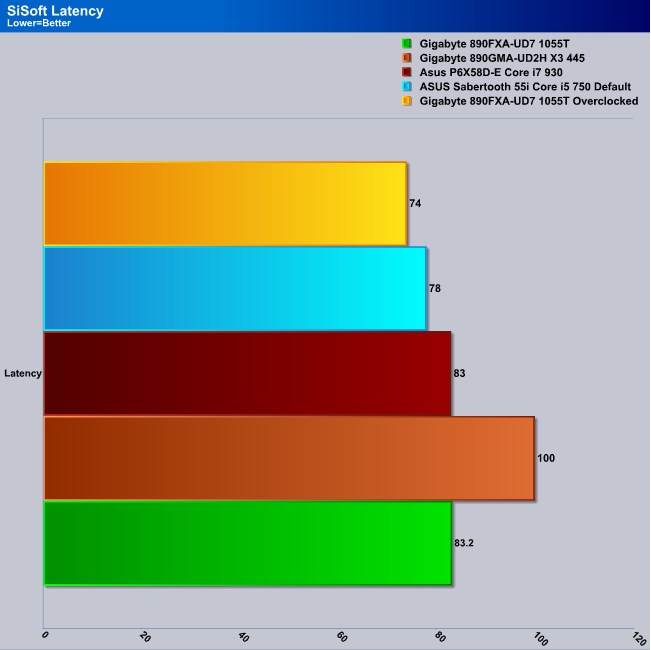 It appears that SiSoft is giving us the same latency on the memory on both the Core i7 930 platform and the AMD 1055T/Gigabyte 890FXA combo.
Reminder: The Default AMD 1055T with the Gigabyte 890FXA-UD7 motherboard is green and  the Overclocked AMD 1055T with the Gigabyte 890FXA-UD7 is yellow.
Everest
 "EVEREST Ultimate Edition is an industry leading system diagnostics and benchmarking solution for enthusiasts PC users, based on the award-winning EVEREST Technology. During system optimizations and tweaking it provides essential system and overclock information, advanced hardware monitoring and diagnostics capabilities to check the effects of the applied settings. CPU, FPU and memory benchmarks are available to measure the actual system performance and compare it to previous states or other systems. Furthermore, complete software, operating system and security information makes EVEREST Ultimate Edition a comprehensive system diagnostics tool that offers a total of 100 pages of information about your PC."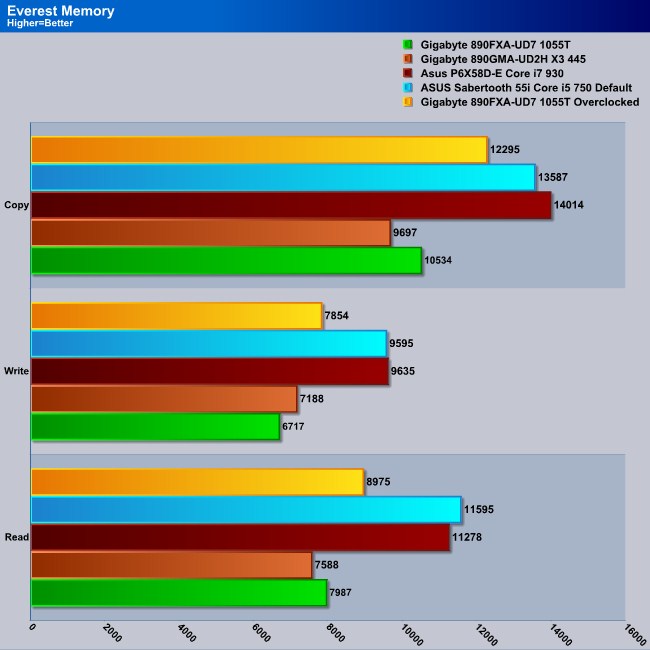 Now with Everest testing of the memory bandwidth, once again the AMD combo is still the lowest performing. Not even overclocking of the AMD 1055T/Gigabyte 890FXA combination could keep up with either one of the Intel CPU motherboard combinations.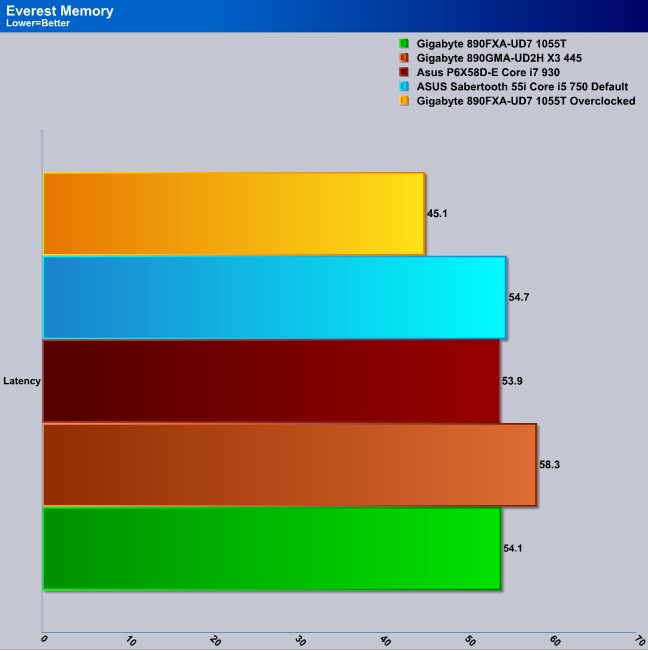 Just like the SiSoft latency testing, it appears that the AMD 1055T/Gigabyte 890FXA combination can put out some rather nice results.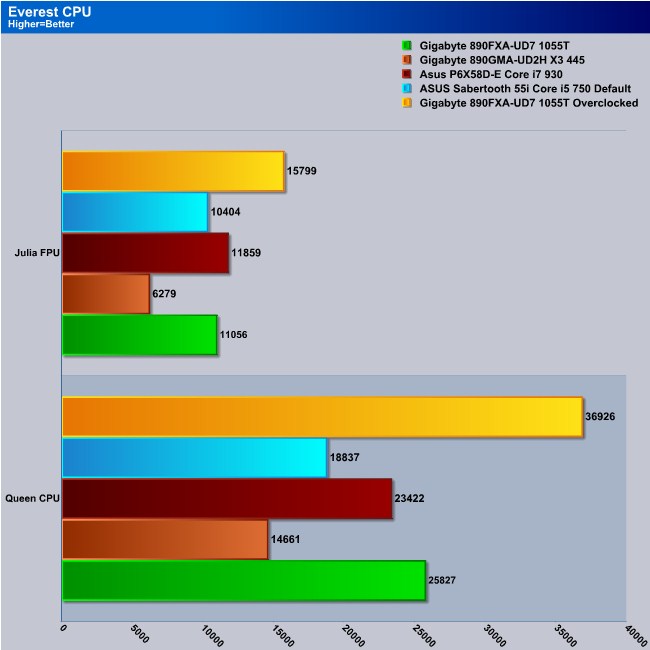 During Our CPU portion of testing, we get a mixed set of results. During the Julia portion of testing, the AMD 1055T CPU is just trailing the Core i7 930 CPU. On the CPU Queen testing portion, the AMD 1055T CPU surpasses the mighty Core i7 930 CPU.
Reminder: The Default AMD 1055T with the Gigabyte 890FXA-UD7 motherboard is Green and the Overclocked AMD 1055T with the Gigabyte 890FXA-UD7 is yellow.
WPrime
wPrime is a benchmarking application designed to use a highly multithreaded approach to calculating the square-roots of large amounts of numbers (up to 32 billion).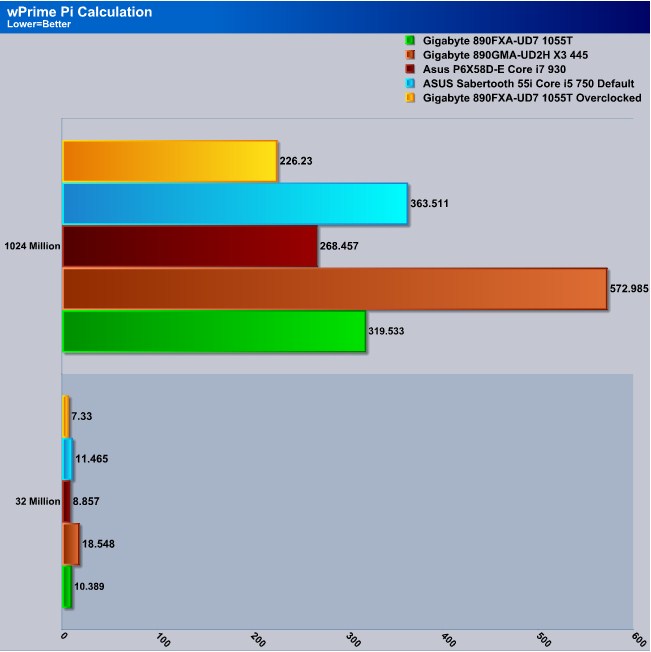 wPrime is showing us that the AMD 1055T CPU combination performance sits in between the Intel Core 5 750 CPU and the Core i7 930 CPU. Once again, not bad performance levels from the AMD 1055T CPU.
POV RAY
 The Persistence of Vision Ray-Tracer was developed from DKBTrace 2.12 (written by David K. Buck and Aaron A. Collins) by a bunch of people (called the POV-Team) in their spare time. It is a high-quality, totally free tool for creating stunning three-dimensional graphics. It is available in official versions for Windows, Mac OS/Mac OS X and i86 Linux. The POV-Ray package includes detailed instructions on using the ray-tracer and creating scenes. Many stunning scenes are included with POV-Ray so you can start creating images immediately when you get the package. These scenes can be modified so you do not have to start from scratch. In addition to the pre-defined scenes, a large library of pre-defined shapes and materials is provided. You can include these shapes and materials in your own scenes by just including the library file name at the top of your scene file, and by using the shape or material name in your scene. Since this is free software feel free to download this version and try it out on your own.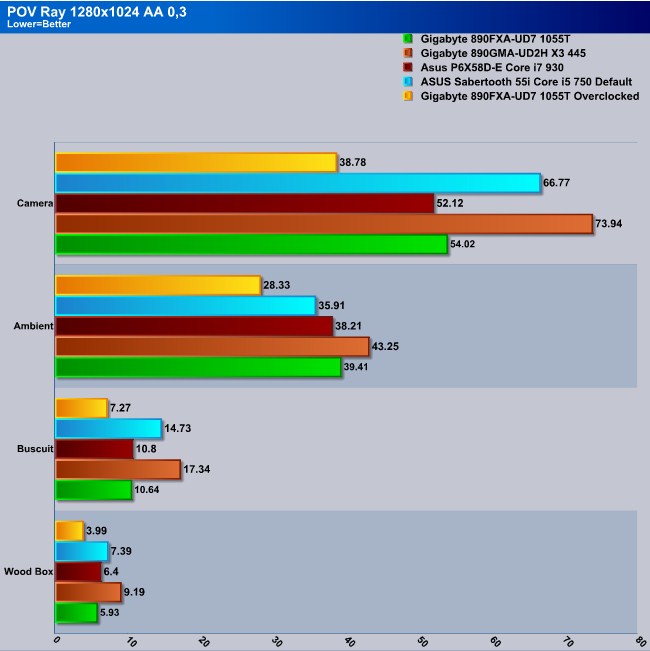 During the POV Ray rendering test, the AMD 1055T CPU is even with the mighty, all time favorite, Intel Core i7 930 CPU on performance levels.
Excel
Microsoft Excel is the widely known and most used spreadsheet application for the manipulation and calculation for number crunching. With Excel you can analyze and share information on small scale or the largest scale you can imagine. We've seen spreadsheets in every day use that contain literally tens of thousands of numbers and hundreds of equations. Bjorn3D uses two tests in Excel to determine CPU and Motherboard performance.
It appears that Microsoft's Excel still prefers to have an Intel based CPU at its disposal.
The War Rages on
Reminder: The Default AMD 1055T with the Gigabyte 890FXA-UD7 motherboard is green and the Overclocked AMD 1055T with the Gigabyte 890FXA-UD7 is yellow.
AutoMKV
 AutoMKV is an application aiming for easy media conversion between various media formats using various third party codecs. With improved internet speed and enhanced computing power, more users are interested in encoding to different media formats for their various multimedia needs. With AutoMKV and x264 codec, a freeware H.264 encoder, users can easily create media files. For more information and to obtain AutoMKV 0.95c and AviSynth* 2.5.7, please visit (http://forum.doom9.org/showthread.php?t=134478). We create a media file using AutoMKV and x264 codec. The input file used in the document is a raw 416 MB 720×480 DV file and the output is a 253MB H.264 media file.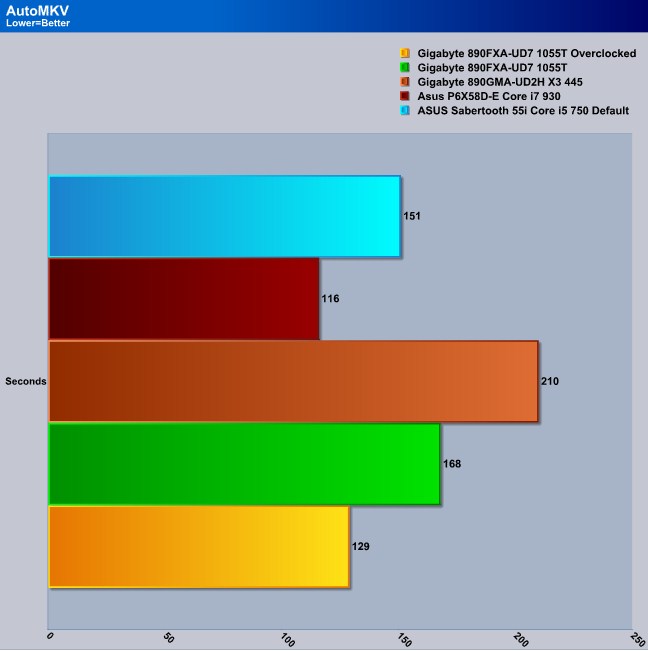 Let's see how things fair once we kick up AutoMKV. Hmm, AutoMKV also prefers the Intel based CPU's vs having an AMD CPU. This is where having memory bandwidth really starts to count.
Win RAR
This module in WinRar generates random data, which contains specially introduced redundancy, increasing the load to both the processor and memory. Data is then passed through RAR compression and decompression algorithms, and the output of the decompression algorithm is compared to the source data. If any differences are found, WinRar then reports "Errors found – Yes" in the command window. WinRar displays a size of processed data and compression speed, current and resulting, in kilobytes per second.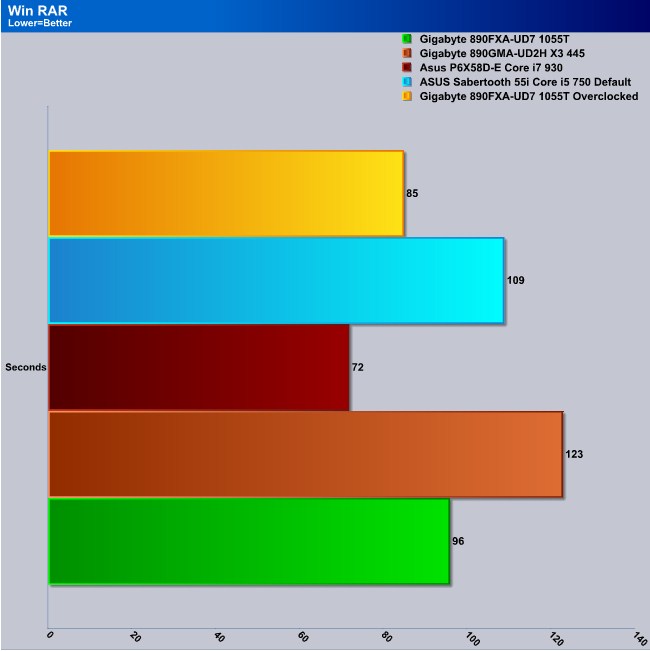 The AMD 1055T CPU manages to squeeze itself in-between the Intel Core i5 750 CPU and the Intel Core i7 930 CPU during our compression testing of 4 large TIF files.
3DMark Vantage

For complete information on 3DMark Vantage Please follow this Link:
www.futuremark.com/benchmarks/3dmarkvantage/features/
The newest video benchmark from the gang at Futuremark. This utility is still a synthetic benchmark, but one that more closely reflects real world gaming performance. While it is not a perfect replacement for actual game benchmarks, it has its uses. We tested our cards at the 'Performance' setting.
Now it is time for us to see how the AMD X3 445 CPU/Gigabyte 890GMA-UD2H combination fares with 3DMark Vantage while having a Sapphire 5870 Vapor X strapped to it. 3DMark Vantage is one of those benchmarks that loves to have both multiple CPU cores and also have high CPU core speeds. The performance levels we see here are not all that great, but then again, they aren't all that bad. This is about where we would expect a X3 CPU to perform.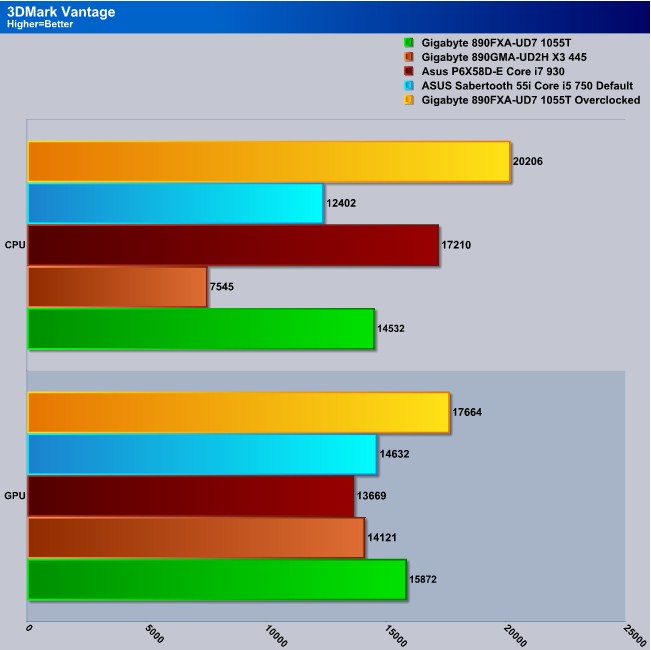 During the CPU physx testing portion of 3DMarks Vantage testing, we are seeing the performance level of the AMD 1055T CPU. Once again the AMD 1055T sits in between the Core i5 750 CPU and the Core i7 930 CPU.
Dirt 2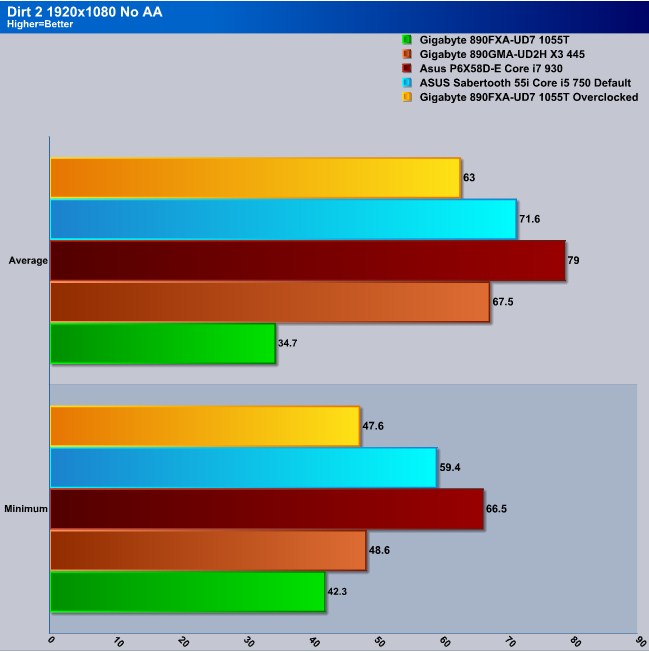 Now these results seem to sting the AMD 1055T CPU a bit. The AMD 1055T performed the worst with Dirt 2. But keep this in mind, having a minimum of 34.7 FPS is still very much playable.
Unigine Heaven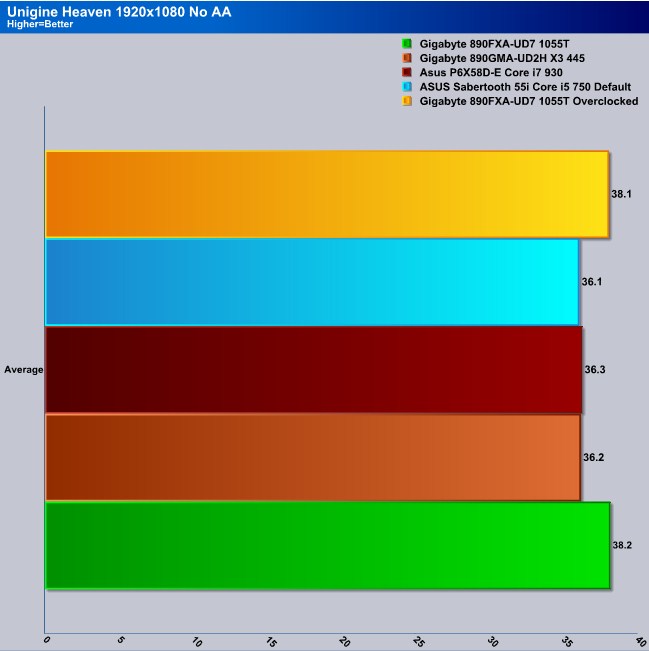 Unlike Dirt 2 testing, it does not matter what CPU you are using. We get the same exact frame rates. So it really depends on the game type where we will start seeing differences from one game to the next.
Conclusions
As you can see, the Gigabyte 890FX-UD7 with the AMD 1055T CPU is a rather powerful solution for just about anyone. This combination was handling anything I could throw at it, and then keep asking me for more through out my testing. Even I have to admit that if I did not already have my current Intel Core i7 930 system, I would seriously consider this CPU as a possible candidate for my computer.
As good of a combination the AMD Hex core 1055T CPU and the Gigabyte 890FXA-UD7 motherboard is, I had a small issue when it pertained while trying to Crossfire my two 5750 video cards. No matter what I tried (switching the video cards to different PCI-E ports) I could not get my two 5750's to Crossfire. After a few emails back, and forth between myself and one of Gigabyte's technicians Leo; one of the two 5750's is a Asus 5750 Formula while the other 5750 referenced design VisionTek. I did not have any issues trying to Crossfire these two video cards on my other two Intel based machines. Leo over at Gigabyte, was able to Crossfire two 5750 video cards with the 890FXA-UD7 motherboard he was using. I am guessing he was using two matched sets of 5750 video cards; where my two were different manufactured video cards (Asus and a VisionTek). Leo sent me the 890FXA-UD7 he was using for his testing, when I received that motherboard I tried Crossfiring my two 5750 video cards on that motherboard.
Unfortunately I was unable to crossfire my Asus and VisionTek 5750s on that motherboard as well; which gave me the idea that not everything is 100% compatible. Things like this does happen, as much as we don't like this incompatibility issue, it does happen from time to time. So I will not hold this minor problem against the Gigabyte 890FXA-UD7 motherboard.
Looking around the internet for pricing on the 890FXA-UD7, and I found that this motherboard can be purchased at Newegg.com for around 250 USD. For a motherboard that can be expanded like this one can (Support four way Crossfire), it makes this a good deal for anyone wanting to have an ultimate gaming rig.
OUR VERDICT: Gigabyte 890FXA-UD7
| | |
| --- | --- |
| Performance | 9 |
| Value | 9 |
| Quality | 9 |
| Features | 9 |
| Innovation | 9 |

We are using a new addition to our scoring system to provide additional feedback beyond a flat score. Please note that the final score isn't an aggregate average of the new rating system.

Pros
Cons

Good Quality

Can handle 4 way Crossfire X

Good overclockability

Stable

Nothing

 

 

 

 
Summary:
The Gigabyte 890FXA-UD7 motherboard is a beautiful mixture of a Timex watch and adding a bit of overclockability, with this mixture we have a gaming motherboard that can take a licking and keep on ticking.