The benchmarking of one of this years most anticipated games has finally come! We will be using two card, one from NVIDIA, and the other from ATI. Check out the article to see how each of them perform in StarCraft II.
Introduction
Few games have had the same long lifespan as the game StarCraft. Released in 1998 by Blizzard the game still is played by a lot of people and it is particularly popular in South Korea, where it is even played professionally with TV-broadcasted tournaments.
12 years later it is now soon time for the sequel to come out: StarCraft II: Wings of Liberty. The expectations on this game are very high and naturally a lot of gamers are curious on how good/bad the performance will be on their cards. We got ourselves a beta key a few days ago and have spent the weekend testing the game on a couple of high-end cards. Originally we had planned to let the NVIDIA GTX-460 go head-to-head with the AMD HD5850 but the unexpexted death of the HD5850 in the last minute forced us to bring in a substitute; the HD5770. We will of course follow up this small article with a bigger review and performance test once the game is out. We would like to point out that one of the major differences between ATI and NVIDIA when it comes to StarCraft II is that the game supports anti-aliasing on the NVIDIA-plattform while the AMD-cards at this moment do not support it. We have reached out to AMD regarding this issue to see in what way they are working with Blizzard to fix this issue.
Here are the specifications for the two cards.
| Feature/Specification | GTX-460 | ATI HD 5770 |
| --- | --- | --- |
| # of Shaders | 224 | 800 |
| Core Clock | 700 MHz | 860 MHz |
| Raster Operators | 24 | 16 |
| Memory Interface (bit) | 192 | 128 |
| Memory Size | 768 MB | 1 GB |
| Memory Type | GDDR5 | GDDR5 |
| Memory Clock | 920 MHz | 1200 MHz |
Now that we have taken a look at the specifications on these two cards let get on with the article.
Here are a few screens of the games to keep your mouth watering!
Here I had my probe build gateways and turned them all into warp gates because its one of my favorite things to use in StarCraft II.
This is where I use those warp gates to get stalkers out of my base, and the great thing about warp gates I can send my units to any pylon!
Testing & Methodology
To test the card's, we did a fresh load of Windows 7 Ultimate; then applied all the updates we could find. Installed the latest motherboard drivers for the Asus P7P55D-E Pro, updated the BIOS, and loaded our test suite. We didn't load graphic drivers because we wanted too clone the HD with the fresh load of Windows 7 without graphic drivers. That way we have a complete OS load with testing suite, and it's not contaminated with GPU drivers. Should we need to switch GPU's, or run some Crossfire action later, all we have to do is clone from our cloned OS, install GPU drivers, and we are good to go.
The testing process for Starcraft II was pretty basic, a replay file was loaded and fraps was used to benchmark the cards performances.
Test Rig
Test Rig

Case Type
CoolerMaster HAF 932
CPU
Intel Core I5 750
Motherboard
Asus P7P55D-E Pro
Ram
OCZ Reaper
CPU Cooler
CoolIt Vantage
Hard Drives

Western Digitial 250GB Sata II, 750GB Sata II Storage Drive

Optical
Lite-On DVD Burner
GPU Tested
Case Fans
120mm Fan cooling the mosfet CPU area
Docking Stations
IcyDock
Testing PSU
In-Win 1200W
Mouse
Cyborg R.A.T. 7
Keyboard
Logitech G15
Gaming Ear Buds

Plantronics GameCom 377
Speakers
Logitech Dolby 5.1
This is one of the new features of StarCraft II and it is definately one of my favorite, when your selecting a unit and in my case the probe, you can do multiple things by holding shift and the probe will do it in that order. So even probes have there own que.
The great thing about that is I have the ability to double my number of warp gates quickly and I dont even have to watch the area.
PERFORMANCE – Starcraft II: wings of liberty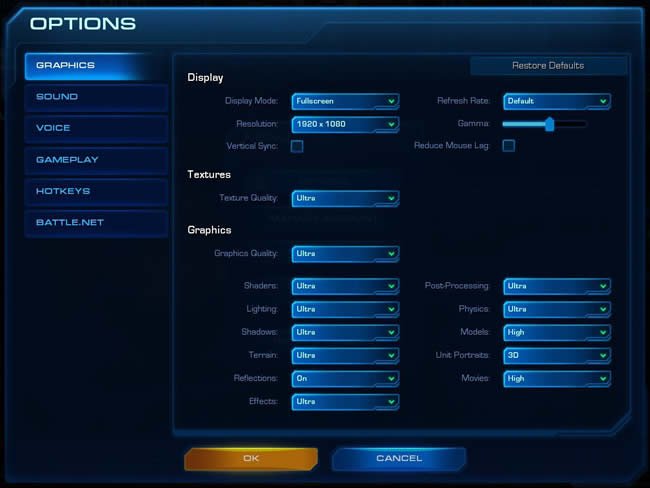 The above is the settings used in StarCraft II while benchmarking the cards.
We got started by benchmarking these two cards at the highest resolution available and the results were of no surprise.
As we dropped down to the lower resolution we only noticed a slight increase in performance which is actually a good thing because that means you will be able to use higher resolutions in Starcraft II with minimal performance loss. It also indicates that the game is more CPU-bound than GPU-bound at these settings. Both cards perform very well.
Something that is important for us to note is that we didn't do testing with anti-aliasing because ATI doesnt currently support anti-aliasing for StarCraft II. Again we have contacted AMD regarding this issue.
As I warped in pylons near the enemies base I was able to quickly warp in a mass amount of stalkers allowing me to move my units to him extremely quickly.
As I was pushing the enemies base there was a huge rock blocking my path but with this many stalkers it was obliterated before you could blink (no pun intended… okay maybe a little).
Conclusion
Overall the cards both performed quite well with the NVIDIA card taking the cake, especially since only NVIDIA at this moment supports anti-aliasing. The game also supports AMD Eyefinity and NVIDIA 3D Vision Surround (gaming on 3 or more screens) and we are very curious to see if the game works as well as for example Supreme Commander II on more screens. 
The experience in Starcraft II that was offered by this pair of cards was an amazing smooth enviroment with the sky as the limit. 
As we bring this article to a conclusion I would like to show the ending of my StarCraft II game.
I blew up his battle cruisers with such ease because I scouted it out and noticed he had starports and I built stalkers to counter it. 
The game ended the moment I got this many stalkers near his command center. It was a hard fought battle by both sides but I came out victorious!
Also look for our upcoming full review of the game benchmarked with many cards from ATI and NVIDIA by Bjorn Endre.