The NZXT Switch 810 is a great case and the price makes it an incredibly formidable competitor in this sector of the case market. Keep reading to find out more!
Introduction
Computer cases are an important part of any PC build, as they not only provide cooling for the computer, they are also what users look at every single day. Unfortunately this is exactly why so many manufacturers have trouble making a good computer case: it is remarkably difficult to balance performance and looks without making a case incredibly expensive.
NZXT has come out with a new line of cases that they claim should be a great mix of all the best features and requirements including cooling, noise, and appearance. The Switch 810 from NZXT is one of those new cases and today we will be seeing how well it does in each of these categories. The Switch 810 currently retails for $170 on Newegg.
Features
| | |
| --- | --- |
| • | Unique hybrid full tower chassis optimized for extreme liquid cooling, airflow, or silence |
| • | Supports high-end water cooling solutions up to three fans for push and pull configuration: 90mm of internal top space with top 360/420mm and bottom 140/240mm radiator support for unmatched liquid cooling |
| • | Four watercooling cutouts for easy liquid cooling management on the rear panel |
| • | Spacious CPU cutout for mounting high-end CPU coolers without removing the motherboard |
| • | Removable top 5.25" plates to accommodate wide radiators |
| • | Clever hybrid fin design allows the user to choose between maximum airflow or sound reduction |
| • | Innovative right-mounted HDDs for easy hard drive replacement |
| • | Removable HDD pull-out cages and large storage capacity for 7 hard drives |
| • | Equipped with two 140mm pivot fan slots for directing airflow at 15⁰ to the VGA and CPU |
| • | Rear white light for visibility in dark environments with a toggle switch |
| • | Dual high-speed USB 3.0, hard drive dock along with a SD card reader for transfer and quick access to multimedia |
| • | 5.25″ hard drive hot swap with SATA III support |
| • | Nine expansion slots for installing EATX motherboards with Quad SLI or Triple Crossfire |
| • | Supreme cooling capacity with up to ten 140/120mm fans |
| • | Stress-free wire management and 23mm clearance in the rear allows for superb wire-tucks |
| • | Ten large specialized cutout holes for easy cable management |
| • | Easily removable bottom filters in the front and rear to prevent dust from entering |
| • | Tool-less 5.25" and 3.5"/2.5" SSD hard drive installation for convenience and ease of accessibility |
| • | Large acrylic window with a view to show off the interior of your rig |
Specifications
MODEL
Switch 810
CASE TYPE
Hybrid Full Tower
FRONT PANEL MATERIAL
Plastic/Steel
DIMENSIONS (W x H x D)
235 x 595 X 585 mm
VGA Clearance Maximum

375mm (w/out fan), 350 (installed), 285 (full pivot)
COOLING SYSTEM

FRONT, 2 X 120/140mm (1x 140mm included)
REAR, 1 X 120/140mm (1x 140mm included)
TOP, 3 X 120/140mm (1x 140mm included)
BOTTOM, 2x 120/140mm
INTERIOR, 2x 120/140mm (1x 140mm included)
SIDE, Large acrylic window

DRIVE BAYS
4 EXTERNAL 5.25″ DRIVE BAYS
6 INTERNAL 3.5″ DRIVE BAYS
Screwless Rail Design
MATERIAL(S)
Steel, Plastic
EXPANSION SLOTS
9
WEIGHT
9.1 kg
MOTHERBOARD SUPPORT
E-ATX, XL-ATX, ATX, MICRO-ATX, Mini-ITX
A closer look: External
Click Image to Enlarge
Click Image to Enlarge
The outer box design from NZXT is about what would be expected from any case of this caliber. The package shows all of the important information as well as multiple pictures of the case itself. Of course there is plenty of information about the various features of the Switch 810 as well. The downside is, the case box is somewhat thin and as you can see in the pictures, it got pretty beat up in shipping. The cardboard itself did not stand up well to even a little abuse but hopefully the case itself did better.
Click Image to Enlarge
Fortunately NZXT did a great job with package protection as we see here. The foam surrounding the case is solid and thick so it should keep the case from experiencing any major damage in shipment. NZXT also covered nearly all of the edges and sides of the case with the standard plastic covering which prevents scratches and finish damage and we can say it definitely did work.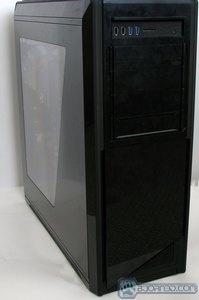 Click Image to Enlarge
Here is the overall design and style of the case. It is sleek, simple, modern, and looks great overall. The lines flow well throughout the case and overall it is definitely a very sharp looking case. Unfortunately this image also shows one of the major drawbacks for the case: fingerprints show up incredibly easily which can definitely make the case look bad. It does not take much for finger prints to show up due to the black glossy finish.
Click Image to Enlarge
Here is the front panel of the case in both open and closed configuration. Obviously when closed the front panel looks very sleek thanks to NZXT's hidden design for optical drives. The front panel includes 2 USB ports, 2 USB 3.0 ports, audio connections, power/reset switches, and even a built in SD card reader. The SD card reader is a nice addition to the case, as is the included USB 3.0 connections. Once again it is possible to see just how many fingerprints show up on this case.
Click Image to Enlarge
Here we see another important side of the case, the back panel. On the left it is clear just how sleek this case looks when the panel is closed and on the right we can see just how much of a mess the wiring can become. Of course this case has a cutout for CPU cooler backplates, and overall it is pretty clear that there is plenty of space for wiring to be hidden from view without any trouble.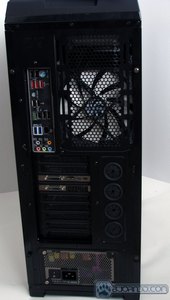 Click Image to Enlarge
Here is the all important back panel. There is obviously plenty of choices when it comes to expansion cards and of course there is a large fan near the top to exhaust the heated air from the CPU. On the right side of the case there are also 4 water cooling grommets which are large enough for even the largest water cooling lines, so this case is definitely water cooling ready.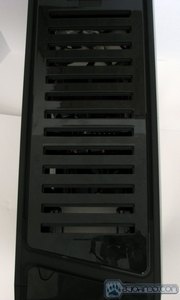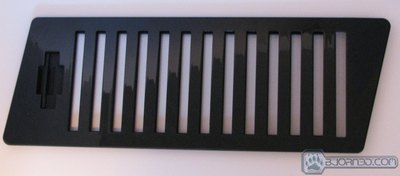 Click Image to Enlarge
Another nice feature NZXT included on the Switch 810 is the removable and configurable top panel. This panel simply snaps into place and the vents can either be opened or closed by simply sliding the lever at the back. It is incredibly unique and works well: there is a noticeable noise difference when the vents are open, though there is a temperature difference also. In the top image it is clear that you can see all the way into the case when the vents are open, there is no dust covers or anything else blocking the airflow at all.
Click Image to Enlarge
And finally we see the great dust control system that NZXT implemented in the Switch 810. The dust control panel simply slides into the bottom of the case and extends almost all the way to the power supply. It snaps into place so it shouldn't ever come loose and removing it is incredibly easy. It does a great job keeping dust out and makes a huge difference overall.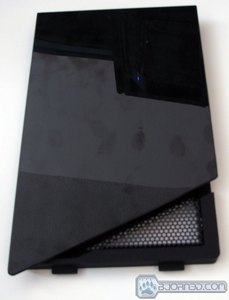 Click Image to Enlarge
Here is yet another indication that the finish used on this case is very prone to finger prints. This is the removable front panel of the case and while the dark black finish does look great, it does get incredibly dirty very easily. This panel is not only there for looks, it also has built in dust covers so that the inside of the case should stay clean. The styling definitely looks great, but the finger prints are a major drawback.
Closer Look: Internal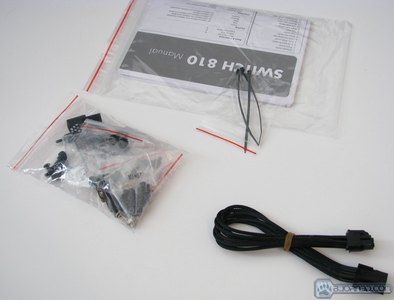 Click Image to Enlarge
Here are all of the accessories and other stuff included with this case. This case comes with tons of screws included (and they're sorted by size) as well as zip ties to keep the cables under control. NZXT also included a y-cable which can be used to splice/extend two 4 pin connectors into a single 8 pin CPU connector. Of course there is also a manual with plenty of details about the case itself.
Click Image to Enlarge
Here are the two main features of the inside of the Switch 810. On the left is the panel locking system used which does a great job keeping everything nice and secure. There are a bunch of cable management ports that make it incredibly easy to hide those cables. The fact that they're not just open ports like so many cases makes them look absolutely great, especially when paired up with all black cabling.
Click Image to Enlarge
Like many cases, the NZXT Switch 810 uses a harddrive cage to hold everything. There are two cages in the case and they slide out very easily. Standard size hard drives fit great, and thanks to the space behind the motherboard tray NZXT decided to route the cable access through the back rather than the front. This once again really helps clean up the look of the case overall.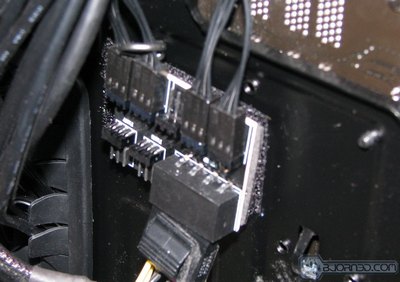 Click Image to Enlarge
Here is one of the most interesting and most useful features of this entire case. The black panel seen here is attached to the back of the motherboard tray with a small piece of velcro and each of the connectors connecting to it is a fan. This black panel is essentially a single power connection point for all of the case fans, along with some additional connectors. Once all of the fans are connected, only a single power cable is needed to power everything; this is an absolute life safer when it comes to cable management.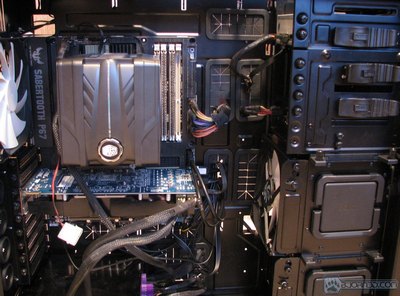 Click Image to Enlarge
Finally we see the overall finished product with everything installed. There is clearly plenty of space surrounding the motherboard and cable management is incredibly easy thanks to the space behind the motherboard tray. The only problem is that some power cables may be a bit too short so to properly hide everything some extensions might be needed. Otherwise though it looks absolutely great with the completely black interior.
TESTING METHODOLOGY
Our testing methodology is rather simple for cases. We let the system idle for 30 minutes and we measure temperatures. Then we turn on OCCT to load the video cards and the processor to 100%. After 20 minutes of 100% load, we measure the overall temperatures. If there are multiple fan settings available, we test the lowest and highest fan settings.
Test Rig
| | |
| --- | --- |
| Case | NZXT Switch 810 |
| CPU | Intel i7 2600K |
| Motherboard | ASUS P67 Sabertooth |
| CPU Cooler | Cooler Master V6GT |
| GPU | AMD Radeon 6870 |
| PSU | Sparkle 1000W |
Results
Temperature (ambient @ 22 C)
 
Idle (top closed)
Idle (top open)
Load (top closed
Load (top open)
CPU
29C
28C
66C
60C
GPU
47C
47C
86C
86C
Motherboard
27C
27C
35C
35C
Overall these temperatures are very good, especially given just how hot the components being used could be. Opening the top vents does make a slight difference at idle, but under load it really shows as the CPU temperatures were noticeably lower. This comes in very handy in a lot of cases but the extra noise is also a factor. That is precisely why it is very nice that NZXT made it so simple to quickly and easily switch from open to closed.
It is also important to remember the overall noise of the case. Obviously it depends a lot on CPU cooler and GPU fans, but in most cases it seems like the NZXT Switch 810 will be a relatively quiet case. With the top vents closed it is almost silent, but with the top vents open that noise is definitely more noticeable.
Conclusion
Overall the NZXT Switch 810 is a very solid case in a number of ways. Of course it is not perfect, there are small flaws here and there, but overall it really does quite a good job. Cooling is more than sufficient from this case and the easy to remove panels are a very nice touch. The addition of a built in panel for fan connections is nice, and it is also nice to have a hidden USB panel on the front that includes plenty of USB connections as well as USB 3.0.
On top of cooling, this case also has a uniquely attractive design style as well as plenty of sound dampening which keeps it from being too loud. If you need more cooling and care less about the sound then feel free to open the easily accessible top panel for additional air flow through the case. One of the best things about this case is that it is only $170; for the size and quality of this case that is quite a good deal which makes it an even more attractive product.
OUR VERDICT: NZXT Switch 810
| | |
| --- | --- |
| Performance | 9 |
| Value | 9 |
| Quality | 8 |
| Features | 8 |
| Innovation | 9 |

We are using a new addition to our scoring system to provide additional feedback beyond a flat score. Please note that the final score isn't an aggregate average of the new rating system.

Pros
Cons

Good cooling

Very quiet

Quick disconnect panels are very useful

Great cable management system

 

Some parts rattle or are loose

Fingerprints form easily

 

 

 

 
Summary: The NZXT Switch 810 is a great case and the price makes it an incredibly formidable competitor in this sector of the case market. It is well designed, has plenty of cable management solutions, and most importantly it performs well. For its performance and value it earns the Bjorn3D Golden Bear Award.