This external DVD±RW features fast USB, complete compatibility, and portability!
[review_ad]
Introduction
---
CD's were easy to adopt. Once you bought a drive, you didn't have to worry about formats, just drive speed. Writeable CD's didn't pose any problems, either, once speeds came up to, uh, speed. DVD's are different, however. Set-top players and PC DVD-ROM drives have made the DVD incredibly popular, but the standards war that never hit CD's is still raging for their optical brethren.
In addition to standard, read-only DVD's, the enthusiast is faced with the daunting task of selecting between incompatible write formats. DVD+R is duking it out with DVD-R, and DVD+RW is at war with DVD-RW. Pick the wrong format and any one of your DVD playback devices may fail to read your disc. Even worse, the losing format could make your technology obsolete well before it outlives its usefulness.
Thankfully, the drive manufacturers have found a solution to this madness in the form of dual format writers. Sony was first, but others have followed suit in offering DVD±RW drives. What's that mean? Simply that these drives can read and write all 4 DVD write formats (+R, -R, +RW, -RW). Does the DVD player in your bedroom only read DVD-R discs? Does the kids' DVD player in your Escalade insist on DVD+R? With a dual format drive you don't have to worry about how well your players get along; DVD±RW drives let you create the right disc for each player.
With that bit of background information behind, it's time to move on to our review subject, MicroSolutions Backpack External DVD±RW drive. As the name implies, it not only burns the plethora of current formats, it's also portable. Ensconced safely in a plastic shell is NEC's ND-1300A drive with a USB 2.0 link to the outside world. Why go external? There are number of reasons for using an external drive of any type. Some PC cases lack spare drive bays, some people just aren't comfortable working inside their PC, and some need the portability that external drives offer. For example, I regularly use external drives to transport files to and from work. It's a lot easier than trying to e-mail myself data, or God forbid, using floppies. Regardless of your need, USB 2.0 and FireWire allow external drives to finally keep pace with their internal siblings. Before these specs became common, the idea of an external DVD writer was impractical, if not impossible.
MicroSolutions Backpack drive uses USB 2.0 to enable portability, hot swappability, and speed. This review will see how well it achieves these three goals.
Features & Specifications
---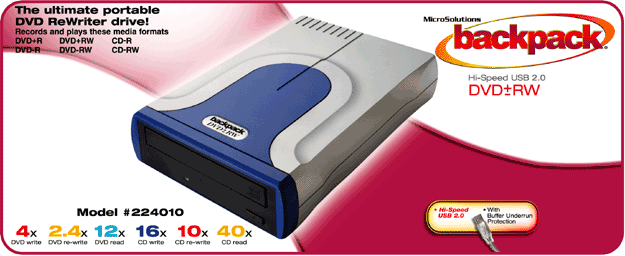 Specifications:

Transfer Speed: USB 2.0 – 16.2MB/s (max.)
Buffer Underrun Protection
Typical Access Time: CD-RW – 130ms average, DVD±RW – 90ms average
Supported Media: High Sierra, ISO 9660, CD-ROM/XA, Photo CD, MultiRead CD-RW, CD-R, CD-audio format, Video CD, CD-DA, CD Extra, Karaoke CD, CD-ROM (Mode 1 & 2), CD-I/FMV, Mixed Mode (Audio Combined CD-ROM Disc), DVD single/dual layer (PTP, OTP), DVD+R, DVD+RW, DVD-R, DVD-RW
Recording Media: DVD+RW, DVD+R, DVD-RW, DVD-R, CD-RW, CD-R
Bundled Software: Sonic MyDVD production software, CyberLink PowerDVD player software, SpeedyCD authoring and editing tool
DVD±R Write Speeds: 1X-4X
CD-R Write Speeds: 4X-16X
DVD±RW Rewrite Speeds: 1X-2.4X
CD-RW Rewrite Speeds: 4X-10X
Read Speed:

12X (DVD+RW)

16.2MB/s max. with Hi-Speed USB 2.0
1.0MB/s max. with USB

40X (CD-RW)

6.0MB/s max. with Hi-Speed USB 2.0
1.0MB/s max. with USB
Features

Attach to USB 2.0 port – perfect for desktop and notebook PCs
Built-in buffer underrun protection
Hot Pluggable – attach and detach the drive without restarting your PC under Windows 98, Me, 2000 and XP
Rewrite DVD+RW, DVD-RW and CD-RW; write DVD+R, DVD-R and CD-R; and read DVD and CD-ROM discs
Plays DVD video and reads DVD data discs
Plays CD-ROM program and audio CDs
Create your own custom DVDs and CDs
Sonic MyDVD production software included
CyberLink PowerDVD player software included
SpeedyCD creation tools software included
Device drivers for Windows (98, Me, 2000 and XP) included
Includes uninstall utility to remove software drivers from Windows
Installation & Bundle
---
Installation
The first thing you'll notice about the Backpack DVD±RW drive is its size – it's not petite. The Backpack is a full-size internal drive with a plastic shell, and it is fairly heavy. You may save space in your case with it, but you will need room on your desk for the drive. That said, it sits snuggly on top of my tower case. Its non-slip feet keep it in place and I've yet to run into any problems with accidental knockdowns. Its heft helps keep it secure!
The Backpack uses a DC transformer that thankfully is behind a separate plug. This thoughtful design is sure to save you a few outlets on your power strip!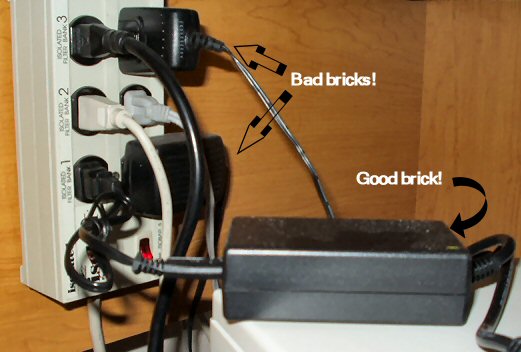 Installation is very simple, as one would expect from an external drive. The unit comes with a driver/software CD and the instructions direct you to install the Backpack driver before plugging in the unit. Once that simple install is complete you are free to plug in drive's power cord and x" USB cable. Windows will recognize the drive as a DVD/RW unit and assign it the next available drive loader. I also have an external USB hard drive, and for reasons known only to Windows XP, it bumped the external drive up a letter and gave the Backpack its former assignment. That was not a problem for me, but be aware that your USB devices may shuffle their order.
The Backpack includes a separate installation guide for the drive, one for the disc burning utility, and another for the DVD authoring tool. All three were more than adequate for installing and getting started.
A quick check of MicroSolutions Web site showed that the Backpack had both an updated driver and a firmware upgrade for the NEC ND-1300A. I installed both without incident and then proceeded on to the software installations.
The Bundle
The Backpack comes with three software utilities. SpeedyCD is a general purpose CD/DVD burning utility similar to Nero or Easy CD Creator. Because I'm a long-time Nero user, I opted not to install SpeedyCD. The supplied documentation, however, indicates that SpeedCD should meet your burning needs should you not already have a favorite.
PowerDVD has been bundled with nearly every piece of hardware for sale for 5 years now. It is, however, an excellent DVD playback utility. It installed easily and was immediately available to play my DVD's on disc and on my hard drive (more about that later).
MyDVD is a DVD authoring tool. If you haven't played around with DVD's before, you'll need to know a little more about them before running off and making your own. DVD video uses the MPEG2 compression format. DVD discs use MPEG2 files in addition to other data about the data on your disc. In other words, you can't just drag and drop a MPEG2 movie into your burning software and expect to create a DVD disc playable on a set-top box. You must first author the DVD using a tool such as MyDVD. MyDVD is a simple, template-driven utility that lets you drag and drop files, including MPEG2 video, and turn them into a DVD format disc. You can make titles, chapters, and enough bells and whistles to drive your audience crazy.
Missing from the bundle is what no drive manufacturer is going to offer you: A means to decrypt your recorded discs. That's right, if you want to make backups of your purchased DVD's, you're going to have to work at it. You will have to download a freeware tool such as DVD Decrypter or purchase software like DVD XCopy. These utilities will remove the encryption from your recorded discs and let you use them with an authoring tool such as MyDVD.
Now that we've installed the Backpack, drivers, and tools, let's take it out for a test drive! Sorry, couldn't resist.
Use & Performance
---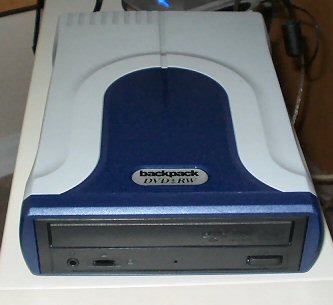 Test System
AMD Athlon XP 1800+ CPU
EPoX 8RDA+ Motherboard (nForce2)
256MB Corsair XMS PC3200 DDR SDRAM, 256MB Corsair PC2400 DDR SDRAM
Western Digital 120GB, Maxtor 60 GB Hard Drives
52x24x52 Lite-On CD-RW
52x Creative Labs CD-ROM
MSI GeForce FX5600 Graphics Card
Windows XP Pro, all current patches applied
Playback
I had concerns about how the USB interface might affect DVD playback.  I played a number of commercially recorded movie discs with the Backpack and PowerDVD and didn't encounter a single skip, stutter, or bump.  Playback was continuously smooth and trouble free.  And that's with an 1800+ CPU – not exactly a cutting edge processor anymore.
Decrypting & Burning
Since we've already raised the specter of decryption, we may as well test the Backpack at ripping. I used DVD Decrypter for this test, and ripped the primary video file from This Is Spinal Tap. Those big bottom lovers have 6.8GB of video, and the Backpack did a nice job of finishing it off in 13:10 minutes. Next, I took 4.8GB of MPEG2 video (not Spinal Tap) and ran it through MyDVD to create the necessary DVD files. I then used Nero 6 to burn the DVD on two types of media, DVD+RW and DVD+R. The backpack handled those chores in 23:15 and 13:41 minutes, respectively. Here are the summary results:
Ripping & Burning