MSI has come up with a way on making the 285GTX video card even better. By making it run faster and cooler.
[review_ad]
INTRODUCTION
What makes one video card manufacturer different from the other? Is it the software bundling that comes with that video card we are looking at? Granted, getting games and or software with our purchases does help, but with the selection of software/games that come with a video card, chances are we've already purchased that software/game (there are a few instances were we haven't). Next up, is it because that video card is factory overclocked? This again makes a difference in our choices, as some people are still completely afraid of using software like EVGA Precision or RivaTuner to overclock thier video cards.
I myself look at what that manufacturer uses for a heatsink on their video card. Yes, getting extra software, having an overclocked video card are all niceties but what's the point in getting a video card when you might need to spend an extra 30-50 dollars on top of your video card for a good GPU cooler that will make sure the video card stays cool at all times. Not to mention the possibilities of "WHAT IF" that GPU cooler does not properly work, or gets installed wrong, what then?
MSI has been one of the top manufacturers that uses an aftermarket cooler for thier video cards. The 285GTX Superpipe is no exception to MSI's continuation of quality, not to mention their ability to think outside the box when it concerns thier products.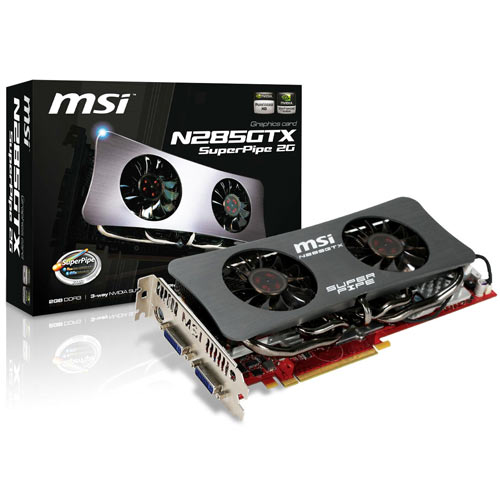 About MSI
Founded in August 1986, MSI has continued to uphold a business philosophy that stresses "Award-winning product quality and outstanding customer service". MSI specializes in the design and manufacture of mainboards, graphics card, add-on cards, servers/workstations, iPC, barebones, communication devices, CE products, Notebooks, and car PC products.
"Quality Products Create Faithful Customers" is a motto that guides all that we do at MSI. For this reason, MSI goes all out to be the best of the best in research and development. Currently, 2,500 experienced engineers staff our research and development department. This talented team carries out its work with the latest research equipment, continuing to raise the bar on product quality and innovative product features.
At MSI, we put our motto — "Quality Products Create Faithful Customers" — into living practice. In 1995 and 1996, we received ISO-9002 and ISO-9001 product quality certification, respectively. In 1999, MSI received ISO-14001 environmental certification, affirming our commitment to the environment. Furthermore, MSI products undergo rigorous quality control testing, attaining a 99.6% quality rate, a level far higher than the industry standard. MSI's superior product quality has garnered exceedingly favorable coverage from the global media, countless awards, and a very enthusiastic customer response.
In recent years, MSI has aggressively expanded into mainland China to meet the needs of our global customers. In the first quarter of 2001, the Baoan Plant in Shenzhen started production, vastly increasing MSI's production output as well as revenue. Aside from the Baoan Plant in Shenzhen, MSI has also established production facilities and a research and development center in Kunshan, China in 2003. The mainboard annual production is expected to reach 20.8 million units and the annual graphics card production is expected to reach 11.8 million units. Combined with the production from Taiwan, MSI is now becoming one of the biggest mainboard and graphics card manufacturers in the world.
To keep abreast of the global market and offer our customers the best service, speediest product delivery, as well as sales and technical support, MSI has established subsidiaries in mainland China, Czech Republic, Hong Kong, Japan, Korea, India, Taiwan, the U.S.A., Canada, Brazil, Germany, France, Italy, Australia, the Netherlands, Turkey, U.K., Russia, Ukraine, Serbia, Poland and Spain/Portugal.
To broaden our global market and to build a good image, we keep striving on marketing promotions, for example, posting advertisement on some reputed media, releasing news information, improving product box design, holding many promotion activities and attending all important PC exhibitions in the world. Apart from developing the mainboard, graphics card, server/workstation, and barebone, MSI has also introduced the Communication, CE, Notebook, IPC, and Car PC products to bridge the transition to the post-PC world. MSI adopts a diversified business model, and is transforming itself into a leader in the Consumer Electronics age.
Together, we are entering a greatly-accelerated world. Let MSI be the first to welcome you into this exciting new Digital Universe!
SPECIFICATIONS