Palit GTX 560 Ti Sonic delivers great performance worthy of its price. It is an ideal graphics card for any gaming enthusiast.
[review_ad]
Introduction 

Utilizing the newly optimized GF114 Fermi Architechture GPU, the GTX 560 Ti has demonstrated outstanding performance so far. While the stock GPU of the GTX 560 Ti is set to 822 MHz, new architechture allows for these lower-end high-performance cards to clock at frequencies of over 1 GHz, closely approaching the performance of the GTX 570 and GTX 480. However the most definitive feature of these cards is efficiency, showing the highest performance/watt out of all GeForce 500 series cards. 
In order to accomodate the proper performance and cooling observed in GTX 560 Ti, several modifications have been done to the old GTX 460. The new GF114 has been equiped with 384 fully active CUDA cores, producing an overall 15-30% performance increase over GTX 460. The addition of extra raster engines and PolyMorph engines, made specifically for polygon tessellation and pixelation, provides an even more apparent performance increase in games utilizing DirectX 11. The modification in cooling and overall architechture of PCB have been targeted in order to ensure that the temperature of the GTX 560 Ti remains close to that of its predecessor. While the Nvidia reference card did demonstrate a change in addition of voltage chips on the back of GPU and capacitors in order to  accomodate the increase in the overall voltage, the overall heat sink and fan design have been left up to the vendors.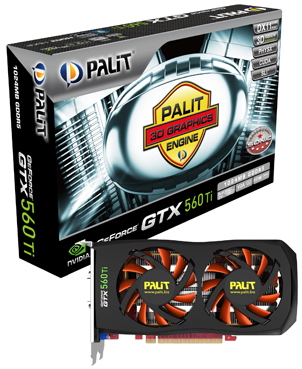 The Palit GTX 560 Ti Sonic, clocked at 900 MHz, has been finely tuned to provide an ultimate gaming experience, while conserving the high performance/watt efficiency demonstrated in all GTX 560 Ti cards. Palit incorporated a dual 80mm fan design, and shrunk down the PCB by a few inches. This compact design makes the Palit GTX 560 Ti Sonic an ideal contender for any mid tower case, as well as lowering the overall voltage required to power the card. Currently, the Palit GTX 560 Ti Sonic is priced at 259.99 USD, while the reference Palit GTX 560 Ti is priced at 249.99 USD. The low market price of GTX 560 Ti is yet another quality making this card a serious contender in the market.
Specifications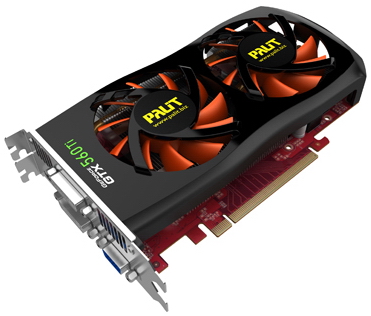 Bus interface: PCI Express 2.0 Support

Microsoft DirectX11 support

NVIDIA PhysX technology

NVIDIA 3D Vision Surround Ready

NVIDIA CUDA technology

NVIDIA SLI Ready

NVIDIA PureVideo HD Technology

Microsoft Windows 7 Support

OpenCL Support

OpenGL 4.1 Optimization and Support

Dual-link DVI Support

Dual-link HDCP-Capable

HDMI 1.4a Support



* NVIDIA 3D Vision Surround requires two or more graphics cards in NVIDIA SLI configuration, 3D Vision glasses and three matching 3Dvision-Ready displays. See http://www.nvidia.com/object/3d-vision-main.html for more information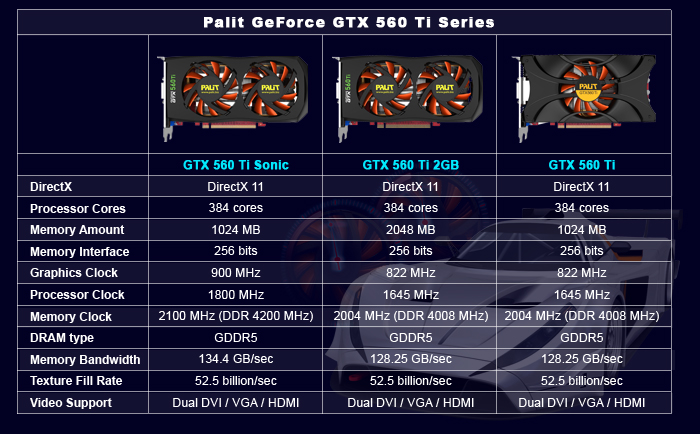 Features
The Evolution of Multi-Display Gaming powered by GeForce® GTX 400 Series GPUs
Imagine expanding your gaming real estate across three displays in Full HD 3D for a completely immersive gaming experience. With the introduction of NVIDIA GeForce GTX 400 GPUs, you can now use the award winning NVIDIA 3D Vision to build the world's first multi-display 3D gaming experience on your PC.
EXPAND YOUR GAMING REAL-ESTATE FOR THE ULTIMATE IMMERSIVE EXPERIENCE.
> Get a complete view of the battlefield in real-time strategy games.
> Manage your inventory windows, quest logs, and track your party in your favorite MMORPGs.
> See your enemy's movement quicker and react first in first-person-shooters.
> Immerse yourself in the driver seat of your favorite racing game and be a part of the action.
3D GAMING ACROSS THREE 1080P DISPLAYS, FOR A BREATHTAKING GAMING EXPERIENCE.
> 3D gaming across three 1080p displays, for a breathtaking gaming experience.
> Advanced NVIDIA software automatically converts over 425 games to stereoscopic 3D without the need for special game patches.
> GeForce GTX 400 GPUs deliver the graphics horsepower to drive 750M pixels/second for screen 3 times Full HD 1080p 3D Vision gaming for an incredible 5760×1080 experience.
> Compatible with all 3D Vision-Ready desktop monitors and projectors.
GET UP AND GAMING IN MINUTES WITH THE WORLD'S MOST ADVANCED MULTI-DISPLAY SOFTWARE.
> Works with all standard monitor connectors, without requiring special display adapter dongles.
> Simple to use setup wizard guides users through setup and allows bezel correction to enable a seamless display experience.
> Advanced GPU synchronization ensures seamless support and maximum framerate
> Use Accessory Displays to watch movies, browse the web, or chat with friends.
NVIDIA PureVideo Technology
NVIDIA® PureVideo® technology brings movies to life. PureVideo uses advanced techniques found only on very high-end consumer players and TVs to make Blu-ray, HD DVD, standard-definition DVD movies, PC and mobile device content look crisp, clear, smooth and vibrant. Regardless of whether you're watching on an LCD monitor or a plasma TV, with PureVideo the picture will always be precise, vivid and lifelike.
PureVideo is included on the processing cores on NVIDIA GPUs and handheld devices for the decoding and playback of video. If your PC is equipped with one of these GPUs, you can take advantage of PureVideo and PureVideo HD. NVIDIA applications processors also leverage this technology to deliver top class video quality to mobile devices.
NVIDIA PureVideo HD
Available on select NVIDIA® GeForce® 7,8, and 9 series and NVIDIA Quadro® GPUs, PureVideo HD is a superset of the PureVideo functionality that is essential for the ultimate
Blu-ray and HD DVD movie experience on a Desktop PC or notebook computer. Learn More
NVIDIA PureVideo
Available on most NVIDIA GeForce, NVIDIA APX applications processors and NVIDIA Quadro GPUs, PureVideo is for playback of standard-definition DVDs, PC video and mobile content. Learn More
What is CUDA?
CUDA is NVIDIA's parallel computing architecture that enables dramatic increases in computing performance by harnessing the power of the GPU (graphics processing unit).
With millions of CUDA-enabled GPUs sold to date, software developers, scientists and researchers are finding broad-ranging uses for CUDA, including image and video processing, computational biology and chemistry, fluid dynamics simulation, CT image reconstruction, seismic analysis, ray tracing and much more.
2011-02-14