The EC01+ is a USB 3.0 adaptor card which claims an increase in speeds over the previous generation of cards from silverstone. Today we take a look at it.
[review_ad]
Introduction
SliverStone has been quietly building a reputation for products that fill certain niches. They offer everything from hardware mounting solutions, including cases, to ad-in hardware for a variety of purposes.
A short while back we examined the Silverstone EC03 USB 3.0 expansion card w/ front USB3.0 ports (fits in the 3.5 inch bay). We found it to be quite a handy device for adding USB 3.0 ports to a system that doesn't have them, it can be used to add extras to a system that does have them also.
 Since then we have discovered that Silverstone has released the EC01+ (EC01-P) which claims a 10% increase in performance over the pervious generation of USB 3.0 solutions. So today we are taking them to task and giving this product the chance to prove it's claims or fail horribly. This particular product is just the card without the front ports.
Now, without further delay, we present the SilverStone EC01+ USB 3.0 expansion card. Let's see what it does.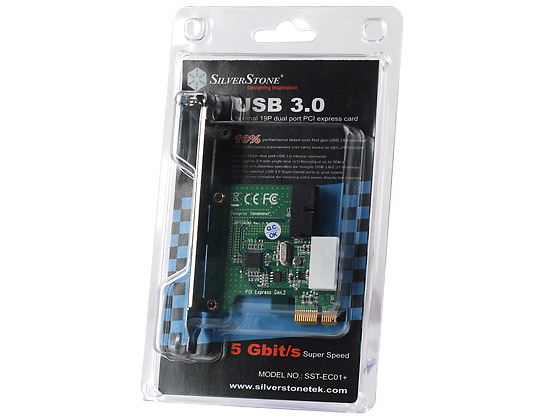 The SilverStone SST-EC01-P USB 3.0 expansion card is available from a wide range of online retailers with prices from $23 – $32 USD.
Features
Unique 19-pin dual port USB 3.0 internal connector
PCI Express 2.0 with single lane(x1) throughput 5Gbit/s
Supports simultaneous operation of multiple USB 3.0/2.0/1.1 devices
Adds two external USB 3.0 SuperSpeed ports to your system
Built-in power connector to receiving extra power from system
2012-05-09