Silent, but not deadly, the Antec Phantom PSU will keep quiet, but keep your PC kicking with 350W of perfect power. Shhhhhh….can you hear that???….me neither!!
Introduction
---
Do you dream of the day where the only noise coming from your PC will be from the speakers? As time goes by that dream is becoming more and more of a reality. Antec has come to the plate with the Antec Phantom power supply, a completely fanless, passive cooling PSU that is quiet as a mouse. The PSU is another component on the PC that has added to the din the PC fans and video card are already creating in your PC. That sound is why we have some great aluminum cases that are helping to eliminate those fast spinning case fans, and vid card makers continue to look for ways to quiet down those vacuum cleaner cards. In steps Antec with the Phantom, a big, heavy, but 100% silent PSU. So how do they do it you ask??….let's find out!!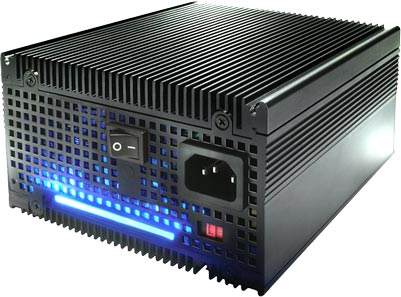 Specs & Features
---
Features:
350 Watts ATX12V2.0
Fanless design ensures absolutely silent operation
Ultra-high-efficiency circuitry (at least 85% efficiency at full load) saves energy and reduces heat
Extruded aluminum casing is directly attached to internal heatsinks, for maximum heat dispersion
Dedicated output circuits for each voltage eliminate combined-output limitations
Advanced voltage-feedback circuitry provides maximum system stability by ensuring accurate power delivery
Dual +12V output circuits provide server-quality power
2 SATA connectors to power Serial ATA drives
Server-grade protection features ensure maximum reliability. Includes over-temperature, over-voltage, over-current, over-power, short-circuit and under-voltage protection
Gold-plated connectors for superior conductivity
ATX12V v2.0 compliant compatible with current and newest generation of motherboards
AQ3 Antec's unbeatable 3-year parts and labor warranty
FEATURES

Switches
ATX Logic on-off
Additional power rocker switch
Maximum Power
350W

Transient Response

+5V,+12V and 3.3V outputs return to within 5% in less than 1ms for 20% load change.

P. G. Signal

100-500ms

Over Voltage Protection
recycle AC to reset

+5V trip point < +6.2V
+3.3V trip point < +4.1V
+12V trip point < +14.3V

Special Connectors

ATX12V
SATA
PCI Express

Leakage Current

<3.5mA @ 115VAC
DIMENSIONS

Unit Size

5.9″(L) x 5.5″(W) x 3.4″(H)
15cm(L) x 14 cm(W) x 8.6 cm(H)

Net Weight

7.5lbs / 3.4kg
OUTPUT

+5V
+12V1
+12V2
+3.3V
-12V
+5Vsb

Max. Load

30A

16A

18A

28A

1.0A

2.0A

Min. Load

0.3A

0.4A

0.4A

0.3A

0A

0A

Load Reg.

±5%
±5%
±5%
±5%
±5%
±5%

Rippe
V(p-p)

50

120

120

50

120

50
INPUT

Input Voltage

100Vac to 240Vac +/- 10%

Input Frequency Range

47Hz to 63Hz

Inrush Current

640A @ 115V , 100A @ 230V

Input Current

12A @ 115V, 6A @ 230V

Hold-up Time

20ms at full load

Efficiency

86%(min.) at full loads, 115V/230Vac 60/50Hz

EMI/RFI

FCC Class B
ENVIRONMENTAL

Operating Temp.

10 ºC to 50 ºC

Operating Alt.

Sea Level-10,000 ft

MTBF

80,000 hours at 25'C

Safety Approval

TUV, UL, CUL, CE, CB, FCC
One of the most notable features of the Antec Phantom is the awesome 85% efficiency claimed by Antec. Of course, the greater the efficiency the less heat the PSU is going to produce for that fanless design to have to handle. Cool, very cool indeed.
The Phantom also comes equipped with a PCI-Express power connection compatible with the latest and greatest hardware flying off the shelves. As PCI-Express begins to take hold as the norm, this power connector will become more and more needed as we move ahead with technology.
Construction
---
As you may have noticed right off the top, this is only a 350W power supply. That really doesn't cut it with the high powered components and video cards that are found inside most PC enthusiasts. With many PCs requiring at least a 400W+ power supply, the Antec Phantom may be scratched off your list right at the start. Now the real niche that I think the Phantom will find is in the home multi-media PCs that so many people are adding to their home entertainment systems. A power supply like the Phantom would be a perfect choice for a multimedia PC because of its silence and lower power rating. It should be more than enough to run a box loaded for movies, music, and other multimedia goodies.
Construction of the Phantom is very very solid. With huge aluminum heatsinks making up the outer walls the Phantom is not light by any means. It's a very stout and solid unit. The outer walls, basically those huge heatsinks, are actually attached directly to the inner heatsinks to increase the heat dissapation throughout the entire PSU. It's a great design that allows Antec to get away with not having a single fan on the Phantom. It almost throws you off at first glance. You find yourself holding the Phantom looking for at least one fan, but it's just not there!! The Phantom also adds a cool blue LED bar across the front that lights up when it's powered on. Just a little add-on to sweeten up the looks of the Phantom.
Internally this PSU construction helps with cooling also. You can see that there are pieces of the PSU directly connected to the walls of the PSU on the inside. There are those internal heatsinks I was talking about earlier. This design definitely helps with heat transfer with those most heated portions of the Phantom. Heat is easily one of the biggest issues you may run into with the Phantom considering it is using 100% passive cooling.
In the box comes the Phantom, some hardware screws, a power cable, and a 24 -> 20 pin adapter.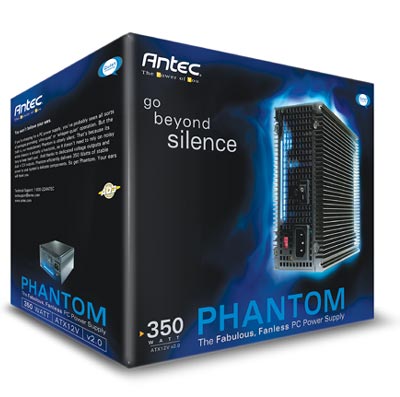 Installation & Testing
---
Installation of the Phantom was just like any other PSU. Simply slide it into your case, plug in your PC parts and then crank it on. Simple as simple can be.
After initially starting up the PC I kept a close eye and hand on the PSU to really see how warm this thing might get. After several hours with the case closed, the PSU did get warm to the touch, but nothing that would suggest any kind of "overheating". With all that surface area on the PSU to expel heat, the giant heatsink walls were doing their job just as they were designed to. Although they seem to do what they are designed to, I would make sure that you have very good air circulation throughout your case to make sure that the Phantom gets adequate cooling. I worry that if the Phantom was used in a small case with little circulation, such as a multimedia machine in your living room, you may run into some heat related issues. It is very good at dissapating the heat, but if the heat has nowhere to go, well….you know what could happen.
To test the Phantom I used Motherboard Manager 5 to get the 3.3V, 5V, and 12V readings from the PSU. I want to make sure the voltage regulation remains within +/- 5% of 3.3V, 5V, and 12V in order to meet the standards that Antec has set for the power supply.
| | | |
| --- | --- | --- |
|  3.3V |  5V |  12V |
|  3.28V |  4.89V |  11.88V |
All of the measurements taken from the Phantom are well within the +/- 5% that they should be. They were very stable and remained within range during all testing. Efficiency isn't the only thing this power supply is good at!
Final Thoughts
---
The Antec Phantom is definitely quiet, very very quiet, dead still quiet, I mean we are talking zip for noise. The Phantom seems like a great solution for everyone looking for a noiseless and reliable power supply for just about any machine. The Phantom has solid construction, reliable and stable power, and looks good as well.
It is on the heavy side due to the huge heatsink walls comprising a large portion of the power supply. It is also only 350W, bringing along with it quite the predicament if you are looking to upgrade. A large majority of users will be looking for at least a 400W or larger power supply to meet the needs of the newest processors and video cards that are streaming into the market as we speak. 350W will not cut it when you have a 6800 Ultra, 3 hard drives, 2 optical drives, 5 case fans, 2 cold cathode lights, and a partridge in a pear tree. The Phantom did a great job with my system and would be an awesome option for those looking to utilize a PC as a multimedia machine. Price wise, of course things could be better. The Phantom retails for around $150 depending on where you look. Lowest prices are right around $135 with prices soaring all the way to $170. Not a cheap piece of hardware to add to your PC that's for sure.
PROS:
+ Silent, very silent
+ Stable and reliable power
+ State of the art with PCI-Express and SATA connections
CONS:
– Only 350W
– Very pricey
– Heavy
The Phantom is a definite trendsetter when it comes to silent power supplies. With the amazing efficiency and silent operation, Antec is definitely moving in the right direction. The lack of power and the high price could turn off many from purchasing the Phantom, but in the right situations this power supply is beyond perfect for many applications. If you are looking to keep your PC as quiet as humanly possible the Phantom is the ticket you want to buy. I give the Antec Phantom 350W power supply an 8.5 out of 10 and the Bjorn3D Seal of Approval.