Check out this review to see how well Point of View's GeForce 6600 GT performs. Point of View includes a nice bundle to accompany the good performance of this mid-range solution.
Introduction


Being a reviewer, it is sometimes easy to forget that not everyone can afford all those high-end cards that we get to review. Not everyone wants to spend as much on a video card as they do on the rest of the system. NVIDIA and ATI of course know that and have released a bunch of low and mid-end cards catering for every size of wallet.
Today, I am reviewing one of these cards, the Point of View 6600 GT, a mid-level card using the NVIDIA GeForce 6600 GT chipset.
Features & Specifications


Features
• Microsoft® DirectX® 9.0 Shader Model 3.0 support
• AGP 8X support
• High-speed GDDR3 memory interface
• NVIDIA® CineFX™ 3.0 engine
• NVIDIA® UltraShadow™ II technology
• NVIDIA® Intellisample™ 3.0 technology
• NVIDIA® PureVideo™ technology
• Adaptable programmable video processor
• Advanced motion adaptive de-interlacing
• Video scaling and filtering
• Integrated HDTV encoder
• Video color correction
• NVIDIA® ForceWare™ Unified Driver Architecture (UDA)
• NVIDIA® nView™ multi-display technology
• NVIDIA® Digital Vibrance Control™ 3.0 technology
• OpenGL® 1.5 optimizations and support
Specs
• Graphics Engine NVIDIA 6600 GT GPU
• Video Memory 128 MB
• Core Clock 500 Mhz
• Memory Clock 1000 Mhz
• Memory Speed GDDR 3
• Interface PCI Express 16x
• RAMDAC Dual 400 Mhz
• D-Sub Yes
• DVI-I Yes
• TV-Out Yes
• Video-In No
The Bundle


The card comes in a nice box with a viper on it. In the box, you'll find:
• The card
• A CD with drivers
• DVI to VGA adapter
• Composite cable
• Small breakout box for S-Video out and component Video 
• The game Brothers in Arms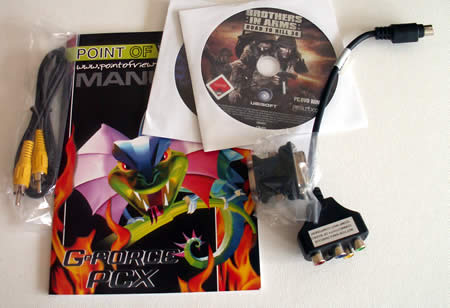 The highlight of this bundle of course is the game Brothers in Arms. Not only is it a new game, but it is also a very good game. It is a nice change from the one or more year old games you'll usually find in bundles.
Closer Look and Installation


The PoV 6600 GT looks like a pretty basic videocard. It has 128 MB DDR3 memory, and the memory chips have no heatsinks and are only cooled by the airflow coming out from the fan/cooler on the GPU.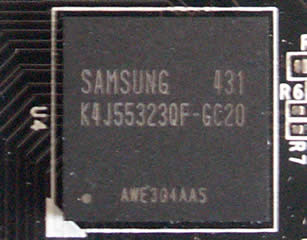 The memory used is rated at 500 MHz which means
there isn't lot of room for overclocking, at least not in theory.
The fan/cooler is thin and helps make the card a 1-slot solution. The card gets all the power it needs from the PCI Express slot and thus does not need any extra power from the PSU.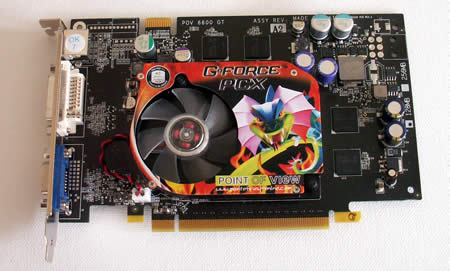 The card has 1 VGA connector, 1 DVI connector and 1 SVIDEO Out connector, and on the top of the card, you also find the small SLI-connector.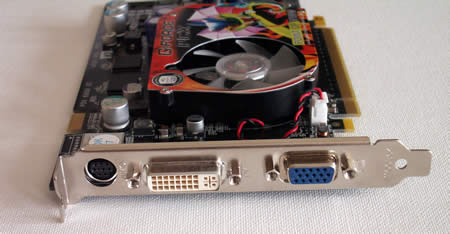 In addition to the basic PoV 6600 GT card, I had the opportunity to test a special card using a new VGA fan/cooler not unlike the Jetart JACSH1 I've reviewed earlier. In fact, upon a closer inspection I actually think it is the same cooler. Point of View hasn't decided yet if they will sell this card yet or just the basic version with the stock cooler.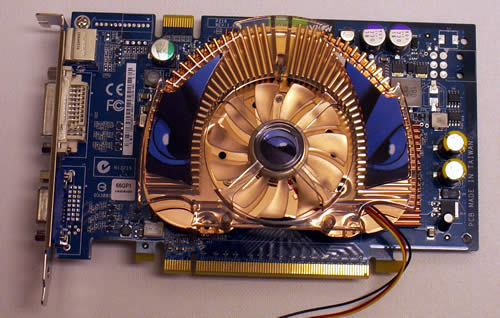 The fan/cooler also lights up in the dark.
This card comes with heatsinks on the memory. The cooler actually makes the card thicker, and it no longer is a 1-slot solution.
Neither card gave me any problems when installing them. With the card with the special cooler, I just had to find a free 3-pin fan connector, but other than that I just had to put them into the PCI-E slot and install the drivers.
Performance: Test System and Settings


To test this card, I chose my new PCI-E system:
Test System (PCI Express)
AMD Athlon 64 3200+
Corsair XMS 512 MB PC4000 DDR RAM (running at 333 MHz)
PoV 6600 GT
HIS X800XL – DirectX 9.0c, Catalyst 5.2
Maxtor 80GB Serial ATA 7200RPM Hard Drive
Windows XP with Service Pack 2
Please note 1:
The PoV 6600 GT card used in all testings was the card with the improved cooler. I started to bench with the basic card, but after a few days, it started to experience image degradation and crashes. I also had problems getting it to run at normal clock speeds. I simply think the card had been passed around a bit too much and failed. PoV was kind enough to send a new card, and all the non-overclocked scores are comparable between the cards regardless of the cooler/fan.

Please note 2:
The 6600 GT chipset should be compared directly to the X700 Pro chipset from ATI. Unfortunately, I did not have access to a card using that chipset so I compared it to the slowest ATI card I had: the HIS X800 XL. This card of course should beat the 6600 GT, but it does that at a higher cost. The difference is about $100 between the two.
Benchmarks
For this review I chose these benchmarks:
Counter-Strike: Source – Video Stress Test – NoAA / 2xAF and 4xAA / 8xAF, both with highest details set in game with drivers set to application controlled
Half Life 2 – No AA/ No AF and 4xAA/8xAF, all with highest quality details set in game. The demo used is the benchemall-demo
Doom 3 1.1 (demo1) – NoAA / High Quality and 4xAA / High Quality, both with highest details set in game with drivers set to application controlled
Far Cry 1.3 – NoAA / 1xAF and 4xAA / 4xAF, both with highest details set in game with drivers set to application controlled
To make the benchmarking as painless as possible, I used the excellent program Benchemall (v2.645) to run through all the programs/games except CS: Source, which I had to run manually, and Far Cry, which I benched using the HardwareOC Far Cry benchmarking utility.
I would also have used 3dmark05, but it kept crashing after the first game test. No other game experienced any problems, either in benchmarking or in normal gameplay so it could be a driver problem.
Performance: Half Life 2 and CS:Source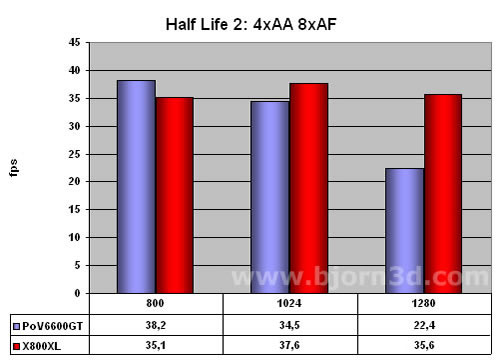 Half-Life 2 is very CPU-dependent, which shows in this benchmark. It is when we turn on 4xAA and 8xAF that the PoV 6600 GT starts to lose ground.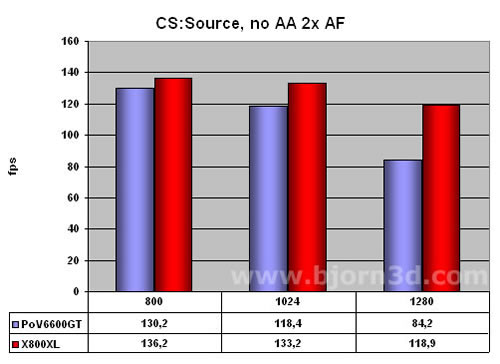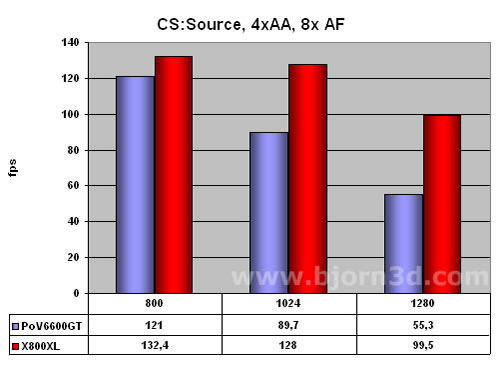 CS: Source stresses the video card more than other parts of your system.  The PoV 6600 GT cannot keep up with the more expensive X800 XL but still pumps out good FPS even at higher resolutions.
Performance: Doom 3


This game just got a new lease of life with the new add-on. It still has a kick-ass graphics engine and thus is interesting to benchmark.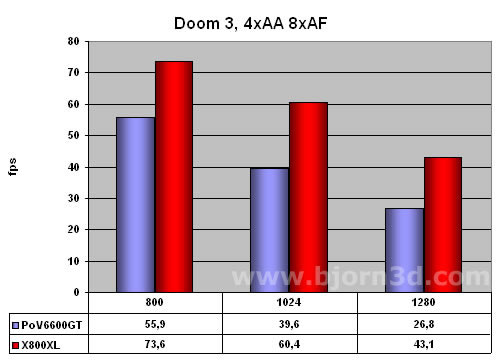 NVIDIA always has had good OpenGL performance, and this is true also for this card. As long as you do not turn on AA or AF, the PoV 6600 GT actually pumps out some impressive numbers. With 4xAA and 8xAF, the scores drop, but I'm sure you can find a good middle at 2xAA/4xAF and 1024×768.
Performance: Far Cry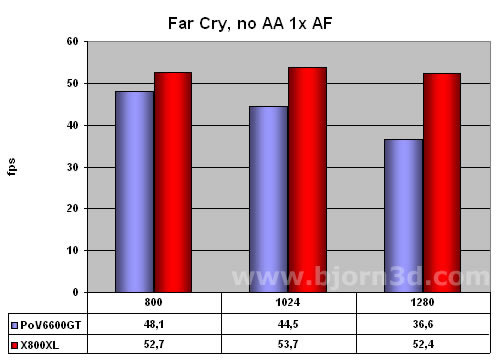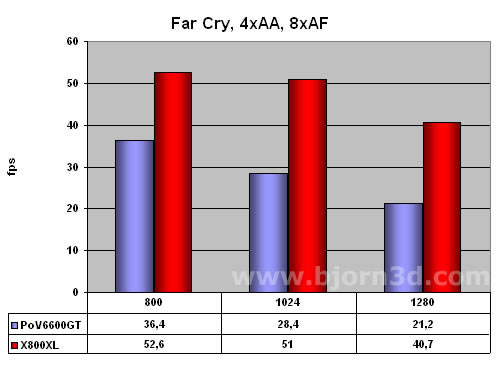 The PoV 6600 GT manages to stay above 30 FPS up to 1280×1024 without AA/AF and to 1024×768 with 4xAA/8xAF (well, almost). 
Performance: Overclocking


Since the original card I got from PoV broke, I had to do all the overclocking testing on the card with the new cooler/fan. Thus, the results here should be taken with a pinch of salt. I'm sure the basic card also is overclockable (other reviews suggest that), but the extra MHz you can get out of it might vary.
The default clock speeds of the PoV 6600 GT are 500 MHz for the core and 1000 MHz for the memory. The max overclocking I could get from this card was 557 MHz for the core and 1200 MHz for the memory. This is an 11% increase of core speed and a 20% increase in memory speed.
As you can see below, the overclocking helps nudge the scores up about 10%, which is not bad at all.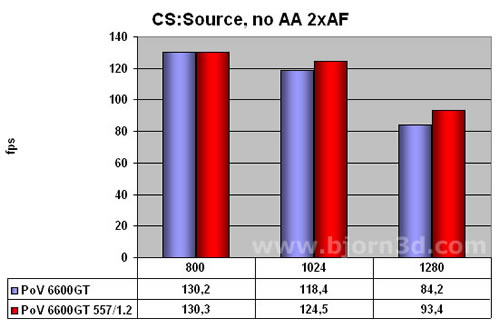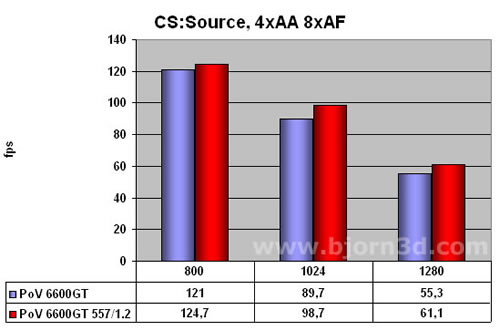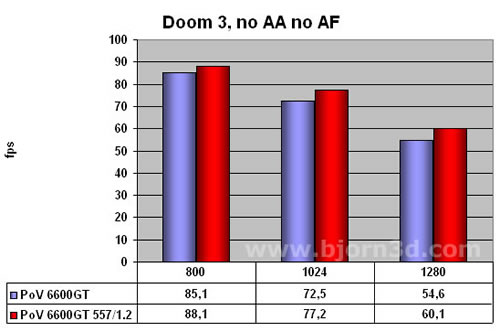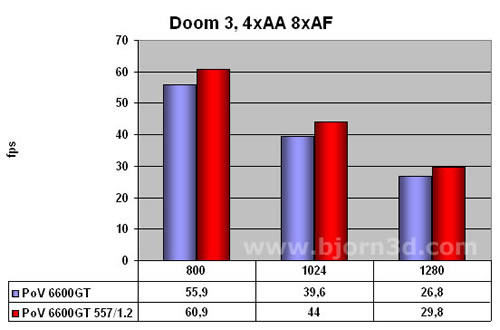 Conclusion


The PoV 6600 GT is a great card for those who don't want to spend tons of money and still want a card that will allow them to play the latest games. It has support for all the hottest features, and as long as you can accept you won't play the games at ultra high resolutions with high AA/AF, you won't be disappointed.
The bundle might be basic, but the inclusion of the game Brothers in Arms is excellent. I rather see just on bundles game as long as it is a relative new one that uses the card to its fullest potential.
Pros
+ Top 6600 GT performance
+ No power connection required
+ SLI capable
+ Overclocks well, at least with the special fan/cooler 
+ Great game included 
Cons:

– Not suited for high resolutions and high level of AA and AF
I award the PoV 6600 GT 8 out of 10 and the Bjorn3D Seal of Approval award.