What can I say? The card is a beast and power hungry one indeed. With 16 pipelines and remarkable performance no gamer will stray away from getting one of those unique VGA boards. Even though the X850XT is last year's refresh part it is here to compete with NVIDIA's offering — GeForce 6800 Ultra. With great bundle, VIVO capabilities and vast amount of raw power, AGP users will love the PowerColor X850XT PE.
Introduction


If you recall, we've reviewed a PowerColor X800 PRO Limited Assassin Edition back in October of 2004. It was based on ATI's R420 ASIC. The card featured an AGP bus and 12 pipelines. At the end of 2004, ATI had launched refresh parts and brought their mid-range market up a notch by releasing a R430 chip on 0.11µ silicon process. ATI's main focus was to fill the gap with a card that would compete with GeForce 6800GT. It was a successful move to introduce X800 XL (R430) with 16 pipelines.
On the other side of the coin we have the high-end cards. ATI did a refresh in this sector as well by releasing R480 which is really an updated R420 chip on 0.13µ low-K silicon process. The problem (if you can call that) was the newly released parts targeted the PCI-e segment only. It took ATI a few months to realize the AGP market is still huge and that they need to have a better support for it. Having said that, AGP users are still getting love from ATI when it comes down to high-end cards.
For those not in the know Tul Corporation is a Tier-1 provider of ATI-based graphic cards. The company is also a leader in providing motherboards and barebone systems. So what about PowerColor?
PowerColor is a consumer brand focused on providing cutting-edge graphics card products to retail customers. Our goal for the Tul brand is to be the industry's number one provider of technology product solutions. Our goal for the PowerColor brand is to be the world's number one brand of graphics cards. PowerColor is in effect owned by Tul Corporation, however the brands are operated independently of each other.
Ladies and gentlemen let's welcome PowerColor X850 XT Platinum Edition GameFX Board Series (R481)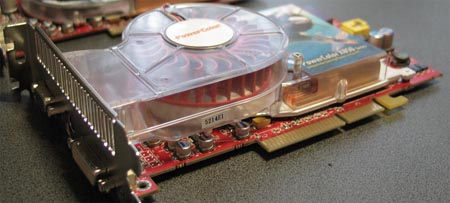 VPU Specifications


PowerColor

X850 XT Platinum Edition

X800 PRO Limited Assassin Edition

VPU (256-bit)

R481

 R420

Chip Architecture

.13µ low-k process

Transistors

160 Million

Memory Architecture

256-bit / up to 512 MBs of 

GDDR-3

Pipeline Architecture

16×1 (6 vertex shader pipelines)

12×1 (6 vertex shader pipelines)

Bus Type

 Native AGP 8X, 4X

Core Clock

540 MHz

475 MHz

Memory Clock

590 MHz (1180 MHz effective)

 450 MHz (900 MHz effective)

RAMDAC's

Two 10 bit per channel 400 MHz DACs

Memory Bandwidth

37.6

28.8 GB / sec

Pixel Fillrate

 8.6 GPixels / sec

 5.7 GPixels / sec

Texel Fillrate

8.6 GTexels / sec

5.7 GTexels / sec
SMARTSHADER™ HD
Support for Microsoft® DirectX® 9.0 programmable vertex and pixel shaders in hardware
DirectX® 9.0 Vertex Shaders

Vertex programs up to 65,280 instructions with flow control
Single cycle trigonometric operations (SIN & COS)

DirectX® 9.0 Extended Pixel Shaders

Up to 1,536 instructions and 16textures per rendering pass
2nd generation F-buffer technology accelerates multi-pass pixel shader programs with unlimited instructions
32 temporary and constant registers
Facing register for two-sided lighting
128-bit, 64-bit & 32-bit per pixel floating point color formats
Multiple Render Target (MRT) support

Complete feature set also supported in OpenGL® via extensions
SMOOTHVISION™ HD
2x/4x/6x Anti-Aliasing modes

Sparse multi-sample algorithm with gamma correction, programmable sample patterns, and centroid sampling
Lossless Color Compression (up to6:1)at all resolutions, including widescreen HDTV resolutions
Temporal Anti-Aliasing

2x/4x/8x/16x Anisotropic Filtering modes

Up to 128-tap texture filtering
Adaptive algorithm with bilinear (performance) and trilinear (quality) options
3Dc™
High quality 4:1 Normal Map Compression
Works with any two-channel data format
HYPER Z™ HD
3-level Hierarchical Z-Buffer with Early Z Test
Lossless Z-Buffer Compression (up to 48:1)
Fast Z-Buffer Clear
Z Cache optimized for real-time shadow rendering
Optimized for performance at high display resolutions, including widescreen HDTV resolutions
VIDEOSHADER™ HD
Seamless integration of pixel shaders with video in real time
FULLSTREAM™ video de-blocking technology for Real, DivX, and WMV9 formats
VIDEOSOAP™ noise removal filtering for captured video
All-format DTV/HDTV decoding
Adaptive Per-Pixel De-Interlacing and Frame Rate Conversion (temporal filtering)
DISPLAY FEATURES
Dual integrated display controllers
Dual integrated 10 bit per channel 400 MHz DACs
Integrated 165 MHz TMDS transmitter (DVI 1.0 / HDMI compliant and HDCP ready)
Integrated TV Output support up to 1024×768 resolution
YPrPb component output for direct drive of HDTV displays†
Single and dual link external TMDS transmitter support for high resolution and/or multi-monitor DVI configurations
Compatible with ATI's THEATER™ video decode and capture devices for VIVO (Video Input / Video Output) configurations on certain X800 graphic cards
ADDITIONAL FEATURES
Windows® Logo Program compliant
CATALYST™ Software Suite
In terms of feature set, there are no differences from older cards ie. a lot of similarities with R300 / R350 VPUs
The Card


Refresh parts are usually nothing but speed bumps and this is exactly the case with X850XT/PE. Previous high-end board such as the X800XT were using sinlge slot coolers. It seems though dual slot solutions for high-end cards are gaining momentum, however this is ATI's first try at utilizing such system. Note that different vendors will offer their own cooling mechanism, but most manufacturers follow ATI's board sample; and so did Tul with their X850XT PE AGP we are reviewing today.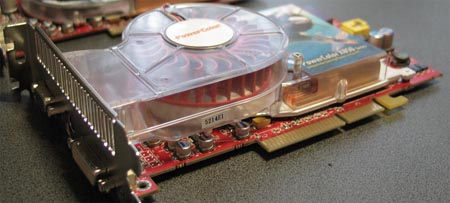 Click on the picture to enlarge
The card is pretty "big" ie. it occupies two slots, but leaves the first PCI slot ready for use. You can see a radial type fan slapped onto the copper plate. Tul decided to use ATI's default cooling solution for this card and put PowerColor's logo as well as a Pacific Fighters picture to cover up the copper fins.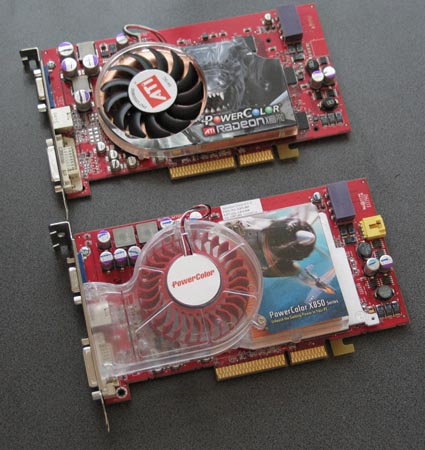 Click on the picture to enlarge
The above picture illustrates size differences between PowerColor X800PRO and X850XT PE AGP. Both PCBs are the same size except for components and their placement.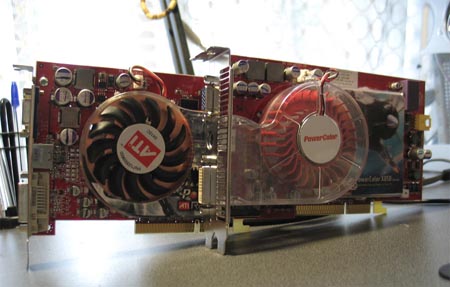 Click on the picture to enlarge
Here we have another shot of the card from different angle.


Click on the picture to enlarge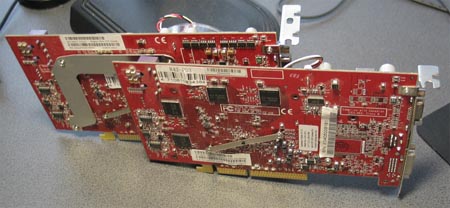 Click on the picture to enlarge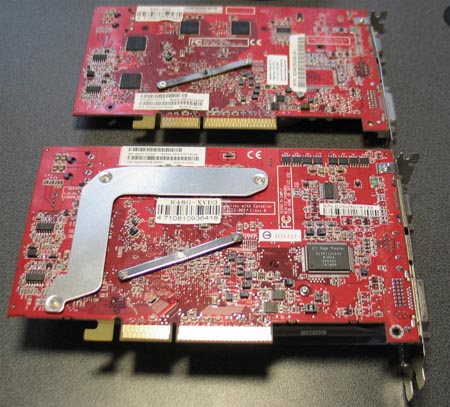 Click on the picture to enlarge
The back brace serves as a supplement which needs to hold the top copper heatsink in place. It also covers RAM chips with thermal pads for better heat dissipation. Since X800PRO comes with a single slot heatsink/fan it does not have the back plate, just regular diagonal support plate to hold the heatsink.


Click on the picture to enlarge
As you can see the bracket occupies two slots inside the case. The whole cooling system has been designed so it will reduce overall temperature inside your chassis. The fan sucks in all the hot air and pushes it out of the case through the top bracket.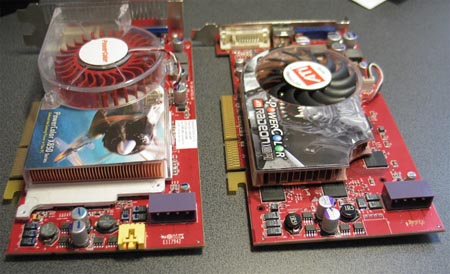 Click on the picture to enlarge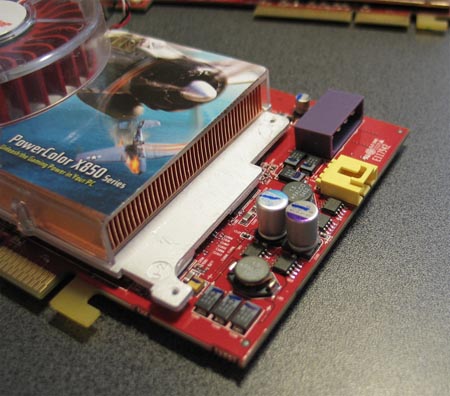 Click on the picture to enlarge
The PowerColor X850XT PE AGP features standard 4-pin power connector (cable included) in order to supply the VPU with needed juice. You will not even be able to boot into BIOS if you do not stick in your external power plug — this is a mandatory step. The yellow connector you see above is used for additional video connectivity.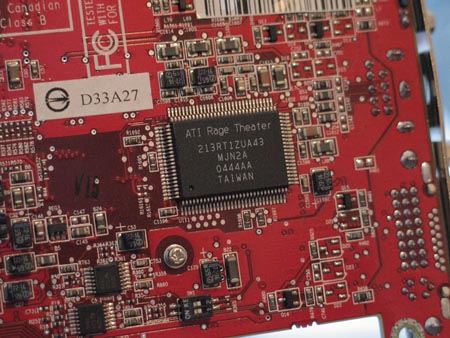 Click on the picture to enlarge
ATI's Rage Threater chip visible on the back of the PCB. Basically the chip gives the card VIVO capabilities including video encoding / decoding. You can read more about ATI's Rage Theater below.
Features
High Quality Integrated Video Encoder / Decoder with Digital Audio Support
ATI RAGE THEATER is a low cost, single chip, multi-standard video encoder/decoder that elevates video on the PC to the next level of integration, performance and affordability. Its advanced processing features are designed to generate a superior video out image, making it particularly suited for applications such as TV Web browsing. With its wide range of video inputs, multiple clock outputs, GPIO pins, I²S and S/PDIF audio, RAGE THEATER offers manufacturers the cost-cutting opportunity to substantially reduce the number of components in home-theatre and set-top-box appliances.
High Quality TV-out
RAGE THEATER video encoder converts images of Windows, Mac OS, DVD movies or games into all NTSC and PAL formats for TV viewing. The encoder uses programmable timing to generate high quality TV signals from graphics display modes ranging from 320×200 to 800×600. This provides full support of legacy VGA modes as well as the newer, low-resolution game modes required by Microsoft DirectX.
High Quality Video-in
RAGE THEATER's adaptive comb filter and advanced on-chip circuitry ensures that Composite and S-Video analog inputs in NTSC, PAL, and SECAM format are converted into high quality, low noise digital video for a sharper image. In addition, RAGE THEATER provides a full range of VBI services that includes Teletext, Closed Captioning, and Intercast.
Glueless Chip Level Interface
RAGE THEATER supports a glueless interface, through both ATI Multimedia Channel and VESA VIP 1.1 buses, to all existing and future ATI graphics controllers, on either a motherboard or an add-in graphics card.
Standard Compliance
RAGE THEATER complies with Macrovision (the analog copy-protection standard stipulated by the DVD industry) and CGMS-A (Copy Generation Management System – Analog).
Bundle


As with most high-end video cards, there is a handful of bundle included in the package. The card does not come in a carrying bag like PowerColor X800PRO Limited Assassin Edition did, but nevertheless it's packaged inside a very neatly designed cardboard box.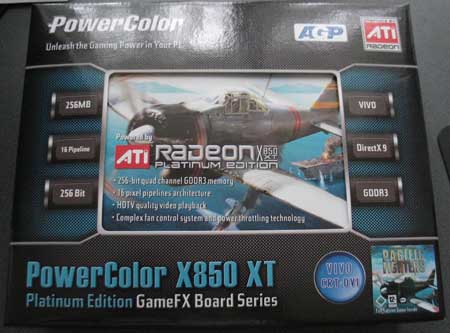 Click on the picture to enlarge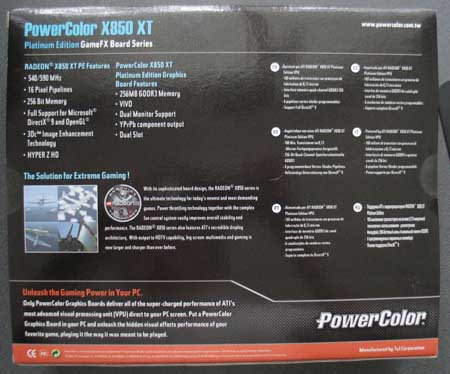 Click on the picture to enlarge
The front and back of the box highlights cards specifications and included bundle. In the middle of the box you are presented with an image from the included full game — Pacific Fighters. The back of the box sports specs and some marketing catch phrases. Overall I was very pleased with the design of the box, nothing fancy or over colored yet stylish and useful.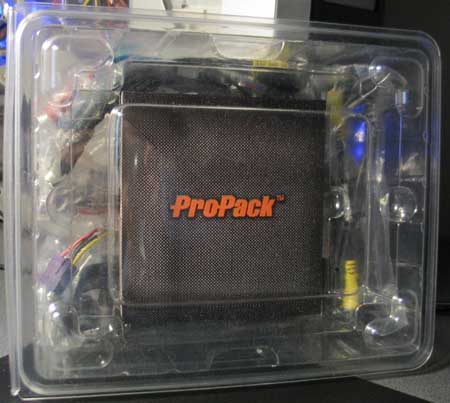 Click on the picture to enlarge
Inside the carboard box you will find another container, this time it's plastic but very sturdy. It packs your card and the rest of the bundle. All cables are in plastic bags and software is in a pouch labled ProPack.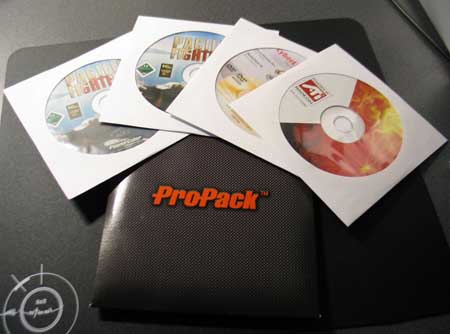 Click on the picture to enlarge
The inside of the ProPack software pouch.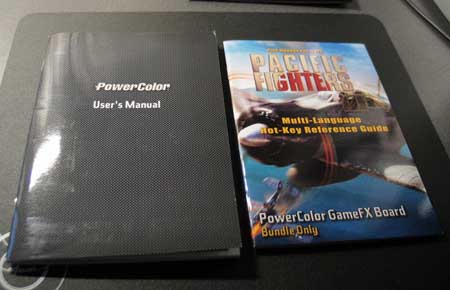 Click on the picture to enlarge
Beneath the card, you will find user's manual along with Pacific Fighters hot-key reference guide for easier control navigation.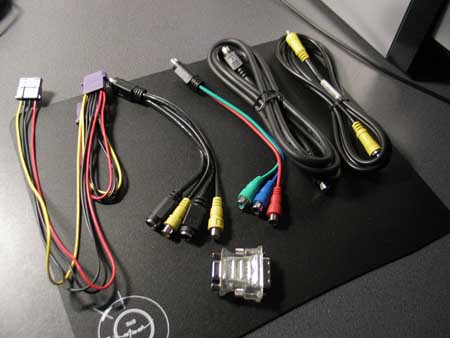 Click on the picture to enlarge
When it comes down to accessories, you will not be disgruntled at all. Since the cards packs VIVO capabilities there are plenty of goodies included with the card.
Accessories

HDTV Cable
Video in/out Cable
S-Video Cable
Composite Cable
DVI-I Connector
Power Cable
User's Manual

Software bundle

Driver CD
CyberLink DVD Solutions

PowerDVD 5
PowerProducer 2 Gold DVD
PowerDirector 3
Power2Go 3

Pacific Fighters full game
Pacific Fighters Multi-Language Hot-Key Reference
Setup and Installation


Below you will find the complete system configuration as well as benchmarks used in this review.
Test system specifications
ABIT NF7-S motherboard
— nForce 5.10 drivers
Chaintech 420 Watt PSU
Athlon Barton XP 2800+ at 2100MHz
768 MBs of Corsair XMMS 3200 LLP RAM
Windows XP SP2
DirectX 9.0c
PowerColor X850XT PE AGP
— CATALYST 5.4 video driver
PowerColor X800PRO Limited Assassin Edition
— CATALYST 5.4 video driver
Benchmarks
Synthetic benchamrks:
3DMark 2005 (build 1.2.0) — default settings
D3D Right Mark 1.0.5.0 beta 4
Game benchmarks:
Half-Life 2 (custom d3c171 demo + Fraps)
Doom 3 (default demo + Fraps)
Need For Speed: Underground 2 (Fraps)
Putting the card in did not require taking out other components. Upon bootup I was stunned with a short loud sound coming out of the card. Unfortunetely all ATI cooling devices, fans to be exact will produce the spin up sound when booting. You will be faced with the same situation when overclocking your card. Everytime you will change clock rates, the fan will spin up for a second or two.
As usual we are dividing the benchmarks into synthetic tests and actual game play. For games I've used Fraps to record average frames per second and graphed the results. As far as resolution goes, we are shooting at 1024×768 through 1280×1200 and ending up at 1600×1200. Those are standard resolutions most of us use and with those mid-end and high-end cards, 800×600 is omitted for purpose. All tests were ran twice. First results are without any Antialiasing / Anisotropic Filtering applied, and with the second output we apply 4xAA and 8xAF to each resolution.
As it's mentioned in the test bed specifications table, I'm using CATALYST 5.4 suite throughout the entire review. Standard ATI Control Panel has been installed plus ATI Tray Tools for faster setting changes.
Synthetic Benchmarks


3DMark05
I've used Futuremark's 3DMark 2005 for measuring the actual throughput of our PowerColor X850XT PE AGP and compared it against PowerColor's X800 Pro.
| | | |
| --- | --- | --- |
| PowerColor | X850XT Platinum Edition |   X800 PRO |
| Pixel Fillrate |  3654,3 MPixels / sec | 2726,7 MPixels / sec |
| Texel Fillrate |  8542,8 MTexels / sec | 5707,4 MTexels / sec |
| Geometry Rate | 540 MTriangles | 475 MTriangles |
| Vertex Shader – Simple |  62,1 MVertices / sec | 50,7 62,1 MVertices / sec |
| Vertex Shader – Complex |  49,7 MVertices / sec | 44,1 MVertices / sec |
| Pixel Shader (2.0b) | 154,6 FPS | 104,4 FPS |
As for game scores, PowerColor X850XT PE does well indeed compared to PowerColor X800PRO. Using SM 2.0b I ran through three game tests to see how our card performed against 12 pipeline VPU.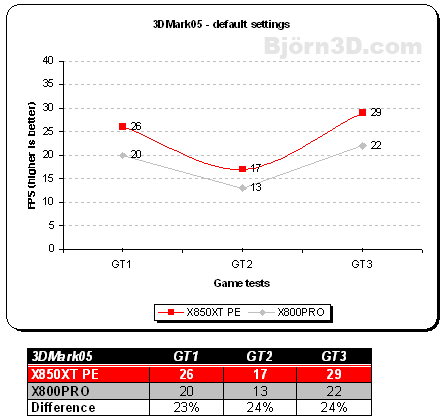 Differences in performance did not exceed 24%. Although I ran those with default settings you get a good understanding of how well the card performed. Overall the card pushed 5869 3DMarks.
RightMark
D3D RightMark is a very useful tool for measuring different theoretical throughputs of a graphic chip. I ran couple of synthetic tests to stress our PowerColor X850XT PE AGP and compare it with the PowerColor RADEON X800PRO.
With D3D RightMark you will be able to get the following information about your video card:
Features supported by your video card
Pixel Fillrate and Texel Fillrate
Pixel shader processing speed (all shader models)
Vertex shader (geometry) processing speed (all shader models)
Point sprites drawing speed
HSR efficency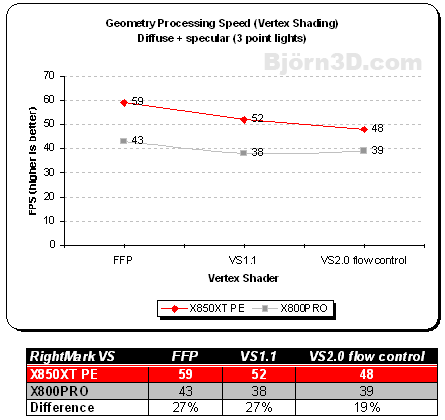 In this test, we are looking at the vertex shader's (geometry) processing speed. I chose Diffuse + specular (3 point lights) for our lightning profile which is probably the most useful setting. This will give us peak geometrical throughput. In order to get a clearer overlook, three different shader profiles were used: Fixed Function Pipeline (FFP) VS1.0 and VS 2.0 flow control.
As you can see, there is a 27% difference between X850XT PE and X800PRO when it comes to Fixed Function Pipeline (FFP) and VS1.1. Note that FFP mode is stressing standard Transform & Lightning pipeline whereas VS1.1 and VS2.0 are stressing the geometry processing pipeline (vertex pipeline). VS2.0 scores are narrowing down to 19% in favor of PowerColor X850XT PE AGP.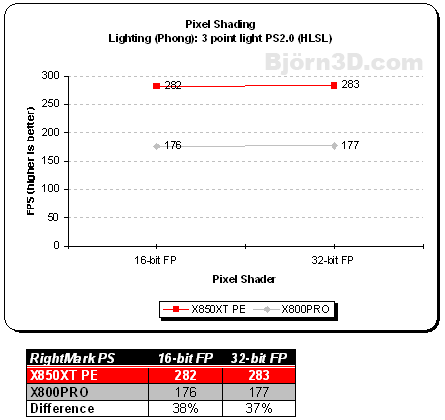 Let's have a look at the pixel shading performance. Lightning (Phong) PS 2.0 shading profile is a very good synthetic test that nicely stresses the pixel pipeline. You can choose all current Shader Models ranging from PS 1.1 all the way up to PS 3.0. In our case we are looking at Pixel Shader 2.0 and 16-bit / 32-bit floating point numbers. At 1024×768, the Lightning (Phong) PS 2.0 benchmark ran flawlessly giving us 282 FPS under 16-bit FPS and 283 FPS under 32-bit FP. That's 38% and 37% (respectively) more than with X800PRO, quite impressive.
Let's put behind synthetic tests and concentrate on gaming experience since that's what really matters the most.
Game Benchmarks: Half-Life 2


Okay it's time to pick up your crowbar once again!
We all love Half-Life 2 and we all want best performance out of our hardware. This has to be one of the most graphic demanding games currently on the market. Half-Life 2 is built around Source engine which utilizes a very wide range of DirectX 8 / 9 special effects. Those include:
Diffuse / specular bump mapping
Dynamic soft shadows
Localized / global valumetric fog
Dynamic refraction
High Level-of-Detail (LOD)
Unfortunately users with DirectX 7 and older hardware will not be able to enjoy the above effects.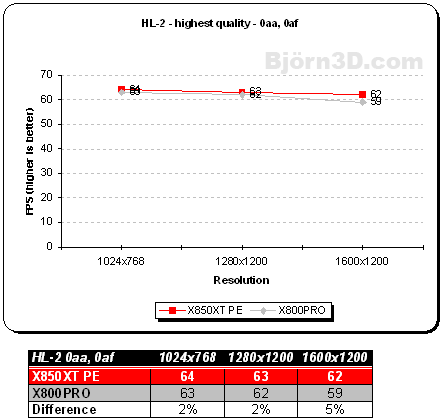 The above test shows us some CPU limitation as both cards perform similarly. X800PRO is running a deficit of at most 5% which is not bad compared to a high-end board. Our PowerColor X850XT PE sample stood strong and landed a 62 FPS mark at 1600×1200 resolution.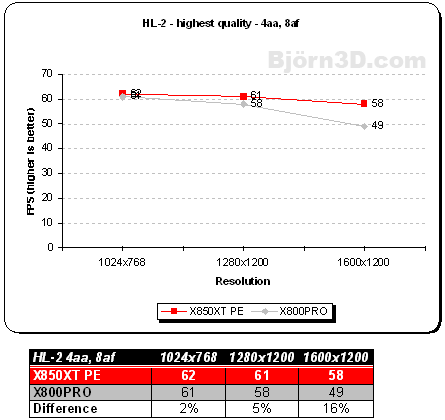 With the beast such as PowerColor's X850XT PE AGP variant you will not be disappointed. Applying AA/AF left and right doesn't affect our scores significantly. However X800PRO does stay back a bit, but that's because it features only 12 pipelines and slower clock rates whereas X850XT sports 16 pixel pipelines and much faster clocks. Again the scores indicate very little performance loss when applying Antialiasing as well as Anisotropic Filtering.
Game Benchmarks: Doom III


Now that we are past Doom 3 release, some gamers have been left with a bit of disappointment. Main reason is Half-Life 2 and its Source engine which really showed a vast amount of potential and scalability.
Although this game needs no introduction, I will go over some of the game features and technology behind Doom 3. It took the guys at id Software over four years to complete this project. Lead programmer, John Carmack spent an awful lot of time designing the game engine, but his hard work paid off — to some extent since this is first title which houses Doom 3 engine.
Let's look at some of the engine tech features which are present in Doom 3:
Unified lightning and shadowing engine

Dynamic per-pixel lightning
Stencil shadowing
Specular lightning

Realistic bumpmapping
Dynamic and ambient six-channel audio
However you look at it, Carmack's lightning engine is the essence of Doom 3. With OpenGL being the primary API, shaders have been put to a heavy use in order to create the realisticly looking environment. Instead of using lightmaps the game engine now processes all shadows in real-time. This technique is called stencil shadowing which can accurately shadow other objects in the scene. There are disadvantage to this  method however:
Requires a lot of fillrate
Fast CPU is needed for shadow calculations
Inability to render soft shadows
CATALYST drivers had improved greatly since Doom 3 introduction. There were some issues and stuttering with early drivers, but it looks like CATALYST team has been ironing things out. Let's have a look at how our PowerColor X850XT PE AGP performed at high quality settings with no AA/AF.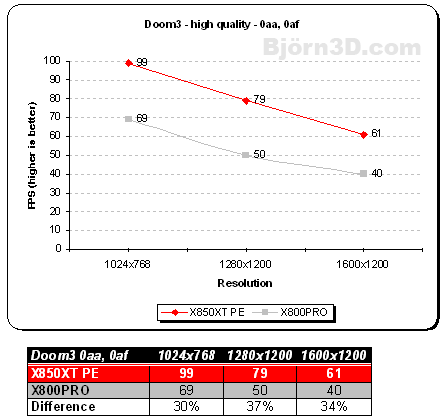 The X850XT stacks up pretty high compared to it's mid-end brother X800PRO. 16 pipelines and worlds highest clock rates are two main score factors. At 1024×768 there is a 30% difference. Putting the resolution up a notch, we are getting roughly 29 more FPS, that's 37% over X800PRO.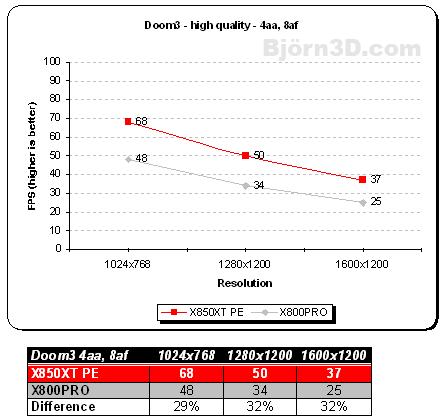 Performance deficit narrows down when 4xAA and 8AF is applied. X850XT PE tops at 68 FPS (1024×768) with both AA and AF, that's 29% more frames than X800PRO can push. At 1280×1200 and 1600×1200 we see a 32% difference.
Game Benchmarks: NFS:U2


Another DirectX 9 title with nicely shaped up graphics. The never ending title from EA Sports has brought us plenty of fun as with previous NFS series. The game uses various effects mostly found in Shader Model 2.0 such as motion blur, light / glow trails or reflections. The good thing is, all those effects are compatible when Antialiasing is enabled.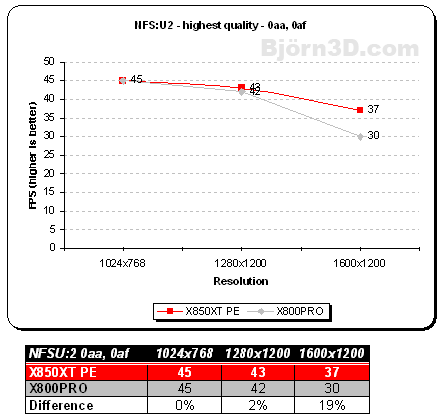 At 1024×768 and 1280×1200 both cards are going strong, but with higher resolution and significatly higher fillrate, X850XT PE tops at 37 FPS — a 19% difference from X800PRO.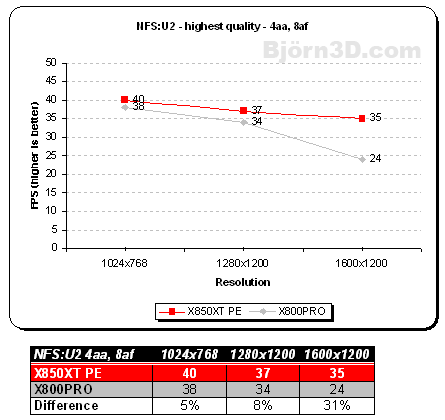 Again, a similar situation when applying AA and AF, however deficit grows with higher resolution. A 31% gap leads the X850XT in front of X800PRO. At 1280×1200 4AA/AF the game was very playable and rarely did graphics stutter or slow down.
Overclocking and Conclusions


Using ATITool to find the best clock rates resulted in system hanging. Instead we used a similar utility found in ATI Tray Tools which works very well and provides same overclocking capabilities with automatic testing for artifacts. Default clock rates of our PowerColor X850XT PE AGP are 540 MHz (GPU) and 590 MHz / 1180 MHz effective DDR (RAM). I was able to push the VPU upto 567 MHz. As for RAM, 605 MHz (1210 MHz effective DDR) was the most I could have gotten out of those chips. They are rated at 1.2 GHz (GDDR3 at 1.6 ns), but the overclock wasn't significant at all.
Considering the card is clocked very high by default I did not expect any surprises. Its ASIC is similar to that of X800XT, only clocked higher. The not-so-noisy dustbuster found on all X850XT cards (including PowerColor X850XT PE AGP) is needed to cool down the already hot core so there isn't much room for more MHz.
What can I say? The card is a beast and power hungry one indeed. With 16 pipelines and remarkable performance no gamer will stray away from getting one of those unique VGA boards. Even though the X850XT is last year's refresh part it is here to compete with NVIDIA's offering — GeForce 6800 Ultra. With great bundle, VIVO capabilities and vast amount of raw power, AGP users will love the PowerColor X850 XT Platinum Edition VIVO AGP. Although the price tag is a tad high, hardcore gamers will have to dig into their pockets just to gain those few FPS. Is it worth it? I think I have given you a good overlook of the card so you can make a wise decision yourself. Remember this is an enthusiast part aimed at users who are still using AGP compatible motherboards. To be frank, there still will be market for AGP boards this year. Having said that we should be able to see more of those high-end cards using AGP bus — at least that is ATI's goal.
Pros:
+ Even more raw power than X800XT PE
+ Great performance
+ VIVO capabilities through ATI Rage Theater chip
+ Good software / accessory bundle
+ Improved user's manual
+ Nicely packed
Cons:
– Nothing new in terms of VPU features
– Literally overclocked resulting in poor overclockability
– Power hungry
– Expensive
– Loud
– Annoying fan noises
– Dual bracket design
With great performance and overall package, PowerColor X850XT PE AGP gets the rating of 9.0 (Extremely Good) out of 10 and Bjorn3D's Golden Bear Award.