If you want that true arcade gaming feeling, then you should take a look at this review of the X-Arcade Two-Player Joystick. This high quality dual controller is high quality and backed by a lifetime, no-hassle warranty. It can be used on your PC, Mac or any modern gaming console.
INTRODUCTION

---
The popularity of retro or classic gaming never seems to diminish. In fact, it seems to only get stronger as the gamer population gets older. With that increasing popularity, comes the desire to play old school games in a way that is as old school as possible. Playing Galaga or Pac-Man with a gamepad just doesn't feel right, not even close. That's why a company like XGAMING came along and created high quality arcade-style joysticks to satisfy that desire.
Many of you have no doubt discovered all the wonders of MAME (Multiple Arcade Machine Emulator) and other emulators out there, but you may have yet to realize that there are far better alternatives than that Microsoft SideWinder gamepad and that crusty keyboard of yours for controlling the games you play. XGAMING currently offers a solo and dual joystick, called the X-Arcade Solo and X-Arcade Two-Player, respectively.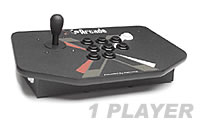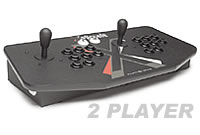 As if that weren't cool enough already, XGAMING also offers add-on adapters so that you can use your X-Arcade with any game system, including Xbox, Gamecube, Playstation One, Playstation Two, Dreamcast, Apple and PC. If you're scratching your head in confusion, just imagine playing Soul Caliber II or Dead or Alive 3 with real joysticks, just like at the arcade! That's what X-Arcade makes possible. There is even a USB adapter for PC so that it's quick and easy to use with your computer.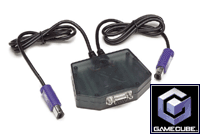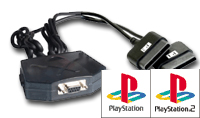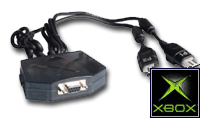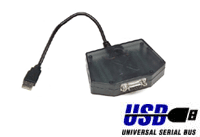 My desire to play Galaga, one of my favorite games of all time, with that true arcade feel drove me to request a review unit from XGAMING. The company was cool enough to send over the X-Arcade Two-Player unit and some adapters. Read the rest of the review to find out just how much I like this cool controller.
FEATURES & BUNDLE

---
To take a look at XGAMING's page on the X-Arcade Dual Joystick, go here. If you hit any of the X-Arcade pages, you might notice that XGAMING is pretty proud of their products, claiming that the X-Arcade is an "indestructible arcade controller." The quality and solid construction of the X-Arcade is evident right out of the box. You'd have to be cruel to it to damage it I think. Here is a list of the X-Arcade Two-Player's features and benefits.
Features
Authentic Arcade Joysticks And Buttons
Fully Compatible With Emulation Software To Relive Arcade Classics
Download Your Favorite Arcade Games Of All Time
Control Video Games Like Robotron and Crazy Climber With Two Joysticks
Dominate Online Play Using XBOX Live And Playstation 2 Online
Pull Off Crushing Combinations In Fighting Games
Download Your Favorite Arcade Games Of All Time
Add-On Adapters Work On Any Game System PC, or Mac
Play Head To Head Fighting Games At Home Just Like The Local Arcade
Fully Programmable Buttons Allow You To Customize The Experience
Play Your Favorite Sports Games With Arcade Realism And Fun
Withstand Thousands Of Hours Of Button Smashing Action
Precise Sensors Ensure Competition Grade Accuracy And Precision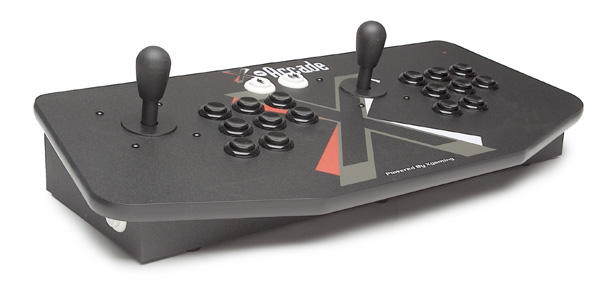 You can once again see the XGAMING's confidence in its products. That lifetime warranty is there to back up everything they claim. To read even more about the X-Arcade Dual, check out this brochure.
Here's just one statement that XGAMING makes about the X-Arcade Two-Player Joystick:
"Measuring in at 25 inches from side to side with 15 LBS of heavy-duty industrial grade materials, the X-Arcade™ Two-Player makes it feel like you are playing an arcade console. Both of you can yank away at the joysticks, smash the fire buttons, and get lost in the rush of the game, this game controller can take it. You don't have to take our word for it either, we back up its bullet-proof physique with a Lifetime Warranty."
Oh yeah, that's right… this sucker weighs over 10 pounds! How's that for quality, sturdy construction!? The only thing missing is the rest of the arcade cabinet… really.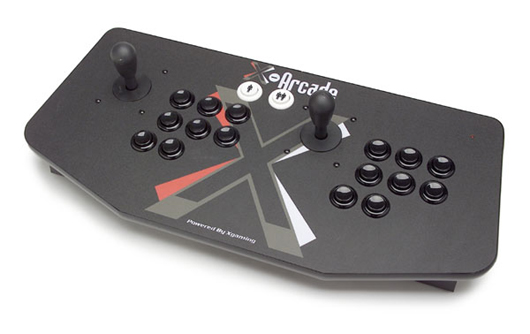 So, what do you get with your X-Arcade Two-Player? Take a look at the list below to find out.
What's Included
X-Arcade Two-Player Arcade Joystick
Manual
Serial Cable
PC Conversion Cable
30 Day Money Back Guarantee
100% Fully Serviced Lifetime Warranty
Toll Free And Online Live Technical Support
Free Bonus Selection Of A Game System Or PC Adapter
Limited Time Only: FREE SHIPPING. (48 States USA)
NOW INCLUDES 6 FULL VERSION AUTHENTIC MIDWAY® ARCADE GAMES FOR PC!

Joust, Robotron 2084, Smash TV, Gauntlet, Rampage, Defender
The X-Arcade Two-Player comes in a big show-off box. It's red so you won't miss it on store shelves. Inside the box, you get the standard cables for hooking up the X-Arcade and a CD with six Midway arcade classics.
Overall, it's a simple package, and it includes a small, simple instruction booklet. There are no drivers or requisite software to install. If you like any of the included games, then you'd obviously want to install those, and that is a simple and painless process.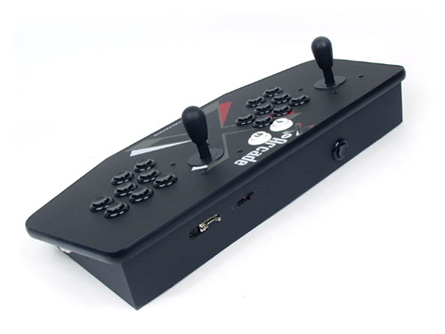 SPECIFICATIONS & CLOSER LOOK

---
Specifications
Arcade Quality Buttons

Designed and manufactured for use with the X-Arcade unit.
1 and 2 player buttons to simulate the arcade feel.
Replace on site with any arcade grade buttons/switches.
Lifetime warranty if registration is filled out online.
Left and right side pinball buttons to replicate arcade pinball machine for applicable games.

Authentic Arcade Quality Joysticks

Arcade controllers designed and molded for the X-Arcade, working like standard arcade parts from a real arcade.
10,000,000 cycle testing and usage.
Lifetime warranty.
Commercial grade components replaceable with any arcade joystick.

Proprietary X-Adapter and X-Chip System

XGAMING's patented X-Chip technology built into the X-Arcade provides support for external use with any next-generation gaming console current available, and allows us to continue to support upcoming systems as well.
Uses standard serial connection from X-Arcade to the X-Adapter, with adapters then converting the signal to any gaming console.
X-Adapters provide built-in support for two players, so the X-Arcade will work with dual player usage on any gaming system.
Closer Look
From the pictures you've seen so far, you can probably tell that the X-Arcade Two-Player is quite hefty. According to XGAMING, it is 24.25 inches wide, 11.25 inches deep and 7 inches tall. Plus, it weighs 12 pounds. Take a look at the pictures below to get a closer look at this dual joystick giant.
Joystick
| | |
| --- | --- |
| Here you can see the top of the Two-Player joystick. It just screams 'Arcade!' doesn't it? | Here is a closer look at the high quality buttons and joystick. You can also see the cool 1 and 2 player buttons. |
| Each side of the X-Arcade also has a button. Can you say pinball? | At the back, you can see the keyboard and serial connectors. The switch on the right is for switching between modes. There are 3 memory banks available for programming. |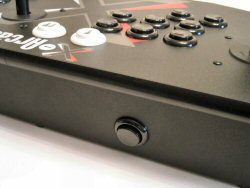 This button is also on the back of the X-Arcade. It is the load button, used for loading memory banks after switching modes.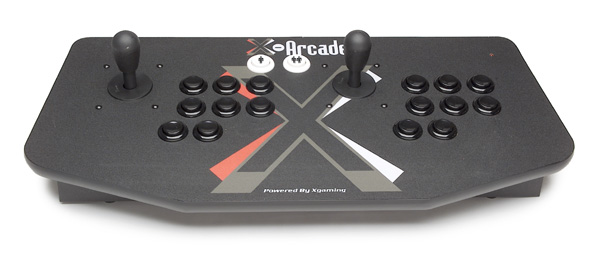 Adapters
| | |
| --- | --- |
| Adapters (from left): Gamecube, USB PC/Mac, Xbox. These are simple and quick to use. | Here is the USB PC/Mac adapter. This is the easiest and quickest way to get set up on a PC. |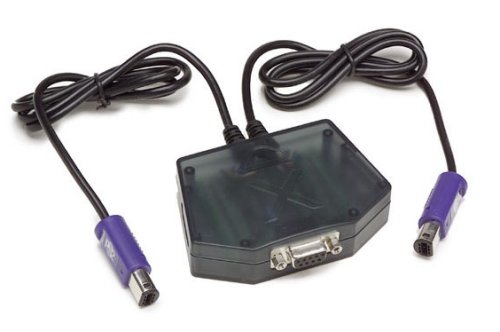 SETUP & TESTING

---
Setup
Installing and setting up the X-Arcade is very simple and straightforward. With the included manual as a guide, everyone should be able to start using their X-Arcade within 10-15 minutes of opening the box. Although the standard installation is quite simple, I still prefer the USB adapter route. It's worth the extra cost to me to not have to pass the keyboard through the X-Arcade. Take a look at the installation steps and picture below to see what I mean.
PC Setup Procedure (from XGAMING website)
Turn off the computer.
Locate and unplug the keyboard from the port at the back of the computer.
Plug the X-Arcade's™ included ADAPTER into the back connector.
Plug the ADAPTER male connector into the port you removed the keyboard cord from, then plug the keyboard into the X-Arcade's™ female connector.
It's that simple. No drivers to install!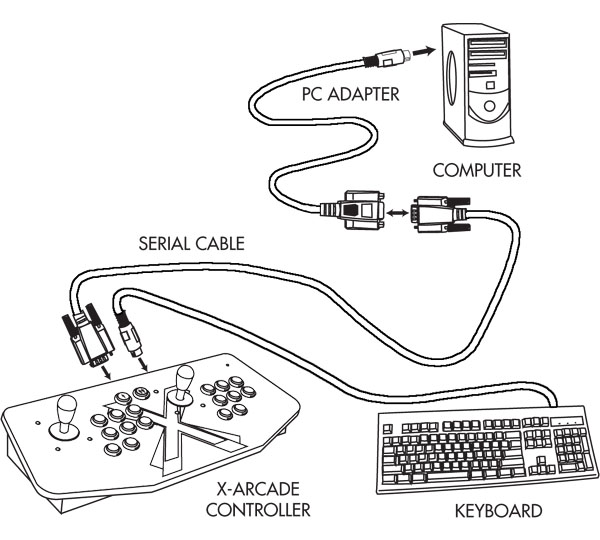 With the USB adapter, you simply hook the serial cable into the back of the X-Arcade and then into the adapter. Then, you plug the USB connector into one of your PC's USB ports.
Setup for a console is very similar, of course. You don't need to hook up your keyboard in the case of a console, though. So, you just connect the console adapter to the serial cable and then plug in the player 1 and player 2 plugs into your console.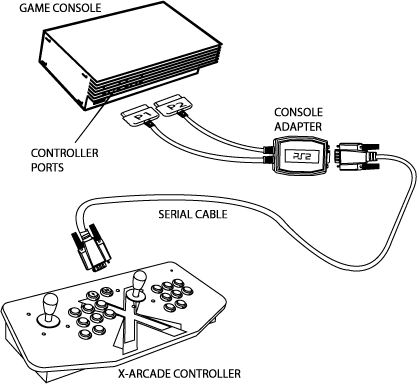 Props go to XGAMING for making the process so simple and universal. I had no problem at all setting up and using the X-Arcade on my HTPC and a couple consoles.
Testing
Testing out something like the X-Arcade is much more fun than testing a motherboard, because in the case of the X-Arcade, you have to play games to test it rather than run countless benchmarks and then average the results. The only problem is getting yourself to stop playing and concluding that you've tested it out enough.
To test the X-Arcade Two-Player, I started out with some MAME action. The first thing I did after setting up the hardware was to choose the X-Arcade option in the controller settings within MAME32. As I mentioned before, I really wanted to play Galaga with the X-Arcade, so I started with some Galaga and Galaga '88. It was definitely a blast playing both, especially when compared to the gamepad I was previously using. It felt like I had a Galaga machine in my living room, but I didn't have to blow pockets full of quarters to keep playing. I played a bunch of other games, like Rastan, Ninja Gaiden, 1942 and Strider, and the X-Arcade really enhanced the experience and performed perfectly.
To continue my testing, I then played the included Midway arcade games. Of the ones included, Rampage and Gauntlet are my favorites. The X-Arcade played flawlessly in these games too. It was extremely fun and nostalgic to play these games with my fiancee. The true arcade feel just can't be beat.
My last task was to test the X-Arcade on a couple consoles. With gaming consoles, the console's gamepad buttons are assigned to the X-Arcade's arcade buttons. The manual shows how the assignment works for each system, and the adapters include legends (see below) as well. The X-Arcade also allows you to switch between digital and analog control for the joystick.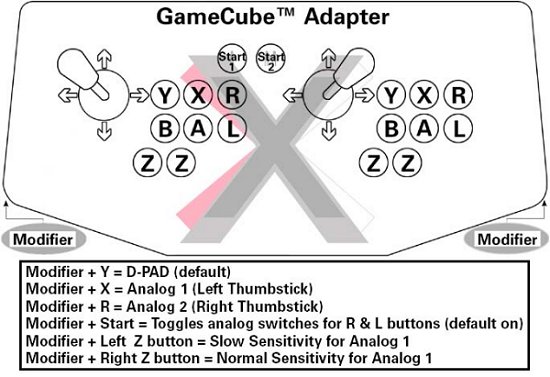 As previously mentioned, the X-Arcade is really ideal for fighting games or other games that work great in the arcade, like sports games. I doubt many people are going to want to play Halo or Prince of Persia with an arcade joystick. Soul Caliber, Mortal Kombat, Tekken, Ikaruga and other similar games, though, are perfect candidates for the X-Arcade. I played both Ikaruga and Soul Caliber II on the Gamecube with the X-Arcade, and the X-Arcade once again brought that arcade feeling to my living room. On the Xbox, I played Dead or Alive 3 and several other fighting games with my brother, and we had a great time. It takes some time relearning buttons, but it's worth it. The X-Arcade definitely adds more fun to certain games and can take rough play.
CONCLUSION

---
There really isn't much room to deny that this beast is the king of the mountain. The X-Arcade truly is a winner and an easy sell if you're looking for that genuine arcade feel. XGAMING's peerless backing of its own product makes it even easier to recommend; it actually makes it impossible not to. With its gimmick-free lifetime warranty, 30-day money back guarantee, toll-free phone support, and online live technical support, XGAMING gives you plenty of reason to be comfortable with your purchase. Why can't more companies be this confident in their products!?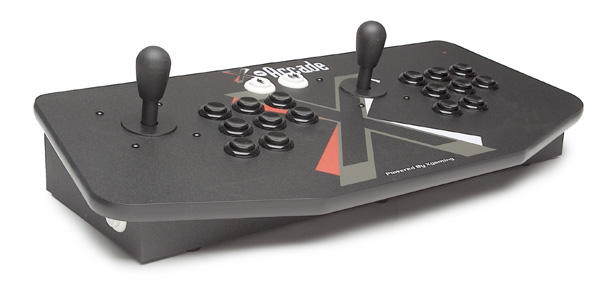 I have thoroughly enjoyed the X-Arcade and am ecstatic to now have it as an option when I get the feeling to play old school games or for fighting games on my Gamecube. I'm anxious to start trying to beat my Galaga high score. While using the X-Arcade, I just used the factory presets, but you can program three memory banks to suit your own needs and desires. XGAMING has made this process very simple.
The main challenges with the X-Arcade Two-Player are finding a place to store it when you're not using it and setting it up in a way that is comfortable. You probably have already figured out that one of the main purposes of a huge controller like this is for an arcade cabinet. Well, not all of us will go all out and build or buy a cabinet, so storage and comfort are more of a challenge. Since its so large and weighs so much, the X-Arcade should be put on a solid, stable surface when in use. Something like a coffee table, desk or even the floor will work fine. Just keep in mind that finding the best and most comfortable spot for it in some settings might not be easy.
In addition to the Two-Player Joystick, XGAMING also offers a single joystick version and a trackball (which is out of stock and on backorder as of this writing).
The X-Arcade is without a doubt the best arcade joystick on the market because of its excellent support, unmatched lifetime warranty, versatility and high quality. True arcade aficionados owe it to themselves to give the solo or dual version a try. The Two-Player version I reviewed can be purchased from XGAMING for $149.95.
I award the X-Arcade Two-Player Joystick a 9.5 out of 10 and the Bjorn3D Golden Bear Award.