Chenbro's Gaming Bomb II is a very impressive case, from its great looks and style to its outstanding features and uniqueness. When it comes to high-end cases and just cases in general, the GBII is definitely one of the best around.
Introduction
---
Chenbro received quite a bit of positive feedback for its original Gaming Bomb case, but its style really never appealed to me at all. I have a strong affinity for aluminum cases. Ever since I splurged on my first Lian-Li PC60USB case four or five years ago, I've almost completely ignored steel and plastic when it comes to computer chasses. So, yeah, you could say I'm biased. Anyway, if you have seen the cool stylings of the Gaming Bomb II, you can probably already see where I'm headed.
When Chenbro released its design for the second generation Gaming Bomb, I wasn't interested in it because I figured it would only be a slight change from the first GB. Much to my surprise, I was totally wrong. The GBII is one of the coolest and best-looking cases I've seen hit the market in a long time, and from looks alone, you wouldn't know it was related in any way to the original GB. From the feature list, it seems to be one of the most practical and user-friendly cases too. I'll have to dig deeper into that, though, later in this review.
Like other high-end cases, the GBII likes to scare the ol' bank account a little bit. This case can be found at ActBuy.com for just under $230. You might be able to find it cheaper, but you better expect to pay over $200 no matter where you go. Can a case really be worth that much? I believe it can, but to see if I think this one is worth it, you have to keep reading.
Features, Specifications & Accessories
---
Chenbro really did a nice job on the GBII's feature set. Most of us are glad to see the trend towards 120mm fans in place of dual 80's. Unique features, like the Integrated Cable Management system and handles, set the GBII apart from most of the competition. LAN partygoers and system builders in general will definitely see the value in many of the great features, which are listed below.
Features
Thermally Advantaged Design

Front 120mm fan
Rear 120mm fan
Top 92mm fan (supported – not included)
Front metal mesh ventilation intake system

Easy Installation and Maintenance

ICM – Integrated Cable Management technology
FlexiBay hard drive cage technology
Screwless 5.25″ bay design
Screwless 3.5″ bay design
Removable and tool-less M/B tray
Easy access PSU installation

Excellent Design Styling

Unique rounded aluminum bezel
Transparent side panel window (optional)
Integrated handle technology (removable)
Large square lighted power button
Screwless fan holder

FPIO Support

2 x USB 2.0
2 x audio
1 x IEEE1394

Safe Assembly

Folded edge and U-seam technology (no sharp edges!)
Side-panel membrane cover protects window during assembly

Security

Case accepts common locking technology (lock not included)

Special Noteworthy Features

Less weight with better heat dissipation
Cable management clips included in accessory kit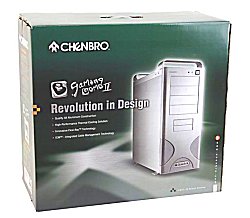 Specifications
Manufacturer Model #: PC61566-SL-W
Case Type: ATX Mid Tower
Color: Silver
Material: Aluminum 1.0 – 2.0mm
Drive Bays: 5.25″ x 4/0, 3.5″ x 2/5 (external/internal)
Expansion Slots: 7
Front Ports: 2 x USB2.0, 2 x Audio, 1 x IEEE1394
Cooling System: 1 x 120mm front fan, 1 x 120mm rear fan
Motherboard Compatibility: ATX
Dimensions: 20.6″ x 9.3″ x 21″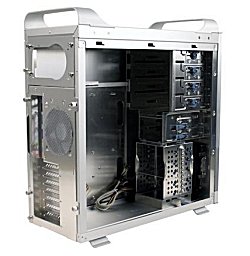 Accessories
120mm fan x 2
Accessory pack (screws, cable management clips)
FlexiBay hard drive cage
120mm fan holder with filter x 2
Tool-less slot cover thumb screws
User manual
Closer Look – Outside
---
Chenbro went for style with the GBII and nailed it. The GBII is one of the slickest and most stylish aluminum cases to be released in quite some time. In a time with so many ugly so-called "gamer" cases flooding the market, the GBII is a rose amongst the weeds. Then again, the GBII didn't land on this planet to compete with the likes of $60-80 steel and plastic cases. It came to conquer some of the high-end segment dominated by Lian-Li and Cooler Master.
The windowed version of the GBII comes with a nice round corner window that allows you to see most of the components in your PC. As you have probably already noticed, the GBII also features built-in handles. These are surprisingly sturdy and solid handles; four screws hold each handle in place. I lifted a fully loaded GBII, and the handles didn't seem to "give way" at all. I felt very confident that my gear was safe as I carried the system across my apartment. These handles are removable by the way. The top of the case also features a 92mm fan blowhole.
The GBII sports six total external drive bays, four of which are 5.25″ bays while the other two are 3.5″ bays. Additionally, the front of the case features a large square power button at the top; next to the power button are the reset button and the activity LED. At the bottom half of the case, you can see the unique styling of this case that is somewhat reminiscent of the original GB. I'm not sure how to describe it, but I like it, and you can see it in the second picture below. These carved out mesh areas should allow plenty of air to be pulled in by the front 120mm fan. At the very bottom of the case, you can see the front panel I/O ports, including one FireWire, two USB 2.0 and two audio ports.
The front bezel swings open from the left as it is hinged and attached on the right side of the case. The main reason to open the front bezel is to remove the external bay covers, which are attached to the front of the case by external screws. I find this much more user-friendly than many other cases. Although it requires a tool, it's very easy and straightforward. No awkward squeezing and manipulating to try to pull out a bay cover. When the bezel is closed, it stays in place and doesn't have a tendency to open or loosen.
And finally to complete the external tour, the back side of the GBII is like 90% of other cases. At the top, you find the power supply area, and then below that is the 120mm fan, rear I/O panel and PCI slot covers.
Closer Look – Inside
---
In order to get to the inside of the GBII, you of course have to take off the side panel. You can see the unique way Chenbro installed the window in the first image below. In the second picture, you can see the convenient screwless drive bay mechanisms, which are very easy to use and work great.
The next cool internal feature that deserves some attention is the FlexiBay 3.5″ hard drive cage. The FlexiBay can hold five hard drives and features rubber washers for noise reduction. Chenbro made a cool choice by deciding to mount the screws in the FlexiBay itself so they are always right where you need them. You don't have to go hunting for the little bag of screws that you put somewhere after getting your system set up. The name "FlexiBay" implies flexibility, and indeed, the FlexiBay is uniquely flexible. You can install the FlexiBay in two ways: with the opening facing the back of the case or with the opening facing the side panel. While some kind of drive rails would be nice, this is a great alternative and definitely the coolest drive cage I've ever seen. You also have to love the fact that the front 120mm fan blows across your hard drives, which will definitely help cool them down.
I really like all the convenient and easy installation features in this case. Like other high-end cases, the GBII features thumbscrews not only on the outside but also on the inside of the case. In the first image below, you can see the thumbscrews that hold in the PCI slot covers that are riddled with holes (to help hot air escape the case). Another tool-less feature can be seen on the external 3.5″ drive bays. Instead of installing screws to hold in a floppy drive, all you have to do is flip a lever from the right side to the left side, and the drive is locked into place. At the top of the case, Chenbro included a 92mm blowhole, which is great for expelling heat since heat rises. On the inside is where you see how cool Chenbro's implementation of this feature is. The case features a clear, plastic sort of box that a 92mm fan is installed in; it doesn't get quicker and easier than that!
Cooling inside the GBII is handled by a couple 120mm Sunon fans (model KD1212PTB3-6A). Chenbro located one in the front and one in the back. These fans push 69CFM but are not very quiet (rated at 35.5 dB(A)). Just like the 92mm top fan holder, the 120mm fan holders do not require any screws. Each fan is held in a clear plastic by four clips. It's a very clever design. The fan holders themselves are quite easy to remove as well. Chenbro gets a lot of props for the internal design of this case.
Installation & Use
---
Because of all the great features found throughout, installation of components in the GBII was simple and enjoyable. Thumbscrews…check; removable motherboard tray…check; cable management system…check. Whether I was just looking at this case, carrying it across my apartment, or installing hardware in it, it felt like a premium case. Chenbro even includes one of the best (if not the best) manuals for a case I have ever seen. On top of that, the company even thought to throw a handful of cable management clips to help you make your case as tidy as possible.
On the motherboard tray, you can see two cut out ovals. These are actually part of the Integrated Cable Management technology that Chenbro built into the case. The fact that Chenbro took the time to design the GBII with cable management in mind is outstanding. I hope they start a trend with this idea! As one would expect, cables can be routed through these ovals and behind the motherboard tray. There is much more space back there than with the average case, and it is there solely to make cable organization easier for the user.
Installation of all my components (including a micro-ATX Intel reference motherboard, Intel processor, one SATA hard drive, one optical drive, an Antec Neo PSU, and GeForce 6800 GT) was a breeze and involved no cuts or scratches thanks to Chenbro's thoughtful internal layout. The screwless drive bays and flexibay hard drive cage all worked as advertised and actually made my job easier.
Conclusion
---
Chenbro managed to create a unique and remarkable case with the Gaming Bomb II. We can only hope that other companies try to copy some of the awesome features found in this case, and we can only wish Chenbro luck in trying to create an even better third generation in this line. This is one of those cases that you won't get tired of; you'll want to use it for five years or more. What other components can you say that about? To me, that's what makes it worth spending $200+ on a case. Give me longevity over trendiness any day.

What makes me like the GBII so much? How about the Integrated Cable Management system, FlexiBay hard drive cage, screwless drive bays, removable motherboard tray, integrated handles, screwless fan holders, and inspired design. This is the best case I've worked in because of the great internal features; it's also one of the best looking case I've had the pleasure to use. High class and high utility can go hand-in-hand, and the GBII is a perfect example of this.
The case isn't perfect, though, by any means. The two main things I'd like to see Chenbro go back to the drawing board on are the choice for the 120mm fans and the hard drive cage. I, and many of you I'm sure, would prefer quieter fans. How about partnering with SilenX? There are quieter high-CFM fans out there. Additionally, drive rails of some type would make the excellent FlexiBay even better.
If I had to buy a new case for a mid- to high-end system right now, I'd definitely give the GBII strong consideration, and I wouldn't hesitate to recommend it to anyone looking for a premium, high-end case.
Thanks to ActBuy.com for supplying this case for review!
Pros:
+ Very stylish design
+ Sturdy integrated handles
+ One of the best user manuals ever for a case
+ Integrated Cable Management
+ FlexiBay drive cage can be installed two ways
+ Screwless drive bays
+ Two 120mm fans included plus 92mm fan optional = plenty of cooling
+ Screwless fan mounts/installation
+ Easy to work in and use
+ Hiqh quality and class
Cons:
– Not very quiet
– Expensive
– At this price, including a 92mm fan would have been nice
Final Score: 9 out of 10 and Bjorn3D Golden Bear Award