In our 7800 GTX preview and reviews to date, we have seen it is a great card. But how does it stack up in SLI? I took some current programs and an upcoming game and did some testing.
Introduction


NVIDIA's new GeForce 7800 GTX clearly has been received very well by the hardware sites on the Internet. It is a very fast card. In fact, in some cases, it is as fast as having two GeForce 6800 Ultras in your machine.
Considering how fast the card is alone, I was very curious how fast it would be in SLI-mode.  I've spent one month playing games just to get a feel for what two GeForce 7800 GTX's in SLI-mode can do. For our testing, I used two Leadtek GeForce 7800 GTX cards. This article should give you an idea if it's currently worth going with two GeForce 7800 GTX cards or not.
The Card

If you are not familiar with the GeForce 7800 GTX, you should
read our preview
of the card first.
Let's look at the specifications and what Leadtek has bundled with the card.
GPU
GeForce 7800GTX TDH
Memory Size
256 MB DDR3
Memory Interface
256-bit
Graphics Bus
PCI Express
GPU/Memory Clock
430/1200 MHz
(Overclock BIOS for 450/1250 MHz download)
Memory bandwidth( GB/sec.)
38.4
Fill Rate(billion texels/sec)
10.32
Vertices/sec (million)
860
Pixels per clock (peak)
24
RAMDACs (MHz)
400
Process

0.11µ

Output
VIVO with HDTV out, DVI
Package contents
WinFast PX7800GTX TDH graphics card
General guide
Quick installation guide
Driver & Utilities CD-ROM
DVI to VGA converter x 2
vivo cable
 
 
I took the specifications right from Leadtek's website so I could point something out to you. You will notice they talk about the overclock BIOS in the GPU/Memory section. They came out with a BIOS that gives you these default overclocked speeds and are backed by their warranty. Both the cards we are using are at this BIOS level. This is good because sometimes you cannot get overclocking in SLI to work too well since both cards have to sync up, and the driver has to make sure they can run at the same speed. Also, NVIDIA changed some ways they design things with the 7800 GTX: some parts of the GPU may be running up to 525MHz when running 3D apps and others at lower speeds. So, overclocking has become much more interesting with this series of cards.
The bundle is similar with that of other Leadtek cards and includes both a DVD authoring tool and a DVD player as well as two relatively new games, Splinter Cell: Chaos Theory and Prince of Persia: Warrior Within.
Testing


My test system is a real-world system, meaning it has all the software I use on a daily basis installed. A clean install system would not really be what a normal user would experience since they have anti-virus, firewall, anti-spyware and probably an IM client running.
• Asus A8N SLI Deluxe
• AMD Athlon 64 FX-55
• 2 x 1GB Crucial Ballistix DDR 4000
• 3 x 250GB Maxtor Diamond 10 in RAID 0
• Lian-Li V1200
• Windows XP SP2
• PC Power and Cooling Turbo Cool 510 SLI
• SB Audigy 2 ZS
• 2 x Leadtek WinFast 7800 GTX TDH MyVIVO GeForce 7800 GTX
• Driver used: 77.77
Benchmarks


For the first set of benchmarks, I will give you 3DMark05 scores at 1024×768 default and 1600×1200 and one score of SLI with 1600×1200 with 4xAA 8xAF.
3DMARK 05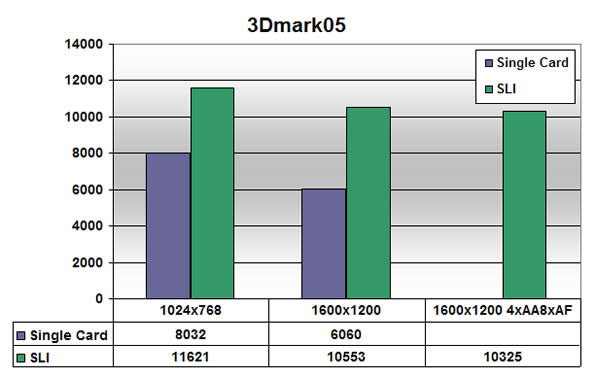 With a drop of around 225 points by turning on AA and AF at 1600×1200, we do not see a drastic drop in the score. We appear to be CPU bound even at this resolution.
Valve Stress Test
Next up is the Valve Stress Test that they used to show of the engine for Half-Life 2.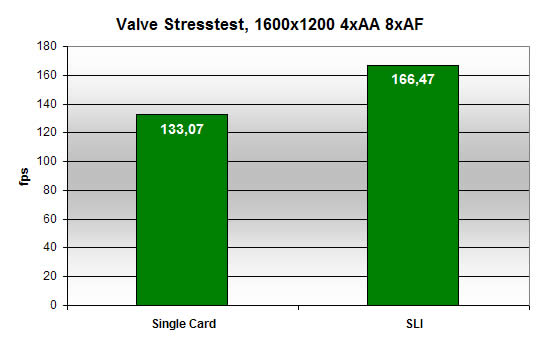 F.E.A.R. Single player demo
Next up is F.E.A.R. single player demo. I did a walk through of an area where you have killed everyone and are now seeing the little girl and the guy you are supposed to kill. I used FRAPS and am reporting the minimum, average and high frame rates. Off course, this is with 1600×1200, 4xAA and 8xAF.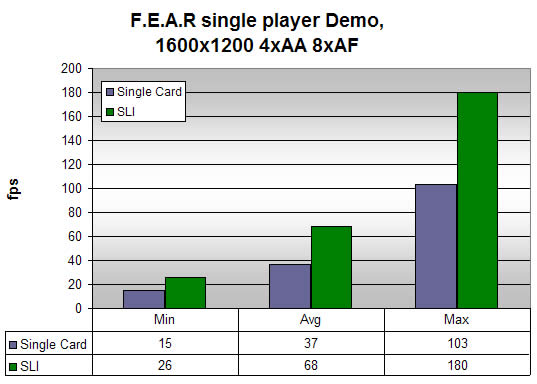 In this new upcoming, game we see that SLI really helps, which is nice to see.
Battlefield 2

Now we look at Battlefield 2 also using FRAPS doing a run following as close as I can with single-player combat.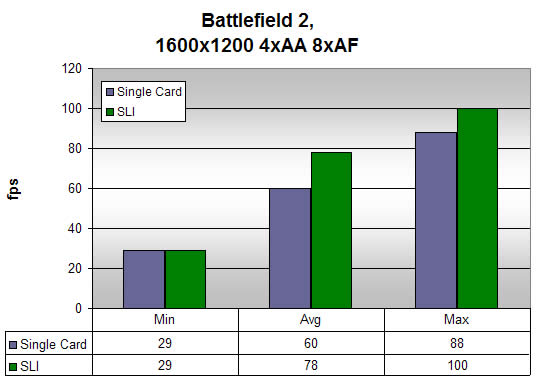 As we can see here, Battlefield 2 did benefit from SLI but only by 18 FPS for average. The question is: Is that worth the cost of SLI?
Half-Life 2
Finally, we look at Half-Life 2. I do the same thing Using FRAPS and follow a run through.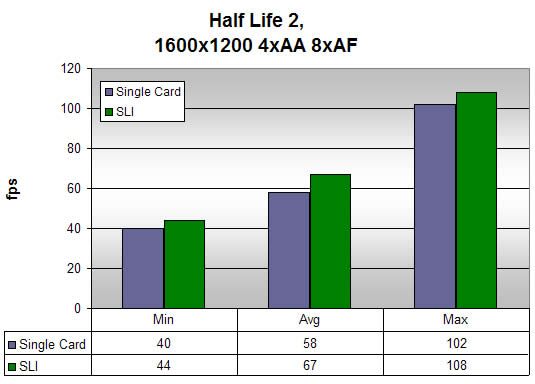 Here again we have an increase in FPS but is it worth the cost?
Conclusion


Since we tested at 1600×1200 with 4xAA and 8xAF, the games look great, and we tested to see the benefit of SLI with 7800 GTX's. If we look at a new upcoming game, like F.E.A.R., we can say that SLI with 7800 GTX's does look like a good move. With other games like Half-Life 2, a single 7800 GTX does a good job. As more new games come out, more of them will take advantage of SLI and should work even better since games will use more GPU features that are possible with the 7800 series of cards.
The future does look good, though, as SLI acceptance continues to grow, so game developers will look to use the SLI advantage when they can. Also, with the move to multi-core CPU's, we may start to see multi-threaded games, so we will not be CPU bound as much possibly.
If you want to save money, you may want to look at Leadtek's 7800 GT Extreme, which is an overclocked 7800 GT.