The SilverStone LC16M offers a lot for a HTPC case, including a VFD, IR receiver, remote control, room for six hard drives, good cooling and great style. Like any other product, it's not perfect though. Check out our review of this HTPC case to see what we like and dislike about it.
Introduction

---
Media PCs and home theater PCs (HTPCs) are more popular than ever, and their popularity seems to continually increase. HP has sold a ton of media center PCs over the past year. Many of us won't buy prebuilt machines though; we only build our own, usually to save money, use better components, or have fun. The DIY (do-it-yourself) HTPC crowd tends to be a very discerning bunch. They want very specific features in their TV tuners, sound cards and cases. When you build a PC with certain purposes in mind, it requires more careful planning and consideration.
With HTPC users in mind, SilverStone continually adds to and refines its Lascala series cases in an attempt to create perfect HTPC cases. SilverStone has had quite a bit of success so far, especially considering the company is not even three years old yet. When creating its latest cases, the LC16M, LC17 and LC18, SilverStone used feedback from actual users to come up with designs to meet the various and unique needs that HTPC users have. In this review, I'll cover the LC16M, which is an attractively styled HTPC case that comes in both black and silver.
In addition to great looks, one of the goals with the LC16M is to offer a new level of storage capacity for HTPC enclosures. Most competing cases offer two or three 3.5″ internal drive bays, but the LC16M offers six, which means you can put up to six hard drives in this case! The LC16M also features a VFD/IR multimedia kit. To learn more about this HTPC case, you'll have to keep on reading.
Features & Specifications

---
Features
Brilliant home theater styling details
Next generation cooling performance
Outstanding potential for silent operation
Integrated hotkey and multi-functional knob
Superior storage capacity
New Maglev bearing fans included
VFD/IR, remote control and iMon software
The LC16M offers a nice set of features. At first glance, it definitely seems like a really nice HTPC case. On the following pages, I'll take a closer look at the case to see if the features and specs translate to true greatness.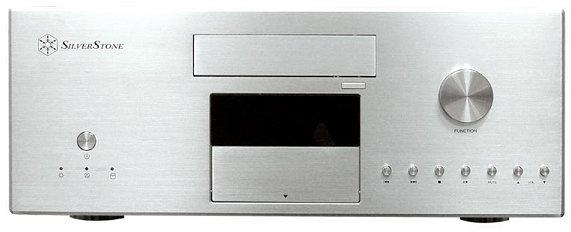 Specifications
Material

Aluminum front panel, 0.8 mm SECC body

Color
Black
Silver
Motherboard
Standard ATX, Micro ATX
Multimedia
VFD, IR, remote control, iMON media center software
Model
LC16B – M (Black)
LC16S – M (Silver)
Drive Bay
External

5.25″ x 1


3.5″ x 1
Internal
3.5″ x 6
Cooling System
lntemal
2 x 92mm or 80mm fan slots
Rear 

2 x 80mm exhaust fan, 2050rpm, 21dBA

Front
1 x 80mm fan slots
Expansion Slot

7

Front I/O Port


USB2.0 x 4
IEEE1394 x 1
audio x 1
MIC x 1


Power Supply
Optional standard PS2 (ATX)
Net Weight

7.3 kg

Dimension
425 mm (W) x 170mm (H) x 425 mm (D)
Notes
(1) LC16M is not compatible with GeForce 6800/7800 series and ATI X1800 series cards
(2) The included soft-closing 5.25" drive bays are not compatible with optical drive doors that are the same width as the drive.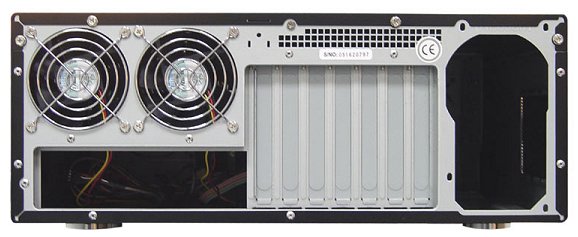 If you are considering purchasing this case, please note the two incompatibilities listed above in the last row of the specs table. According to SilverStone, the LC16M is incompatible with GeForce 6800 and 7800 cards as well as ATI X1800 series cards. This is due to the placement of the 5.25″ bay, which I will show you later on. Additionally, the LC16M's soft-closing 5.25″ drive bay is incompatible with optical drive doors that are the same width as the drive.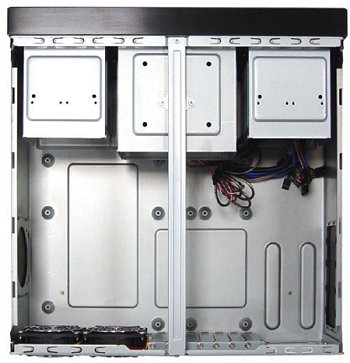 Closer Look – Outside

---
Initially, what drew me to the LC16M was its looks. I really like the style of it; the knob and buttons on the front help it blend in with other home theater components. This stylish front is made from aluminum while the rest of the case is steel. Before we take a look at the outside of the case, let's see if SilverStone packs it safely.
The LC16M I received arrived without any bumps or bruises. SilverStone uses the typical foam approach for packing the LC16M. You can what comes with the case in the third picture above. SilverStone throws in the following items: iMon remote and software, decent manual, 20-to-24 pin adapter, screws and various related accessories.
As you can see, it's a fine looking case. The control knobs, buttons and display really help it blend in with any other components you might have in your A/V rack. The less PC savvy amongst your friends won't even realize it's a PC. That stealth drive cover helps maintain the great style.
For front panel I/O access, SilverStone includes its FP32 3.5″ front I/O module. This module is hidden behind a door under the display, which you can see in the first picture above. The FP32 brings four USB 2.0, one FireWire and two audio ports (line out and mic) to the front of the LC16.
On the left side of the LC16M's front panel, you will find the power button and status LEDs. On the opposite side, you will find the function knob and navigation/multi-media buttons. In order for these to work as designed, you'll probably have to update the included software.
There is a vent on each side of the LC16M to help with cooling. The one on the right side will actually accept an 80mm fan while the one on the left side is to allow the power supply's heat to leave the case more easily. The back of the case isn't too exciting, but you can see the two 80mm fans and more ventilation above the expansion card slots. The final picture above shows the nice rubber feet that are on the bottom of the case.
Closer Look – Inside

---
All of the great looks and cool external features don't mean jack for a case if the inside is poorly setup or impossible to work in. As mentioned earlier, the LC16M was designed with storage in mind (among other things).
Many HTPC cases are designed so that the optical drive (5.25″ drive bay) is to the side, but the LC16M has it directly in the middle. While this arrangement looks good from the front, it actually has a distinct disadvantage. Some of the longer video cards (like ATI or NVIDIA's to cards) will not fit or will be a very tight squeeze depending on how long your optical drive is. I will show you an example of this in the next section, but if you look at where the 5.25″ rack is in the pictures and imagine where a video card would be (which is usually near the middle), then it's easy to imagine the problems that this arrangement could cause. On each side of the optical drive rack, you can see a 3.5″ drive cage. Each cage can hold three hard drives, which is big time storage for a HTPC case. Additionally, each HDD cage can hold an 80mm or 90mm fan for extra cooling.
All three drive cages are easy to remove. If you look closely enough, you can see that each is held in with two screws at the top of the cage. After removing the screws, each cage simply slides out. Underneath the 5.25″ drive, SilverStone located an external 3.5″ bay, which houses the FP32 3.5″ front I/O module. This can be removed as well. Behind all the drive cages, you can see the two 80mm fans and expansion slots.
In these two shots, you can see all the cables inside the case, including cables for the 80mm fans, the front display, the front status LEDs and other regular case leads, and the FP32 front I/O module. You can also see the two side vents. The round one can hold an 80mm fan and is located near where your processor would be. The rectangular vent is located right next to where the power supply will be installed.
Installation & Software

---
The best way to truly evaluate a case is to actually use it, which mean installing all the necessary parts in it to build a PC. I will be moving my current media PC components from an Antec Overture to the SilverStone LC16M. The only part not coming over from the Overture is its power supply. The LC16M does not come with a PSU, but it does accept standard ATX power supplies, which is a plus for those wanting to build a power-hungry media rig.
Since I am moving my media PC from the Overture to the LC16M, I will be making several comparisons between the cases. First off, I have to say that I prefer the LC16M's looks to the Overture's by a big margin. Also, the additional storage capacity of the LC16M is rather appealing. Now, let's get to the installation so I can give you some idea of what this case is like to work in. My system includes the following components:
DFI LANParty Pro875
Intel 2.4GHz CPU
1GB Ultra PC3200 DDR
2 x 200GB Maxtor PATA HDDs
Plextor DVD+RW drive
Sapphire Radeon X850 XT
Antec Phantom 500 PSU
As most of you already know, many (if not most) manuals for PC components are pretty worthless or are poorly written at best. Fortunately, SilverStone did a rather nice job on the LC16 manual. The manual features a step-by-step installation guide that includes a picture and description for each step. Kudos to SilverStone for taking the time to do this. Even if you are an experienced installer, I recommend reading through the entire manual before beginning installation. It will help you plan better, and more than likely make you realize something you hadn't. I really wish I would have read it from front to back before starting; I would have saved myself some time and frustration.
In the first picture above, you can see how the Antec Phantom 500, a rather large ATX PSU, fits in the LC16M. The Phantom 500 is a little longer than your average ATX PSU, but it works just fine in this case. You can see, though, that it does cramp things a bit in between the PSU and the 3.5″ drive cage that's in front of it. In the second image, you can see one of the 3.5″ drive cages. Hard drives just slide and screw into the cage. If you put a fan in the cage, then the drives will stick out more.
After installing the PSU and removing one of the 3.5″ drive cages and the 5.25″ drive cage, I installed the motherboard. With the included stand-offs, this is a breeze, but this was when I started worrying about whether or not my video card would fit (more on that in a bit). This was the first time I installed a system in a case with a VFD/IR kit. For those of you who don't have experience hooking these up, I want to re-emphasize the importance of reading the manual completely before getting to far in the installation. I would have saved myself some time if I had done so. There is a separate series of steps just for the VFD, and if you don't integrate those steps into the regular installation guide, you might have to uninstall and reinstall some stuff to get to the wires and headers you need.
Once I had the motherboard, RAM and processor installed, I proceeded to install two hard drives and my DVD+RW drive. You can see in the second image above that this adds significantly to the crowding in the case as the drives hang over the motherboard. This isn't ideal, but it helps keep the size (length) of the case down. Note that Plextor drives are longer than most other drives on the market, so I definitely recommend brands that are shorter. Also, expect installing your optical drive to be at least somewhat challenging. You have to line the button up just right to make it function properly with the cases optical drive door.
The crowding caused by the drives makes the rest of the installation more tedious, but it is manageable. Make sure you hook up as much as possible before putting those drive racks back in. That should help a little at least. When installing my video card, I noticed that something isn't quite right with the expansion card slots. Either the motherboard is mounted too low or something else is off a touch, but the result is that you have to use something to push the bottom of the card's metal bracket in while pushing the card down during installation. You can see what my finished install looks like in the last picture above. Look close at the video card and optical drive to see how close they are. If they were any closer, I wouldn't have been able to plug in the drive's data cable or the power cable for the X850 XT. This wasn't an issue at all in the Overture because it is around two inches longer than the LC16M.
The front display and included remote will not work until the proper drivers and software are installed. The included VFD and software is from SoundGraph. The iMon remote and iMedian (formerly Multi-Median) software have been around for quite a while now. SoundGraph releases frequent updates to its software, so it's worth checking for updates every now and then. The iMedian software is decent, but I have read plenty of negative comments about it. If the included media center software is important to you, I suggest you take the time to research it more before buying this case. To me, it's not a deal-breaker since you can always install other software. Also, if you don't want the iMon/iMedian/VFD/IR combo that comes with the LC16M, then you might want to look at SilverStone's LC17, which was actually designed for people who still want the storage capacity of the LC16M but don't want the included software and VFD/IR.
Initially, I thought that the included IR receiver only works with the iMon remote. I don't have a universal remote to test the receiver with, but according to SilverStone, universal remotes, including the popular Logitech Harmony, can be used. Once I join the single-remote revolution, I'll have to test it out. I use the included iMon remote mostly for turning the PC on and off and for pausing videos.
Edit – Comment from SilverStone:
"I would like to point out that the iMON remote does work with many universal remotes including the popular Logitech Harmony. People with older universal remotes or ones that do not offer IR signals quick enough are incompatible. We also offer IR code information for download from our LC16M page for those that are capable of advanced programming of remote controls."
Conclusion

---
Overall, I'm happy with the LC16M. Like most cases, it has its share of issues. These issues are really only going to affect certain users. Some people will only find a couple flaws while others won't even look at the case because it includes iMon. It's a good idea not to get too set on a case before you really know what you want out of your HTPC / media PC. Pick out several cases and start researching them while figuring out exactly what you want to do with your HTPC. This should make your decision easier and better in the end.
One thing that helps the LC16M stand out in a good way is its looks. It blends in very well with other A/V equipment, but these looks are pricey. Right now, the LC16M is going for around $270 at Newegg. Part of the reason the price is so high is because of the included VFD/IR, software and remote. The build quality is quite high, but I think it could be a little higher. The function knob is wobbly, and the issue with installing PCI/AGP cards shouldn't exist.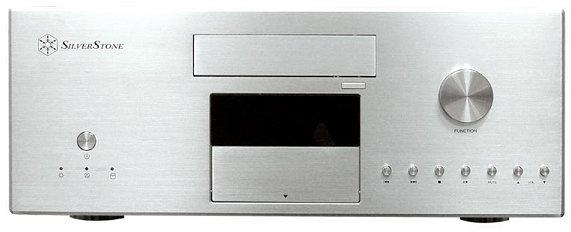 The iMedian software is good for users with basic needs, but more advanced users and those of you wanting to use a universal remote will probably want to look elsewhere (perhaps at the LC17 as mentioned earlier). The LC16M's drive arrangement can also pose problems for users, but that is why SilverStone has posted notes about incompatibilities on the product page. I think it's great that SilverStone designed this case to hold six hard drives. Most users will only use a couple at most, but there is a demand for cases with more capacity. The LC16M fills this demand quite well.
A couple things I haven't mentioned yet are heat and noise. I didn't do any scientific testing to compare the heat and noise output of the LC16M to the Overture, but I did make some observations. At idle, the LC16M kept the processor about 6C cooler, but the system temperatures were nearly identical. The noise of both cases was about the same, but I think that was mainly due to the X850 XT. The LC16M's two 80mm fans aren't exactly silent, but they aren't too loud either.
I mentioned a couple times that working inside the LC16M can feel cramped, especially once the drives are installed. The LC16M is around two inches shorter than the Overture, so it was definitely more difficult to work in. As long as you don't swap out components frequently, this won't be much of an issue. One benefit of it being more cramped is that it fit on my A/V rack. The Overture hung off the shelf a little bit, but the LC16M doesn't hang off at all. The LC16M is also taller than the Overture, which allows you to install video cards with heatpipe on them. One thing I didn't like about the Overture was that I couldn't install my fanless, silent, heatpipe-based Gigabyte X800 XL. The card fits just fine in the LC16M.
If you want a sturdy, high-quality HTPC case that offers a lot of style, storage capacity and nice features, then you should take a look at the SilverStone LC16M HTPC case. It isn't cheap and might cause you some frustration, but once you are done working in it and have integrated it into your A/V setup, its style and clean lines will be all you can remember.
Pros:
+ Sturdy, quality case
+ Very stylish looks
+ Includes VFD/IR
+ Includes media center software and remote
+ Can hold 6 HDDs!
+ Hidden optical drive and front I/O ports
+ Can hold video cards with heatpipes
Cons:
– Pricey
– Control knob is wobbly
– Problem with installing expansion cards
– Pretty crowded inside
Final Score: 8 out of 10
Edit – Comment from SilverStone:
"I would like to point out that the iMON remote does work with many universal remotes including the popular Logitech Harmony. People with older universal remotes or ones that do not offer IR signals quick enough are incompatible. We also offer IR code information for download from our LC16M page for those that are capable of advanced programming of remote controls."