The Gigabyte X1800 XL is a great card for ATI fanatics who can't quite afford the highest of the high-end cards. It includes a very generous bundle and offers very solid performance. Check out our review of this card to see how it compares to a GeForce 7800 GT.
Introduction

---
Back in October of last year, ATI launched a whole new range of Radeon graphics cards that are typically referred to as the X1000 or X1K family. The X1000 family was the first set of cards unleashed by ATI to support Shader Model 3.0 across the entire range of cards. This set of cards includes the X1300 series (entry-level), the X1600 series (mid-range) and the X1800 series (high-end). More info on the X1000 family can be found in our launch article covering the cards.
Just last month, ATI decided to top its own flagship cards (the X1800 series) with the X1900 series. While the X1800 cards feature 16 pixel shaders, the X1900 cards boast 48 pixel shaders. Unfortunately, I don't have an X1900 card in my possession yet, but I think it's important for you to know that the X1800 series are no longer the best that ATI has to offer.
The Gigabyte Radeon X1800 XL (GV-RX18L256V-B) that I have on the test bench today competes with NVIDIA's GeForce 7800 GT. As such, I will be comparing it directly to a single XFX 7800 GT. Although the X1800 XL is capable of running in ATI's CrossFire multi-GPU mode, I did not have an X1800 CrossFire master card available for such testing. Read on to see how the Gigabyte X1800 XL and XFX 7800 GT compare one on one in some of the more recent games to hit the market.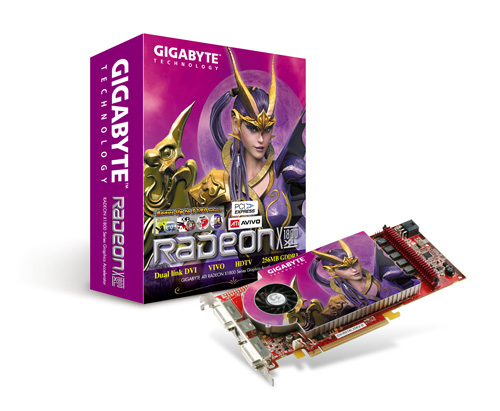 Features & Specifications

---
Features
Powered by ATI Radeon X1800 XL VPU
Supports PCI Express and 16 pipelines
Microsoft DirectX 9.0C and OpenGL 2.0 support
Integrated with the industry's best 256MB GDDR3 memory and 256-bit memory interface
Features dual DVI-I / D-sub (by adapter) / TV-OUT
Supports HDTV function and HDTV cable enclosed
Supports VIVO function for video editing
ATI Avivo technology
Ultra-Threaded Shader Engine

Support for Microsoft® DirectX® 9.0 Shader Model 3.0 programmable vertex and pixel shaders in hardware
Full speed 128-bit floating point processing for all shader operations
Up to maximum 512 simultaneous pixel threads
Dedicated branch execution units for high performance dynamic branching and flow control
Dedicated texture address units for improved efficiency

Ring Bus Memory Technology

Maximum 512-bit internal ring bus for memory reads
Programmable intelligent arbitration logic
New cache design
Improved HyperZ™
Specifications
Chipset: ATI RADEON X1800 XL
Memory: 256 MB
Memory Bus: 256 bit
Memory Type: DDRIII 8Mx32
PCB Form: ATX
BUS: PCI-e x 16
D-SUB: Y (By Adapter)
TV-OUT: Y
DVI Port: Y (DVI-I)
VIVO: Yes
MultiView: Y
Closer Look & Bundle

---
The Gigabyte X1800 XL has typical Radeon looks and doesn't differ significantly from ATI's reference design. The only change is a cosmetic one; Gigabyte slapped its own sticker on the cooler. The sticker matches the coloring and theme on the box and features a warrior lady who looks like she's ready to kick some tail and help you extinguish virtual enemies. On the back of the card, you can see that the cooler is secured by a small, X-shaped bracket.
Like other cards in this price and performance range, the X1800 XL has a power connector and must be plugged into your system's power supply. Additionally, this card features a pair of DVI connectors and the common TV-out connector.
Gigabyte likes to pack its cards in warrrior-themed boxes, and the X1800 XL is no exception. What is important though is that the card is surrounded by protective foam and should survive shipping just fine.
In the typical Gigabyte fashion, the X1800 XL is accompanied by a nice bundle of accessories and software. The software includes full versions of Xpand Rally and Counter-Strike: Condition Zero and the two-speaker version of PowerDVD 6.0. Here is a complete list of what Gigabyte includes with the X1800 XL.
User's manual
Driver CD
Power cable
AV cable
Component cable
DVI-to-VGA adapter
S-video cable
S to S / AV VIVO Cable
CyberLink PowerDirector 3.0 and PowerDVD 6.0
Xpand Rally
Counter-Strike: Condition Zero
Test System & Benchmarks

---
Test System
DFI LANParty NF4 SLI-DR Motherboard (review)
AMD Athlon 64 3800+
Corsair TWINX1024-3200XL (review)
Maxtor 120GB Serial ATA 7200RPM Hard Drive
Video Card 1: Gigabyte X1800 XL – Catalyst 6.1
Video Card 2: XFX GeForce 7800 GT (review) – ForceWare 81.98
Windows XP with Service Pack 2
Benchmarks
3DMark05 – default settings
3DMark06 – default settings
Counter-Strike: Source, Video Stress Test – NoAA / NoAF and 4xAA / 8xAF
Quake 4 – NoAA / NoAF and 4xAA / 8xAF
F.E.A.R. – NoAA / NoAF and 4xAA / 8xAF
X3: Reunion, Rolling Demo – NoAA / NoAF and 4xAA / 8xAF
Note: The XFX 7800 GT is an overclocked 7800 GT while the X1800 XL's clocks match the ATI reference speeds.
Benchmark Results – 3DMark05 & 3DMark06

---
Let's start things off with some 3DMark lovin'. Futuremark just released a new version of this application called 3DMark06 (no surprise on the name at least, right?). I threw 3DMark03 out this time and will be including the official scores at defaults settings as well as the feature test results for both 3DMark05 and 06.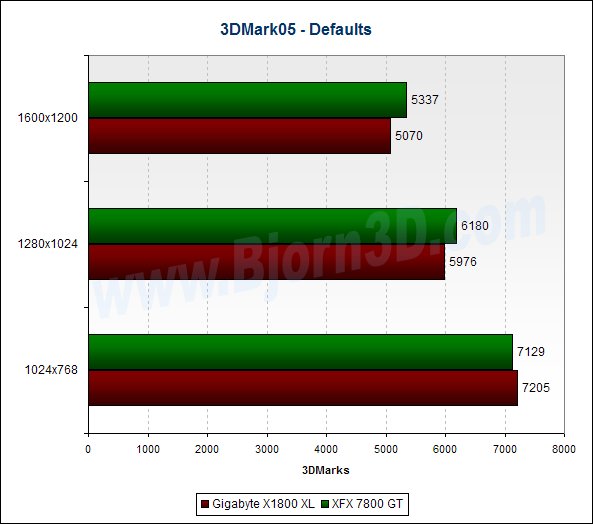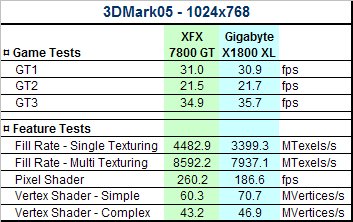 In the feature tests, the XFX 7800 GT dominates the fill rate tests while the Gigabyte X1800 XL edges out the GT in vertex shader tests.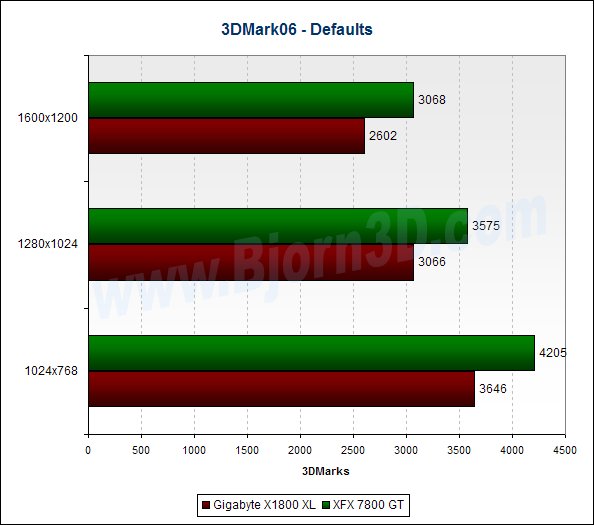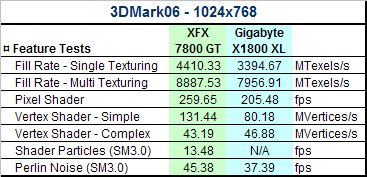 The X1800 XL doesn't really do well against the 7800 GT in 3DMark06. This isn't a game, though, so let's move on to the more important, real-world tests.
Benchmark Results – Counter-Strike: Source

---
The Counter-Strike: Source video stress test, which can be found in the CS: Source game menu, is a quick benchmark that tests a card's ability to render various scenes that demonstrate the Source engine's advanced capabilities. The average FPS is shown on the graph.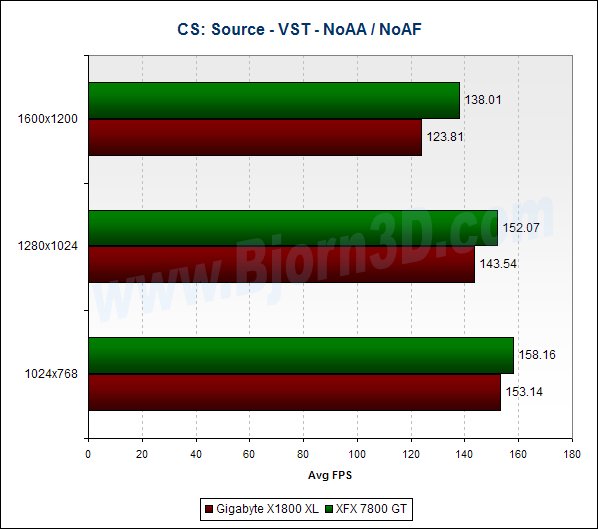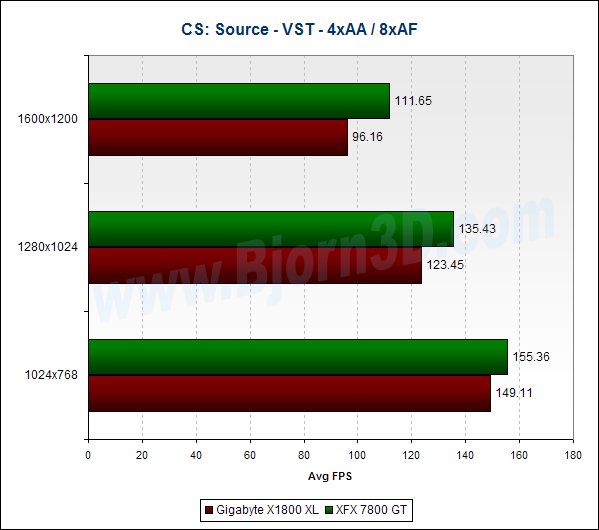 The XFX 7800 GT wins here at all resolutions.
Benchmark Results – Quake 4

---
Quake 4 was built off the Doom 3 engine, so I replaced the Doom 3 benchmark with a Quake 4 benchmark. I used the HardwareOC benchmark utility and the included Guru3D demo to benchmark Quake 4. In the charts below, you will find the average FPS reported.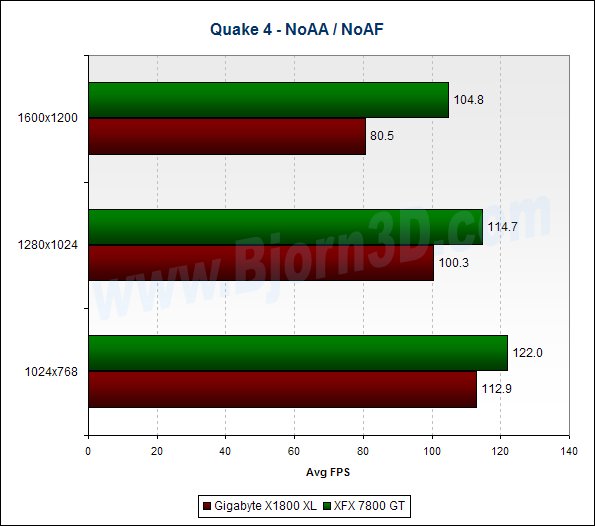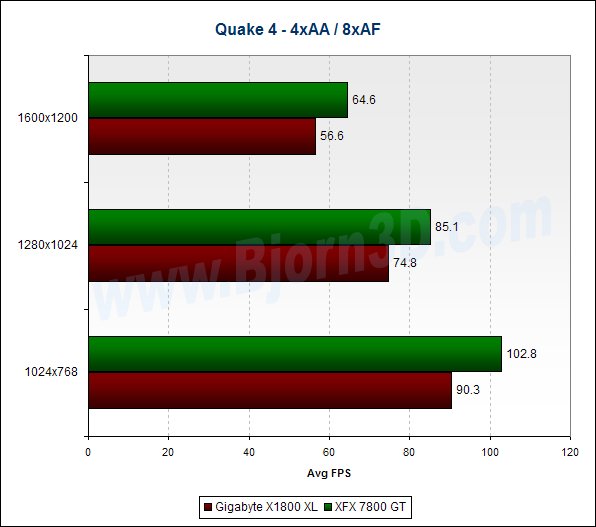 Once again, the XFX 7800 GT dominates the Gigabyte X1800 XL. There's no doubt that the XFX's overclock does help it some, but this X1800 XL is around $100 more than the XFX 7800 GT, so the comparison seems fair.
Benchmark Results – F.E.A.R.

---
F.E.A.R. is a game known for nice graphics, and it happens to be a good test of a powerful machine if you turn up all the eye candy. When running the performance test, I set all settings in the game to maximum, but I left soft shadows disabled.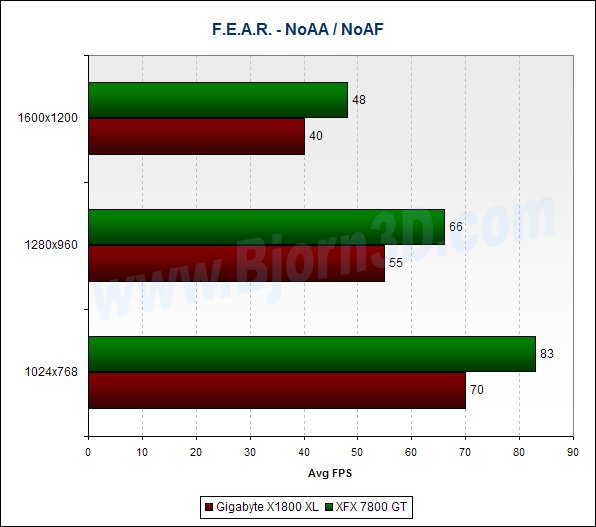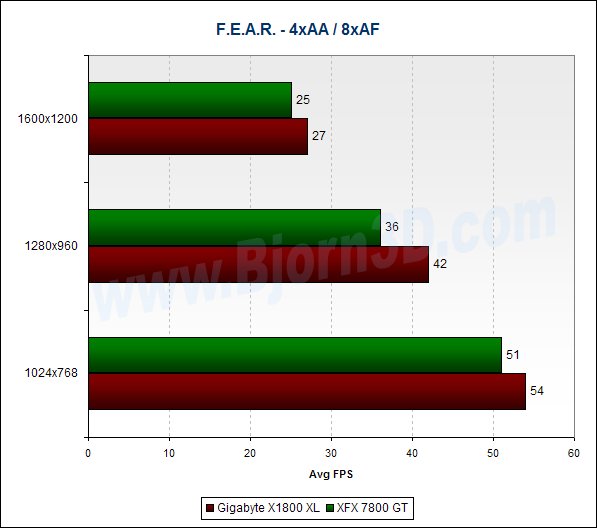 Looks like the 7800 GT is going to be flawless when you see the NoAA / NoAF scores (AA = antialiasing, AF = anisotropic filtering), but the X1800 XL redeems itself with solid victories at all resolutions with 4xAA / 8xAF. This is a very demanding game, so these scores are impressive.
Benchmark Results – X3: Reunion

---
To test X3: Reunion, I simply used the rolling demo that can be found at EGOSOFT's web site. The demo includes a benchmarking feature that is very similar to the X2: The Threat rolling demo that we used to use. Various game scenes are rendered and then an average FPS is reported. All options were set to high and "Glow" was enabled for all runs.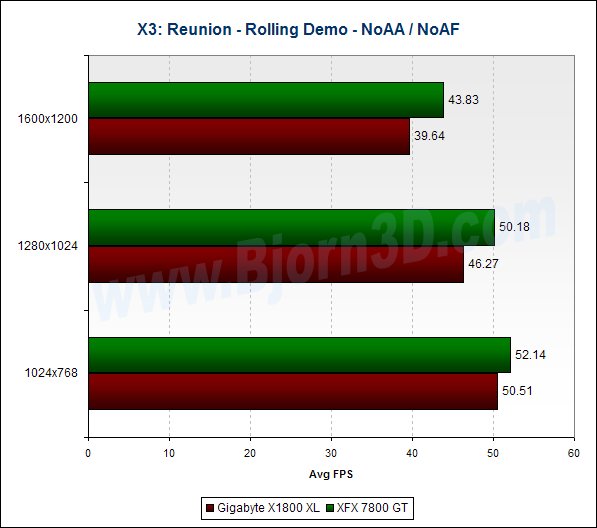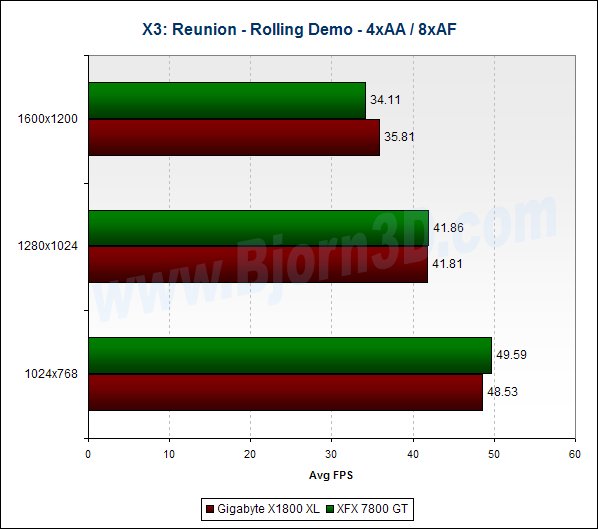 The X1800 XL and 7800 GT perform similarly in these tests, and the X1800 XL actually wins at the highest resolution with 4xAA / 8xAF.
Overclocking

---
The default core clock speed for the Gigabyte X1800 XL is 500MHz, and the default memory speed is 495MHz (990MHz effective). After some tweaking, I was able to overclock my Gigabyte X1800 XL sample to 575MHz for the core and 575MHz (1150MHz effective) for the memory. At these speeds, the card hit nearly 7700 3DMarks in 3DMark05, a 500 point improvement over the default clocks. Games benefitted quite nicely from the boosted clocks. The overclocked card upped performance by around 8-17% depending on the game at high resolutions with 4xAA / 8xAF.
As with all overclocking, each experience is different, and there are no guarantees. I have seen this card overclock only slightly (around 525MHz core), and I have seen others hit just over 600MHz core and 650MHz memory.
Conclusion

---
The Radeon X1800 XL is a very nice card, and Gigabyte's version of the card is adequate. The card's performance is similar to that of a 7800 GT. You can definitely crank up resolution and eye candy and still play at acceptable frame rates. Additionally, Gigabyte includes a nice bundle with its X1800 XL (GV-RX18L256V-B). The bundle really isn't special enough, though, to make up for an otherwise simple and average offering.
With so many board partners trying new things with their cards and offering overclocks out of the box, among other differentiating tactics, Gigabyte needs to try something else to get consumers' attention. Or, alternatively, lower the price of its offering. Currently, stores are selling the GV-RX18L256V-B for $400+, which is just too much when competing X1800 XLs can be found for around $320-350, and 7800 GTs can be had for around $300. If Gigabyte hasn't sold as many of these as it had anticipated, I would bet its because of the price.
For users who monitor noise in their systems, price might not be the only turn off. The stock cooler that Gigabyte uses on the X1800 XL can also get a bit noisy when the card is really stressed. The fan's speed is temperature-controlled and increases noticeably in speed and noise when under load. It's not all that noiceable in a noisy case (like my test system), but silencing fanatics will undoubtedly notice the card in their otherwise quiet systems.
If the price were lower and more competitive, I would not be reluctant to recommend this card. As is though, even if you really like Gigabyte cards and have had good luck with them, I suggest waiting for the card to drop in price or look elsewhere. There isn't anything special enough about the GV-RX18L256V-B to pay the high street price. Let's hope that Gigabyte recognizes this and lowers the price soon.
Pros:
+ Good performance
+ Decent bundle
+ VIVO capability
+ HDTV support
Cons:
– Price is too high when compared to competition
– Fan gets noticeable when card is really stressed
Final Score: 7 out of 10 (Good)