While my previous words echo respect for a company that is one of several that are Computer Enthusiast centered in their business focus, I have no preconceived or contrived notions about the product that I'll be reviewing today. Join me in exploring in depth the OCZ EL DDR PC-3200 2x1024MB Dual Channel Platinum XTC memory modules.
INTRODUCTION
---
As I alluded to in one of my recent memory reviews, the days for DDR SDRAM being the "King of the Hill" for computer enthusiasts are probably numbered. DDR2 SDRAM certainly appears to be looming large in the horizon. The changes have already been noticed in the Intel community with their current 975 chipsets. AMD's move to this standard with their AM2 socket based systems although still a couple of months away now seems to be a certainty. Will DDR2 SDRAM latencies ever approach those of the current DDR SDRAM? Hmmm, sounds like a good topic for a future article.
Does this mean that DDR SDRAM will die an untimely death? Not at all! There is a particular subset of the enthusiast community that generally always remains a generation behind. This is due in no small part to the cost savings available on the recently departed industry standard motherboards, CPUs, video cards, and memory modules. Cost savings alone is a major consideration but there is also the stability issue that plagues many new products being released for the first time to the masses. The last generation systems are generally tried and true by the time of their successors release. So while DDR SDRAM may not have the glory road it once had in the coming months it certainly will not be relegated to obscurity and obsolescence in the foreseeable future.
OCZ® Technology, Inc., a company that first appeared in 2000, is known as an "Industry Leader" in development and manufacture of memory products, power supplies, cooling enhancements and other like products. This is due in no small part to Ryan Petersen, President & Chief Executive Officer, the driving force behind OCZ, who has put together a team of forward thinking technology experts who consistently bring many excellent products to the Consumer Enthusiast Market. What really sets OCZ apart is their service after the sale. Their support staff are computer enthusiasts, just like us, whose primary focus is customer satisfaction. They have a well recognized reputation for going to great lengths to make their customers happy at almost any cost. I speak not of rumor, but of fact as I have seen their dedication to customer support first hand on their customer support site.
While my previous words echo respect for a company that is one of several that are Computer Enthusiast centered in their business focus, I have no preconceived or contrived notions about the product that I'll be reviewing today. Join me in exploring in depth the OCZ EL DDR PC-3200 2x1024MB Dual Channel Platinum XTC memory modules.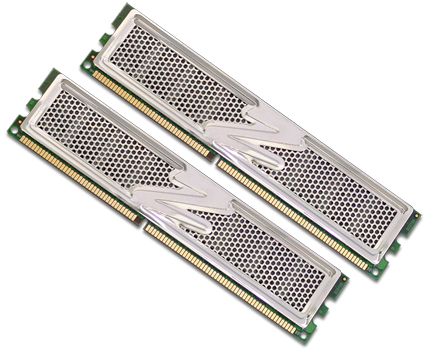 A CLOSER LOOK
---
I'm usually not one to get excited about the look of memory stick(s) as their functionality is my primary concern. Even with the view from today's computer enclosures (cases) that are highly windowed, memory modules are somewhat relegated to the background where they are not the central focus or always prominently visualized. These sticks are beautiful and should be showcased. Their golden color combined with a reputedly functional honey combed design of the heat spreader are mesh to really are nice eye-candy for the consumer. I can envision the various lighted, windowed systems of any Computer Enthusiast and the obvious lustre that will ensue.
Features
400MHz DDR CL 2-3-2-5 (CAS-TRCD-TRP-TRAS)
Available in a 2GB (2×1024) Dual Channel Optimized Kit
Also available in a 1GB module
Unbuffered
Mirrored Platinum XTC Heatspreader*
Lifetime Warranty
V1.x = 2.6 Volts
V2.x =2.8 Volts
184 Pin DIMM
* XTC (Xtreme Thermal Convection) heatspreaders optimize the thermal management of memory modules by promoting greater airflow by means of micro-convection throughout what is usually the dead air space inside conventional heatspreader designs. In this manner, build-up of heat is avoided and thermal dissipation of the memory components is offloaded more efficiently through the honeycomb design. At the same time, mechanical stability is maintained.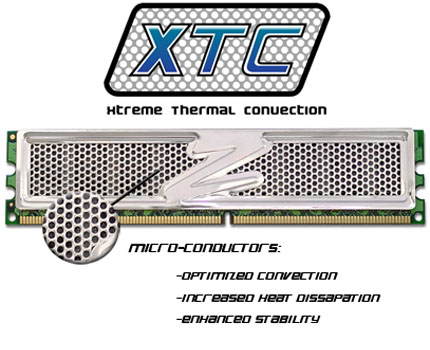 This image garnered from the product page on the OCZ website describes in more visual terms how the Xtreme Thermal Convection (XTC) heat spreaders are purported to work to better cool the ICs for better performance.
Special Features
Enhanced Latency Technology
ULN2**
3.0V EVP***
**OCZ EVP (Extended Voltage Protection) is a feature that allows performance enthusiasts to use a VDIMM of 3.0V ± 5% without invalidating their OCZ Lifetime Warranty.
***ULN2 stands for (U)ltra (L)ow (N)oise. This is a technology that uses various printed circuit board (PCB) techniques to reduce the amount of electrical noise that is present in all high-speed ICs. This results in faster and more stable memory.
Packaging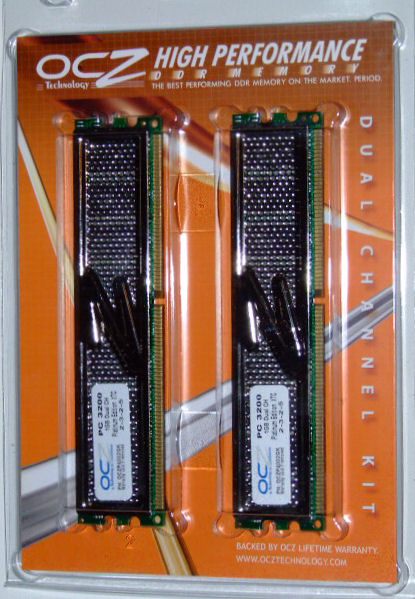 The lighting conditions on the day I took these shots were such that the color of the sticks came out slightly darker than their actual light gold color as seen in the first image in the Introduction. That being said, the sticks arrived in a secure, well packaged blister pack not unlike that used by most of today's memory manufacturers.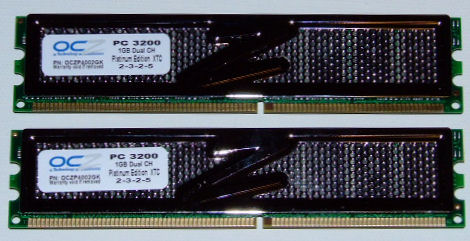 A couple of parting shots of the sticks removed from the package prior to commencing the testing phase of this review.
TESTING
---
The OCZ EL DDR PC-3200 2x1024MB Dual Channel Platinum XTC is rated at 2-3-2-5. OCZ states that they hand pick 100% of the ICs used in each kit to assure stringent quality and performance standards. I also know from previous experience that all DDR SDRAM modules are tested to function with both Intel and AMD systems. As is the case with many memory products, some sticks tend to perform better with one system over the other.
My current test system has some limitations and forces me to use a recently acquired 3.2 GHz Northwood that will do 3.85 GHz on air as it is the best overclocking CPU that I currently own. I plan to use this CPU coupled with the rest of the test system captioned below. I am in hopes of soon being able to soon build both a "next generation" AMD and Intel Review system but that will present a more up to date picture of the technology I review.
Test System
Motherboard:    Asus P4C800-E Deluxe, Rev. 2
Processor:   Intel 3.2 GHz Northwood
Power Supply:   Silverstone SST ST-56F 560 watt (review)
HSF:  ZALMAN CNPS7000B-AlCU
Video Card:   ATI X800XL run at default speed throughout testing
Optical Drive:   Plextor PX-712A
Hard Drives:   Seagate Barracuda 7200.7 120 GB SATA drive
Memory:   2 GB (2- 1,024 MB sticks) OCZ EL DDR PC-3200 Dual Channel Platinum XTC
Fan Controller:   Sunbeam 4 channel rheobus 17 watts per channel
Case:  Antec SLK3000-B
Case Fans:   Rear: Antec™ Triflo® 120mm; Front: Antec™ Triflo® 120mm;
Test Methodology
Unlike the AMD 64 X2 processors, the Northwood chip has a multiplier that is locked at 16. For that reason, we'll have to resort to overclocking the system the old fashioned way — raising the FSB. We'll begin at 200MHz or DDR 400 and move upward in 10 MHz increments until we reach the 3.85 GHz mark the Northwood is capable of or until the memory gives out, whichever comes first.
We'll use the following benchmarks to test the progression:
Synthetic Benchmarks
SiSoft Sandra 2005 – Memory Benchmarks
Everest Home – Final Free Edition
Super Pi 1 M Calculation – Mod 1.5XS
Gaming Benchmarks
Far Cry Benchmark – 1600×1200 No AA
3D Mark 2001SE – 1600×1200 No AA
Synthetic Benchmarks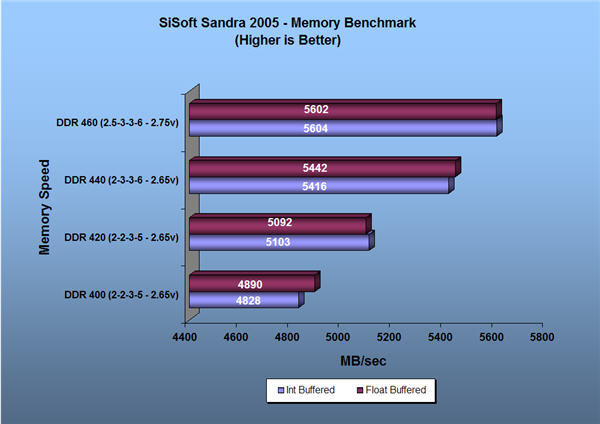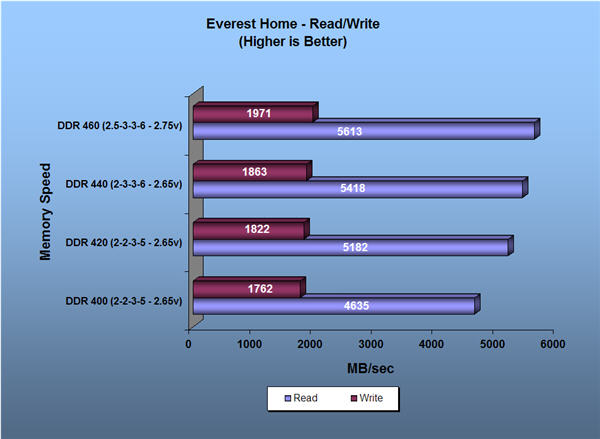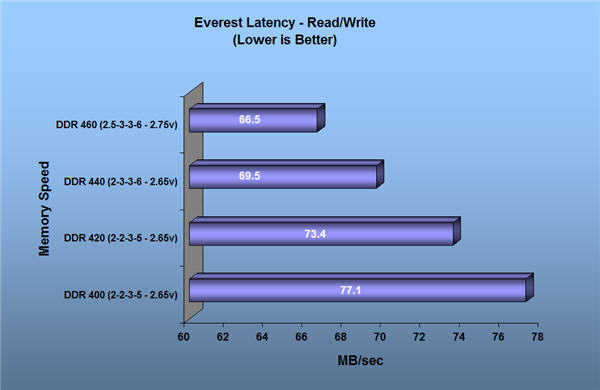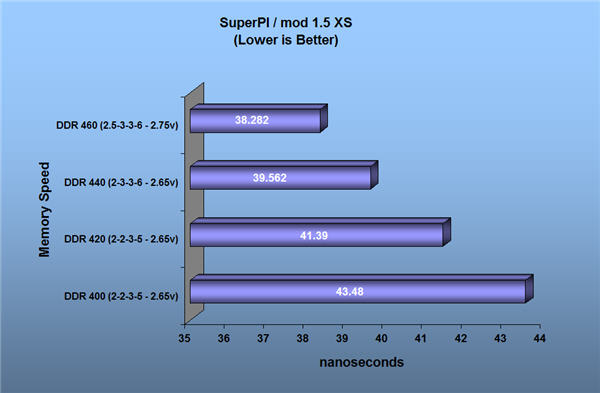 TESTING cont.
---
Gaming Performance Benchmarks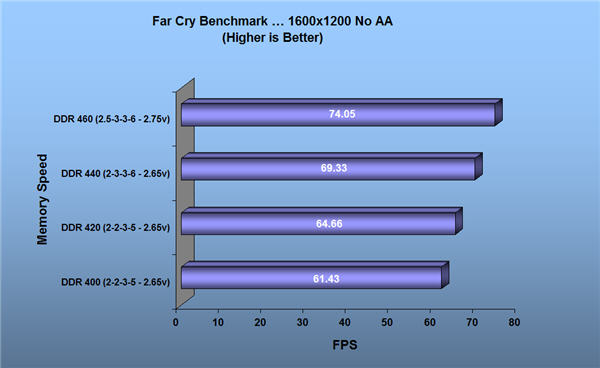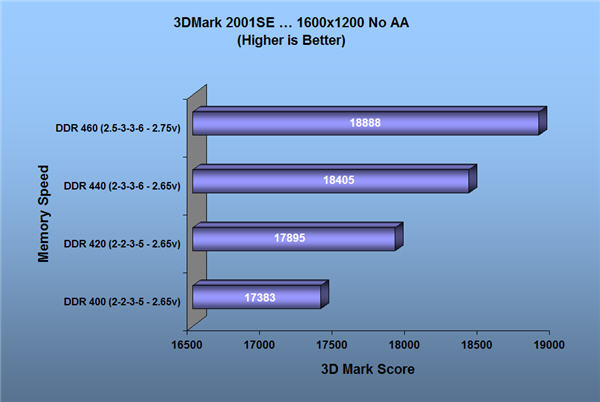 Impression
Prior to giving my thoughts, I must remind myself that the OCZ EL DDR PC-3200 Dual Channel Platinum XTC is just PC-3200. From that perspective alone I must say, WOW, it ROCKS! I say this because this memory performed equally as well and or in some cases better than the best PC-3500 memory I have tested using the same review criteria.
This product moved through all the tests I threw at it completely effortlessly up through pushing it to DDR 460. The only change necessary to the memory configuration was to advance the TRAS from 5 to 6 at the DDR 440 mark. The CAS had to be advanced to 2.5 at the DDR 460 mark along with a VDimm increase to 2.75v. I also followed the OCZ recommendation for this motherboard of setting the Memory Burst Length to 8 for all tests. I was able to boot the system with some degree of stability as high as DDR 470, but the benchmarks began to readily drop at this level of performance. Again this is PC-3200 DDR SDRAM!
I believe this memory was capable of even better performance than the current tests exhibited. This was due in no small part to limitations of my review system disallowing me to advance the CAS to 4.
CONCLUSION
---
No memory modules are perfect. If they were, I would not be writing this review. OCZ is no exception, yet for PC-3200, the EL DDR PC-3200 Dual Channel Platinum XTC sticks come as close to perfection as anything I have yet to date found given the test system I have to work with.
As with all products I review, I research price to make sure that it is both reasonable and fits the current market conditions. A quick search of Price Grabber showed prices to range from a low of $191.99 USD (after a $50 rebate) to a high of around $230.00 USD (with no rebate). I find these to be completely inline with today's market conditions and feel that shortly they will drop even more as DDR2 marches more into the mainstream.
The only real negative that I could find with this product is that in the not to distant future it will no longer be considered mainstream by the front line of Computer Enthusiasts who are amongst my readers here at Bjorn3D. A small contingency would probably already express these thoughts, but these are the truly bleeding edge patrons of the game.
I can recommend the OCZ EL DDR PC-3200 Dual Channel Platinum XTC without reservation for anyone looking for high quality PC-3200 DDR SDRAM for almost any system in which this memory is an option. I cannot speak for AMD as I have not directly tested this memory in an AMD system although I have noticed quite a few members of various forums using it with apparent success.
Pros:
+  Stylish golden honeycombed mesh heat spreaders
+  Extremely low latencies
+  Overclocks as well or better than other manufacturer's tested PC-3500 memory
+  Improved VDimm capability with Rev. 2
+  100% Hand Tested in pairs
+  Life Time Warranty
+  Service after the sale
+  The price is right
Cons:
–  Reduced longevity for front line Computer Enthusiasts
Final Score:   9.5 (Extremely Good) out of 10 and the Bjorn3D Golden Bear Award.