With the Zen Vision:M Creative is aiming directly at the latest video playing iPOD and this time they have created a MP3-player that doesn't have to be ashamed for its looks when compared to the iPOD. Could this be the MP3-player that finally will break the iPOD-dominance in the MP3-player market?
INTRODUCTION
Sometimes life isn't fair. Several companies including iRiver, iAudio and Creative have been selling great MP3-players for quite some time but when Apple goes and releases the iPOD everyone suddenly goes ga-ga and acts like Apple invented the MP3-player.
Since the launch of the iPOD in its various incarnations life have been tough on other companies and their MP3-players. Regardless how great their MP3-players are they always will be overshadowed by the iPOD's.
Creative have been working hard to get out of the shadow and created some fine products. My last MP3-player was a Creative Zen Micro, which I was satisfied with. It might not have looked as snazy as the iPOD Mini but the sound quality was brilliant and it had FM-radio, a feature I like.
With the Zen Vision:M creative is aiming directly at their latest video playing iPOD and this time they have created a MP3-player that doesn't have to be ashamed for its looks when compared to the iPOD. Could this be the MP3-player that finally will break the iPOD-dominance in the MP3-player market?
SPECIFICATIONS AND FEATURES
The Creative Zen Vision:M is a very feature-rich MP3-player.
Feature

Description

Capacity:
30GB hard drive
Size:
104 x 62 x 18.6mm
Weight:
163g
LCD:
2.5″ LCD @ 320 x 240 Color Display
262,144 colours
Songs:
15,000 WMAs/ 1,000hrs (at 64kbps)
7,500 MP3/ 500hrs (at 128kbps)
Video:
120 hrs (MPEG4 videos) 1
Photos:
Tens of thousands of Photos
Audio Battery Life:
Up to 14 hrs playtime (MP3, 128kbps, 4mins/ song)
Up to 8 hrs playtime (WMA, 64kbps, 4mins/ song)
Up to 14 hrs FM playtime
Video Battery Life:
Up to 4 hrs video playtime
Supported Audio formats:
MP3, WMA (inc MS PD DRM), WAV
Support Video formats:
DivX™ 4 & 55, XviD5, MPEG-1, MPEG-2, MPEG4-SP, WMV9, Motion-JPEG
Supported Photo formats:
JPEG, BMP6, GIF6, TIFF6
Signal-to-Noise Ratio:
up to 97dB
FM & FM recording:
32 preset stations
EQ settings:
8 presets & custom 5 band EQ setting
USB:
2.0
Organiser:
Calendar, Contact, Task list
Power Charging:
Charges via Power Adapter (2.5hrs only) or PC thru USB (6hrs)
TV Out:
Yes
Photo with Music:
Yes
Voice Recording:
Yes
Removable Disk Storage:
Yes
Album Art:
Slideshow, Thumbnail, Zoom, Pan
Connectivity:
Docking connector (USB2.0 with Sync Adapter)
Stereo headphone out with Wired Remote Support
Composite AV Out (NTSC and PAL)
Built-in Microphone
120 hours of movies1
Big screen blockbusters, yesterday's picnic with your best friends, and even your favorite TV shows4. They now fit in your pocket and are perfect for sharing. ZEN Vision:M supports many video formats, such as DivX™ 4 & 55, XviD5, MPEG-1, MPEG-2, MPEG4-SP, WMV9 and Motion-JPEG, which simply means more choice and less restrictions on the types of video formats you can use.

Tens of thousands of photos
View precious memories – tens of thousands of them – in 262,144 vivid colors at 320 x 240 resolution. Featuring a True Resolution image display, you can now view any photo you import without loss in quality or having to resize it. Take a closer look at your photos with the Zoom function, or scroll through your entire photo collection easily with the touchpad.

An amazing 15,000 songs2
Perfect for taking with you on the road or around the house. Your music will sound as good as it looks, thanks to Creative's world-renowned audio clarity, custom equalizer and 8 preset EQ settings.

Movie and Photo Slideshows
Connect the ZEN Vision:M to a projector or TV, and delight friends with big screen movie magic.

2.5″ high-definition LCD screen
Watch movies and photos in their full glory on the large 2.5″ LCD screen, even under bright lighting. Displaying up to 262,144 vibrant colors, get crisp, clear detail in every image in high-definition 320 x 240 resolution.

Vertical Touch Pad
Ergonomically designed, the innovative touch pad control enables quick, comfortable access to menus and settings.

Rechargeable Li-Ion battery
Enjoy up to 14 hours of music3, or 4 hours of movies with the rechargeable Li-Ion battery. Perfect for watching an entire movie non-stop anywhere you are.

FM radio & recorder
If 15,000 songs aren't enough, listen to more with the integrated FM radio. 32 station presets let you switch stations whenever you want.

Personal Organizer
Store and view all the information that's important to you – daily tasks, contact lists and even a calendar. ZEN Vision:M syncs easily with Microsoft Outlook, and lets you edit your information with Creative Media Explorer.

Voice recorder
Meetings, lectures, even voice memos to yourself – record them all with the integrated voice recorder, which stores hundreds of hours worth of recordings.

Full access to online music stores
Select from more than a million songs from a myriad of online music stores – Napster To Go, Yahoo! Music Unlimited, Rhapsody To Go, and so much more. With PlaysForSure support, you will always be able to play any digital music you purchase.

Fits your life perfectly
Select from an extensive line of accessories that make ZEN Vision:M the perfect companion. Pamper and protect your player with the chic leather case and LCD screen protector. Or choose from the wired remote, docking station, and car adaptor kit designed to make life easier.

1 Based on 500Kbps MPEG4-SP format.
2 Based on 4 minutes per song at 64kbps WMA.
3 Audio at 128kbps MP3, in locked mode.
4 For converting TV programs recorded using Microsoft® Windows® XP Media Center Edition, it is recommended that you have Cyberlink PowerDVD™ or Intervideo® WinDVD® version 6 and above installed in your computer.
5 DivX and XviD encoded files are playable if they are encoded as standard MPEG-4 Simple (SP) or Advanced Simple Profile (ASP) without GMC support. This product is not certified by DivX Inc. May not play all DivX 4 and 5 files.
As you see it supports a lot more formats than the iPOD making it less necessary to convert stuff before using it on the player.
THE PLAYER
My first impression of the player was very favourable. It's a really good-looking MP3-player. I bought the black one but it is available in 5 colours, black, white, green, pink and blue. The only downside with choosing black is that fingerprints are pretty visible on it. This is something I've also seen with the Sony PSP.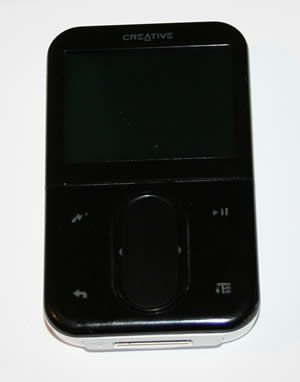 With its 18.6 mm thickness the Vision:M is thicker than an iPOD Video. In my experience this is something you mostly will notice when you have them side by side. Otherwise the Vision:M still feels pretty thin or at least not too thick. It is quite heavy with its 163g but that only makes it lie even better in the hand. I prefer to have some weight compared to have it completely light-weight.
On the top of the player you'll find the head-phone connector as well as the on/off/lock slider.
The sides are completely empty except for the small hole for the mic on the right side of the player.
In the bottom you'll find the reset-hole as well as a dongle where you hook up the Vision:M to a adapter that adds video Out, USB in/out + charging as well as normal charging. This actually means you have to bring another piece of equipment with you if you plan on hooking it up to a computer or just charging it. I'm pretty sure I will misplace it some day and I hope it will be possible to get a new one easy from Creative when I do.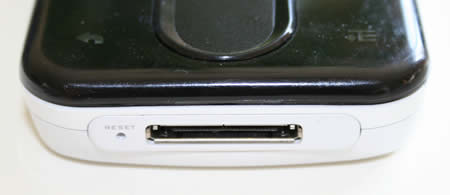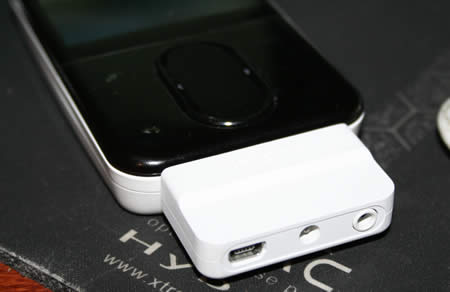 The top half of the front is taken up by the excellent 2.5″ LCD that can uses the resolution 320 x 240 and can display 262,144 colours. Since I've had the player in my pocket without any protection for a few months now is has a lot of small scratches and I definitely recommend looking at some screen protection. I also have noticed some dust-specks under the glass after a few months use. These weren't there before so it's safe to say you should be a bit careful when using this.
The bottom half is taken up by the navigation. As expected you'll notices similarities with the iPOD and Creative's other players.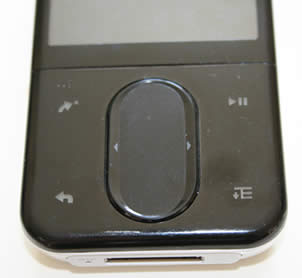 In the middle is a vertical touch pad that allows you to scroll as well as select (by tapping on it). Situated around it in each of the 4 corners of the bottom half is 4 buttons that are actually part of the casing. The first button is a shortcut button which can be customised, next button is play/pause, the third button is "back" and the final button brings out a context menu.
On the left and right edges of the vertical touch pad is actually two more buttons that I first didn't noticed. The allow you to move forward and backwards in music, movies and so on.
The headphones included are ok but as with most MP3-players these days I suggest getting better ones. I've used both KOSS Porta Pro's and Sure e2c headphones with the Vision:M.
Unfortunately you cannot just connect the Vision:M to the computer and drag and drop stuff over. The player isn't UMS compliant (although you can dedicate an area for UMS-storage). This means you have to install drivers to get it to work as a music-player. The drivers are only available for Windows XP excluding Mac users, Linux users and users of earlier MS OS's.
USING THE VISION:M – THE INTERFACE
I'm sure most of you are aware about the patent-battle between Creative and Apple where I think the current standing is that Creative won the battle. I'm not sure what the results will be (and the iPODs still use a similar interface) though.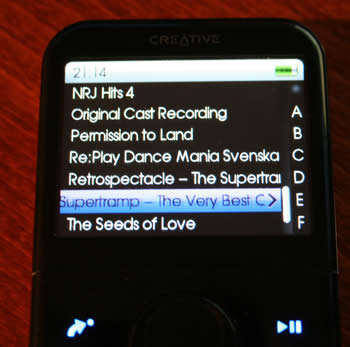 The interface on the Vision:M is very easy to use. You navigate around the hierarchical
menu using the touch pad and the buttons. The touch pad works well, in fact while I had some issues with the Zen Micro it only took me less than a day to get the grips with this touch pad. You can of course also change the sensitivity of it.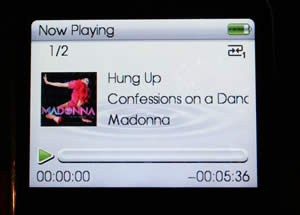 Moving down in the hierarchy is done by either clicking the touch pad or moving the finger to the right on the touch pad. Selecting something is done by clicking the touch pad. Sometimes I felt it was a bit confusing to figure out if you had to click or could move the finger to select/move. Overall the interface is easy to figure out though.
You can use your own image as the background and also apply some filters to it to make text more readable.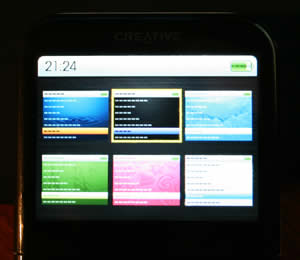 Included is also a bunch of nice colour-templates that works really well.
USING THE VISION:M – MUSIC
The Zen Vision:M supports MP3, WMA (including DRM) and WAV. It would have been nice to see OGG and FLAC-support to but I guess you can't get everything.
After you transferred your music to the player (we will cover that in the software section) you can access it in many ways. You can sort music on artists, albums, genres and titles. As expected you'll see album image as well as ID3-info is it is included in the file. The music can be viewed either as a simple list or with the album-images.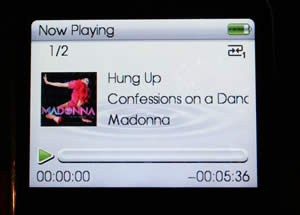 In addition to the above sorting you can also use the DJ-mode where you can play the album of the day, every track shuffled, the most played tracks or the least played tracks.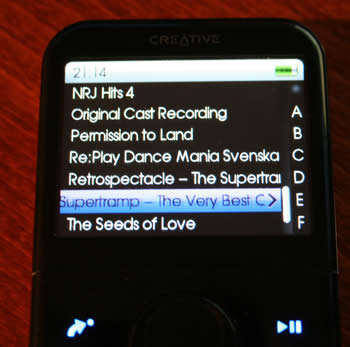 Of course you can select how you want music to be played (A to B, shuffled, over and over again etc.).
If you have a lot of music on your Vision:M (and with 30 GB available you can put quite a lot there) you pretty easily can search for a specific album, artist or track. Unfortunately you cannot search everything at the same time so you'll have to go to each sorting option and then search. I would have preferred if you could search for a word and then get a list of all albums, artists and tracks that fit the search term.
One cool feature (depending on if you feel like buying your music online) is that if you got a track you like you can choose the "buy this" option in the context menu. Next time you sync the Vision:M in WMP10 it will give you the option to buy the album.
Playlists of course exist. You can use the software to create playlists or do them on the player directly. Unfortunately Creative has made it hard to do this. Instead of just simply choose "Add to playlist" from the context-menu you have to first clear the "Now playing" list, open each tune you want in the list, choose "Add to selected" in the context menu and then go to "No playing" and choose to save the playlist. Luckily it's much easier to do this on the computer.
If you use audio-books or just love a special place in a song the bookmark feature is cool. It bookmarks the exact spot in the audio-file for later retrieval.
The audio quality is excellent. With the proper headphones it sounds really good from the start even before messing with the EQ. The Vision:M has 7 EQ-presets (Classical, Disco, Jazz, New Age, Pop, Rock, Vocal) as well as a customised setting where you can set up your own. I actually would have liked to see the ability to choose a separate EQ-setting for each album or tracks but the next best thing is to hook up the Audio-settings page on your shortcut-button. This allows you to quickly change EQ with just 2 button presses.
There's also a feature called smart volume, which makes sure that all music is played at the same volume. When you like me got tracks that vary quite a lot in the volume this is a nice feature.
USING THE VISION:M – VIDEO AND IMAGES
The Zen Vision:M really shines when it comes to video. Forget having to recode anything you put on the player, as you have to do for the Sony PSP or the iPOD. The Vision:M swallows a lot of formats right away including WMV9, MPEG1/2/4, DivX4/5 and Xvid. True, you loose the smaller filesize when you keep the files in their native format but with 30 GB you can allow you that luxury. I currently have 20 episodes of Stargate SG1 that I ripped from DVD for my US trip as well as 6 CSI-episodes (also ripped) in DivX format on my Vision:M and I still got almost 15 GB left for other stuff.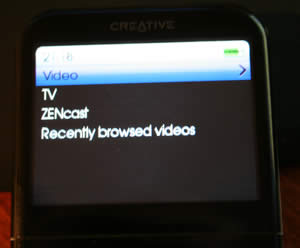 I'm sure there still are some videos it won't show but I (purely for testing purposes) downloaded a few various episodes and movies and from the net and so far it played everything I threw at it. It doesn't support DivX 3 though so older material can be problematic to play. It also only supports the Simple and Advanced Simple profiles for DivX4/5.
The image quality is excellent with rich colours. While the screen is only 2.5" it still (or maybe just because it is small) manages to produce a very clear and detailed picture. The view angle however is pretty important and if you watch it at a too big angle the colours fade quite a lot.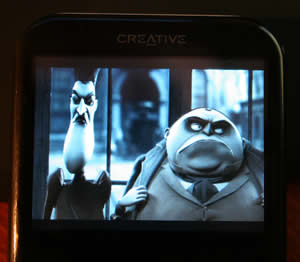 I've used this player for video for a few months now and it really works well for watching the TV-shows you recorded (or any other material you want to see) while on the move.
The ability to play recordings without re-encoding is a big plus for me. With the optional A/V-cable you also can output the video to TV and this is actually done at 640×480 which means it is even better than the iPOD which does it at 320×240 resolution.
As you might expect watching pictures on the screen works very well. Images can be placed in folders as well as added to slideshows. Images can be zoomed and rotated and EXIM info can be viewed. Browsing photos can feel a bit sluggish though since it takes a second to load each thumbnail.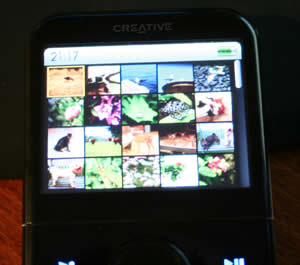 While you can show photos in a folder as a slideshow you cannot create your own slideshows on the Vision:M. This has to be done on the computer instead.
If just the Vision:M could act as a USB-host this would be the perfect player to bring when you are out photoing and want to empty your memory-card. Maybe in the Vision:M2?
USING THE VISION:M – ZENCASTS
When I installed the latest firmware for the Vision:M I found a new alternative under the Video-menu: ZenCasts. At www.zencast.com you can find out everything about this.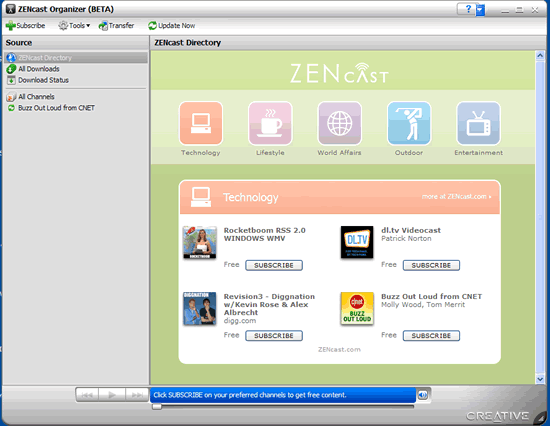 Apparently Creative wants to hook on the PodCast trend and are offering a program that syncs PodCasts, both audio and video, to the Zen Vision:M. At www.zencast.com they've collected a lot of PodCasts but you can of course also add any PodCast using the ZenCast Organizer.
I've been using it for getting Buzz Out Loud from CNet lately and it works really well.
USING THE VISION:M – THE OTHER STUFF

In addition to the expected features the Vision:M also has some other minor features.
FM-Radio
You get a FM-radio in the player with support for up to 32 preset stations. You also can record from radio. The reception and quality depends on where you are and I had some problems picking up the stations with the weakest signal. Overall it worked ok.
Organizers
You can sync your calendar, contacts and to-do list from Outlook and Outlook Express (no calendar) to the Vision:M. You however cannot make any changes or additions in the Vision:M so it is read-only.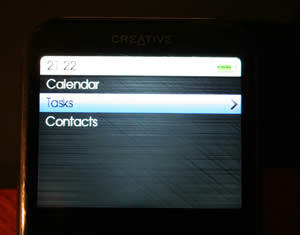 Storage
You can use the Vision:M as a mobile storage. Before you can do that you must however set aside an area on the disk for this. This area will then be formatted and be accessible through drag'ndrop in the explorer.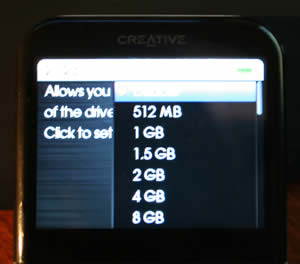 Content Protection
Got some sensitive stuff on the Vision:M (we won't ask what)? Then just protect and no-one can access it without the password.
Battery time
I found that the Vision:M got around 12-13 hours of use when playing audio and around 3 to 3.5 hours use with video when I used it. It depends a bit on what you re listening to/watching and the settings.
Since it is a built-in battery you need to charge it and cannot just swap it with a new charged one (as I do on the PSP where I always have an extra charged battery ready). Using the USB it takes about 6 hours to charge while only taking about 2.5 hours when using the mains.
SOFTWARE
With the player you get Creative MediaSource and Creative MediaExplorer.
Creative MediaSource is the jukebox app that lets you rip, burn and organise your music-collection. It's better then earlier versions but I still find it quite confusing and downright strange from time to time. I rather use either the MediaExplorer or WMP10 when transfering music to the Vision:M. In fact, for some of the more advanced features like smart playlists and content rating you should use WMP10 anyway.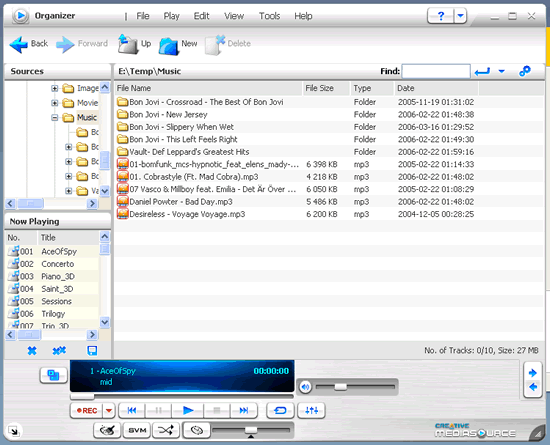 Creative MediaExplorer is a much more useful program.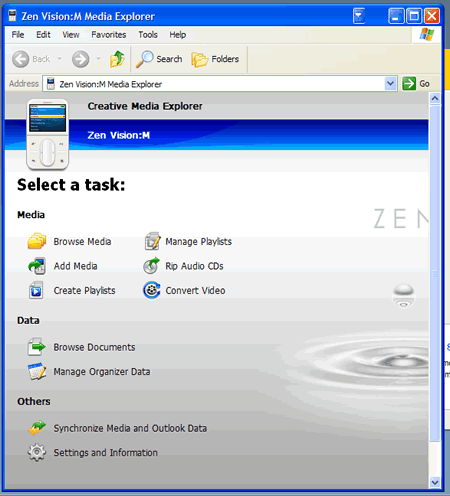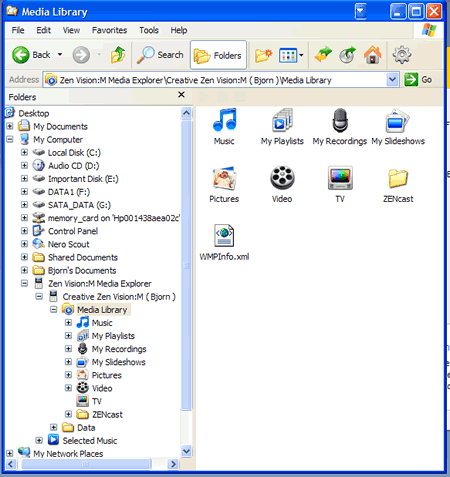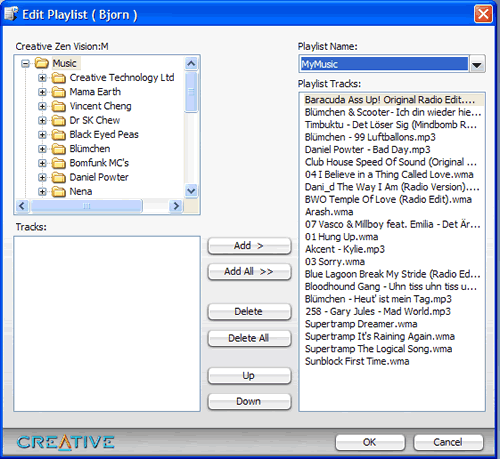 It is used to transfer all sorts of data to the Vision:M. It also can convert video and audio that isn't compatible with the Vision:M. It's simple but it works.
CONCLUSION
So is this an iPOD-killer? Well, in some ways yes but in others no. First of all it does only work in Windows XP which means it won't interest users of other OS'es. It also does not have the same amount of peripheral created for it. On a visit recently in the US I was amazed how much stuff there is now for iPOD's. And they even are building in iPOD-docks in cards, beds (!) and receivers. Last but not least Apple has a great store for the iPOD with music and video (although us non-US citizens still have to wait for video). The Vision:M can still use material from other stores but there still is a lack of good alternatives to iTunes.
The Zen Vision:M however has a lot of things going for it. It plays lots of audio- and video formats without any need for conversion. The sound quality and video quality is excellent. It also works great as an image-viewer.
To me personally it simply provides me with a better package than the iPOD does. Will it outsell the iPOD? Not likely. But that really doesn't matter. It still is an excellent MP3-player that deserves success.
Pros

+ Good looking
+ Great audio quality
+ Great image quality
+ Great video quality
+ Plays a lot of video formats without the need for re-coding
+ Outputs 640×480 video using the optional AV-cable
+ Works great with WMP10 and has the Play4Sure logo
Cons

– Only usable on Windows XP
– Needs drivers before you can transfer music and video
– No support for OGG, FLAC or AAC
– Scratches easy
For its outstanding performance I award the Creative Zen Vision:M a score of 9 out of 10 and a Golden Bear Award!