This year alone the computer industry has made huge leaps in power supply technology. Single rail power supplies were dominantly standard heading into 2006. Now just one year later, we have seen a very sudden shift making dual-rail power supplies the most common configuration. As power supply technology continuously evolves, a three-rail power supply may not make headlines against the bleeding edge five-rail power supply we unveiled here last week. However, Antec helps drive power supply evolution forward and brings to us the Trio series with three independent power rails to enhance power stability under load; all at a bargain price that won't bleed the wallet.
INTRODUCTION
The power supply unit is the single most important part of any computer. Regardless of the system there is a given rule: whether it be a simple workstation with integrated components or an advanced gaming system with every fresh technology available, everything requires power to operate. As anyone who has suffered the failure of a low-end power supply will tell you: not all power supply units (PSU's) are created equal. While every journalist has their own system for reviewing a power supply, my review will take a very detailed look at the Antec TruePower Trio 650W PSU at every angle and submit the unit to battery of torture tests in order to ensure it will provide any computer system with stable power.
This year alone the computer industry has made huge leaps in power supply technology. Single rail power supplies were dominantly standard heading into 2006. Now just one year later, we have seen a very sudden shift making dual-rail power supplies the most common configuration. As power supply technology continuously evolves, a three-rail power supply may not make headlines against the bleeding edge five-rail power supply we unveiled here last week. However, Antec helps drive power supply evolution forward and brings to us the Trio series with three independent power rails to enhance power stability under load; all at a bargain price that won't bleed the wallet.
The new generation of power supplies has arrived with Antec's TruePower Trio series. The three +12V rails allow you to distribute your power more evenly, which will result in a more stable system. Available in three models: 430 Watt, 550 Watt and a 650 Watt that gives you serious power for even the most cutting edge components. TruePower Trio perfectly handles dual processors, dual graphics cards, and just about anything else you can throw at it.
Quite the claim that Antec makes of its TruePower series of power supplies; and I will prove once again if this is just more marketing hype to draw you in, or if it is in fact bragging rights for a product that I can personally recommend buying. One thing is certain even before the testing begins: at a street price of $106.89 at the time of this writing, the Antec TruePower Trio 650W PSU already offers the latest triple-rail technology for less then the cost of nearly all of the other 650W power supplies on the market.
Antec: The Company's Overview
Antec began in 1986, long before the tech boom of the late 1990's, in Fremont, California. Now operating offices in the United States and Europe, Antec offers products to 25 countries worldwide. Presently, Antec maintains a popular range of products in: computer cases, power supplies, cooling fans, lighting components, and accessories. Antec is the original High Performance Upgrade company, which created the PC upgrade replacement category at retail. Their enclosures and power supplies have been the #1 seller by far in North American distribution and retail channels for five years running.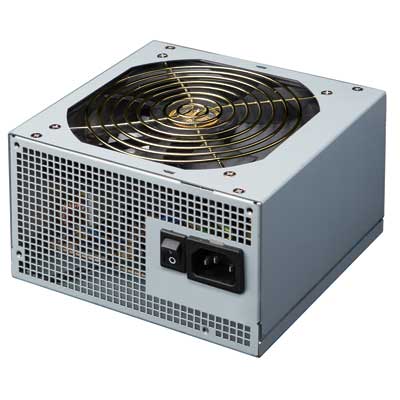 Antec TP3-650 Power Supply Unit
FEATURES & SPECIFICATIONS
Features
Universal Input, automatically adjusts for 100V to 240V power grids
Active Power Factor Correction (PFC) for environmentally friendlier power
Three 12V output circuits provide added system stability
Accurate power rating allows TruePower Trio to deliver its full rated power, 24 hours a day rated at 50ºC
120mm low noise cooling fan
Fan Only power connectors allow TruePower Trio to control case fan speeds, reducing total system noise
Dedicated outputs for stable output and less ripple noise
Feedback loop circuits for tighter load regulation (±3%) to maintain accurate voltage to all components
Heavy duty protection circuitry prevents damage resulting from short circuits (SCP), power overloads (OPP), over voltages (OVP), and under voltages (UVP)
4 SATA connectors for Serial ATA drives
Two PCI-E connectors for PCI-Express video cards on 550W and 650W models, one connector on 430W model
MTBF: 80,000 hours at 50°C
Safety approvals: UL, CUL, FCC, TÜV, CE, C-tick, CCC, CB
Power Factor value up to 99%
Gold plated connectors for superior conductivity
Specifications
Model: TP3 650
FEATURES

Maximum Power

650 Watts

Switches

ATX Logic on-off
additional power rocker switch

Special Connectors

ATX12V
3-pin Fan Sensor
Fan Only
SATA

Transient Response

+5V,+12V and 3.3V outputs return to within 3% in less than 1ms for 20% load change.

P. G. Signal

100-500ms

Over Voltage Protection
recycle AC to reset

+5V trip point < +6.5V
+3.3V trip point < +4.1V
+12V trip point < +14.4V

Leakage Current

< 3.5mA @ 115VAC
DIMENSIONS

Unit Size

5.9″ (W) x 3.4″ (H) x 5.5″ (D)
14.9cm (W) x 8.5cm (H) x 14cm (D)

Net Weight

5lbs.; 2.3kg
INPUT

Input Voltage

115 VAC / 230VAC

Input Frequency Range

47Hz to 63Hz

Input Surge Current

< 60A @ 115VAC

Input Current

10.0A for 115VAC
5 .0A for 230VAC

Hold-up Time

> 12ms at Full Load

Efficiency

up to 85%

EMI/RFI

FCC Class B
CISPR22 Class
OUTPUT

 

+3.3V

+5V

+12V1

+12V2

+12V3

+5V SB

-12V

Max. Load

24A*

30A*

19A*

19A

19A

3.0A

0.8A

Min. Load

0.5A

0.5A

1A

1A

1A

0A

0A

Load Reg.

±3%

±3%

±3%

±3%

±3%

±3%

±4%

Ripple V(p-p)

50mV

50mV

120mV

120mV

129mV

50mV

120mV

* +12V1, 12V2,12V3 maximum output 624 Watts max.
ENVIRONMENTAL

Operating Temp.

0 to 50° C

Operating Alt.

Sea Level 10,000 ft.

Non-Operating Vibration

Operating: 10-300 Hz, 0.5G, 3 axes, 1 hr. ea. axis
Non-operating: 10-300 Hz, 2.0G, 3 axes, 1 hr. ea. axis

MTBF

80,000 hrs. @ 50° C

Approvals

UL, CUL, FCC Class B, CB, TÜV
A CLOSER LOOK
Packaging
Packaging may very well influence a purchase, or possibly even draw your eye to the product initially. Of course, a special value should be placed on protective packaging beyond the average, and the TP3-650 is no exception. The cardboard package which Antec uses is ideal for retail shelves and warehouses, but it is not suitable for standalone shipping and should be packaged with protective surroundings for shipping. However, if you are like most people including myself, the packaging is quickly discarded once you have the unit installed and it has survived initial break-in and testing. I will not include package views from every angle, as I feel it unnecessary and that most of you would skip past them anyway.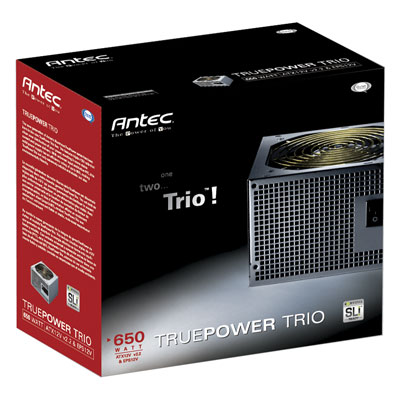 The Package
Included Components
(1) TP3-650 Power supply with 24-pin main connector with detachable 4-pin section, a 12V 4-pin connector for single CPU systems, and a 12V 8-pin connector for multi-CPU systems
(1) User Manual in seven languages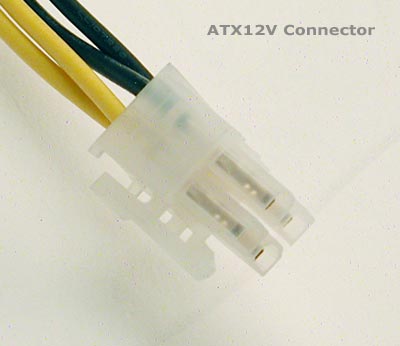 The native cable group includes:
(6) 4-Pin Molex peripheral connectors
(4) 15-Pin SATA connectors
(2) 6-Pin PCI Express connectors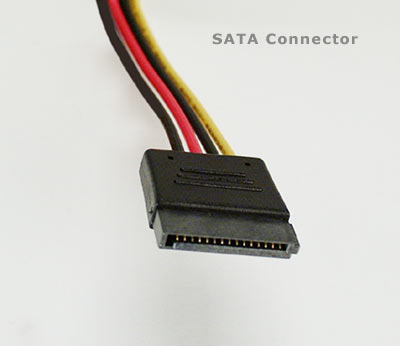 As evidenced in the contents for the TruePower Trio, the floppy connector is a soon to be extinct feature in the power supply industry.  There has been a slow trend to remove this connector completely, but I suspect it will be at least another year before we have seen the last of it.
In addition to the standard set of connectors, Antec includes two other specialized connectors:
(2) 4-Pin Molex "Fan Only" connectors (for up to two fans supported)
(1) 3-Pin fan speed sensor connector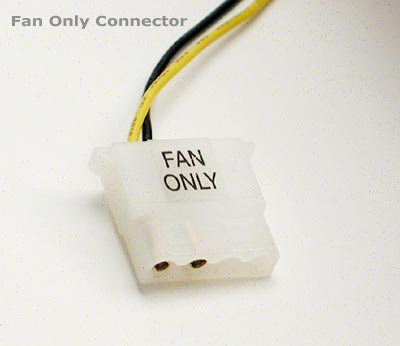 The "Fan Only" power connectors allow the Antec TruePower Trio to control case fan speeds for up to two fans, thereby reducing total system noise as temperature is monitored.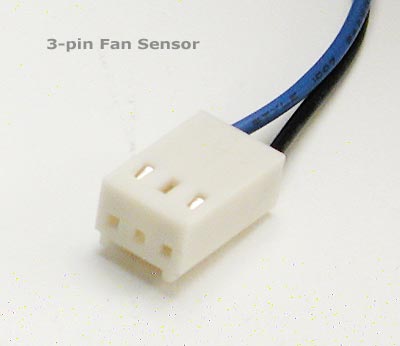 It certainly appears that Antec has not exactly concentrated on presentation with this series of power supply units. The connectors come in three colors: white, clear, and black.  In addition, the length of each wire is nearly 19″ from power supply to connector.  It may seem unreasonable, but when unused cables are that long it would be beneficial to cover the connectors with protective rubber caps to avoid accidental contact with components which could result in a fire or electrical shock.  This safety feature is not included with the Antec TruePower Trio series of power supply units, but it is recommended.
Internal Components
The internal view of the Antec TruePower Trio looks exactly like most other power supply units you might be used to seeing. The voltage regulator heatsinks are standard design sheared large-gauge aluminum. Despite the lack of more effective heatsinks, the internal temperatures for the TP3-650 remained very low thanks to the efficient design. Rather then use two separate 200V main power capacitors, Antec elected to use one 400V capacitor rated at 470uf.  Overall, I did notice that Antec used fewer components in the design of this TruePower Trio 650W power supply unit then what is commonly used in other comparable power supplies. This simplified design will most likely yield fewer failures, however once you open the case to the Antec power supply your warranty becomes void.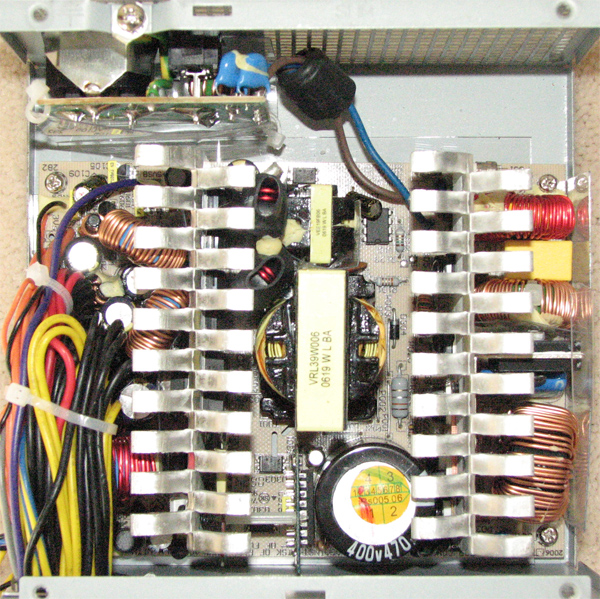 Antec TP3-650 Internal View
Cooling Fan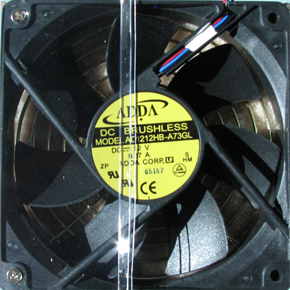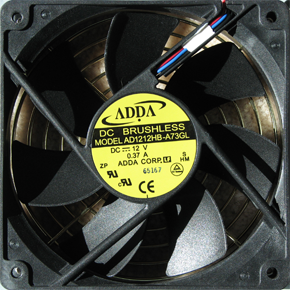 120mm Cooling Fan Unit – with and without shield
The Antec TruePower Trio series of power supply units are so efficient that Antec has designed the cooling fan to concentrate its draft onto the most critical components. In the TP3-650, a single ADDA brushless 120mm fan is used. This fan is very popular for use in power supply units, and with a 0.37A rating, it could move high volumes of air; but the Antec temperature monitoring components will likely never push it that far. In all of my tests, this unit never make more then a slightly audible sound.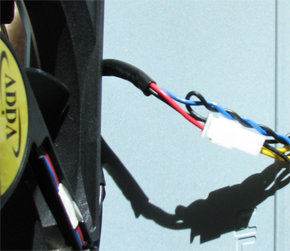 Cooling Fan Connector
Also pictured is he 120mm fan with the shroud removed, for reference purposes. Antec did not utilize any rubber grommets at the mounting locations, which appears to becoming an emerging standard for high-end fans. The fan is not equipped with standard power connectors, but rather a proprietary connector which houses the two power wires, while the thermal sensor wire is fused directly to the power supply unit.
TESTING
Test System
Motherboard: FOXCONN 945P7AA-8EKRS2
Processor: Intel D930 3.0GHz operating at 3.3 GHz (220 MHz FSB).
HSF: Thermalright HR-01 heatpipe CPU cooler with 120mm fan and fan duct.
Memory: 2 GB (1,024 MB x2 modules) PQI PC-2 5400 DDR2 SDRAM operating at 734 MHz.
Video Card: XFX GeForce 7900GT 470/1700 MHz with Arctic Cooling NV Silencer 5 Rev 3.
Hard Disk 1: Western Digital WD360GD 10,000 RPM SATA
Hard Disk 2: Western Digital WD360GD 10,000 RPM SATA
Hard Disk 3: Maxtor 6Y250M0 7200 RPM SATA-II
Optical Drive: Toshiba SH-S162L DVD R/W
Enclosure: Ultra Aluminus ATX Case with 120mm front intake fan
Operating System: Windows XP Professional SP-2
Test Methodology
When I first approached how I would test this unit, I contemplated a burn-in period. However, through review of the Antec website and the instruction manual there was no mention of such a burn-in period; so it wasn't done. Instead I installed the TruePower Trio into my test system and used it for one full day prior to taking any measured readings.
The most important aspect of this review is how I will actually test and torture this power supply unit. It would seem adequate to use a digital multi-meter and take some readings while at idle and under load. But Adequate just doesn't cut it with me, and Bjorn3d.com wouldn't stand for it. So like everything else I do, it will be overdone.
Let me start this by saying there is only one way a PSU can be accurately measured: with a digital multi-meter. Software tools such do not use any calibrated tool to record their readings. They utilize the programming of the BIOS in conjunction with the sensors built into the motherboard to produce a reading. As I recently learned after a BIOS update, software tools will yield improper readings. Every part of a power supply test is subjective and relative to the hardware used, and so my test system will have different hardware then yours and measurements will probably not be the same.
In this review the term "idle" will represent the values of the power supply readings at the BIOS level, without the introduction of software. In addition, I will make use of an ATX 2.0 power supply tester and my Extech 450 digital multi-meter to record low-load voltages. This way, you will get a true baseline as to what power draw is created on a low-load system as well as a truly idle system.
Step 1: Get a low-load reading with a PSU test unit
This step requires nothing more then the power supply, a digital multi-meter, and a PSU tester. I start the PSU as a standalone device by using the PSU tester then record the various voltages with my digital multi-meter. I will use this as the baseline reading.
Step 2: Get relative idle readings
I prefer to consider the BIOS options menu the most accurate idle measurement that can be captured. Since the Operating System has not yet loaded there will not be any amount of load added by random hard disk access or CPU fluctuations while Windows is running. It would be incorrect to consider an idle test to be measured while Windows is running because there really is some amount of load there beyond an idle measurement. Again, this is up for interpretation, but I am testing this PSU and the best way I can avoid interference with an idle reading is to do it while in the BIOS.
Step 3: Get a heavy load reading
This is the last step in my test set and even more relative then the idle test. I say it is relative because all of my hardware will only remain the same for these two tests, and likely no others in the future or past. It is guaranteed that when I test a PSU it will not be measured with the same hardware installed as when you test your own. What I consider to be loaded is not going to be the same for you.
When the power supply is under load you can bet that I will have every piece of hardware I can find running at the time each voltage reading is taken. Three hard disk drives will be writing large date files to three USB flash drives, the floppy drive will be formatting a diskette, and the optical drive will be playing a Barbara Streisand CD as part of the torture test. Probably for the first time ever, and quite frankly a Bjorn3d exclusive, I will submit the Antec TruePower Trio 650W PSU to a harsh USB power draw by charging two devices: my Palm Zire 21, and my Motorola L2 cellular phone. The dual-core power-hungry Intel Pentium D 930 will be over-clocked to 3.3GHz and will utilize two [email protected] console clients to force each core to 100% usage. At the same time, I will be running 3DMark06 to draw as much power as possible from the GeForce 7900GT. All of this will all be done with the sole intention of pushing all three power rails on the Antec TruePower Trio 650W PSU to the limit and measuring voltage variations. Less voltage variation between idle to full load measurements will translate into better system stability.
TEST RESULTS
In my first series of tests, I connected both the Antec TruePower Trio 650W and the Ultra X-Finity 500W to a Coolmax PC/SPS tester. While I like that this tester has a connector module for everything a power supply can throw at it, I recognize that these tester units are not nearly as effective as the units with a built in LCD display. At any rate, I connected each unit to the tester, and what I found surprising was that on the Antec TP3-650 the tester showed that the -5.0V was not passing the test. I did not regard this event, since I have seen some units display this very same occurance on these very low-load tests.

Antec TP3-650 Tester Results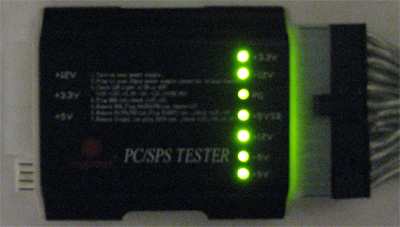 Ultra X-Finity Tester Results
While the tester results are not factored into the result table below, they helped me determine what the low-load readings were for the purpose of comparing voltage reading to actual load conditions.  During all tests, I maintained an ambient room temperature of 27.2~27.3° C.  It should be noted that lower temperatures were tested with similar results, however higher temperatures were not attempted.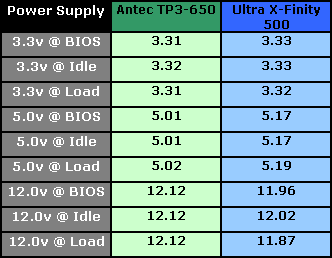 Results Chart
In this review I have demonstrated how the Antec TruePower Trio 650W PSU has performed during the most essential and critical tests. Compared to a two-rail system, the Antec TruePower Trio 650W power supply proves that three rails is indeed better then two, and stability is to be expected as a result. I noticed that in all of my multiple readings for each test, the voltage was always the same; which is why there is little change in the results table above.  To be honest, I really thought that the three-rail system would provide very little additional stability over a two-rail unit.  It turns out that the marketing department really didn't hype the stability when it comes to the  Antec TruePower Trio TP3-650.
CONCLUSION
Presently, the Antec TruePower Trio 650W PSU SKU# TP3-650 is being sold as low as $106.89 at the time of this writing in the United States. For that price alone, it is a bargain since lesser power supplies are priced higher. Add to the great low price the fact that you will have a triple-rail power supply that can promise stability under the most demanding load, and you have yourself a sure thing. I highly recommend the Antec TruePower Trio 650W, it is the definition of function before fashion; the price and results prove it.
But with the good comes the bad. I love the fact that this is top-shelf technology for such a reasonable price, but it looks just like the old low-end stamped steel power supplies from a decade back. Even a simple coating of paint would have really added some zest to this eyesore. With the industry catering to computer enthusiasts, it surprises me that Antec was so involved with function that they totally abandoned fashion altogether. Other then the main power connector, there are no cable sleeves, and the connector plugs are a flat black. If it weren't for the cold-war era look of this unit, I could rate it slightly higher. In the end however, you are getting more then what you are paying for; which is why this power supply has already garnered attention from Federal Government IT departments.
Pros:
+ Extremely quiet operation
+ Excellent performance
+ Active PFC
+ Fully sleeved main power connector
+ Very high efficiency rating: PFC = 0.99
+ PSU Managed fan control connec 
+ Extremely stable power trilple-rail system 
+ Excellent power regulation
+ Industrial grade components
Cons:
– Ugly as the PSU's of yesteryear 
– Peripheral cables should be sleeved 
– Connector colors should be uniform
Final Score: 8.0 out of 10 and the Bjorn3D Seal of Approval.