Built upon the SI-120 model, the new and improved SI-128 boasts tightly gapped fins for more surface area with longer and wider wingspan. In addition, the huge 8mm multiple heatpipes permit even more efficient heat transfer to the aluminum fins. The SI-128 offers a more robust aluminum fin group, which is perfectly designed to support a 120mm fan mounted onto the top of the unit for maximum cooling performance.
Introduction:
Looking back over the past decade, the history of CPU cooling solutions has taken many shapes and forms.  It seems ironic that so many different designs and concepts have been used, some with success and some not, only to have our modern solutions use some very traditional concepts.  Mixing cutting edge technology with the tried and true methods of yesteryear is old hat, but Thermalright is helping remodel traditional solutions into modern marvels.  The Thermalright SI-128 is one such modern marvel, and the focus of this review.
Built upon the SI-120 model, the new and improved SI-128 boasts tightly gapped fins for more surface area with longer and wider wingspan.  In addition, the huge 8mm multiple heatpipes permit even more efficient heat transfer to the aluminum fins.  The SI-128 offers a more robust aluminum fin group, which is perfectly designed to support a 120mm fan mounted onto the top of the unit for maximum cooling performance.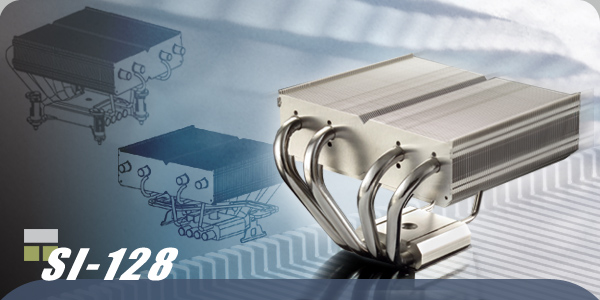 Thermalright SI-128 CPU Cooler
About the company: Thermalright, Inc.
Thermalright specializes in the design and manufacture of a wide array of cooling systems and modules for the information communication technology (ICT) industries.  Our CPU cooler line of products is designed with a diverse group of end users in mind; as such, our products are suitable in a variety of distribution channels. Thermalright employees the top-notch designers and uses advance testing equipment and process that meet the stringent testing specifications of Intel and AMD.  Our people and our process are ISO-9000 certified.  We work only with the leading component vendors of the world to ensure the best quality to our customers.

Closer Look: Contents
Thermalright likes to keep things simple.  With an industry full of package art only Hollywood could rival, Thermalright is doing well with this time honored approach; which usually fares better.  The plain brown box only helps set the stage for the real show, presenting you with a pleasant surprise.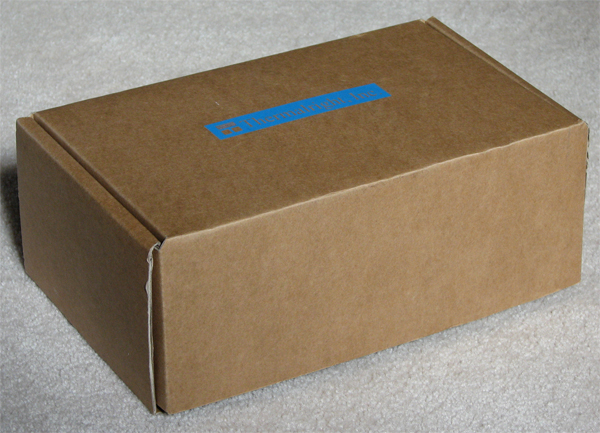 Small brown box, big silver heatsink.
 You wouldn't know it by the packaging, but Thermalright has packed a lot of value into such a small product.  In addition to the SI-128 heatsink, you will find: printed instructions, a syringe of silicon based thermal grease, fan clips, decal, socket K8/AM2 and LGA775 mounting adapters.
SI-128 Package Contents
Bigger must mean better, because the trend keeps moving that way.  I can remember a day when there was more weight and size to a silver dollar then you could find in a CPU's heatsink.  Of course, back then the CPU mustered up a very small fraction of the performance compared to today's wonderments.  In all likelihood, we are either seeing the end of air cooling at it's finest, or the beginning of monster-truck sized coolers.
Heatpipes, while being that traditional science I spoke of earlier, have been retooled.  There is no reason to fit a heatsink with six or eight heatpipes anymore, not when you can create the same heat transfer with four oversized pipes.  That is the engineering principal behind the Thermalright SI-128 cooler.  While the rebirth of heatpipe technology has the cooling industry buzzing with ambitious solutions, they are slowly creating new problems: space.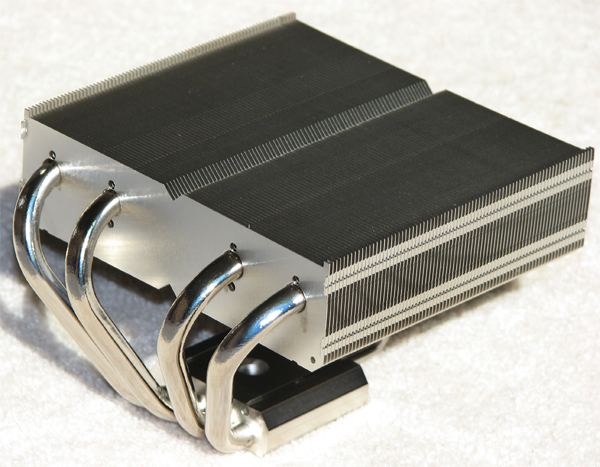 Thermalright SI-128 CPU Cooler (click for larger image)
 The average desktop computer is not the target market for the SI-128.  For a heatsink, the size and weight alone create restriction that only enthusiasts could navigate through successfully.  But these efforts are not in vain, I assure you.  As you will soon see, the Thermalright SI-128 is more impressive then it first receives credit for.  In fact, I can admit that I was not at all impressed with the unit upon initial unpacking, but later had my attitude adjusted by the staggering improvements to cooling performance.

Reflection (click for larger image)
While the contact surface is not polished to a mirror shine, it is flat with an intentional "rough" finish.  The microscopic bumps allow for a larger surface area, which translates into better thermal transfer when mated to the CPU with a light application of included thermal grease. 

Contact surface has rough finish (click for larger image)
Installation
Installation was difficult.  I cannot express how much frustration I had installing Thermalright's SI-128 onto an LGA775 socket CPU.  The pressure latches in each of the four corners of the adapter must be pushed one at a time, as is the normal installation process for most OEM and aftermarket LGA775 coolers.  The trouble I found was that the rear points closest to the heatpipes were very difficult to reach, because all four points were beneath the heatsink and these two were very confined.  Once reached, my hands were turned at awkward angles which prohibited me from applying enough pressure.  In the end, I had to remove the motherboard to install the SI-128 cooler; and even then I used a screwdriver for leverage.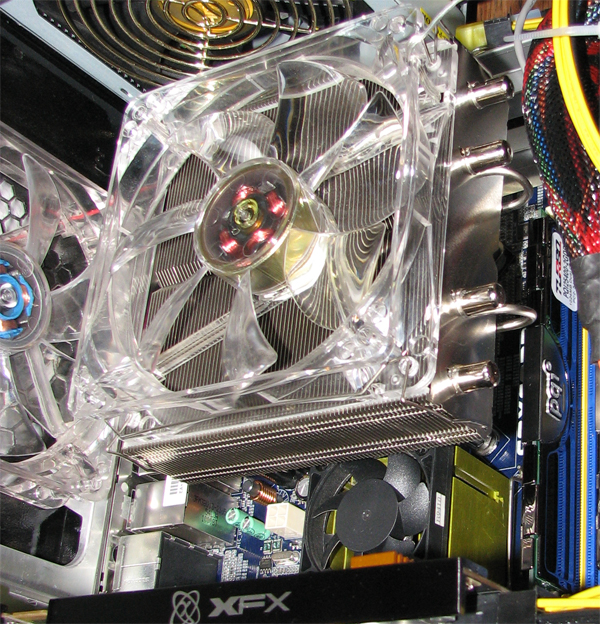 Angled Installation View
As you can see from the image above, the SI-128 takes up some precious real estate inside the case.  Even in my spacious Ultra Aluminus, I found it to be cramped to work on components near to the cooler.  From the image, you can also see that system RAM and chipset coolers will need to be installed before the SI-128.
Alternatively, I later installed the SI-128 into an AM2-based system, and the included adapter proved to be only slightly easier to install.  In both evens, working under and around the SI-128 requires patience and planning.  It is recommended to mount this cooler while the motherboard is out of the case; or at least before a power supply unit and expansion cards are installed.
Testing
For this review, I determined that a David vs. Goliath comparison wouldn't be very fair; nor would it be productive.  I chose not to match the Thermalright SI-128 against the OEM cooling solution provided by the manufacturer, because most would agree that any aftermarket cooling solution available is a better option.  In this review, I chose to compare the SI-128 to its older sibling: Thermalright's HR-01.  The HR-01 is a vertical standing heatsink solution with a surface area similar to the SI-128.  Although the two are similar, they maintain distinct differences.
For all tests, I utilized the following equipment:
• Motherboard: FOXCONN 945P7AA-8EKRS2
• Processor: Intel D930 3.0GHz operating at 3.3 GHz (220 MHz FSB).
• HSF: Thermalright HR-01 heatpipe CPU cooler with 120mm fan and fan duct.
• Memory: 2 GB (1,024 MB x2 modules) PQI PC-2 5400 DDR2 SDRAM operating at 734 MHz.
• Video Card: XFX GeForce 7900GT 470/1700 MHz with Arctic Cooling NV Silencer 5 Rev 3.
• Hard Disk 1: Western Digital WD360GD 10,000 RPM SATA
• Hard Disk 2: Western Digital WD360GD 10,000 RPM SATA
• Hard Disk 3: Maxtor 6Y250M0 7200 RPM SATA-II
• Optical Drive: Toshiba SH-S162L DVD R/W
• Enclosure: Ultra Aluminus ATX Case with 120mm front intake fan
• Operating System: Windows XP Professional SP-2
In addition, I used EVEREST Ultimate Edition 2006 v3.50.761 to measure all temperatures.  It should be noted that temperatures attained through software most always reflect the thermistor readings as recorded by the BIOS.  These readings are relative, since every BIOS is programmed differently.
Testing was conducted at a series of temperature intervals, with the ambient room temperature measuring the same for each coolers reading.  EVEREST rounds up temperature readings to the nearest whole number, however all ambient temperatures were recorded and accurate to one-tenth of a degree Celsius.
Results
Apparently all the pains involved with installing such a large heatsink were worth the trouble.  As shown in the comparison chart illustrated below, the SI-128 registered improved temperatures across the range of readings.  In both full load and idle CPU readings, the Thermalright SI-128 was able to better cool the CPU then the it's similarly sized HR-01.
Although it is not shown, the internal system temperatures remained very much equal at idle, but the SI-128 did manage to post an occasional 1-degree increase in system temperature over the HR-01.  This attributed primarily to the 120mm cooling boot which joins the HR-01 to the case mounted exhaust fan, which draws heated air from inside the case and expels it out.  Even though the SI-128 does not exhaust the heated air outside of the case, the difference in system temperatures was so minor it should not be regarded.

Thermalright HR-01 & SI-128 Comparison Chart
In addition, since the SI-128 does not come with an included 120mm fan, I utilized the same fan for both coolers in all tests.  With regards to the direction of air: I tested the SI-128 with the fan blowing air into the heatsink, and with the fan pulling it away.  Perhaps it is dependent on surrounding fans, but suffice to say the it made very little impact in my initial tests.  All recorded temperatures for the SI-128 utilized the 120mm cooling fan blowing air down into the heatsink.
Conclusion
From mild packaging to big results, I can firmly attest that the Thermalright SI-128 is the best CPU cooling solution I have ever used or reviewed to date.  In some cases, the measurements I recorded looked similar, and occasionally better, then some of the results I have previously seen with liquid cooling.  Available at several online merchants for as low as $51.46, I found the SI-128 to be a worth the high price of purchase.  The low profile helps compensate for a very wide wingspan, even with the addition of a 120mm cooling fan.
I found very few design flaws in the SI-128, and of the few that I discovered were not a point of contention.  While I agree that the heatpipes all running to one side allow access from the opposite side, the wire braces designed into the SI-128 really could have been replaced with the two center heatpipes instead to maintain suspension and improve heat dissipation.
Pros:
+ Best air-cooling solution I have tested to date!


+ Very rugged construction and durability
+ Compatible with LGA775, AM2, and K8 platforms
+ Low profile allows broad installation range
+ Impressive with and without optional 120mm fan

Cons:
– Difficult installation due to restricted space under heatsink
– Expensive cooling solution
– Does not include a compatible 120mm fan
I rate the Thermalright SI-128 cooler with a final rating of 8.5 (very good) out of a possible 10 score, and award the SI-128 with the Bjorn3d.com Seal of Approval.
Special thanks:
Most product analysts thank the sponsor at the end of each article, which is deserved.  However, there is a lot more then a thank-you owed to every manufacturer who puts their product under an independent microscope for review.  Not every manufacturer takes this risk, and I sincerely appreciate those sponsors who back their product by offering it for review.  Thank you Thermalright!