The Sparkle GeForce 8800GTX delivers breathtaking performance, DX10 support and impressive image quality at a good price. What more can you want from a video card?
INTRODUCTION
The usual release of a new GPU from either ATI or NVIDIA is relatively un-exciting. They usually have some new cool features, a bit more shader pipelines and perform a bit faster than the previous high-end GPU's. It is enough to make you impressed but it doesn't exactly blow you away. 
The GeForce 8800 GPU's however are something completely different. Not only do they offer some radical new features on a desktop GPU but they also are the first to support DirectX 10 which is promising to change the gaming world in 2007.
I've spent 5 days with the Sparkle GeForce 8800GTX and I am in love. Read on to find out why I think NVIDIA has a winner on their hands. After you finished this review, check out the other GeForce 8800 reviews/articles that we are releasing today also: Our GeForce 8800 article, Scott takes a look at the XFX Geforce 8800 GTX, Miles tests the Leadtek Winfast PX8800 GTX TDH and Olin plays with the FOXCONN GeForce 8800 GTS.
SPARKLE
Sparkle is a company from Taiwan that makes and sells video cards that use NVIDIA's various GPU's on them. They were established in 1981. While they say they market their products globally, the distributor list only lists distributors in Europe and Asia so you probably won't find these cards in the US, which is a shame. You can read about the company here.
FEATURES AND SPECIFICATION
Miles has written an article going through all the new features of the GeForce 8800 GPU's which you can find here so I will just summarize the most important new features.
NVIDIA® unified architecture
ATI may have been first with a GPU with unified shaders, the Xbox360 GPU, but on the PC desktop market NVIDIA got first. Instead of 16, 24 or more separate pixel and vertex shaders you now have a massively parallel, unified shader design, consisting of 128 individual stream processors running at 1.35 GHz. Each stream processor is capable of being dynamically allocated to vertex, pixel, geometry, or physics operations for the utmost efficiency in GPU resource allocation, and maximum flexibility in load balancing shader programs.
Full Microsoft® DirectX® 10 Support
World's first DirectX 10 GPU with full Shader Model 4.0 support which of course is something you want for Vista.
NVIDIA® PureVideo HD™ HD Technology
This might not be new but NVIDIA has continued to improve PureVideo and PureVideo HD now is built-in in the 8800 GPU's. We will later see how much that has helped in video quality.
128-bit floating point High Dynamic-Range (HDR)
Twice the precision of prior generations for incredibly realistic lighting effects—now with support for anti-aliasing. ATI has finally lost their bragging rights for HDR together with AA.
NVIDIA® Quantum Effects™ Technology
Advanced shader processors architected for physics computation enable a new level of physics effects to be simulated and rendered on the GPU—all while freeing the CPU to run the game engine and AI.
To read more about the features head over to Miles article.
The specifications are just as impressive:
Feature/Specification

 8800 GTX

Number of Transistors

681 M

Fabrication Process

90nm

GPU Clock

575 MHz

Memory Clock

900 MHz

Memory Data Rate

1800 MHz

Memory Size

768MB

Memory Data Width

384 Bits

Memory Type

GDDR3

Memory Speed

1.1ns

Memory Bandwidth

86.4 GB/sec

ROPS

24

RAMDAC

400 MHz

Bus Type

PCI Express

PCB Layers

12

Form Factor

ATX

Dimensions

4.376 x 10.5 inches

Fill Rate (pixels/sec)

36.8 billion

Stream Processors

128

Analog Display Resolution

2048 x 1536 x 32 bpp at 85Hz

Digital Display Resolution

Dual-link DVI-I Connector
2560 x 1600 x 32 bpp at 60Hz

Features Supported

DirectX 10 Shader Model 4.0
OpenGL 2.0
PureVideo Technology
High Dynamic-Range (HDR) Rendering
SLI
UltraShadow™ II Technology
128 bit FP Filtering & Blending
HDTV Output
Dual-link DVI-I Output
2nd Dual-link DVI-I
VGA Output with dongle

RoHS Ready

Yes
THE SPARKLE GEFORCE 8800GTX
The card I am testing today is an retail GeForce 8800GTX from Sparkle. The card comes in a stylish while box with a huge S on the front.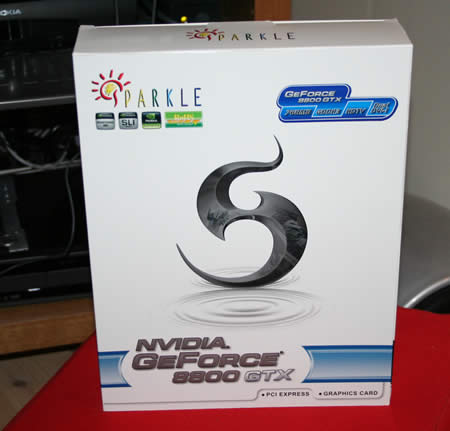 Inside the box we find:
A huge dual-slot video card
A S-Video cable
Two dual-Molex => PCI-E connector adaptor cables
Video-out to Component cable
Manual
Call of Duty 2
PowerDVD 6 (2 channel version)
CD with drivers (older version of drivers than the beta drivers from NVIDIA)
Call of Duty 2 is a really good game and does showcase the capabilities of the GeForce 8800GTX very well. PowerDVD isn't the newest version since PowerDVD7 is out but it still is one of the best DVD-players.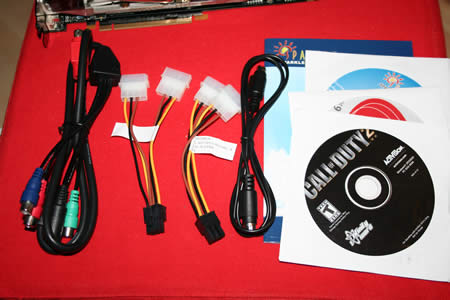 The GeForce 8800GTX really is big. In fact, it is the longest video card that I've ever seen. This actually can pose some problems with some motherboards and smaller midi-tower cases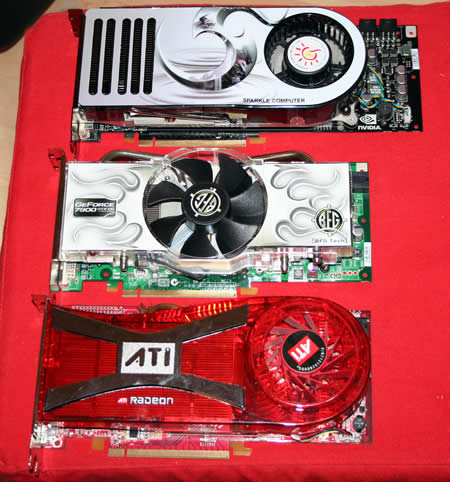 Lots of money lying on that couch
You can forget using just one PCI-E power-cable from the PSU. This baby needs a lot of juice and thus needs to be hooked up with two power-cables from the PSU. The PCI-E connectors are angled up instead of towards the back of the card making it a bit easier to attach the power cables in a smaller case.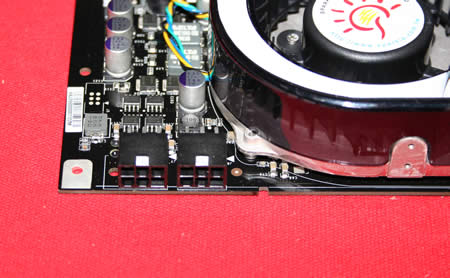 The cooler on this card is almost as big as the card itself. On top sits a nice sticker with the Sparkle S on it. There are 5 slots on it which seems to let out some of the heat in addition to the heat coming out from the back of the card. Even when running idle the air is warm, the GPU is at 62C at idle, and the card actually might heat up the case a bit unless you got a good ventilation of the case.
At the back of the card we have the usual dual DVI-connectors and a video-out connector.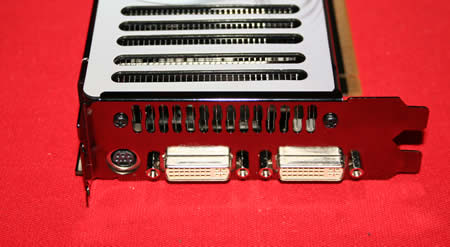 Installation of the card was easy on the two ASUS motherboards I tried it on (ASUS P5N32-SLI Premium and ASUS P5W-DH Deluxe) but motherboards where the SATA-ports are just behind the video cards could potentially have a problem.
TESTING – SETTINGS
The Sparkle GeForce 8800GTX was tested on the following two systems.

Test System 1

CPU 
Intel Core 2 Duo [email protected]

Motherboard

ASUS P5N32-SLI Premium (nForce 590)

Memory

Corsair XMS2 Xtreme 2048MB DDR2 XMS-1066

HDD

1×80 GB EIDE, 4×320 GB SATA

Video cards

BFG 7900GTX OC, Sparkle GeForce 8800GTX

Drivers

91.33 (7900GTX), 96.94 beta (8800GTX)

Test System 2

CPU 
Intel Core 2 Duo [email protected]

Motherboard

ASUS P5W-DH Deluxe (Intel 975)

Memory

Corsair XMS2 Xtreme 2048MB DDR2 XMS-1066

HDD

1×80 GB EIDE, 4×320 GB SATA

Video cards

BFG 7900GTX OC, Sparkle GeForce 8800GTX, HIS X1900XT, ASUS X1950XT

Drivers

91.33 (7900GTX), 96.94 beta (8800GTX), Catalyst 6.10 (X1900XT,X1950XT)
I choose to benchmark the card in the following programs and games.

Software/Games

3Dmark05 
Default

3Dmark06

Default

Company of Heroes SP Demo

Everything set to absolute max. 4xAA and 16xAF set in drivers

FEAR v1.08

Everything set to max. Soft Shadows On. 4xAA and 8xAF set in drivers

Quake4 v1.2

Ultra Quality. 4xAA 16xAF. Idnetdemo.
TESTING – 3DMark05 and 06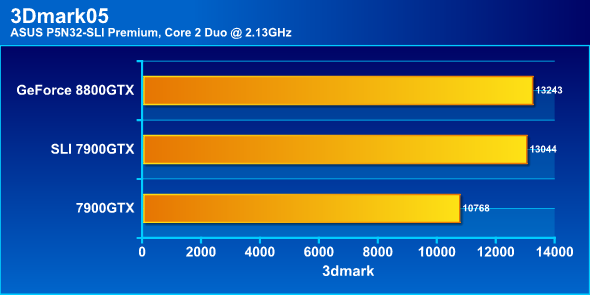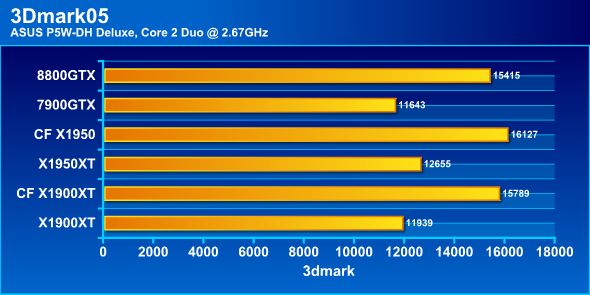 3Dmark05 is starting to not matter anymore due to it becoming CPU-dependant with high-end cards. The Sparkle 8800GTX almost ties with the 7900GTX in SLI and both the X1900XT in Crossfire and the X1950XT in Crossfire. The single cards are left behind.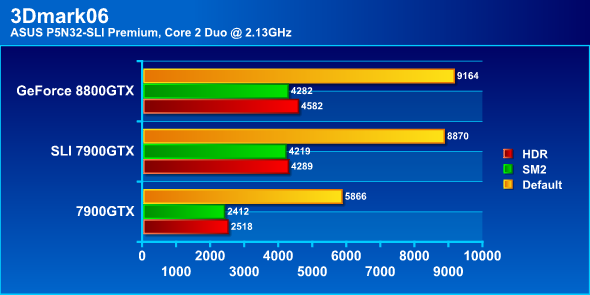 Same results as in 3Dmark05. The Sparkle 8800GTX scores almost twice as much as the 7900GTX, the HIS X1900XT and the X1950XT and ties or narrowly wins against the cards in SLI and Crossfire.
TESTING – COMPANY OF HEROES SP DEMO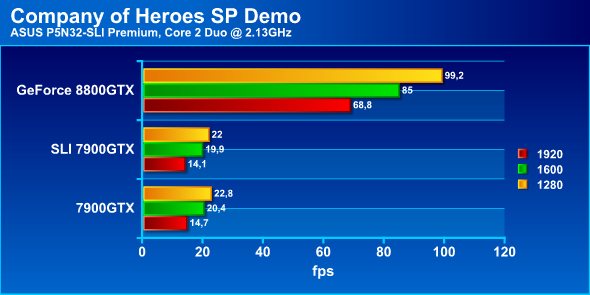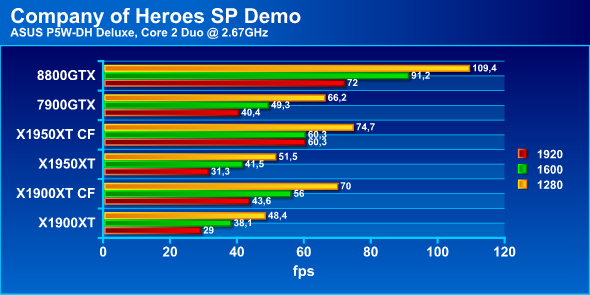 Unfortunately something happened with the 7900GTX and 7900GTX SLI scores on the ASUS P5N32-SLI Premium motherboard. I didn't have time to redo those scores before the release. On the other motherboard the Sparkle 8800GTX shines. It even crushes the X1950XT and X1900XT in Crossfire mode. Company of Heroes is a very demanding game and thus the scores are quite frankly amazing (I seem to use that word a lot in this review).
TESTING – FEAR AND QUAKE4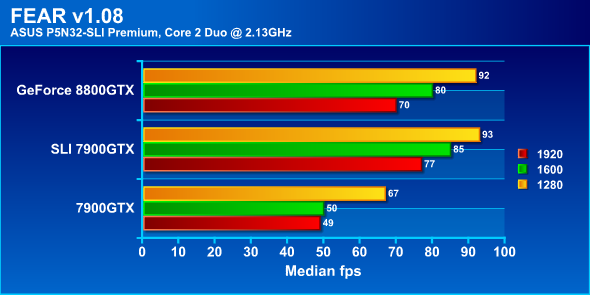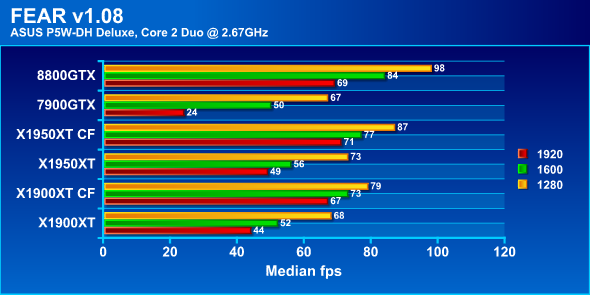 This is the median fps that you get from the performance test. The Sparkle 8800GTX is performing excellent, especially on the Intel975 motherboard with an overclocked Core 2 Duo. It leaves even the Crossfire coupled cards far behind. A median fps of 69 fps at 1920×1200 with everything set to max, including soft shadows on, is amazing. True, you can achieve that with two 1950XT's in Crossfire mode but at what cost?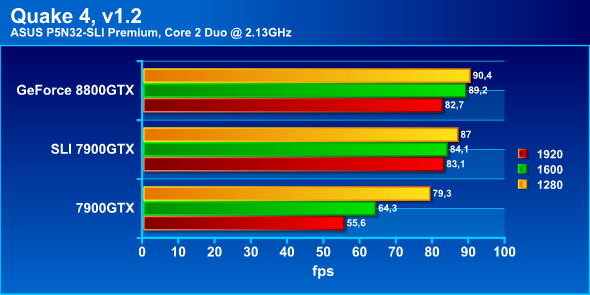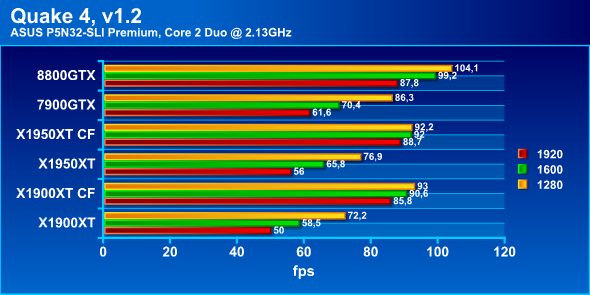 Quite similar results as we've seen in the other benchmarks. The Sparkle 8800GTX spanks the single video cards while either tying or beating the Crossfire and SLI setups.
IMAGE QUALITY
ATI long has had a reputation of having better image quality. It is not that NVIDIA has had crappy IQ, ATI has just done it better. Things they have excelled in are for instance the quality of anistrotropic filtering where NVIDIA they were angle-independent (when using high quality AF) while NVIDIA was angle-dependant.
However – this seems now to be a thing of the past. Take a look at the images from 3dmark05 which shows how each card handles anisotropic filtering. There's a big difference between the GeForce 8800GTX and the GeForce 7900GTX.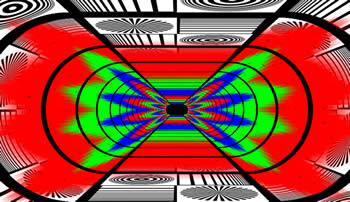 The GeForce 7900GTX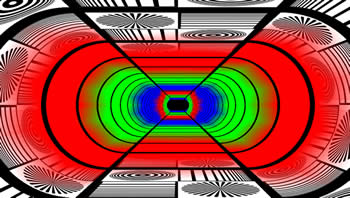 The GeForce 8800GTX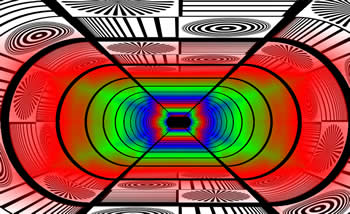 ATI X1800XT
During the short time I had the GeForce 8800GTX for testing I played several games as well as use it for some general surfing and the image quality on my Dell 24" monitor was excellent. At a later date we will probably do a more thorough analysis on various games and the filtering methods and quality of AA but the first impression I have gotten is that NVIDIA has caught up with ATI, especially since they finally got AA-support when using HDR.
VIDEO PLAYBACK QUALITY
NVIDIA boasts that they have improved the video playback quality and now beat ATI. My experience with ATI's AVIVO is that it is very good. NVIDIA uses the video benchmark HQV to prove their claims and I thought it would be interesting to do the same.
HQV is actually a benchmark DVD that consists of a number of separate video-pieces that you manually rate depending on how they look on your monitor. Since you manually have to determine how good a test is performed there is a margin for error.
I ran the test on the three cards with PowerDVD 7 Deluxe which has hardware support for AVIVO and PureVideo.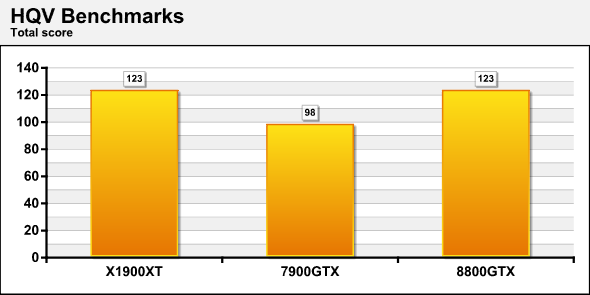 The max score of the test is 130 and both the GeForce 8800 and the X1900XT scored 123. Both actually lost scores in the same test: noise reduction and I was a bit unsure if the problem was that I now saw the noise better on my 24" screen than at an earlier test with a X1800 on a smaller screen.
Regardless if both deserved a few points more or not they both performed very well. In fact, again NVIDIA seems to have caught up with ATI on an area where ATI in my opinion had a lead before.
OTHER – NOISE AND POWER
We all remember the days of the GeForce5 when the reference boards had very loud fans (thus being dubbed "leaf blowers"). These days are gone and the fan/cooling solution on the Sparkle GeForce 8800GTX is really quiet, even at full load. I never heard it over the rest of my system. In comparison the reference X1950XT is very loud at full load.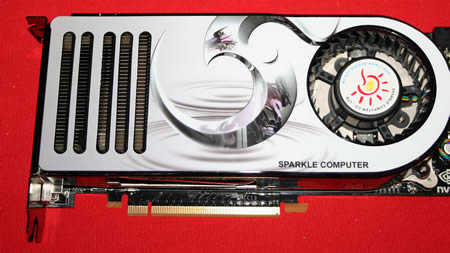 The cooling is very silent
When it comes to power-need I actually was a bit surprised when doing some measurements on how many Watt's the card would draw at full load. I have a PSU that displays the current Watt being draw by the system and while I'm sure it has a margin of error it still gives a good indication what is happening. At full load (Company of Heroes run at 1920×1200, 4xAA/16xAF and everything maxed out) the system was fluctuating around 220W-250W. It wasn't that much higher than either SLI 7900GTX's or X1950XT's. The system was drawing around 130-150W when being idle in Windows. You probably can get away with a high quality 450-500W PSU. Much more important though is the need for good 12V lines since you need two for this card. I haven't found the exact amps needed on the 12V lines but it looks like you should be ok with the same as for any SLI-system. However – if you plan on using two 8800GTX's in SLI you probably should invest in a high-Watt, high-quality PSU.
CONCLUSION
Those of you who have been with me on the site since I started it in 1996 know that I don't often give out a near perfect score of 9.5 out of 10. Well it is time now and instead of the regular pro's and con's I thought I would list and explain the reasons I am awarding this score.
The performance
Look at the scores. The Sparkle GeForce 8800GTX manages to beat or tie two X1950XT's in Crossfire or two BFG 7900GTX OC's in SLI mode. And in some benchmarks, like Company of Heroes, it crushes them. It's amazing.
The price
Yes, this is an expensive video card but not really that expensive. Sparkle in Europe told me that the RRP would be around 600€ but you should be able to get it even cheaper when more cards come into the retail channel. In the end it still will cost a lot less than two X1950XT's or two GeForce7900GTX's.
The image and video quality
NVIDIA has finally caught up with ATI in this respect. Great image quality in games and great image quality in video playback, what more can you ask for?
Nice new features
DX10 is coming and this is the first card with support for it. It is also cool to see NVIDIA beat ATI to the punch (on the desktop) with the unified shader architecture.
Good bundle
Even though Call of Duty 2 is a year old now it still is a very good game that shows of the features and performance off this card well. Throw in a great DVD-player (PowerDVD6) and you got a nice bundle.
Summary: I just have to congratulate NVIDIA. They definitely have given ATI something to chew on. Not only does the GeForce 8800GTX have lots of cool new features including DX10 support. It is also extremely fast while still not being ridiculous expensive.
I give the Sparkle GeForce 8800GTX a score of 9.5 out of 10 (Outstanding) and the Golden Bear Award.

Our NVIDIA® 8800 Series Graphics Card Coverage

When planning for this mammoth task we decided the best approach would be to prepare one additional introductory article expressing what NVIDIA® brings to the table from a technology, Physics, and general usage standpoint for each of the products we'll being presenting.

This is the best of all worlds when it comes to graphical rendering, both 2D and 3D. This card writes a totally new standard for their competition, it should be quite interesting to see how things shake out.

In conclusion other than the subtle nuances captioned above, this is by far the finest card, I've ever had the pleasure to test.

Honestly, there is just no possible way for me to find dissappointment in this product.  The FOXCONN GeForce 8800 GTS is by no means another addition to the market, it is clearly in a class all of its own.