The High Power 620W has an impressive features-list: three 12V rails, Active PFC, >80% efficiency and a extremely low noise level. With its 620W it should be sufficient for even demanding systems as long as it can manage to produce stable and clean power.
INTRODUCTION
The backbone in every good system is the PSU. If the PSU fails to provide enough power it doesn't matter how good the rest of the hardware is as the system still will be unstable.
Today I am looking at a PSU from High Power that on paper promises a lot: three 12V rails, Active PFC, >80% efficiency and a extremely low noise level. With its 620W it should be sufficient for even demanding systems as long as it can manage to produce stable and clean power.
HIGH POWER – THE COMPANY
Most probably you haven't heard about High Power before. At least I hadn't. From what I can see on their website they are based in far east and they make power supplies and some cases. They are mainly a OEM and let other brands put their name on their PSU's but they also sell some under their own name. I have not seen much about their PSU's on the net so it is fun to be able to test one of their PSU's.

FEATURES AND SPECIFICATIONS
The High Power 620W PSU is a PSU with lots of nice features.
Active PFC with auto voltage switching
Triple +12V output rails
Support up to 4x S-ATA hard drives
Dual 8cm ball bearing fans (front and rear) for max. cooling.
Integrated real-time wattage meter
Easy Swap connectors
Gold Plated Terminal to ensure better conductivity between power supply connectors and peripheral sockets.
Supports ATX, BTX and EPS (20+4 pin main power and 4×4 pin +12V connectors)
Server grade design and manufacturing
nVidia® SLI Certified and ATI Crossfire Ready
The integrated wattage meter is the most visible cool feature but the rest of the features also are nice.

The specifications of the PSU are:
DC Output:
180W: 5V (30A) and 3.3V (28A)
500W: +12V1 (16A), +12V2 (25A), +12V3 (17A). +12V1 and +12V3 combined max 300W
6W: -12V (0.5A)
12W: +5VSB (2.5A)
Maximum efficiency: 84%  
On paper this PSU should handle a lot of peripherals.
THE PSU

The High Power 620W PSU comes in a box which is completely covered in information about the various features of the PSU. Inside you find the PSU, a power cord and as small manual. The PSU itself is black and smooth and really doesn't make any fuss about itself. The only feature you notice is the small led on the back.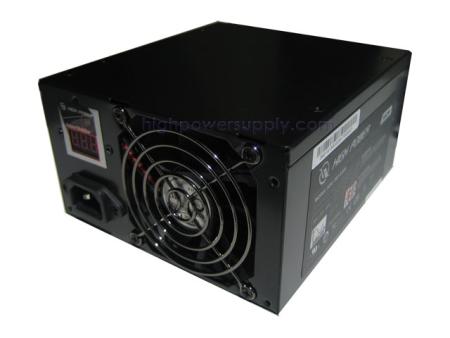 All the cables are hooked up on the PSU so it lacks the flexible cable management you get from PSU's who has detachable cables. The actual cables are however sleeved and are quite thin and long making it easy to position them well inside the case.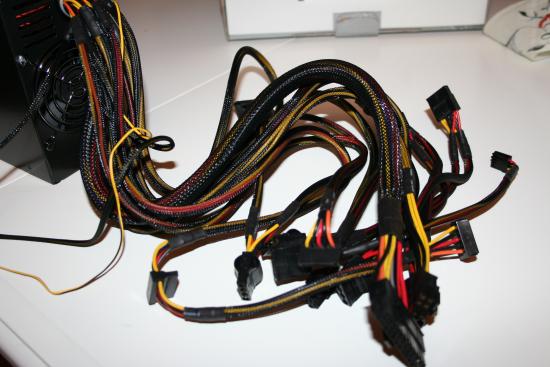 Lots of cables. The cables are at least thin and flexible.
The PSU comes with the following cables:
1 Main Power 20+4 pin
1 CPU power connector (4+4 pin)
2 case fan connectors (MOLEX)
2 Floppy connectors (4-pin)
8 MOLEX connectors (4-pin)
4 S-ATA connectors
2 PCI-E VGA (6-pin)
For my own use the amount of cables were good. As SATA now is gaining acceptance I would imagine that we will see more SATA port cables and less MOLEX cables sometime in the future. Right now the 4 SATA cables and 8 MOLEX cables should be perfect for almost everyone.
The MOLEX connectors have a nice "squeeze and pull" handle on them to make it easy to remove them. This little GIF-animation from the High power website shows how it works: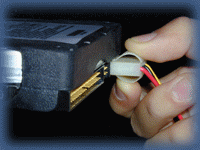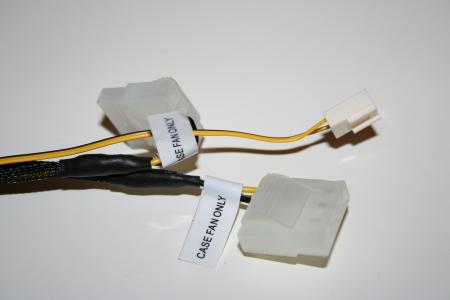 Control up to three fans
On the back of the PSU we find the real-time wattage meter. We will go into more detail about that later in the review. The idea with the meter is to display the current power consumption of all the peripherals hooked up to the PSU.
Something you won't see on the back of the PSU is an on/off button. It is a minor complaint but I would definitely want to be able to turn the PSU completely off as the wattage meter is on even though the whole system is off and thus drawing a tiny bit of energy even though you have everything turned of.
Installation was quick and painless, just like most PSU's. It should fit in any ATX/BTX case.
TESTING THE PSU – HOW WE DO IT
Testing a PSU isn't easy since it is hard to put a repeatable load on the PSU unless you buy very pricey equipment. In our case we have to do the next best and put a big load on the PSU while measuring the voltage on the 5V and 12V rails with a multimeter. Since this PSU does not have an AUX-connector I could not measure the 3.3V rail in an easy way. I also could not fit in the multimeter probe into the 24-pin Power connectors (the hard way to measure 3.3V) so unfortunately I had to skip testing the 3.3V.
All the rails was tested at three situations:
Bios
in the bios screen
Windows Idle
At the desktop in Windows XP with few background programs running.
Windows Load
To load the system as much as possible we let the system run 3dmark06 at 1920×1200 4xAA, 8xAF, the 16MB test in Super Pi-Mod XP, the full bench in HD-Tach RW on one of the SATA drives, all at the same time as we burn 700 MB of files to a CD on the external USB DVD-RW.
The system used for this test consisted of the following hardware:

Test System

CPU 
Intel Core 2 Duo [email protected]

Motherboards

ASUS P5W DH Deluxe

Memory

Corsair XMS2 Xtreme 2048MB DDR2 XMS-1066

HDD

1×80 GB EIDE, 4×320 GB SATA

Video cards

2x BFG 7900GTX OC

Optical

External USB Samsung DWD-RW
TESTING THE PSU – THE RESULTS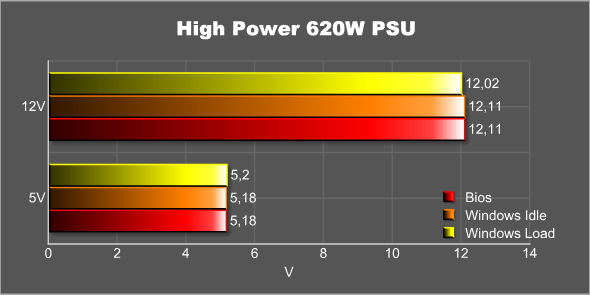 Both at 5V and 12V the High Power 620W PSU are putting out a bit more than needed. The rails are still well in the ATX 2.2 specifications:
+5VDC: +/- 5% => 4.75V – 5.25V
+12VDC: +/-5% => 11.4V – 12.6V
+3.3VDC: +/-5% => 3.135V – 3.465V
Under load the PSU handles itself very well. Since the load itself fluctuates a bit we see some fluctuation but even though the 12V voltage drops it only drops down to around 12V. There is not much fluctuation and it stays around 12V. The PSU is very capable of providing good and steady power.
NOISE (OR LACK OF)
There is not much to say about the noise level of the High Power 620W PSU. Even though it features two 80mm fans it still is a very silent PSU. In addition to the 2 internal fans you also can control 2 case fans to get the best cooling with the lowest noise-level. Even at full load the PSU can't really be heard of all the other hardware.
THE INTEGRATED REAL-TIME WATTAGE METER
One of the interesting features of the High Power 620W PSU is that it has a small LED-window in the back where it in real-time shows the actual power consumption.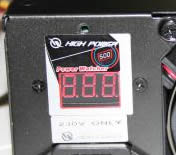 This is how High Power presents the feature:
Our Real-Time Wattage Meter (aka Power Watcher ™) feature is unique because it is integrated to the power supply and it displays digitally the total DC output's wattage drawn out to the system from the power supply, in real-time. Since HIGH POWER ® power supply's wattage rating is based on the maximum performance of this same total DC output power (and not maximum AC power that can go into our power supply), users can now visually determine how much power reserve is available at any given time. For example, if the maximum system power consumption is shown to be no more than 150w, then with our 500w model such as HPC-500-A12S, you would have additional 350w of reserve power to accommodate additional components such as video cards or drives. And if the system isn't doing well, you can focus your debug effort somewhere else other than the power supply wattage sufficiency issue.

If you plug the power cord of your entire system to a power wattage monitor device, it tells you the total wattage consumption of your system plus that consumed by the power supply. In the case of most low-priced power supply, it itself can consumes just as much power as it is providing to the system. Use of such power wattage monitor device provides a reading that is much higher than your system power consumption. It can not answer these decade old questions — How much power is my system currently draws from the power supply ? And would my power supply have enough power if I add a new video card ? If the system isn't doing well, you still don't know whether it is insufficient power supply wattage or just inefficient power supply.
So, this meter is not supposed to be used for determine the whole systems power consumption, instead it does only display the power consumption of the peripherals hooked up to the PSU to give you an idea of how much wattage you are currently drawing at max load.
To see how it worked I tried to find the max displayed power consumption during all the load-testings I did on the PSU. I also hooked the computer up to a power wattage monitor device to compare the scores.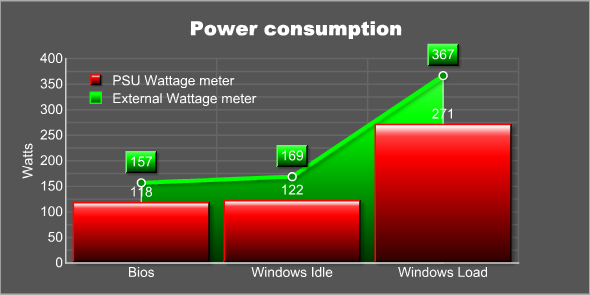 At bios and at idle in Windows the difference between the PSU reading and the external monitor is around 50W. When we put the system under load the difference increases to around 100W. If we follow High Powers explanation it means the PSU itself costs you a bit extra with its overhead. Since I cannot compare this to any other PSU I don't know if this is good/bad but it does not seem that much.
At load the system spikes at 389W for a split second but otherwise maxes out around 270W meaning there are plenty of room left even when loading this system.
The wattage meter is a nice feature that at least will give you a hint if you are getting closer to the theoretical max of the PSU. It would be interesting to see what a Dual 8800GTX + Quad Core Duo CPU would draw.
CONCLUSION
I was not completly sure what to expect from this PSU. When you review something from a well known company like Antec you often know what to expect. With a , at least to me, not so well known company like High Power you are left wondering if you will get a high quality product or a cheap imitation of the brand products.
I'm happy to say though that the High Power 620W PSU has performed very well for me the mast month that I have used it. Not only did it pass the various tests I did in this review, it also has handled a bunch of other hardware combinations just fine. It is nice to know that at least the PSU will not pose any problems when installing new hardware.
I do not have many complaints about the PSU and the ones I have are really small. It would have been nice with detachable cables so I only needed to put in the ones I used and i do actually miss a on/off button on the back of the PSU.
The 620W PSU is only available for 230V voltage (for example Europe) so 110V citizens will have to make due with the 560W version.
Pros:
+ Silent
+ Stable
+ Lots of power
+ Real-time wattage display
+ The cables are thin and flexible
+ Lots of different connectors
Cons
– No detachable cables
– No on/off button on the back
– How accurate is the real-time wattage meter?
I give the High Power 620W PSU a score of 9 out of 10 and a Golden Bear Award. You definitely cannot go wrong with this PSU.

---
A big thanks to Leon @ Dollarshop.nl who provided us with this review sample. If you happen to live in Holland, Germany, Luxembourg or Belgium you definitely should check them out since they carry a lot of cool brands from Taiwan.

Members & non-members alike, we invite you to discuss this and other Reviews on the Bjorn3D Product Discussion forum…