The Team Group TXDD2048M800HC4DC-D is a PC6400 DDR2 that is specifically designed for entry overclocker and gamers in mind. In a fierce market of computer memory, can Team Group's TXDD2048M800HC4DC-D offer something different from the competitor? How is its performance and overclocking result? Well, in this review, we will put this RAM to the the torture test. So, join us and take a look at our takes on this memory module.
Introduction
It is a known fact that Intel Core 2 Duo is a great overclocker. Often it is quite easy to overclock a budget Core 2 Duo CPUs, such as E6300, to match the performance of the more expensive high-end processors.  Simply do a quick search online and you will find that E6300 can overclock to 3 GHz or higher without much trouble,  putting the performance of a $180 processor closer or eve surpassing the expensive $1,000 X6800. Of course, in order to achieve such high overclocking results, the right components must be used.  One of such component is the memory.
With the advances of DDR2 technology, the higher speeds and lower lantencies are only gaining popularity.  It seems that DDR2-800 has become the mainstream speed and higher speed memory modules are coming to the market as we speak. The recent drop in the price of DDR2-800 certainly makes it a great buy if you plan to overclock your system.  Since a Core 2 Duo can be overclocked by simply raising the FSB to match the clockspeed of the memory without breaking a sweat.  Thus, having that extra clockspeed would certainly come in handy.
Almost all memory manufactures have a DDR2-800 on their product line up.  The question still remains, which one will offer the best performance and overclocking result.  Well, we have received new entry into the market from Team Group, TXDD2048M800HC4DC-D, which we are going to put it to the the torture test.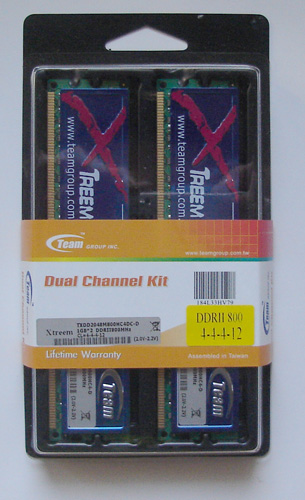 The Company
Team Group may sound like a new company to many people as its name is not as widely known as the big players such as Corsair, OCZ, or Kingston.  However, Team Group is actually a quite well-known among hardcore computer enthusiasts.
Team Group Inc. is a manufacturer and wholesaler of computer components.  The company is established in 1994.  They manufacture and sell high quality memory modules with wafer chips made by Samsung, Infineon, Micron, Hynix, Mosel and Nanya.  In addition to the modules, they also manufacture flash memory cards, and USB flash drives incorporating fashionable design and excellent quality.
The company is recognized as one of the leading memory product manufacturers in Taiwan.  Team Group covers many business regions all over the world, and has four logistic distribution centers: Taiwan, Hong Kong, and the USA. We are also planning to establish more logistic centers in other regions.
Our company in the USA, Team Research Inc. was founded back in 1990 in Milpitas (Silicon Valley), California, USA. Team Research is one of the top-ranking companies with excellent business experience in the computer components industry. We have developed successful buy and sell models to better serve our customers in this highly competitive field. Team Research inc. also maintains the R&D office for our entire group in order to further support our customers.
Our goal is to become one of the leading providers for memories, flash cards, and pen drives in Asia in the near future.
Through our four international offices, we can easily provide fast, reliable inventory access worldwide. Having developed close and long term relationships with many leading manufacturers and OEMs, we are able to provide various products even during the shortage and allocation periods.
As you can see, Team Group has been in the business for quite awhile.   What Team Group does to really stands out in the computer memory business is their full disclosure on the type of  RAM they used.  In the past, the memories which Team Groups sell have the heat-spreader unattached, so users can see what memory chip was used.  However, lately, Team Group has begun to attach heat-spreaders to their memory.  Still, just check Team Group's site and you will see what memory chip is used on which lines of memory and if the information is not there, you can always email them.  This is a great information for those who are looking for a specific type of memory to achieve high overclocking result.
Team Group TXDD2048M800HC4DC-D
Let's take a closer look at the RAM we received. The TXDD2048M800HC4DC-D we received is Team Group's latest DDR2 series which they called it Xtreem Dark series. The Xtreem Dark series uses ProMOS chips and comes in two flavors: DDR2-667 3-4-4-8 (2.0 – 2.2V) and DDR2-800 4-4-4-10 (2.0 – 2.2V).  We have in our hand the DDR2-800 modules.  For the user who is looking to buy this RAM should be aware that Team Group also has another similar named series, called Xtreem, that also runs at the same clockspeed but at slightly different timings. The only difference in the two series' product number is that the Xtreem Dark series comes with a "D" attached while the Xtreem series does not.
Specification
Available in 1GB and 2GB Dual Channel
PC2-6400 800 MHz 4-4-4-12
64×8 DDR2 FBGA Chips
240pin, Non-ECC, Un-buffered DDR2 SDRAM DIMM
Aluminum Heat-spreader
8 Layers Ultra Low Noises Shielded PCB
Retail Package
2.2V – 2.35V
Lifetime Warranty
The memories come in a plan plastic package like most of the memory packages today. Remove the modules from the package, you will notice that besides the two sticks of the RAM, there's a small information sheet describing the warranty information.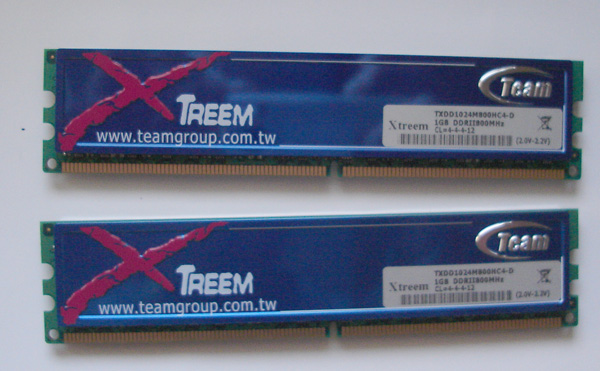 As it was mentioned earlier, Team Group now attaches heat spreader to the memory itself. As you can see the TXDD2048M800HC4DC-D is covered by a blue aluminum heat spreader over the RAM. The heat spreader is comprised of two thin aluminum strips that sandwich the memory modules on both sides.  Usually we remove the heat spreader to find out what chip is used but in this case, we do not have to since Team Group's press release has mentioned that it is ProMos chip. More information on the modules can be found at this link.

According to the Team Group's website, the RAM can run at "extended voltage up to 2.6V when you need to adjust the voltage in order the get the performance you wanted", although the official support on the package only states 2.2V as the highest supported voltage.  On Team Group's website's product description, it is shown that 2.35V is the highest voltage supported.  The information is somewhat confusing and I am going to assume that the 2.6V maybe a typo on the site and I would think that 2.35V maybe the highest voltage that the ram supports.
Memory Test Configuration
When I first install the modules to my EVGA 680i motherboard (122-CK-NF68-AR), they were recognized immediately without any trouble. The EVGA motherboard actually has some problem detecting some memories because of the motherboard's default RAM voltage is 1.9V. I am glad to see that the memory is being recognized without any hitch. In fact, it will even boot at DDR2-800 with the voltage set at 1.85V, sweet, huh. The timings were not recognized properly however. The memory was running at 5-5-5-16 instead of the 4-4-4-12. A quick manual adjustment allows me to run the memory at the proper timings.
After booting to Windows, I checked the information from Everest and CPU-Z.  Both programs show that the RAM is capable of running at 400-3-4-3-9 and 533-5-5-5-15. My first thought after seeing the information is "could the memory really run at 533?" If that's true, it would be such a great buy. I tried to change the timing to the 400-3-4-3-9 but the system won't boot even to the bios. Apparently the RAM doesn't work with CAS set at 3 when it's running at 400. After failing to boot with the timing reported by the CPU-Z and Everest, my suspicion that the RAM is capable of booting to 533 seems highly unlikely.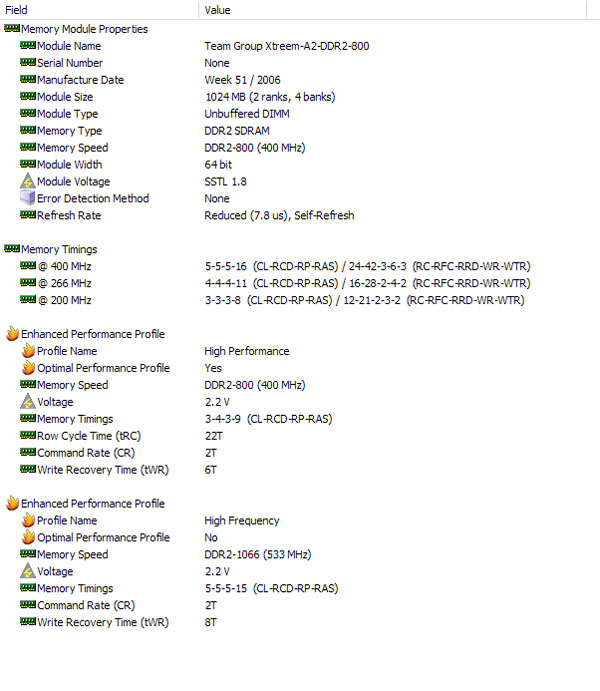 The EVGA 680i motherboard is an excellent motherboard to test the memory as it allows to adjust the FSB and the memory clockspeed independently. The motherboard will automatically adjust the FSB:DRAM ratio. I decided to set the FSB-Memory Clock mode to Unlinked and manually enter the given clockspeed to test the memory's performance. 
After some playing around with the settings, I am somewhat disappointed to find out that the maximum speed that I can push the RAM is 480MHz only (effective 960Mhz). It couldn't even break 500MHz. Despite this, I was actually able to get a good tight timing at 460MHz. In fact, with the voltage set at 2.2V, I was able to run the timing of 4-3-3-10-2T. Even at 2.0V, I was able to run the memory at 480MHz at 5-7-7-19-2T timing.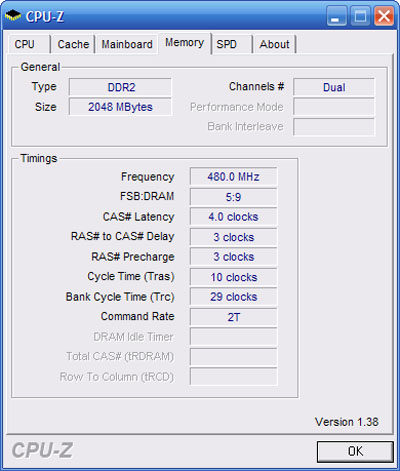 Here are the detail on the speed at which the RAM was tested.
Clockspeed

Timing

CL-RCD-RP-RAS-CR

Voltage

400 MHz

3-3-3-8-1T

1.85v

533 MHz

4-4-4-11-1T

1.85V

667 MHz

5-5-5-13-1T

1.85V

800 MHz  Stock

4-4-4-12-2T

2.0V

800 MHz

4-3-3-10-1T

2.2V

960 MHz

4-3-3-10-1T

2.2V
Testing System and Benchmark Tools
| | |
| --- | --- |
| Processor | Intel E6600 Core 2 Duo |
| Motherboard | EVGA nForce 680i SLI (BIOS P23) |
| Memory | Team Group TXDD2048M800HC4DC-D |
| Hard Drive | Seagate Barracuda Barracuda 7200.10 SATA ST3400620AS (16MB cache) |
| Graphics Cards | Gigabyte GeForce 7800 GT (driver 93.71) |
| Cooling | Stock Intel Cooler |
| Power Supply | Enermax Galaxy EGA850EWL |
| Case | NZXT Zero |
| Operating System | Windows XP Pro SP2 |
Testing Tools
Everest 3.50.824 beta
Quake 4 v1.0.0.0 build 2147
RightMark Memory Analyzer v3.72
SiSoftware Sandra XI 2007.2.11.17
Super Pi Mod 1.5
Each benchmark is repeated three times and the average of the three tests are reported. The first benchmark on the Quake 4 is discarded and subsequent three tests are recorded and averaged.

Results
Before we look at the results, I want to mention that the graph's scale has been adjusted to better demostrate the small differences among the different timings. When look at the graph, do take this into consideration as if the scale is draw from zero, the difference would not be as dramatic as what's shown on the graph.
Sandra XI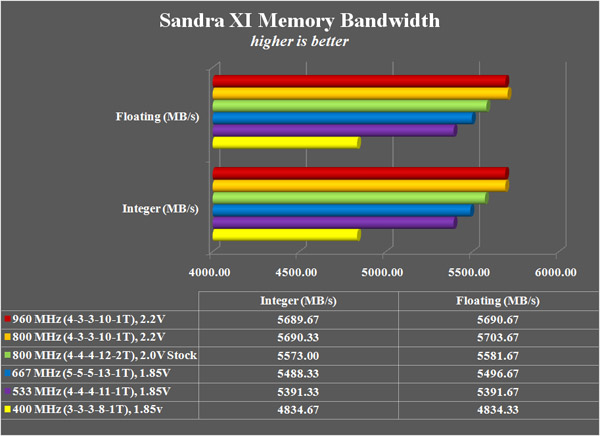 The Sandra benchmarks show that the Team Group TXDD2048M800HC4DC-D offers a nice progressive increase in the performance as the clockspeed is increased. However, when we overclock pass the DDR2-800, the performance actally decreases slightly. It seems like the memory has reached the peak bandwidth with clockspeed of 800Mhz, anything higher than that does not seem to offer much performance gain. It's a bit unfortunate to see this.
The Everest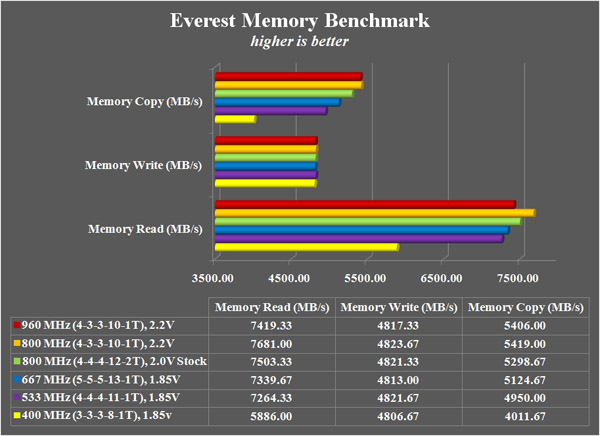 The Everest's memory read and copy benchmarks mirror Sandra's result. The performances seem to reach the highest at DDR2-800. Any speed faster than that does not offer much performance increase. What is also interesting is Everest's memory write benchmark. It seems that the memory write does not vary as dramatically as the performance of read/copy when the clockspeed is raised or timing is lowered.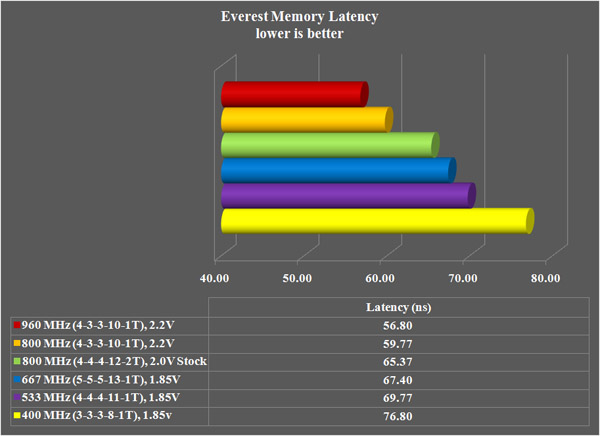 We can see from the Everest latency benchmark that as we increase the clockspeed, the Team Group TXDD2048M800HC4DC's latency is also reduced.
The RightMark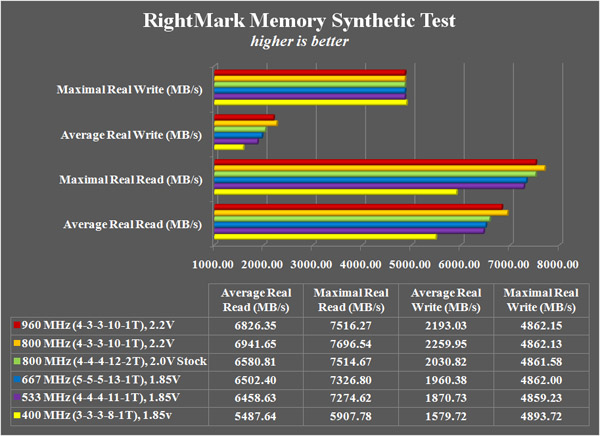 The RightMark benchmarks also shows the similar trends as we have seen from previous result. Just as we have seen with the Everet's write performance, the maximal write performance does not seem to improve as we increase the speed or lower the timing. One additional information can be seen from RightMark's memory synthetic test is that the average write speed does increase as we increase the clockspeed. However, just as we have seen with earlier results, the write and read performance seem to top at DDR-800. Once again, when we overclocked to DDR2-960, the performance is actaully worse than it was at DDR2-800, given the exact same timings.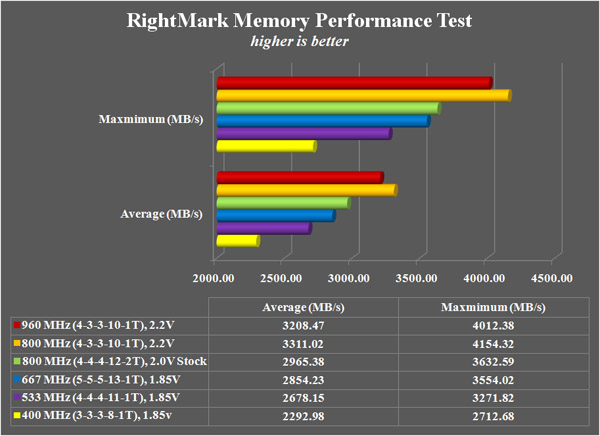 Nothing new at the RightMark's performance test, we see the same trends as what we have seen.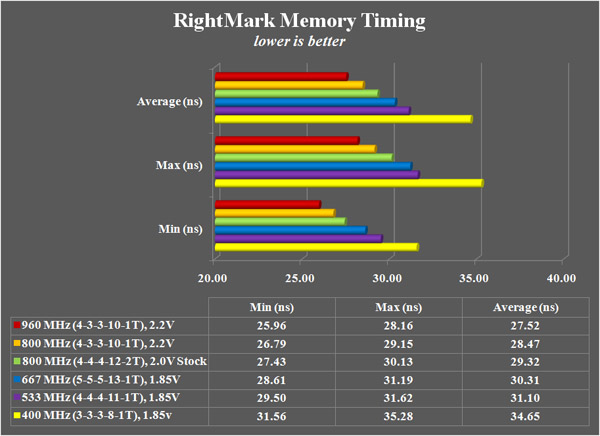 The RightMark's memory timing performance shows a steady decrease in the latency as we increase the clockspeed just as Everest has shown. 
Results, continued
SuperPi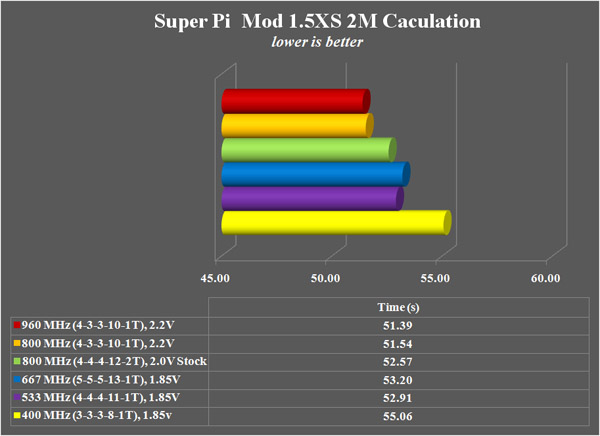 Looking at Super Pi's benchmark, we see that despite virtually no increase in the write and read's performance when we overclock the RAM past DDR2-800, the decrease in the latency does offer some benefits.  We can see that as the clockspeed increases, the performance incrases in Super Pi's benchmark, even when we overclock to DDR2-960. Furthermore, we can see the benefit of tighter timings here when we compare the performance of DDR2-800 running at 4-3-3-10-1T timings to the 4-4-4-12-2T timings.  Simply by decreasing the timing, we can get a a small performance increase. What is also interesting to see here is that at 533MHz, the performance is actually slightly better than the 667MHz. This is probably due to the slight performance hit when the memory is not running at one-to-one ratio. Thus, for anybody who is looking to buy a DDR2, it's probably not a wise idea to buy DDR2-677 if you do not plan to overclock.
Quake 4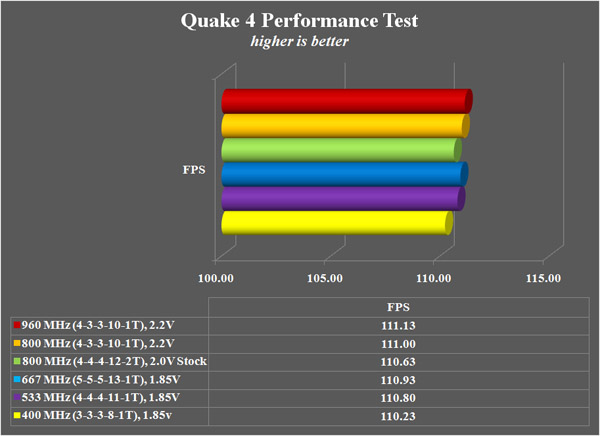 In the real world benchmark (representing by the Quake 4), we can see the performance the Team Group TXDD2048M800HC4DC-D at various clockspeed and timings.  Looking at the data, we see a steady performance gain all the way up to the DDR2-960.  Once again, comparing the DDR2-800 running at 4-3-3-10-1T to the DDR2-800 running at 4-4-4-12-2T, we can see that in real world, the decrease in the latency would have offered a better performance gain than simply increase in the clockspeed. If we look at the memory running at DDR2-667 (5-5-13-1T) and DDR2-800 (4-4-4-12-2T), we can clearly see that the lower the command rate does offer a much greater performance gain than the clockspeed.  Thus, the Team Group's memory's ability to run at command rate of 1T even at overclocked speed of 960MHz really offers good benefits in real world.
Conclusion
What can I say about Team Group's Team Group TXDD2048M800HC4DC-D?  Well, it's a mix bag of goods and bads. The good thing about this memory module is the ability to run at low voltage even at high clockspeed of DDR2-800, I was able to boot with 1.85V without any trouble and 2.0V at DDR2-960. This really would come in handy for those who may not have a great motherboard that can support a wide range of voltages yet still want the performance of higher clockspeeds. In addition, the ability to run at very tight timings even at high clockspeed is certainly something that will be beneficial on applications which require quick memory access, such as in games. Even at the stock speed, it can boot at 4-4-4-12-2T. Simply add a little bit of voltage to 2.2V allows us to push it to 4-3-3-10-1T.  So far, we have not seen too many (if there's any at all) RAM that can run 1T pass 800MHz, so this is certainly something that's unique to this pairs of modules.
The inability to push pass 1000MHz is somewhat a tiny dissapointment for me as quite a handful of PC6400 can be pushed past 1000MHz without much trouble. Given to the price range which Team Group is targeting, it's actually not that surprising to see this result. Moreover, able to push the RAM 20% more than its promised clockspeed still offers some head room for light overclockers. Since the current Core 2 Duo or AM2 really do not starve for memory bandwidth, the 960MHz maximum clockspeed should offer more than enough for most overclockers.
Surely, the Team Group's TXDD2048M800HC4DC-D is not designed for hardcore overclockers but just like the words from Team Group's press release, "TEAM Xtreem Dark series was developed with entry level overclockers and gamers in mind." This RAM will satisfy any entry level overclockers and gamers out there who do not want any trouble with a RAM and maybe just want to dab a little into the overclocking world.
Overall, I think Team Group is making a great RAM with their TXDD2048M800HC4DC-D. The fact that it comes with cool looking aluminum heat spreader and a life-time warranty really makes it a good buy. A quick search online shows that the TXDD2048M800HC4DC-D's is priced comparble to other PC6400s, however, the availability is somewhat limited in the States, which is a bit unfortunate. I do hope that we will see more products from Team Group in the future.
Finally, I do have to say I absolutely appreciate the fact that this pair of memory modules works extremely well on my EVGA 680i motherboard. There are quite a lot of users who have experiencing compatibility problem with the board (possibly the chipset as a whole) with certain memory. From the moment I put the memory in my system, I have expereinced zero problem whatsoever.  Even when the RAM was overclocked, it is absolutely stable and no trouble at all. This pair of RAMs certainly would be a good combo if you plan to put it in a 680i motherboard.
For the ability to run at tight timing and low voltage requirement, the Team Group's TXDD2048M800HC4DC-D will receive a 9 (extremely good) out of 10 score and will be awarded Bjorn3d.com's Seal of Approval.  It's a great choice of RAM for any entry overclockers.

Pros:
     + Low voltage requirement even at high clockspeed
     + Low latency at high clockspeed (1T at 960MHz)
     + Lifetime warranty 
     + Heatspreader
     + Fully disclosure on the type of memory chip was used
Cons:
     – Somewhat limited availability in the US.
     – Only is able to reach to 960MHz
I would like to give a big Thank You to Team Group for allowing us to review their product.
Members & non-members alike, we invite you to discuss this and other Reviews on the Bjorn3D Product Discussion forum…