I'll rather unfairly compare the FOXCONN 320mb 8800GTS Overclocked Edition I have today to the FOXCONN 512mb 7950GT Overclocked Edition graphics card. Will the almost standard 512mb RAM on the 7950GT give it a chance at XHD resolutions with Anti-Aliasing, where the onboard RAM size matters the most? What can you expect if you upgrade from a 7900-series card today? These are two of the questions I'll answer in this review. A third important question is what difference one can expect from a 320mb 8800GTS card when using an older or slower processor. To answer this I'll run a series of benchmarks with an E6300 at stock, and then overclock to 3.4ghz and rerun the same benchmarks again to find out what differences, if any, it will make.
INTRODUCTION
Ever since the launch of NVIDIA's famous 8800GTX and 8800GTS cards, even diehard ATI fans had to admit that NVIDIA was offering some very powerful graphics cards. However to the dismay of most people, NVIDIA had launched these cards at a MSRP of $600 and $450 respectively, putting them out of reach and consideration for most. Ever since then enthusiasts have demanded a more affordable DX10 part for the masses, and in turn nVidia delivered with the 320mb 8800GTS.
The 320mb 8800GTS is identical in all respects to its 640mb predecessor, so now the only question left to answer is: 'What do they want for it, and how much performance did it lose?' To answer, at the time of writing there are quite a few brands of 320mb 8800GTS graphics cards selling below the $300 mark, and at least several with mail-in-rebates that bring the price just below $255 right now, which is about at the upper limit to the mainstream gamer market.
To answer the second half of that question, I'll rather unfairly compare the FOXCONN 320mb 8800GTS Overclocked Edition I have today to the FOXCONN 512mb 7950GT Overclocked Edition graphics card. Will the almost standard 512mb RAM on the 7950GT give it a chance at XHD resolutions with Anti-Aliasing, where the onboard RAM size matters the most? What can you expect if you upgrade from a 7900-series card today? These are two of the questions I'll answer in this review.
A third important question is what difference one can expect from a 320mb 8800GTS card when using an older or slower processor. Rumors about older systems, especially Pentium 4's being CPU bound are aplenty, and I can confirm to this is mostly true with full 8800GTX cards. But how much different does it make with a 8800GTS? To answer this I'll run a series of benchmarks with an E6300 at stock, and then overclock to 3.4ghz and rerun the same benchmarks again to find out what differences, if any, it will make.
While admittedly comparing a 7950GT card to an 8800GTS is not the best match up, before someone objects in our forums I'd like to point out that Bjorn3d has already previously reviewed over 12 other NVIDIA 8800-series based cards at the time of this writing. Over four different manufacturers and all three versions of the 8800-series have been compared to a plethora of cards, so I encourage you to browse around the site little!

FOXCONN: The Company
While FOXCONN is a relative newcomer to the retail graphics market they have actually been physically manufacturing graphics cards and motherboards for a very long time, and infact one of the few to actually make NVIDIA cards themselves. Regardless of exactly why, after Leadtek announced they were exiting the North American graphics card market FOXCONN, being the previous producer of Leadtek's NVIDIA cards, decided they had what it took and jumped right in.
Foxconn is the registered trade name of Hon Hai Precision Industry Co., Ltd., a global leader in the design, manufacture, and distribution of advanced computer, communications, and consumer electronics components, including motherboards, graphics cards, CPU coolers, barebone systems, and chassis for personal computer desktops and servers. With over three decades of demonstrated manufacturing excellence, Hon Hai sets the standard in the industry for product quality and reliability, customer support, and value. In 2005 Hon Hai had sales of $25 billion (USD).

The Channel Service Division (CSD), part of the PCE Business Group of Hon Hai, is Hon Hai's worldwide organization for servicing channel customers. Guided by the mantra "The Art of More", CSD is dedicated to making it simpler and more affordable for its customers to offer superior information systems to their consumer and enterprise customers. CSD serves a network of distributors and OEM customers in Asia, EMEA, and the Americas.
FEATURES & SPECS
The FOXCONN 8800GTS 320mb "Overclocked Edition" graphics card in this review is physically the same as the reference 8800GTS design, except as of course only featuring half of the original 640mb of onboard RAM. Interesting to note however, is that this card is pre-overclocked to 8800GTX speeds out of the box! The original 8800GTX launched clocked at 575mhz on the Core and 1,800mhz on the RAM, which this card shares. Unfortunately for those wondering the Shader clock is left at the reference GTS speed of 1,200mhz, but currently shader clocks hold less importance than core/memory clock anyway.
Foxconn 8800GTS "FV-N88SMCD2-ONOC" Specifications

GPU

NVIDIA® GeForce 8800GTS

Core

G80

Core Clock

575MHz (500MHz Reference)

Pixel Pipeline

96 Stream processors running @ 1.2GHz

Vertex Pipeline

96 Stream processors running @ 1.2GHz

RAMDACs

400 MHz

Memory Type

GDDR3

Memory Size

320MB

Memory Clock

1800MHz (1600MHz Reference)

Memory Interface

320-bit

Graphics Bus Technology

PCI Express x16

Cooler

Fansink (2-slot)

Connectors

Dual Dual-Link DVI + HDTV-Out

Dimensions (Length)

9.5″

Special Features

NVIDIA® PureVideo™ HD Support
NVIDIA® SLI™ Support
Dual Dual-Link DVI Support
HDTV Out Support
Windows Vista™ Support
Bundled 3D Game Pad
Bundled RestoreIT v7.0
VirtualDrivePro v10.0
Factory Overclocked Version
If you are looking for some detailed hardware and features info then I suggest that you give NVIDIA 8000 GPU/VPU: An Introduction a read, which will go into detail on the workings of NVIDIA's 8800-series graphics cards. Basircally with these new DirectX10® cards each unified shader (Or "Stream Processor") can now perform the functions of vertex, pixel, and geometry processing.
As Bjorn3d has extensively covered numerous 8800GTX and 8800GTS cards in past reviews I will decline to get into detail the finer details of this card such as DirectX10® and Shader Model 4.0 support, but if interested I again suggest clicking the above hyperlink.
THE PACKAGE
Since these tend to be lengthy cards, it seems only fitting to go with a lengthy packaging too, no? While this reviewer is certainly not opposed to the choice of box art, I still will say it reminds me of my 5th grade solar system project for some strange reason.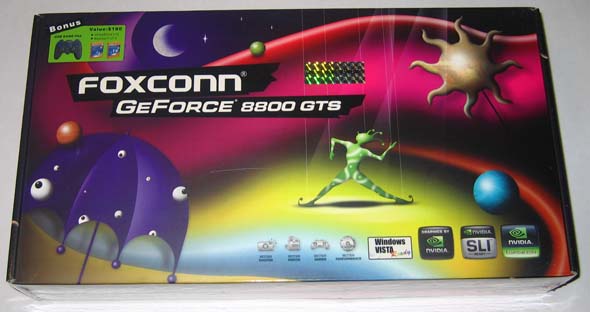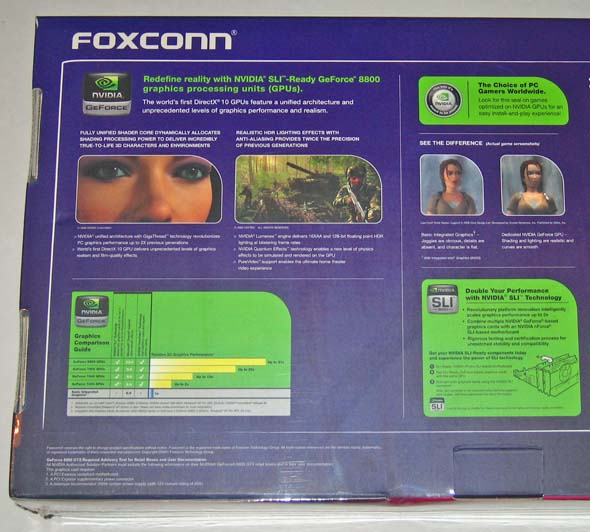 I'm happy to say that I don't have any complaints regarding the integrity or safety of the packaging, the card and box contents are safely packaged enough to survive all but the worst parcel carrier handling. Not to make the same mistake twice, FOXCONN also ensured that no slipups were made regarding the packaging print, such as claiming the 7950GT is really comprised of two GPUs on the same PCB. 😉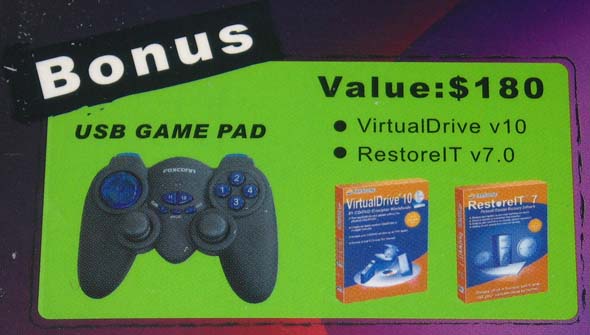 Speaking of packaging print, you are even getting the same box as a 640mb 8800GTS, just with an extra sticker.
FOXCONN has always seemed to offer some interesting bundles. In place of a random smattering of games & demos that usually go unopened or a single big name hit, FOXCONN decided to go for both functionality and utility. Included in the box for the FV-N88SMCD2-ONOC model is a rather nice USB game pad and two software utilities, along with the more everyday port and power connection adapters plus manual.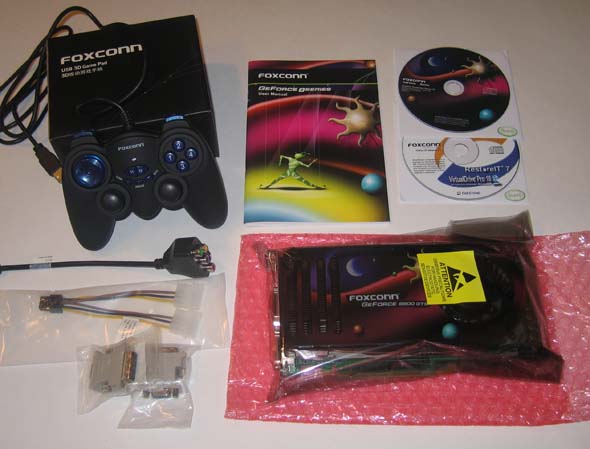 The included USB game pad best resembles an interesting hybrid of the old Nintendo 64 & the PS2 . While I've still not personally found a game in my relatively small repotoire to try the controller on, I can say it offers a very solid, comfortable feel with just enough heft and a soft rubber coating for grip. Not to mention over 12 buttons that should satisfy even the most button-happy gamer who must assign every button a function.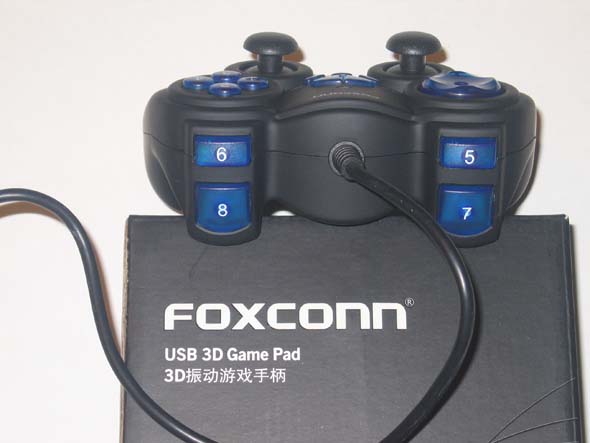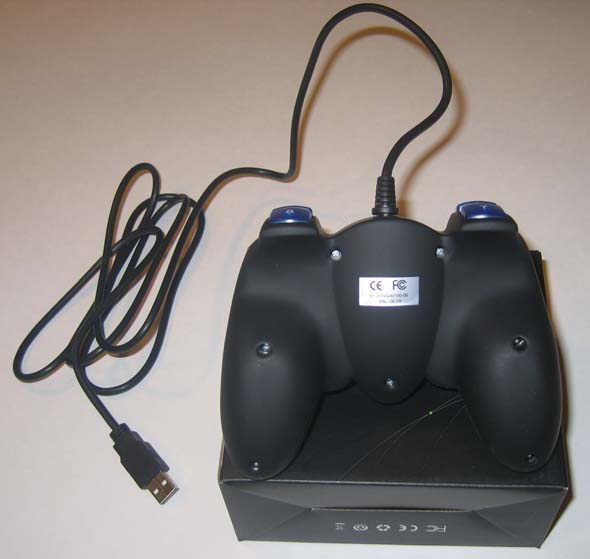 While the bundled software is good, I still would have preferred that the Professional edition of RestoreIT v7 have been included instead of the non-Pro version. The Pro edition comes with DriveClone2 bundled in, which is a full drive imaging program similar to Norton Ghost. As it is we are given VirtualDrive Pro v10 which includes a Virtual Hard Drive program to create RAM disks using spare computer memory. Unfortunately the most current version of VirtualDrive Pro is v11, which is the edition that added support for Windows Vista, the intended operating system for this card.
RestoreIT v. 7: RestoreIT automatically backs up all files on your computer to a protected partition on your hard drive. After a virus attack, a Windows crash, or a software installation gone wrong, RestoreIT will return your system to normal, even when Windows does not boot. RestoreIT also lets you to store a complete snapshot of your C: drive to a networks share or to an external USB hard drive.
VirtualDrive Pro v. 10 VirtualDrive Pro copies a CD or unprotected DVD as a compressed image, or "virtual CD," which runs in place of the original disc in any one of up to 23 virtual drives. VirtualDrive Pro makes it a snap to create custom virtual CDs with favorite tracks, expansion packs, documentation, and custom programs. Run as many virtual CDs simultaneously as you have available virtual drive letters, moving from one PC game or application to another without having to swap out CDs or wait for discs to spin up
Virtual Hard Drive: Virtual Hard Drive takes a portion of your system memory (RAM) and creates a RAM disk, which functions like a hard drive with dramatically reduced read and write times. Applications perform up to 340 time faster, making Virtual Hard Drive the program of choice for anyone looking to reduce the load and response time of calculation-intensive applications.
Speaking of Windows Vista, I should note that the driver disc included in this package does not have any Windows Vista drivers onboard. While FOXCONN may update their driver disc at a later time, expect to have to download the drivers to install this card on a Windows Vista system.
THE CARD
First, I should note that while I received a retail sample, this specific model card has since been updated to come with an all black PCB as opposed to the green PCB in the following photos.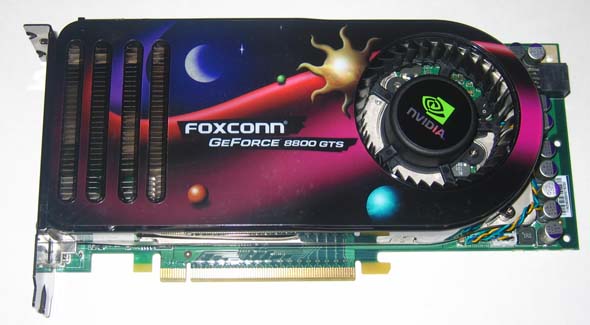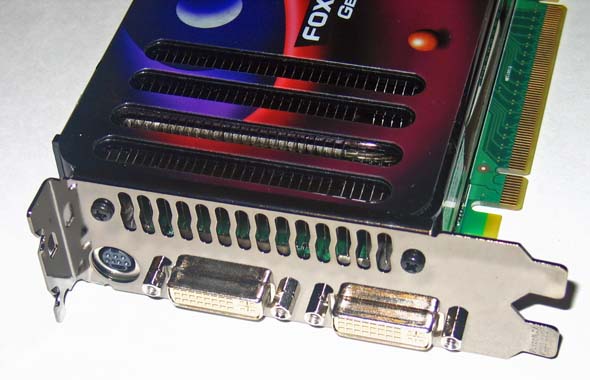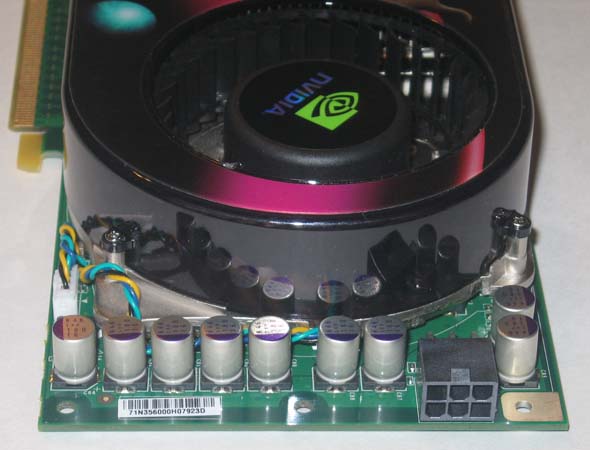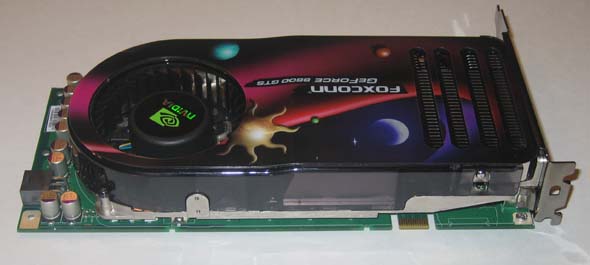 Unlike full 8800GTX, there is only one SLI bridge port. However this does not matter as currently there is still no SLI driver support for Windows Vista users for any NVIDIA cards as of yet, G80, G79, or otherwise. (Unless you are into beta drivers, of course) As stated previously, this dual slot card is only a mere ~9.5 inches long, and should now come in a pretty black PCB. Due to the thick metal heatsink underneath the plastic fan housing, this card is quite heavy!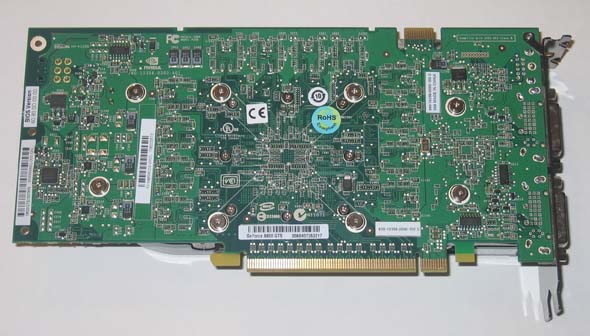 Warning (!)
This warning is applicable to ANY FOXCONN G80 card owner or future owner. It is not really discernable in the above photos, but all FOXCONN cards ship with a very thin plastic film to protect the plastic heatsink from blemishes. This thin film is NOT LABELED nor even MENTIONED anywhere on 8800GTS cards or in the manual, and it is invisisble in most situations! FOXCONN 8800GTX cards also have this protective film, and while these do carry a red warning label it cannot be seen against the heatsink's background picture. Again the 8800GTS cards do not have this red warning on the plastic film!
It is critical that this film be removed before the first use of the card. In four out of five instances I have heard it will either interfere with the fan spinning or even fray and be partly ingested directly into the fan, potentially damaging it or causing the fan to prematurely wear out if not removed.
TEST SETUP
All game options were set to their highest possible settings, and SMP/multi-core support was enabled where possible. The first benchmark run was thrown out due to Windows XP's memory caching which will increase performance in most games after the first run. All benchmarks were then run three consecutive times with the results averaged. All games were fully updated at the time of testing with the game version given in the respective graphs, no demo game versions were utilized.
Test Platform

Processor

Intel Core 2 Duo E6300 1.86GHz

(Also tested with 486FSB @ 3.4GHz)

Motherboard

Gigabyte GA-965P-DS3 Rev 1, BIOS 10

Memory

Corsair DDR2-800mhz 2x2GB @ 5-5-5-15

Drive(s)

Seagate 320GB Barracuda SATA Hard Drive

Graphics

Test Card 1:   FOXCONN 7950GT 512MB OC
Test Card 2:   FOXCONN 8800GTS 320MB OC

Case

Antec P180-B

Power Supply

Antec NeoHE 550watt PSU

Operating System

Windows XP Pro w/ SP2
Testing was conducted on a defragmented hard drive with minimal background processes and no Anti-Virus software running, on a fully patched and updated build of Windows XP Professional w/ SP2. 
Synthetic & Gaming Benchmarks
3DMark06
F.E.A.R
Quake 4
Prey
Half Life 2
Company of Heroes
For the first run both cards were benchmarked at stock settings. Then all benchmarks except 3DMark06 were rerun with 4x Anti-Aliasing and 8x Anisotropic Filtering. I increased the FSB to 486 with a "2" memory multiplier to reach 3.4ghz. This effectively ran the RAM at 976MHz. RAM timings and all other system settings were kept the same for both runs.
For those wanting confirmation the system was 100% stable, this system was overclocked to 3.5ghz and tested with a full 24 hour Orthos Blend run and passed without any errors. A lower overclock of 3.4ghz was then utilized for testing.
TEST RESULTS
3DMark06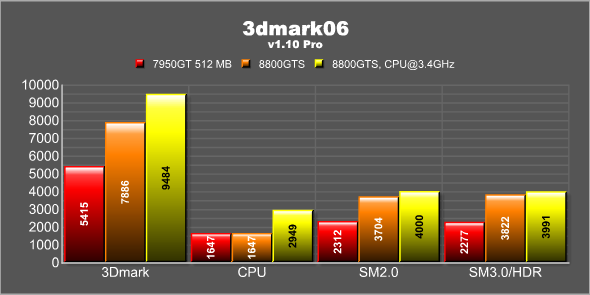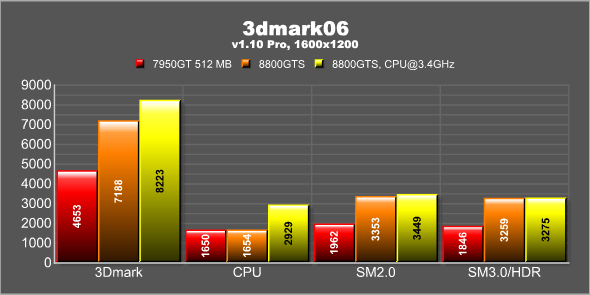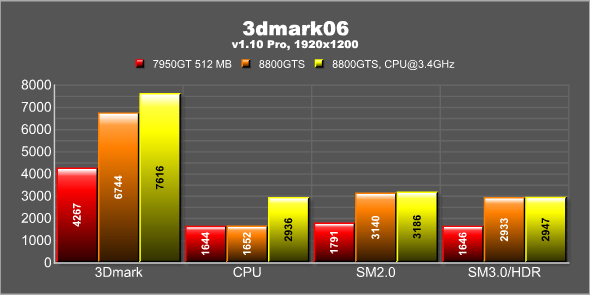 As demonstrated in the first graph with the default 3DMark06 settings, if synthetic scores are your gravy then don't underestimate the CPU side of the equation! The stock 3DMark06 score really took off once the CPU was mildly overclocked. With a little graphics card overclocking and/or extreme CPU overclocking a score of 10,000 would have been possible!
F.E.A.R.
F.E.A.R. offers a built in benchmark to test game systems, and so it was utilized for these tests. It should be noted that the benchmark is not a static replay; each run will actually be slightly different than the previous depending on physics, and possibly other variables. Even so the variance in results between each run was only within a few frames!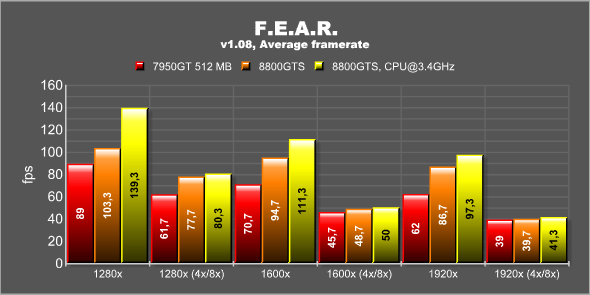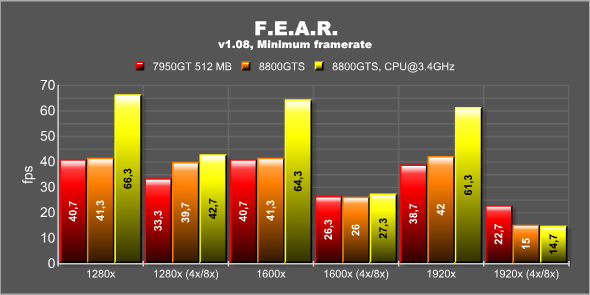 The use of 4xAA & 8xAF has a severe impact on this game, especially at and above the 1600×1200 resolution. Notice the even larger impact on the absolute minimum framerate. Just by increasing the CPU @ 3.4ghz for the three benchmarks without AA/AF the absolute minimum framerate jumped a whopping 20FPS over the stock E6300 test.
1920×1200 with AA/AF would experience bouts of lag with any of these cards and configurations, but will offer completely smooth gameplay with AA/AF left off.
TEST RESULTS (CONT)
Quake 4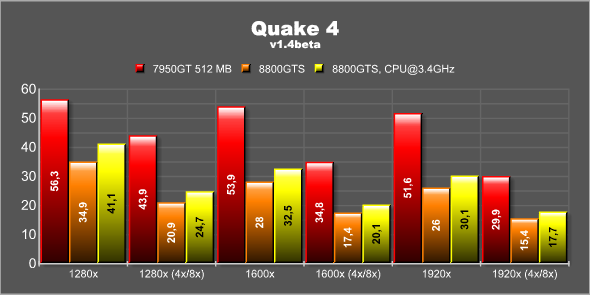 No, this reviewer did not mix up his cell references in Excel, the chart is correct; the dismal results of Quake 4 with the 8800GTS 320mb are expected. With ULTRA mode enabled Quake 4 uses about 500mb of uncompressed game textures, which is obviously a feature designed for graphic cards featuring 512mb (or larger) of onboard RAM. As this 8800GTS only offers 320mb not even its powerful core could hope to overcome the RAM size limitations with the "Ultra" setting. Gameplay would be extremely laggy even at the 1280×1024 if the detail settings are not reduced. Users of the 320mb 8800GTS will have to make do with the "High" details setting to play Quake 4, or spring an extra $80 for the full 640mb equiped version of this card.
Prey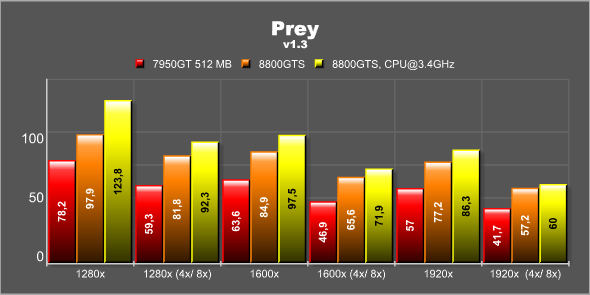 Prey is another OpenGL based game that features an "Ultra" type graphics mode that was designed for graphics cards with 512mb of onboard RAM. Even so the results are quite different, as obviously the game does not require a great amount of onboard memory.
Using AA/AF had more of a negative impact than simply using a higher resolution in this game. Not until 1920×1200 with 4xAA/8xAF used does the difference in framerates between the stock and overclocked benchmarks shrink to roughly the same.
Company of Heroes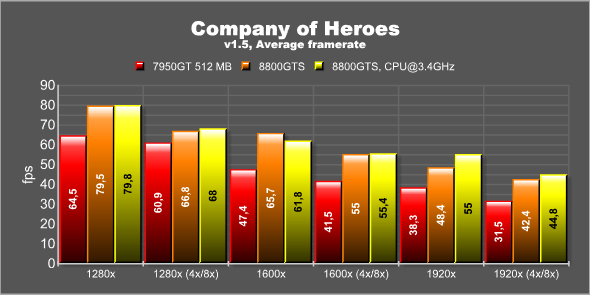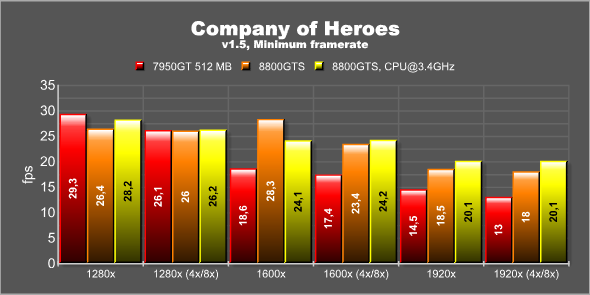 Unfortunately the CoH results will have a larger margin of error due to the large disparity between concurrent runs. This is partly attributable to bugs with the game and/or some issue that causes the game to quickly develop artifacts when played on G80 hardware after only 2-3 runs. This is strange as CoH offers a static, always the same cinematic test for benchmark runs which was utilized here. Once artifacts were seen a reboot was done before retesting as they would greatly affect the results.
Despite the non-precise numbers, a rough idea can still be gleaned from the results. This is the first game to not show much to any difference between the 1.86ghz and 3.4ghz CPU speeds. Even at 1920×1200 & 4xAA/8xAF (with or without the artifacts) the game plays smoothly without stuttering, and the user can pan&scan the camera smoothly around the map.
Half Life 2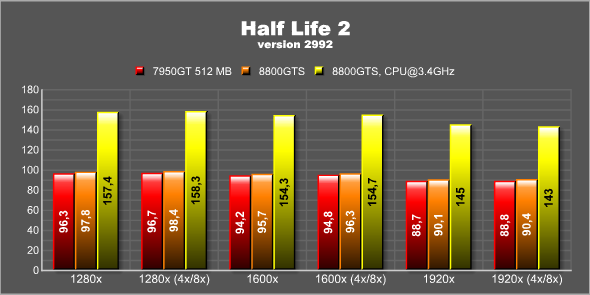 Lastly, we end on a much more pleasant game to benchmark that often gave results identical to the previous run right down to the second decimal place. Suffice to say this game is 100% CPU limited, which explains why the linearly ~60% higher frame rates on the overclocked CPU are in line with matching the 85% CPU overclock. Interestingly on the non-overclocked setups (the 7950GT especially), the minimum framerate would sometimes still drop into the red zone below 30FPS, but not with the overclocked setup.
While this game may be old Valve has since updated the engine with some multithreading enhancements done for Episode One. Likewise, Episode One has been updated with enhancements planned for Episode Two, so suffice to say if Valve games are you deal then a strong CPU should be planned for. Episode Two should be able to take full advantage of even an eight core system. 😉
Temps
As far as temperatures go it is my opinion that FOXCONN has again tweaked the cooler design to improve their card's own cooling. Regarding the FOXCONN 7950GT card in this review, it has a heatpipe fully hidden underneath FOXCONN's proprietary cooler which greatly lowered temperatures for that card! But unless there is an outpouring of reader votes, I don't plan to remove the cooler on this card to find out exactly what FOXCONN has done this time to keep such a hot beast of a card so cool. 😉
Idle/Load temps were measured after ten minutes of idle time and ten minutes of ATI Tool running with the 3D cube spinning. Idle temp was 48c, and I could not budge the temperature beyond 68c under load, even after overclocking. For a G80 card that is downright chilled! Ambient room temp was held as close to 27.8c during the time of testing.
Overclocking
I'll keep it brief and say that as far as overclocking goes, I've been wondering if I might have been sent a cherry picked card, it's that good! That being said do not expect to purchase your own FOXCONN 8800GTS 320mb card and receive equivalent overclocking results as these; while faster overclocks on these cards have actually been recorded it is not a guarantee you will meet or exceed these overclocks on your own hardware.
Also at this time the Shader clock speed can only be adjusted by flashing the video card BIOS, something I elected to forgo for this review. When overclocking the Core frequency the Shader clocks automatically changed to 1350MHz, which happens to be the stock speed for a 8800GTX.
FOXCONN 8800GTS Overclocking Results (MHz)

 

Reference 8800GTS

Stock  (Out of the box)

Overclock

Core

500

575

660

Memory

800 (1600 Effective)

900 (1800 Effective)

975 (1950 Effective)

Shader

1200

1200

1350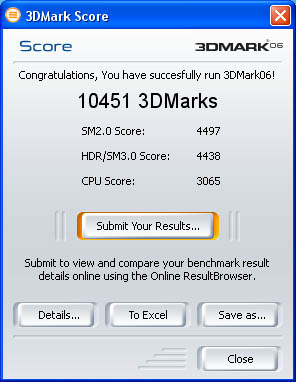 The system was stable and fully artifact free throughout the above 3Dmark06 bench runs! To verify the 660/975 overclock was stable I ran ATI Tool 0.26 for 20 minutes, restarted, and ran it again for 20 minutes without any artifacts detected or appearing. For those superstitious in nature it might interest you to know that when I attempted a "666" MHz overclock I instantly found ALL the missing artifacts. The RAM unfortunately would not stay stable at 2,000mhz, but that is small potatoes at this point.
CONCLUSION
As some will be quick to point out, overclocking the FSB to 486 and running the RAM at 972mhz does help to slightly improve the 3.4ghz results, however the effect should only amount to only a few percent, at most. Additionally as the E6300 used in these review lacks a full 4mb L2 cache, this will actually decrease performance when comparing to any identically clocked 4mb cache Core 2 Duo processor.
As the results illustrate, the processor can matter greatly, but there is no clear cut quick answer. Usually a powerful CPU will not only raise the average framerates, but most importantly would boost the minimum framerates, in some cases easily making all the difference between an occasionally laggy game and a lag free game. At stock the E6300 would be comparable to an Athlon64 X2 4200 processor, and overclocked as so would perform a little better than an X6800 Core 2 Extreme.
While suggesting to pair a powerful CPU with the relatively cheap 320mb 8800GTS sounds like a clear cut answer, it is not if you plan to game at XHD resolutions such as 1920×1200 or especially anything higher with maximum eye candy in the majority of todays and tomorrows games; in which case better performance would be found by springing the extra ~$80 difference for a fully equipped 640mb version of this same FOXCONN 8800GTS. Of course ideally one would spring for both a powerful CPU as well to create the perfect combination, but that can't always be the case. Especially when adding on the price of a PSU upgrade, as a close estimate of the power draw of this system as configured is now about 320watts under load, enough to visibly drop the +12v power rail on the NeoHE 550watt PSU to an alarming 11.6v, by far the lowest I've seen to date.
Graphics card prices are always subject to change, and the expected April 17th launch of the 8800GTX Ultra and 8600 class cards will certainly impact prices as well. However it's a safe bet the 8600GTS will not prove to be much of a contender to this card with its 128bit wide memory bus limitation. After achieving the wild overclocking results with this card, I'm not even sure if the 8600GTS would have a chance, but we have yet to see what ATI will be bringing to the table as opposition to this card.
The FV-N88SMCD2-ONOC is currently the cheapest 8800GTS 320mb card that comes pre-overclocked to 8800GTX speeds. Infact it overclocked higher than what most 8800GTX cards are even capable of reaching while staying quite cool in the process! While standard clocked 8800GTS cards can be found as cheap as $255 in some cases, the high factory overclock alone, covered by a three year warranty policy and included bundle make this card both a great performer and a great value at just a "mere" $285. More graphics cards from NVIDIA and a new line of DX10 cards from ATI are launching within the next two months, so if you can wait then it will very likely be in your best interests to do so if just for the better prices, but if you can't or simply don't care to wait then this might just be the perfect card for you!
Pros:
+ Full Microsoft DirectX 10® /SM4.0 Support
+ Supurb price/performance ratio
+ Runs silent
+ Runs cold (Relatively speaking!)
+ Great Overclocker!
Cons:
–  Poor/No Vista SLI Driver Support Yet
–  Outdated bundle software
–  "Only" Three Year warranty
–
  No warning regarding protective film on cooler
Final Score: 9 (Excellent) out of 10 paws and the prestigious Bjorn3D Golden Bear Award! 
Word of Thanks
I'd like to personally extend my appreciation to FOXCONN for sending in a retail sample of this product for review. Without companies like them willing to take the risk, time, and cost to send in products for review, sites like Bjorn3d wouldn't be nearly where they are at today!