With the increased power of the GeForce 8800GTX comes an increases need for good cooling. ASUS has combined an overclocked ASUS 8800GTX card with a Thermaltake Tide Water cooling device to create a very special video card.
INTRODUCTION
With the increased power of the GeForce 8800GTX graphics processor comes an increases need for good cooling. A GeForce 8800GTX video card with stock cooling can reach temperatures around 80C at full load, something that isn't ideal in the long run, especially if you want to overclock the GPU.
A few weeks ago, I reviewed the Calibre 8800GTX video card from Sparkle which uses TEC-cooling to keep the temperatures down. Using a TEC-cooler is something that has made it possible for Sparkle to overclock their card right out of the box as well. ASUS has chosen another route when it comes to finding a good cooling solution for an overclocked card. With the vide card we are reviewing today, the ASUS EN8800GTX AquaTank, ASUS has combined an 8800GTX video card with a Thermaltake Tide Water cooling device.
ABOUT ASUS
ASUS, a technology-oriented company blessed with one of the world's top R&D teams, is well known for high-quality and innovative technology. As a leading provider of 3C (computers, communications and consumer electronics) total solutions, ASUS offers a complete product portfolio to compete in the new millennium.

In 2005, ASUS shipped 52 million motherboards, which means one out of every 3 desktop PCs sold last year was powered by an ASUS motherboard. If we line them up side by side, the length will be longer than the distance from New York to San Francisco.

ASUS products' top quality stems from product development. It's like learning Chinese Kung-Fu; one must begin with cultivating the "Chi" and inner strength. Besides innovating cutting-edge features, ASUS engineers also pay special attention to EMI (electromagnetic interference), thermal, acoustics and details that usually go unnoticed to achieve complete customer satisfaction. ASUS notebooks are the first TCO'99-certified notebooks worldwide. The requirements for this honor include radiation emission control, energy (battery consumption), ecology (environment friendly) and ergonomics.

Imagine innovations that simplify our lives and enable us to realize our full potential. It is technologies' responsibility to accommodate us, not the other way around, because all devices should perform and communicate seamlessly anytime, anywhere. ASUS thrives to become an integrated 3C solution provider. (Computer, Communications, Consumer electronics.)

Over the past 2 decades, technology has changed the way we live and experience the world. We have been enabled to work, play, learn, and communicate in ways we have never before thought possible. Since its inception, ASUS has been the cornerstone of this evolution. 1 out of every 4 desktop PCs in the world today has an ASUS motherboard inside. As a major player of this evolution, we have established our corporate mission … ASUS mission: Provide innovative IT solutions that empower people and businesses reaching their full potential.
FEATURES AND SPECIFICATIONS
In the bottom of the ASUS EN8800GTX AquaTank we find a GeForce 8800GTX card that has been overclocked out of the box.
| | | |
| --- | --- | --- |
| Feature/Specification |  ASUS EN8800GTX AquaTank  | Regular  8800GTX |
| GPU Clock  | 630 MHz | 575 MHz |
| Memory Clock  | 1030 MHz | 900 MHz |
| Memory Data Rate  | 2060 MHz | 1800 MHz |
| Memory Size  | | 768 MB |
| Memory Data Width  | | 384 Bits |
| Memory Type  | | GDDR3 |
| ROPS  | 24 | 24 |
| | 128 | 128 |
On the feature side we of course find the features coming from the actual 8800GTX chip:
NVIDIA® unified architectureFully unified shader core dynamically allocates processing power to geometry, vertex, physics, or pixel shading operations, delivering up to 2x the gaming performance of prior generation GPUs
GigaThread™ Technology
Massively multi-threaded architecture supports thousands of independent, simultaneous threads, providing
Full Microsoft® DirectX® 10 support
World's first DirectX 10 GPU with full Shader Model 4.0 support delivers unparalleled levels of graphics realism and film-quality effects
NVIDIA® SLI™ technologyDelivers up to 2x the performance of a single graphic cards configuration for unparalleled gaming experiences by allowing two cards to run in parallel. The must-have feature for performance PCI Express® graphics, SLI technology dramatically scales performance on today's hottest games.
NVIDIA® Lumenex™ EngineDelivers stunning image quality and floating point accuracy at ultra-fast frame rates: 16x Anti-aliasing: Lightning fast, high-quality anti-aliasing at up to 16x sample rates obliterates jagged edges 128-bit floating point High Dynamic-Range(HDR):Twice the precision of prior generations for incredibly realistic lighting effects-now  with support for anti-aliasing
NVIDIA® Quantum Effects™ Technology
Advanced shader processors architected for physics computation enable a new level of physics to be simulated and rendered on the GPU –all white freeing the CPU to run game engine and AI
NVIDIA® ForceWare® Unified Driver Architecture (UDA)Delivers a proven record of compatibility reliability and stability with the widest range of games and applications

ForceWare provides the best out-of-box experience and delivers continuous performance and feature updates over the life of NVIDIA GeForce GPUs

OpenGL® 2.0 optimizations and support
Ensures top-notch compatibility and performance for OpenGL applications
NVIDIA® nView® Multi-Display Technology
Advanced technology provides the ultimate in viewing flexibility and control for multiple monitors
PCI Express supportDesigned to run perfectly with the PCI Express bus architecture, which doubles the bandwidth of AGP 8X to deliver over 4 GB/sec. in both upstream and downstream data transfers.
Dual 400MHz RAMDACs
Blazing-fast RAMDACs support dual QXGA displays with ultra-high, ergonomic refresh rates –up to 2048×

[email protected]

.
Dual Dual-Link DVI Support

Able to drive industry's largest and highest resolution flat-panel displays up to 2560×1600.

Built for Microsoft® Windows Vista™


NVIDIA's fourth-generation GPU architecture built for Windows Vista gives users the best possible experience with the Windows Aero 3D graphical user interface

NVIDIA PureVideo HD technology

NVIDIA® PureVideo™ HD technology is the combination of high-definition movie decode acceleration and post-processing, HDCP circuitry, and integration with HD movie players that delivers the ultimate high-definition movie experience on a PC.

Discrete, Programmable Video Processor

NVIDIA PureVideo is a discrete programmable processing core in NVIDIA GPUs that provides superb picture quality and ultra-smooth movies with low CPU utilization and power.

Hardware Decode Acceleration


Provides ultra-smooth playback of H.264, VC-1, WMV and PEG-2 HD and SD movies.

Spatial-Temporal De-Interlacing


Sharpens HD and standard definition interlaced content on progressive displays, delivering a crisp, clear picture that rivals high-end home-theater systems.

High-Quality Scaling


Enlarges lower resolution movies and videos to HDTV resolutions, up to 1080i, while maintaining a clear, clean image. Also  provides downscaling of videos, including high-definition, while preserving image detail.

Inverse Telecine (3:2 & 2:2 Pulldown Correction)


Recovers original film images from films-converted-to-video (DVDs, 1080i HD content), providing more accurate movie playback and superior picture quality. 

Bad Edit Correction


When videos are edited after they have been converted from 24 to 25 or 30 frames, the edits can disrupt the normal 3:2 or 2:2  pulldown cadence. PureVideo uses advanced processing techniques to detect poor edits, recover the original content, and display  perfect picture detail frame after frame for smooth, natural looking video.

Video Color Correction


NVIDIA's Color Correction Controls, such as Brightness, Contrast and Gamma Correction let you compensate for the different color characteristics of various RGB monitors and TVs ensuring movies are not too dark, overly bright, or washed out regardless of  the video format or display type.

Integrated SD and HD TV Output


Provides world-class TV-out functionality via Composite, S-Video, Component, DVI, or HDMI connections. Supports resolutions up to 1080p depending on connection type and TV capability.

HDCP Circuitry


Designed to meet the output protection management (HDCP) and security specifications of the Blu-ray Disc and HD DVD formats, allowing the playback of encrypted movie content on PCs when connected to HDCP-compliant displays

HD Movie Player Integration


NVIDIA PureVideo HD technology powers the world's leading HD movie player software applications, providing the optimal HD DVD and Blu-ray movie experience.

Noise Reduction :

Improves movie image quality by removing unwanted artifacts.

Edge Enhancement:
Sharpens movie images by providing higher contrast around lines and object
The main feature of course is the cooling. ASUS has taken a Thermaltake Tide Water GPU cooler and combined it with an 8800GTX card. The Tide Water has been around for quite some time now and I've found reviews of it dating back to beginning 2006. There is nothing wrong with taking a proven design as it means you know what you can expect. The specifications that I have found for the Thermaltake Tidewater are as following:
Brazing copper Waterblock 
All copper designed Radiator
Adjustable Fan (1700 , 2500 RPM /17 , 19dBA)
Black Powerful 12 V Tiny Pump
10,000 hours of maintenance free from liquid refilling
The one thing that I am not sure about here is the noise-levels. According to the specifications, the noise level is only around 17-19 dB for the cooler but for the ASUS EN8800GTX AquaTank the number is much higher at 35-45 dB. The main noise does come from the cooler, so either ASUS has made some changes to it or the numbers from Thermaltake are very optimistic.
WHAT IS IN THE BOX?
The card comes in a white large box. The box is coated with some shiny plastic coating, probably to make it look like it is under water. It looks great and also does a great job of messing up photos.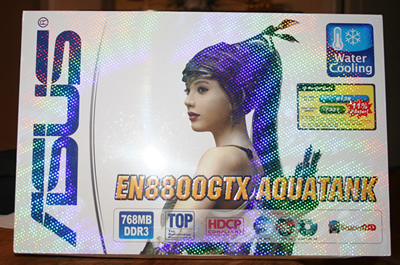 On the back of the box you find information about the card and the cooling.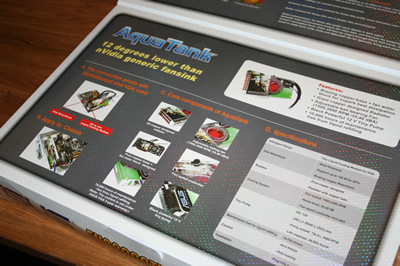 Opening up the box, you find the card and the cooler sitting comfortably on hard foam which prevents them from sliding around and getting damaged in transit.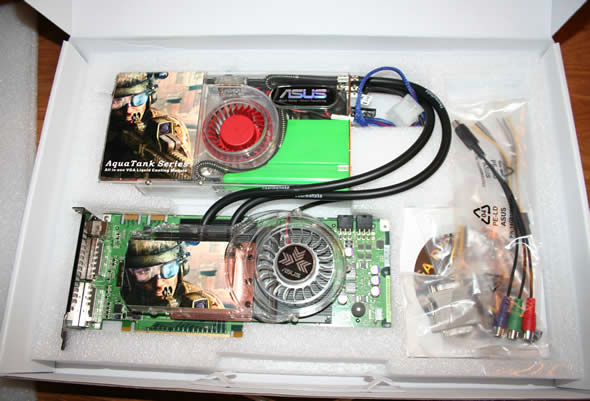 As always ASUS has included tons of stuff with the card:
The card + the Thermaltake TideWater
2x Molex to PCI-E power adapters
Component Video Out cable
Manuals for the video card and the TideWater
Driver CD's for XP and Vista
Ghost Recon Advanced Warfighter
GTI Racing
3Dmark06 (full version)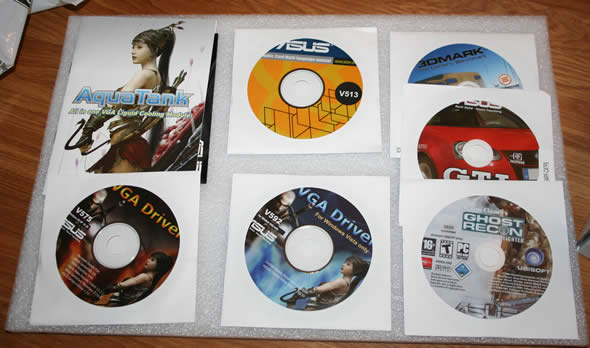 ASUS is one of the few companies that still put some effort in the bundle, especially when it comes to software and games.
The Card and Cooler
One advantage of buying a complete kit like this is that you do not need to mess around and try to assemble everything. The card comes hooked up to the cooler through two tubes and is already prefilled with the coolant.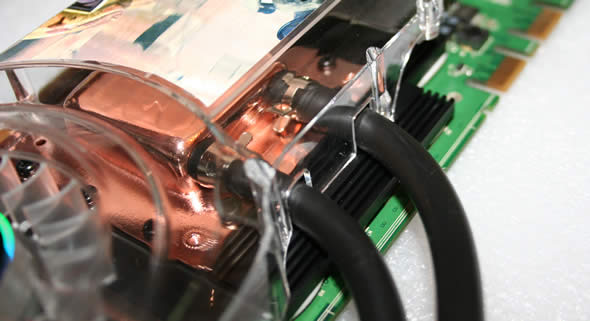 The video card is hooked up to the cooler through these tubes
The 8800GTX and the cooler are the same size which means that this is a solution that takes up lots of space. I wouldn't plan on using a second 8800GTX card in SLI.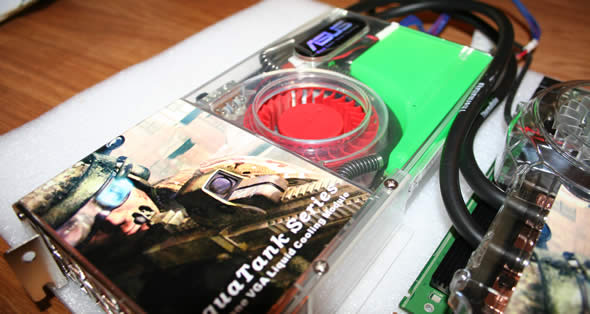 The front of the Tide Water cooler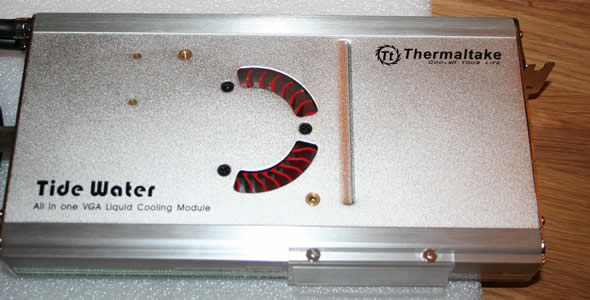 The back of the Tide Water cooler
On the top of the Tide Water/Aquatank cooler you find a switch which allows you to switch between the low fan speed and the high fan speed. This must be one of the dumbest places to place a switch. As soon as you close your case, you cannot access it and change the fan speed.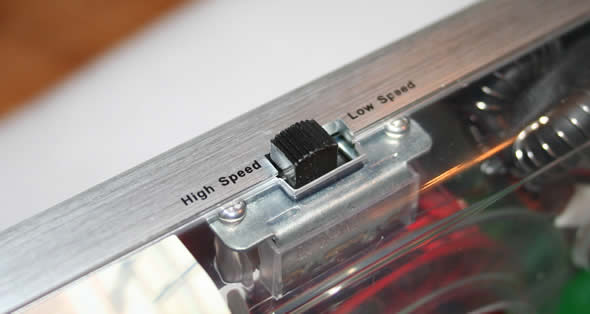 Considering the noise level of the fan at its highest speed is very high, it is quite possible that you would like to be able to switch between slow speed and high speed depending on what you are doing on the machine (i.e., gaming, word processing, and so on).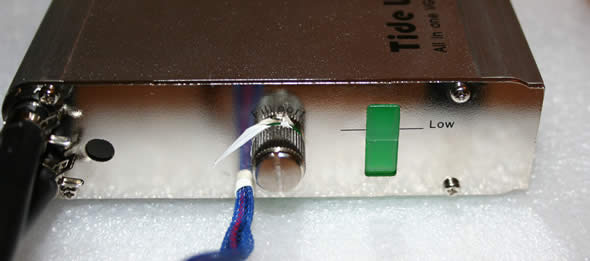 At the back of the cooler there is a small window which allows you to monitor the coolant level. This is also where you can fill up the coolant should it ever needed. Last but not least, we find a Molex-connector here which will be needed to power the pump and the fan.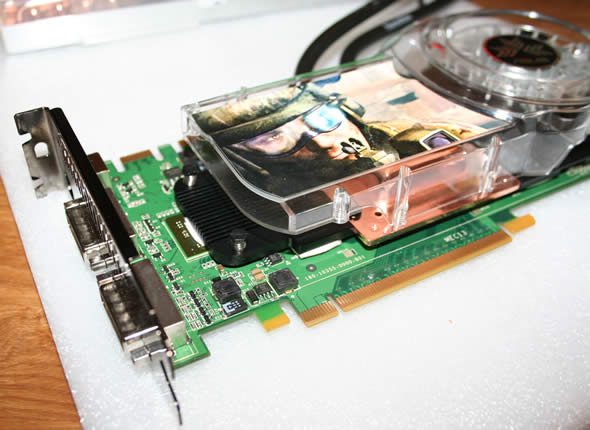 Compared to other 8800GTX cards the actual video card feels a bit empty. There is no huge heatsink and fan on it. Instead you get a slightly smaller fan that sits on top of a copper heatsink which draws the heat from the GPU. The coolant is pumped in/out of the copper slab and you actually never see it flowing. This fooled me at first since I expected it to be visible and thus first thought the pump was not pumping.
INSTALLATION
Installing the whole unit is not necessarily hard. All you need to do is place the 8800GTX in one PCI-E slot then place the AquaTank in another PCI-E or PCI-slot nearby making sure the tubes are stretched out so the coolant can flow freely. The AquaTank has a plastic bit in the bottom which allows it to fit into either a PCI or PCI-E slot more steadily.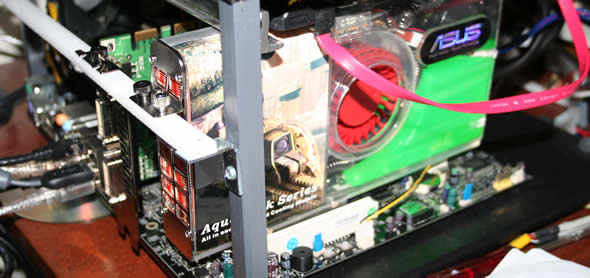 When you turn everything on, the pump will automatically engage and start pumping liquid around the system. The only way you know it is actually working is by gently touching the tubes. If the liquid is flowing, it will be noticeable and you will feel it.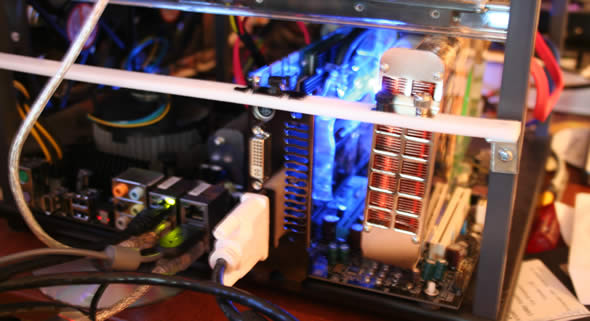 Something we see often these days; the video card is glowing with a blue light when running
Considering how time consuming it can be to set up something similar yourself, ASUS has done a great job in creating a unit that feels almost as easy to install/un-install as a regular video card. All the tubes fit very tight and I never got the impression that I might rip out a tube by accident.
TESTING – SYSTEM AND METHODOLOGY
The ASUS EN8800GTX AquaTank was tested in the following system:
To test the card we used the following programs: 

Software

3Dmark06

Default

Company of Heroes.
SP Demo

Everything maxed out, 4xAA, 8xAF set in control panel

FEAR

All Max, 4xAA, 8xAF

Supreme Commander

Max settings, 4xAA
TESTING – 3DMARK06
3DMark06 developed by Futuremark is a synthetic benchmark used for universal testing of all graphics solutions. 3DMark06 features HDR rendering, complex HDR post processing, dynamic soft shadows for all objects, water shader with HDR refraction, HDR reflection, depth fog and Gerstner wave functions, realistic sky model with cloud blending, and approximately 5.4 million triangles and 8.8 million vertices; to name just a few. The measurement unit "3DMark" is intended to give a normalized mean for comparing different GPU/VPUs. It has been accepted as both a standard and a mandatory benchmark throughout the gaming world for measuring performance.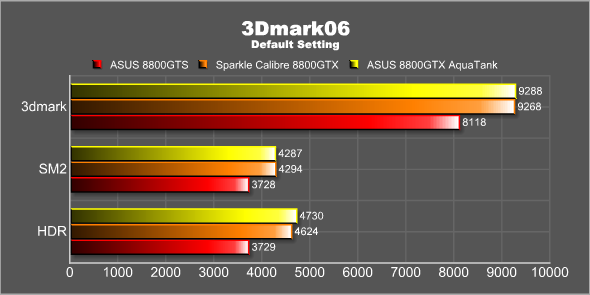 The ASUS 8800GTX AquaTank performs similar to the other overclocked 8800GTX in this test.
TESTING – FEAR
F.E.A.R. (First Encounter Assault Recon) is a first-person shooter game developed by Monolith Productions and released in October, 2005 for Windows. F.E.A.R. is one of the most resource intensive games in the FPS genre of games ever to be released. The game contains an integrated performance test that can be run to determine your system's performance based on the graphical options you have chosen.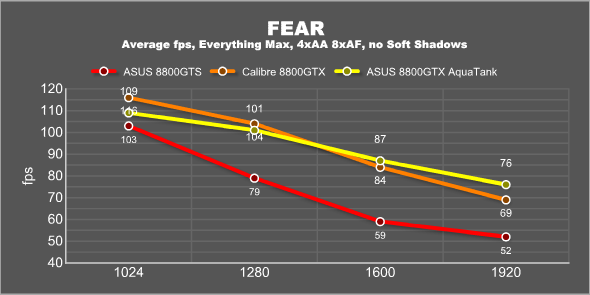 The difference between the two overclocked 8800GTX cards is small. The Aquatank manages to get ahead about 7 fps compared to the Calibre 8800GTX.
TESTING – COMPANY OF HEROES AND SUPREME COMMANDER
Company of Heroes
Company of Heroes(COH) is a Real Time Strategy(RTS) game for the PC. It is developed by the Canadian based company, Relic Entertainment, and published by THQ. We gladly changed from the first-person shooter based genres of the rest of our gaming benchmarks to this game which is RTS. Why? COH is an excellent game that is incredibly demanding on system resources thus making it an excellent benchmark. Like F.E.A.R. the game contains an integrated performance test that can be run to determine your system's performance based on the graphical options you have chosen. It uses the same multi-staged performance ratings as does the F.E.A.R. test.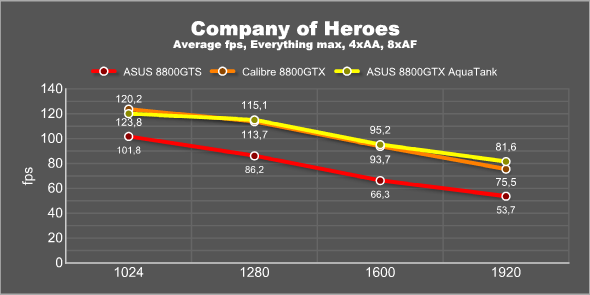 At 1920×1200 we see a small difference between the two overclocked 8800GTX card with the Aquatank taking the lead by 6 fps.
Supreme Commander
It is not often we introduce a new benchmark, but for this review, I've decided to give the new RTS Supreme Commander a chance to prove itsef as a benchmark. The game is developed by Gas Powered Games and is the spiritual successor to the much hailed RTS Total Annihilation. The game features a battlefield with literally thousands of units battling it out at the same time and it all is done with the latest graphical features. As expected, the game needs a good computer with both a good CPU and a good video card.
The cards were tested with the built-in benchmark map. When started the game plays a battle between 4 AI players for about 10 minutes. The game then creates a text-file with statistics and we use the average fps recorded from that for our chart.
It seems the game is more CPU-restricted than GPU restricted. Still, the extra power of the 8800GTX is put in good use; making it average over 10 fps faster than the 8800GTS.
TEMPERATURES
It is unavoidable that a GPU as complex as the 8800GTX will generate a lot of heat. This heat needs to be removed and this is where the water cooling of the AquaTank comes into play. I compared the card to the ASUS 8800GTS and the Sparkle Calibre 8800GTX.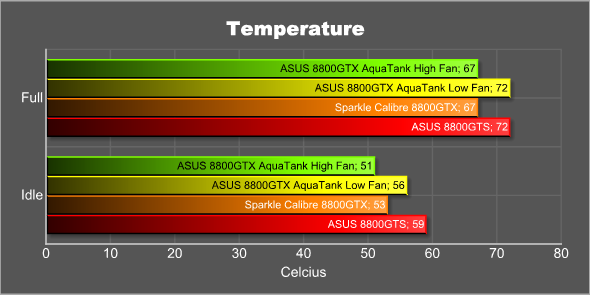 As mentioned in my review of the Sparkle Calibre 8800GTX, I do not have a regular 8800GTX card to compare it with. However, I asked my fellow co-workers on the site to tell me what temperatures they measured when running their 8800GTX card at max and they were seing temperatures around 80-85 Degrees Celcius. When running the AquaTank cooler at maximum fan speed, the temperatures of the ASUS 8800GTX AquaTank were just as low or even lower than the Sparkle Calibre 8800GTX with its TEC-cooler. With the fan speed set at low speed, the temperature did rise 5 degrees, but the AquaTank still managed to keep the card cooler than a regular 8800GTX.
It actually was quite obvious that the cooler did a great job. The air coming out of the cooler was quite hot even at idle.
OVERCLOCKING AND NOISE
As this card already is overclocked from 585 MHz to 630 MHz (Core) and 900 MHz to 1030 MHz (memory), I was not sure how much more I could overclock it. However, since the temperatures were being decreased as much as they were, I figured I might be able to get a few more MHz out of it.
Unfortunately, I ran into a problem. While I could overclock the core with RivaTuner beyond 630 MHz, every time I started to run a game or a synthetic benchmark the core was clocked back to 630 MHz until the game/benchmark was finished. Your mileage, of course, will vary, so you might be luckier than me. So far my attempts at overclocking any 8800GTX cards have not exactly been successful.
NOISE
This is one of the systems biggest problems. When running the unit at the highest fan speed, it does cool the system very well. Unfortunately, the noise level is high enough for me not to want to use it. At the lower fan speed, the cooling still is pretty good and the noise level is much more acceptable. It still is noticeable though, especially if the rest of the system is quiet.
CONCLUSION
The ASUS EN8800GTX AquaTank is a video card that will be released in a limited edition. My ASUS contact did not know the exact figure, but it should be around a couple of thousand. As such, it is a pretty special card.
There is a lot to like about this video card. The ASUS EN8800GTX AquaTank makes it easy to use liquid cooling on the GPU without having to mess with a separate cooling system. It is cooled very well and it is overclocked from the start. Also, it comes with an excellent bundle. Unfortunately, there is a lot not to like about this video card. It takes up a lot of space in the system, it's noisy, and it costs a lot.
I have not found a US-price for it yet, but judging from the price difference of this card compared to a regular ASUS EN8800GTX here in Sweden, it should be around $650-$700. That puts it a bit more expensive than other overclocked solutions like the Sparkle Calibre 8800GTX P880 OC or the BFG GeForce 8800GTX OC Dual-DVI.
If you really are after a water-cooling solution, the ASUS EN8800GTX AquaTank is a good choice as it takes away all the hassle of hooking an 8800GTX video card up to an existing water-cooling system. However, the gains in performance are too little for me to recommend this video card over other overclocked or even non-overclocked 8800GTX video cards.
As mentioned earlier it would be hard to put in two ASUS EN8800GTX AquaTank cards into a system for SLI. Fortunately Thermaltake now has a new Tide Water Plus cooler that is built to cool two video cards in an SLI or Crossfire configuration with just one Tide Water cooler package. 
Pros
+ Overclocked out-of-the box
+ Fast
+ Cools very well
+ Easy way to add water-cooling to the system
+ Great bundle
Cons
– Price
– Takes up lots of space
– No way to change fan speed of cooler without opening case
– Noisy
– Not easy to use in a SLI-configuration
The ASUS EN8800GTX AquaTank gets a 7 out of 10 from me.