The first retial HD2900XT we review, does not dissapoint. Great performace, a good price and some cool new features makes this a good chocie for the enthusiast. A voucher for Valve's Black Box also helps.
INTRODUCTION
As you may have noticed, today the 14th of May 2007 is the day when AMD is announcing, and in one case releasing, their new HD2000 GPU's. This launch is filled with "firsts" for AMD: It is the first GPU's from AMD since the acquisition, it is their first DX10 GPU's and it is their first GPU for the PC market that feature an unified shader architecture.
In addition to our big article on the whole HD2000 series, Jetway was kind enough to make sure that we would have a retail HD2900XT from them in time for the launch. In this review I have put the Jetway HD2900XT to the test to see how well it stacks up against the rivals from NVIDIA.
ABOUT JETWAY
Jetway might not be one of the more know companies. They have however been around since 1986 and of course were founded in Taiwan. They sell a wide variety of products including motherboards, video cards, barebones and monitors. You will hopefully start to see more reviews of their products on this site in the future.
FEATURES AND SPECIFICATIONS
As we released a huge article detailing all the features and specifications of the HD2900XT today I will just briefly go over the broader information here and recommend you go and read the full article if you are interested in more details.
| | |
| --- | --- |
|   | Jetway ATI Radeon HD 2900 |
| Stream Processing Units  | 320 |
| Clock Speed  | 740 MHz |
| Math Processing Rate(Multiply-Add) | 475 GigaFLOPS |
| Pixel Processing Rate | 47.5 Gigapixels/sec |
| Triangle Processing Rate | 740 Mtri/sec |
| Texture Units | 16 |
| Typical Board Power | ~215W |
| Memory Frame Buffer | 512MB GDDR3 |
| Memory Interface Width  | 512 bits |
| Memory Clock  | Something |
| Memory Bandwidth  | 106 GB/sec |
| Transistors | 700 million |
| Process Technology | 80HS |
| Outputs | D+DL+DVI w/HDCP (HDMI adaptor) |
The HD2900XT is AMD's latest and fastest GPU. The main improvements and features are:
Unified architecture
Some might think that NVIDIA was first with a unified shading architecture in the GeForce 8 but ATI actually was first with the Xenon GPU in the Xbox 360. Very briefly, the idea with a unified architecture is to no longer have to separare vertex and pixel shaders. Instead the shader units you got can handle both kinds of shaders in addition to a new set of shaders called geometry shaders.
Fully distributed memory controller
With the X1000-series, AMD created a Ring Bus architecture and made a partly distributed memory controller. In the 2000-series they finish the work they started and now have a fully distributed memory controller. The HD2900XT also comes with a 512-bit memory interface.
DirectX 10 support DirectX 10 both introduces more ways to process, access and move data as well as raise the programming limits for shader instructions, registers, constants and outputs significantly. DirectX 10, adds support for the unified shading architecture making it possible for developers to fully utilize it right away in their DirectX 10 applications. DirectX 10 also introduces a new shader type – the geometry shader. This can create and destroy geometry and lies between the Vertex and the Pixel shader in the pipeline.
New and improved Image Quality features
AMD has continued to improve the image quality by introducing new anti-aliasing and texture filtering capabilities. They also have added a so called Tessellation unit to their cards to help amplify geometry.
Avivo HD technology
Avivo has been updated to make it possible for even the lower end cards to offer playback of 40 Mbps HD-material. This is done with a new chip called the UVD (Unified Video Decoder). AMD has also added HDMI v 1.2 support as well as HDCP support over Dual-Link DVI.
Native Crossfire
Yay! No more Master card and dongle on the high end cards. AMD has also improved the detection AFR algorithm making more games automatically use this method.
THE JETWAY HD2900XT
The card comes in a plain black box. I've seen other Jetway boxes and they all look the same. In some ways it actually feels like a quite clean sophisticated look. On the back you find the specifications of the card in 7 different languages.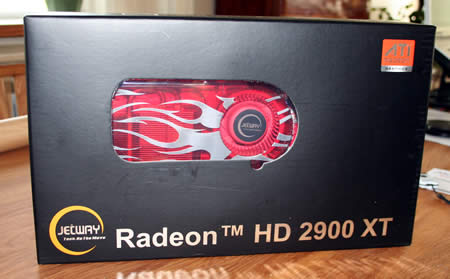 Opening up the box we find the following items:
The HD2900XT
One crossfire bridge
Two DVI => VGA adapters
One DVI => HDMI adapter
One component video-out cable
One composite/svideo video-out cable
Two Molex => PCI-E 6-pin adapters
The manual
CD with drivers
Voucher for Valves Black Box (Half File 2: Episode 2, Team Fortress 2, Portal) for download from Steam.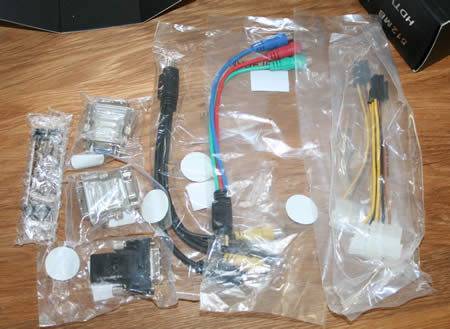 There are a lot of adapters included and the only adapter I actually missed was a Molex=>8-pin PCI-E adapter so that I could use a regular PSU for overclocking. I've seen a few of these adapters being sold and they actually use up 3 Molex connectors. Other than that the box contains everything you need. The highlight of the bundle is of course the voucher for Valves Black Box from Steam. As far as I can see it still is not available on Steam though so you will have to wait a while before you can start playing. At least this time AMD knew this would be the case compared to when they promised to include Half Life 2 with the Radeon 9800XT.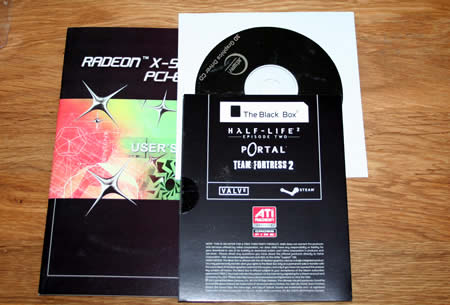 The card itself is identical to the reference design from AMD. It is a dual-slot solution with a huge cooler that covers the whole card and blows out hot air in the back. The card looks similar to the X1950XT but if you look closely you notice that there are more heat pipes coming out from the big copper block on the HD2900XT than on the X1950XT. The red transparent cooler also is larger and now covers the whole card.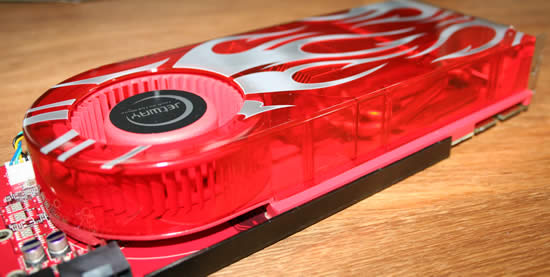 At the top of the card you find the two power connectors where you hook up your PSU to the card. Instead of the usual 6-pin connectors that we see on all other cards, the HD2900XT now features one 6-pin connector and one 8-pin connector.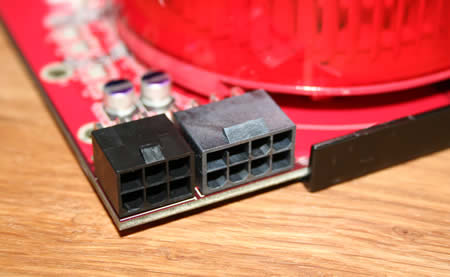 You still can use a 6-pin connector from the PSU but if you want to overclock the card you will need an 8-pin connector. I should be pretty obvious by now that this card needs a lot of power.
TESTING – THE SETUP
The Jetway HD2900XT was tested in the following system:
Review System
CPU 
Intel Core 2 Duo [email protected]

Motherboards

EVGA 680i SLI (nForce 680i)

Memory

Corsair XMS2 Xtreme 2048MB DDR2 XMS-1066

HDD

1×320 GB SATA

Video cards

ASUS 8800GTS
Sparkle Calibri 8800GTX
Jetway HD2900XT
Reference X1950XT

Software

Windows Vista (32 bit)

 Drivers

HD2900XT: 8.37
X1950XT: 7.4
8800GTS/GTX: 158.22 (XP) / 158.24 (Vista)
The software used for the test were:
Software

Default
Default, 1600×1200, 1920×1200, Feature tests
Ultra Setting, 4xAA/16xAF

Company of Heroes SP Demo

All settings to max, in-game AA turned on
Highest Quality, 4xAA/16xAF

Power DVD Ultra

HD-DVD playback
TESTING – 3DMARK05 AND 3DMARK06
These two synthetic software from Futuremark should be familiar to everyone by now. They allow us to test the cards in a variety of situations that have been created to mimic different sitautions in games that the cards can encounter.
3DMark05
The benchmark runs through three different game tests and then presents a score that is derived from the results of each of these game tests. This benchmark requiers support for Shader Model 2.0. If you are interested in what each Game Test actually tests, take a look at the explanation over at Futuremark.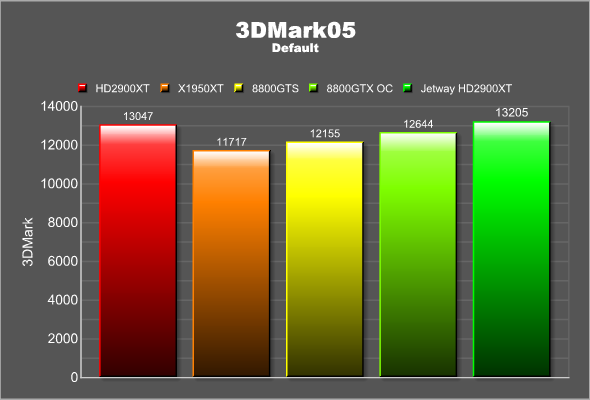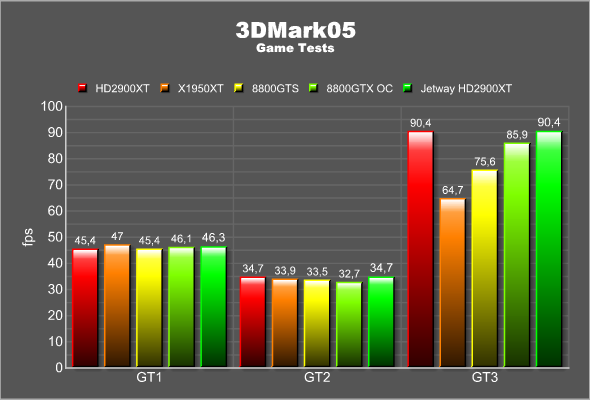 3DMark06
Released last year, the latest version from Futuremark runs both through a set of gaming benchmarks in addition to some CPU benchmarks. A combined score is calculated from the individual results. Futuremark has also posted a more detailed explanation on what each test does.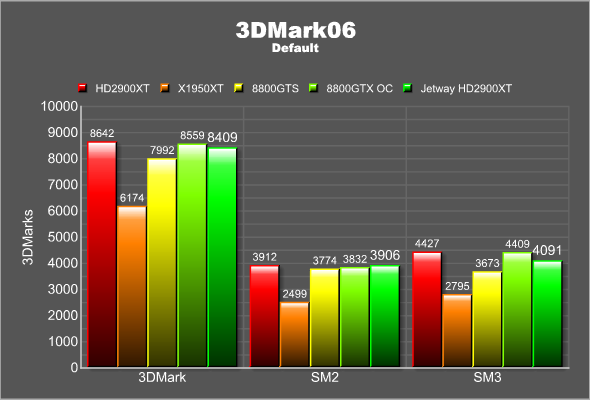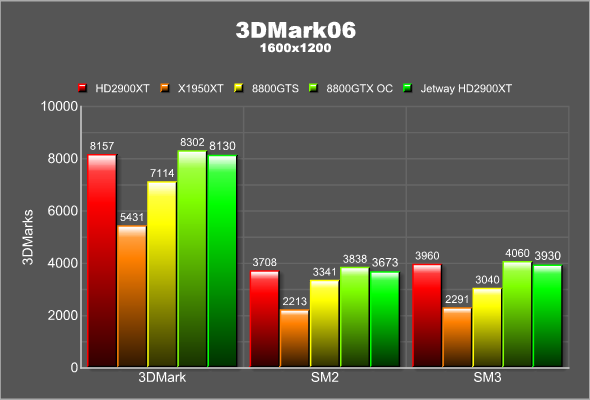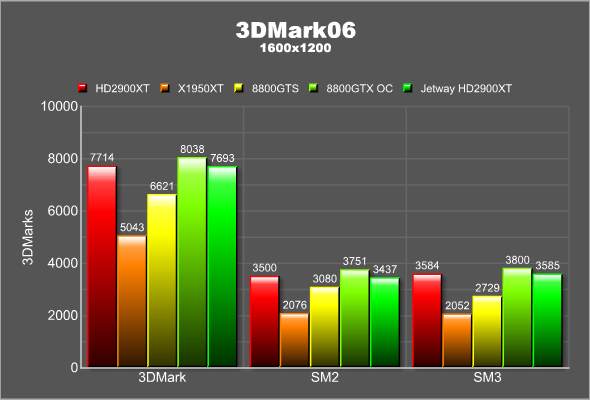 TESTING – HALF LIFE 2:LOST COAST AND QUAKE 4
For our second batch of games I have selected Half Life 2:Lost Coast and Quake 4, two popular FPS-games.
Half Life 2:Loast Coast
– 4xAA/16xAF
– All settings set to the highest quality settings
– HDR turned on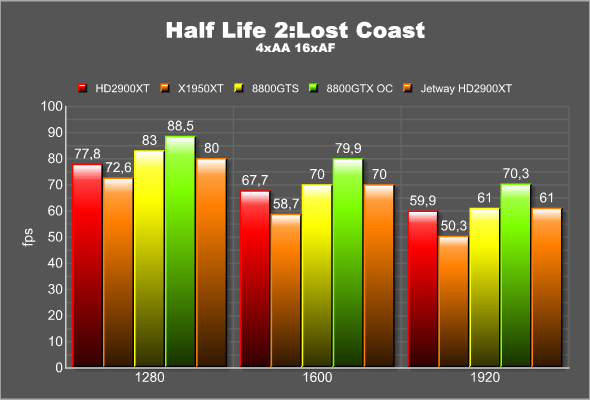 Quake 4
– 4xAA/16xAF
– Ultra Setting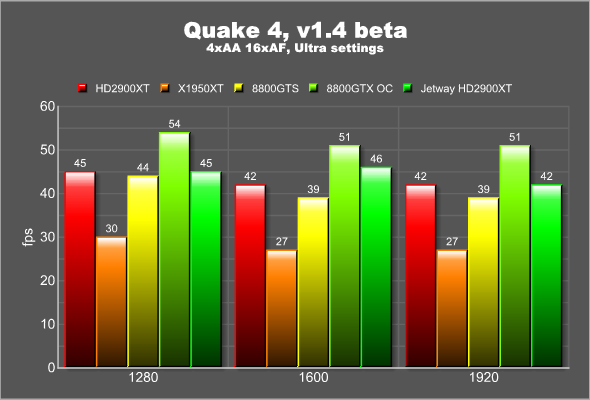 TESTING – COMPANY OF HEROES
This excellent RTS-games are not only fun to play, it also demands a lot from the video cards.
Company of Heroes Single Player Demo
– AA turned up to max inside the game
– All settings set to the highest quality setting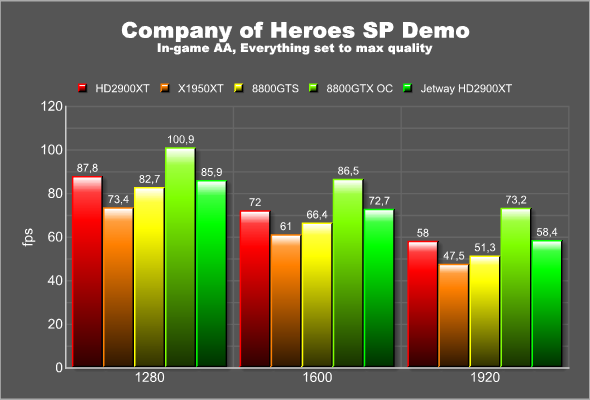 TESTING – MEDIA PLAYBACK, POWER USAGE, SOUND
Media Playback
To test how good the media playback is on the Jetway HD2900XT, I choose to play the HD-DVD Mission Impossible III with commentaries turned on at 1080p. This movie runs at around 15-25 Mbps with the occasional spikes towards 30 Mbps. Power DVD Ultra was used for the playback. The Windows Task manager was used to record the CPU-usage.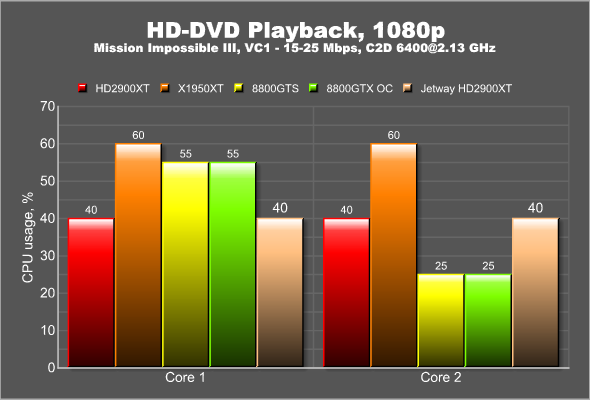 Power usage
To measure the power consumption I choose to record it with a Etech PM300 Energy Meter at the wall. The power consumption was measured at the Windows desktop and in 3DMark06 at 1920×1200. The peak value at these both settings were choose in plotted.  The system consisted of the following hardware: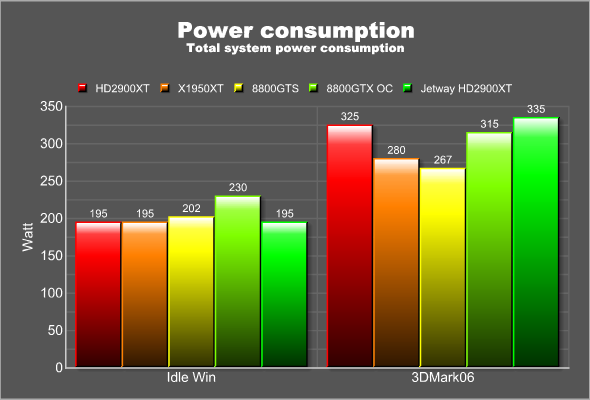 Sound level
The Jetway HD2900XT did not sound much noiser than any of the other cards I tested. If you want a completely silent card you will have to wait as versions with special coolers come out, for example the IceQIII cooler from Hightec.
CONCLUSION
At the price point that you can find this card (~350€) it is priced very well against its main competitor, the GeForce 8800GTS. It also comes with lots of nice features, especially in the video area. It is great to have support for Dual-Link DVI with HDCP as well as proper HDMI-support with both video and audio. The Black Box promotion from Valve and AMD of course is the icing of the cake. From what I have seen of Team Fortress 2 it looks like it will be a really cool game. Add Half Life: Episode 2 and Portal and you get a package that adds a lot of value to the package.
With all the good comes a bit bad. The power consumption is way too high compared to the GeForce 8800GTS and even higher than the GeForce 8800GTX. The fact that you even need a brand new PSU to even start overclocking it does not feel cool.
Pros
+ Great image quality
+ Dual-Link HDCP support
+ HDMI adapter
+ Great performance
+ Great price
+ Valves Black Box bundled (voucher)
Cons
– Power consumption
– Overclocking requires 8-pin PCI-E power connector
Summary: The Jetway HD2900XT is a card filled with nice features. Together with the bundled Valve Black Box it offers excellent value for the money.
The Jetway HD2900XT gets a rating of 9 out of 10 and a Bjorn3D Golden Bear Award