Got a USB drive? Check. SD card for the camera? Check. MicroSD card for the cell phone? Check. Now how about one card to rule them all! Introducing the Trifecta from OCZ Technology.
INTRODUCTION
Every now again a product comes along that makes you sit up and take notice. It may be the newest video card or a screaming fast CPU. But once is a very long while it is a product that is less revolutionary and more evolutionary. And so I present you with the OCZ Trifecta, the next evolution in Secure Digital memory. The OCZ Trifecta offers microSD, SD and USB 2.0 compatibility at 66x speeds (10 MB/s) all in one convenient package. With capacities up to 2 GB, the Trifecta looks to have a lot of potential. During the time I spent with this device I would test to see how it performs as a replacement for my digital camera's SD card, my cell phone's microSD card and my OCZ Rally thumb drive.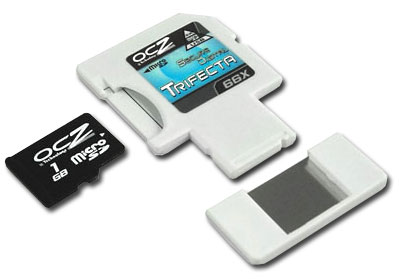 OCZ Trifecta
OCZ Technology

OCZ is a company many of us are familiar with as they provide the very best products for a wide range of users. Starting with overclocked video cards and memory modules to power supplies and cooling products OCZ has earned the respect of hardware enthusiasts around the world (No easy feat). For the rest of you who may not be familiar with the company I'll let them tell you:
Entering the memory market in August 2000, OCZ Technology was built around the determination to manufacture the best high speed DDR and RDRAM. OCZ was founded by enthusiasts, for enthusiasts, and our commitment to the end-user has not digressed. OCZ Technology has been an innovator in many areas. We were the first manufacturer to make Dual Channel optimized memory available to the public, which originally took advantage of nVidia's Twinbank or Dual DDR architecture, found in their nForce chipset. We have now taken that technology and tailored it for the Canterwood, and Granite Bay chipset's. OCZ developed and was the first to implement ULN technology, which has been a critical element in our manufacturing process for some time. We at OCZ diligently work to improve communication with CPU and motherboard chipset manufacturers prior to the release of their products. Only in this manner can we fine-tune our memory's SPD settings, ensuring a synergistic relationship between the memory module, memory controller, and microprocessor. In today's rapidly evolving semiconductor industry, such communication is not simply research, but a necessary component of our manufacturing process.
Specifications
Starting with the specs we see a fairly mainstream speed of 66x. This is based upon CD-R speeds with 1x equating to 150kB/s. So we get 150 x 66 = 9900 KB/s or 10 MB/s. Moving on we see it meets the standards for microSD, SD and USB operation. Next we come to the warranty and in great OCZ fashion they offer a 5 year warranty on the Trifecta. I always like to see companies stand behind their products and while there isn't too much that can happen to this little guy it's nice to know OCZ has your back if anything should go wrong. Finally, the Trifecta is offered in 1 GB or 2 GB sizes though you are free to use any size microSD card you wish.
OCZ Trifecta OCZSDTR661GB
66x Speed (10 MB/s)
32 x 24 x 2.1 mm (L x W x H)
Official Secure Digital™ (SD)Compliant
microSD™ Compliant
High-Speed USB 2.0
5 Year Warranty
Available in 1 GB or 2 GB
Packaging
Moving on to the packaging we see OCZ does a fine job of keeping the card well protected. Stored inside its carrying case, it is wrapped up in a blister pack ensuring its safe arrival. Included on the front is some useful information regarding its speed and possible uses.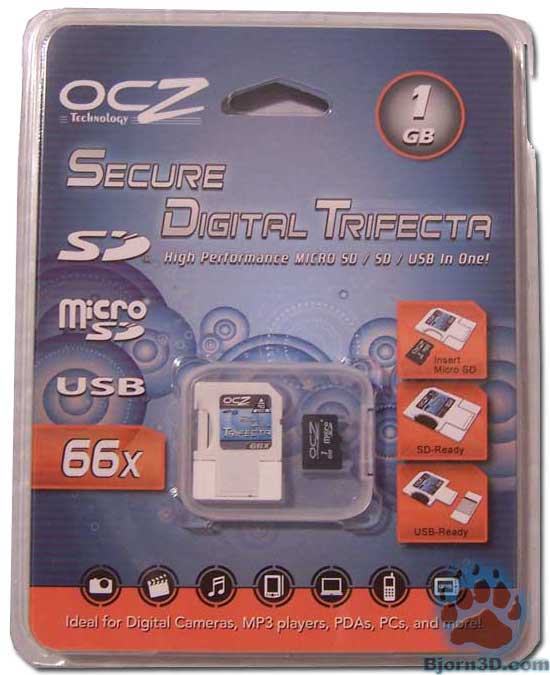 OCZ Trifecta packaging front
Turning to the back we are given some customer support numbers for the various offices worldwide. I especially appreciate this as I don't have to go hunting down a phone number buried deep inside a web site.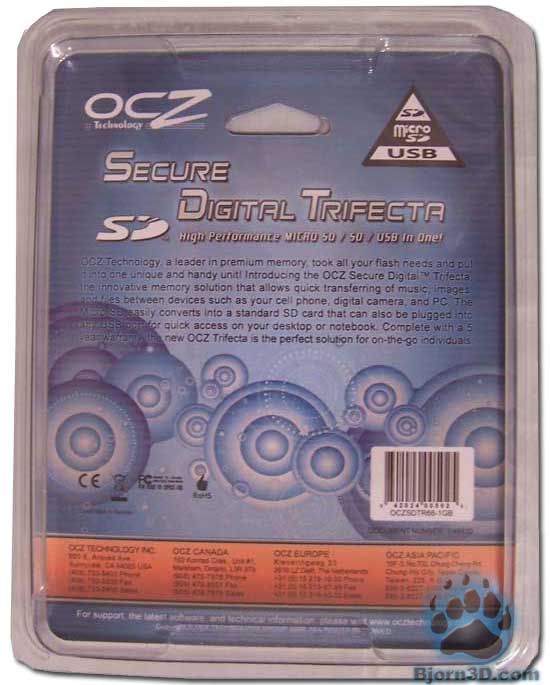 OCZ Trifecta packaging rear
The last pictures in our photo shoot show off the card in its disassembled form. The way this card comes apart is pretty cool with a very ingenious design.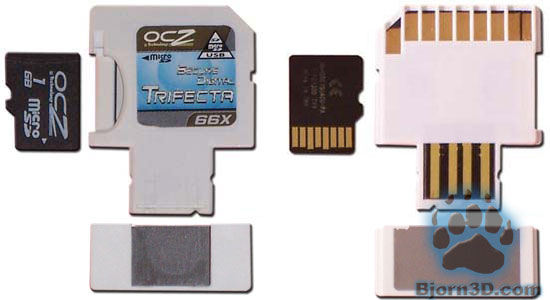 OCZ Trifecta disassembled (Not shown to scale)
MicroSD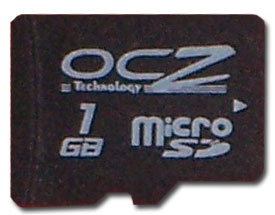 OCZ Trifecta microSD card
Beginning with the smallest component of the Trifecta, I used its microSD card for a couple of days in my cell phone. The phone is a Motorola K1m also known as the KRZR. The phone had no trouble accessing the card and using it to play songs and snap photos was a breeze. The phone can also capture video at 176×144 resolution with audio. At no time was there any lag caused by the microSD card trying to access its memory.
USB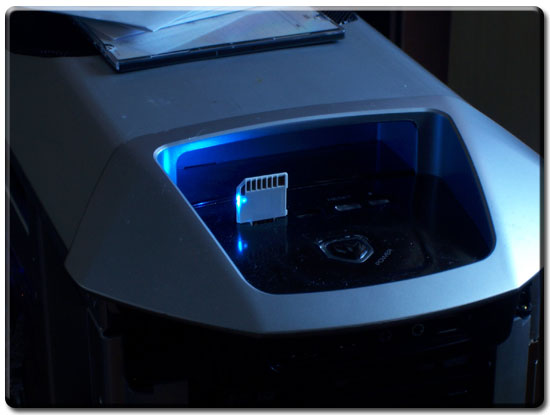 OCZ Trifecta as a USB drive
Next up I would be testing the card as a USB drive. When plugged in to a USB port there is a very cool blue LED that lights up to let you know it's connected. This light is not an activity light as in other USB drives and will not flicker during activity.
Before I get to any test results I wanted to share with you two little points of concern. First, taking a look at the image you can see that because my case has the USB ports side by side and the Trifecta is a bit wide, mounting another device in the adjacent slot would be a bit tricky. Secondly having plugged the Trifecta into a wide array of PC's I came across an issue where because the USB ports were recessed the Trifecta could not function since it wasn't making proper contact. This only occurred once and in an older Compaq case.
Typical usage would consist of transferring photos, documents and video clips. I would use it to transfer many small files as well as a few very large files. The first batch of tests shown comes to us care of the ATTO disk benchmark. I like this application as it tests both the read and write speed of the drives selected. For these tests the OCZ Trifecta will be pitted against the Kingston 1 GB microSD card.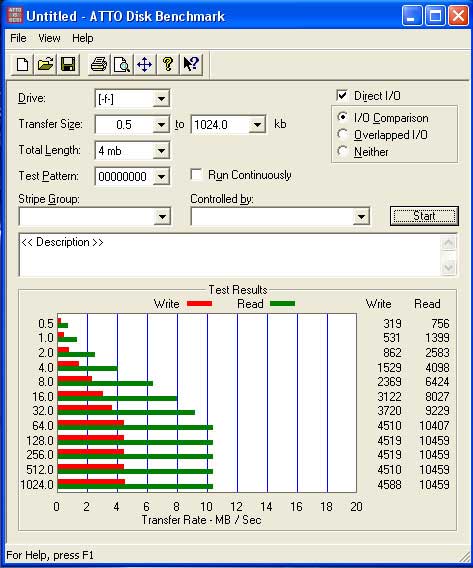 Kingston microSD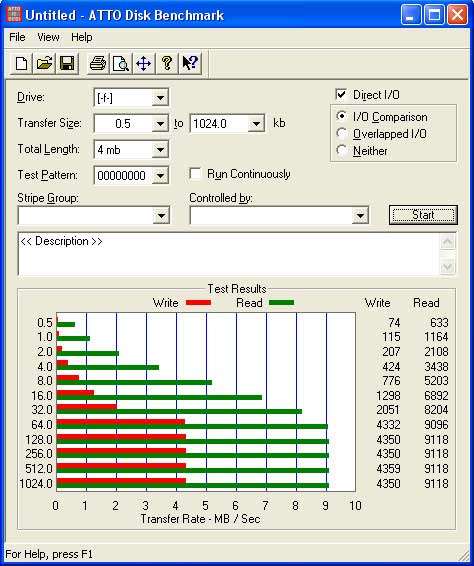 OCZ Trifecta microSD
We can see that neither card is blazing fast and the Trifecta is only marginally slower then the Kingston by about 1 MB/s read. The write tests are virtually equally with both cards offering a little over 4 MB/s write as long as the data set is over 64 KB. It seems both cards are happier dealing with data sizes over 64KB as their write speeds drop off a cliff when moving to smaller files. This is important to remember as I had a tough time transferring many small files back and forth from the device.
Out next set of tests would be the time tested benchmark HDTach. Offering us a look into the cards maximum burst speed as well as its sustained read speeds, HDTach can offer some valuable information.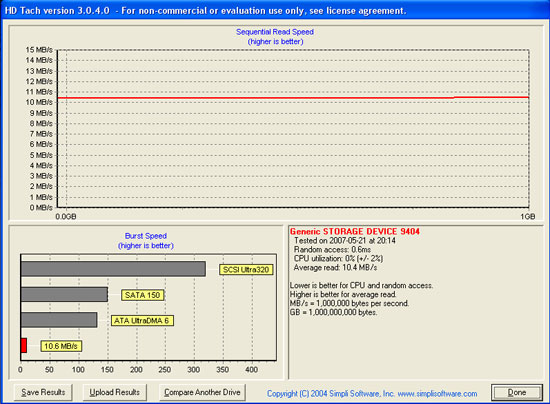 Kingston microSD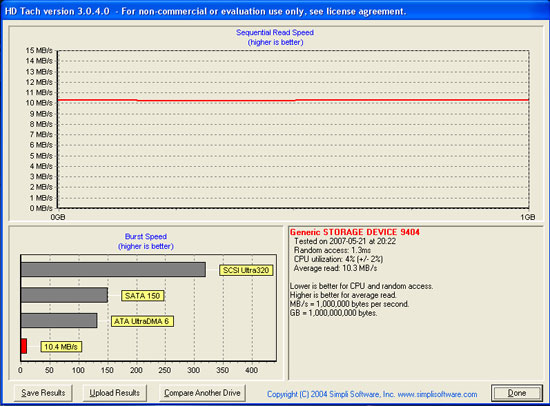 OCZ Trifecta microSD
As shown from our tests both cards have very similar read speeds and burst speeds though neither one will win any I/O races.
Secure Digital (SD)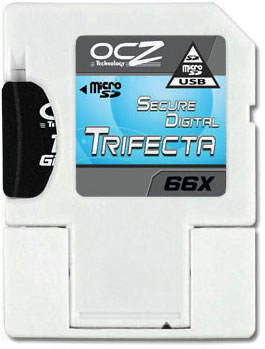 OCZ Trifecta as a SD card
Using the Trifecta as a SD card in my Kodak v530 was so simple. Plugging it into my camera presented no problems as it complies with the exact SD size specifications. I was unable to notice any delay in writing the pictures to the card when compared to my Sandisk 80x 1GB SD card. Even better, when I was done snapping pictures I didn't have to load my camera into its dock and download the pictures from my camera. I could plug the card directly into a free USB slot and transfer them that way. I have since uninstalled the bloated software that came with my camera and haven't looked back.
An even better example of this is recently having visited some family members I had forgotten to empty the card prior to leaving and after a few photos the card was almost full. Previously I would have had to stop taking pictures as I did not have my dock with me but today was different. I just pulled out the card and downloaded the photos to my family's computer, burned them to CD, put the card back in my camera and kept on snapping. It was so convenient!
Things were not all rosy though. It seems that when I tried to record video with my camera after about forty seconds my camera would stop recording and tell me "The speed of the card was insufficient and to switch to internal memory or insert a different card". I record video at 640×480 @ 30fps with millions of colors. The 80x card from Sandisk never gave me this message which tells me this card is ever so slightly too slow to record video at the bit-rate of my choosing.
CONCLUSION
When I first got this item I was a little curious about it. I knew what it did and the purposes it would serve but I also highly underestimated its usefullness. After only a short while I realized just how convenient having it around was. It is not without its shortcoming though. It doesn't have the speed to replace many USB drives out there and it has trouble recording video at higher settings. I can overlook the trouble it had with some deeply recessed USB ports as this was on an older computer case. With that said, I can't tell you enough how much easier it is to take pictures with my digital camera now that I am free of my dock and bloated software package. This is where I feel this card really offers a great value. Current pricing has this item for $29.00 USD including shipping and that is an awesome price. The 2 GB version will run you about $70.00 USD and it's still a value for the ease of use it offers.
Pros:
+  Extremely convenient
+  Plenty of storage
+  Versatile
+  Cool factor
+  Takes any microSD card.
Cons:
–  66x speeds
–  Won't fit some recessed USB ports
Final score: 8.5 out of 10 and the Bjorn3D Seal of Approval.
I'd like to extend my sincere appreciation to OCZ Technology for allowing me the opportunity to review this product. Through support of companies like these we at Bjorn3D.com are able to provide you the community with quality reviews.