Iif your main objective with your planned new video card is to play games – you probably should spend a bit more cash on another card, something like the 8600GT or the HD2600XT. When it comes to gaming this card is meant as an upgrade to on-board graphics. Luckily it has some other nice tricks up its sleeve making it an interesting card for HTPC-builders.
INTRODUCTION
At a recent briefing for AMD's latest entry and mid-range cards, the HD2400 and HD2600, I was told an interesting little tidbit that AMD had found out. It turns out that a lot of the customers buying their previous entry-level cards, the X1300, had bought it mainly for playing games. Even AMD was surprised that people would first spend as little as possible on the video card and then buy games each month for 50-100$ instead of buying a few less games and put the saved money on a faster card . It probably is not as strange as it sounds though. We have all seen all those "gaming computers" that are being sold with slow X1300, NVIDIA 7300LE cards or even (shudder) on-board video. How should Joe Average know what is a good gaming card or not?
This is where we come in. Reviews like this are meant to tell you what a card is good at and what it isn't good at. So let me start this review by telling you that if your main objective with your planned new video card is to play games – you probably should spend a bit more cash on another card, something like the 8600GT or the HD2600XT. When it comes to gaming this card is meant as an upgrade to on-board graphics. Luckily it has some other nice tricks up its sleeve making it an interesting card for HTPC-builders.
ABOUT GIGABYTE
Gigabyte was started as a motherboard technology research laboratory over 20 years ago. Since then they have not only started to sell motherboards but also video cards, notebooks, mice, network products and a lot more other stuff.
FEATURES & SPECIFICATIONS
The GeForce 8500GT is NVIDIA's entry level DX10 GPU. While retaining all the features of its more powerful siblings, it is quite cut down in the performance department.
| | | | |
| --- | --- | --- | --- |
| Feature/Specification |  GeForce 8600 GT |  Gigabyte 8500GT TurboForce | GeForce 8500 GT |
| Stream Processors | 32 | 16 | 16 |
| Core Clock (MHz) | 540 | 600 | 450 |
| Shader Clock (MHz) | 1180 | 1300 | 900 |
| Memory Clock (MHz) | 700 | 700 | 400 |
| Memory Amount | 256MB GDDR3 | 256MB DDR2 | 512MB or 256MB DDR2 |
| Memory Interface | 128-bit | | |
Gigabyte has really cranked the core clock of the GPU and memory up. It should help the performance, at least compared to a regular GeForce 8500GT. 
The Gigabyte 8500GT TurboForce is well equipped with cool features:
Full HDCP support
Huge heatsink covering most of the card
3D Active Fan which allows the fan to switch between being turned off when not needed (2D) and then turns on during 3D.
All Solid capacitors
Overclocked by default. V3-utility that dynamically overclocks the card.
THE CARD AND BUNDLE
The card comes in a big green box which has a fantasy scene out of the game Warhammer 40000: Dawn of War on it. That is not surprising since the game is included in the bundle.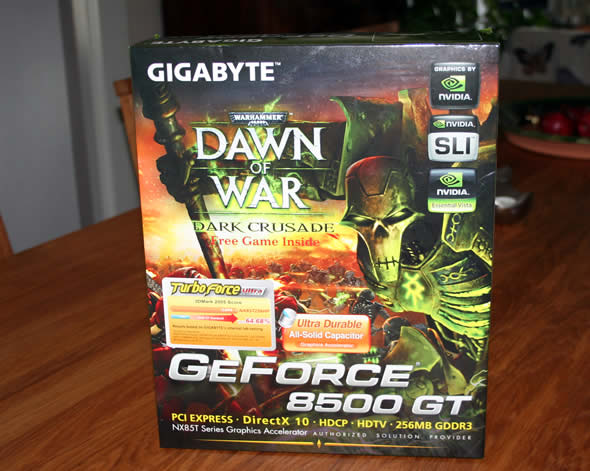 On the back of the box we find the usual marketing spin on how great the card is. It is obvious that this card is intended to be a replacement for on-board video as they compare the video output from an on-board card with the output from this card as well as claim a 26% improvement of system performance.
Inside the box we find:
The card
Two DVI => VGA adapters
Component Out box
CD with Drivers and overclocking utility
CD with Warhammer 40000: Dawn of War
It's a decent bundle with a great game.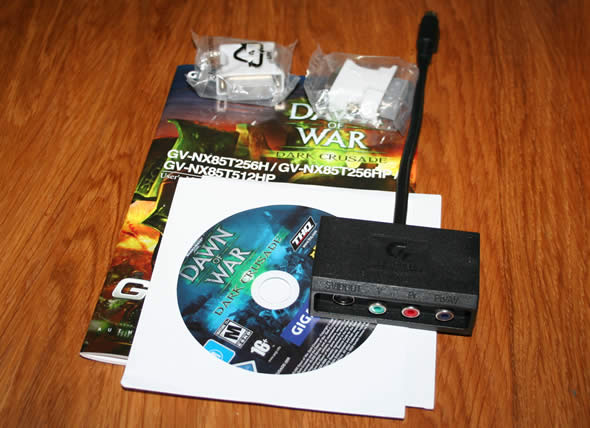 The card itself looks really good. It has a blue PCB and a huge gold heat sink covering most of the front.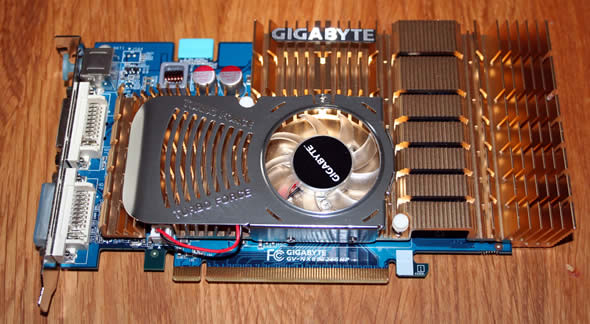 In the heatsink there is a small fan. On all the connectors Gigabyte has put a blue cover. I'm not sure how necessary this really is but it is a nice touch. The solid capacitors give the board a high quality look.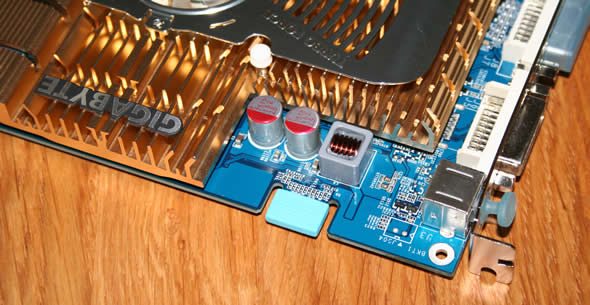 The software that is included allows you to overclock the card.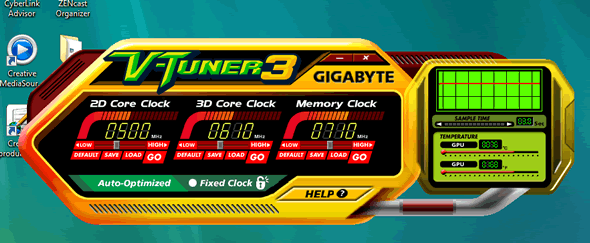 You can either choose to overclock it to a fixed clock speed or let the application dynamically overclock the card. When allowing the card to dynamically change the clockspeed, the software directly increased the clock speed of the core to 610 MHz instead of 600 MHz.
TESTING – SETTINGS
We tested the cards in this system: 
Review System
CPU 
Intel Core 2 Duo [email protected]

Motherboards

EVGA 680i SLI (nForce 680i)

Memory

Corsair XMS2 Xtreme 2048MB DDR2 XMS-1066

HDD

1×320 GB SATA

Video cards

Reference HD2400XT
Reference HD2600XT
Calibre 8600GT
Gigabyte 8500GT TurboForce

Optical

Toshiba HD-DVD drive
The OS and drivers
We tested these cards in Windows Vista 32 bit. The following drivers were used
For the AMD cards two new beta drivers (8.38.9.1-rc2_48912 for Vista and 8.38.9.1-rc2_48915 for XP) from AMD was used. They included the necessary HD2400 and HD2600 support. The same drivers were also used for the HD2900XT.
For the NVIDIA cards the latest beta driver (163.11 for Vista) were used.
The Test software
The following software and games were used for testing:
3DMark05 and 3DMark06 (Vista 32-bit)
These two syntethic benchmarks were run at their default settings.
Company of Heroes v1.7 (Vista 32-bit)
The latest patch for this game was downloaded and used for the testing. Unfortuantely we could not get the DX10 shaders working on all cards so we decided for this article to use the High-setting for Shaders (DX9).
Half Life 2: Lost Coast (Vista 32-bit)
The HardwareOC benchmark utility was used to gather performance data.
Planet Earth HD-DVD with Power DVD Ultra (Vista 32-bit)
The latest patch, which adds HD2000 and GeForce 8×00 support, for Power DVD Ultra was used. CPU usage was monitored and logged with perfmon and the CPU usage during the 5 first minutes of Chapter 3 in the "Shallow Seas" chapter was recorded.
HD HQV HD-DVD Benchmark (Vista 32-bit)
The HD HQV HD-DVD benchmark disc was used to test the image quality of HD-DVD video playback.
TESTING – 3DMARK05 AND 3DMARK06
These two synthetic benchmarks do not need much introduction. While they do not give an absolute measurement how the cards handle games they do at least give an indication how the cards handle different types of situations.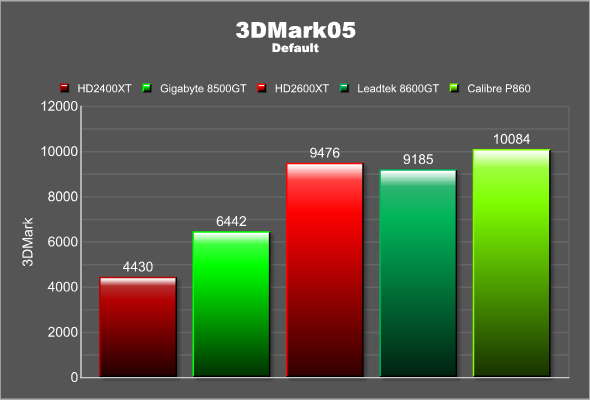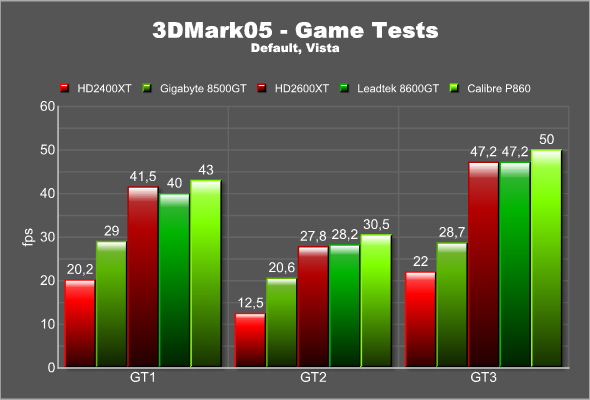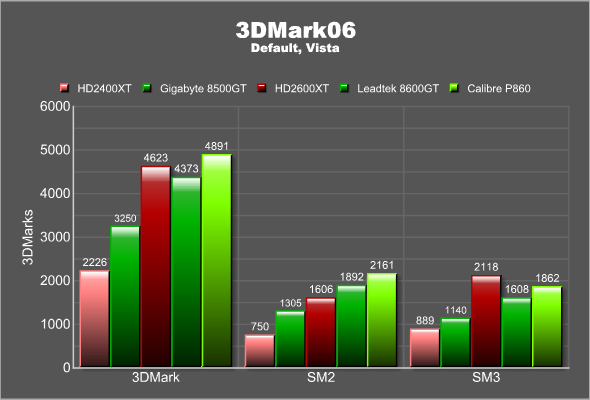 The Gigabyte 8500GT TurboForce places itself between the HD2400XT and the HD2600XT/GeForce 8600GT.
TESTING – GAMES
Company of Heroes
One of last year's best RTS, this is a game that still keeps us occupied in endless battles over the net. The game uses all sorts of cool effects and has recently been upgraded to support DX10. We have tested the game in Vista with the latest v1.7 patch and everything set to maximum. Unfortuantely we could not get the DX10 shaders to work on all cards (the option did not even appear to be selected) so we used DX9 shaders for this test.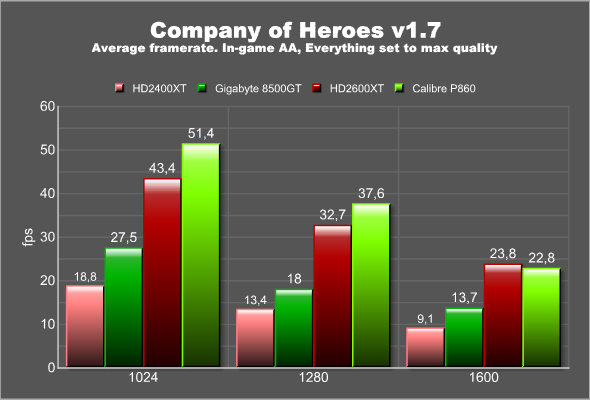 The game basically is only playabe at these quality settings at 1024×768 or lower. By turning off various settings you will gain more frames per second but at the expense of detail.
Half Life 2: Lost Coast
Half Life 2: Lost Coast was one of the first games to introduce HDR and still is a great game to use for benchmarking. We used the HardwareOC benchmark utilities to test the game. 4xAA/16xAF and the highest quality setting were used.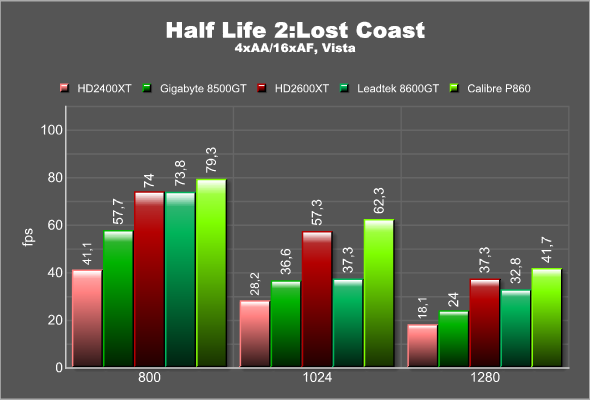 In a First person shooter a steady framerate is vital. The Gigabyte 8500GT TurboForce narrowly manages to cross the 30 fps threshold at 1024×768 but is more suited to play the game at 800×600. Again you can gain frames by decreasing the quality settings.
TESTING  – VIDEO PLAYBACK
Since we officially now are in the "HD-age", having good quality HD-decoding and playback is becoming more and more important. Slowly HD-players for the PC are coming down in price and since you can hook up a $200 Xbox 360 HD-DVD already I expect more and more soon will get one of either formats also for their computer.
Regardless what we think of it there are some things that need to be present for the HD-playback to work fine in Vista. Both the playback device and the display device need to support HDCP (copy protection) so that no-one can take the signal and copy it. The Gigabyte 8500GT TurboForce card has this HDCP support making it possible to hook it up to a HDCP-capable display and see HD-movies in their full resolution.
HD HQV Benchmark
HQV is a company that makes discs that help you test the video quality of either the display device or the player. We've used their HQV Benchmark DVD in several articles before. They have now released a version for HD-DVD and Blueray. To find out what the HD-DVD tests and how the score is set, please read their latest Testing and Scoring Benchmark guide at http://www.hqv.com/benchmark.
As you might understand the scoring is subjective but I've tried to be as fair as possible when setting the scores. The max total score is 100.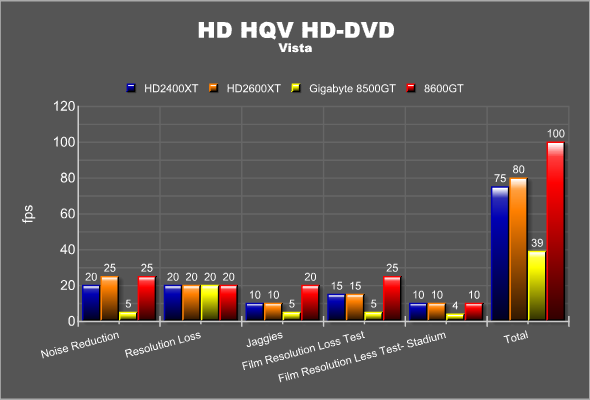 I am quite surprised by these results. With the new beta-drivers I received from NVIDIA, the Calibre P860 managed to score a perfect 100 when noise reduction was turned on. When I used those drivers with the Gigabyte 8500GT TurboForce as well as the latest official beta drivers released beginning August I got a much worse score. I do not know if it is the latest update of PowerDVD that is causing this or a issue between this card and the drivers but I expect NVIDIA to take care of it in a future driver update. The playback quality still is very good.
Planet Earth – CPU usage test
To test the CPU usage when playing back a HD-DVD movie I choose to play 5 minutes from one of the chapters on the excellent Planet Earth HD-DVD. The CPU usage was recorded for each card. The chapter selected was "Shallow Seas, chapter 3". During the 5 minutes, the bitrate fluctuated between 10-33 Mbps.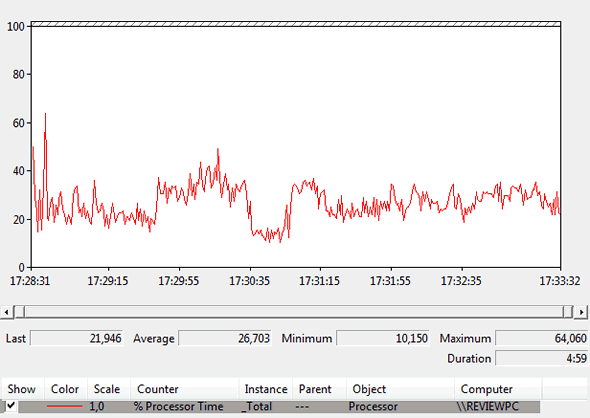 The initial spike is due to me alt-tabbing between the monitoring program and PowerDVD. Overall the CPU-usage is around 30%. The quality of the playback was very good although you could notice that the noise reduction was not working as well as on the other cards.
NOISE AND HEAT
Since the fan on the card does not spin up all the time, it actually is really silent. Even when it spins up the noise level is low enough for you to barely notice it. It is obvious Gigabyte has chosen a good quality fan.
Having the fan not spinning does however affect the temperature. I installed the card into my Coolermaster Stacker case to measure the temperature of the GPU. I first measured it after 5 hours at the Windows desktop and then after running 3dmark06 several times. The result was not encouraging:
These tempeatures, in my opinion, are very high, especially if you want to put this card into a small HTPC case. I am sure the GPU can handle it so the main issue is that it will heat up the case itself meaning that you will need to have good cooling in the case.
CONCLUSION
Features
The Gigabyte 8500GT TurboForce comes packed with features. DX10 support, 16x AA, Shader 4.0 support, everything the 8800GTX has you can find on the 8500GT. Unfortunately the Gigabyte 8500GT TurboForce GPU lacks the performance to take advantage of most of these features. Luckily other features like HDCP support and the active fan work fine regardless of the GeForce 8600GT GPU.
Rating: 6/10
Gaming Performance
The Gigabyte 8500GT TurboForce slots in between the HD2400XT and the HD2600XT while coming far behind the GeForce 8600GT. As a on-board video upgrade it works fine and you can actually get decent performance from older games if you turn down the quality settings and resolution. I am not sure how it will handle the future games though.
Rating: 5/10
Video performance
With full HDCP support and hardware H.264 decoding support, the Gigabyte 8500GT TurboForce is the perfect card for a HTPC. The only issue right now is the drivers from NVIDIA that still have some issues when displaying HD-video. However, even now the quality is very good and we've seen beta drivers that improve the quality on at least the GeForce 8600 and the GeForce 8800 so it should just be a matter of time before NVIDIA has taken care of this.
Rating: 8/10
Build Quality
The Gigabyte 8500GT TurboForce is very well built. Details like the solid capacitors and the covers on each connector make this feel like a high quality product.
Rating: 8/10
Value
I have had some problems locating the card to get a price. Vendors still only seem to carry the regular Gigabyte 8500GT at around $80. I would expect this card to be a bit pricier, especially since it so higher clocked. As a gamer card there is not much value even at this price. You should be able to find a HD2600XT for roughly the same price and by adding 30-40$ you could get a GeForce 8600GT card. As a HTPC card it offers more value but at the same time for the same money you could get a HDCP capable HD2600Pro or HD2600XT which also includes audio-over-HDMI support. These cards also run much cooler.
Rating: 6/10
Pros
+ Cheap
+ HDCP
+ Major overclock out of the box
+ Great game in the bundle
Cons
– Performance lacking for anything but very casual gaming
– Card gets very hot
Summary: Gigabyte has done a good job with the GeForce 8500GT GPU. They overclocked it, added a nice fan and bundled the card with a good game. Unfortunately the 8500GT GPU itself is quite slow so this limits what magic Gigabyte can do with it as well as limits the target audience. As an upgrade to on-board video or as a card in a high-end HTPC, the Gigabyte 8500GT TurboForce however works well. The only caveat is that the cards get hot so good ventilation is needed in the case.
The Gigabyte 8500GT TurboForce gets an overall rating of 6.5 out of 10.