The 8800GT has received great praise since its inception. Asus jumps in the ring and ups the ante with a big factory overclock and a superb bundle. Does the 8800GT TOP deserve its name? Let's find out.
INTRODUCTION
Every now and again a product comes along that seems to defy reason. Either it offers performance at levels far greater than similar products in its class or it is offered at a price lower than you would expect. Never have I seen a time where both of these circumstances happened at the same time to the same product. Yet here I am describing to you a video card that seemingly breaks all the rules; immune to the economic forces that keep the world moving forward. So what do you do when you have a video card as powerful as the big boys but costs only half as much? You overclock the heck out of it and sell it to the masses, that's what! Introducing the EN8800GT TOP from Asus. An uncompromising, take no prisoners, deal of the year video card that changes the rules. No longer will you have to choose between cost or performance. Gone are the days of chewing up watts upon watts of power and dumping all that heat into your case. Are you excited yet? Me too. Let's get to it.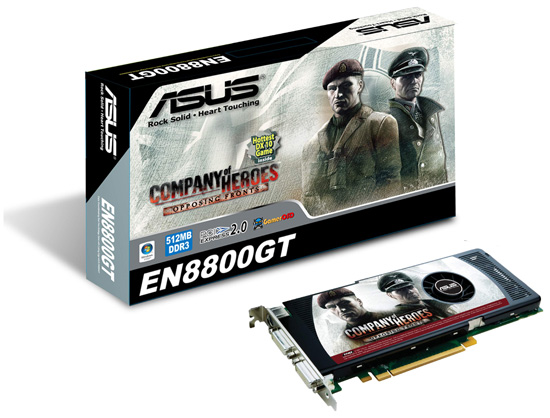 Asus EN8800GT TOP 512MB
ASUS: The Company
ASUS, a technology-oriented company blessed with one of the world's top R&D teams, is well known for high-quality and innovative technology. As a leading provider of 3C (computers, communications and consumer electronics) total solutions, ASUS offers a complete product portfolio to compete in the new millennium.
In 2005, ASUS shipped 52 million motherboards, which means one out of every 3 desktop PCs sold that year was powered by an ASUS motherboard. If we line them up side by side, the length will be longer than the distance from New York to San Francisco.
ASUS products' top quality stems from product development. It's like learning Chinese Kung-Fu; one must begin with cultivating the "Chi" and inner strength. Besides innovating cutting-edge features, ASUS engineers also pay special attention to EMI (electromagnetic interference), thermal, acoustics and details that usually go unnoticed to achieve complete customer satisfaction. ASUS notebooks are the first TCO'99-certified notebooks worldwide. The requirements for this honor include radiation emission control, energy (battery consumption), ecology (environment friendly) and ergonomics.
Imagine innovations that simplify our lives and enable us to realize our full potential. It is technologies' responsibility to accommodate us, not the other way around, because all devices should perform and communicate seamlessly anytime, anywhere. ASUS thrives to become an integrated 3C solution provider. (Computer, Communications, Consumer electronics.)
Over the past 2 decades, technology has changed the way we live and experience the world. We have been enabled to work, play, learn, and communicate in ways we have never before thought possible. Since its inception, ASUS has been the cornerstone of this evolution. 1 out of every 4 desktop PCs in the world today has an ASUS motherboard inside. As a major player of this evolution, we have established our corporate mission … ASUS mission:   Provide innovative IT solutions that empower people and businesses reaching their full potential.
FEATURES & SPECIFICATIONS
Looking at the specifications of this card we see that Asus has really stepped up the speed on this card. This should provide a nice boost over the already frightening level of performance this card possesses. I wonder how much further I can push this card? Don't worry, I intend to find out.
EN8800GT TOP/G/HTDP/512M
Specification
Asus 8800GT TOP
Nvidia 8800GT
RAMDACs
Dual 400 MHz
Dual 400 MHz
Memory BUS
256 bit
256 bit
Memory Bandwidth
64.0 GB/sec
57.6 GB/sec
Memory
512 MB
512 MB
Memory Type
DDR3
DDR3
Memory Clock
1000 MHz (2000 MHz effective)
900 MHz (1800 MHz effective)
Pixel Processors
28
28
Vertex Processors
16
16
Stream Processors
112
112
Shader Clock
1750 MHz
1500 MHz
Clock Rate
700 MHz
600 MHz
Chipset
GeForce™ 8800 GT (G92)
GeForce™ 8800 GT (G92)
Bus Type
PCI-E 2.0
PCI-E 2.0
Fabrication Process
65nm
65nm
Highlighted Features
HDCP Ready
Dual DVI Out
RoHS
HDTV ready
SLI ready
TV Out
HDCP Ready
Dual DVI Out
RoHS
HDTV ready
SLI ready
TV Out
Features

Real-time overclocking, benchmarking and video capture in any PC game!

Watching movies on your PC never looked this good!

Your intelligent hardware protection and overclocking tool.

Keep an eye on your home at all times no matter where you are.
NVIDIA Quantum Technology: Advanced Shader Processors designed for physics computation
NVIDIA® Lumenex™ Engine:   Delivers stunning image quality and floating point accuracy at ultra-fast frame rates.
NVIDIA PureVideo HD technology: Essential for the Ultimate HD Movie Experience on a PC
Full Microsoft® DirectX® 10 Support:   World's first DirectX 10 GPU with full Shader Model 4.0 support delivers unparalleled levels of graphics realism and film-quality effects.
Dual Link DVI:  Capable of supporting digital output for high resolution monitors (up to 2560×1600).
NVIDIA® SLI™ Technology:  Delivers up to 2x the performance of a single GPU configuration for unparalleled gaming experiences by allowing two graphics cards to run in parallel. The must-have feature for performance PCI Express graphics, SLI dramatically scales performance on over 60 top PC games.
PCI Express™ 2.0 Support:  Designed to run perfectly with the next-generation PCI Express bus architecture. This new bus doubles the bandwidth of PCIe x16 delivering over 4 GB/sec. in both upstream and downstream data transfers.
OpenGL™ 2.0 Optimizations and Support:  Ensures top-notch compatibility and performance for all OpenGL applications. NVIDIA® nView® Multi-display Advanced technology provides the ultimate in viewing flexibility and control for multiple monitors.
NVIDIA® nView® Multi-Display Technology:  Advanced technology provides the ultimate in viewing flexibility and control for multiple monitors.

 
PACKAGING
Asus packages this card in the largest box I have ever seen a video card come in. When I first saw it I burst out with laughter. Most of it was from the excitement of the card but a small portion was also from the size of the box. What is in there that needs so much room? Well, honestly there is just the video card and it's bundle. A lot of the space is empty so I can only assume it is so people know they are getting the "TOP", "Best", etc.
Click a picture to see a larger view
---
---
CONTENTS
Asus includes a very nice bundle with this card. I even like the game. So often, outdated games are included as freebies that they bring little value to the bundle. While that is nice and all, what I really like is a game that can show off the power of the card and is fun to boot. Company of Heroes: Opposing Forces is that game. Turning to the rest of the contents we see the usual DVI adapter, HDTV adapter, power adapter, software and a very nice leather Asus CD sleeve. In the grand scheme of things it may not seem like a big deal but the leather sleeve is a really high quality sleeve that will protect your favorite games for years to come.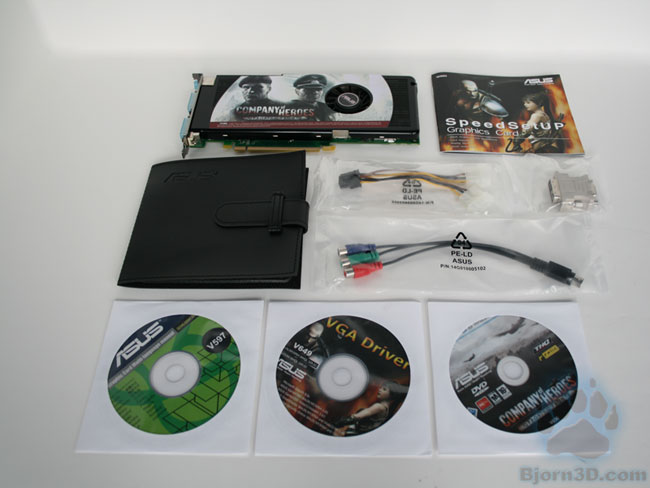 PHOTO SHOOT
This is where I let the card strut its stuff.
The top of the card sports the Asus logo and image of the included game so you never forget. The fan on this card is the 60mm version which at full speed can be pretty loud. How loud? Well we'll get to that a bit later. Flipping the card over we see this card is built on top of a green PCB. Some people prefer a black PCB, some people have no preference. In the end all that matters is if the card is fast. The last image in the series shows off the connectors and the extra step Asus takes to ensuring you get the product in a safe and protected manner. Kudos Asus!
Turning to the rear of the card we see the one and only power connector. I've said it before and I'll say it again. The amount of performance this card possesses and it only requires one 6-pin power cable is simply amazing! Next we have a clear shot of the SLI connectors on the card which are also protected by the blue plastic cap. All around a great looking card with a lot of potential to it.
Click a picture to see a larger view
---
---
TEST SETUP
To test the performance of these video cards properly, the CPU will be overclocked to 3.2GHz to ensure it does not hold the cards back. We will test all the cards first without any image quality enhancements (Anti-Aliasing and Anisotropic Filtering) and then again with the image enhancements turned on. This will help give us a clear picture of how these cards perform as the intensity increases.
Test Platform
Processor
Intel Core 2 Duo E6420 @ 3.2 GHz
Motherboard
XFX 650i Ultra
Memory
2 GB (2 x 1 GB) of G.Skill DDR2-800
Drive(s)
1 – Seagate 7200.9 Barracuda SATA
1 – Samsung HD501LJ SATA
Graphics
GPU 1 – MSI 7900GTX 512MB
GPU 2 – XFX 8800GT 256MB XXX (650/800)
GPU 3 – Asus 8800GT TOP 512MB at reference speed (600/900) *Hereby referred to as Nvidia 8800GT
GPU 4 – Asus 8800GT TOP 512MB (700/1000)
Drivers
Forceware 169.04
Sound
Creative Soundblaster Audigy2 ZS
Cooling
CPU – Thermaltake Big Typhoon
Power Supply
OCZ GameXStream 850 watts
Display
Westinghouse 37″ LVM-37W3
Case
Outside case
OS
Windows XP Pro SP2
Test Applications
3DMark06
Company of Heroes v1.71
Crysis
F.E.A.R. v1.08
Serious Sam 2 v. 2.068
The Elder Scrolls IV: Oblivion
World in Conflict
OVERCLOCKING
This is my favorite part of these reviews so I hate to wait until the end to do it. Like having your dessert before your dinner, here are the results from the overclocking expedition.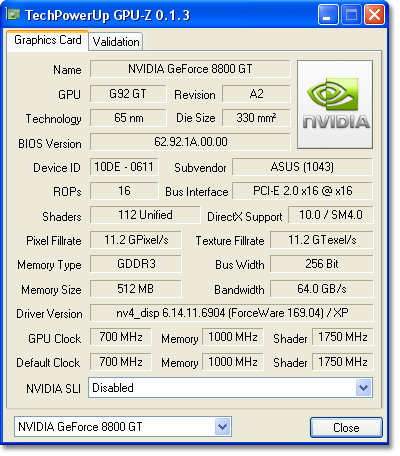 Technically overclocked
Well, ok. This card won't overclock with any meaningful increase in performance. I was unable to push the core or the memory even ten MHz higher. I am not worried in the least since technically this card is overclocked from the reference specs of 600MHz core and 900MHz memory. Enough chit chat, let's see how this card performs!
*Overclocking results shown here should not be taken as the standard but rather as one possible outcome. As always, your mileage may vary.*
TEST RESULTS
3DMark 2006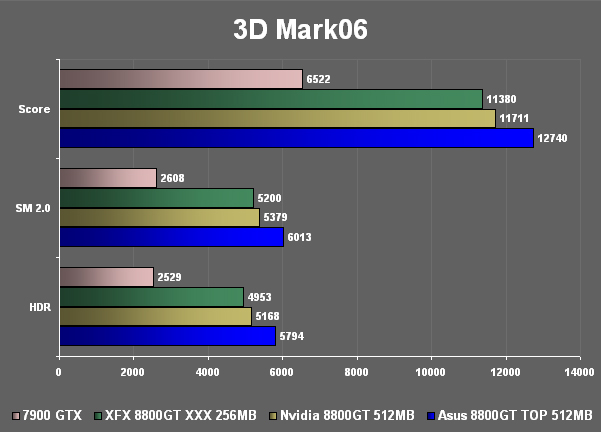 Serious Sam 2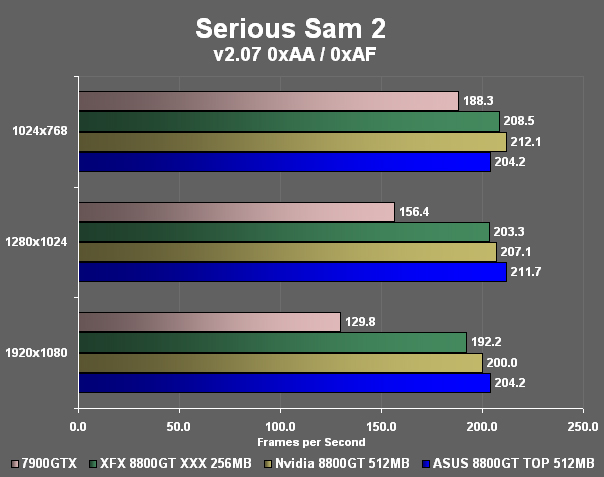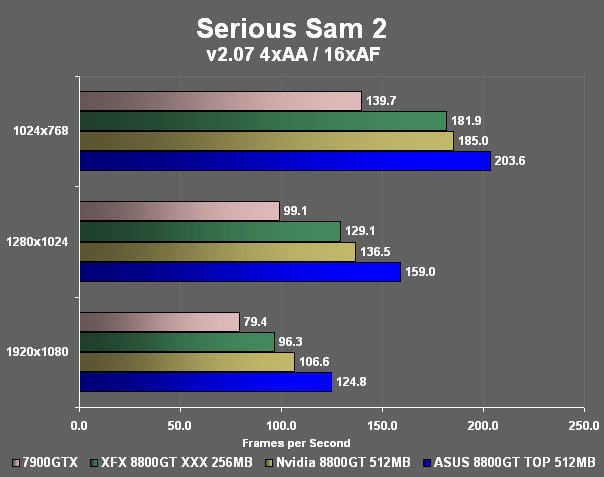 TEST RESULTS
F.E.A.R.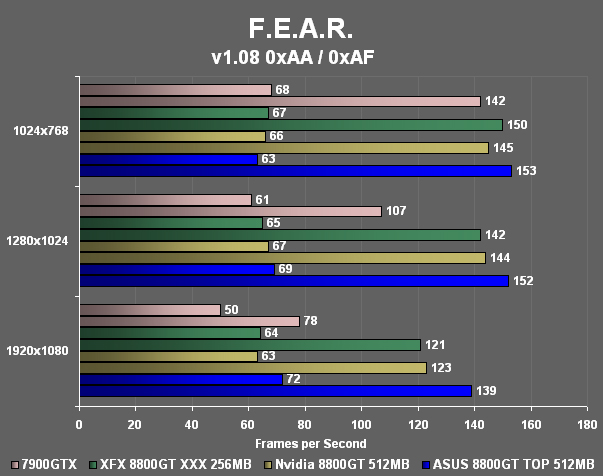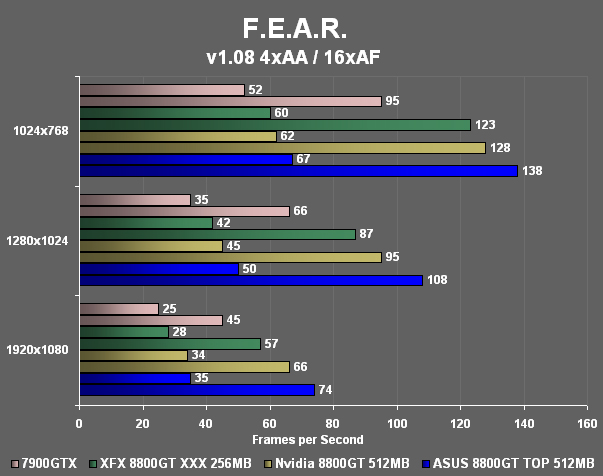 The Elder Scrolls IV: Oblivion
Testing for this game would be handled a bit differently. Having no in-game benchmark I set out to create a reproducible method for testing performance. I would start outside the town of Cheydinhal on horse back and taking the same route each time I would travel to the Imperial City. The trip would take a full six minutes and encompass long view distances, water, forest, Oblivion gates and NPC's. Being such a long trip any changes from one run to the next (e.g. a wandering NPC) would have an effect equal to less than 1% on frame rate. This method would give me great insight into the real world performance of each card tested.
All settings have been set to their highest values. HDR lighting was turned off.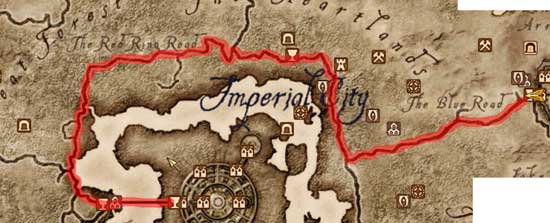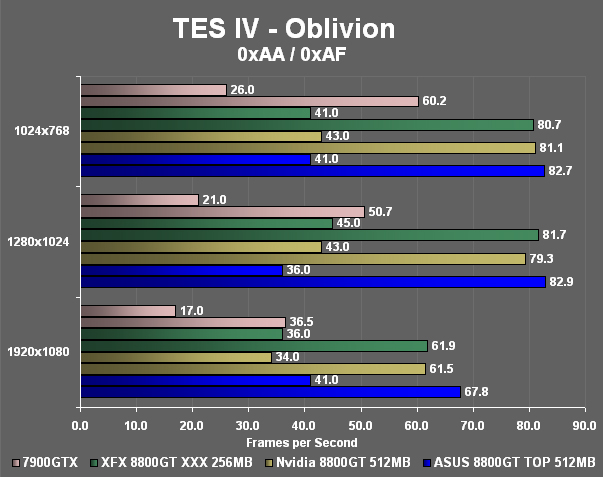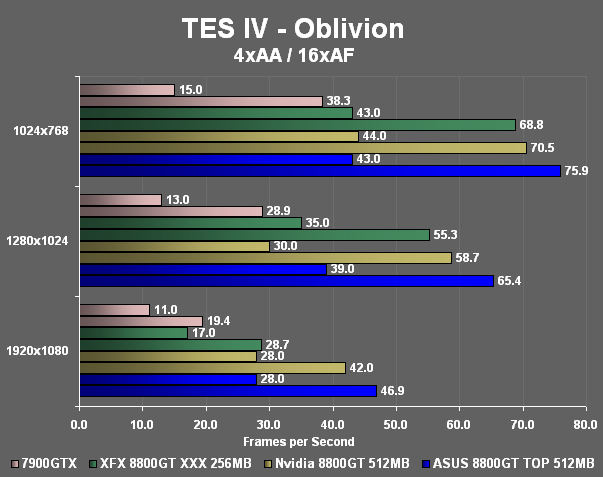 TEST RESULTS
Company of Heroes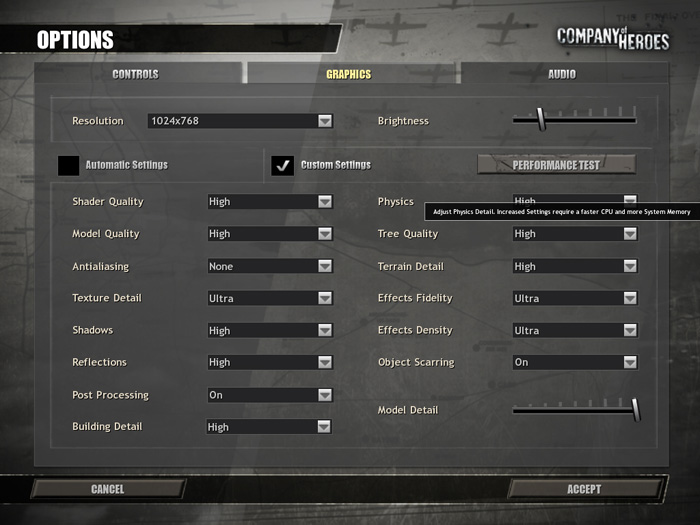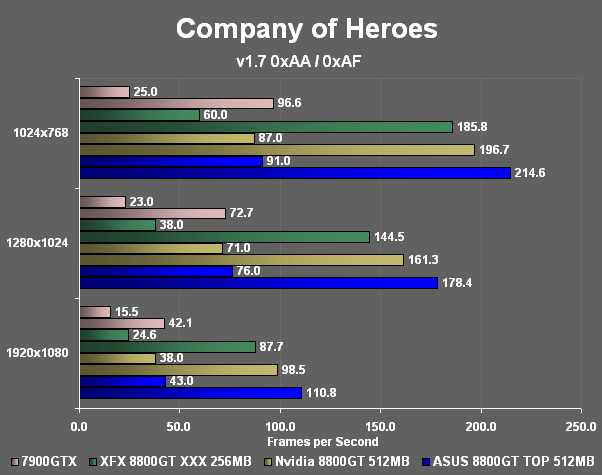 World in Conflict
For each chart, there are MIN and AVG frame rates listed. Each card has both values listed using the same color to differentiate itself from the other cards.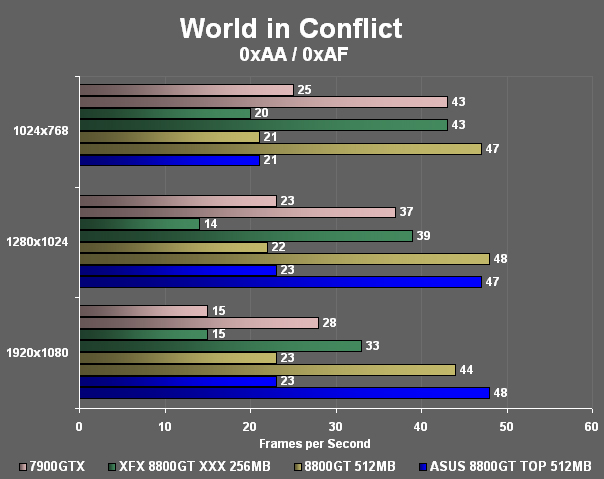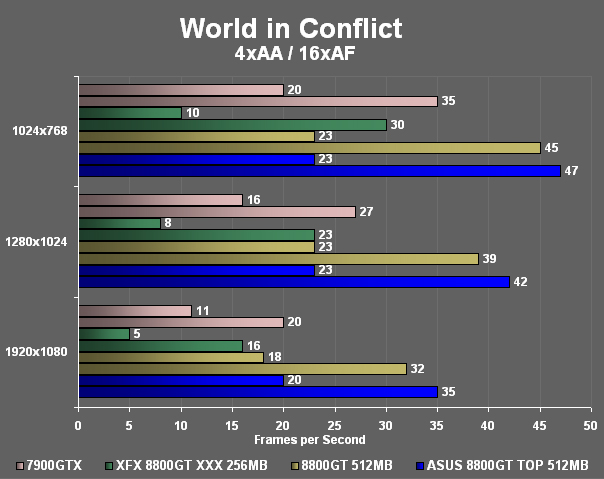 TEST RESULTS
Crysis
For each chart, there are MIN and AVG frame rates listed. Each card has both values listed using the same color to differentiate itself from the other cards.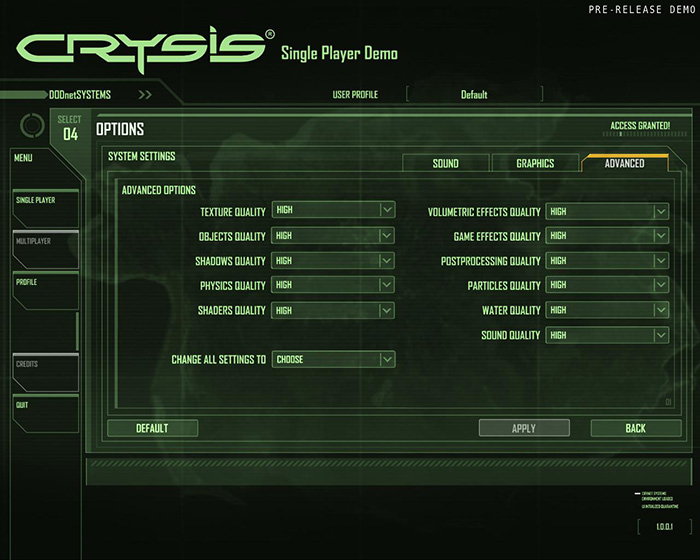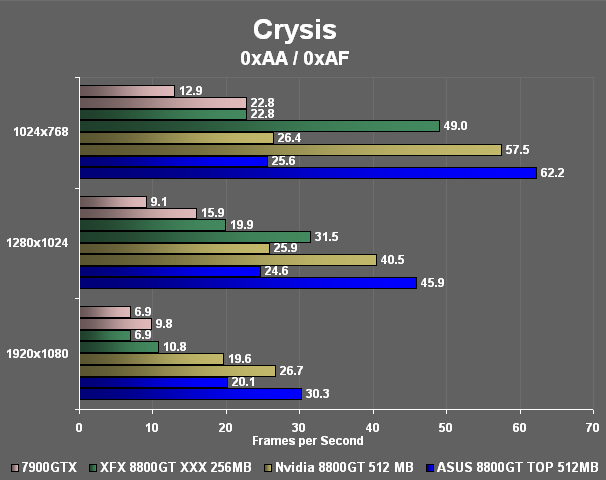 Power Consumption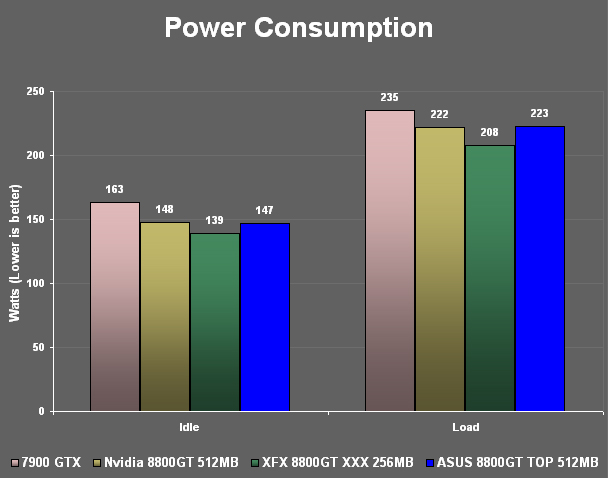 Noise
CONCLUSION
This is one fast card. Asus brings the big guns with their TOP offering. In terms of performance there is not much out there that can beat this card and not break your wallet at the same time. With that said, things are not all rosy. The fan on this card spins very slow which is a good thing for noise levels but causes the card to run hot, very hot. Perhaps this card is capable of running all day, every day at 90C. The question is, would you want it to? You can manually speed up the fan with NVIDIA's nTune application though you will get a lot of noise along with it. Nuclear meltdowns and hearing aids aside, Asus gives a nice bundle with a fun game, should you not already have it. The only question left to answer is how much is this thing going to run me? The standard edition comes in at $300 USD so expect to pay a slight premium for the factory overclock. Useful for those of you who want the fastest 8800GT without voiding your warranty. *EDIT: This card has started to appear at some online shops for $330USD which is rather reasonable for its performance level*
FINAL WORDS
Performance: 9.0/10 – In many of the games, this card was able to surpass the other 8800GTs thanks to the faster clock speeds and 512MB of memory. It may not be the fastest card on the planet but for the price you simply can't beat it.
Bundle: 10.0/10 – Plenty of adapters, a leather CD sleeve and a fun free game help to round out the bundle with this card. A great setup for people who may not have a lot of games in their library.
Value: 8.0/10 – This is a great card and I doubt anyone can refute that. Value though is not solely based on performance but rather the price you pay for that performance. This card has just started to show up at online stores for around $330 USD. These cards are hard to come by and supply and demand causes these prices to inflate as we are seeing. It may not be the least expensive 8800GT on the market but you do get one of the fastest.
Pros:
+  Excellent bundle
+  Energy savings
+  Performance
+  Single slot cooling
Cons:
–  Availability
–  Noisy fan
–  Runs hot at stock fan setting
–  Pricey
The Asus 8800GT TOP 512MB scores a 9.0/10 and receives the Bjorn3D seal of approval!.